It feels as though winter has finally shown up in the midwest. We had our first fire in the fireplace and lights are going up around the city. It is such a magical time of the year. I am working on finding a good work-life balance in the craziness of the holidays and wedding planning. Henri's birthday is Friday, he will be two. My fiancé and I are off to visit family in Florida next weekend.
Grab your coffee and croissants and join me for links I love.
11 Hotels with Remarkably Influential Interior Design via Architectural Digest
I have been getting a lot of questions about my Barbour jacket. I got it as a gift last year and it sold out quickly. It is for sale here and you can get 20% off. I have a size 8 and usually a 4 so look at the sizing to get your correct size. I wear the coat daily!
I was sent a copy of "An American in Provence" by Jamie Beck and it is absolutely stunning. This a great gift idea for a Francophile You can read about her story in Vogue
An iconic Chicago landmark gets a makeover and you can rent an apartment here. I almost moved into this building back in 2004.
I have had a red coat on my wish list for years.  This one may just be the one and it's 40% off!
Marriage is a team sport. A timely article
Paris's Notre Dame Will Become Part of a New Sustainable Microclimate
Jennifer Anniston has nothing to hide. I loved this feature article in Allure
Our bowls and plates from Degrenne arrived and my fiancé approves and now requested we order another set of each for future dinner parties.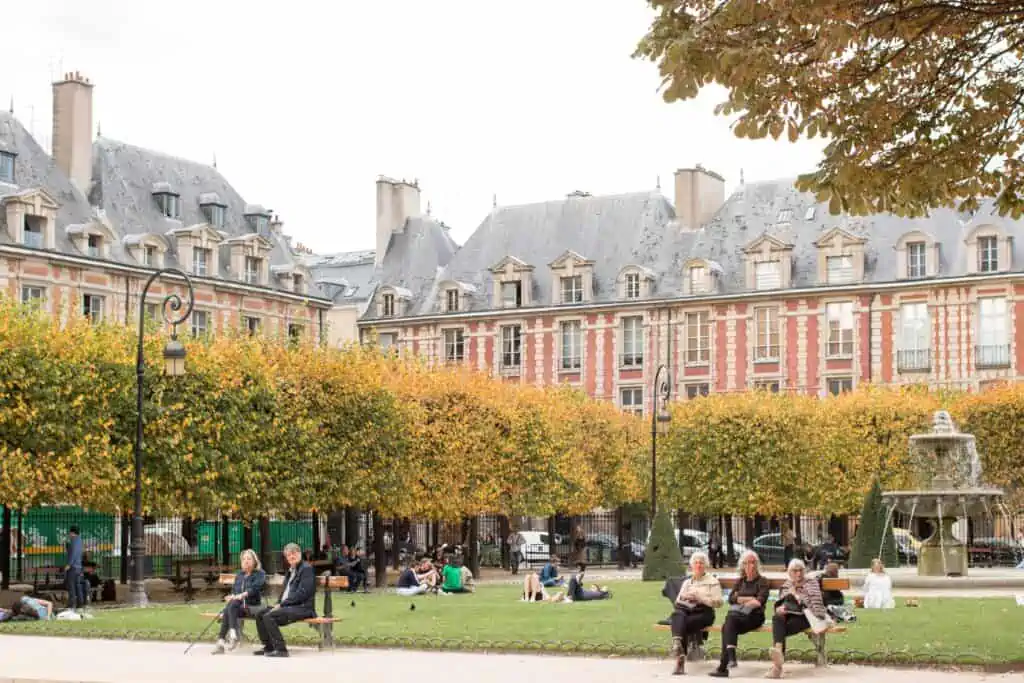 The Age of Social Media is ending via The Atlantic
Speaking of, Jennifer Anniston says there are now more movie stars and hates social media
You can find Marin Montagut items at Bergdorf Goodman I have this box on our coffee table now. I can't wait to fill it with items from our travels.
How 'The Crown' handled Princess Diana's Revenge Dress via NYT
Botox in a bottle. These products deliver via Vogue
Jenni Kayne is 20% off ahead of the holiday season. I have one sweater and now I want so many more.
More Favorite Links I Love
9 Mistakes Everyone Makes Cooking Chicken we make chicken often at home and I learned a few things.
This week's best sellers include an affordable detox mask you have to have in your beauty cabinet
That's a wrap on Mrs. Maisel. I am already sad about the last season and we don't even have an air date in 2023.
Tights are a hot trend in Paris for under skirts and dresses in the colder months. Black on black, on-trend. These tights are some of my favorites and are affordable and long-lasting. I bought a few pairs last year and they held up well. Pair them with boots or heels.
Women Who Travel Podcast: What We Learn About Ourselves When We Travel Solo
How To Host A Seasonally Inspired Dinner Party On A Budget
Everlane is having a sale on sweaters. I own this turtleneck sweater and this sweater that I wear on repeat.
Madewell has an 8" skinny jean back in stock. These are my ideal jean and I own multiple! Adding to my cart for Black Friday.
Michelle Obama Opens Up About Menopause and Weight Gain
I am prepping my skin for the upcoming wedding and was reminded how important sunscreen is even in the winter. I am trying to be much better about putting it on. I love this one from Supergoop and keep it right next to my toothbrush.
How A Routine Can Help You Find Peace During The Holidays
I am usually not into festive holiday attire but this year feels different. I am loving these sequin tops and skirts and this bag. I want to be invited out for one fun night and be in bed early.

Paris's Oldest Chocolaterie You have to visit the original shop at least once. It's in the 9th close to Adele and Jules!
How to Spend the Perfect Christmas in Paris
Mental health: the 4 keys of an expert to rejuvenate your brain and evolve towards absolute well-being
These holiday notecards are selling fast in The Print Shop and I expect them to sell out soon along with the large Paris calendar
Gray hair: the trend of "Gray Blending" will allow you to assume it gently!
I worked with Negative Underwear this week. This whipped long sleeve shirt and pants are so comfortable and soft for lounging around and layering.
The Barrière group inaugurates a new Fouquet's hotel in New York
My Sézane trench is restocked in all sizes! Grab it while you can. I have it in size 36/4 
On the Blog:
What to Wear for a Photoshoot in Paris
Sézane Sizing Guide (updated)
What to do in Paris in November
P.S. Don't miss a blog post!
In case you missed it, The Francophile Gift Guide 🇫🇷
Sign up to get Links I Love delivered to your inbox every Sunday.
Supporting The Print Shop helps bring valuable free content to your weekly inboxes.
*This post includes affiliate links. I make a small commission off items purchased through my links at no cost to you. Merci!