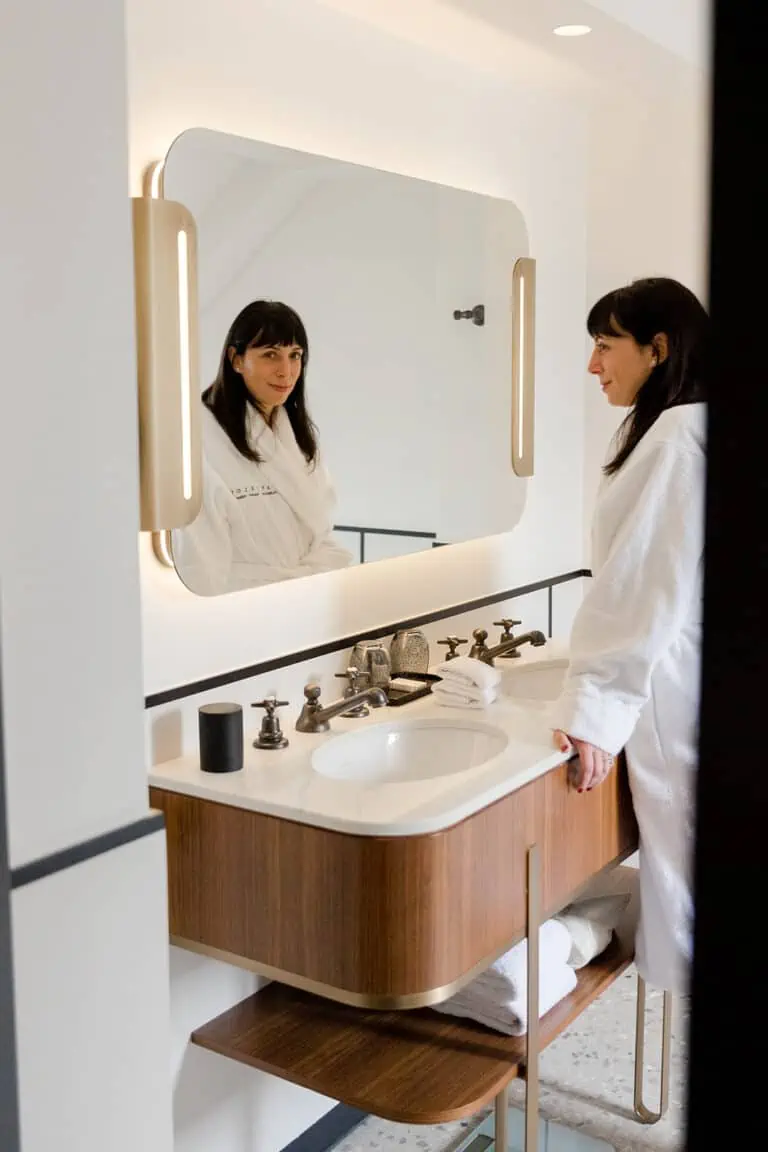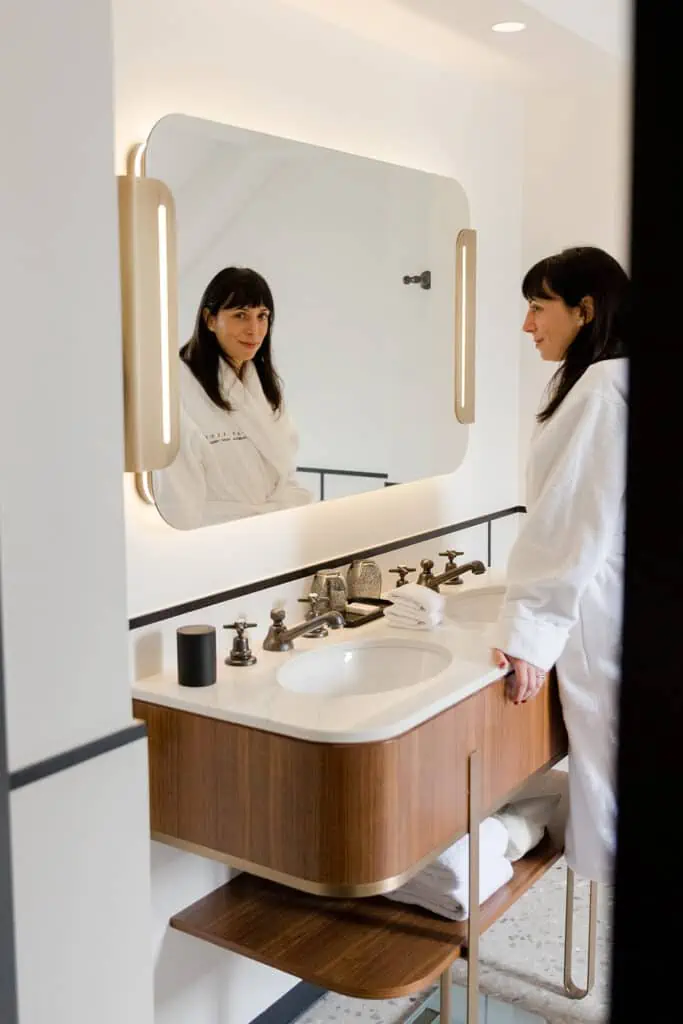 Over the past 10 years, French skincare has become a passion of mine. When I arrived in Paris in 2013 with a suitcase full of clothes and no toiletries because I assumed I would buy my skincare at a French pharmacy instead. The amount of brands and skincare products I have tried is a bit insane. My medicine cabinet rotates on the regular with items I use and love and some I have phased out. While I am not an expert, I do have some experience and can help guide you on French beauty brands and what to buy. The number of products can be overwhelming at French pharmacies, my advice is to try one product at a time and see how your skin reacts.
5 French Skincare Brands to Buy in Paris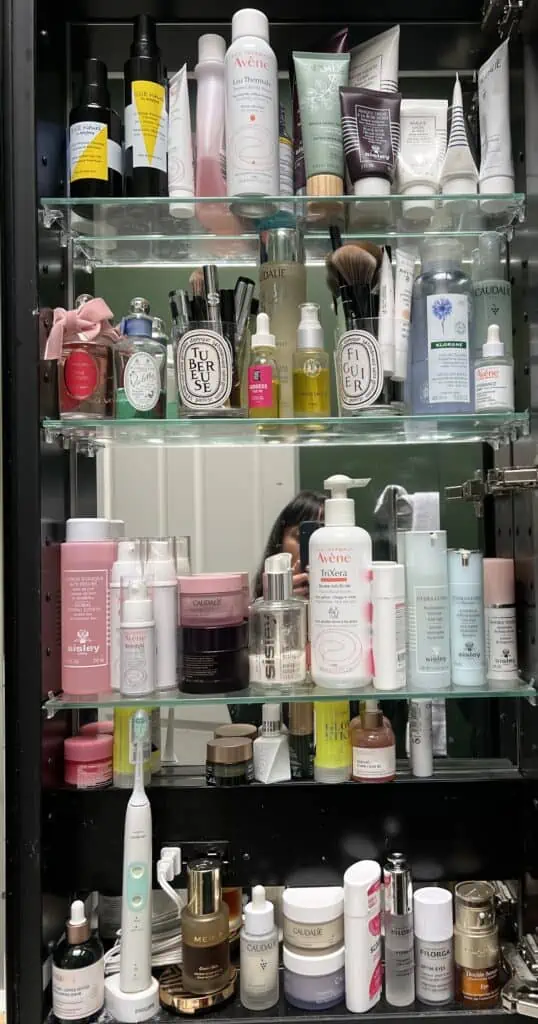 Save this post for your next trip to Paris, and feel free to pass this on to your Francophile friends that love skincare or are curious about trying French skincare brands.
French women are known for having a natural look when it comes to skincare and makeup. It has become a trend in the US and less is more when it comes to makeup. Healthy skin and a glow are what so many of us are looking for.
My Skin Type
To give you a little background on my skin. I have dehydrated skin, and dark spots and fine lines are my top concerns when buying skincare right now. My skincare routine includes a cleanser, multiple serums, an eye cream, a day cream, a night cream, face masks, and an oil. It is a running joke in our house because my medicine cabinet is filled to the max with products, and I have a backup of reserved products in my closet. The passion I have for French skincare is real.
If you have any specific skin concerns and are currently working with a dermatologist, it is best to ask questions before trying something new.
5 French Skincare Brands to Buy: Caudalie
Caudalie is one of the best French skincare brands based in Bordeaux, which uses vine and grape extracts as the key ingredient in its products. Essential oils and floral and botanical waters are also used. I have been using Caudalie for years and spent my bachelorette party of one in the south of France at their spa in Bordeaux last year. You can read about it here. It was the dreamiest escape from Paris.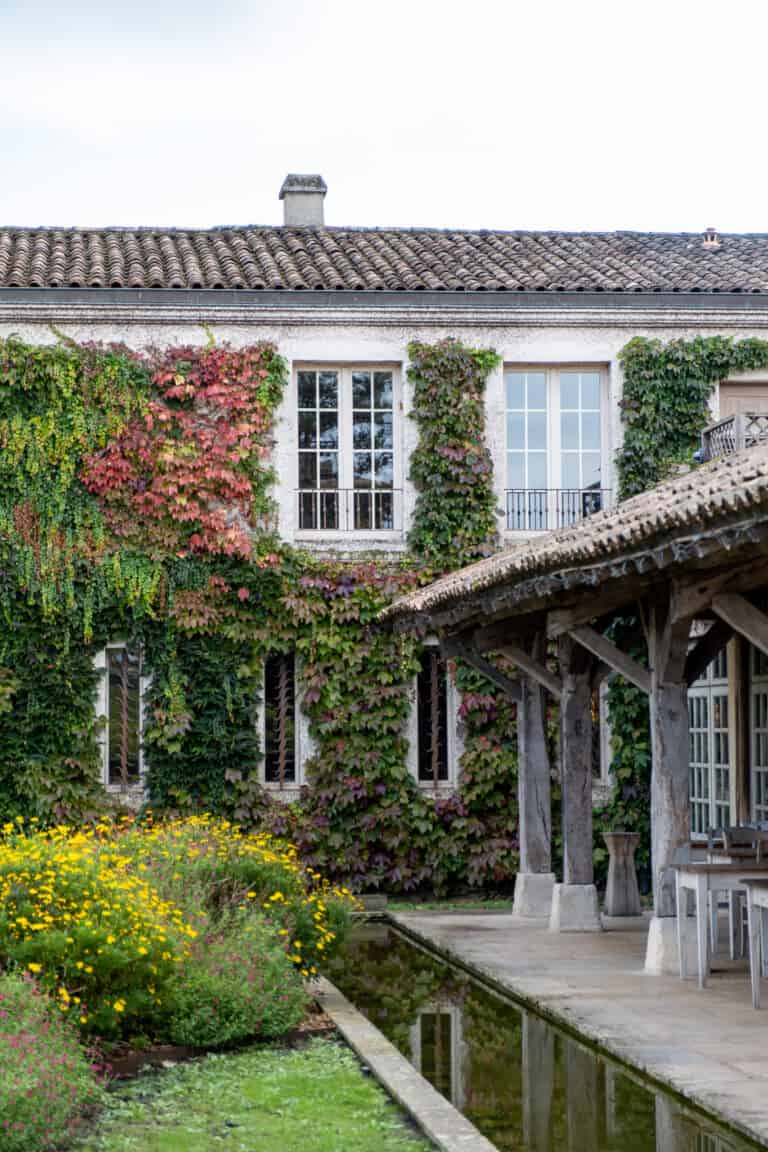 Their instant detox mask is one of their best sellers and something that is always available in my beauty cabinet. It went viral on social media and was sold out for a bit. The face mask is great for detoxing the skin, tightening the pores, and taking out the oil. If you have oily skin, this is a great product to own and use a few times a week.

When using face masks, it is important to exfoliate beforehand. I have learned this from getting multiple facials and everyone has recommended that I exfoliate more often. This is easy to do in the shower with this gentle buffing cream. My facialist recommended that I use this brightening glycolic peel mask from Caudalie twice a week. It gives you glowy skin and takes away the dead skin cells and evens your complexion.
For a moisturizer, I use their night cream, premier cru for my eyes, and their overnight recovery oil on occasion. Their lip conditioner is something I cannot live without, and have it in every pocket and purse.

Caudalie's shower gels are a staple for us. I love both the green and purple scents and it makes the shower smell so good and refreshing.
French Skincare Brands to Buy: Avène
Avène's flagship product is its thermal spring water. This is one of the best French beauty brands highly recommended by dermatologists and estheticians. Their Cicalfate products are incredible and so great for dry skin. My hands were so chapped during the lockdown from handwashing and this was the only product that saved my hands. The hand cream is now always out in the winter months, next to the hand soap. Their Cicalfate cream is essential and you will be surprised how many times you will use it for a cut or burn after you see how well it works. I have been using and loving their RetrinAL eyes and Retrinal creams for anti-aging. (make sure to use these just at night and sunscreen during the day.

For my body, I love using their xeracalm body balm right out of the shower, it makes my skin hydrated and so soft.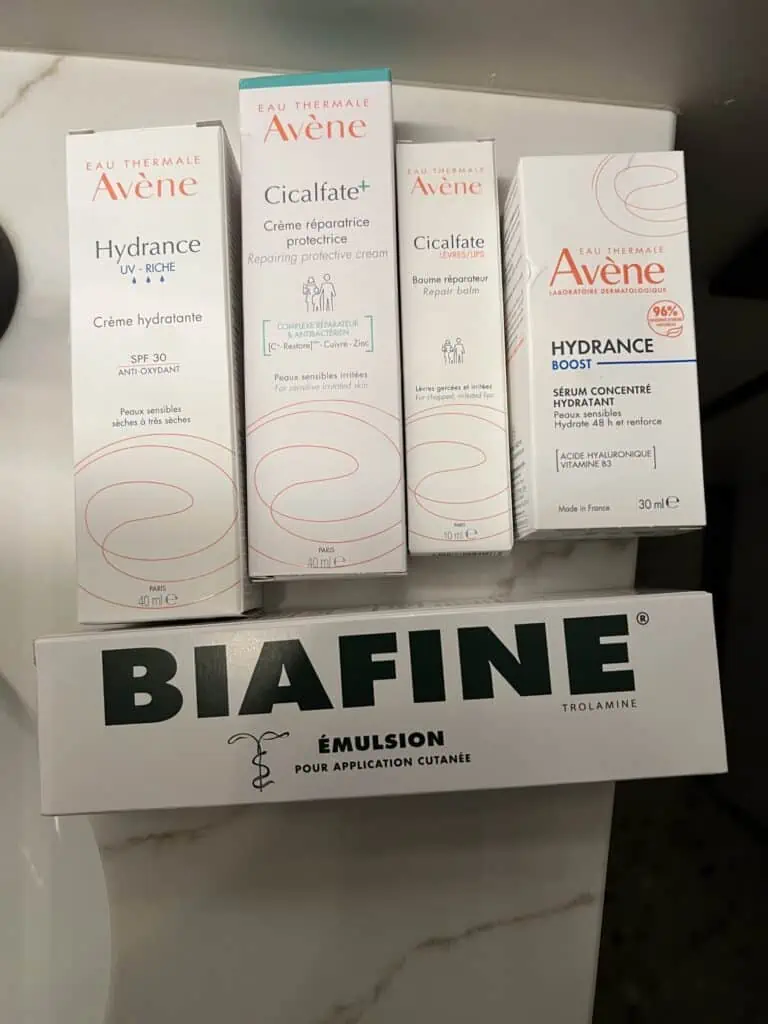 Other French pharmacy products by Avène that I love include these antioxidant sheet masks which are very fun to do but can scare your significant other if you don't warn them in advance. Their hydrance cream is incredible for dry skin, they also have a light version if you don't need the heavy moisturizer. I was lucky enough to find this with SPF when I was in Paris in January which is a French exclusive. If you find yourself in France, I highly recommend picking up the hydrance cream with SPF.
Avène is a brand that is high on my list in terms of favorites, and I keep exploring and trying new products. This is the one brand I purchased on my last trip to Paris.
You can see more of my favorite Avène products here.
Best French Skincare to Buy : La Roche-Posay
La Roche-Posay is a dermatologist-recommended brand with a range of products for sensitive skin. If you are looking for anti-aging products hyaluronic acid found in their serums is one of the active ingredients that will give you a plumping effect on your skin. I found the prices to be fairly comparable to the US when I was last in Paris so keep this in mind if you have your heart set on La Roche Posay items while you are in France.

Try their B5 hyaluronic acid serum, their vitamin B serum gets rave reviews, and daily sunscreen and also their mineral sunscreen, they have a daily serum with SPF which I love.
This is a very popular brand that is available in the US at places such as Target, Walgreens, Ulta, and Dermstore.
French Beauty Brands to Buy: Klorane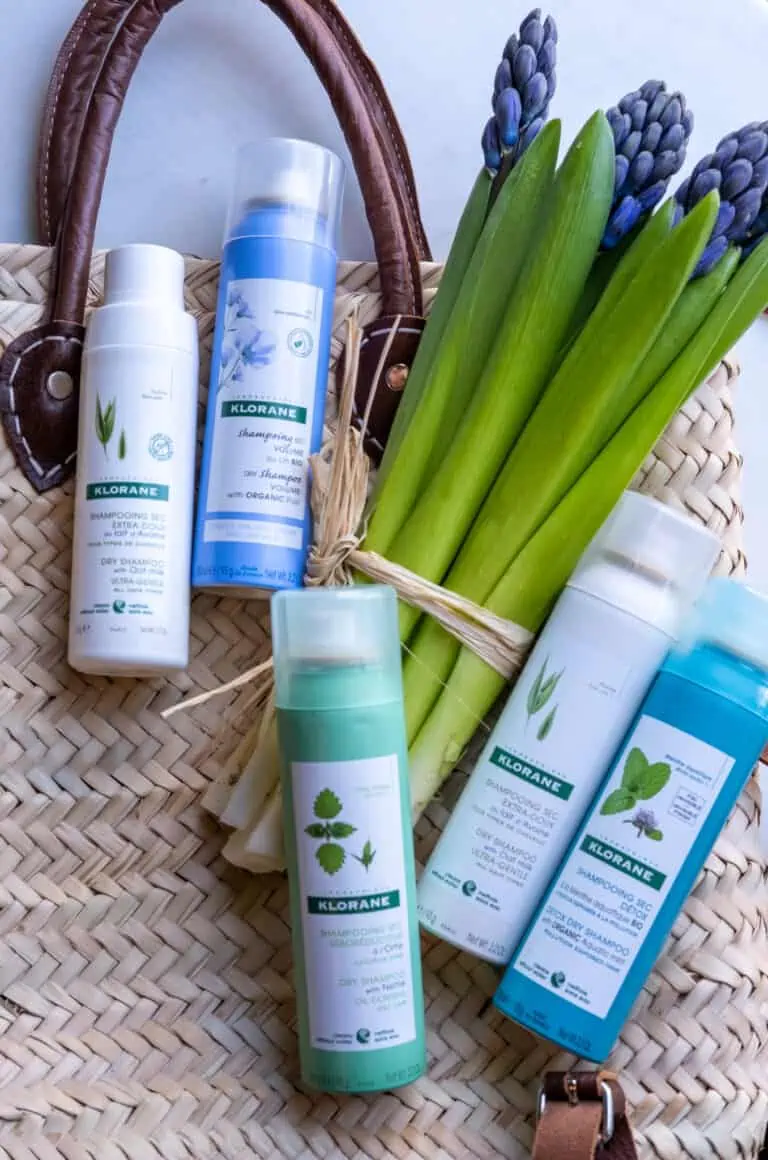 You are probably most familiar with the brand Klorane for its plant-based dry shampoo. This is one of the cult-favorite products of French girls. The trick is to use it before your hair gets greasy. Just a quick spray before bedtime should do the trick and let it work its magic. My hairstylist uses it to give me extra volume when she blows out my hair. There is a non-aerosol version as well which is easy to travel with.
I have been using Klorane products for years and truly love their Mango shampoo and conditioner. You may have heard me talk about their eye patches for dark circles and puffy eyes. These are great in the fridge and pull them out to use when you are getting ready. These were given as a gift to all the ladies that attended my wedding and my mom, sister, niece, and I did them together.
French Skincare to Buy: Bioderma
Bioderma is famous for its micellar water which has a cult following from makeup artists and models. During fashion week, this is one of the most purchased items at pharmacies. French girls swear by it. The water can be used to gently remove makeup from your face, and clean, and tone your skin. I always have a bottle in my cabinet and love the Bioderma wipes with the same formula for cleaning my face on the go. These are great for travel freshening up and cleaning your face from makeup before bed.
You can purchase this brand at any pharmacy in France and is very easy to find anywhere, this is one of the most popular French skincare brands. They also have other products to try including serums, lotions, and cleansers. Their intensive balm lotion is really great for my dry skin.

French Pharmacie Tips
Pro tip: Visit a French pharmacy and share your skincare concerns with a staff member. They will be able to recommend the right products for your skincare concerns. These are all my personal recommendations but if you had different skin than me, it's best to ask a professional. A French pharmacy may not always speak perfect English, but you should be able to navigate around the key concerns of dry or oily and if you are looking for antiaging products.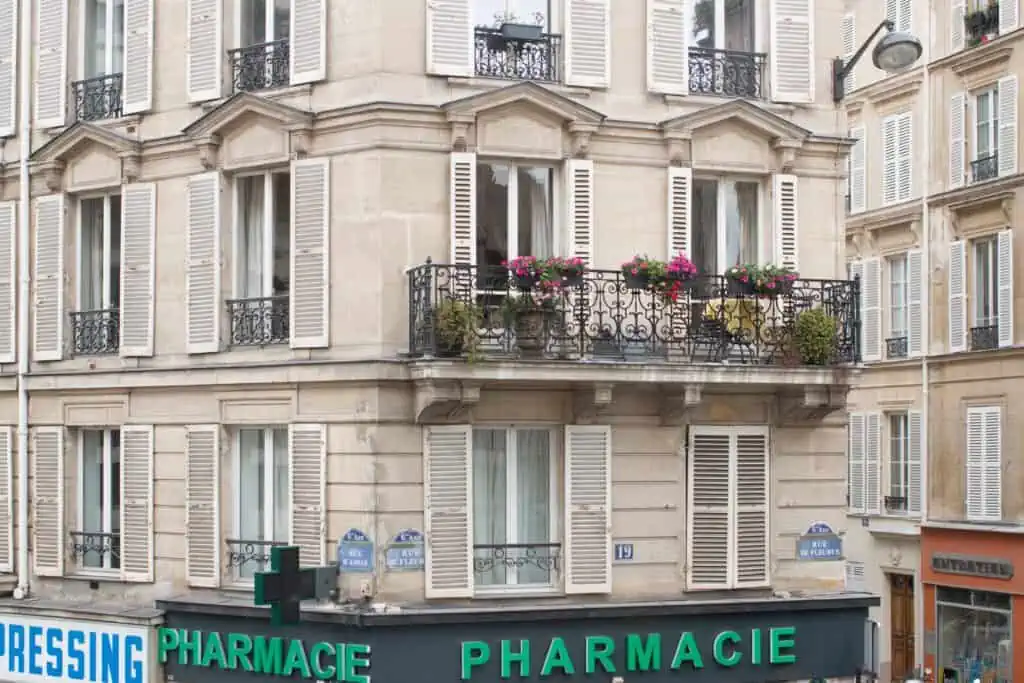 Which Pharmacy is Best to Shop in Paris?
CityPharma is always a top-mentioned pharmacy in Paris for its prices and assortment. I have been here a few times including my last trip to Paris and find it hard to move around with tight aisles and crowds of people. My time is valuable more than saving a few euros and I prefer to visit a pharmacy that is less crowded and where I would get more personalized service. Just remember, if you are purchasing a large bag of items you will have to carry it around with you until you are back at your apartment or hotel if your destination isn't close.
There are pharmacies on just about every corner so don't go too far out of your way. I find some of the ones on the Left Bank to have higher prices close to the Eiffel Tower and St. Germain if you are trying to be cost-conscious. Pharmacie des Archives just across from BHV has always been a personal favorite. Monoprix can also have some great prices on French skincare.
Bonus French Skincare Brands to Shop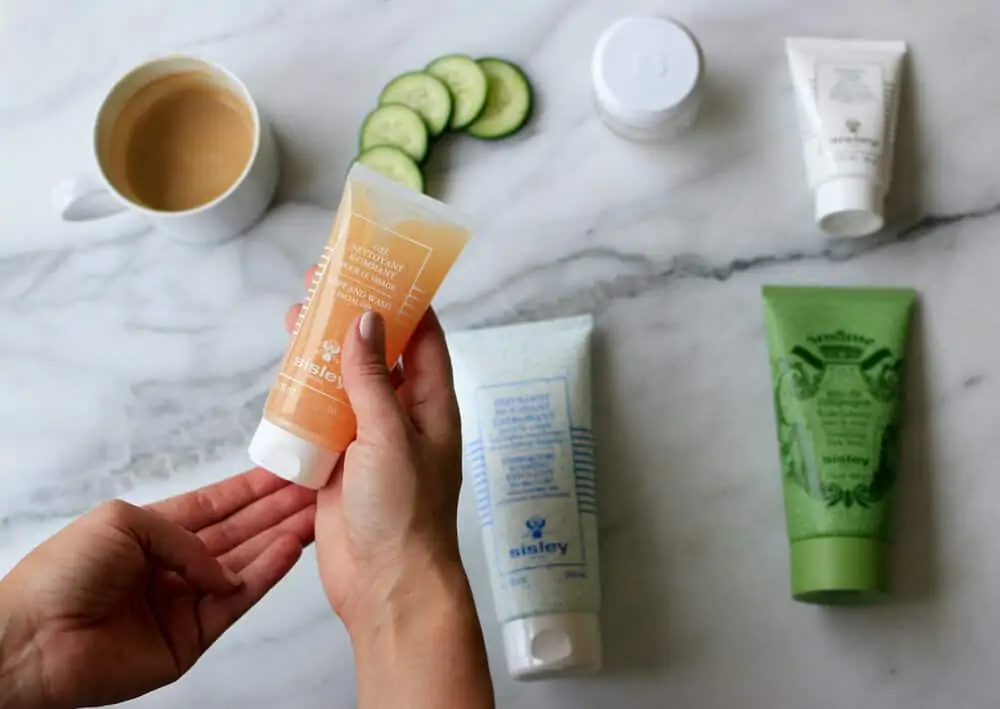 Favorite French Skincare: Sisley Paris
Sisley Paris is a brand I have loved and used for years now. The prices are higher than some of the drugstore brands in this post, but I can honestly say their high-quality products are worth it. The brand is well respected in the beauty industry, and they work hard to ensure their effective formulas are the best they can be by spending years of scientific research for each product. They just relaunched their ecological compound this year, one of the brand's best sellers. This is still a family-owned company, and I love their passion for always making their products better.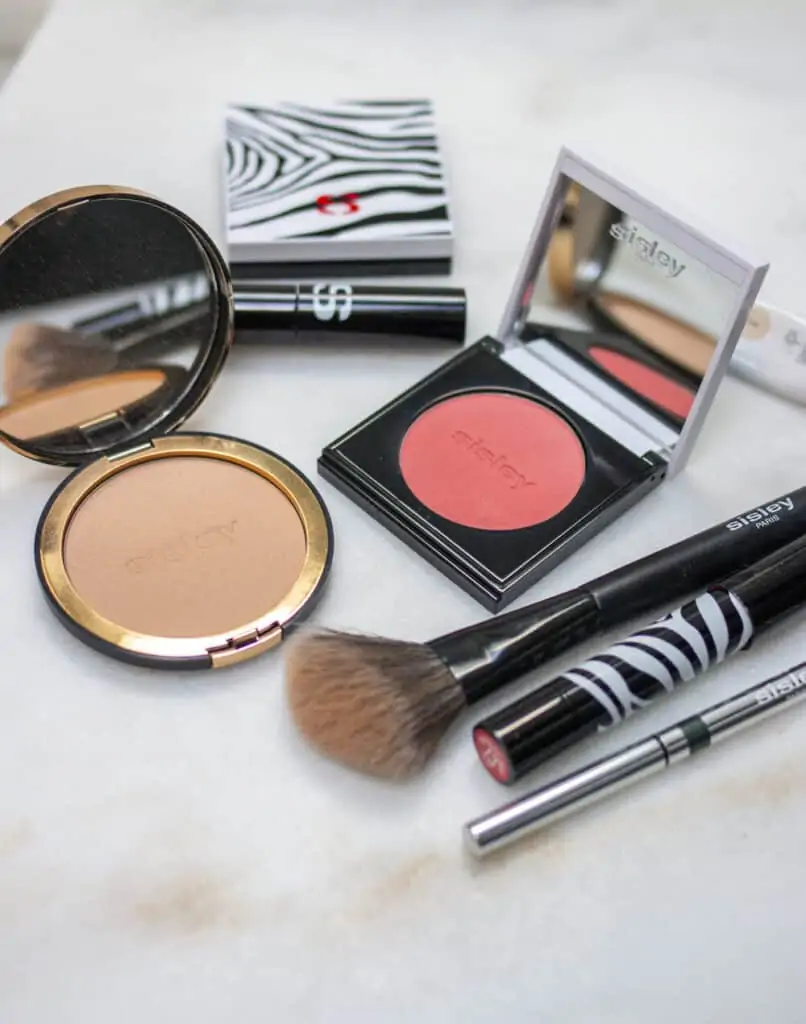 I could write a whole blog post on just my love for Sisley products. Their mascara is a favorite of mine with organic ingredients to condition your lashes. Also, I love their face masks, including the black rose mask and their velvet sleeping mask. This new exfoliant is great for the shower on your face and works in just a minute.

Pro tip to buying Sisley skincare in Paris. If you are interested in trying the luxury brand but are still budget-conscious, buy them duty-free at the airport. This is where I find the prices to be the best, and it is a lot easier to grab before boarding your flight. Plus, even if you have just a carry-on bag, you will be able to take the creams with you in the duty-free sealed bag.
*This post includes affiliate links. I make a small commission at no cost to you for items purchased from my links. Merci!