My story begins in 2008 when I lost my job in corporate America. I remember driving home from my meeting and crying my eyes out. And I called my Dad and shared the news. I had no idea how I was going to pay my rent or my newly leased car payment.
I was the first of my friends to lose my job during the recession. So I was embarrassed, even though it wasn't my fault.  During the first couple of months, I was completely lost. I couldn't find a job, but I refused to spend my days sitting at home on the couch watching tv or sleeping late.
I was on unemployment. So I didn't have much money at all. I walked to the bookstore every day. I would visit Borders or Barnes and Noble or sometimes both. And I would pick up a book that I wanted to read and I would literally read ALL day. I would take a break for lunch and cross the street to the other bookstore. I didn't finish a book in a day but sometimes I was close. And I would make notes on what page I finished on and picked up the next day. I would read anything and everything. And I even considered going back to grad school.
I could have gone to the library, but there was something comforting about the bookstore. My Dad used to take us on Sundays when we were kids. I think I have made up for it with the Book Club! I have helped sell a lot of books over the last couple of years.
One of my friends asked me if I could do anything for a job what would it be.
The answer was simple, "I wanted to travel the world taking photographs and find a way to get paid for it." This was way before e-commerce took off. But I had no idea how I was going to make this happen. I truly believe in putting what you want in the universe.
I learned about Etsy from a friend towards the end of 2008. And I made a goal to start a shop at the beginning of 2009. I had no idea what I was going to sell in my print shop. I call 2009 my year of discovery because I was still figuring out what my niche was and my pricing. It took a while to get my first sale. I had one photograph that was getting more hits than anything else in the shop. 
In 2009, I still couldn't find a job so I started working as a Nanny.
I worked as a night Nanny and as a day Nanny. My hours were 10 pm – 7 am twice a week for a newborn. (they ended up keeping me for a whole year) The other was for a family during the day a few days a week. I would work on my Etsy shop while the kids slept. Then I read a ton of articles and tried to figure out tricks and tips on how to build my shop. On the weekends, I would take my photography to the farmer's markets to sell. I would set up by 7 am and finish around 2 and drive back to the city.
In 2010, I booked a trip to Paris with babysitting money and airline miles from my previous job.
I photographed from morning until night learning the city by getting lost. I came home from that trip and put my photographs in the Etsy shop. It was pretty quickly afterward that my business started to grow. I finally found my niche! I had two bestsellers from that Paris trip that ended up selling with One Kings Lane.
By 2011, I was completely on my own as a Travel Photographer.
It was one of the scariest parts of leaving behind a stable income from being a Nanny to relying fully on my photography. For anyone who has taken the scary leap, it somehow finds a way of working out.
Since my first solo trip to Paris in 2010, I have been fortunate to have had a lot of Paris adventures I had no idea that this would turn into a full-time business and Paris would be the main focus. It was never the plan. I actually thought if anything, I was going to move back to Italy after my semester abroad.
Earlier, I mentioned that you have to put what you want out in the universe. In the very beginning when I was walking to the bookstore every day, I stopped by the store Papyrus that was close by. I decided that I wanted to sell one of my photographs in the store. And I had no idea how I was going to do it but I simply asked. I made it a goal. A few years later, I received an email from Papyrus asking to license one of my images. This also happened with IKEA about 10 years later.
In the past few years, I have had the opportunity to sell my work at Barnes and Noble (3 projects) Indigo (a bookshop in Canada), Pottery Barn, West Elm, World Market, even Target! You should see my face when I see my work out in the wild, I can't help the biggest smile. I am so proud.
When people ask me about what I do for a living, it always sparks a conversation.
I couldn't find a job back in 2008, so I created one.
I found a way to travel the world, take pictures, and make a living.
There is a lot of the story that fills in from my first solo trip to Paris up until now. It hasn't always been easy and it hasn't been a smooth ride. There have been a lot of roadblocks along the way and my business is constantly changing and evolving. If I had the chance to do it all over again with all the struggles, I would say yes! Owning a business isn't for everyone. It takes a lot of self-motivation, dedication, late nights, and early mornings. I'm a self-taught photographer and blogger.
I lost my job in my twenties when my friends were still single and going out on the weekends. I had to make a lot of sacrifices with money and time to get to where I am. It has been 2 years of discovery and 12 years as a solo entrepreneur.
Every Day Parisian
The blog came about in 2016 when I was homesick for Paris. I had the idea in the middle of the night to write about how I live a French-inspired life in Chicago. So I quickly typed in the domain into GoDaddy at around 3am and for $12 everydayparisian.com was born! It took more than 9 months of planning before the site ever launched.
You can see the inspiration for the blog here. 
In the past few years, I have had some dream collaborations including Cuyana, Avène, and Diptyque.
Everyday Parisian continues to evolve and grow each year.
In 2021, I worked on a rebrand and merged both the photography site and blog together to make a more cohesive brand between the two.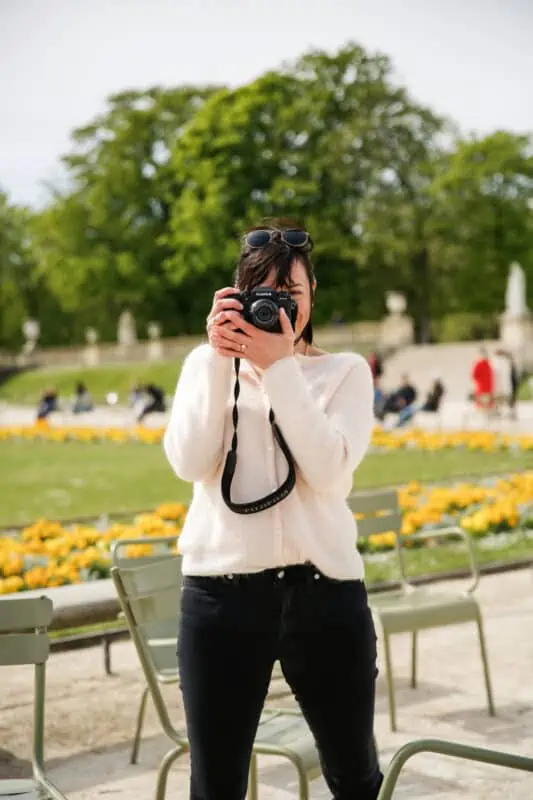 My favorite part of the blog has been connecting with readers around the world each Sunday for links I love. They are a tribute to my grandma and the letters she used to send me with post-it notes and cut-out newspaper articles. I am happy to see the tradition be carried on each with.
The blog is 6 years old and still going strong. I love the EDP community of Francophiles from all over the world. It has been so rewarding to be able to help so many people plan amazing trips to Paris for their first time, honeymoon, and families. During the pandemic, I was able to bring Paris home with the Frenchify series.
This post does include affiliate links which helps contribute to my coffee and croissant money. Merci!