Sézane Sizing Guide
Sézane is one of my favorite French brands to shop in Paris, the clothes are high quality and hold up over seasons and the styles are fun and different than you can buy in the US. I have loved each of the pieces I have collected over the years that I have purchased from Sézane. Sézane is a sustainable brand and they are committing to giving back to the community and various charities. This Sézing sizing guide was made to help you navigate between the US and French sizing.
Introduction to Sézane
If you are looking for a brand that looks and makes you feel more French, this is it. They do have great basics that they keep in stock and are around year after year.
Where to Find Sézane
You can purchase items online or in-store. Sézane now has a couple of locations with one in NYC and London if you can't make it to Paris. On any given day, a Sézane store will be filled with shoppers. During my recent trip to Paris last October, the lines were at least 50 people deep outside. We were very lucky to have a private shopping experience to let the girls shop and try on items in the dressing room without a wait. Typically, the wait for dressing rooms is at least a few minutes.
Sizing for Sézane is so important as the French typically run a bit smaller than American sizing. You may want to size up certain items. Sézane is great at giving tips on selecting a size for each individual item. I have typically worn my regular size 4 in dresses, small in sweaters and shirts, and size 8 in shoes. My measurements are 5'6″ and 135 lbs and I run on the busty side so I will size up if need be for tops. 
There are certain items that run small or large and I do my best to address this specifically with the items below. The French cuts do vary between American cuts and they may be more cropped or baggy depending on the item and that is something to take into consideration. Look at the way things are styled in the images to get an idea of how an item should fit and if you want to size up or go for your standard size.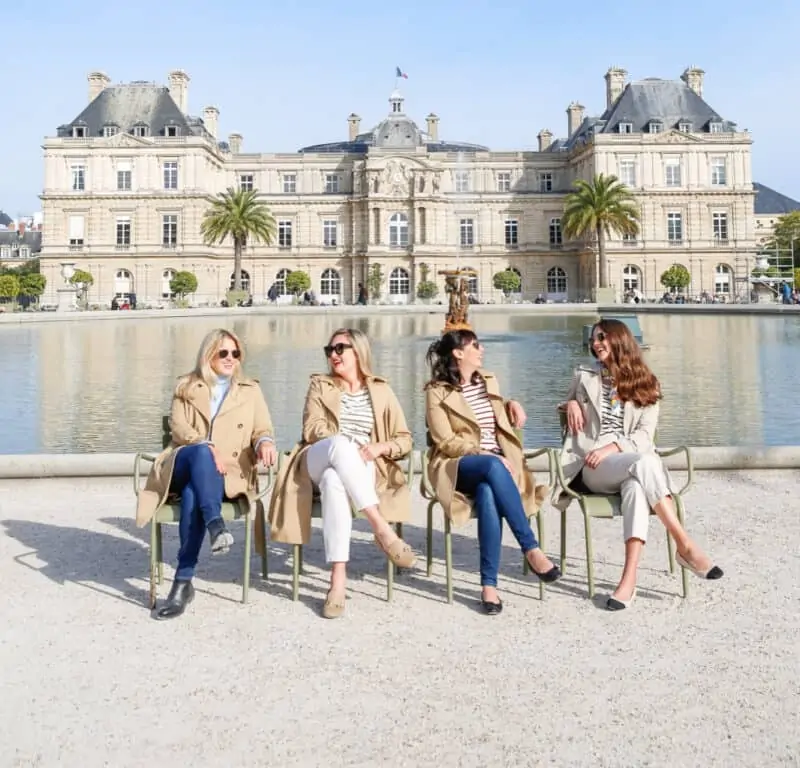 We are all wearing the Sézane classic Marinière shirt with a trench coat. The size is small for me, my regular size.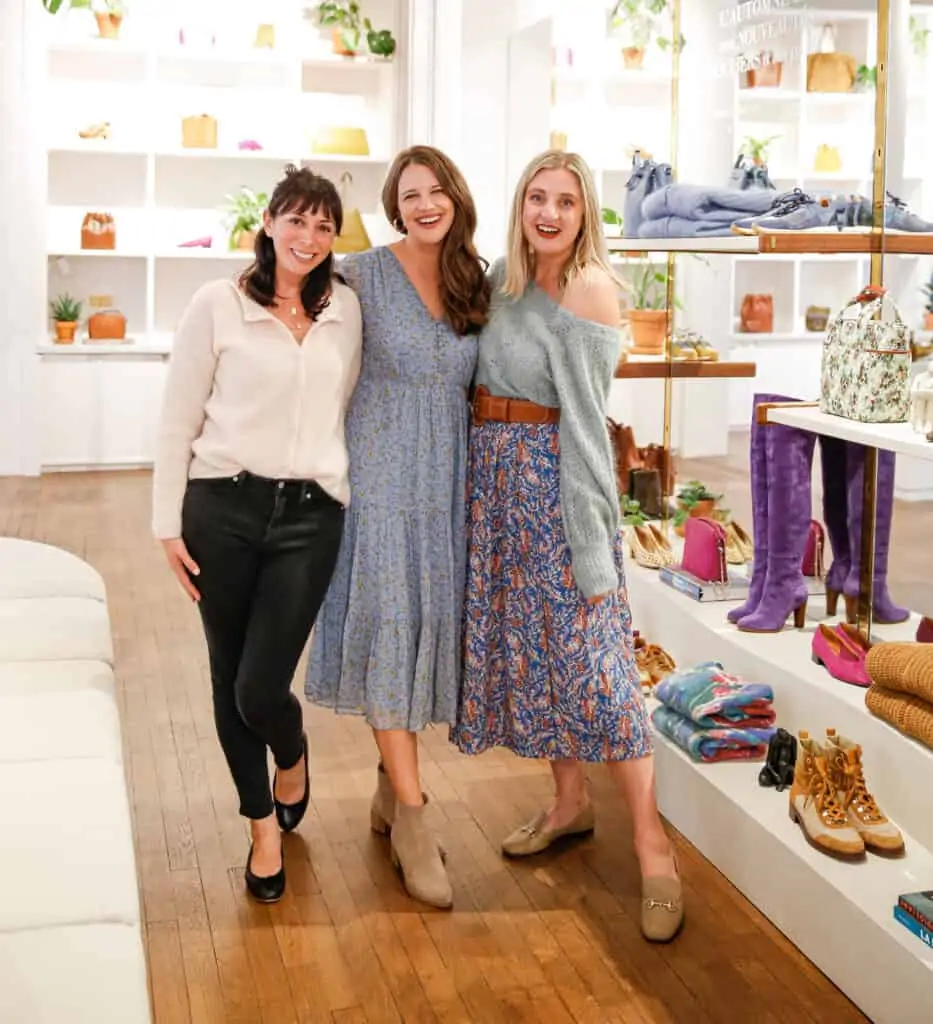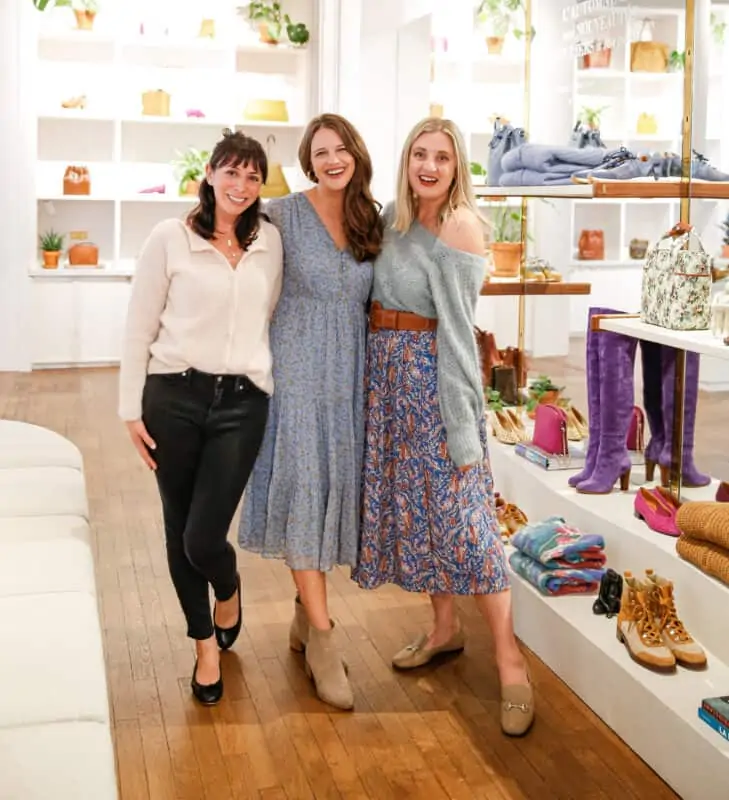 Sézane releases new collections monthly.
Once you sign up for the Sézane email list, you will get a notification of a lookbook for a new collection along with a release date, which is typically Sundays and Wednesdays. The French version will go live first at 10 am and then the American version will go live at 10 am US time so if you are on early, they do reserve items for the second batch to release. My tip for this is to sign on before the American sizes are released and try to snag items early. You can get the app which will give you a push notification for both the collection preview and when it is ready for sale.
I highly recommend downloading the app for easy access to new collections. In the past, they would release a collection each month. They have since updated the releases and have dropped more than one collection a month. Some sizes, styles, and colors can move quickly, so it is essential to get the app and push notifications. You can see a preview of a collection a few days before to get an idea if there is anything that sparks your attention.
Each shopping cart will stay active for 30 minutes while you shop. Some collections are bigger hits than others. I am giving you the heads-up because items can go fast!
Sézane Sizing Tips
One of the questions I get asked most often is about Sézane sizing and how it runs in comparison to US Sizing. The minimum order with Free Shipping from France is $200 so it is worth it to purchase two items to get that discount on shipping. You can always return something if it doesn't work out. Plus, if you are unsure about sizing, you can order two sizes and see what works best.
The Sézane site offers this helpful sizing guide as seen below.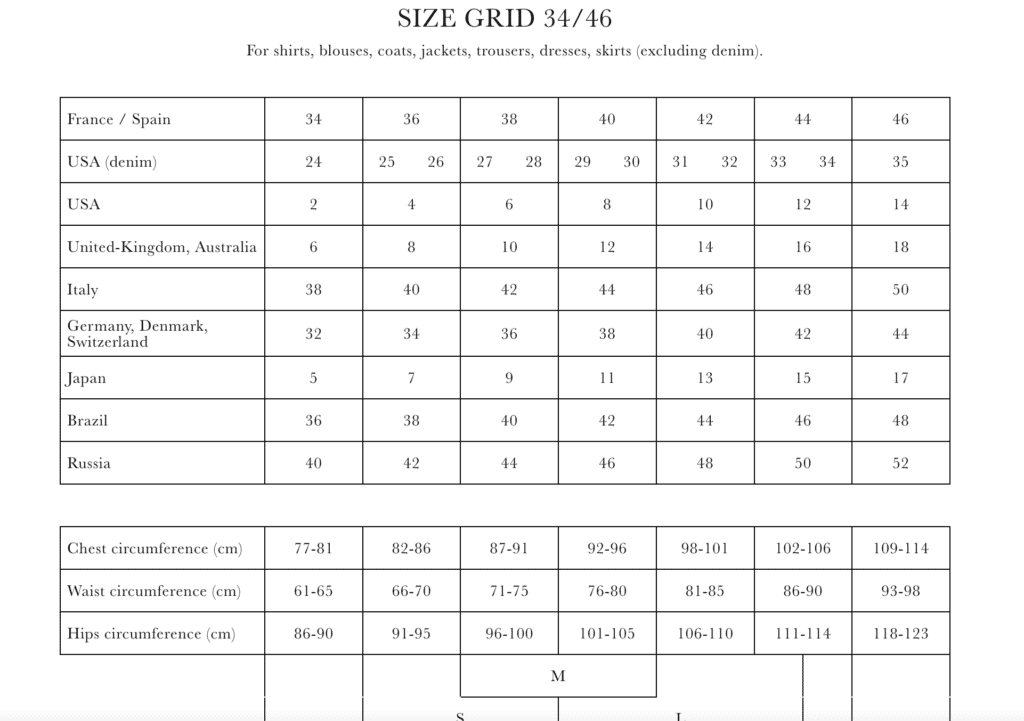 Their return system is straightforward and free. Anything that doesn't work for me will be returned back in the original box with a pre-paid shipping label. Once it returns to their warehouse, I will be credited back. There are a few questions that were asked on why it didn't work between fabric, fit, or if I didn't like it.
Gaspard Sézane Sweater
The most popular item I get asked about is the Gaspard sweater.
It is one of my most popular Sézane items and best sellers. They regularly restock it and add new colors. I have baby pink, blue, and black. It is light enough to wear over a cami or dress as a transitional piece in Spring or Fall. One of the great things about this sweater is it can be worn in two ways. The sizing on the sweater runs a little bigger than the other sweaters, but I still take my regular size small. You can always do a little French tuck in the front into jeans if you feel it is too long, or you can size down one size.
My Gaspard black sweater is a year-round wardrobe staple even in the summer months drapes over a dress at night to keep warm.
You can see some of my favorite Sézane sweaters in this post. 
I am 5'6″, and it fits great as a size SMALL. In terms of irritation and if it is itchy, it has not bothered me at all and it is soft. To wash your Sézane sweaters, you can use Woolite. You can also take your items to the dry cleaners. There is wool in the sweaters and they will shrink if you do not wash them properly.
You can see some of my favorite Sézane items here. I update this regularly when new collections launch.
Sézane Gaspard Sweater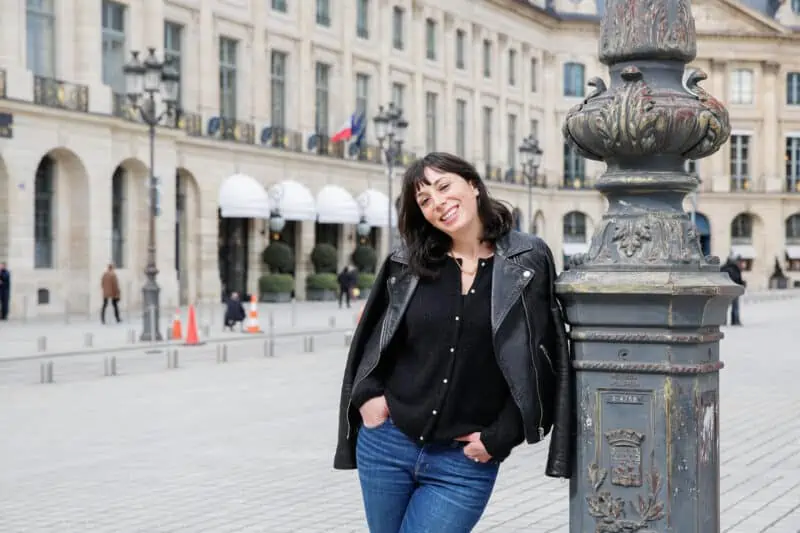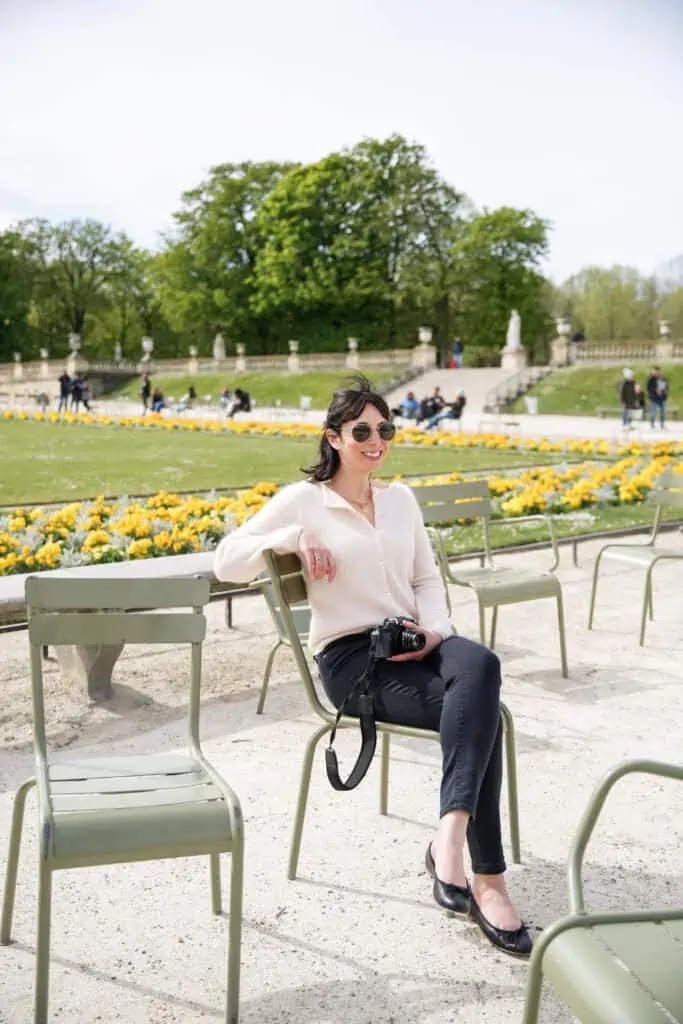 I have had the Johnson Coat for two years now and I love it. In the coat, I am a size 36. For sizing, I could have probably gone up to a 38 with sweaters and scarves it gets a little tight as I am bigger in the chest. If you are, too, you might want to size up.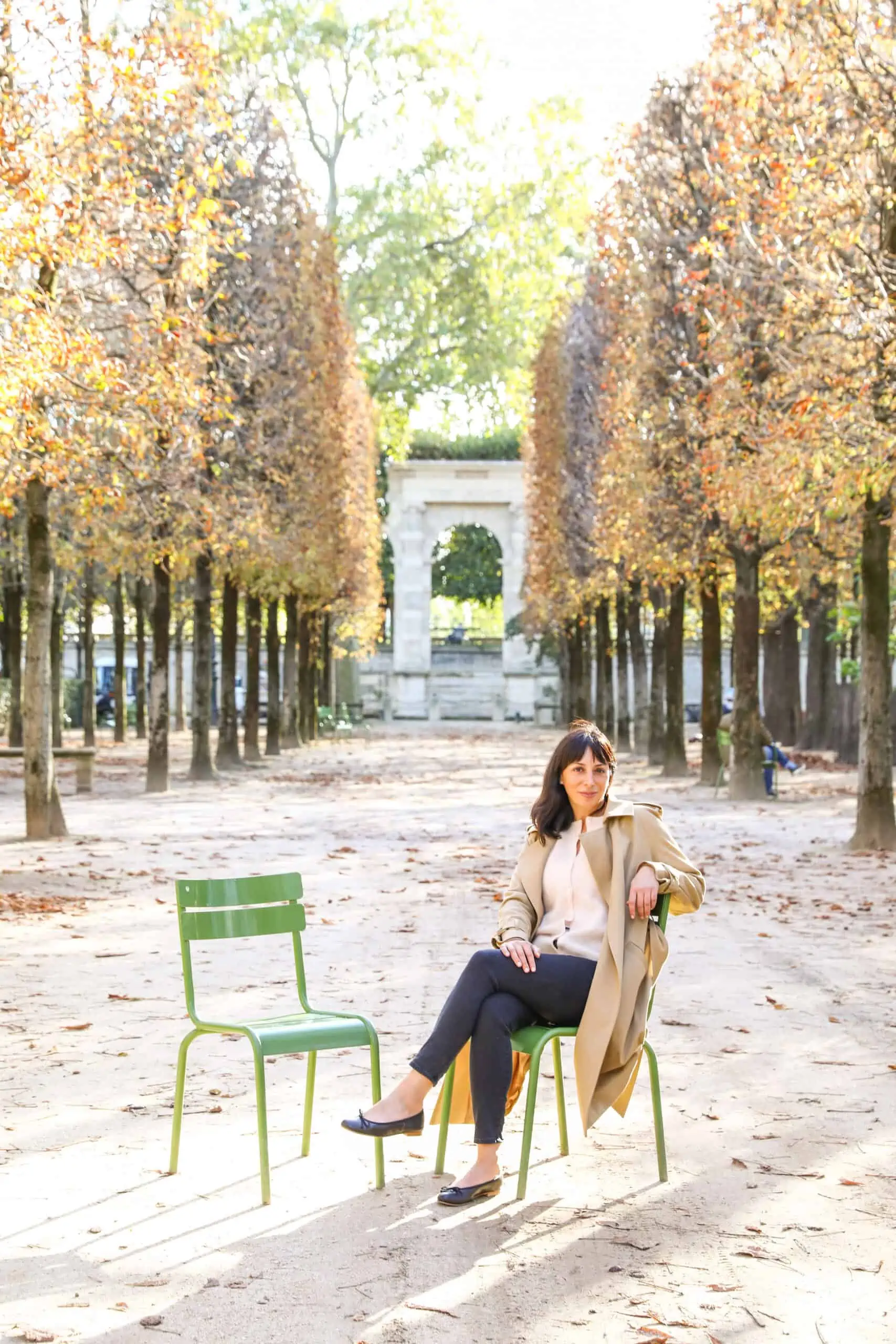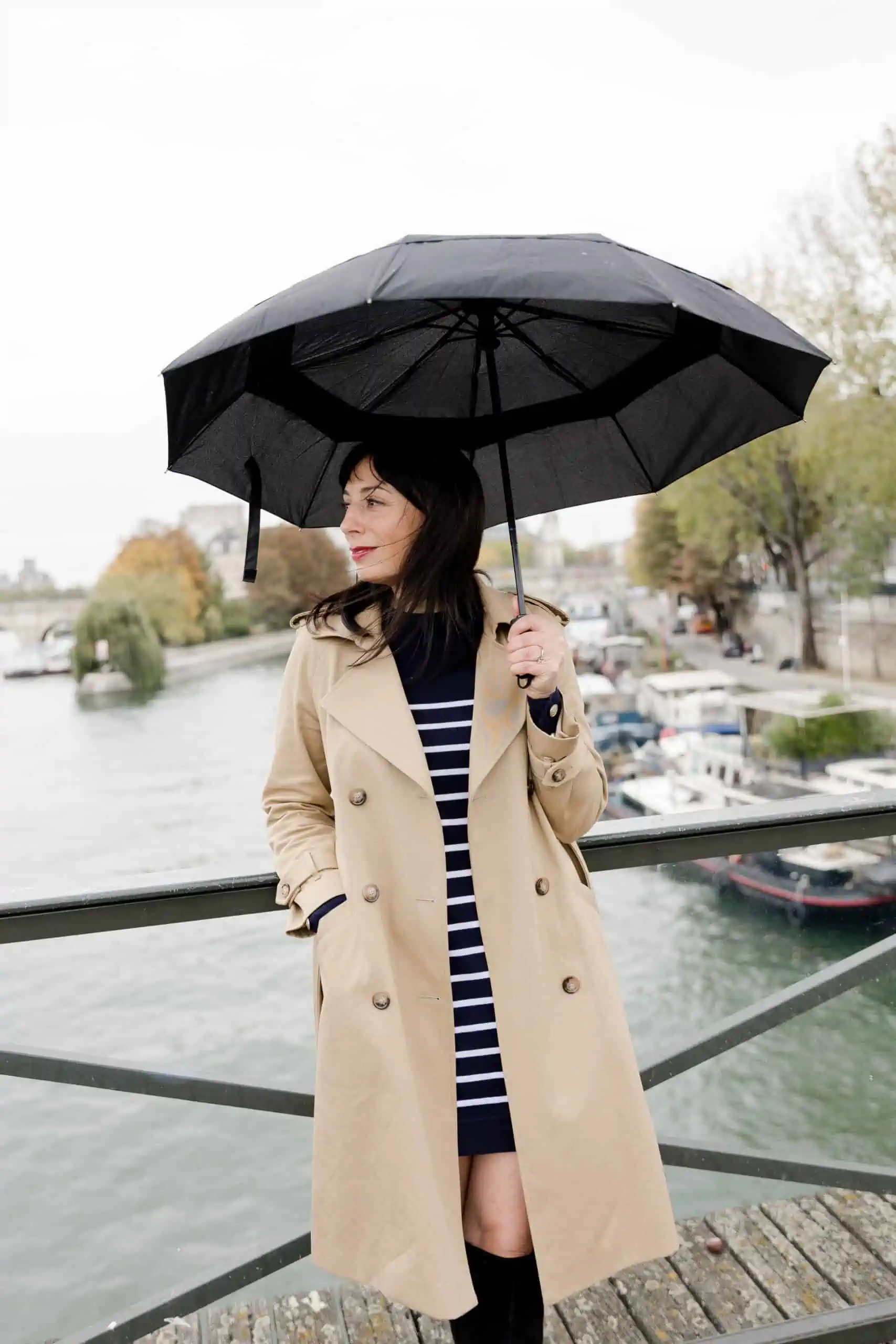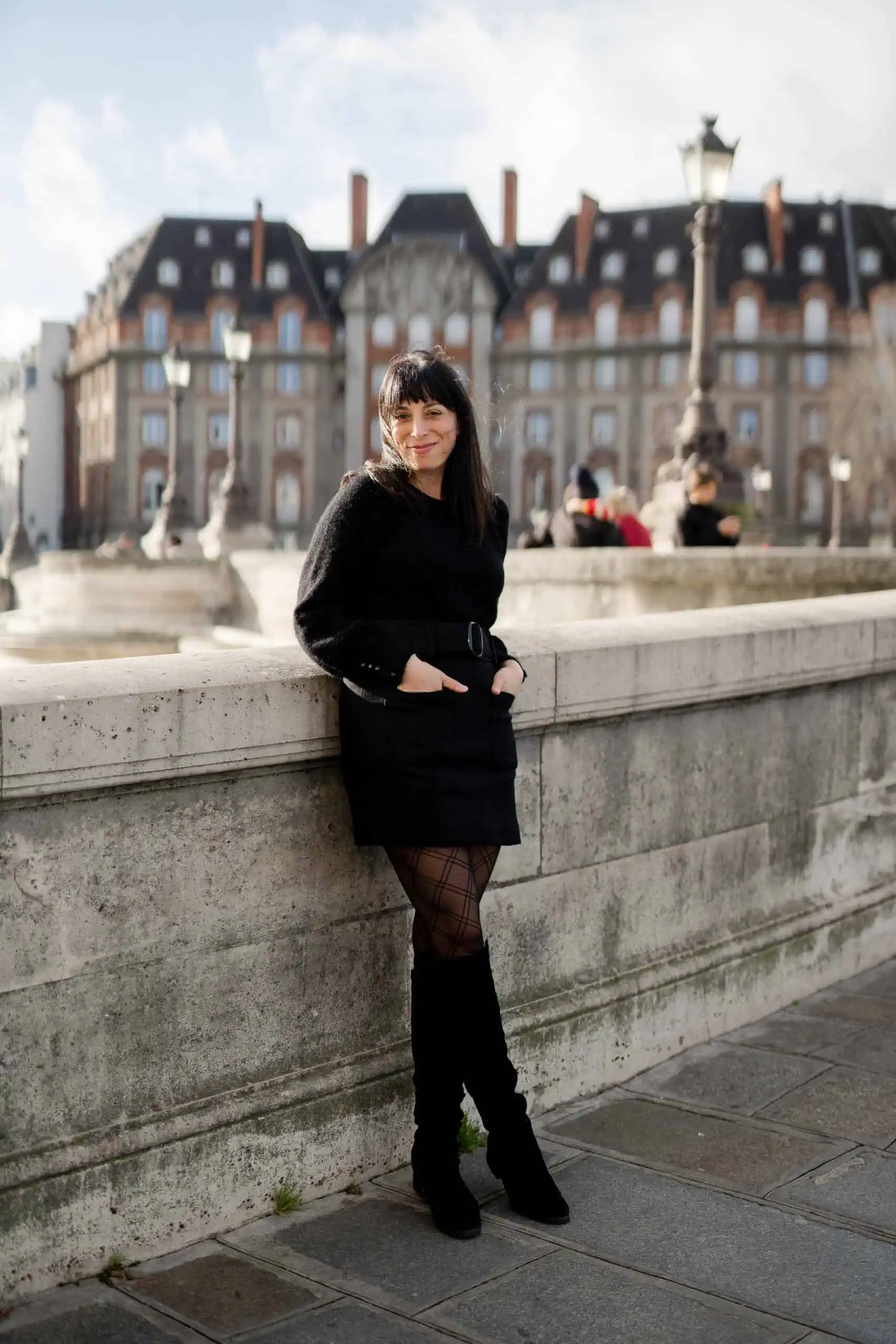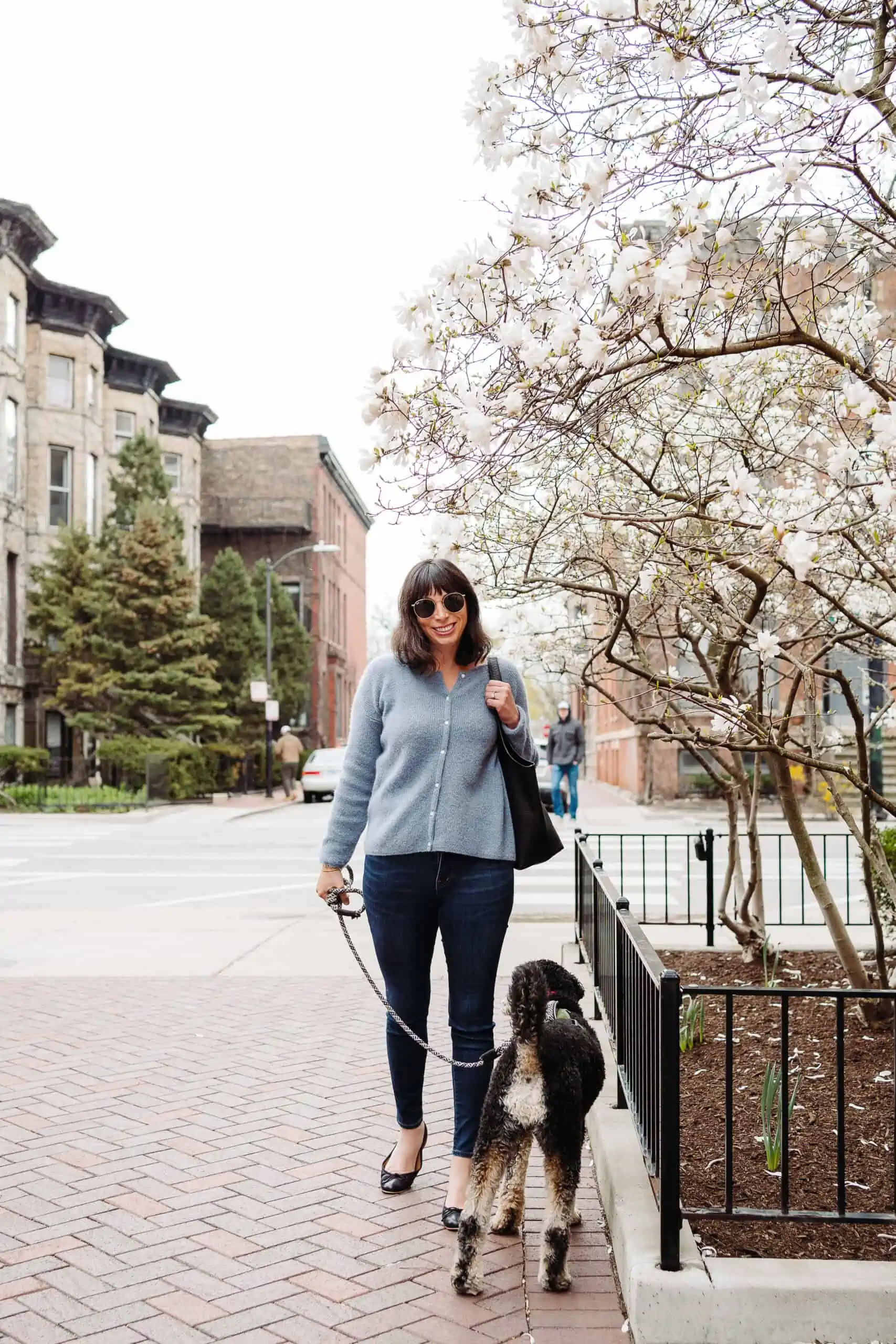 This is the category of Sézane I have the most of. Each year, I invest in a few pieces that are classy and I know will carry over for more than one season. I have chosen small in all my sweaters. The Gaspard runs the biggest, and the other sweaters are tailored a bit smaller and more of a French cut. I have a long torso so there are definitely some I wish I sized up.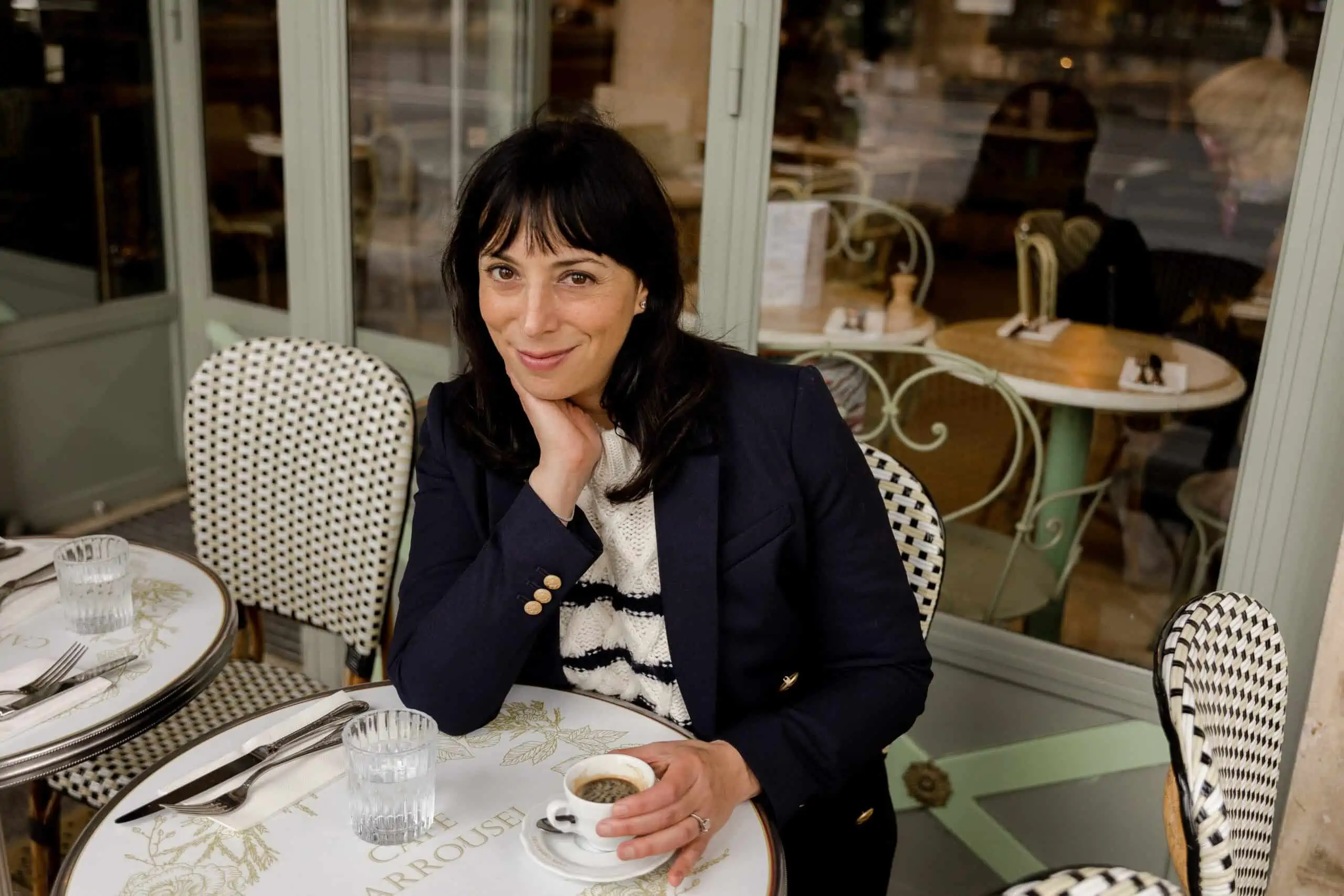 Sézane Blazers
The blazer is a hot fashion trend I expect to be around for a while. I loved my navy one so much that I returned to buy the camel one. They are great layering pieces over sweaters or blouses. I take my normal 36 sizes. Classic blazer styles include the Christie, which I own in the camel color, and the Michele jacket in navy.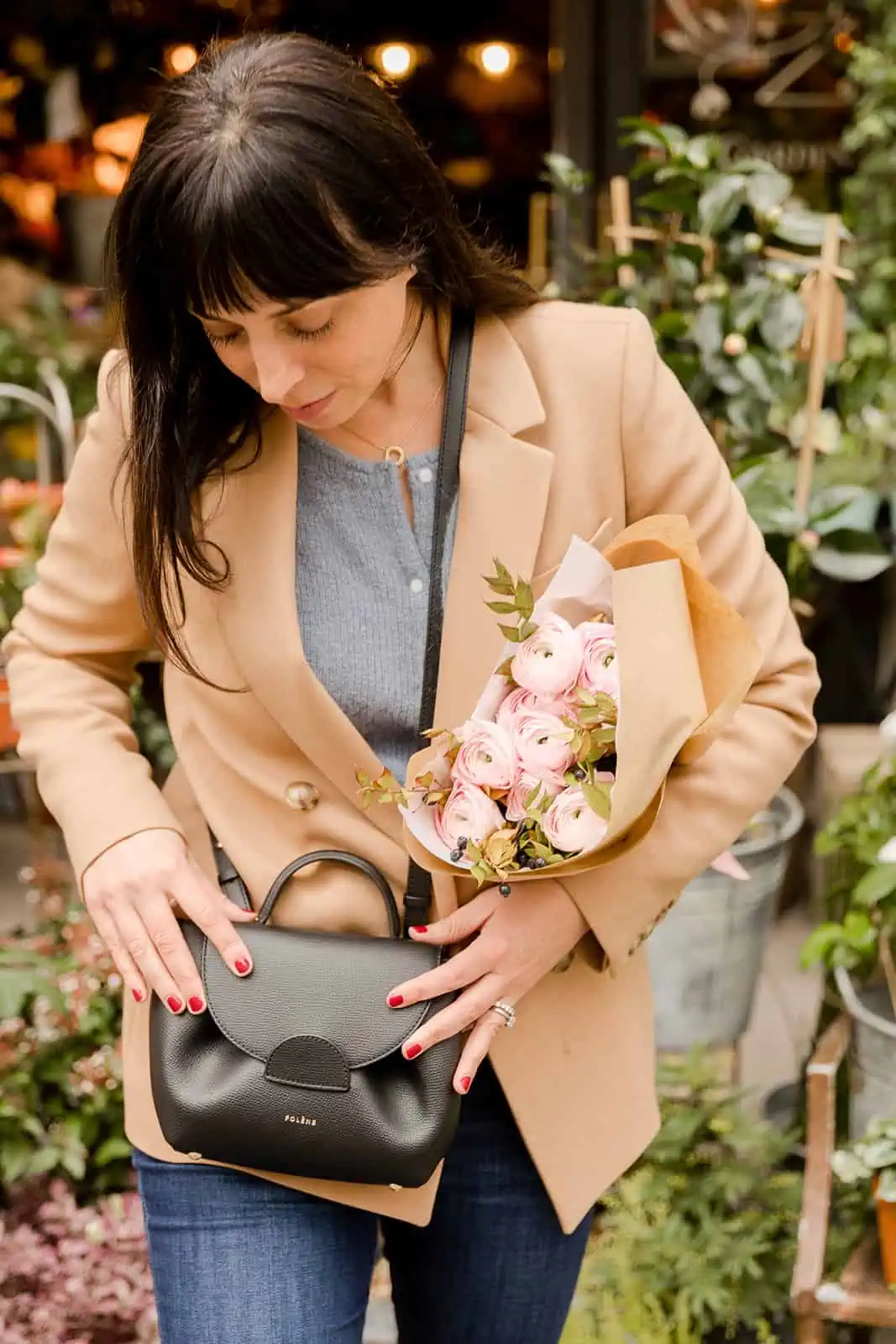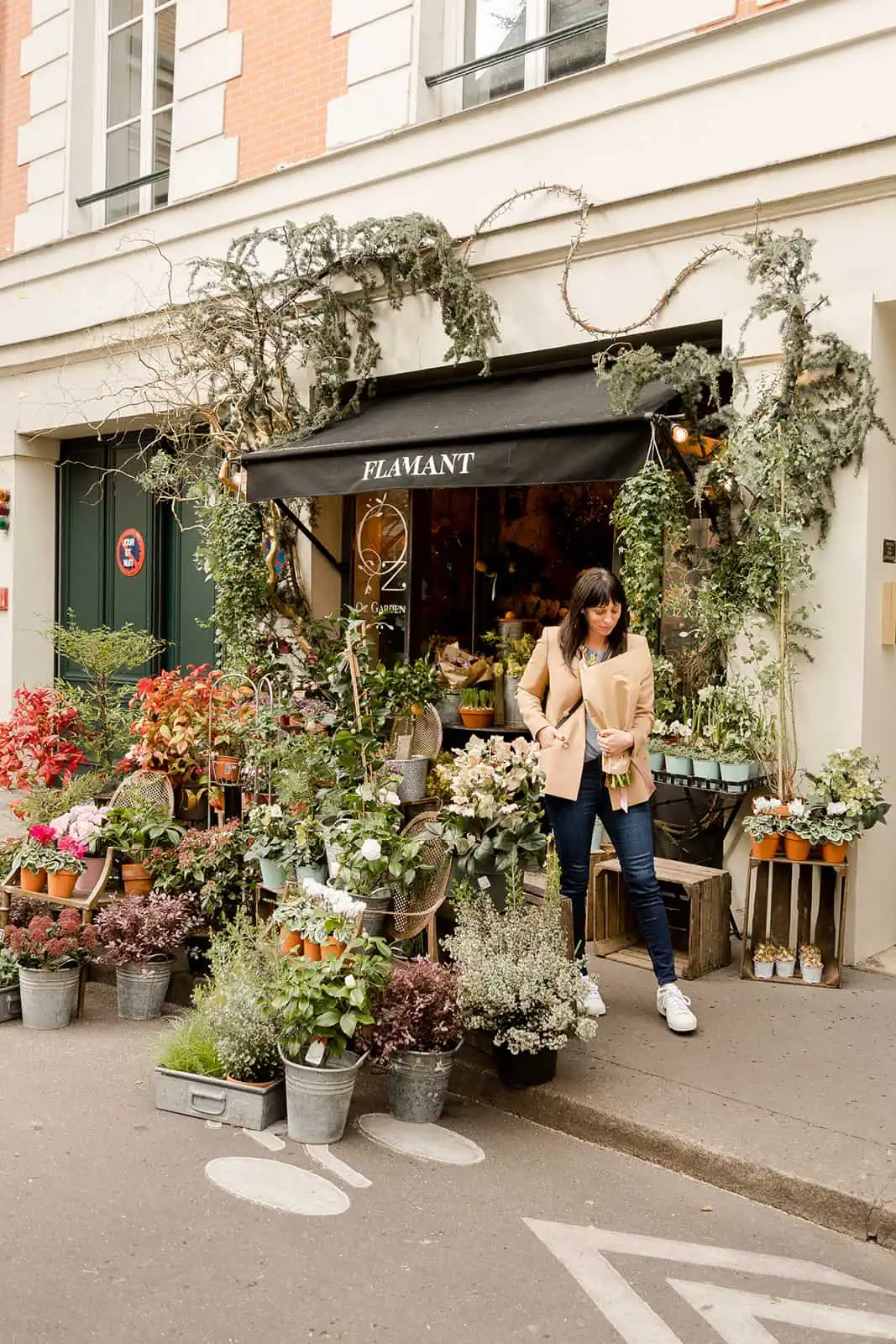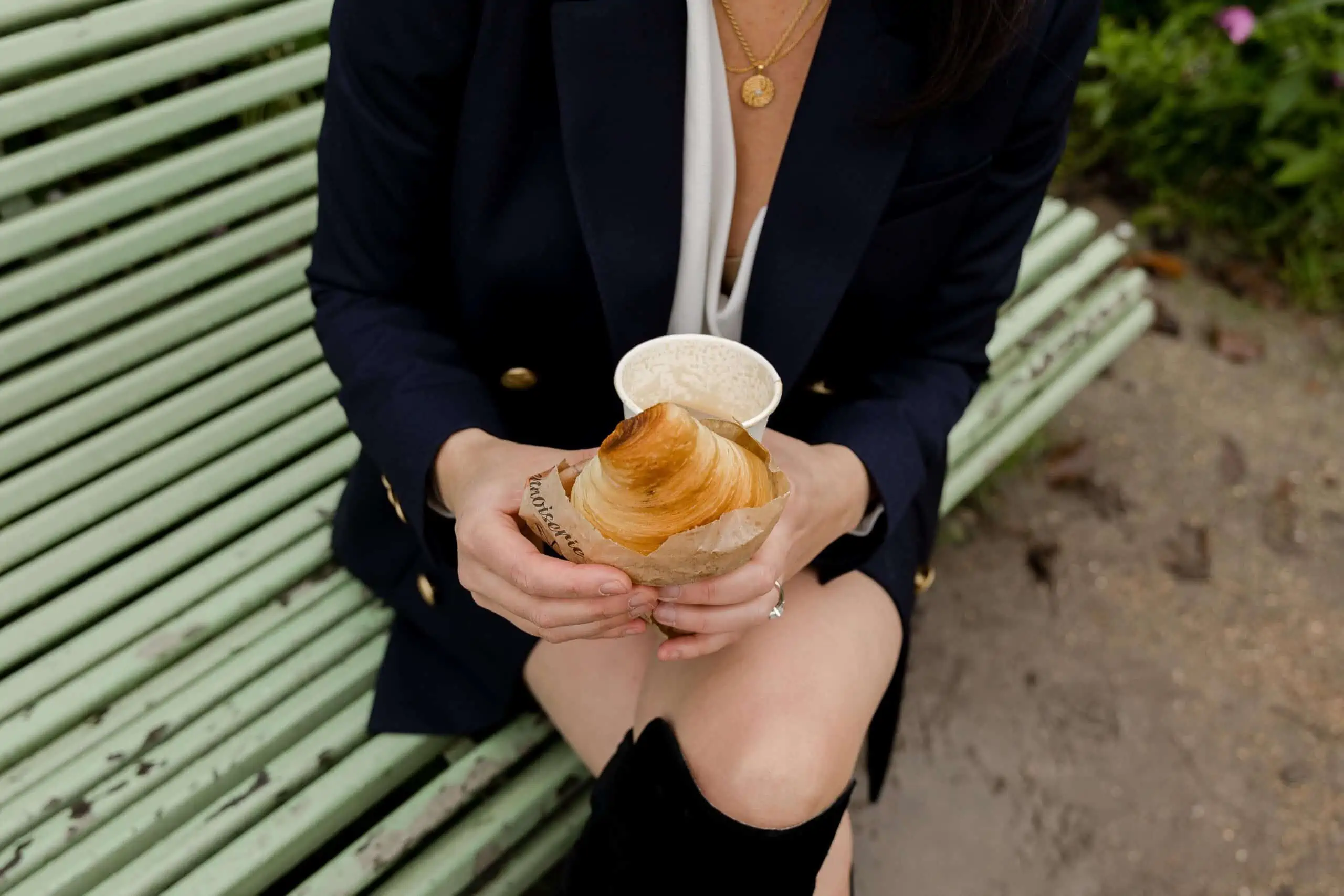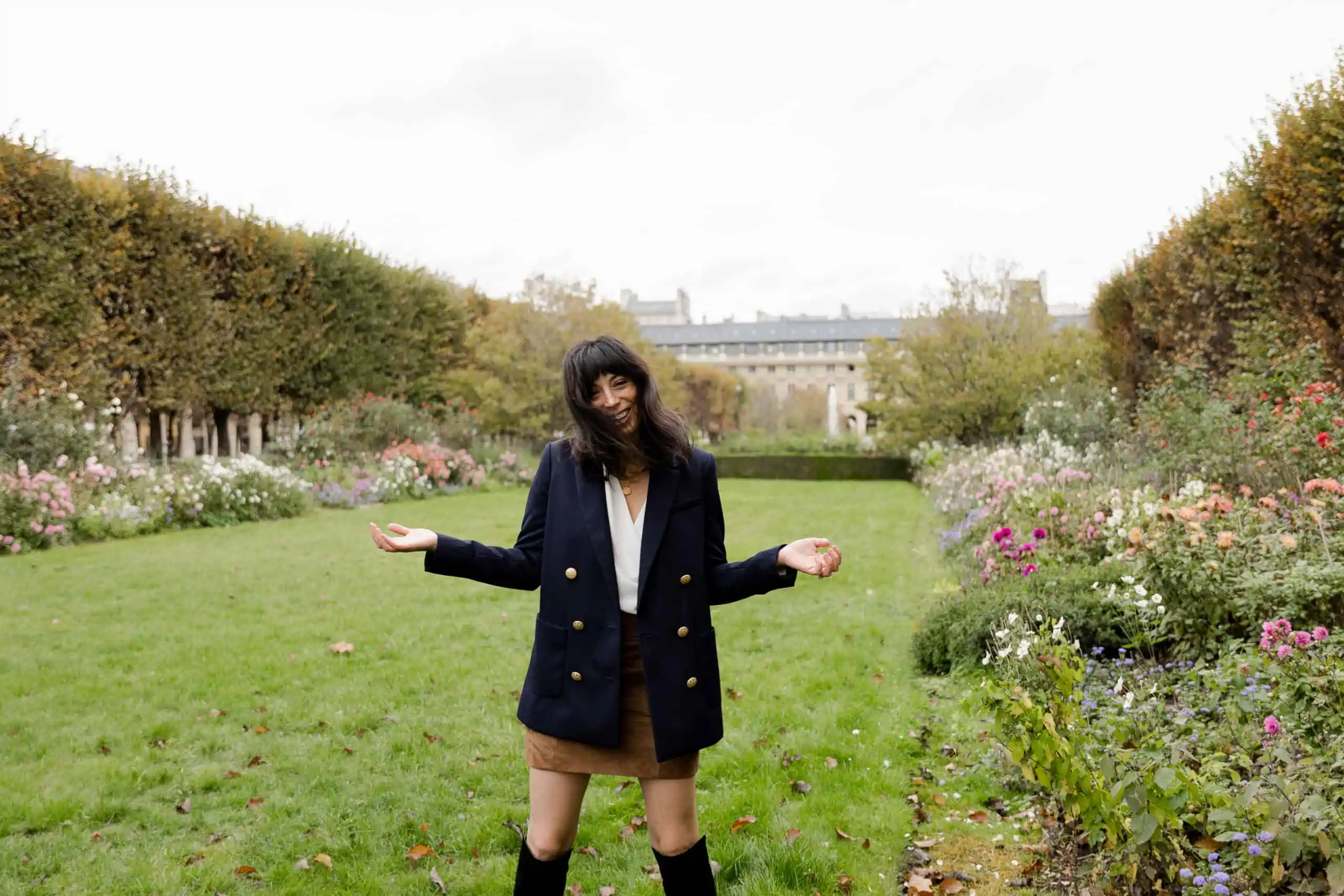 Sézane Blouses
The one polka dot blouse from Sézane that I absolutely love has also become my staple date top before the Pandemic. It is easy, fun, and great with a pair of black boots or a skirt. I wear a Size 36, and it fits great.

I recently purchased the Louisah blouse, and I love it. and I have worn it so many times already. It has a boxier fit on the bottom and can be worn tucked in or out. The ruffle detail on the neck looks great with your hair pulled up, I have the size 4 in Ecru. The Louisah blouse is sold out, but this one is similar. 
I have a few dresses from Sézane, all in size 4. I bought three dresses at the store in Paris last October, convinced I would be engaged in one of them. My fiancé threw me off, and I wasn't wearing any of them the day he proposed.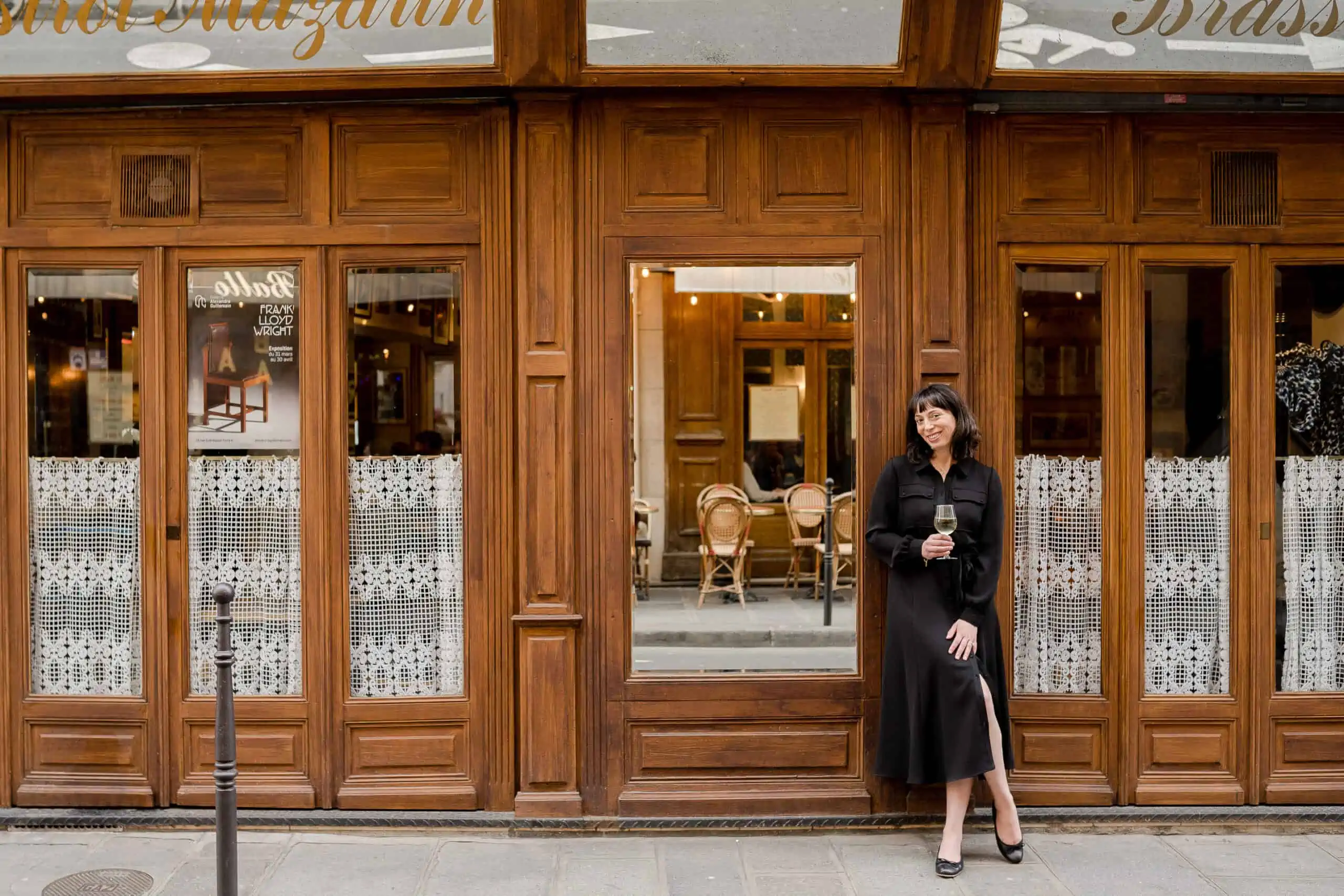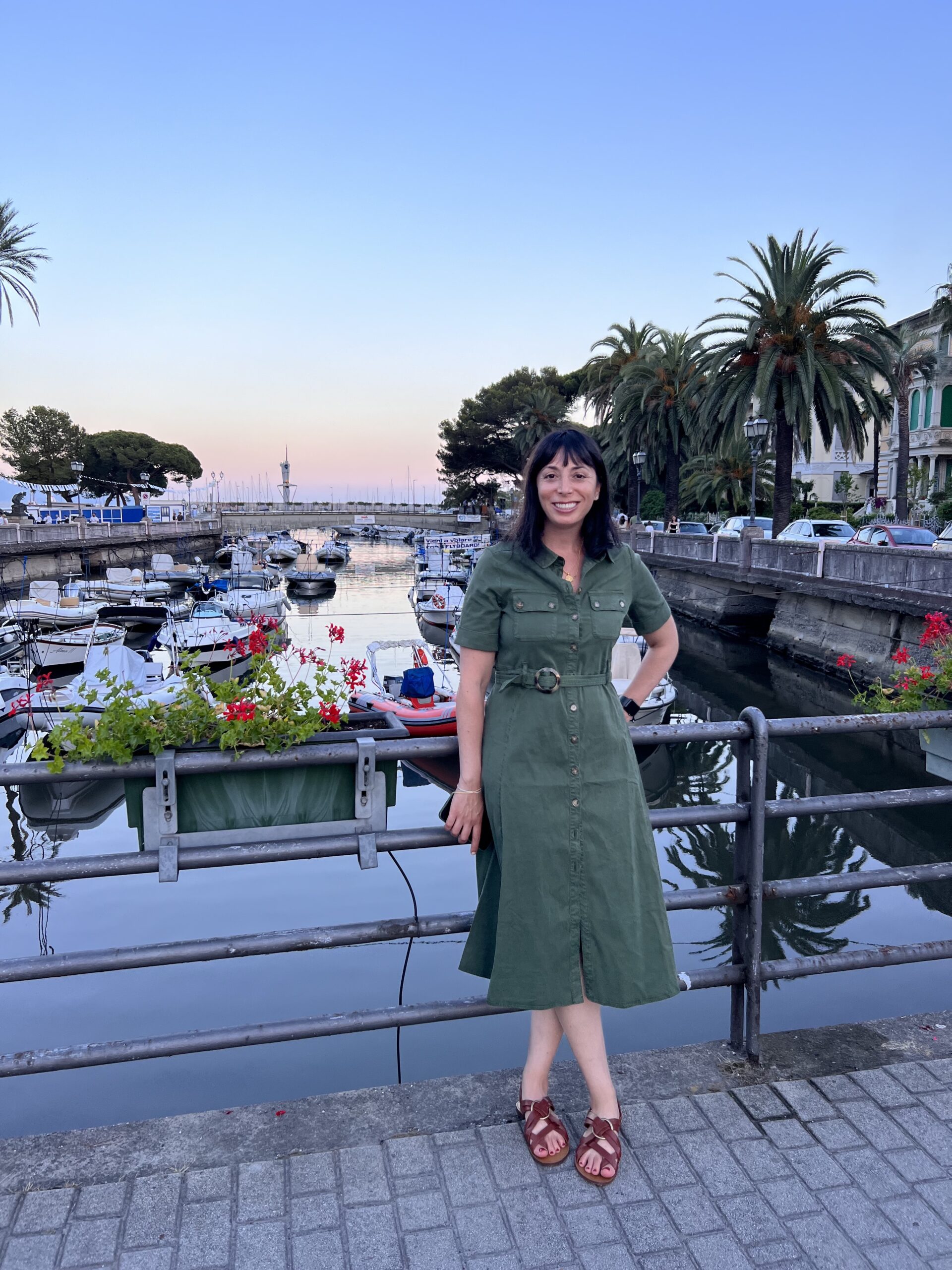 I recently purchased the Vic dress after it sold out last year and bought it in size 36, and it's perfect. Make sure to tie the arms before you put them on. It's a bit tricky if you do it the other way around. This is what wore for my 40th birthday, and I know I will be wearing this dress on repeat for years to come.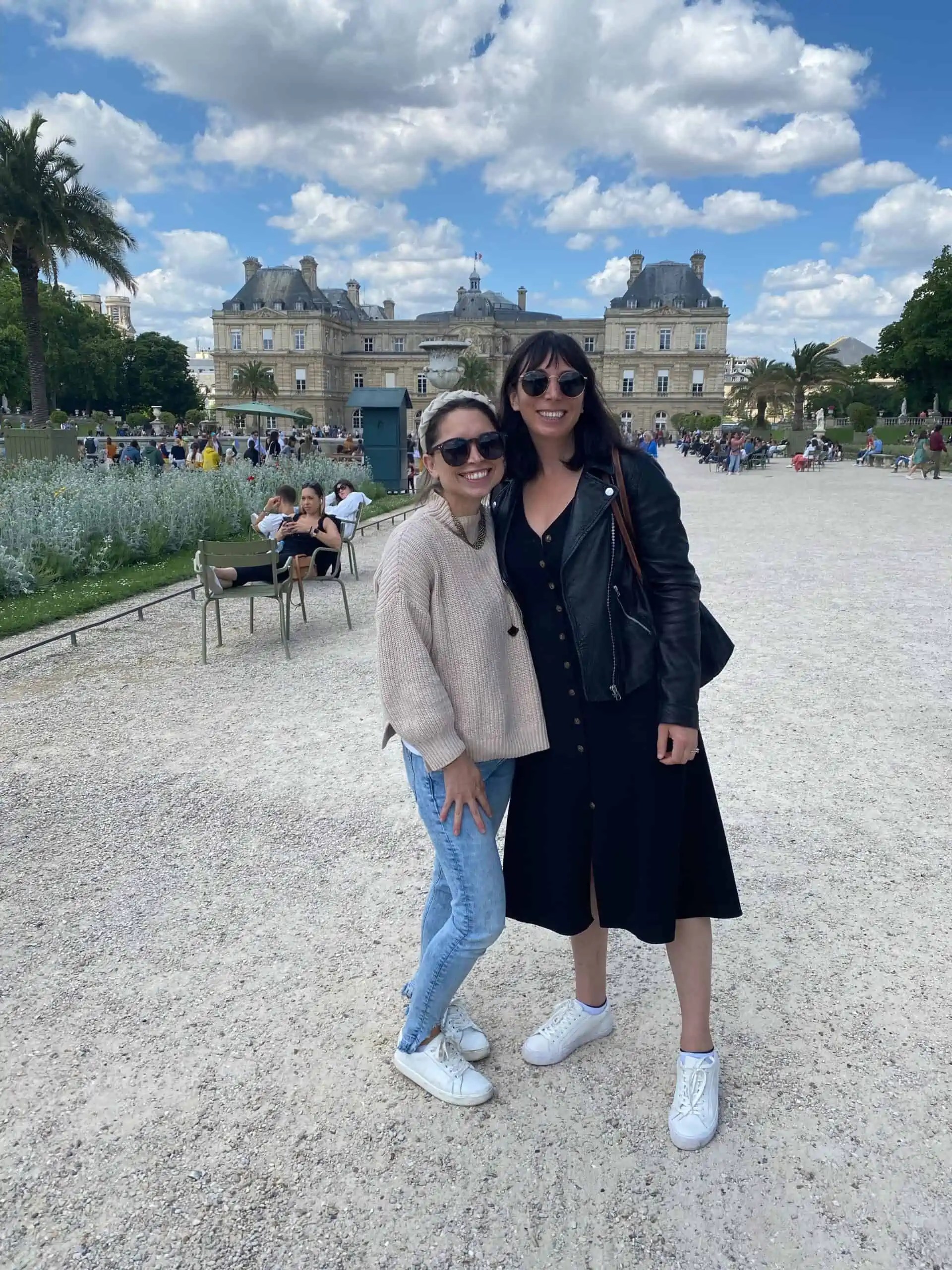 The skirts at Sézane right now are so good! I bought one in Paris in suede and got the same one in black. They are both fantastic, and I know I will wear them a bunch with boots this winter.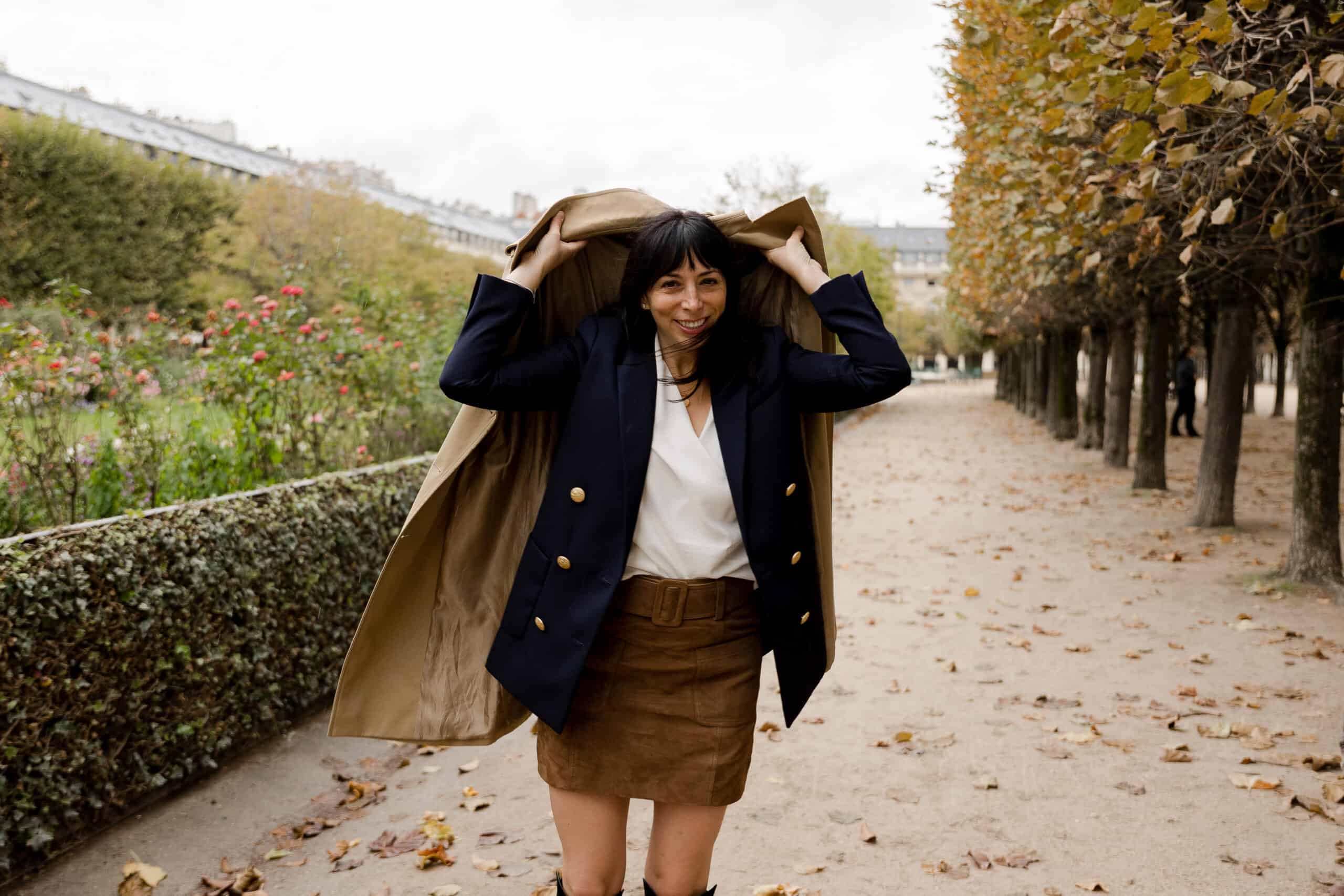 For sizing on Sézane bottoms, including pants and skirts, I had to size up one size to a 38 from my usual size 36, which is a 4 to a 6. 
After wanting one since last year, I recently added a Sézane belt to my collection. While in the store, I tried mine on in person when I was in Paris, and I wear a size 90. Typically, I am a 4/27 if that helps you. The 80 was too small for me.
I ordered the Olympe Low Sandals for my first pair of shoes from Sézane. They run large, so a size 8 was perfect. I ordered these sandals, which I brought to Italy with me. You don't need to break them in, and walking around for hours was easy, I wore them on a day trip to Portofino.
If you are a different size than me and have found your size in Sézane, I would love to have you comment below and share so other readers can find your size.
All photos of me taken by Katie Donnelly Photography
*This post includes affiliate links. I make a small commission off of items purchased through my links. Merci!