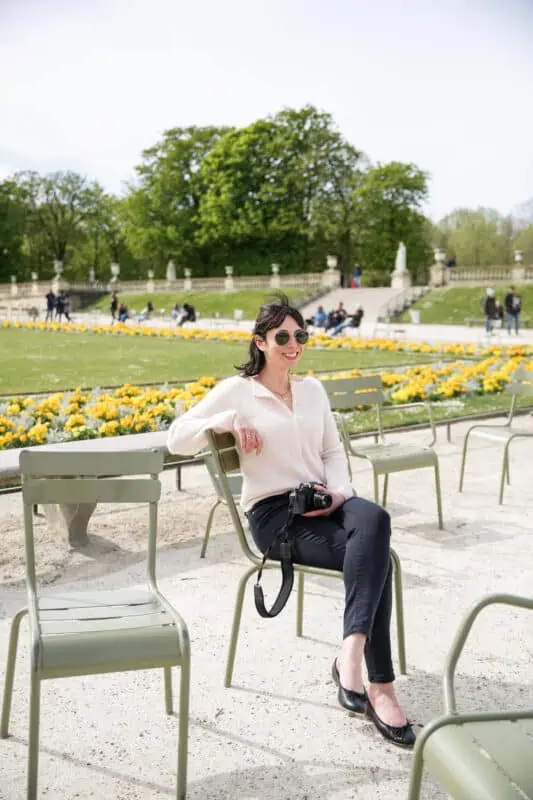 It has been a while since I have done one of these posts so I wanted to introduce myself in a fun way. If you are new around here, I am Rebecca Plotnick the founder and face of Every Day Parisian. I am a full-time photographer/blogger based in Chicago and Paris. Feel free to comment below and tell me where you are following from.
25 Things You May Not Know About Me
1. My storytelling skills come from my Dad.
If you have been reading the blog for a while or you have met me in person you will know I love to tell stories that go along with the photo. What is the fun of a photo with no story? I didn't realize it until this weekend, but my storytelling skills are from my Dad. He is the ultimate storyteller. You can hear the same story ten times, and he tells it like you are hearing it for the first time.
2. I am old school when it comes to certain things.
I still use posts its, paper journals, and a calendar. My desk is filled with post its and every time I have an idea, I write it on one. It may look odd to an outsider, but my mind is constantly thinking of new ideas, and it helps to keep them where I can see them. I always carry a notebook in my bag. I have a few empty ones just in case in the closet. Each project has its notebook. Also, I can only write in black pen (never blue).
3. Being an Aunt is the best gift my sister has ever given me.
My niece and nephew are adorable, funny, and sweet. I am so lucky to have them and have an active role in their lives.
4. I hated cooked vegetables until I was about 40
My mom always said my taste buds would change and she was right! I have recently learned to love zucchini, eggplant, and artichokes. On my 41st birthday, I enjoyed artichokes at dinner and my life was instantly changed.
5. My grandma was one of my best friends.
I miss her every day. She was my biggest cheerleader and the person I always called first to tell my good news. She continues to show up in my life in different ways now that she is gone.
6. I didn't start drinking coffee until later in life.
Coffee is a big part of my life but that wasn't always the case. I was slow to adapt and now I love it. I really am eying one of these Breville coffee makers I keep putting on my wish list.
7. I am typically late or right on time. The one thing I am always early for is… flights.
I am the queen of airport stress, prefer to be early for a flight, and will leave much earlier than required. This is so that I don't have to worry about not having enough time to make my flight and get through security.
8. My parents divorced when I was in middle school.
It may surprise many people, but my parents divorced parents are together for Thanksgiving and family trips. My niece and nephew (their grandkids) are the family glue and have helped put us back together. It is really sweet to see their bond with both kids.
9. I am an early riser.
I typically wake up before my alarm goes off. And I am most productive between 7 – and 9 am. In the Summer, I am up even earlier. I love the quiet of the early morning and watching the sunrise.
10. I love analyzing my business stats.
I have a business background. And I have been looking at statistics since graduation from my old job as an assistant buyer. I look at blog, shop, and Instagram stats probably a bit too much but there is always an opportunity for growth. It fascinates me to see what is working and what isn't.
11. I wanted a dog for the longest time but wasn't ready for it until now.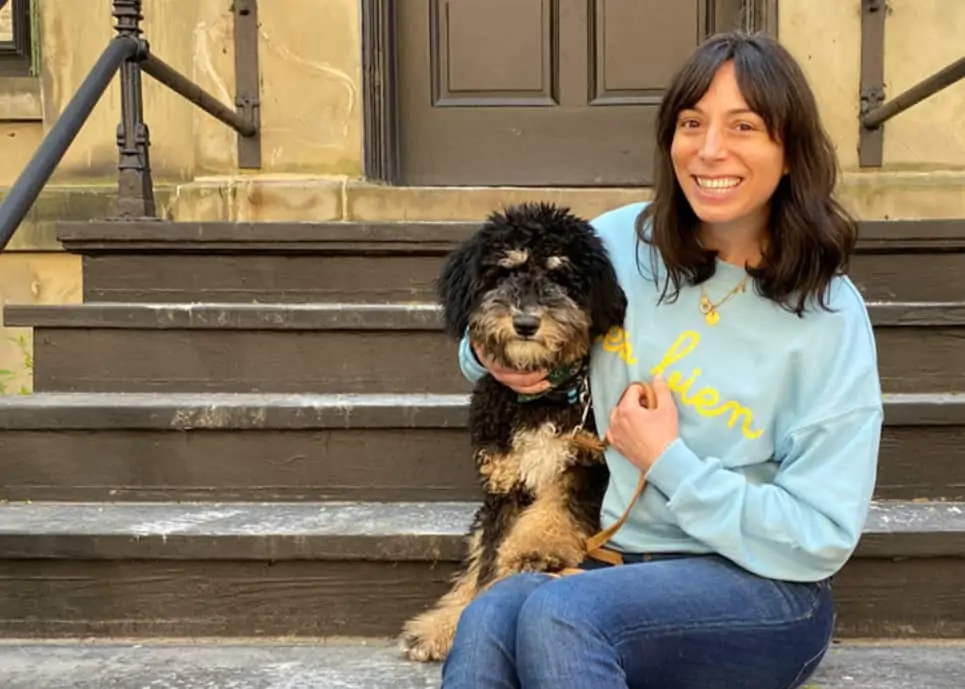 Henri is my mini-Bernedoodle, and, we are attached. He was worth the wait in every way. Currently, he is 2 1/2 and very much in the toddler phase of puppies. It gets better and better with each day.
12. I love bookshops.
My dad used to take my sister and me to a bookshop on Sundays and, it became a tradition. I love to read, especially WWII books set in France. There are years I can't get enough of books and other times I am slower to make it through a book. My husband recently bought me a Kindle and I am loving it.
13. I love to travel but visit the same places yearly, including Amalfi Coast and Paris.
On my short wish list are Ischia, Puglia, and Provence.
14. I suffer from migraines.
So I avoid specific triggers including red wine and anything smoked. I carry Excedrin in my bag at all times just in case I feel one coming on. It usually helps if I catch it in time. If not it is a long road to recovery.
15. I am a beauty junkie when it comes to skincare.
I am always looking to try new products and improve my skincare routine. Clean beauty is my big focus. You can see some of my favorite beauty brands here.
16. I have a dry sense of humor.
I get it from my dad and grandpa. My niece is finally catching on a bit and, I can't wait until she gets a bit older so we can banter. Sometimes, I am the only one laughing at my jokes.
17. I am a Hoosier!
I went to college at Indiana University. Watching IU in football and basketball each season is a lot of fun.
18. My first love was Italy and not France.
I studied abroad in Siena and Florence in college and fell in love with Italy. The original plan was to find a way to move back to Italy in some way. I still miss Florence and Siena and hope I get the chance to get back with a fresh set of eyes soon.
19. I love matching pajamas.
My pajama drawer is well stocked with summer and winter pajamas. One day, I would love to design a pair of my own.
20. I fell off the bunk beds at summer camp as a kid.
I broke my collarbone and was very lucky to have that be the only injury. It was the first night of camp, and I ended up staying at sleepaway camp with a sling and refused to give up and go home.
21. I reconnected with both of my Aunts after my grandmother passed away.
They are both so different but lovely in their way. One Aunt will practice yoga with me, putting a huge smile on my face. The other Aunt is the most fantastic cook. I love spending time catching up with her in the kitchen.
22. I love to cook/bake.
The pandemic helped me learn and grow in the kitchen. I prefer to eat at home than to eat out most nights. After a fantastic experience in Italy this summer, I am ready to roll up my sleeves and work on my pasta-making skills at home.
23. I wanted to own my own hotel as a kid.
While most kids played teacher and doctor when I was younger, I dreamt of owning my own hotel. I am fortunate to have travel as a part of my life now and create content and blog about different hotels I visit. Now I know how much hard work goes into hotels. It's best to be enjoyed on the other side.
24. I started learning photography with black and white film in high school.
When I went to college, I didn't think photography was something I could make a career out of so I let my dream go. I was laid off in 2008 and decided to pick up a camera again and become a travel photographer.
25. You can now find my work at IKEA and Pottery Barn.
I license my work to different retailers and sell on my own website here.
This post does include affiliate links that help contribute to my coffee and croissant fund. Merci!
What on the list surprised you the most? Is there something you want to know about me that I didn't share?