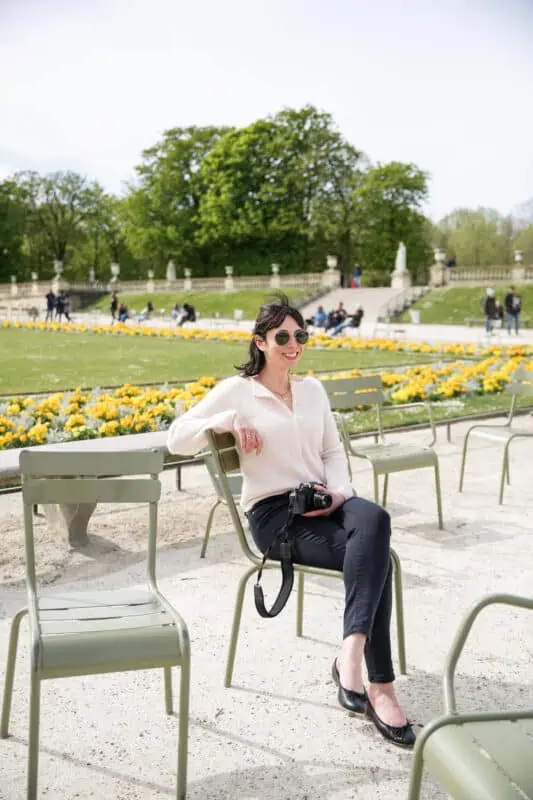 It has been a while since I have done one of these posts so I wanted to introduce myself in a fun way. If you are new around here, I am Rebecca Plotnick the founder and face of Every Day Parisian. I am a full-time photographer/blogger based in Chicago and Paris. Feel free to comment below and tell me where you are following from.
25 Things You May Not Know About Me
1. My storytelling skills come from my Dad.
If you have been reading the blog for a while or you have met me in person you will know I love to tell stories that go along with the photo. What is the fun of a photo with no story? I didn't realize it until this weekend but my storytelling skills are from my Dad. He is the ultimate storyteller. You can hear the same story 10 times and he tells it like you are hearing it for the first time.
2. I am old school when it comes to certain things.
I still use post its, paper journals, and a calendar. My desk is filled with post its and every time I have an idea, I write it on one. It may look odd to an outsider, but my mind is constantly thinking of new ideas and it helps to keep them where I can see them. I always carry a notebook in my bag. I have a few empty ones just in case in the closet. Each project has its own notebook. Also, I can only write in black pen (never blue).
3. Being an Aunt is the best gift my sister has ever given me.
I think my niece is one of the funniest people I know. I see the way she looks up to me and she makes me want to be a better person.
4. One of the jobs I had after college was working for Sean John.
Yes Puff Daddy was essentially my boss. I worked as a merchandiser for his clothing line in the Midwest.
5. My grandma was one of my best friends.
I miss her every day. She was my biggest cheerleader and the person I always called first to tell my good news.
6. Raw carrots and cold mac and cheese give me hiccups.
My sister has the same reaction to raw carrots and we think it is pretty funny.
7. You may already know this, but I am grammatically challenged.
My friends find spelling errors and typos in my writing all the time!
8. The phrase "lol" drives me nuts!
I find it to be the oddest expression.
9. I am an early riser.
I typically wake up before my alarm goes off. And I am most productive between 7 – and 9 am. In the Summer, I am up even earlier. I love the quiet of the early morning and watching the sunrise.
10. I love analyzing my business stats.
I have a business background. And I have been looking at statistics since graduation from my old job as an assistant buyer. I look at blog, shop, and Instagram stats probably a bit too much but there is always an opportunity for growth. It fascinates me to see what is working and what isn't.
11. I wear the same earrings every day because I am allergic to just about everything I put in my ears.
I'm so jealous when my friends can wear all sorts of fun decorative styles and I am stuck with gold.
12. I have anxiety about flying.
It has nothing to do with the plane. It is actually all about making sure I have enough time at the airport. I once missed a flight that was for Vienna scheduled for 7 am and I arrived at the airport thinking it was 7 pm. They made me buy a new ticket on the spot and I don't think I have been the same since.
13. I had braces for 5 years and I still wear my retainer.
Luckily, I got them off before high school.
14. I suffer from migraines.
So I avoid certain triggers including red wine and anything smoked. I carry Excedrin in my bag at all times just in case I feel one coming on. It usually helps if I catch it in time, if not it is a long road to recovery.
15. I am a beauty junkie when it comes to skincare.
I am always looking to try new products and improve my skincare routine. Clean beauty is my big focus.
16. I have a very dry sense of humor.
I get it from my dad and grandpa. My niece is finally catching on a bit and I can't wait until she gets a bit older so we can banter. Sometimes, I am the only one laughing at my jokes.
17. I love to travel.
And I can't wait to explore more of the world. I have Greece, Croatia, and Morocco on my shortlist.
I met my fiancé in my late 30s. And will be getting married this year at age 40. I wrote this post on finding love later in life.
19. I wanted a dog for so long.
In fact, I had one growing up and I finally made the dream a reality with Henri. He is everything I wished for and more.
20 I feel extremely lucky to live my life as a travel photographer and spend as much time as I do in Paris.
But I don't take a single day for granted and know that my life isn't "normal"
21. I reconnected with both of my Aunts after my grandmother passed away.
They are both so different but lovely in their own way. One Aunt will practice yoga with me and this puts a huge smile on my face. The other Aunt is the most amazing cook. I love spending time catching up with her in the kitchen.
22. I love to cook/bake.
The pandemic really helped me learn and grow in the kitchen. I prefer to eat at home than to eat out most nights.
23. I work from home when I am not traveling.
Coffee shops are too distracting. I typically listen to jazz if I have music on.
24. I started learning photography with black and white film in high school.
And I will always have the first love of black and whites and love seeing Paris in black and white.
25. I have donated my hair to locks of love three times.
The best haircut decision I made was my bangs!
This post does include affiliate links that help contribute to my coffee and croissant fund. Merci!
What on the list surprised you the most? Is there something you want to know about me that I didn't share?