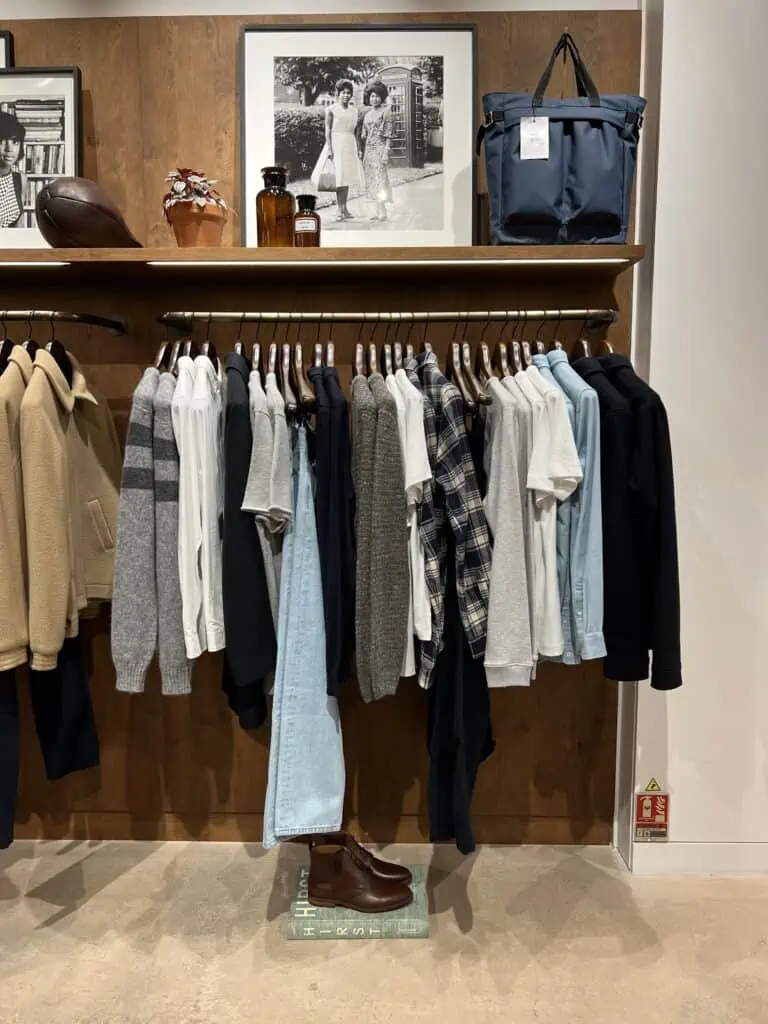 In Paris fashion, women's clothing is always top of mind. As most of my readers are female, I get asked for help with ideas on where to shop for him. If you plan a trip to Paris and want to turn your husband, boyfriend, or partner, Parisian, this post will help. These are my top 5 places to shop in Paris for men. If you have found a spot you love that didn't make the list, please comment below and share it with the community.
Where to Shop for Men's Clothing in Paris
Some of the best shopping areas in Paris include Boulevard Haussmann where you can find some of the best shops and larger department stores and fashion boutiques. Rue de Rivoli and Rue du Faubourg Saint-Honoré offer shopping for him and her. Luxury brands can be found on Avenue Montaigne and Rue Cambone. In Le Marais, you will find French brands on Rue des Francs Bourgeois and Rue Vielle du Temple (one of my favorite streets in Paris). There are great bars and restaurants for French food here as well to break up the shopping.
Where to Shop in Paris for Men
Explore the flea markets in different arrondissement around the city and at the Aligre market if you are looking for something unique. You will be able to find antique furniture at the pop up brocantes around Paris. For antique shops, head up to Montmartre, L'Objet qui Parle is a favorite.
Balibaris is another favorite men's shop of my husband. We discovered it a few years ago and keep returning each visit to pick up new pieces. The staff is always super helpful and the clothes fit well and are good quality. There are several locations around Paris and even one in London. At Balibaris, you will find a wide variety of t-shirts, polos, shirts, jeans, and jackets. You can shop at their e-shop online even in the US.

Saint James Paris sells the classic style Breton striped shirts that are iconic for Parisians and the French. This is one of the original boutiques and brands that sells the shirts. Aside from the shirts, you will find sweaters, swimsuits, socks and more. All with the same iconic French look. Some of the striped shirts are unisex.

You may have heard me mention Veja shoes before. It's a brand I discovered in Paris after noticing everyone wearing them on the city streets. It's a French brand for men and women. The shoes are made from organic cotton and recycled plastic bottles. Currently, some of the styles are hard to come by in the US but there are a few shops in Paris along with the department stores where you can purchase your own Veja shoes. I wear no show socks with them as suggested by the sales staff when I bought them. Vejas are great for walking around the city of light. You can easily dress them up with a good pair of jeans or pants.
For Parisian style, look no further than Octobre, the men's Sézane brand. I rave about Sézane for its high quality and designs and own quite a bit from the brand. Sézane launched Octobre a few years ago, and you can shop at a few locations in Paris. The department stores such as Galeries Lafayette have a section offering Octobre. You can also find the brand in its store on Rue Saint-Fiacre at its flagship location across from L'Appartement of Sézane. You can now also shop at the Marais location on Rue des Blancs Manteaux, which also carries both Sézane and Octobre.
My husband loved this brand and requested pieces for his birthday from Octobre. They have some great staple pieces and fashion items released each season. I have ordered a few pieces for our upcoming trip to Italy this summer.
You can also shop their online shop if you want to order some items before your trip to Paris or once you return home.
Le Bon Marché is located on the left bank of Paris and is the only major department store in the area. You will have to cross the Seine River to the right bank for more similar department store options. My husband, in particular loved the sneaker shop at Le Bon Marché and purchased two pairs.
​Le Bon Marché offers the same designer boutiques and brands you would find on the streets of Paris inside the department store so you can shop several brands in one place. It's a great way to discover your own style and brands you love.
After you shop at Le Bon Marché explore the nearby Boulevard Saint Germain for more shopping and a stop at a Parisian café for a coffee or cocktail.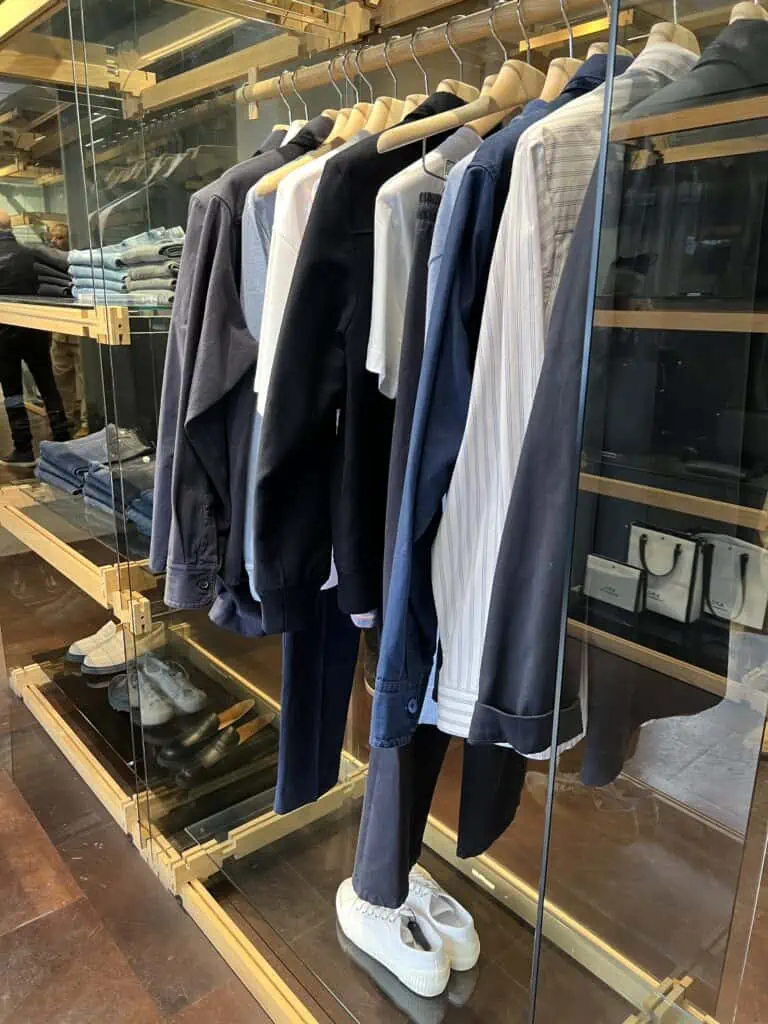 I recently shopped at APC on my last trip to Paris after seeing their shops on the streets of Paris for years. The staff was friendly and helped me practice my French while my husband shopped. APC had a wide variety of fashion forward items and the shopkeeper walked me through some of the trends happening for men right now in Paris.
Trending styles include, comfort pieces since the pandemic the fit and style has gone more relaxed. Wide cut jeans, straight jeans are out and it is a more baggy style. Logos are out! For shoes, clogs, Birkenstocks, and sneakers are in.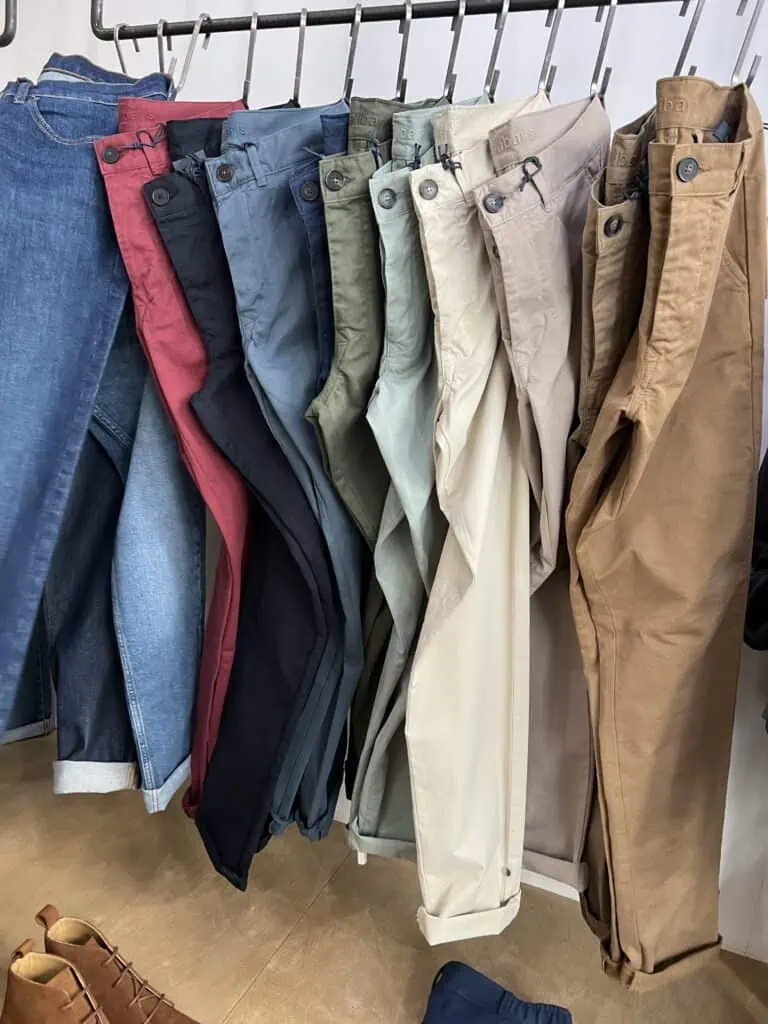 Le Slip Français
Turn him Parisian all the way down to his underwear. You may find this to be an out of the box suggestion but this brand has really made a presence in Paris with boutiques around the city. Le Slip Français offers men's underwear of all styles along with swim trunks, socks, and more. It is worth while to take a look if you pass one on your walk around Paris.
You will want to bookmark these suggestions on your google map for when you are exploring Paris. In the warmer months, the shops can be a great way to escape the heat and enjoy some air conditioning.