This week, I updated a bit of our front room with the arrival of this cabinet. I still need to move over all our books which will hopefully happen this Sunday afternoon. Our matching navy couch is almost finished in production and will arrive this summer. (fingers crossed) The countdown to my big summer art fair is on, and I spent some time prepping products to sell, including new notecards. I may have gone a bit overboard!
Grab your coffee and croissants, and join me for links I love.
I absolutely loved this interview with Bobbi Brown and her new venture. Leave some time to watch the whole clip.
Four grand hotels that have had a glow up via FT it's an open article to read without a subscription I had lunch at one of these hotels last summer and it was stunning!
I am totally crushing on this home in New Orleans with touches of Italy. This is inspiring me for our own home. via Architectural Digest.
What travelers need to know about the mobile passport app via Afar
This week's best sellers include Supergoop Play sunscreen, my favorite Madewell sneakers are on sale for under $100, and Avène's sunscreen. Don't miss this adorable Milo bag I can't stop bringing everywhere with me.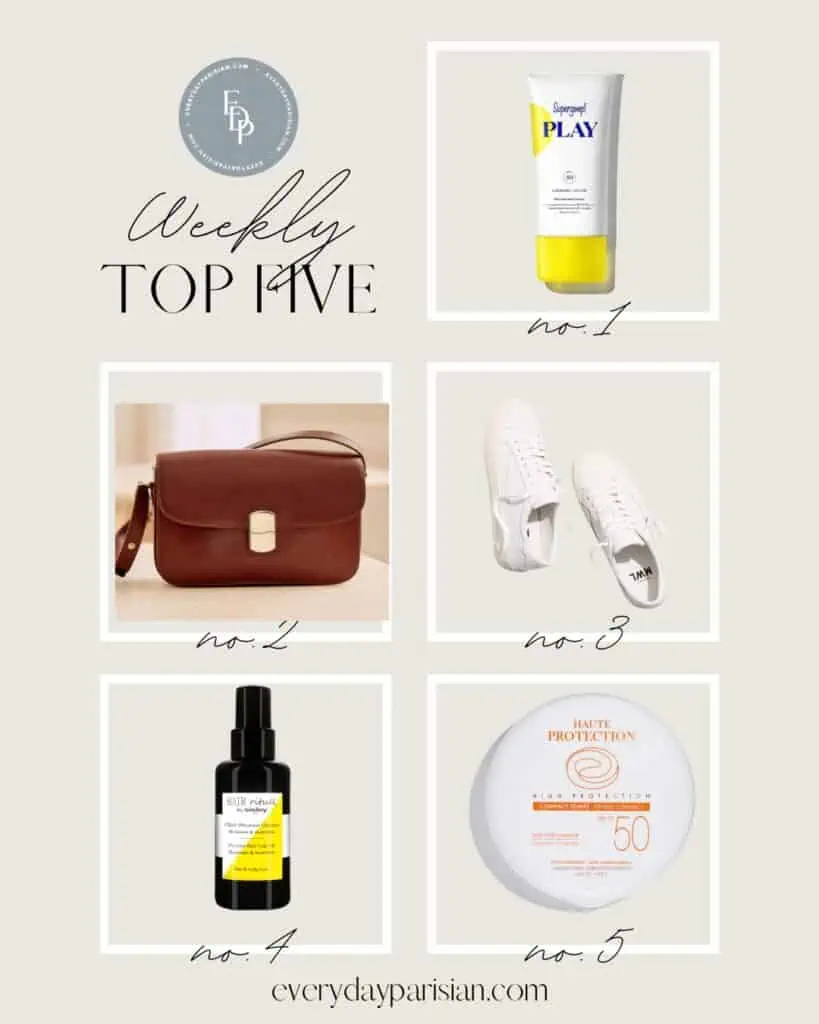 One of Paris' most popular attractions is closing for 5 years via CNN
Julia Louis Dreyfus started a new podcast called "Wiser Than Me" where she interviews older women and shares what she learns from them. I listened to the first episode with Jane Fonda and loved it.
The courtyard of the Louvre will be turned into an open-air cinema again this summer. via Timeout

Hanky Panky and Cosabella launched swimwear lines. Coasabella is my go-to for undergarments, and I love how they fit. I am excited to try their swim line.

Winner of the Choix Goncourt Prize, Anne Berest's The Postcard is a vivid portrait of twentieth-century Parisian intellectual and artistic life, an enthralling investigation into family secrets, and a poignant tale of a Jewish family devastated by the Holocaust and partly restored through the power of storytelling.
He makes the best baguette in Paris, but he isn't French
Avène friends and family 25% off ends tonight! I pulled together my 5 favorites in this post here. Don't miss out on one of my favorite French skincare brands that is recommended by dermatologist and estheticians.
What random finds do you swear by? Cup of Jo
I loved this article with Jennifer Garner for Allure
Step inside the vintage-inspired Paris home of a French Fashion designer (you don't want to miss this one) open via Architectural Digest
Madewell is 30% off, including my leather jacket and favorite sneakers under $100 Use the code WARMUP at checkout You can see my favorites here


Traveling to Paris in 2024, you will need one of these via Frenchly

How to avoid tourist traps when you travel via AFAR
Merit is offering a beautiful gold compact for orders over $75. This is a limited-time special offer. You can see my favorite Merit items here.
How to travel sustainably via CN Traveler
I made this sauce for dinner which is simple and always a grand slam with chicken meatballs.
The 7 best summer nail trends to inspire your next manicure via InStyle I am a simple red or pink girl but these are fun too!
How TSA plans to make summer travel at checkpoints easier and faster via Travel and Leisure
So many of you have explicitly asked for a dual-voltage travel steamer. This one gets great reviews!
15 Sustainable Shoe Brands For An Ethical Footprint – Two of my favorites, Veja and Sézane, come in, in the top 5!
These sandals are back in all sizes in black. I have a size 8. I am also crushing on these.
How to Work Out at Work Without Messing Up Your Entire Day
The best pizza in Rome according to CN Traveler
How to properly apply sunscreen according to a dermatologist. Take notes via Vogue
Solo Vacations: The 20 Best Places to Travel Alone in the U.S.
'Book Club' Stars Reminisce About Filming Sequel in Italy — and Their Love for Aperol Spritzes
P.S. Don't miss a blog post!
Sign up to get Links I Love delivered to your inbox every Sunday.
Supporting The Print Shop helps bring valuable free content to your weekly inboxes.
*This post includes affiliate links. I make a small commission off items purchased through my links at no cost. Merci!