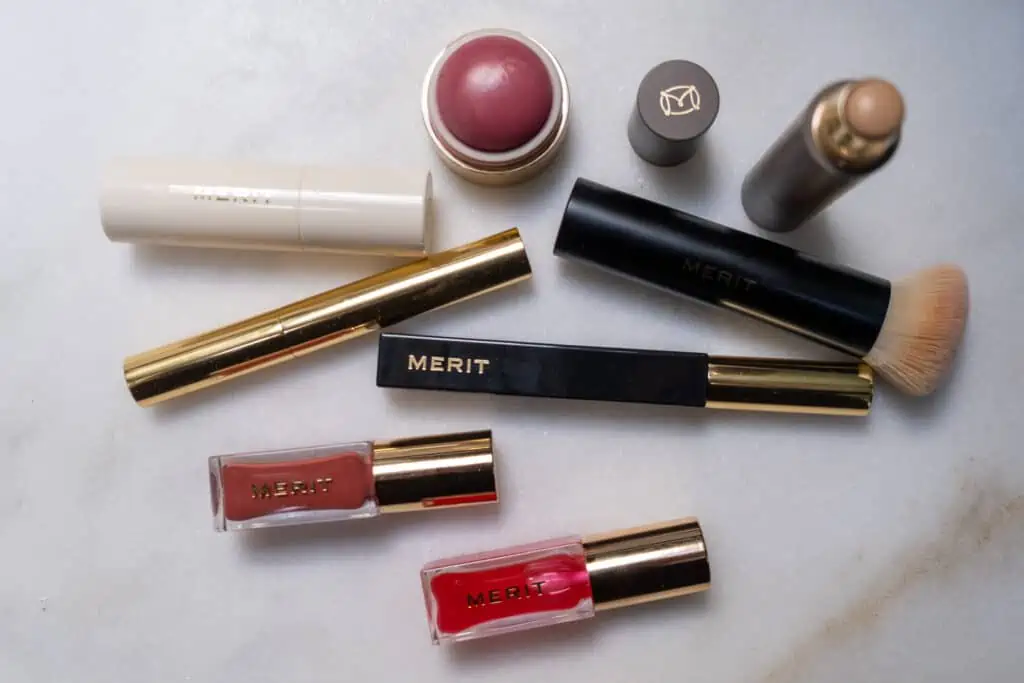 I am all about the 5-minute makeup routine. A while back, I wrote about it here. Last year, I discovered Merit after seeing advertisements for it everywhere between other blogger friends and beauty articles. Seeing something a few times takes me the nudge to try something. Merit is a clean beauty brand that is affordable and minimalistic regarding design, packaging, and product.
5-Minute Merit Beauty Routine

I didn't love the clean-lash mascara when I first tried it. It was the first product I bought from the brand a few years ago, along with lipstick, and it just felt so different from my Sisley mascara. It's a tubular mascara that leaves tiny tubes on the end of your lashes, making it also buildable. It took a few attempts to fall in love with the mascara. Tubing mascara takes some adjustment, but I genuinely hope you love it as much as I do. I have also been using this lash serum, and the combination of the two is insane. So many people have asked about my lashes. You could use this and nothing else and feel so much more put together. The clean lash mascara is the perfect black, which I typically use when it comes to mascara.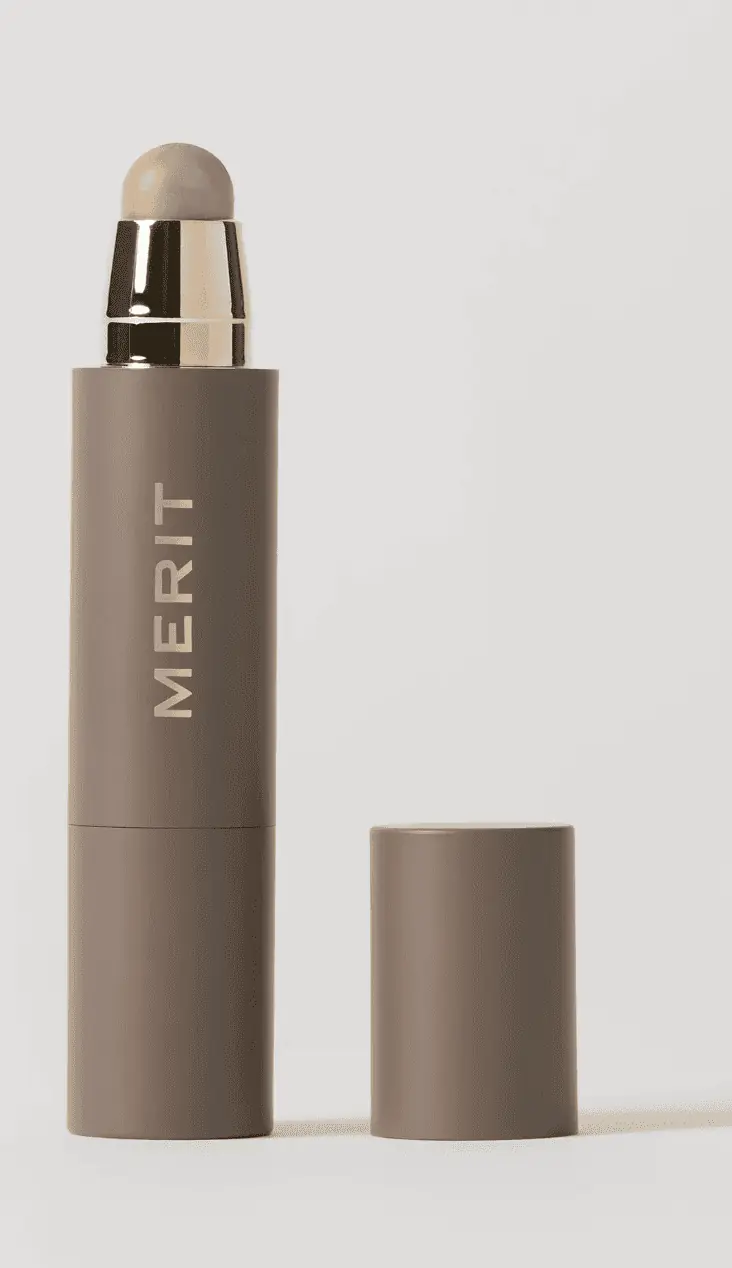 The minimalist perfecting complexion stick is a concealer and foundation stick that I love! My color is Bisque, and it's a perfect color match for my skin tone. There are several color options available online for you to choose from. A shade matcher is available if you need help finding the perfect shade. The price point is too good to pass up on this one. I use the concealer stick under my eyes, nose, and chin for my 5-minute Merit makeup routine. This is where I ensure I have coverage and red undertones that need to be evened out. The blending brush makes a huge difference and is so easy to use. If I were to choose one product, this would be my favorite thing that Merit offers. The brush blender helps so much in making sure it is an even blend on your skin.

Merit Flush Balm
Merit's flush balms are a favorite product I wouldn't like to live without. It's a cream blush that glides on so well you don't need to use any applicator. Hold it in your hand, and swipe up on your cheekbones where you smile. Cheeky is the creamy cheek tint I prefer most; it pops for me and gives me a natural flush. I recently ordered the raspberry beret cheek blush, a darker shade that didn't appear as much as the cheeky color. You can also use brush no. 1 and blend in color to your cheeks a bit.
The great skin instant glow serum is a product I have been using and loving and plumps up your skin to give it a healthy glow. I use this under my makeup. Make sure to shake the bottle before using to get the product solution activated.
Pink Beet is my favorite go-to color for their lip shade slick and the color I wore in Paris on repeat. Merit recently introduced a lip oil that I ordered in the Maraschino. I have to say I was nervous about the color and thought it might be too red, but it ended up being much more subtle and just a hint of color. Their lip oils are not sticky or heavy like you might think for a gloss but have a good pop of shine.
Merit Clean Brand Makeup Kit
Another great option is to order one of the various makeup kits. Currently, they are offering some great summer kits. These give a bit of bulk discount instead of purchasing individual pieces. Each set offers various Merit products, and you can choose which colors you love the best in your makeup set. This is an easy way to do your 5-minute Merit makeup routine and feel beautiful.
Merit Beauty Review
Other favorites from the brand that didn't make the top 5 worth mentioning include the brow pomade. I rarely use brow gel, but it makes a difference when I do. The day glow will give you a radiant, healthy glow, which I use on my cheeks. The other day, I was on a Zoom call, and Alyssa commented that I was glowing. It was because of this!
Your first order gets an adorable tie makeup bag to keep everything in if you spend $40 or more, which is easy. I hope you love my five-minute makeup routine and you are inspired to create your own 5-minute Merit makeup routine. I would love to hear which products you enjoyed the most in the comments below.
*Merit was kind enough to send me some of their products at the end of 2022. I have since been a paying customer after loving what I was originally sent.
This post includes affiliate links. I make a small commission at no cost to you for items purchased from my links. Merci!