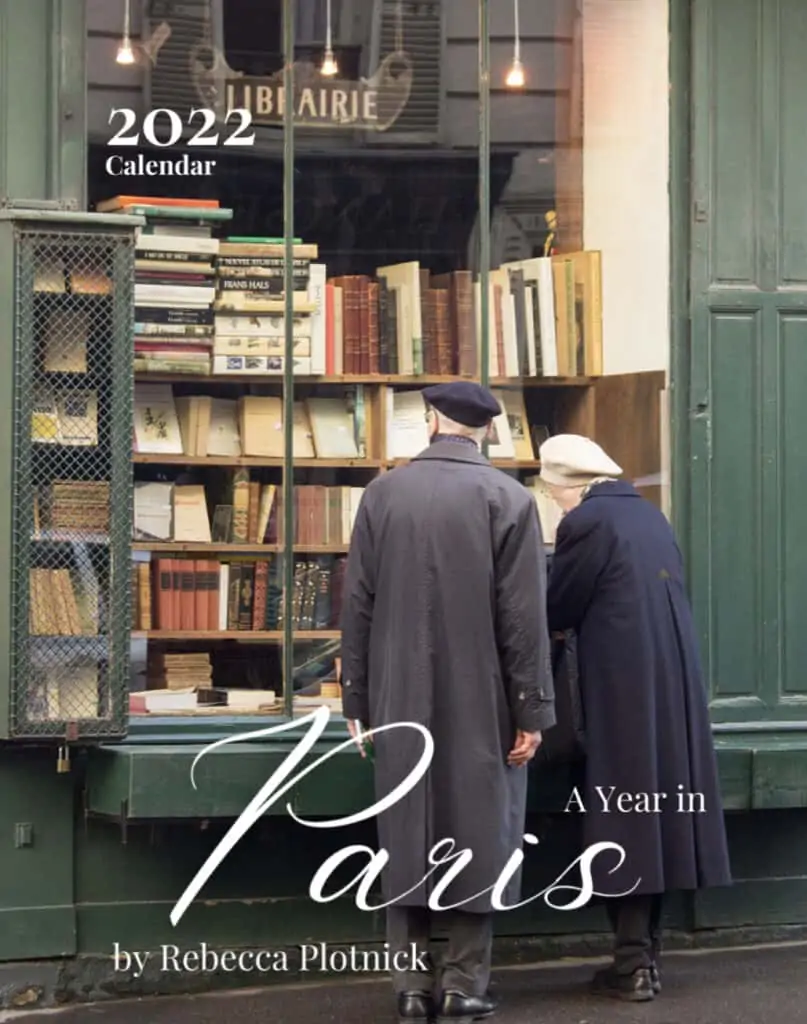 The Year in Paris Calendar 2022
In 2020, I had the crazy idea to make a calendar for The Print Shop. I had used a printer to make greeting cards which I was actively selling in The Print Shop and I was happy with the quality. On a long road trip across the US, I started the research. My same printer had the option of a calendar. It was then a month of ideas swirling on how I could make it work.
In September of 2020, I launched the first A Year in Paris calendar. I was SO nervous about how it would be received by readers and community members. I put it out there in the world and it started selling! I had one big goal to sell a certain amount and by October they were all gone and I reordered a small amount to push me through until Christmas or so I thought. I ended up selling out the first week of December. I decided not to reorder again because I was worried there wouldn't be enough orders to sell through my inventory and I would be left with calendars. Much to my surprise, people begged for them all year long even up until August of 2021!
I am very lucky my same designer from last year signed on again to work with me this year. Caroline Rice has been amazing through this whole process and the calendars are better than imagined.
I had a lot of requests for bigger calendars so this year there are actually 3! 😳 Here is the lineup for this year.
Paris Calendar 2022
We have the traditional same as last year's calendar with all NEW photos. The size is 5.5″ x 8.5″ and each photo measure 5″x5″ so you can cut the photo and frame it. It is a two-and-one product/gift! The price for this is $35. The presale price that will last for the first week is $30.
A look inside
The larger calendar measures 8.5″x11″ and each of the photos is 8×8 and can be also framed and hung. The price is $55 and the presale price lasting the first week is $50.
The Italy Calendar 2022
I also had a request for an Italy calendar after my Summer trip to Italy. I was so happy and surprised by this request. Italy is such a special place for me and will always be my first love. ❤️ The calendar is A Year in Italy and takes you through all different cities from Florence, Rome, Cinque Terre, Lake Como, and The Amalfi Coast. If you were inspired by my trip to Italy this year and you are dreaming of taking your own adventure in the future, this is great motivation to have at your desk. The Italy calendar is just a small one this year 5.5″ x 8.5″ if it proves to be a success I will bring it back next year in a larger size.
Each order will ship with a handwritten note from me with love.
For inexpensive framing options. I have purchased this set for the 5×5 images and this set for the 8×8 images.
*If you are looking for a way to support the blog, me as a small business, and the valuable content I provide year-round this is the BEST way!! If you have enjoyed Links I Love in your inbox every Sunday, this is a small way to say merci!! *
P.S. Henri cannot wait to walk your order to the mailbox!