I often feel once I arrive at CDG (Paris international airport), my brain goes to mush, and everything that happened in Paris feels like one big dream. The environment of the airport changes from a Paris vibe to an international feel where everywhere speaks English, and there is a line for Starbucks as it is the only real coffee spot in the terminal. I take notes throughout my Paris trip and even write when inspired, tucked in the late hours and early mornings. This is a recap from my Paris spring 2023 trip.
Paris Spring Recap 2023
One of the big takeaways from my latest Paris trip was that it felt really good to be back, and I ranked it as one of my favorite trips to date. While shopping with my husband, the shopkeeper asked me how often I had been to Paris. When I replied with a number around 25, he told me he would stop counting if he were me. Paris has become a second home to me over the years. There is so much that stays the same and feels familiar; a lot is constantly changing.
Since I have been traveling to Paris and photographing the city for over 13 years, I can see the changes in the neighborhoods. A friend asked me what made this trip so special. There are two reasons: I was able to spend a weekend with my husband, and we had a completely different trip on our own, trying new restaurants and exploring the city together. The second half of the trip was for work shooting for The Print Shop, expanding and doing research for The Paris Guide, and blog content. It was a lot for ten days and truly nonstop, but also so much fun.
A Long Weekend in Paris
My husband was in London for work and took the train in on Friday to meet me. I have a short list of hotels I have wanted to try and settled on Maison Delano. It opened a week before I arrived, and I splurged on it for our birthday weekend. The hotel has a few (or more) kinks to work out, and sadly it fell short of our expectations. Hopefully, they will be able to make some modifications to be able to be compared to other hotels in the same category.
The hotel was located in the 8th arrondissement just off Rue St Honore past the Hérmes store. It was centrally located to explore Paris. My husband prefers the Left Bank over the Right Bank, and we will try another hotel next time, but seeing a different part of Paris was good. We did love walking up a bit towards Boulevard Mahlsherbes and enjoying the cafés in the early morning away from more of the touristy part of Paris.
Breakfast in Paris
The breakfast at our hotel was on the pricey side, and we were able to find some great spots for a Parisian breakfast with an omelet on a terrace for 15 euros each. Two we enjoyed were Brasserie Pastis and Saint Augustin. The croissants weren't out of this world; you can find better at a boulangerie. Sitting out on a sunny, quiet terrace, people-watching and reading the newspaper with a coffee and croissant was worth 15 euros and more.
I booked lunch at Le Mess around the corner from our hotel, just next to Pavillon des Lettres. It has been on my list for a while. It's a tiny French bistro with a chalkboard menu. The restaurant was all French except for the two of us. I ordered the fish special of the day, which I saw floating around and looked good. There is no outdoor seating, and it was a cute and cozy classic spot inside.
We explored the Left Bank in the afternoon and walked along the Seine. We ended up at a café for people-watching and since we were close by, I insisted we go to Barthelemy since my husband loves cheese. I needed to give him the full experience; this is one of the best cheese shops in Paris. We may have overordered a bit, and I carried it to the next hotel and enjoyed it with a baguette.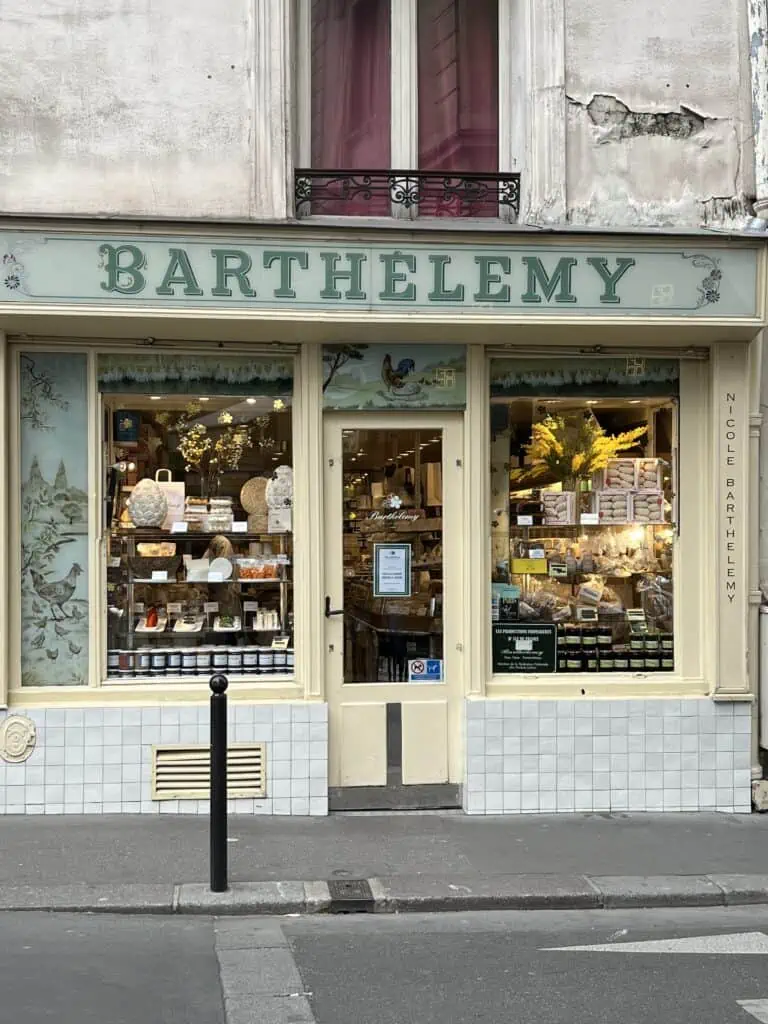 I booked Chez Georges for dinner, about a 20-minute walk from our hotel. They seemed to have lost our reservation, and the place was packed, but I talked them into getting us a table after I confirmed one was made. We ended up getting a great seat in the back corner. It was ideal for people-watching with a great glass of wine and steak frites.
Paris Spring Recap 2023
The next day, we explored The Tuileries gardens with a coffee and had a sunshine-filled weekend. The weather can be mixed in April, and we were fortunate to have great weather. We grabbed coffees at Café Kitsuné while I shot a little for The Print Shop.
One of the main points on my husband's agenda was some new clothes for his birthday. We were hunting for one of his favorite spots we discovered a few years ago, Bilibaris. We worked towards one of the shops in several locations around Paris. I had a lunch reservation at a favorite spot of mine, and I was hoping we would make it. Lunch turned to a brunch menu; it was my husband's favorite meal of the entire trip. I will be sharing my top 5 favorite spots in an email for those who purchased The Paris Guide (this is already in there, but I want to note the amazing brunch options).
I had a request to walk up to Montmartre, and after lunch, we popped into the men's version of Sézane, Octobre, for a few things. On the way up to Montmartre, we walked through Rue des Martyrs, and I found my way to Babka Zana. I fell in love with Babka in October, which is all I discussed for months. There was no way we could miss out on picking some up. We were both still very full from lunch, and I grabbed some to keep in my bag for the room. If anyone goes to Paris and brings me back a cinnamon babka, I will love you forever.
A Weekend in Paris
We had a drink at Le Bimbo, and people watched a bit before climbing the stairs to Sacre Couer. The stairs were packed with people and everywhere around us, and we quickly headed back down for a long walk to our hotel. I had a very special dinner booked, and we needed to freshen up before the evening.
I booked 22 Club Paris, a 22-seat communal table overlooking Palais Royal with a tasting menu from Verjus. Verjus closed during COVID and is just reopening this May. They found this apartment and were able to continue serving customers in a unique experience. Verjus has a farm outside Paris, and their produce is used for their dishes. It was an amazing meal. I will share more about it in an upcoming email to Paris Guide customers.
My husband and I love jazz, and we had a few jazz spots on our list to check out while in Paris. We ended up walking to The Crillon and getting the end of the jazz night there and stayed for a drink. They have a very unique and fun cocktail menu where you can roll a dice and see what number corresponds to a cocktail if you are up for anything.
What to do on a Sunday in Paris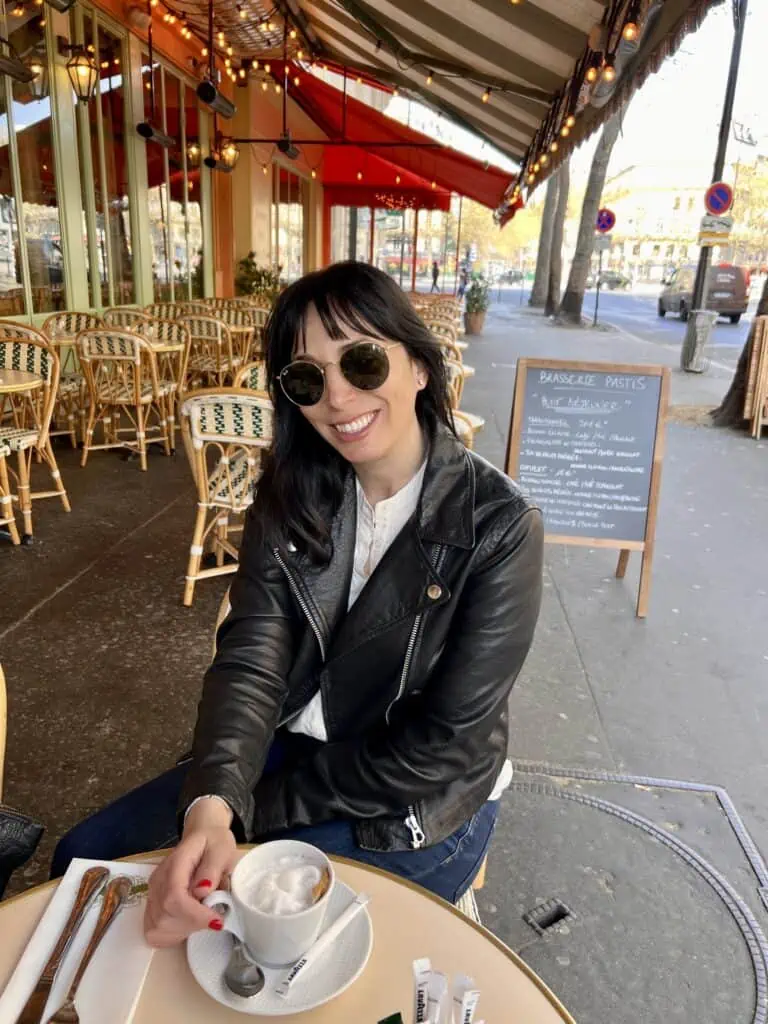 Sunday in Paris is my favorite, and it happened to be Easter which didn't slow us down much. A lot of Paris was still open, and the city was buzzing and warm. I took off my leather jacket and put it in my bag. Sunscreen was key, and I made sure to reapply often as we walked around the city. Our shopping mission continued after breakfast; we went down the Seine and to The Marais. I wanted to go to Miznon, a favorite of mine for Israeli sandwiches, but it was closed for Passover, as was L'as du Fallafel. We ended up trying one of the open spots, and I can confirm that not all falafel was created equal.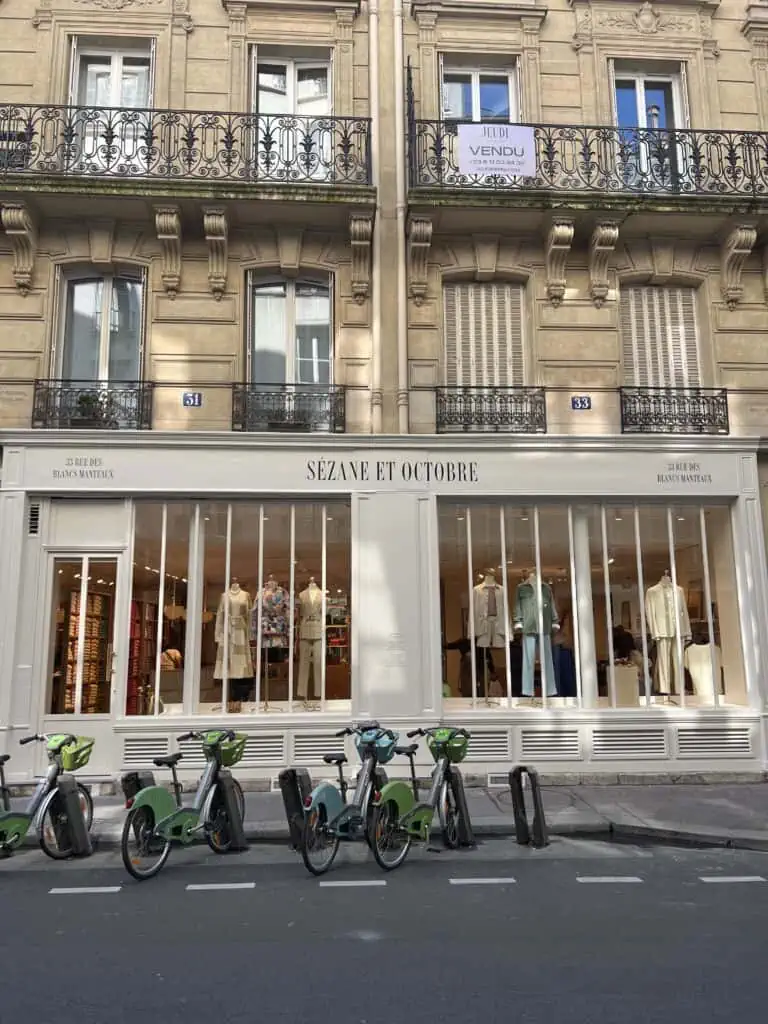 Sézane opened a new location in the Marais that I wanted to check out. The lines were crazy long at the original location, and I had a hunch it wouldn't be as bad here. Also, they carry Octobre, the men's line of Sézane, at this location, so my husband could shop too. We had a blast, my husband walked out with swim trunks for Italy and two pairs of linen pants, and I got two pairs of shoes.
We stopped by La Fronde, a corner café, for a drink and a cheese plate. It was a perfect location for people-watching on a Sunday in the Marais. Afterward, we went to the Left Bank to soak up a sunny Paris afternoon. Dinner was a special birthday celebration at Too Tac rooftop bar and restaurant with an Eiffel Tower view.
A Week in Paris
I was ready to hit the ground running for work once I was solo. My location shifted to the Left Bank to Narcisse Blanc. This is a hotel I stayed at a while back, and I have been recommending for years and a reader favorite. They were gracious and hosted me for one night. I wanted to see if it was still up to my standards for recommendations and explore the neighborhood.
The concierge was on top of things and emailed me earlier in the week to see if I needed recommendations. While I know a lot about Paris, it is always nice to check in with the concierges and see if they recommend a spot that wasn't on my radar. I booked a lunch reservation and dinner.
During the day, I met a friend for lunch and explored the Dior exhibit. I have had it on my list for a while now, and Easter Monday was a perfect time to squeeze it in.
It turned into a rainy evening, and I canceled the reservation last minute, but I have heard great things about the restaurant and will add it to my shortlist for my next trip. I wanted something closer to the hotel and ended up at Chez Pippo/Rico. While this restaurant looks touristy on the outside, it was a great dining experience, and I want to go back. The fresh ingredients offered many options between the daily specials and the set menu.
Paris Spring 2023 Recap
In the morning, I explored the area, including Rue Cler, and ventured out for a coffee before enjoying breakfast in my room at Narcisse Blanc—one of my favorite hotel perks. The hotel was just as I remembered and still had the same warmth and hospitality, and was perfectly tucked away but still centrally located. Cleo, the restaurant associated with the hotel, has changed chefs since my last visit and has been written up with great reviews. It is worth a visit, and I am adding it to my October list.
The next day, I moved hotels once again. This time to Hotel Dame des Arts, a newly opened hotel on the Left Bank of Paris. This hotel has been on my list for months, and I wanted to stay here for the views alone. I paid for my room and was kindly upgraded by the hotel from a signature room to one with an Eiffel Tower view. The rooms were compact and well-designed; note that these are great for solo travelers, and I can't imagine sharing a room this size with anyone else.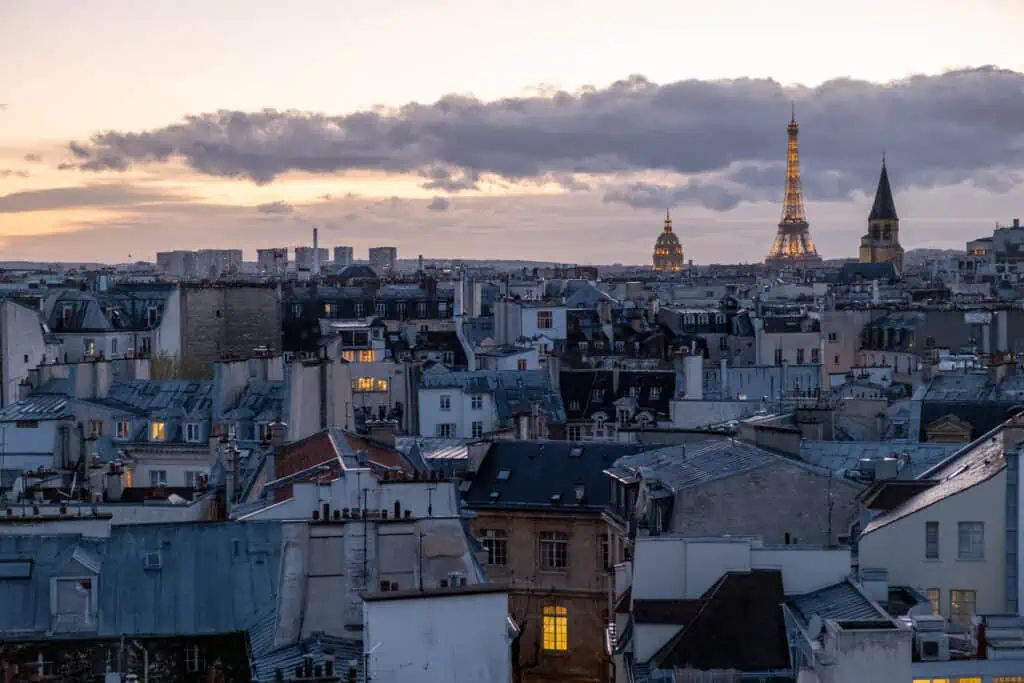 Another new hotel with some kinks to work out; I didn't necessarily agree with the current glowing Google reviews.
My first meeting of the day was with the team of Sézane, where I picked up a new birthday outfit for my shoot with Katie later in the week.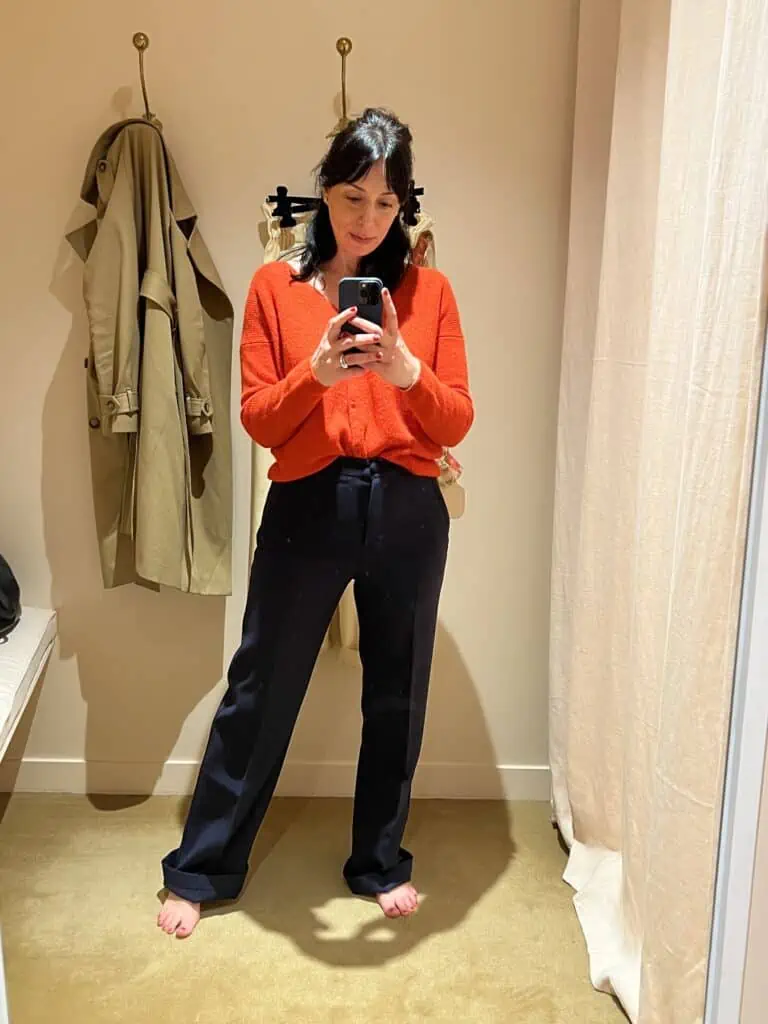 Paris Spring 2023 Recap
Lunch was at a favorite on Boulevard St Germain called Agatha for pizza. We were the last guests of the lunch service and had the restaurant all to ourselves. I got spotted by a blog reader from the window and had a chance to meet her in person.
The weather turned again, and it was a rainy evening in Paris. I had reservations at Rotisserie D'Argent, a quick walk from my hotel. It turned out to be the perfect spot for a rainy evening meal. During dinner, the sky turned to blue hour, and I could see île st louis and the lights turned on in all the different apartments. The rain fell throughout my dinner, and my table faced outwards so I could watch the rain hit the windows and people walk by with umbrellas. It was one of my favorite solo dining experiences to date, so much so that I returned for my birthday later in the week.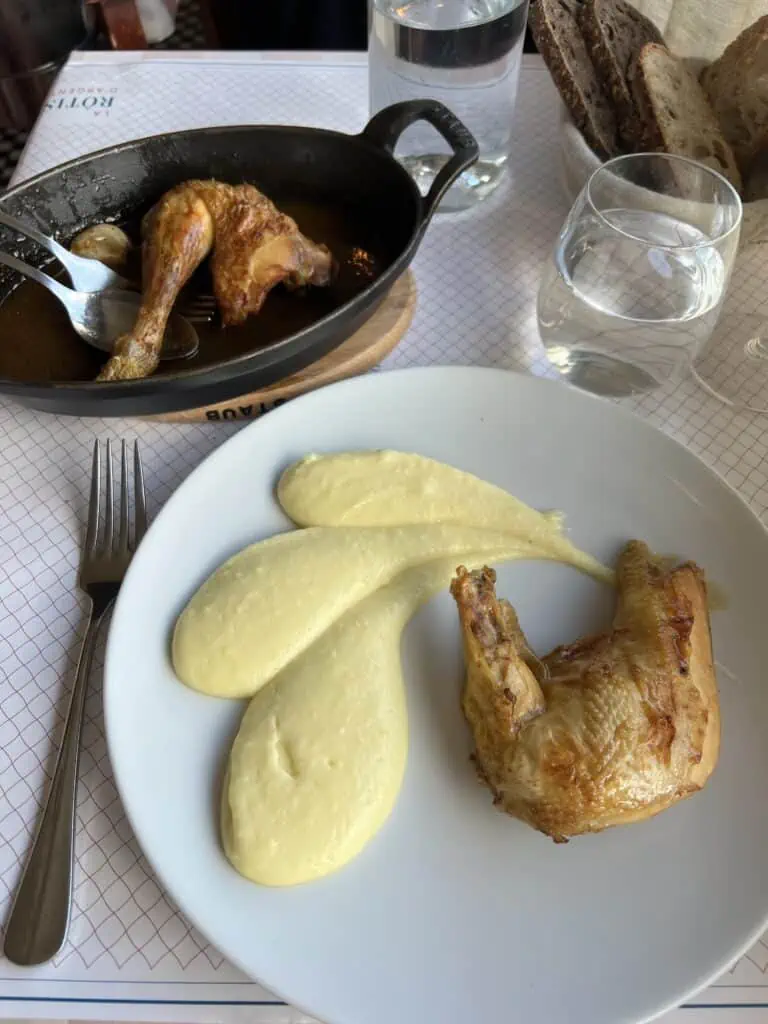 When it came time to get dessert, I opted for the chocolate mousse in honor of my grandma's birthday. The rain continued to fall, and I didn't want to leave my cozy warm seat with a view, so I ordered a café with the most delicious chocolate sablé and one of the best things I had eaten all trip. Later in the week, I popped by the boulangerie next door and brought home a box for a friend watching Henri.
A Spring Paris Photoshoot
Breakfast was enjoyed at the hotel while I waited for my friend Katie to arrive for our photoshoot. She is an extremely talented photographer, and I trust her and her vision regarding our shoots. Katie knows me very well and is extremely easy to work with. We walked around the hotel, shot in the 5th arrondissement, and had a blast. I wore these new Sézane heels, and I was still comfortable three miles later. You can see a few sample shots here, and make sure to book your session with Katie as you plan your Paris trip.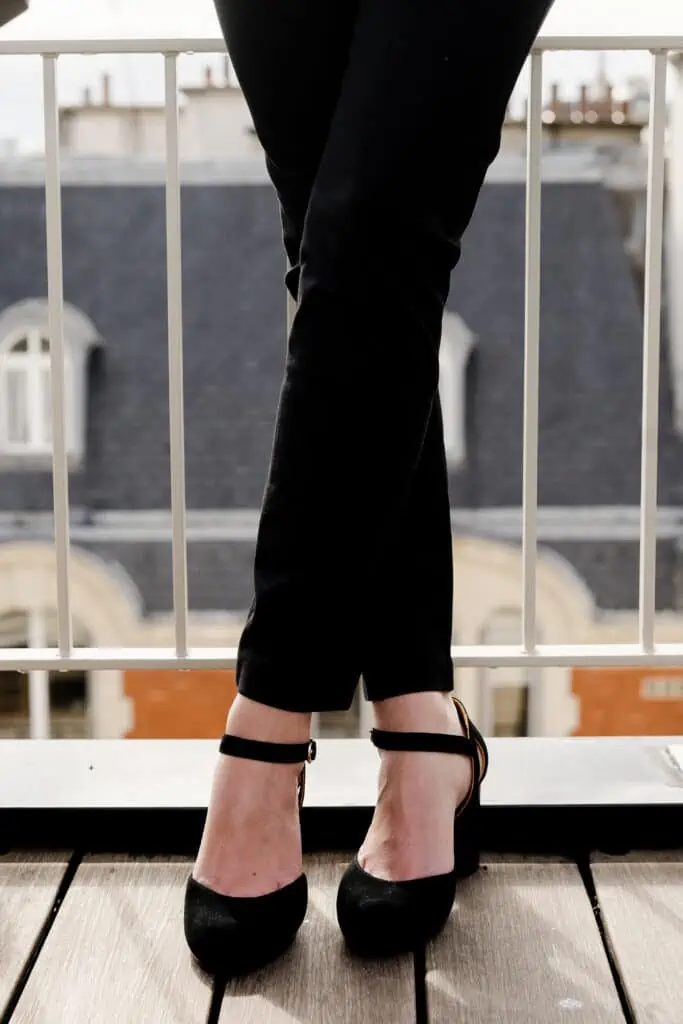 I had lunch reservations at Mokonuts, which was hard to score. Last minute, I received an invitation to a new restaurant in Paris that asked to host me for lunch. After looking at the Google reviews, I canceled Mokonuts and invited Katie. It was one of the best meals of the trip and most memorable of my life. I am keeping this one for Paris Guide customers. You can book this one ASAP for lunch or dinner with wine pairings.
A Birthday in Paris: Paris Spring 2023 Recap
April is my birthday month, and the trip overlapped with my actual birthday. I was solo on my birthday, but my husband and I celebrated over the weekend and again when I got home, so it was ok. We discussed this before the trip and knew the dates were best for us.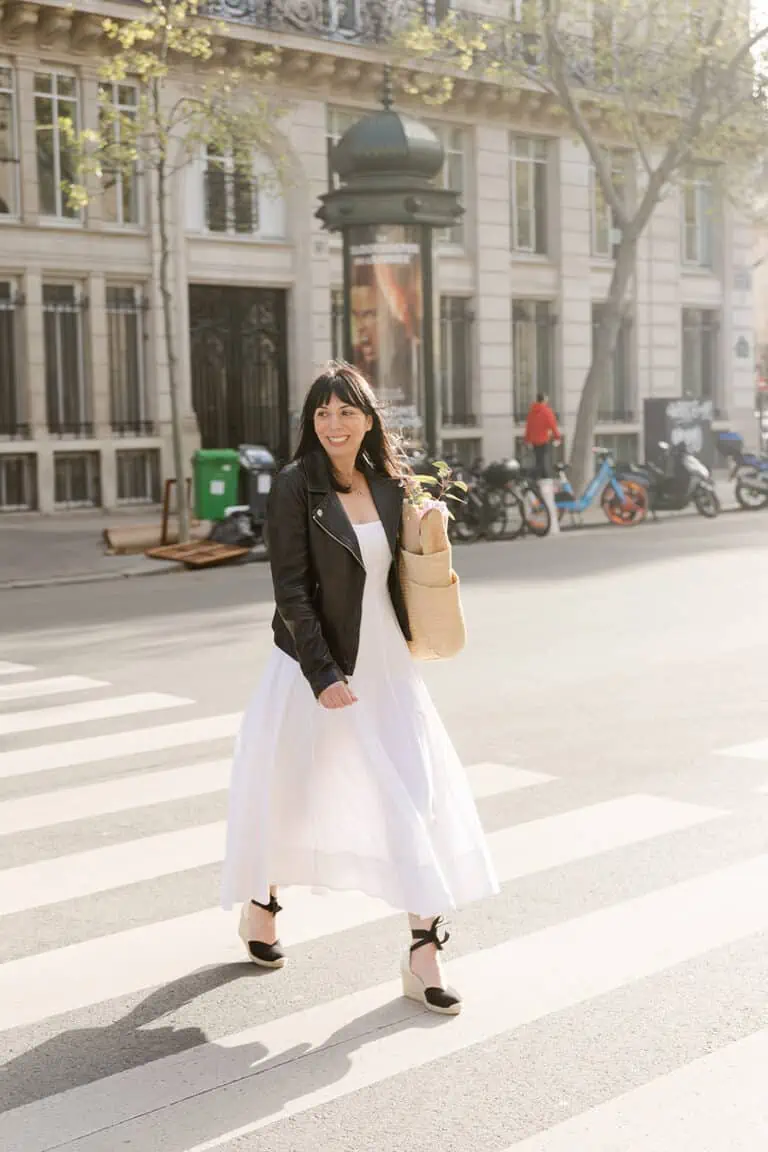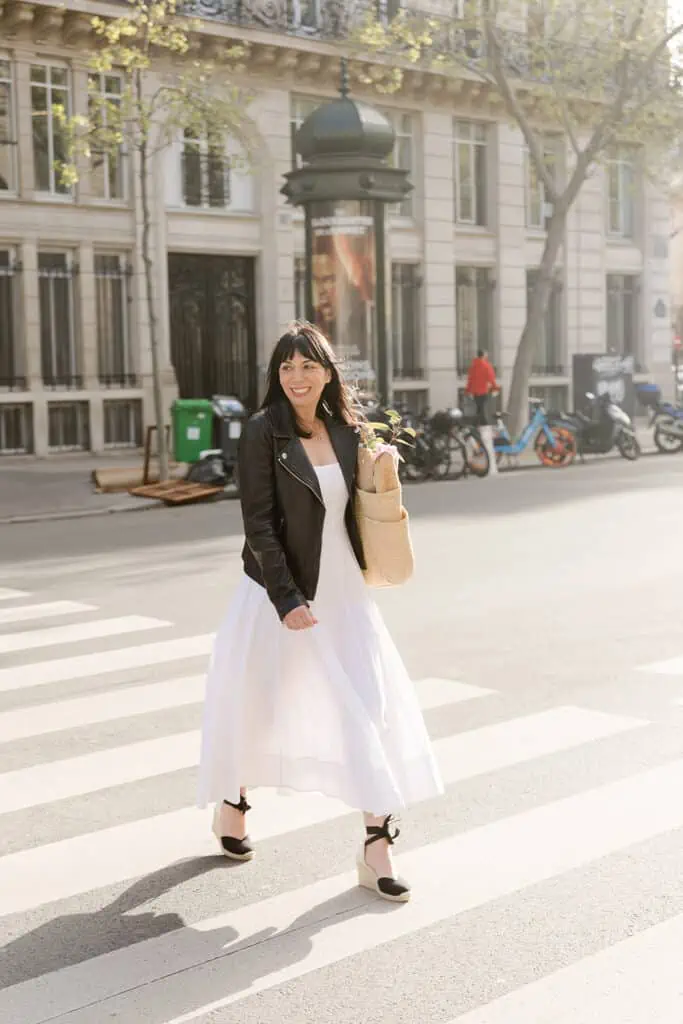 Magda from the Katie Donnelly Photography team shot me for a special birthday shoot. The weather forecast surprised us with what we thought would be rain and ended up a sunny morning. We spent some time in Luxembourg Gardens, and I soaked up the sunshine in one of my favorite spots in Paris.
Birthday plans included a coffee, market, and stroll through Jardin des Plantes to see the cherry blossoms, which only happens for a week or two out of the year in April. It was nice to spend some time solo reflecting on the year. Lunch was indoors and outdoors at Rotisserie D'Argent. I loved it so much the previous night I knew I wanted a guaranteed great birthday lunch, and they had just set up the exterior patio.
A Birthday in Paris
It was a dreamy location for lunch with a view. Sadly, the rain rolled in, and I escaped inside next to a window. I missed out when I ordered a café, hoping to luck out with another chocolate sablé. The staff listened to my request for chocolate and ran next door for a bag of chocolate fish from the boulangerie owned by the restaurant.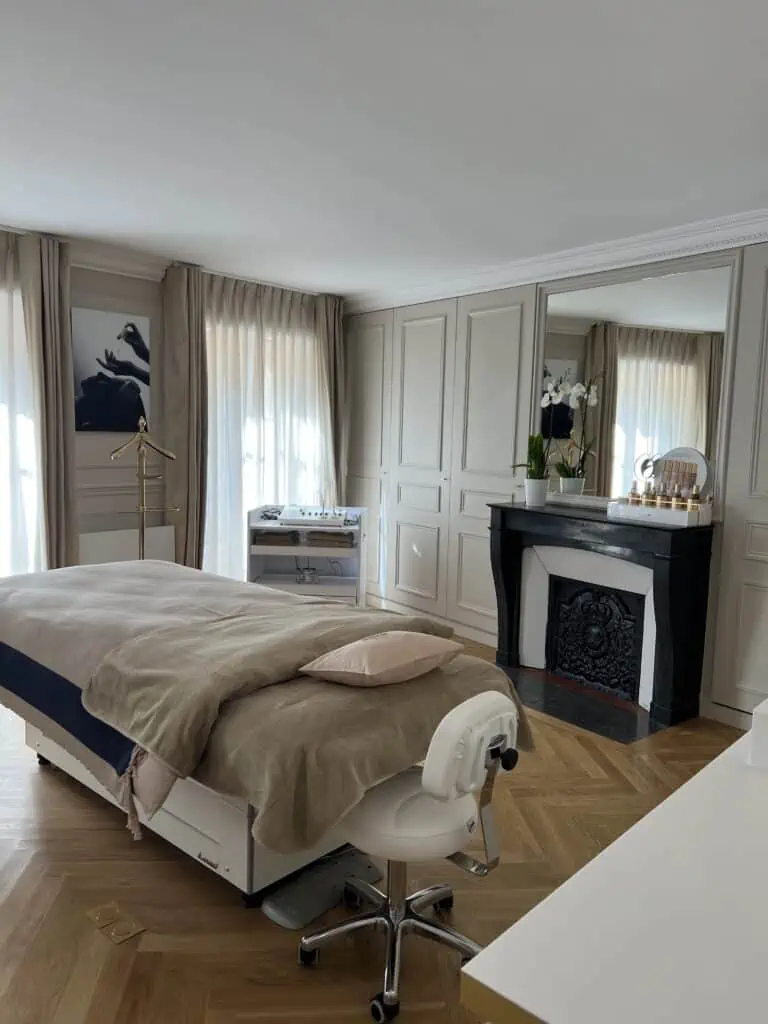 The afternoon was a special treat from Biologique Recherche for a customized facial. Their products are some of the best in French skincare, and you need a skin consultation and customized product recommendations to purchase them. This is where that extra luggage comes in, as I purchased a few items to try, including their p400 lotion.
Originally, I had planned to come home on Friday, but there was one more new hotel that I had wanted to check out. The opening date got moved after I booked my ticket to come home Saturday. It is pretty safe to say that hotel openings aren't always the best stays from my experience on this trip, so that it may be for the better.
A Delicious Lunch Option in Paris
Chez Fernand is one of the go-to restaurants I recommend to people traveling to Paris. I hadn't planned to visit this trip but ran into Baptiste, who I am friends with and who runs the restaurant, while I was at the ATM close to my hotel. It felt very serendipitous, and I walked back to the restaurant and scored a table for lunch. My pro tip is to order off of the chalkboard menu for the freshest dishes.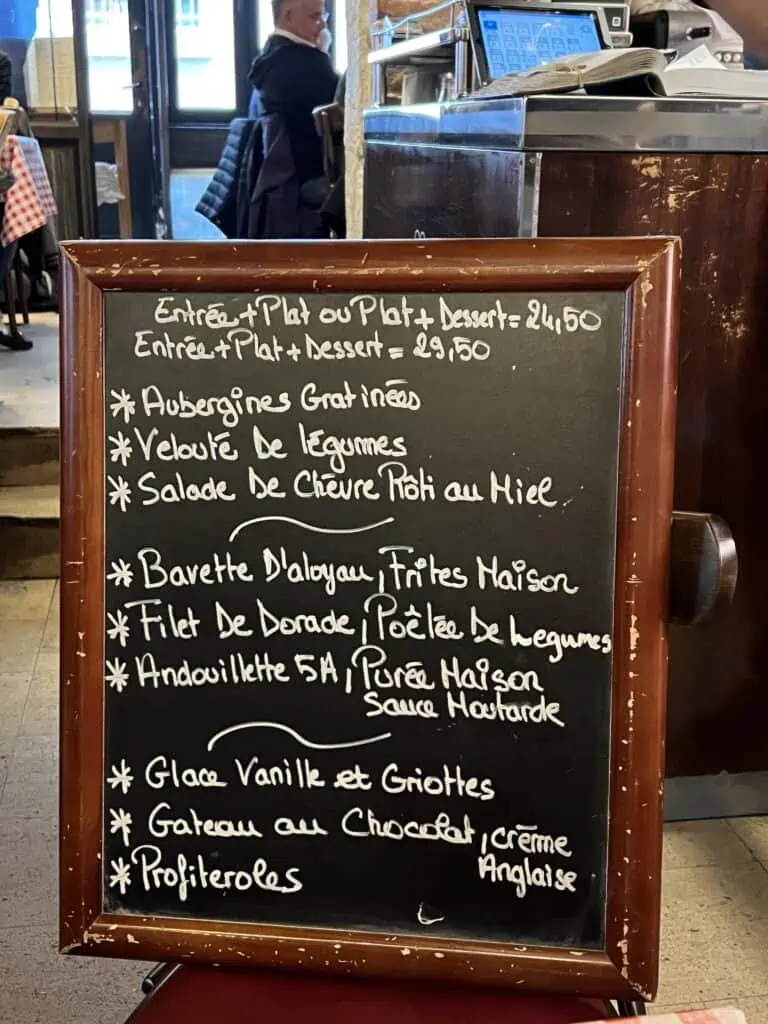 One of the items I wanted as a starter was already gone from the menu. I enjoyed goat cheese salad with honey (a spring favorite), fish, and mashed potatoes. It was so good there were tears in my eyes. The meal was perfectly paired with a crisp glass of white. Baptiste covered the meal as a special treat for sending customers over the years. I tipped my server well and plan on returning on my next trip.
We hosted a group of 25 women here twice, so if you have a larger group, it's a great option!
I lucked out with an invitation from Le Royal Monceau-Raffles Paris for a night to experience the hotel. While I have had meals here and been on a full tour of the hotel, I never had the pleasure of staying there until this most recent trip. The service and every detail blew me away. A friend told me last minute that their restaurant Il Carpaccio was a must-visit. As I checked in, I requested a reservation and luckily grabbed a table on a Friday night. This also meant surrendering a reservation I looked forward to in the Marais that evening.
Due to the rainy weather, I made the call to stay close by and enjoy the hotel and everything it had to offer. I unpacked one last time and hung my outfit for dinner in the spacious closet. This was a big change from the 15 sq meter room at Hotel Dame des Arts. Parc Monceau was a quick walk from the hotel and one of my favorite places in Paris. Along with an umbrella, I walked to see the park in bloom and try one of their Nutella crêpes from the stand in the park's center.
Il Carpaccio Restaurant in Paris: One of My Favorite Meals
Upon returning to the hotel, I requested hot tea and coffee while working on my laptop. I showered and prepared for a solo dinner at Il Carpaccio. My friend was right when she said it was a spot to book. It was one of the best meals of the trip, and I have to return with my husband. The lemon tortellini pasta was my favorite dish, along with the beef carpaccio. Everything was paired beautifully with wine from start to finish. The restaurant surprised me with a tableside tiramisu, a birthday card, and a candle at the end of the meal.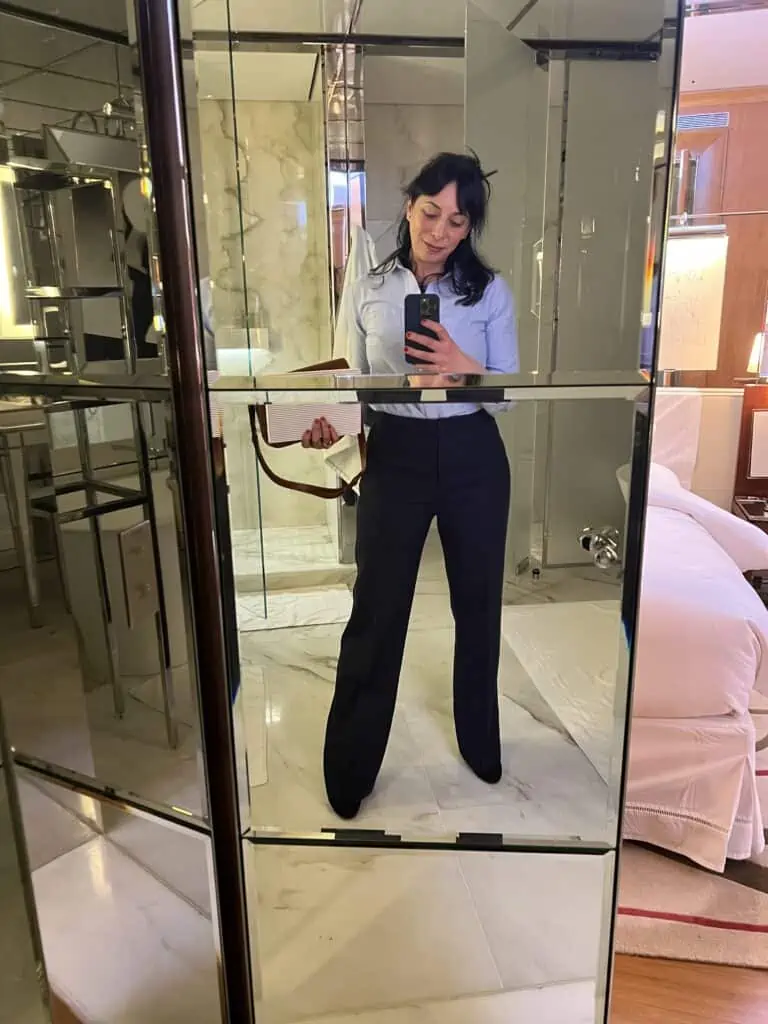 Leaving Le Royal Monceau – Raffles Paris was difficult; I wanted to enjoy every last minute in Paris and this memorable hotel. Room service was delivered early to the room while I packed and prepared for the airport. Welcome Pickups were early for me, and waiting as I checked out of the room.
Thank you for reading my Paris spring 2023 recap. It transported me back to Paris for an afternoon to relive some of the great memories from the trip. I hope it inspired you to visit some of the places I mentioned and possibly book a reservation upon my recommendation.
*This post includes affiliate links. I make a small commission off of items purchased from my links. Merci!