The French capital is filled with a variety of cuisines that aren't just french food. This post is a complete guide to some of my favorite spots in the city of light to inspire your next trip to Paris and guide you on where to eat and drink in Paris. Some of these are the best restaurants in Paris and others are off-the-beaten-path local spots that are the best places I return to year after year.
The below post is broken down into different types of meals and cuisines. Use the headers and skip down to whatever is most relevant to what you are looking for. There is a google map below which you should find helpful when searching for somewhere to eat and drink in Paris based on where you are staying or visiting.
Where to Eat and Drink in Paris
In terms of classic French dishes to try on your visit to Paris, boeuf bourguignon (great for the colder months), cassoulet, confit de canard, and even a simple omelet can be so delicious.
To save money, try the lunch menu which offers more reasonable prices instead of the dinner menu at my favorite Paris restaurants. Order off the chalkboard menu for the best dishes using local fresh produce and the best ingredients.
The French eat seasonally, so don't expect to see something out of season on a menu.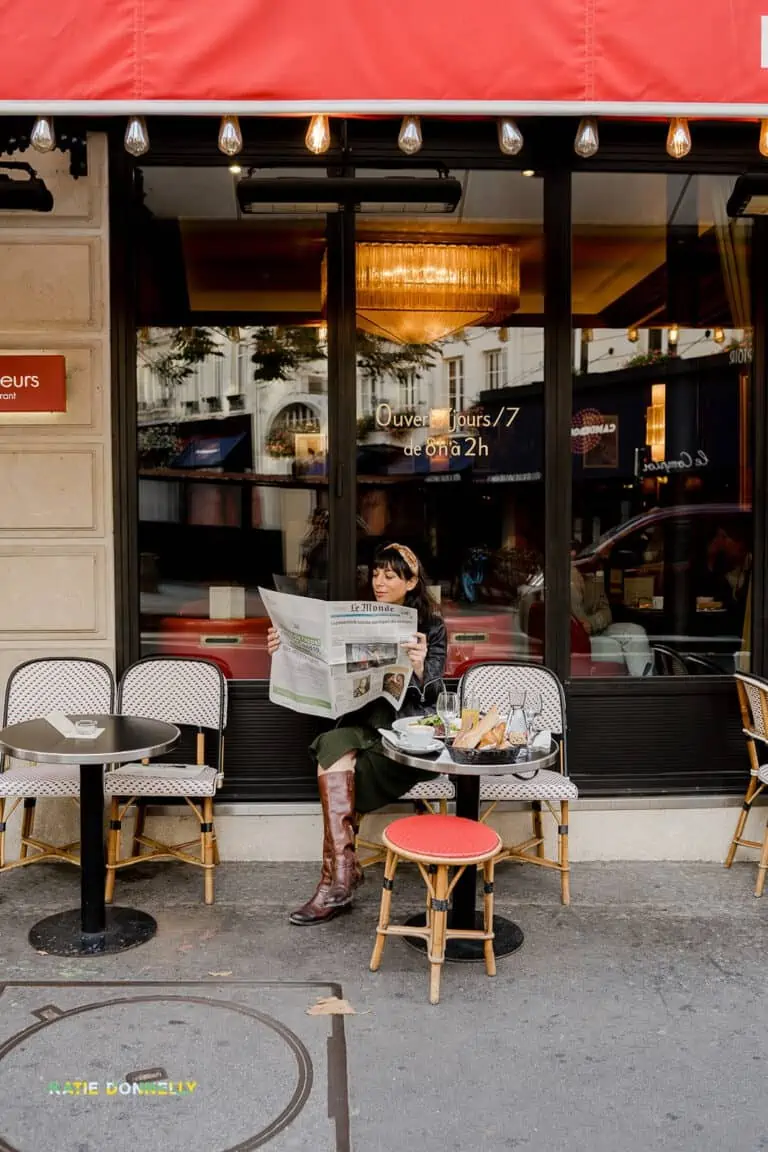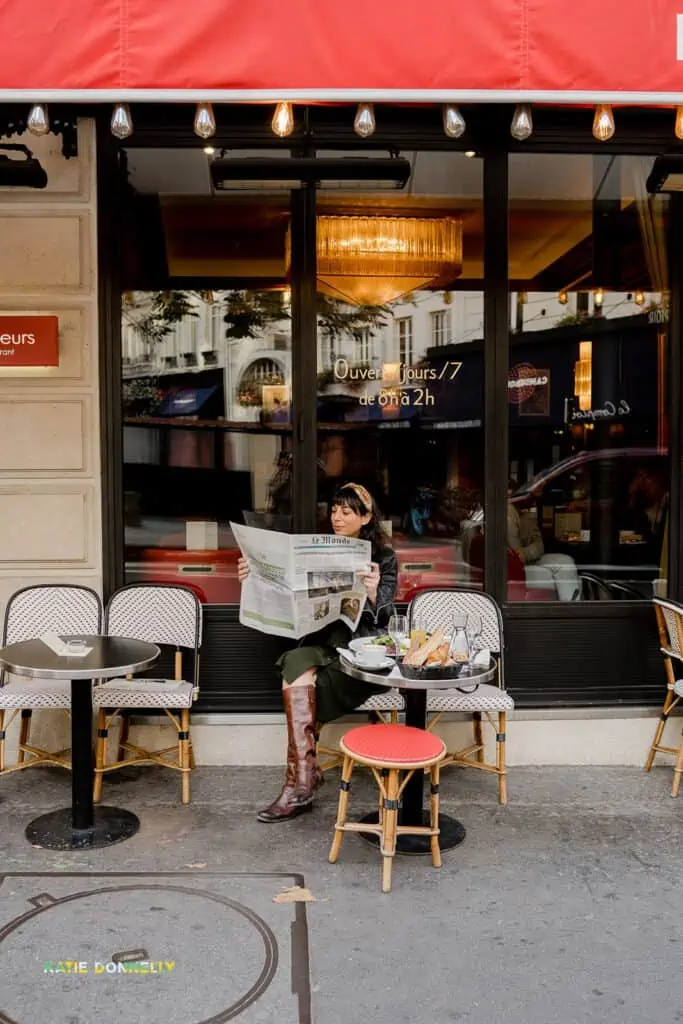 Classic Bistros in Paris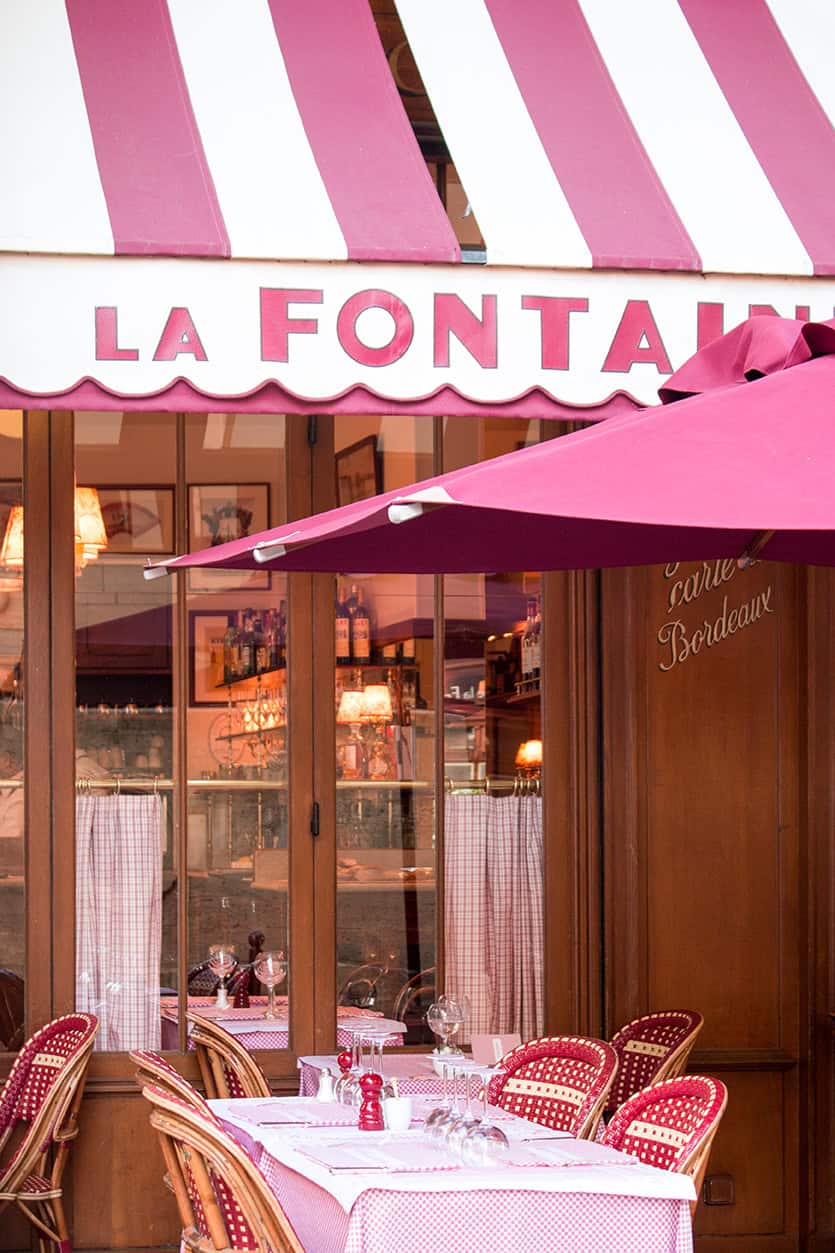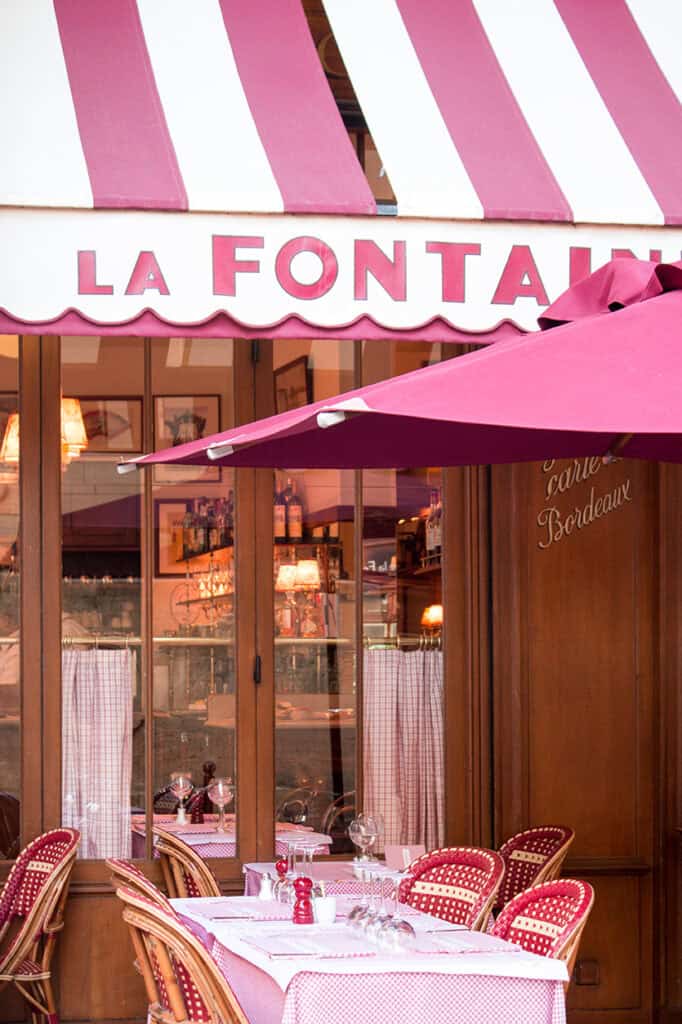 When I think of Paris, the classic bistros are the first thing that comes to mind. Titled floors, big lights, and tiny banquettes. Just like you would imagine Paris to look like. If you are headed to Paris for the first time or it has been a while, you might to book one of these favorite spots. I narrowed it down to a top 5 list of my favorite classic bistros.
Pastry Shops and Macarons to Eat in Paris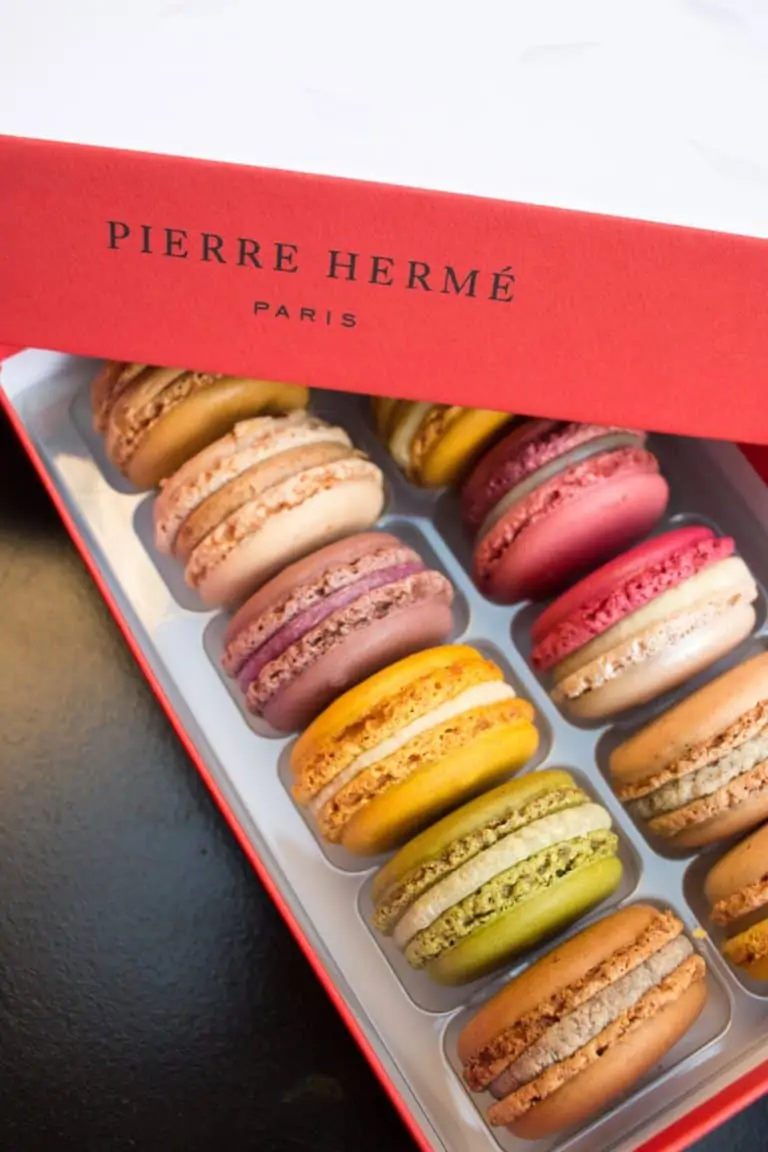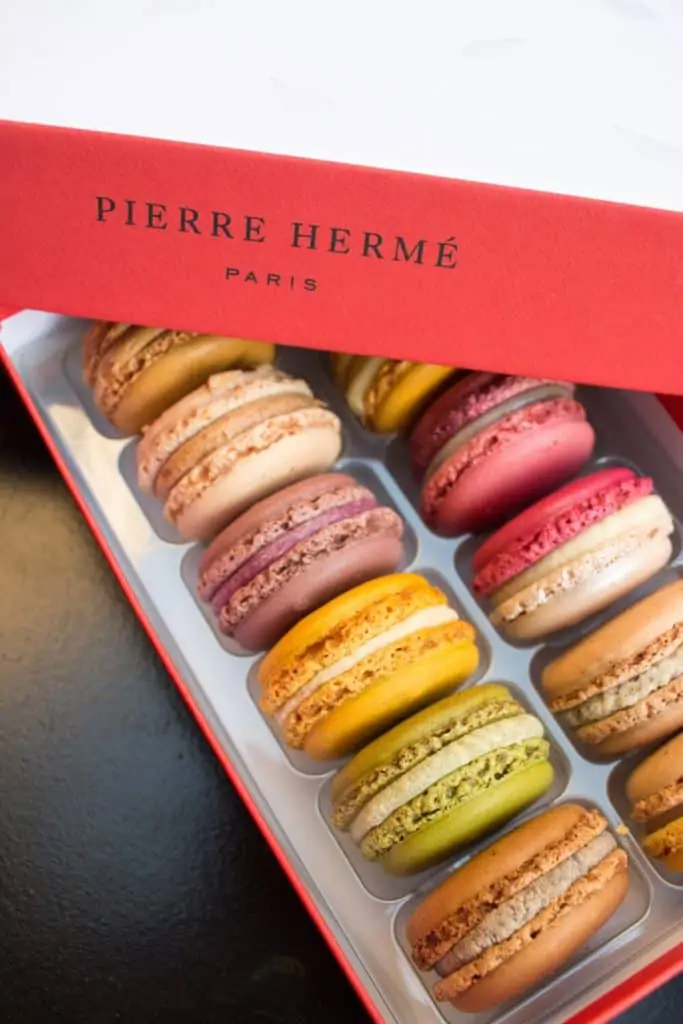 If you have a sweet tooth, visit Pierre Hermé for the best macarons. Pierre Hermé is a fantastic pastry chef. Skip Ladurée in my opinion. I love to take macarons and a coffee to Luxembourg Gardens. It's one of the most popular places on the Left Bank.
Where to Drink Hot Chocolate in Paris
For hot chocolate, look no further than the classic Angelina café it is an excellent spot for the first time in Paris. Kids love the hot chocolate but be warned that it is thicker than the usual hot chocolate you will find in the states. Take a short walk through the Tuileries just across from Angelina if you grab a takeaway treat. You can also enjoy hot chocolate in their dining room.
For a less-known spot for hot chocolate, try Plaq. It's on an adorable side street and you can try and buy different chocolate bars. It is a bean-to-bar shop in the center of Paris.
My Favorite Lemon Tart in Paris
Lemon tarts are my weakness. I love the lemon tart from Sébastien Gaudard.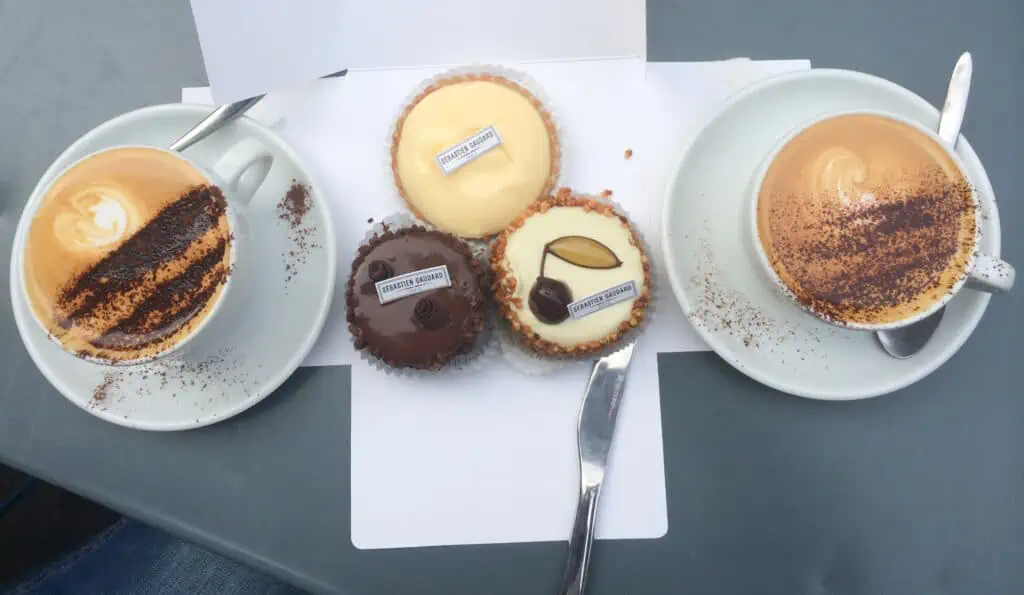 My Favorite Croissant in Paris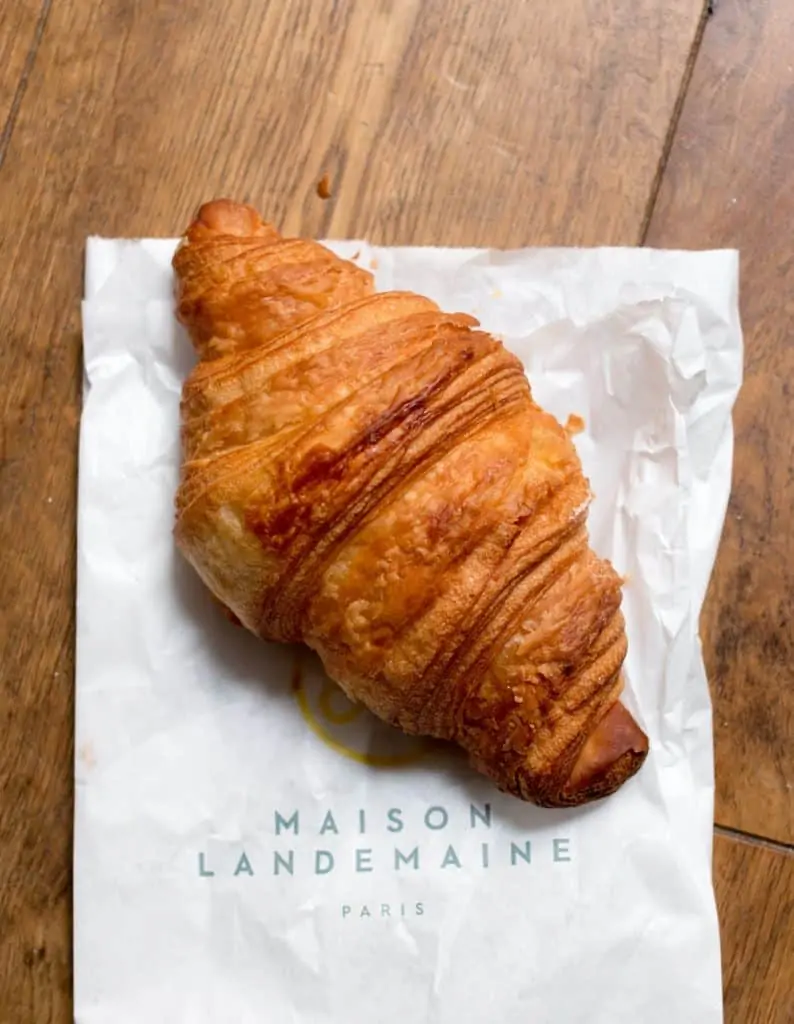 In the Marais, grab some buttery pastries at my favorite boulangerie 28 Beaumarchais, and enjoy an early morning stroll in Place des Vosges.
When you ask a Parisian about their favorite croissant in Paris, it is typically their corner boulangerie. They don't travel too far to get their daily bread and croissants. If you are visiting Paris, you will want to make a journey to try some of the best croissants to eat in Paris.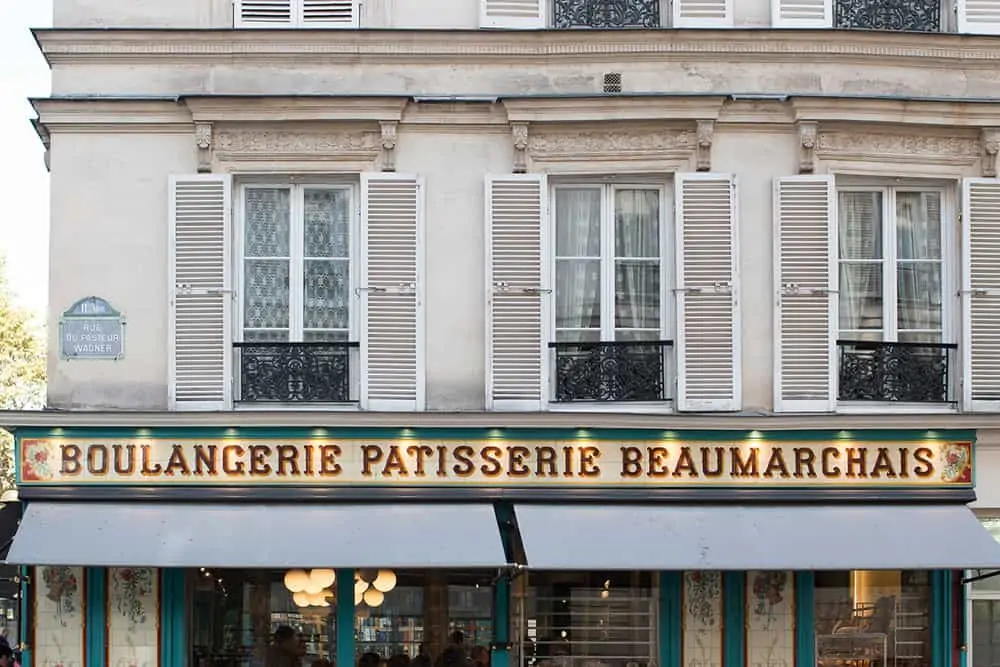 Where to Eat Fallafel in Paris?
For another street food option, everyone goes crazy for L'As du Fallafel. When I was back in Paris in the spring, the line was over 50 people long.
I prefer Miznon, which is more of a local spot just across the street. Also in le Marais on one of the main streets, Au Petit Fer à Cheval has terrific French onion soup. It is a cozy spot that doesn't have a lot of tables. Chez Janou is always a favorite. Don't miss the chocolate mousse.
There is a wine bar across the street called La Belle Hortense which is also a bookstore. It is a good place for a French red wine or white wine. Just order off the chalkboard menu for a variety of French wines
P.S. If you loved this post on where to eat and drink, don't miss my top 10 favorite Boutique Hotels in Paris.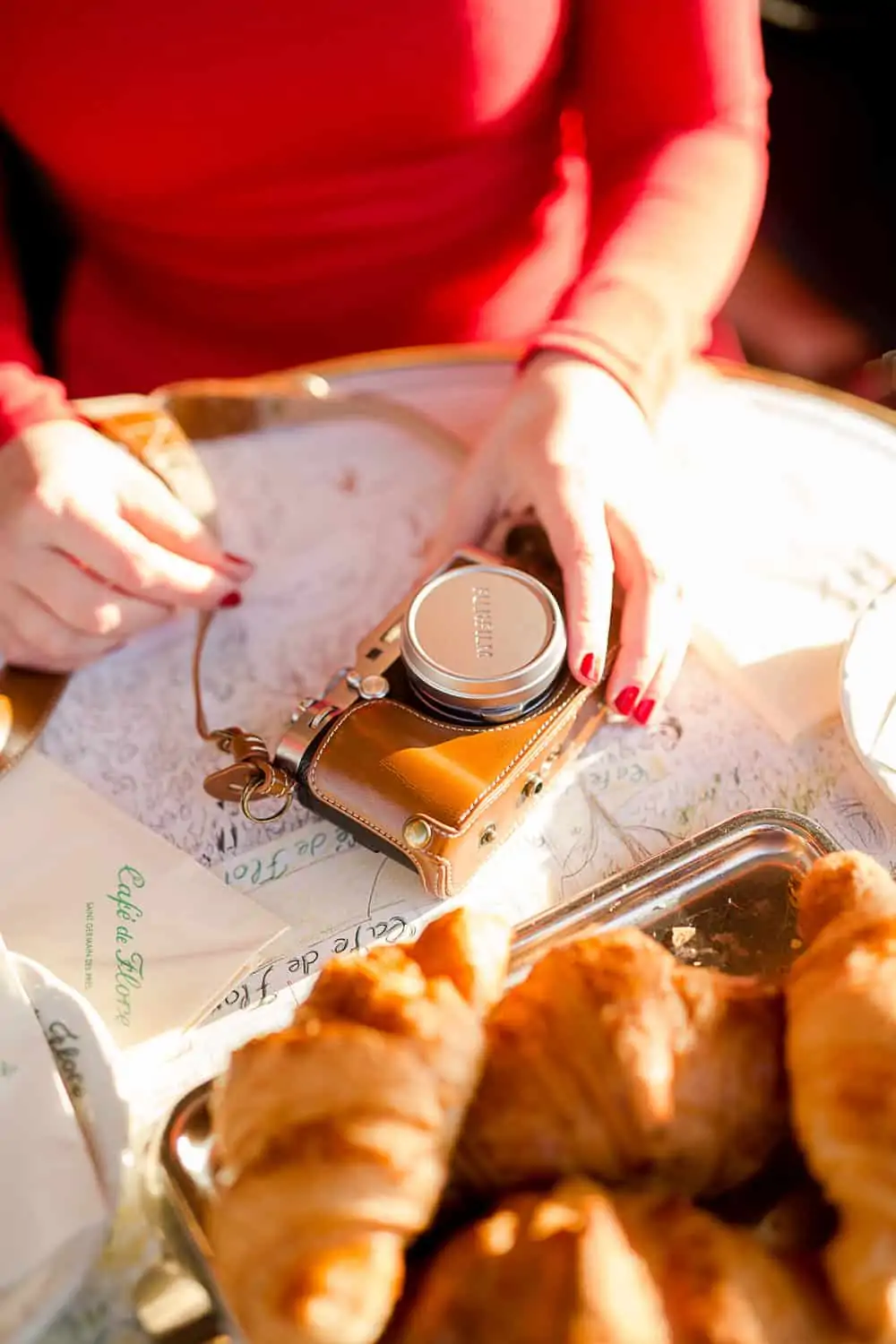 If you are planning to explore Paris museums, I highly recommend getting a Paris Pass. Skip the lines, save time and money.
Where to Eat Breakfast in Paris
If I am staying in an apartment, I prefer a run to a local boulangerie for a baguette or croissant. You can see my full list of favorite boulangeries here.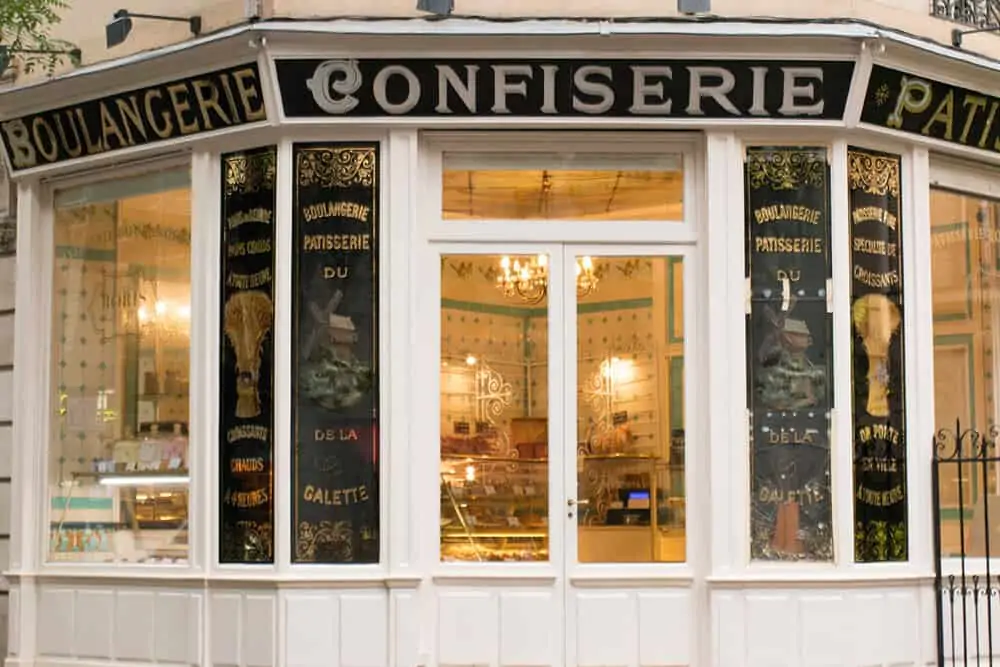 Breakfast at a local café will run you around 10 – 15 euros depending if you stick with the traditional breakfast or add eggs or meat. It is much cheaper than a hotel breakfast, depending on where you are staying.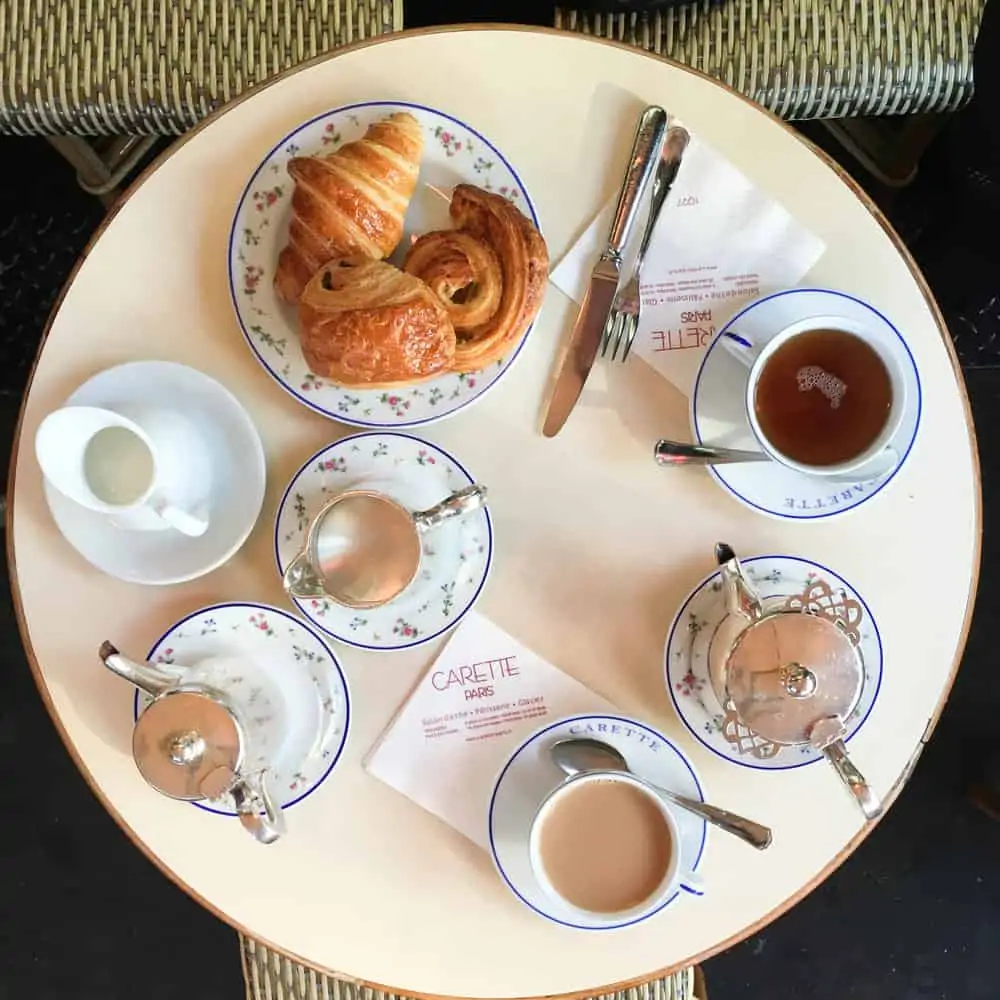 A Typical French Breakfast
The typical Parisian breakfast isn't much more than a pastry and a coffee or a tartine (baguette, butter, and jam). You can find a decent set menu at a lot of the Parisian cafés. The breakfasts will include pastry, juice, and coffee. If you want a more extensive breakfast they will usually offer the same breakfast with the addition of eggs or yogurt.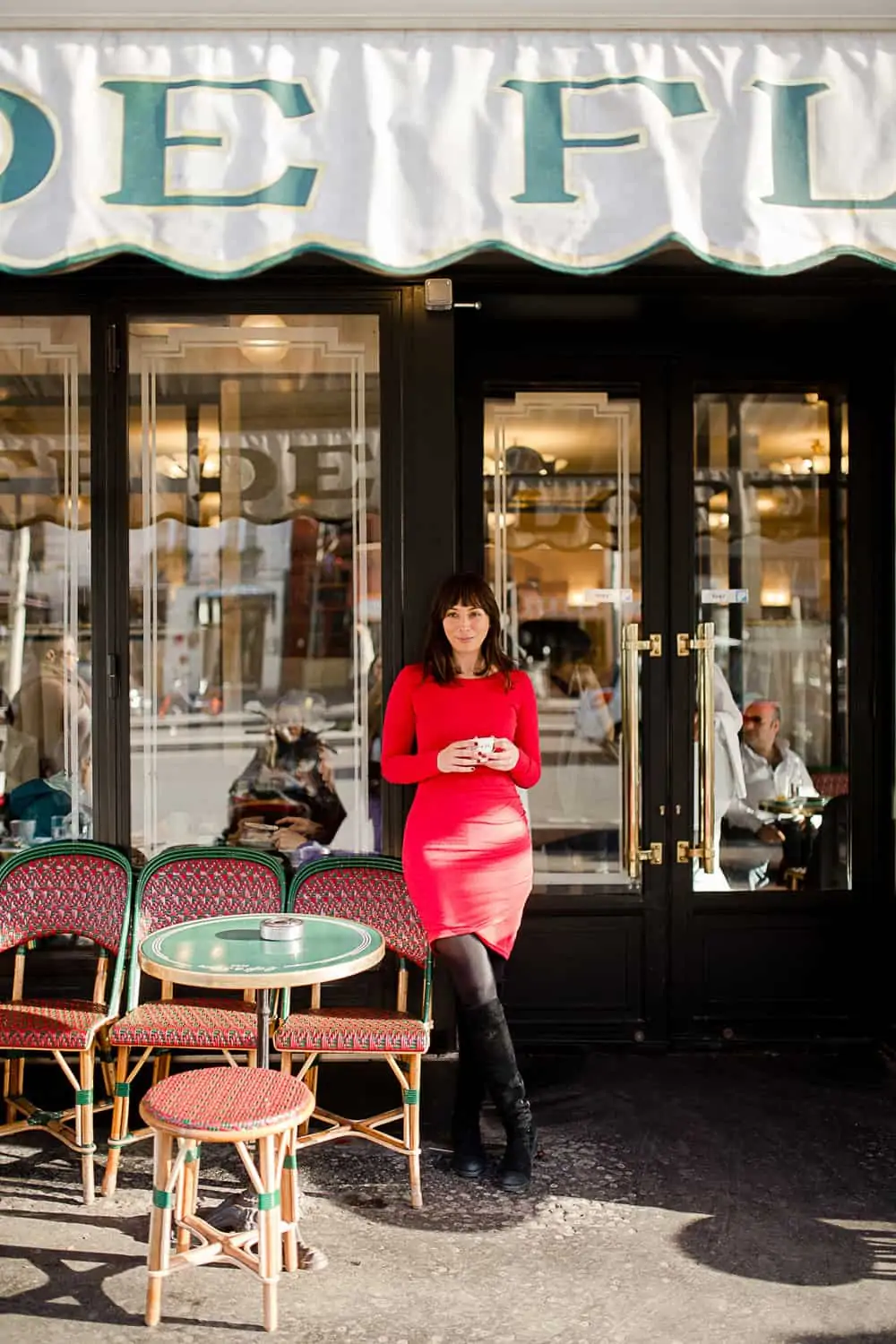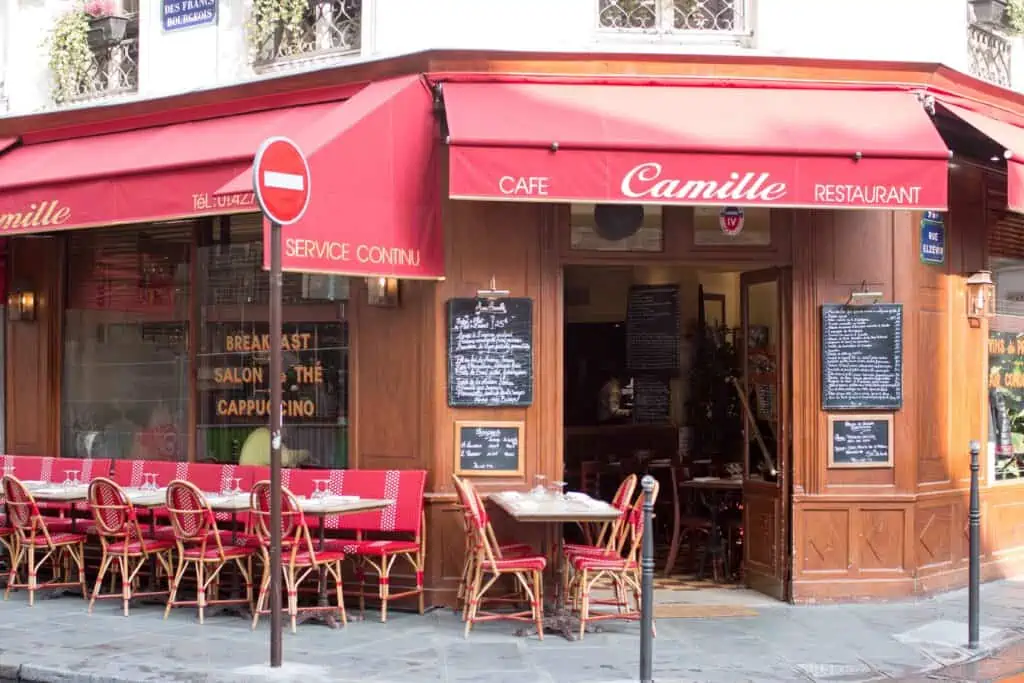 Where to Eat Breakfast in Paris
Bistro Vivienne I only had drinks here and coffee and croissants. It is a great location if you are close to Palais Royal. I love strolling through Gallerie de Vivienne.
Café Camille pictured above is a spot I have always passed by many times and wanted to try but never did until recently. I stopped here for a breakfast on a sunny day in Paris. They were out of croissants so I had a tartine with jam and butter with a café crème. This is a traditional bistro so there was no craft coffee just a large café Richards cup. Great people watching. You can reserve for dinner but if you are having breakfast, you can just walk up and grab a table.
Holy Belly – Order the Bourbon pancakes. I promise you will thank me. The line on the weekends can be long. Try to visit when they first open or try during the week.
Café St Regis This is a great place to eat breakfast in Paris. They have incredible waffles, pancakes, and eggs. It is just on the edge of île St Louis with a great view of Notre Dame.
Le Pain Retrove We discovered this bakery in Paris on our walk to Montmartre. All the girls tried different pastries and were very happy. The brioche I tried was out-of-this-world good.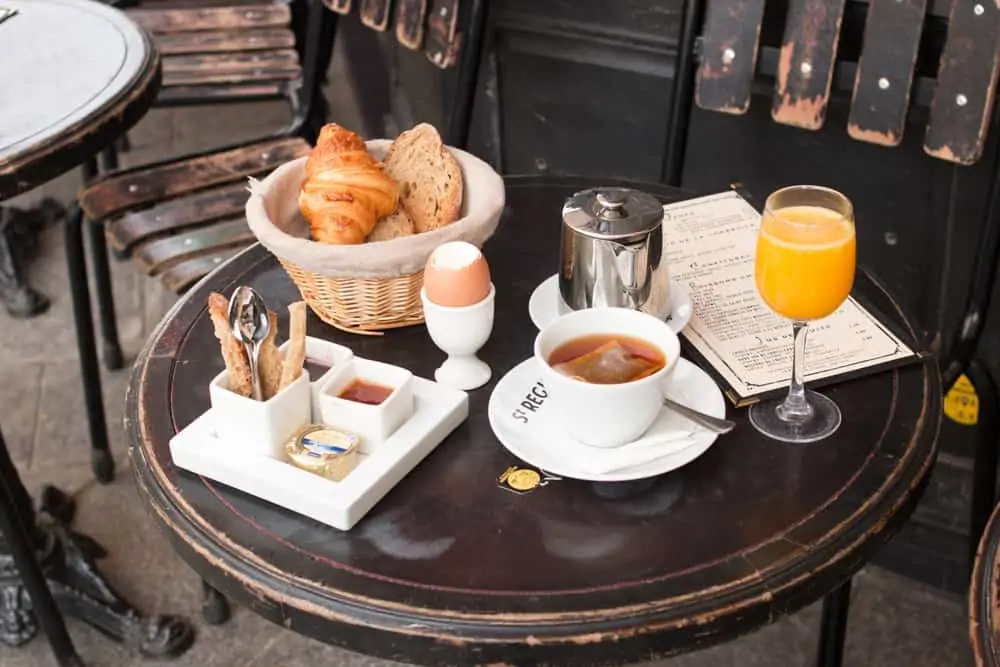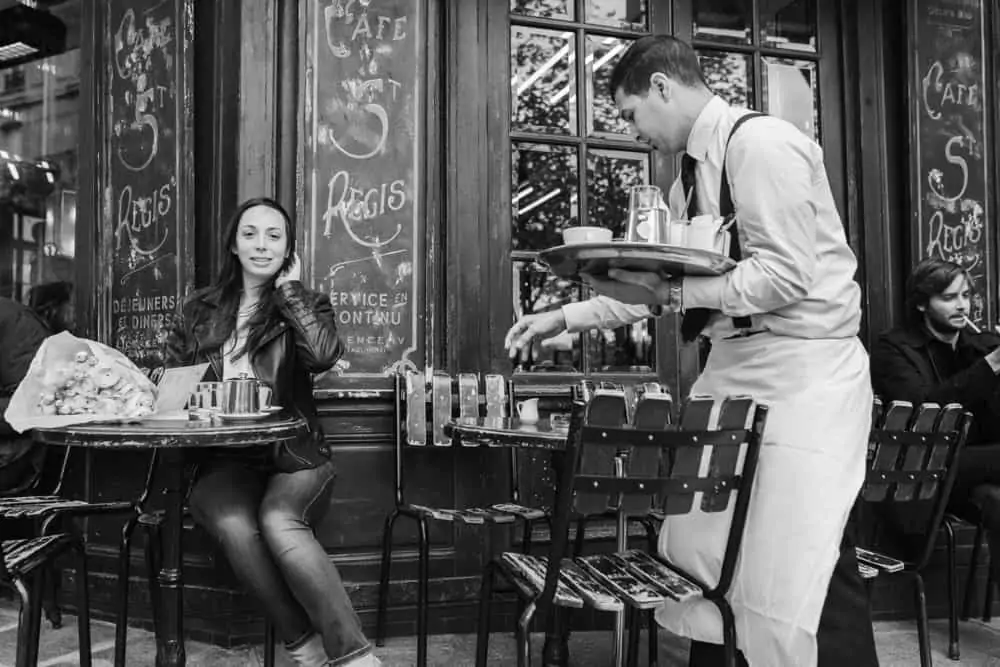 Where to Eat Brunch in Paris
Big Love Café – The pancakes are out-of-this-world good along with the French toast. There are no reservations. Arrive early or you might be out of luck. I lived upstairs so it was easy to put my name in. There are tons of places to explore in the neighborhood on a Sunday if there is a wait they will take your number.
Dersou – There are no reservations for Brunch so expect a wait. The food is Asian-inspired and not your typical brunch food. Still highly recommended for brunch in Paris.
Fragments – Everyone raves about the avocado toast and I wasn't disappointed. The space is small so if you arrive on a weekend or at peak time, you will wait for brunch.
Holy Belly – Get the Bourbon pancakes. They are worth it!
Where to Drink Coffee in Paris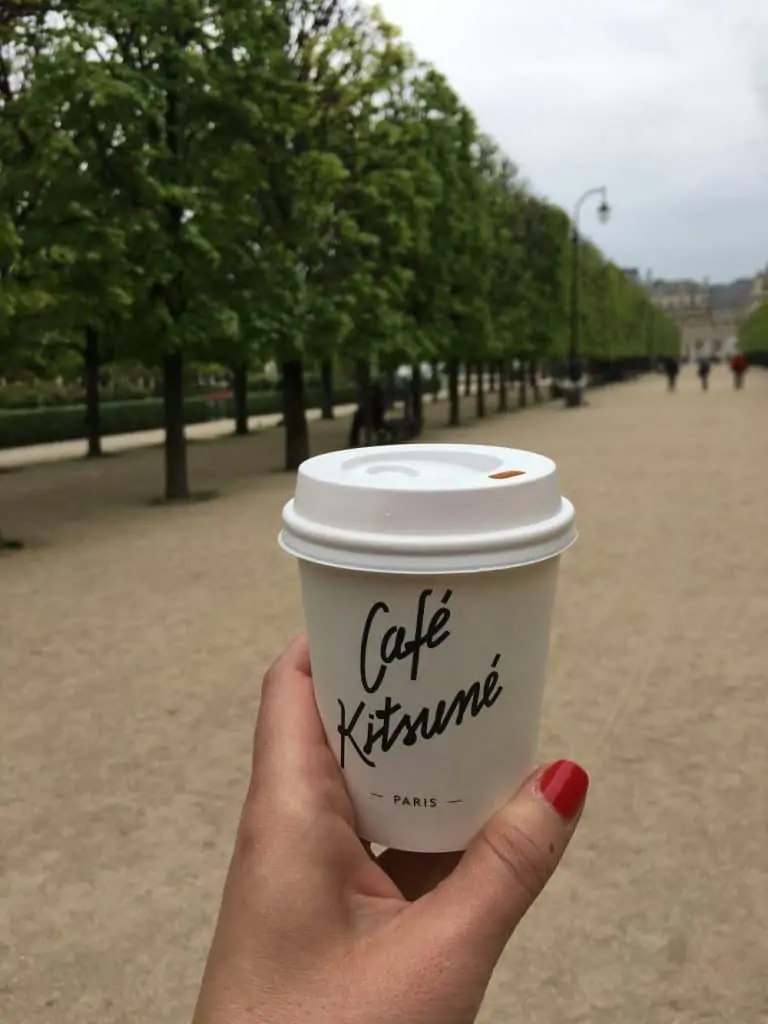 Coffee has evolved so much over the last 10 years in Paris. There is traditional coffee that you will find at a café or bistro and craft coffee. Craft coffee is popping up everywhere in Paris coffee shops. There are some roasters that are Paris-based and some that are from Australia. Both are fabulous, you will have to do your own research and explore what you like best. This blog post takes you through the different types of coffee and where to find some of my favorite spots in Paris.
P.S. if you are looking for a café au lait or coffee with milk, you can order a café crème or latte.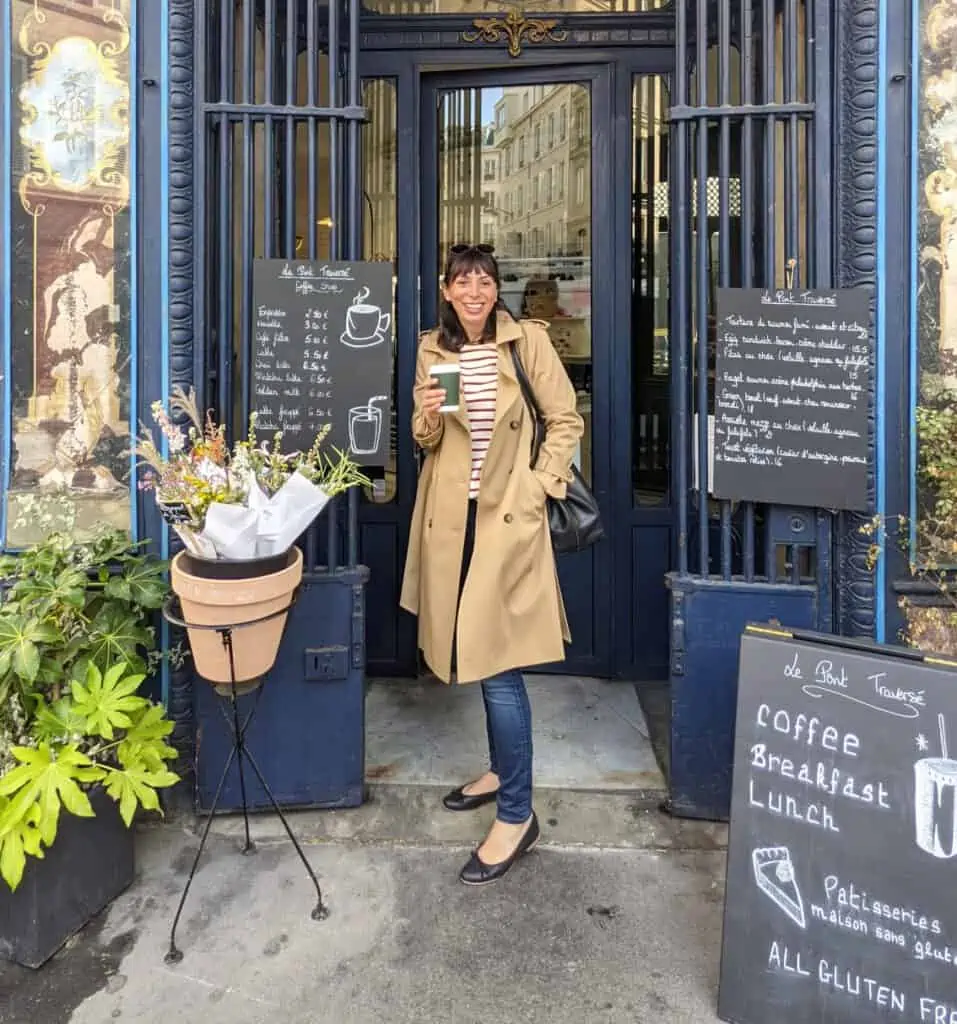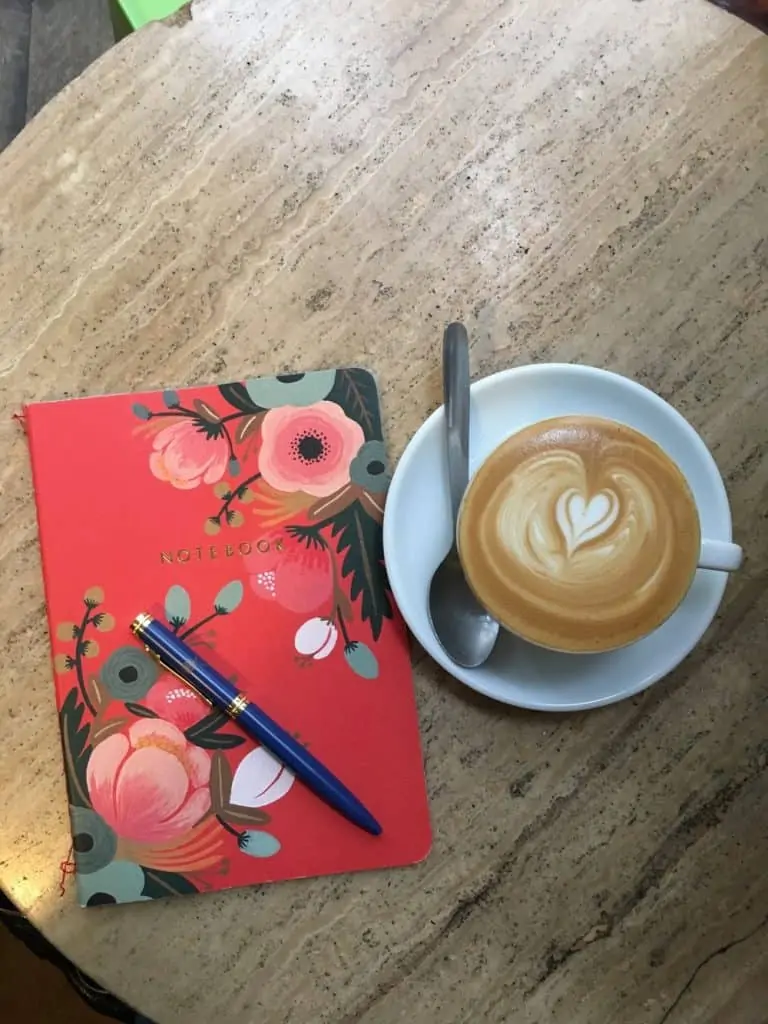 For my full list of Where to Drink Coffee In Paris. Check out this Post Here
Where to Eat Lunch in Paris
Bistro Rougement This was a recommendation from Adele and Jules and we all loved it. The menu was small and there were a few rotating items from the chef. I had a butternut and pumpkin soup and tuna. It was very reasonably priced and had great quality and portion sizes. I would recommend it and eat here again.
Breizh  for sweet and savory crêpes. There is a new, more prominent location in Odeon with outdoor seating or you can go to the original site in The Marais. Expect a wait on a Sunday for brunch.
Carette – You can dine on the terrace or get sandwiches for takeaway and picnic in The Tuileries or nearby Place des Vosges.
Café Charlot This is the place to be for Happy Hour any day of the week for great people-watching or on a Sunday for Brunch and beyond. Located in the Marais.
Cafe Mademoiselle This was found on a whim as we had a group of girls and needed to find a table for lunch quickly. They had a table outside on a beautiful Fall day so we grabbed it. The meal was one of our favorites on the trip. Fresh and delicious and reasonably priced. They had a good wine selection and the staff was friendly.
Lunch Spots to eat in Paris
Caffé Toscano is an Italian restaurant on a side street in Saint Germain des Près and the ingredients were all fresh. I loved my meal and the prices were affordable. Don't miss ordering the tiramisu.
Cafe Varenne I dined here a few years back and enjoyed it. We went with a group of 5 girls and we all had great meals and wine. It is a great location for Musee D'Orsay and the Rodin Museum.
Chez Monsieur This was a recommendation by a work colleague a long time ago. We dined here together and I wanted to go back again. I had my hotel make a reservation for lunch. They can fill up for dinner, so try to arrange it in advance. It is a classic French bistro. The inside is adorable. I dined outside both times but wouldn't mind a cozy inside table next visit.
Dalia Paris – I had the most incredible lunch at Dalia and I won't stop talking about it as a recommendation. It is Middle Eastern. The flavors were incredible and I loved my meal so much. My only regret was going solo because I wish I tried more of the menu. I will be back to try more. It is also open for dinner. You will want to make a reservation in advance as they were fully booked when I arrived and I had a reservation.
Daroco – the pasta is handmade and SO good. I had food envy when I saw the pizzas so you can't go wrong either way. There is now one in the 16th arrondissement as well. This is a great place to eat lunch in Paris.
Lunch Restaurants in Paris
Hardware Societé A great option in Montmartre, which can always be a challenge for good food. They don't take reservations so try to plan an off time to visit for breakfast or lunch. 
Le Lulli – tucked away behind The Louvre, I love this spot for lunch. Their prix fixe meal is a great value, and the food is fantastic. 
Le Bimbo This was a standout meal we had in Montmartre. Everyone was happy with their meal and the quality of the food and price was great. This wasn't on the main street but it still had great people watching and good energy. I had the fish and was happy with my meal. I would go back for sure.
Les Editeurs I love the cozy vibe inside on a rainy or cold day. They have jazz here as well. I have had a few meals here over the years and it has always been good.
Miznon is one of my absolute favorites. It's an Israeli sandwich shop that now has multiple locations. I always get the chicken pita. The tahini and pita are so good. They are known for their roasted cauliflower.
Pizza Chic – It books up quickly, arrive right when it opens to secure a spot. Don't miss the tiramisu! 
Sebastian Gaudard  This is technically dessert but I had to add this one in. I love their lemon tart, so we stopped here for a little pause. There is construction all around here, so it wasn't the best location and they only had takeaway, which we could have at an outside table.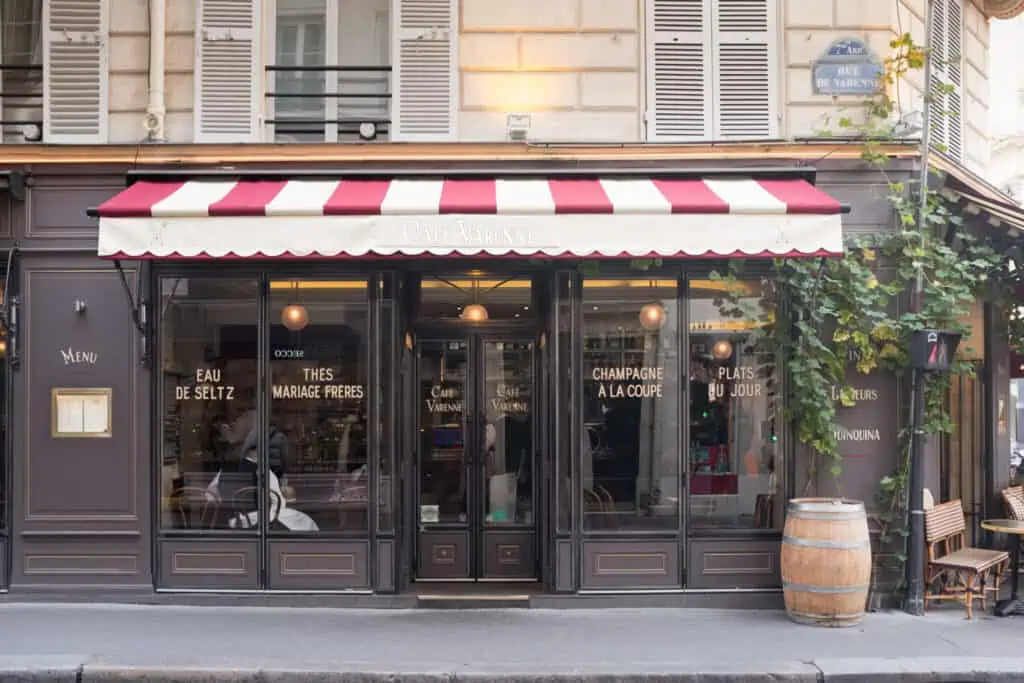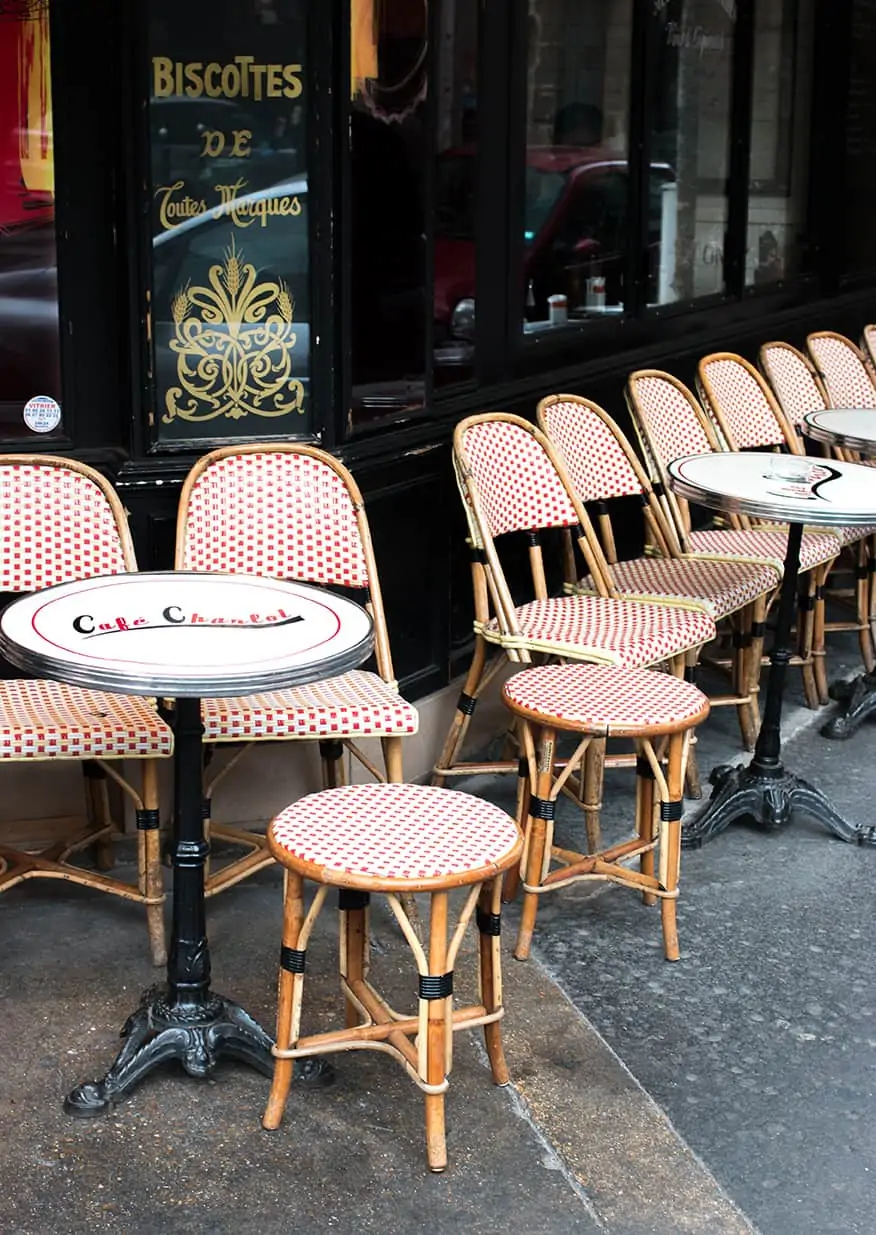 French Sandwiches to Try
If you are looking to save money on your trip to Paris, grab a sandwich at a local boulangerie from the case and take it to a nearby park. You can spot the good boulangeries around lunchtime with a long line outside of Parisians doing the same thing. A formula will usually be offered at the boulangerie (bakery), including a sandwich, drink, and dessert. This is the better value. Try a croque monsieur (ham and cheese), jambon-buerre (ham and butter), or saucisson (sausage or salami). There are usually pickles on here. For vegetarians, there will be an option or a tomato and mozzarella sandwich. They will typically ask you if you want it hot or cold.
When to Order Dinner in Paris
If you are looking for an excellent French meal, there are some main streets filled with restaurants and bars. You have to weed your way through some of the touristy spots for the best food. Just keep an eye out to see if people are eating or just drinking. That is usually my hint for what to order. These streets include Rue Montorgueil in the second arrondissement rue Cler which is close to the Eiffel Tower and Boulevard Saint Germain. Dinner time in Paris starts around 7:30 and finishes at 10 pm. When booking a reservation, you may be asked to do a first seating at 7:30 or closer to 9 pm. There will be late-night bistros serving food until 11 or midnight. That probably won't be the best meal but there are places open.
If you are trying to find food late at night, a crêpe stand might be your best bet. Those are all around the city, tucked on side streets and main streets.
Where to Eat Dinner in Paris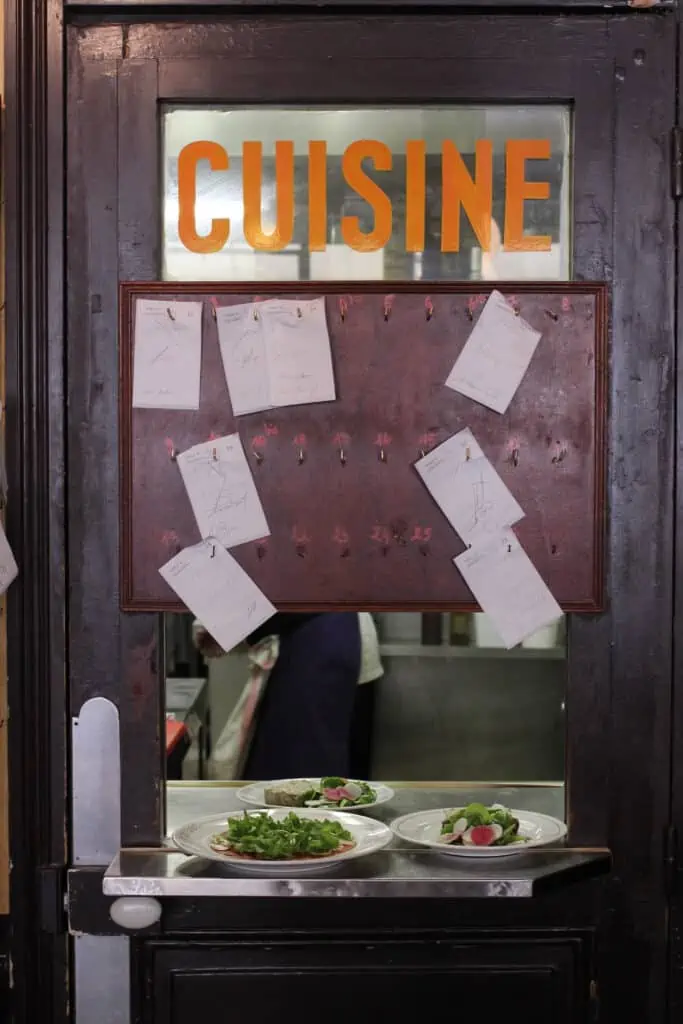 Agata Pizzeria – I discovered this pizza spot around the corner from my hotel last year. It had just opened and I enjoyed dinner with my husband on the outdoor terrace. When I was back in Paris in October, I was looking for a dinner spot and I was craving pizza this spot still lived up to my memories of great pizza. There is great people watching from the terrace and the inside is a cozy spot on cold or rainy evenings.
Bistro Paul Bert – Classic French and so good. A must-visit if you have the chance. Order off of the chalkboard menu, and don't miss out on the cheese plate at the end of the meal. 
Blueberry Sushi – You may not think to have sushi in Paris, but it is refreshing after a lot of heavier French food. I had the most fantastic meal at Blueberry sushi and can't wait to return.
Cafe Central Rue Cler I have eaten here several times. It is a favorite of my friend's favorite spots, and she always requests we go here. They have a good amount of options for food, the menu is a bit mixed with pizza and poké options as well along with classic French dishes. I had a poké bowl and loved it. I also had steak frites here another night, and that was also good.
Dinner Restaurants in Pairs
Le Colimaçon is a classic French restaurant in the heart of the Marais on my favorite street. There is a chalkboard menu with so many choices. I had the duck that was made with roasted pears and it was delicious!
Cafe de Mars. We had a lovely dinner here while staying at the Paris Perfect apartment. They have a chalkboard menu and rotating specials, along with a great wine list too. Café de Mars is very lively and vibrant. We had a late dinner and were one of the last to leave.
Chez André, This is my go-to spot close to the Champs-Élysée. I love the ambiance inside, it is romantic and old Paris. I could easily escape a cold winter day or a rainy afternoon here. In the warmer months, you can sit outside with a glass of rosé, and people watch. 
Other Spots to Eat Dinner in Paris
Chez Fernand Rue Christine This is where we had our welcome dinner with 24 girls we had a great meal and the staff was excellent. I would recommend it and return for another classic French meal. Tell Baptise I sent you.
Ellsworth – Don't miss the fried chicken. They have great small plates to share. This is from the same owners as Verjus.
Fountaine de Mars, is a classic French bistro that is on the must-visit list for a reason. This is a spot you want to book when you are close to the Eiffel Tower or plan on being in the area.
Where to Eat Dinner in Paris
JM Table I had lunch here when staying at Saint James, and it was a suggestion from the concierge. It was a cute and quiet place inside, not your typical French spot. The menu was small and rotated often. I dined on the later side of a Thursday and some of the menu items were finished for the day. I ended up having bucatini and octopus, which was delicious. The servings weren't huge but flavorful and fresh.
Kunitoraya – This is in the First Arrondissement. They have great Udon, perfect for cold winter or rainy days. I love going here on a Sunday. There is typically a line but it moves pretty quickly.
L'Avant Comptoir – Standing room only, but it is worth it. The menu hangs from the ceiling, be adventurous and try something new! I always have a great time here.
Lazzi – Tucked away by Opéra is this adorable Italian restaurant with a terrace and lots of indoor dining. I had a fantastic meal here with eggplant parmesan and pasta. I find this area hard to find a restaurant that isn't too touristy, and this spot was delicious.
Le Comptoir – The original restaurant where L'avant Comptoir was based. The menu can be similar. I have had the same dish in both places. For this one, you will sit and eat. No reservations are taken, so arrive right when the restaurant opens. 
Dinner in Paris
Le Relais de l'Entrecote – They only serve Steak Frîtes and they do it so well. You will have to order your steak how you like it, and they take care of the rest. I have never had a bad meal here. There are no reservations, so expect to wait in line outside. 
Le Progres I had drinks with a friend here. It is excellent people-watching and a good place for solo dining or drinks.
Mad Men, This was a recommendation by Pavillon des Lettres. It is a relatively new spot. I had a pizza and salad to share, and the portions were lovely and the price was very reasonable, including a glass of wine. This is also a great spot for after-work drinks or a late cocktail.
Where to Eat Dinner in Paris
Maria by César This is located on Rue Montorgueil, a lively street on the Right Bank. There are tables outside and inside. If you can grab a table outside, the people-watching is fun. Inside is dark, and there is music which is a bit different atmosphere. I went with some friends last October, and we snagged a table inside without reservation. You can walk up, but you may have to wait a bit depending on the time of day.
Marco Polo – I have passed this restaurant so many times close to Odéon but have never dined her until recently. There is outdoor seating and also an intimate indoor option as well. I had lunch here with my fiancé and my friend Katie. We had a lovely Italian meal. We were perfectly tucked away enough to experience the hustle and bustle and enjoy each other's conversations. It felt like we escaped to Italy for an afternoon.
Best Paris Restaurants for Dinner
Big Mamma Group. If you are craving Italian, which is pretty much me all the time. Check out the multiple restaurants by the Big Mamma Group. They are all over the city. Try the truffle pasta, and the pizzas are great too. They don't take reservations, so arrive early. I recently ate here with 15 minutes to close, and there was still a wait. It is worth it!
Relais Entrecote Classic French. There are only steak frites on the menu. The girls requested steak frites and I knew this was the spot to go and we were close by. It was a great meal and we got a table outside with no wait. They typically have a wait for lunch and dinner. When we left, there was a line for lunch. I don't think they take reservations.
Semilla – I have eaten here twice and loved it. The fish dishes were better than the meat in my opinion. A great meal and highly recommended.
You can download this map and save it to your phone for your next trip to Paris.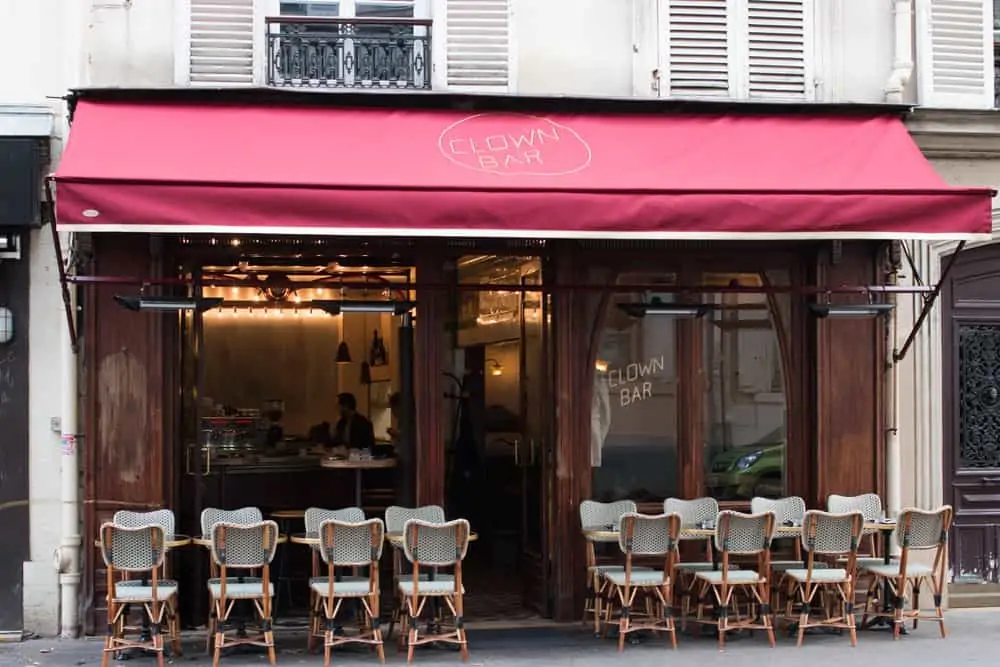 I would love to know your favorite spots in Paris. Comment below and share!
You can access this map on Where to Eat and Drink in Paris on your desktop or mobile by clicking this link. This will help in planning as you navigate where you are staying and explore any day in Paris.
Left Bank Paris Classic Cafés and Restaurants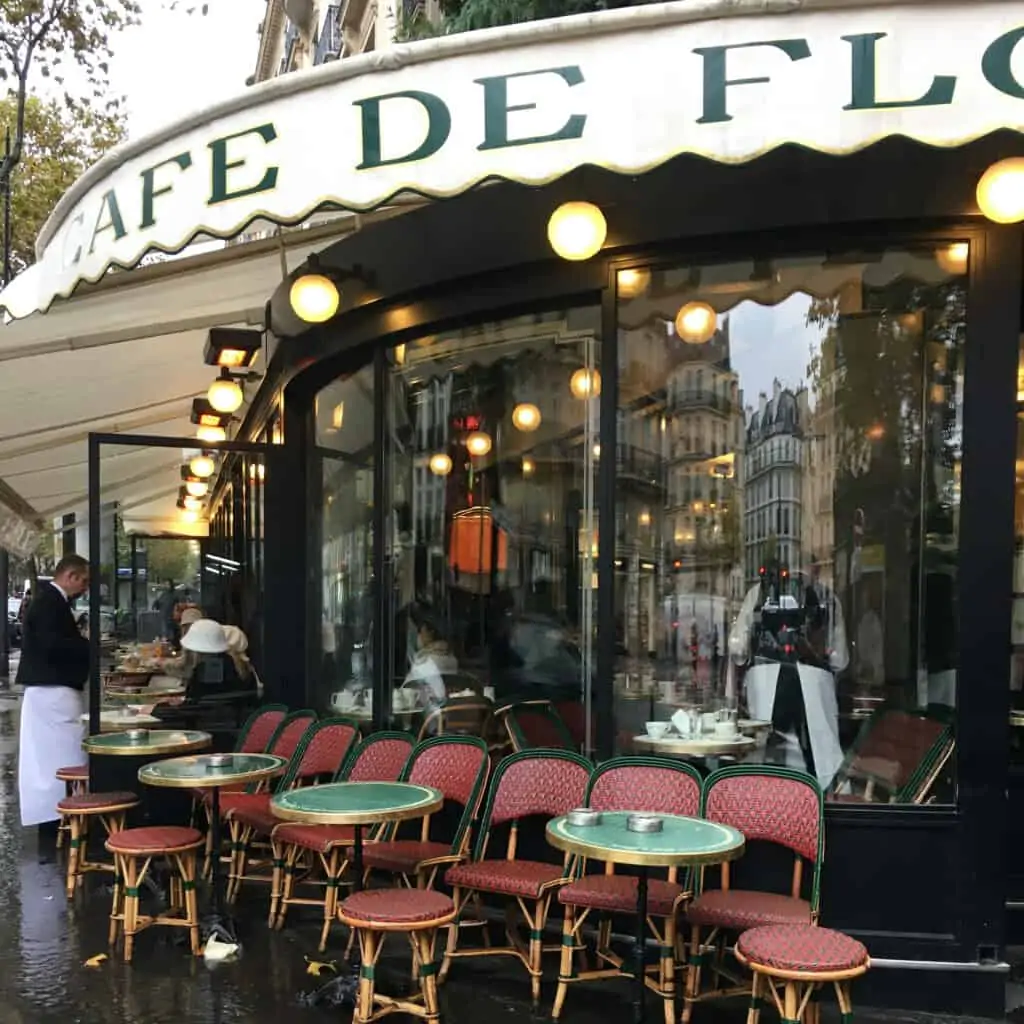 I love a classic café for people-watching. Great spots for this in Paris in Saint Germain include Les Deux magots and Café des Flores on the Left Bank of Paris. These are some of the most famous spots in Paris. There are usually long lines to get in on weekends and peak times. For the best steak frites, if you are only going to do it once, go to Le Relais De L'Entrecôte. They only have steak frites on the menu and a salad with walnuts and mustard vinaigrette. They will write your order on your paper tablecloth. This is a classic Parisian restaurant, but it isn't cheap so you may want to save this for a special occasion. For dessert, the chocolate profiteroles are insanely good.
For a fun place on the Left Bank that won't break the bank, visit L'Avant Comptoir de la Terre. It is a popular place which you may find a long line. It is worth the wait and has standing room only! Order a glass of wine and a few dishes. The menu hangs from the ceiling and is filled with small plates. Get the blood sausage macaron, foie gras, and beef carpaccio. It is one of my favorite restaurants I always bring friends to for a good time. I have also been here solo, and I always strike up a conversation with neighbors. It is a lovely spot just by the Odeon metro.
This post does include affiliate links that help contribute to my coffee and croissant research. Merci!