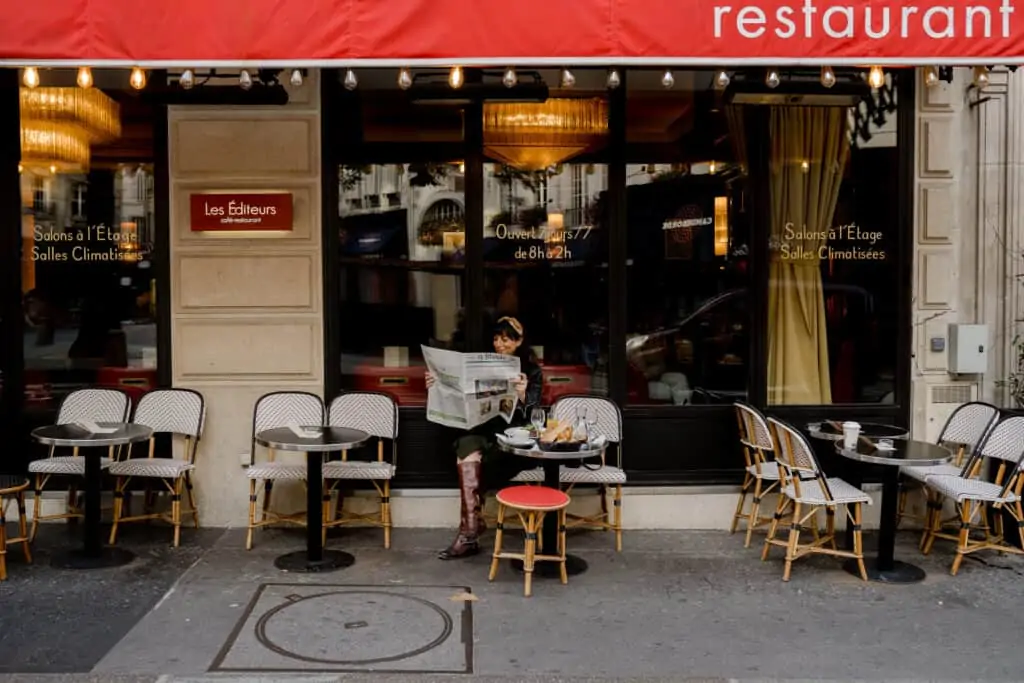 One of the questions I get asked the most often about Paris is where to eat and drink. I have a map that I built out a few years ago that I send people to get an idea of places to try. The map helps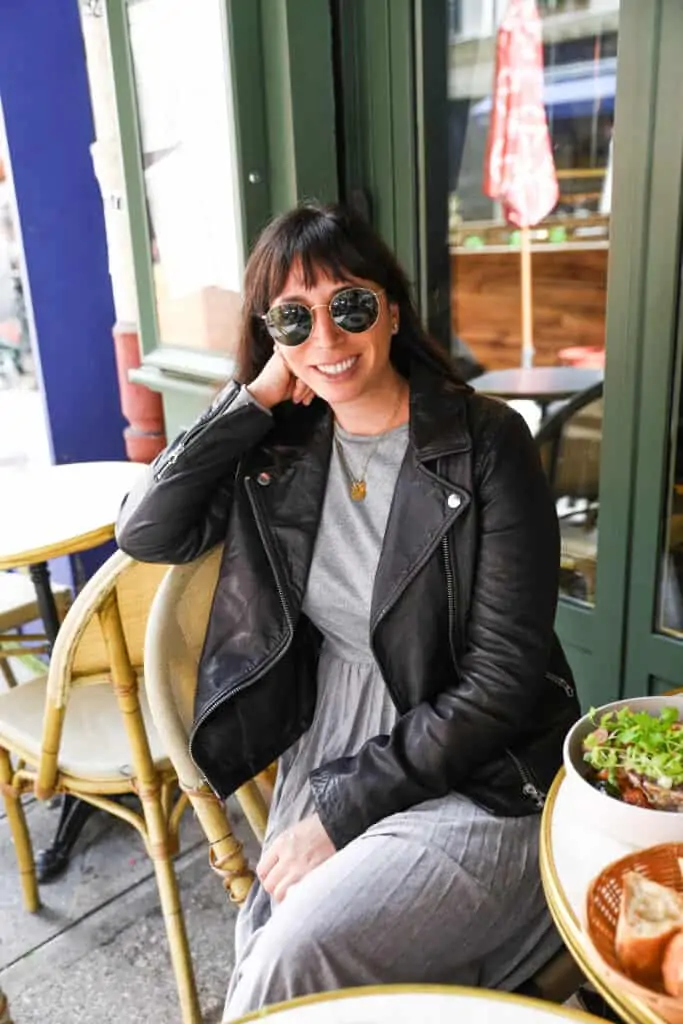 On my latest trip, I was able to try a lot of new places and go back to some favorites. Below is a map of where I ate and drank on my trip to Paris in 2021 Fall. I will make notes to guide you along below. I separated coffee to make it easy to find as that is a whole different category. I hope this post helps discover new places to try on your next trip to Paris.
Fountain de Mars This was my first time eating here after hearing so many people rave about it. I had the fish special for lunch and it was delicious. We made a reservation for girls from the trip to dine here at a table of 10 and they all enjoyed their meal. I would go back if I was in the area.
Cafe Central Rue Cler We ended up eating here twice. Once as a group of three along with Whitney and Victoria and then again after the Eiffel Tower picnic. They have a good amount of options for food but the menu is a bit mixed with pizza and poke options as well along with classic French dishes. I had a poke bowl and loved it. I also had steak frites here another night and that was also good.
Bistro Rougement This was a recommendation from Adele and Jules and we all loved it. The menu was small and there were a few rotating items from the chef. I had a butternut and pumpkin soup and tuna. It was very reasonably priced and had great quality and portion sizes. I would definitely recommend it and eat here again.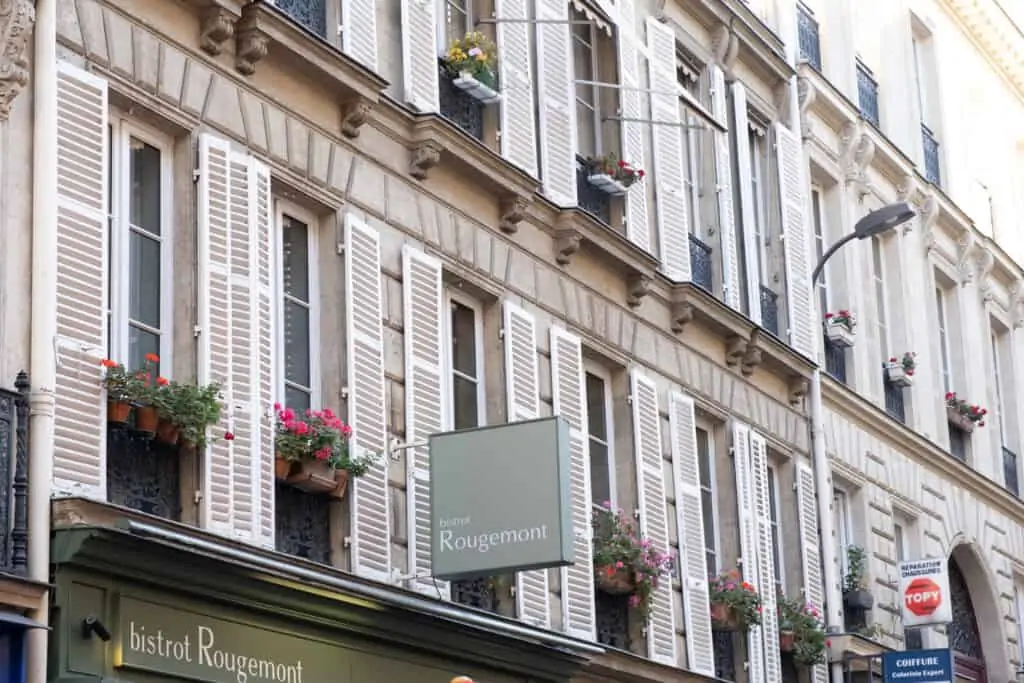 Cafe de Mars. We had a lovely dinner here while staying at the Paris Perfect apartment. They have a chalkboard menu and have rotating specials. They had a great wine list too. Very lively and vibrant. We had a late dinner and were one of the last to leave.
Bistro Vivienne I only had drinks here and coffee and croissants. It is a great location if you are close to Palais Royal. I love strolling through Gallerie de Vivienne.
Sebastian Gaudard I love their lemon tart so we stopped here for a little pause. There is construction all around here so it wasn't the best location and they only had takeaway which we could have at an outside table.
Cafe Varenne I dined here a few years back and enjoyed it. We went with a group of 5 girls and we all had great meals and wine. It is a great location for Musee D'Orsay and the Rodin Museum.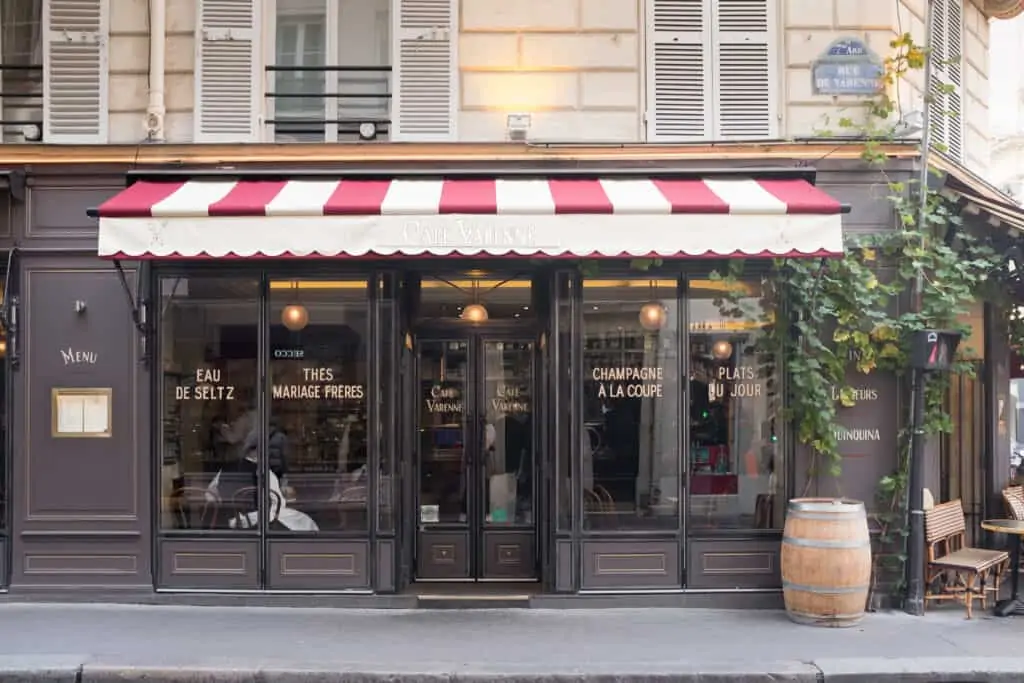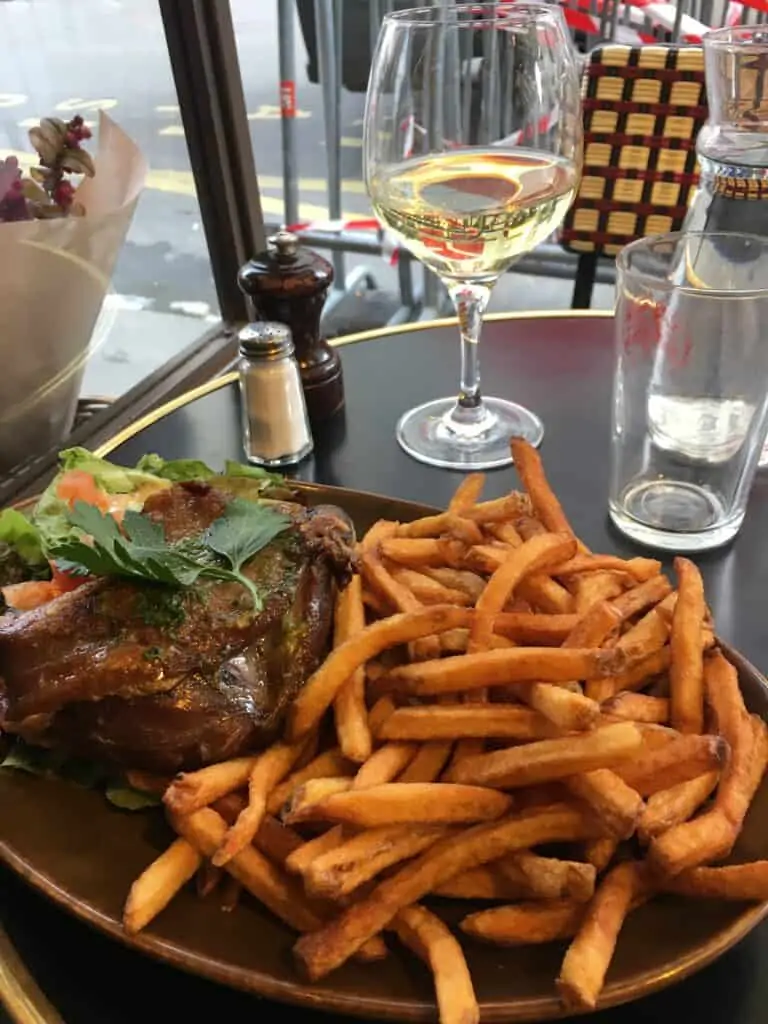 Chez Fernand Rue Christine This is where we had our welcome dinner with 24 girls and we had a great meal and the staff was excellent. I would recommend it and return again for another classic French meal. Tell Baptise I sent you.
Cafe Mademoiselle This was found on a whim as we had a group of girls and needed to find a table for lunch quickly. They had a table outside on a beautiful Fall day so we grabbed it. The meal was one of our favorites of the trip. Fresh and delicious and reasonably priced. They had a good wine selection and the staff was friendly.
Chez Monsieur This was a recommendation by a work colleague a long time ago. We dined here together and I wanted to go back again. I had my hotel make a reservation for lunch. They can fill up in advance for dinner so try to arrange in advance. It is a classic French bistro. The inside is adorable. I dined outside both times but wouldn't mind a cozy inside table next visit.
Maria by Cesar This was on a busy street for great people watching. The restaurant was so lively and after many nights of French food, I was ready for a break for Italian. We ended up having a table inside. The food was great and I would return for another meal. We all had starters, wine, and pizza. They also had pasta which looked great too.
Cafe Richer was close to the hotel and has been around for years. I have eaten here before and had a good meal so it was an easy decision when we were tired from a full day. The serving sizes weren't huge for the main course so keep that in mind when ordering.
Miznon is one of my absolute favorites. It's an Israeli sandwich shop that now has multiple locations. I always get the chicken pita. The tahini and pita are so good. They are known for their roasted cauliflower.
Le Progres I had drinks with a friend here. It is great people watching and a good place for solo dining or drinks
Popellini They are known for their creme puffs in a variety of flavors. I think it is better than Odette. It is worth popping in if you want something sweet.
Les Editeurs I love the cozy vibe inside on a rainy or cold day. They have jazz here as well. I have had a few meals here over the years and it has always been good. I met my friend Katie here for breakfast one morning.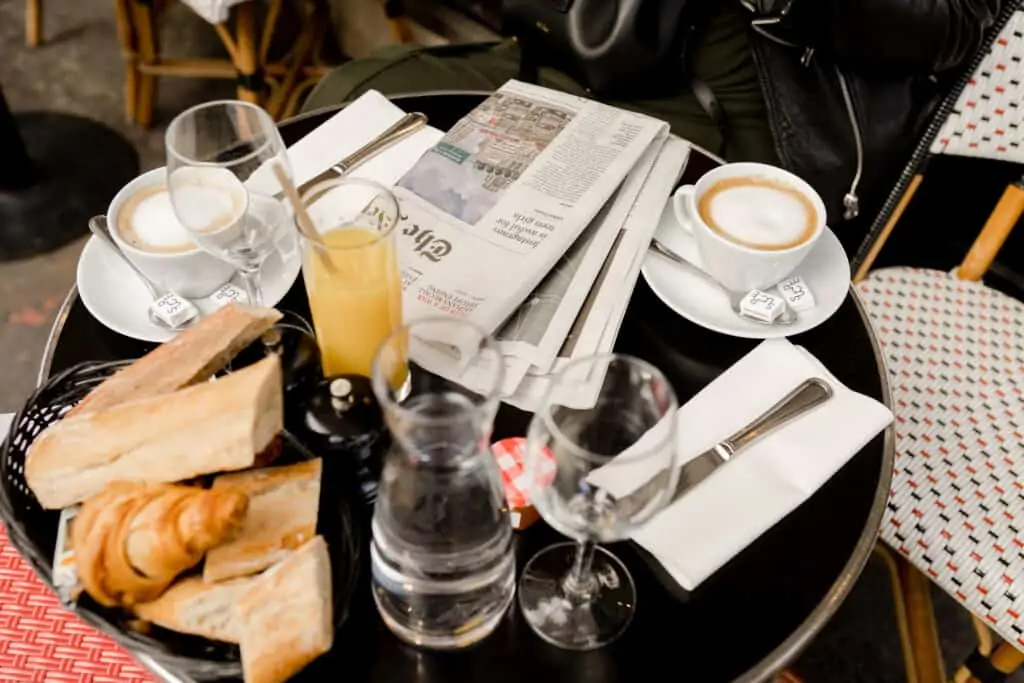 Le Bimbo This was a standout meal we had in Montmartre. Everyone was happy with their meal and the quality of food and price was great. This wasn't on the main street but still had great people watching and good energy. I had the fish and was really happy with my meal. I would go back for sure.
Le Pain Retrove We discovered this bakery in Paris on our walk to Montmartre. All the girls tried different pastries and were very happy. The brioche I tried was out of this world good.
Le Colimaçon This is a classic French restaurant right in the heart of the Marais on my favorite street. There is a chalkboard menu with so many choices. I had the duck that was made with roasted pears and it was delicious!
Pink Mamma This is part of the Big Mamma group that has several restaurants in Paris and also London. The menu is similar all around and they don't take reservations. The food is consistently good and the pizza rivals the ones I had in Italy. It's a full Italian experience and worth a try. They are also known for their truffle pasta which if you are dining in a group, I would get one for the table. It is too heavy for a full meal. There was a line when we left on a Wednesday night at 10 pm. They also have a speakeasy at this location.
JM Table I had lunch here when staying at Saint James and it was a suggestion from the concierge. It was a cute and quiet place inside not your typical French spot. The menu was small and rotated often. I dined on the later side of a Thursday and some of the menu items were finished for the day. I ended up having bucatini and octopus which was delicious. The servings weren't huge but flavorful and fresh.
Mad Men, This was a recommendation by Pavillon des Lettres. It is a fairly new spot. I had a pizza and salad to share and the portions were nice and the price was very reasonable including a glass of wine. This is also a great spot for after-work drinks or a late cocktail.
Relais Entrecote Classic French. There are only steak frites on the menu. The girls requested steak frites and I knew this was the spot to go and we were close by. It was a great meal and we got a table outside with no wait. They typically have a wait for lunch and dinner. When we left, there was a line for lunch. I don't think they take reservations.
Brasserie Ile St Louis Jess and I had a quick coffee/tea here. I typically like Cafe Saint Regis across the street but they moved tables out into the street so it blocked the whole outside vibe. This was a great people-watching spot on Ile St Louis.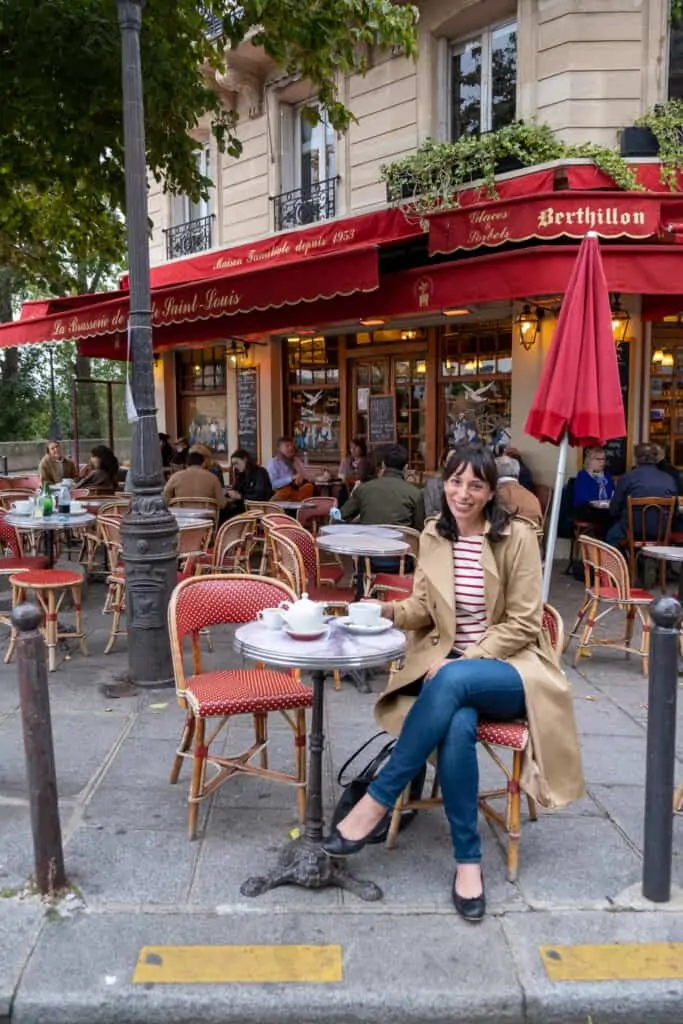 Hoxton Bar We had small bites/burgers/wine here. It is a fun vibe for a drink and people watching.
Les Jardins du Faubourg I really wanted to check out the new Ritz bar but it was fully booked. This spot was 5 minutes from our hotel and had a table in their courtyard. It was the same price as the Ritz but not as glamourous. It was a quiet spot tucked away. Great for a romantic evening or date night.
Saint James Paris I enjoyed my stay at Saint James Paris and was able to have cocktails at the Library Bar. In the past, it was for members and guests only. They had an adorable outdoor bar as well which I enjoyed in the sunshine.