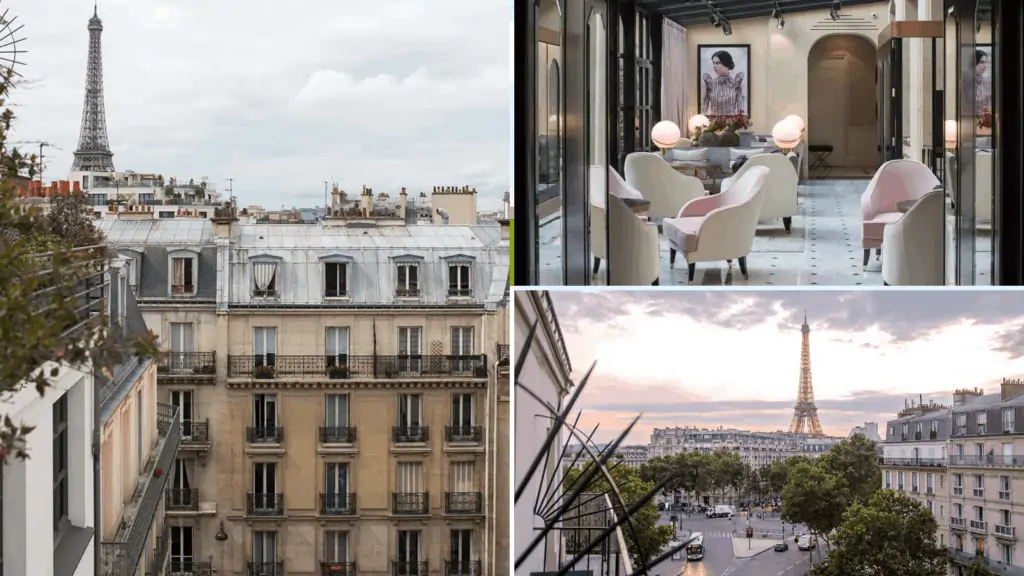 Where to Stay in Paris
The question I have been getting over and over again from friends and readers is, where should I stay in Paris? I have written posts covering this topic over the years but I have never put together a master list with all different types of hotels for different budgets and types of trips.
I put a little note with EDP next to the hotel indicating it was a top choice hotel of where I would personally stay.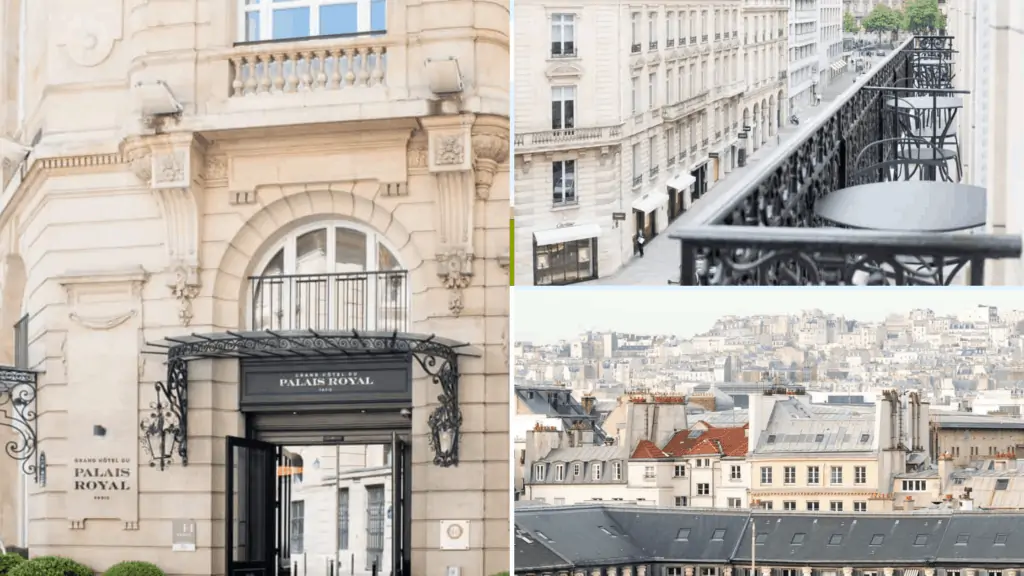 Where to Stay in Paris
New Hotels in Paris
I always love researching new hotels wherever I travel. These are the most fun to visit since they are new to the scene and typically have the latest amenities and trends. I put this category at the top because a lot of people request what is new. You can see the full post on restaurants, museums, and hotels in this post.
This four-star hotel is located right in the heart of the Marais in perfect walking distance to the Picasso Museum and Place des Vosges. The rooms look adorable and the prices are reasonable.
This one is personal to me as I lived on this street when I first arrived in Paris. I walked this street so many times solo as I discovered the city alone. I didn't know anyone in my neighborhood. And there was nothing trendy/cute for a good couple of minutes. I would love to stay here and see the view I saw from my place again and know how far I have come since arriving in Paris so many years ago.
The world's first cinema-focused hotel. I have had my eyes on this hotel since it opened. I studied Italian cinema when I lived in Florence and this really looks interesting. There is also a rooftop bar.
It's situated between Gare du Nord and Gare de l'est. This is a great location if you have a short visit to Paris and are arriving/leaving via train. The decor is bright and colorful and the hotel has affordable rates if you are on a budget.
If you are ae into music, this may be a fun hotel to explore. Located close to the Champs – Élysées this is not your classic Parisian hotel. There is a rooftop terrace to check out too.
This hotel is also a Food Market and Bar. Definitely, something to check out on your next visit even if you aren't staying here. I am adding this to my personal list. If you get a room, get one with a view/bath. It looks like a fun opportunity to view the Parisian rooftops at eye level
There are 5 hotels in total with this collection scattered around the city in different neighborhoods. Each hotel takes on the characteristics of that particular neighborhood. This is such a fun concept and a really beautiful design. It is worth checking out if you are looking for an interesting way to explore a new neighborhood.
You can't beat his location right in the heart of Paris. Just a quick walk to the Seine, Louvre, and Palais Royal. They recently redid this hotel to be a Hyatt hotel. They have some rooms with bathtubs with a view.
Boutique Hotels in Paris
Boutique hotels are my favorite for the personalized experience and intimacy of small-run hotels. I had two great family-run hotel stays in Italy and the attention to detail and personal recommendations really made the service stand out. I typically go to Boutique hotels whenever possible. You can see my full list of Boutique Hotels in this post. Below are the highlights.
This hotel isn't talked about as much as it should. It has been one of my favorite stays to date and I was solo. It was so relaxing and beautiful. I loved the decor and attention to detail. The hotel only has 37 rooms and each one has been decorated with thought and elegance. It is located between Pont Alexandre III and The Eiffel Tower. EDP Pick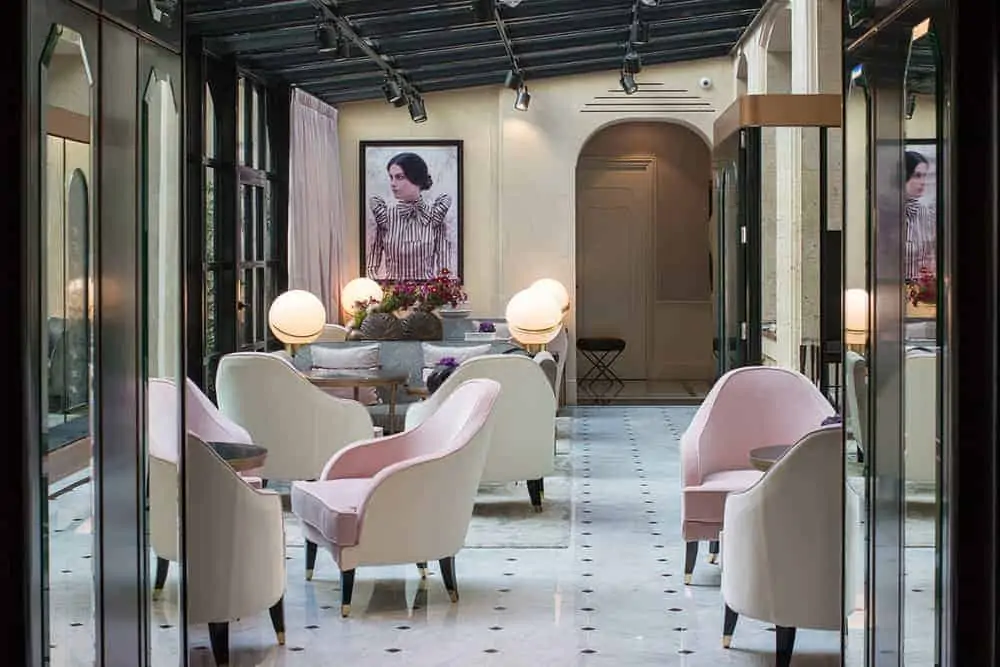 The Walt is a 4-star boutique hotel with a very close walk to the Eiffel Tower. I haven't stayed here yet but it has been on my shortlist. They have an Eiffel Tower view room that is affordable which makes this a great option if you are traveling to Paris for the first time and you want that iconic view without breaking the bank.
This hotel is a boutique hotel just around the corner from the Eiffel Tower. I stayed here one night a few summers ago to check out the hotel and the view. I loved that you could book an Eiffel Tower view exclusively with the hotel. There was an upcharge but it was worth it. You can have a side view or a head-on view. On my first trip to Paris, I was convinced I would have a view of the Eiffel Tower but it wasn't in my budget. Now I am on the hunt for budget-friendly options for other travelers.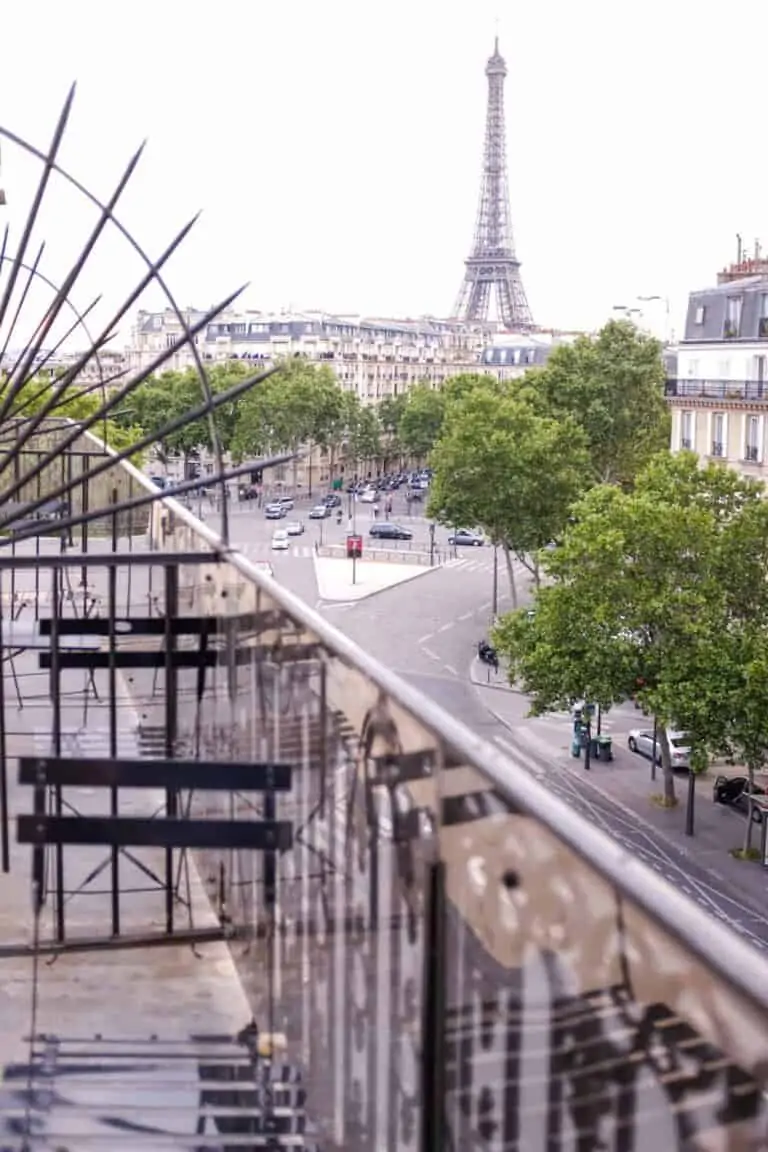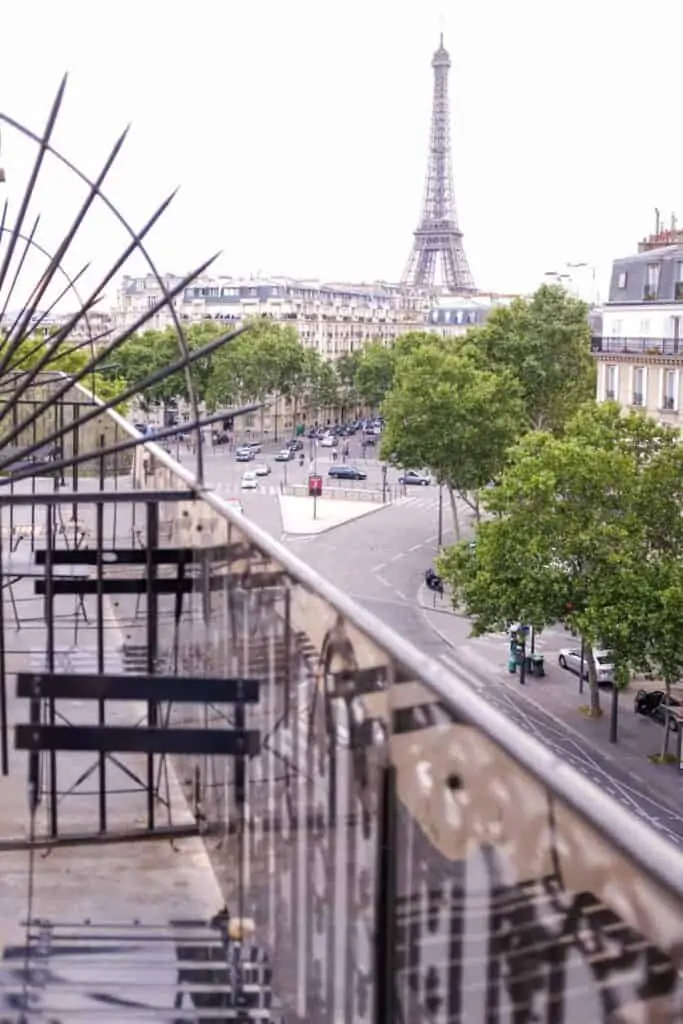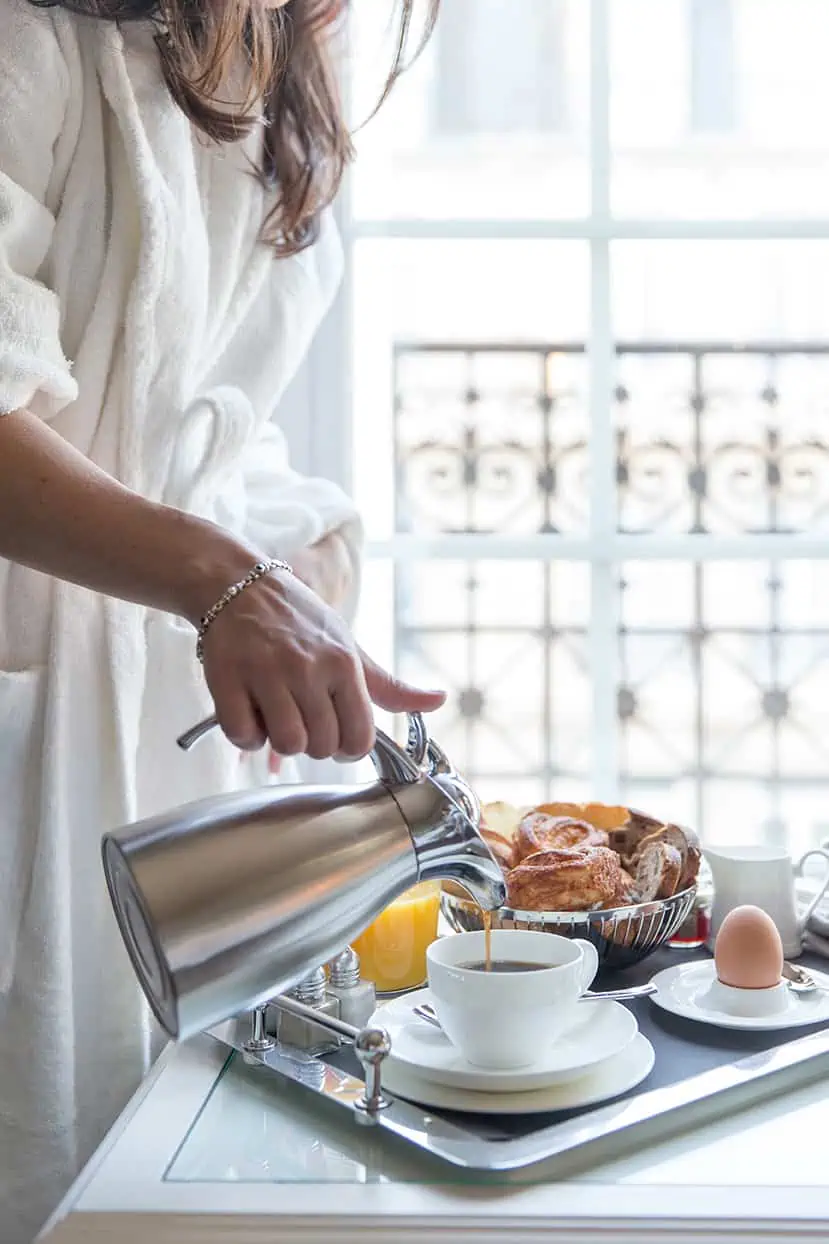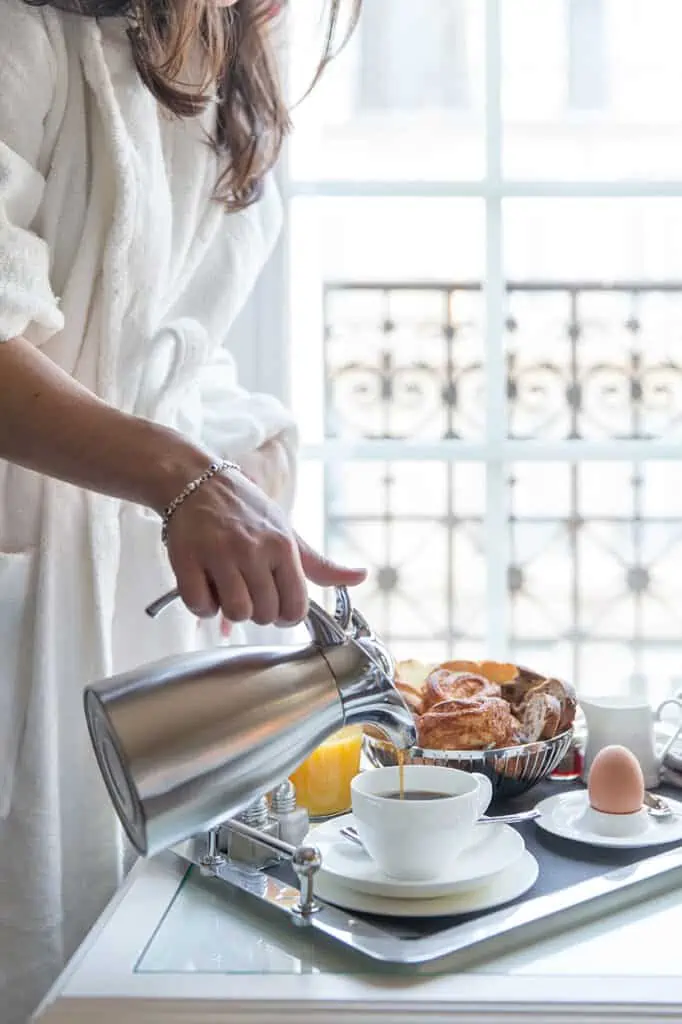 This hotel recently underwent a major renovation to turn a four-star dated hotel into a stunning 5-star one. I stayed in this hotel twice when it was a four-star, and I had the opportunity to tour it as a five-star. I hope I get the chance to be a guest here soon. It is one I recommend to many EDP readers. I have recently made friends with the concierge Thibault who wrote a lovely post on the blog here.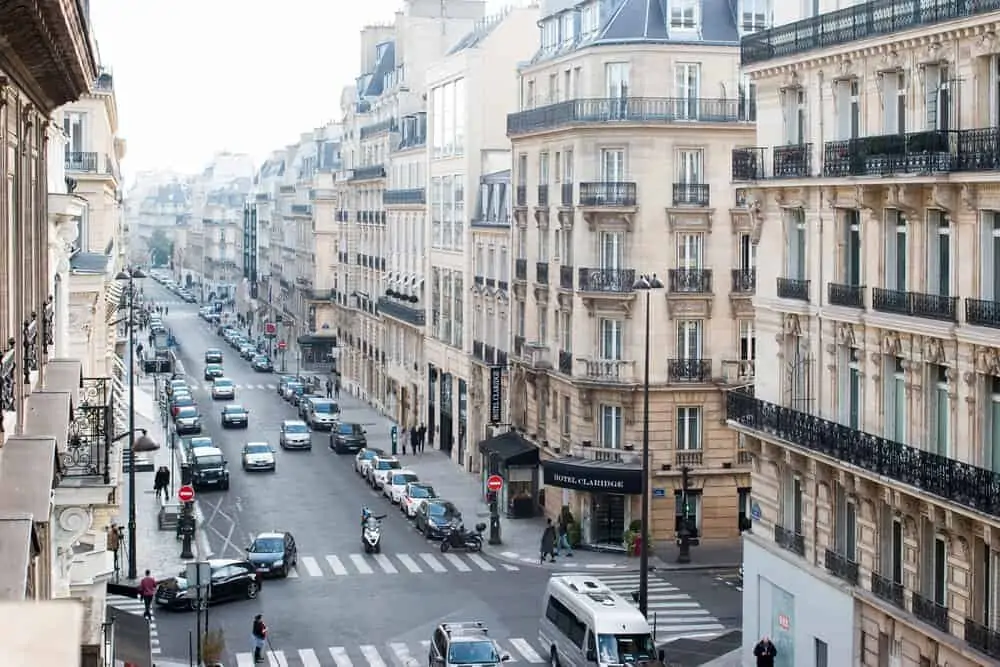 This is the sister property of Hotel Grand Powers. I had an apartment in the area of this hotel and walked through Palais Royal almost daily. It is a special place to me, and I think a hotel that sits right outside Palais Royal is a pretty fabulous location. The hotel has an almost 365-degree view of Paris from some of its rooms. This is also a hotel I often recommend to EDP readers.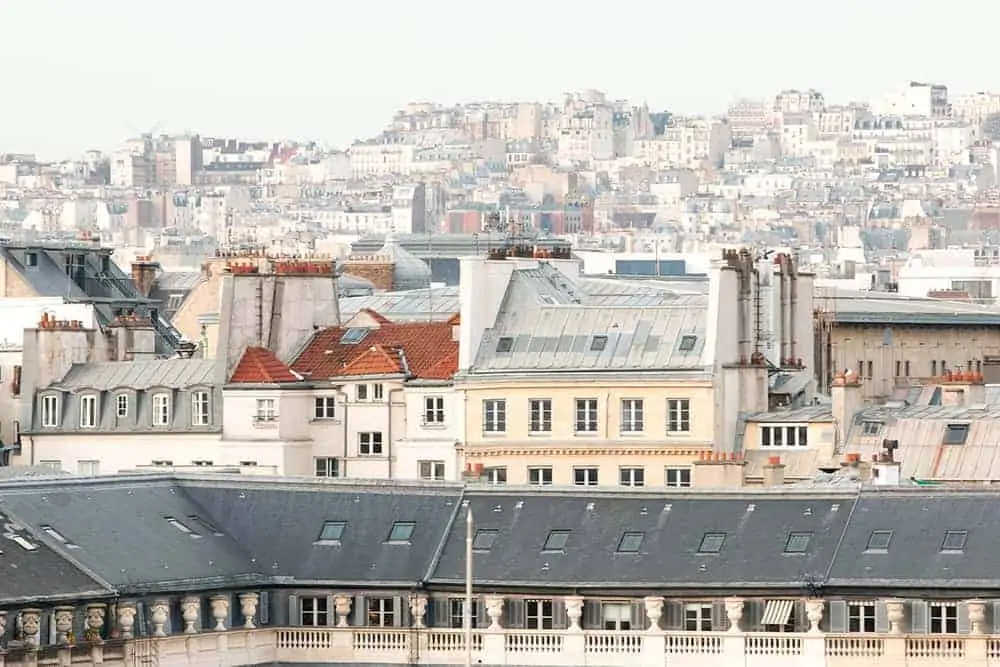 Budget Hotels
It is possible to explore Paris on a budget with a bit of planning. The essential parts are finding inexpensive hotels and flights. Here is a list of 10 budget hotels in Paris that could help you plan. You can check out this post for help on where to eat in Paris on a budget.
Maison Mère Where to Stay in Paris Budget-Friendly Hotels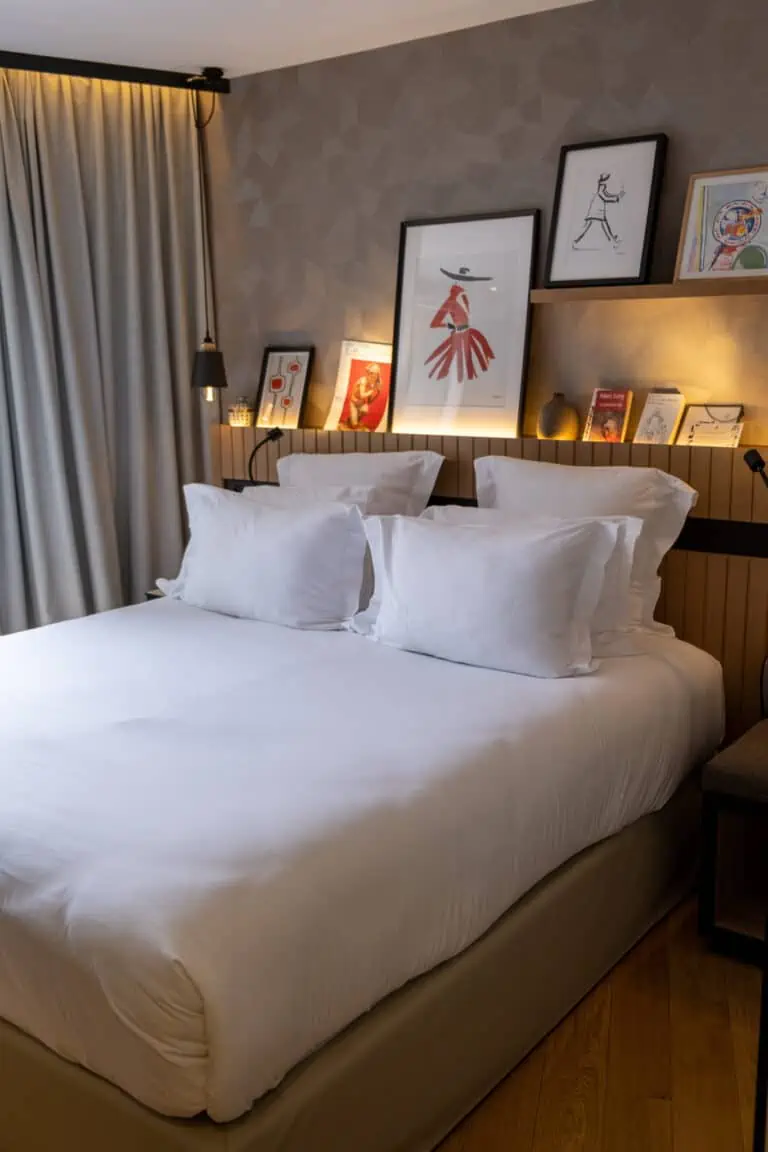 Located in the 9th arrondissement, this hotel is fairly new. I have stayed here multiple times. The staff is extremely friendly, warm, and welcoming. Rooms are clean and well equipped for everything you need for a modern stay in Paris with charging outlets and a tech-focused room. Some of the rooms even have balconies and an Eiffel Tower view.
You can see more about the 9th arrondissement in this post and why I love the area so much.
The secret is out on this little gem in the Marais. I love this little hotel with balcony views of the city. You can get breakfast here which tops most hotels for an additional 12 euros including yogurt, coffee, and croissants, and have it delivered to your room The decor is a little cheesy, it isn't my type or preferred style but the views make up for this spot. You can get an interior room or an exterior room. Ask for an exterior balcony view if it is within your budget. The hotel has reasonable prices, and they offer a discount through Instagram. EDP Recommends
This is on the pricier end of the budget hotels. You can find a room closer to $200 per night. The hotel is Instagram friendly you may notice some of the images from your favorite bloggers spending time in Paris. I have not stayed here but wouldn't hesitate to book a night or two here. It is a 4-star hotel centrally located in the heart of the city which makes most of the city walkable. You can easily hop on the metro or grab an Uber. 
I had the opportunity to stay at Adèle and Jules twice and loved the experience. It is made up of two buildings, one is Adèle, and one is Jules. The staff is helpful with restaurant recommendations and activities in the neighborhood. There is breakfast in the lobby, along with tea time and an honesty bar. The street the hotel is situated on is a quiet family street. You will sleep soundly and comfortably. Room 44 is the room I stayed in and had plenty of room for two people. Great for couples or friends. They were able to accommodate a large room block of people with individual rooms.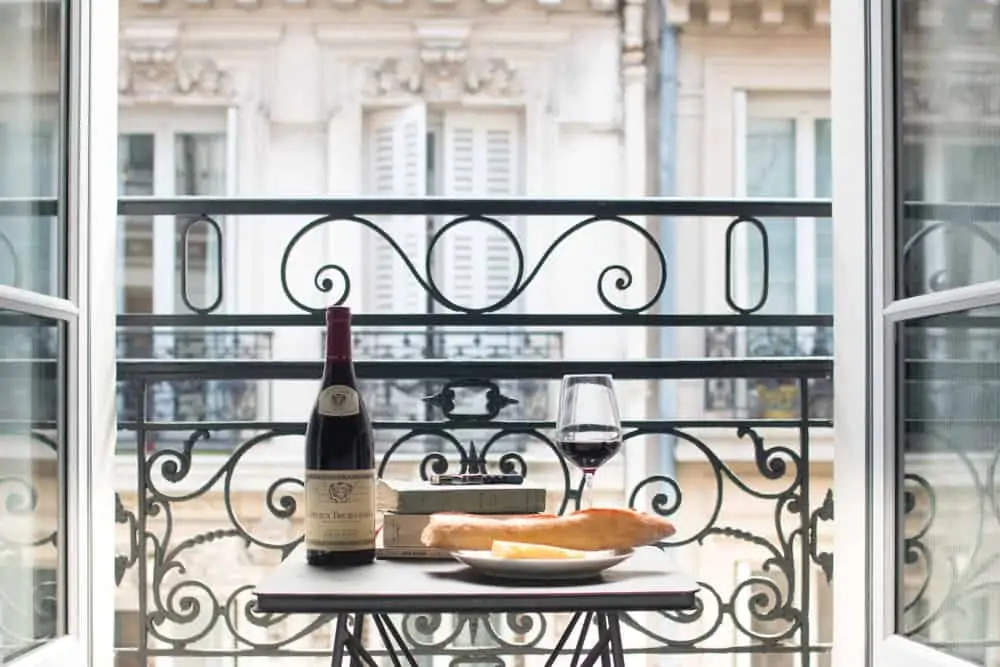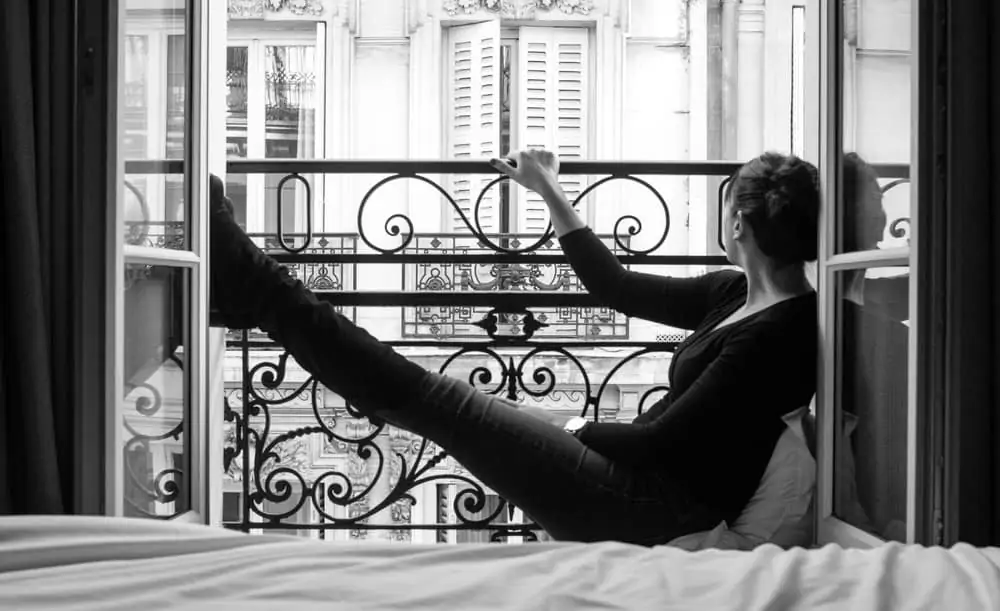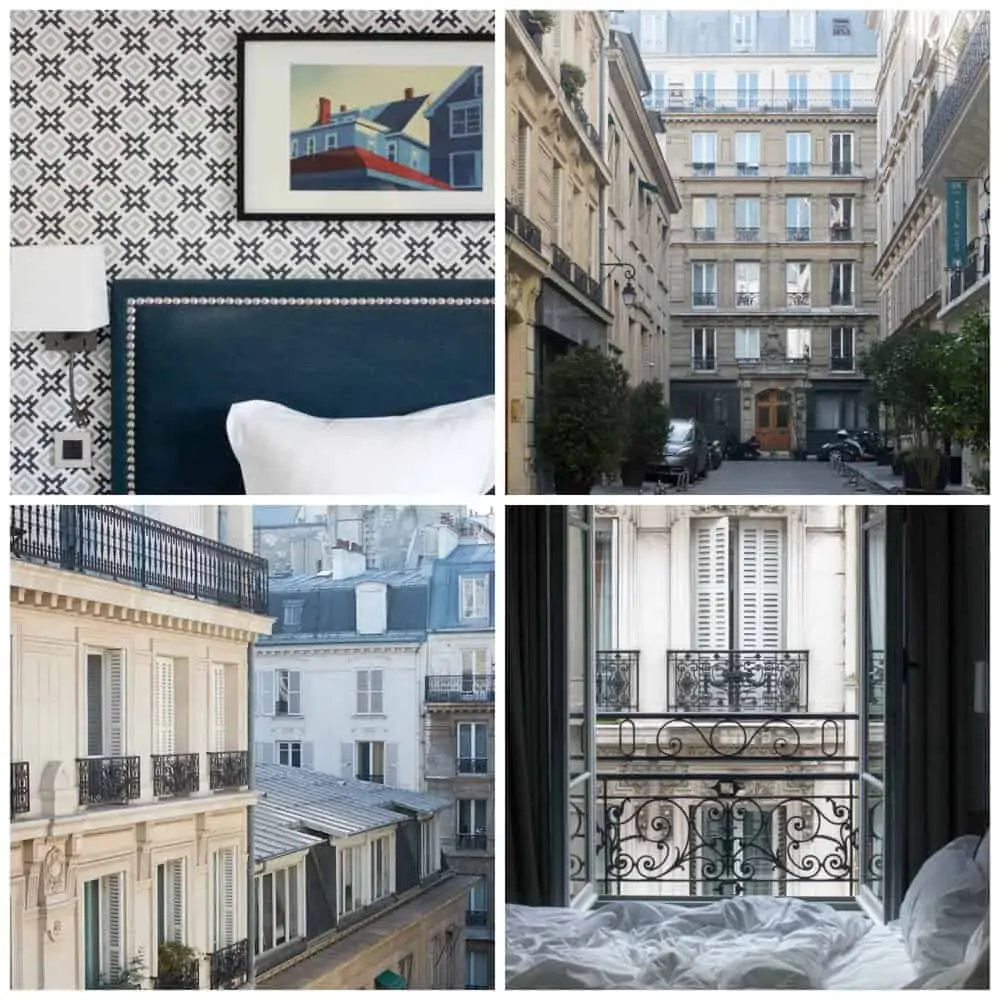 Paris Hotels with Eiffel Tower Views
I wrote this blog post a few years back with 25 hotels with Eiffel Tower Views. You can start here.
Some of my favorites include:
I had a quick tour of this hotel and was given a look into the Eiffel Tower suite where I snapped this best-selling photo. I have only seen this room but I would love a chance to stay here for a night. The hotel is a Marriott property, something to keep in mind if you have points or collect them.
Their sister hotel is Pavillon de la Reine. This hotel has 26 rooms, each named for a letter in the alphabet and then it coordinates to a French author. The hotel is centered around books with a library in the lobby alongside a cozy fireplace. They also have a family room with a private corridor for families that need more than one room.
I had a special stay here for one of my birthdays a few years back. I was solo but had an amazing suite and a long terrace with a view of the Eiffel Tower. And I couldn't believe I was staying here and was able to wake up and fall asleep to this view. The hotel is located close to Invalides on the Left Bank of Paris. You can walk to The Rodin museum from the hotel as well. The hotel has bikes on access for guests to take out and explore Paris.
Palace Hotels in Paris
Palace hotels are those that rank superior excellence and are above the 5-star hotels. If you have the budget, it is worth checking out for an incredible experience in Paris.
You will know this hotel from Sex and the City. This is where Carrie goes to stay with the Russian at the end of the regular series. The balconies are covered in red throughout the year. In the Summer, red awnings, and in the Fall, red geraniums overflow from the balconies.
This exclusive hotel takes its guest's privacy seriously. I have had a tour and a cocktail at the hotel but I haven't had the opportunity to stay here yet. It is on my list. The lobby is beautiful and perfect to escape the city which is just outside your door. The hotel is located just off the Champs- Élysées.
This is located on Rue de Rivoli across from The Louvre. The hotel has beautiful views of the Louvre and The Tuileries from their rooms. I had the opportunity to come for high tea and explore the property on a tour. It was raining on a Fall day but the view and the hotel were absolutely stunning.
You may remember parts of this hotel from "Midnight in Paris" There is a quiet outside in the middle of the hotel for cocktails. The hotel is quietly tucked away in the center of the city. I had high tea here a few years ago and got a tour of the gardens. There is also an indoor rooftop pool.
If a Palace Hotel isn't in your budget, try stopping in for a cocktail or high tea to experience the hotel.
Family Hotels in Paris
La Reserve has apartments available from 2-4 bedrooms with stunning views of the Eiffel Tower. If you are looking for a family hotel with the luxury of a five-star, this is a great option.
I am looking into booking this hotel for an upcoming stay. I have been following them on social for a while now and the property looks beautiful. They have multiple connecting rooms of different sizes to accommodate families.
One with a large bed and the other with two twin beds.
Offers apartments with multiple bedrooms which be may better be suited for families traveling together with small children.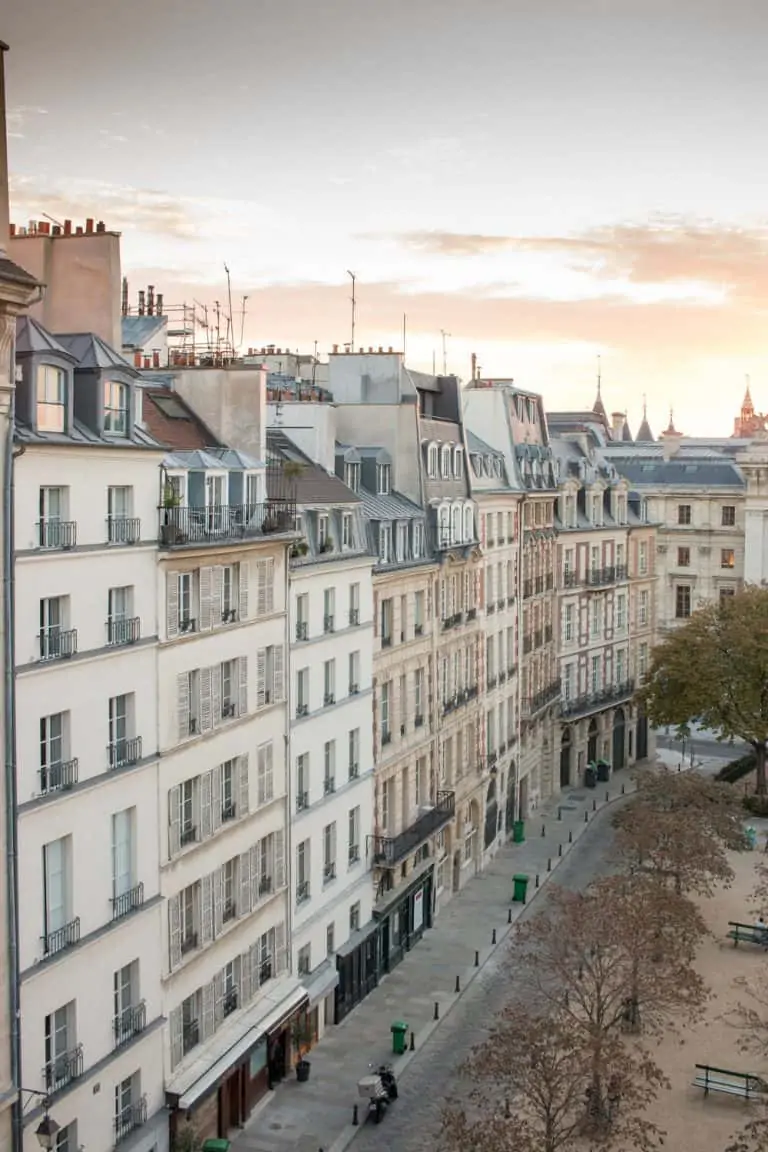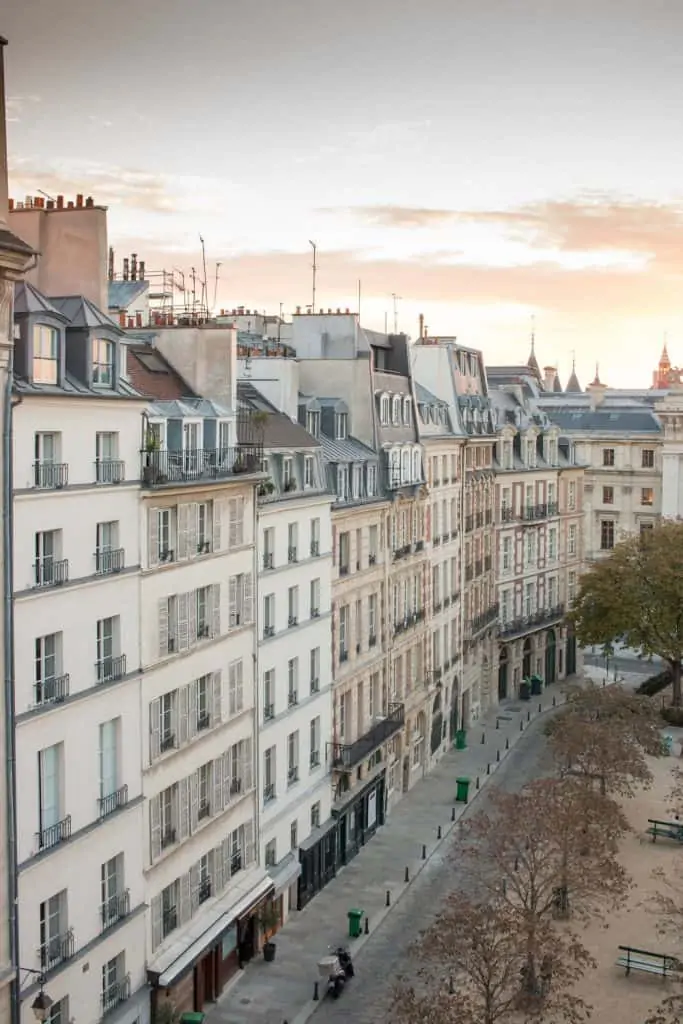 *This post includes affiliate links. I make a small commission off of items purchased through my links. Merci!
Do you have a favorite hotel that didn't make the list? Comment below and share for other readers to check out and enjoy.