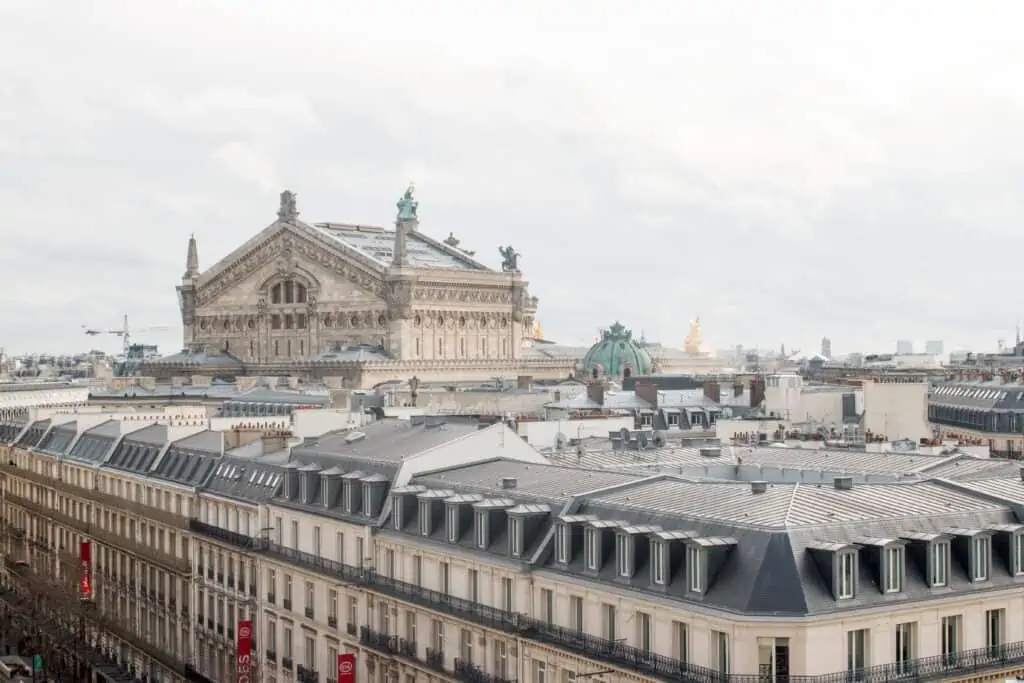 A Guide to the 9th Arrondissement of Paris
Paris is constructed based on 20 arrondissements. They are numbered from 1 – 20 and the numbers grow as you get further out from the center of the city. The Seine divides the city and there is a Left and Right Bank to Paris. The 9th arrondissement of Paris is located on the Right Bank of Paris and is not your typical postcard Paris filled with Parisian monuments and tourist-filled cafés.
During your first time in Paris, this may not be a neighborhood you visit but it should be on your list for your next trip to Paris. The 9th arrondissement is one of the best neighborhoods in Paris that is full with food, entertainment, cultural museums, and Paris history.
I decided to write this post after hearing from many readers who had booked one of my favorite hotels Adèle and Jules. I have been sending individual google maps and recommendations out for this neighborhood and I felt it was time for a blog post. There are other great hotels in the 9th district that I will cover in this post as well where friends have recently stayed and loved.
Where to Stay in the 9th Arrondissement
Adèle and Jules is a four-star boutique hotel located in the 9th arrondissement. It makes up two identical small buildings, Adèle and Jules. I stayed here back in 2018 on a winter evening and shot a photograph that is one of my most popular images in The Print Shop to this day. It was a quick one-night stay to explore the hotel and possibly write about it on the blog. Now, it is one of the most popular hotels by EDP readers.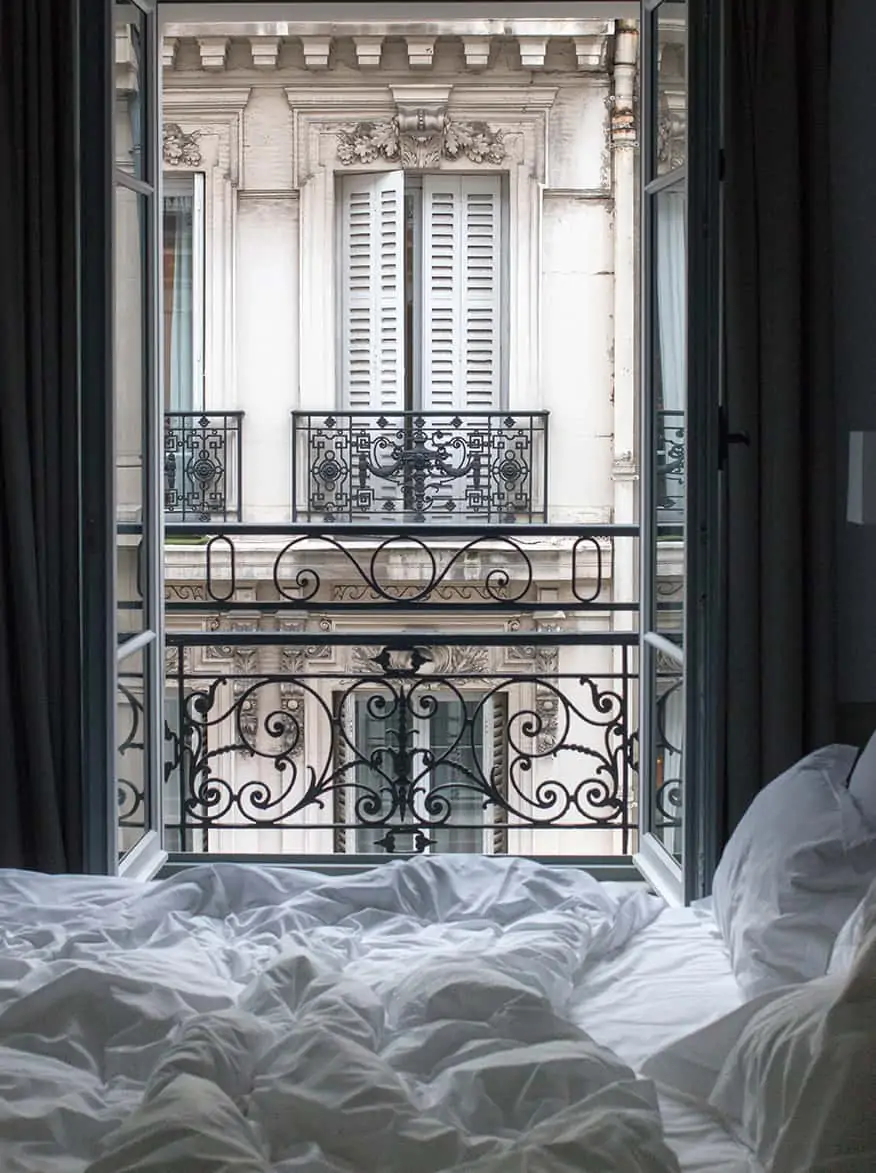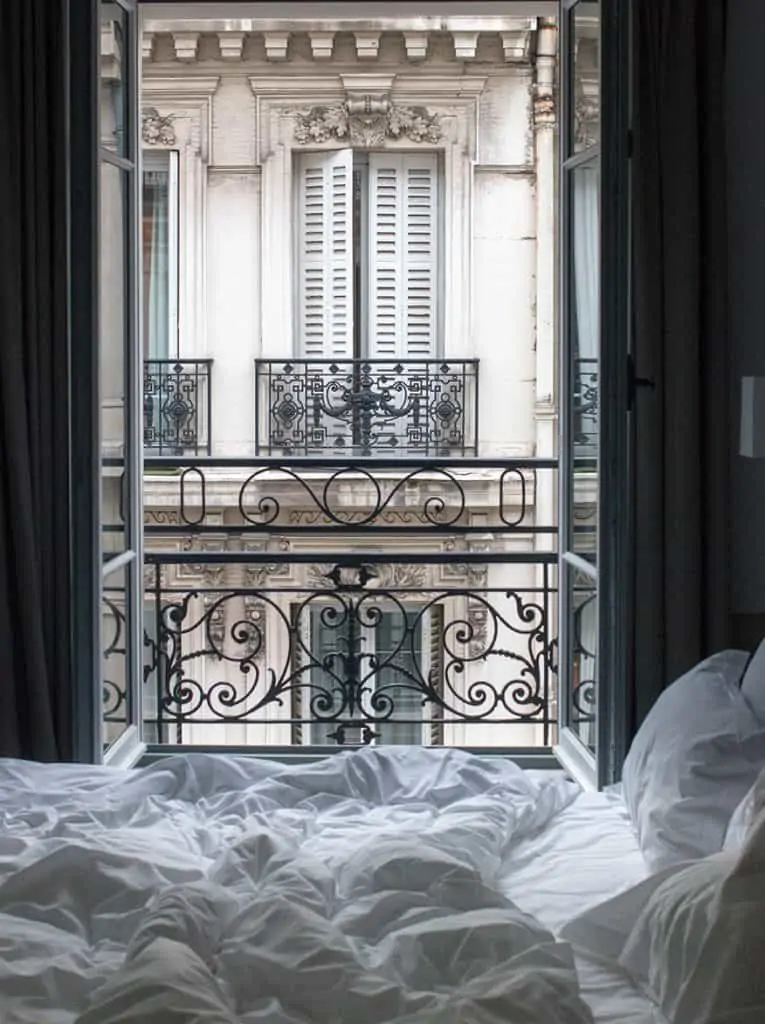 The hotel is moderately priced in comparison to other Paris hotels and offers a great location, friendly staff, and clean rooms. There are some rooms with a courtyard view that is quiet and looks over the Parisian rooftops and there are some rooms with Juliette balconies with a view of the tiny side street the hotel sits on. I have stayed at the hotel multiple times since 2018 and I always have a great stay. For our Atlas Adventures Paris trips, the hotel was able to accommodate a group of 25 girls
Grand Boulevards Hotel is a four-star hotel in the heart of the 9th arrondissement just around the corner from Adèle and Jules. I had two friends stay here over the summer on separate occasions who wrote me with great reviews asking me to add this to my list of hotel recommendations. There is a great rooftop bar to enjoy the view of Paris and a cocktail.
Budget Friendly Hotel in the 9th arrondissement
Maison Mère is a four-star budget hotel in the 9th arrondissement. I recently stayed here over the summer and my fiancé and I was lucky enough to have a balcony with a rooftop view. The hotel sits around Parisian cafés, bakeries, and great coffee shops. If you are looking for a budget-friendly option, this is a great hotel with a co-working space.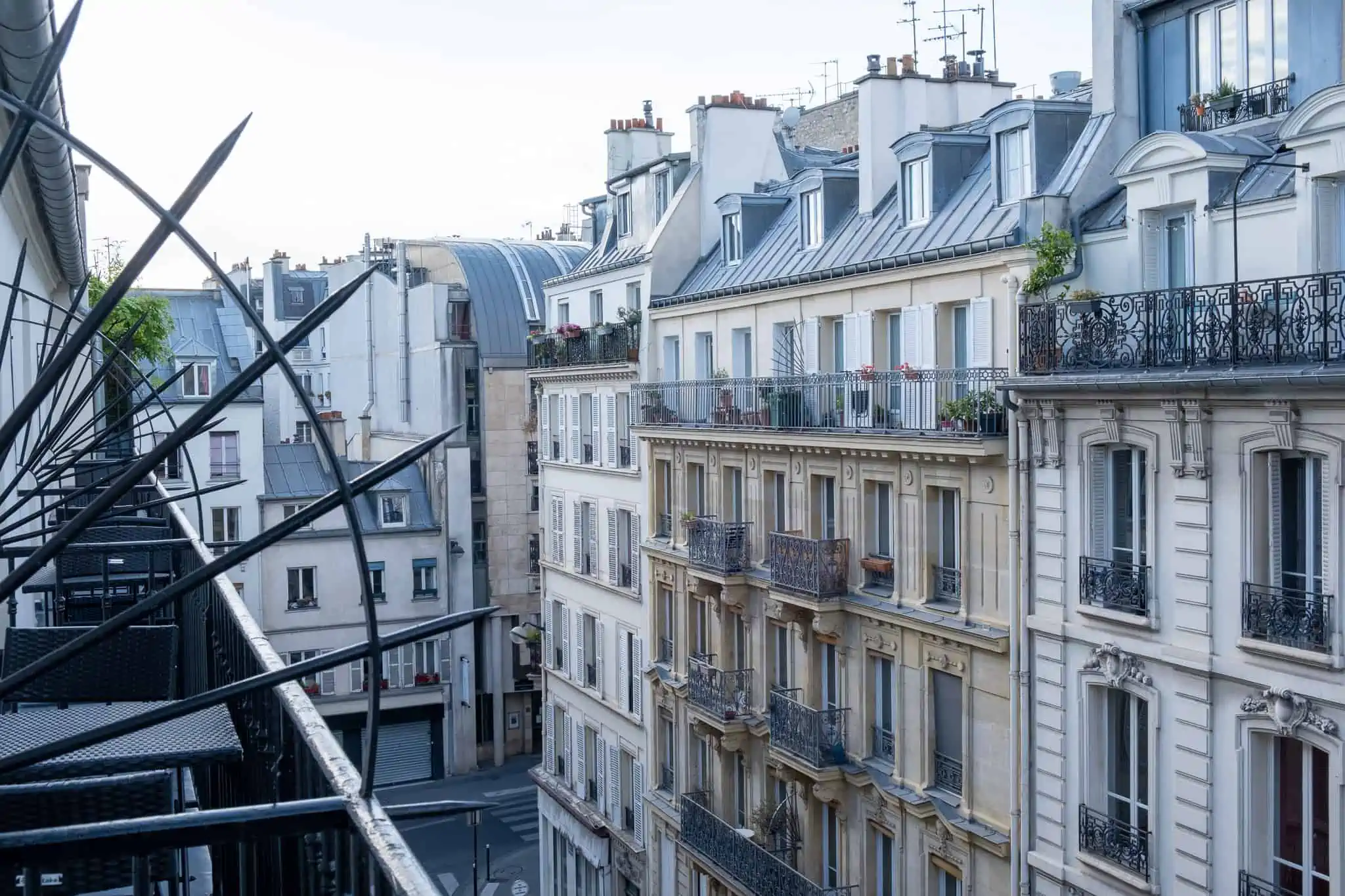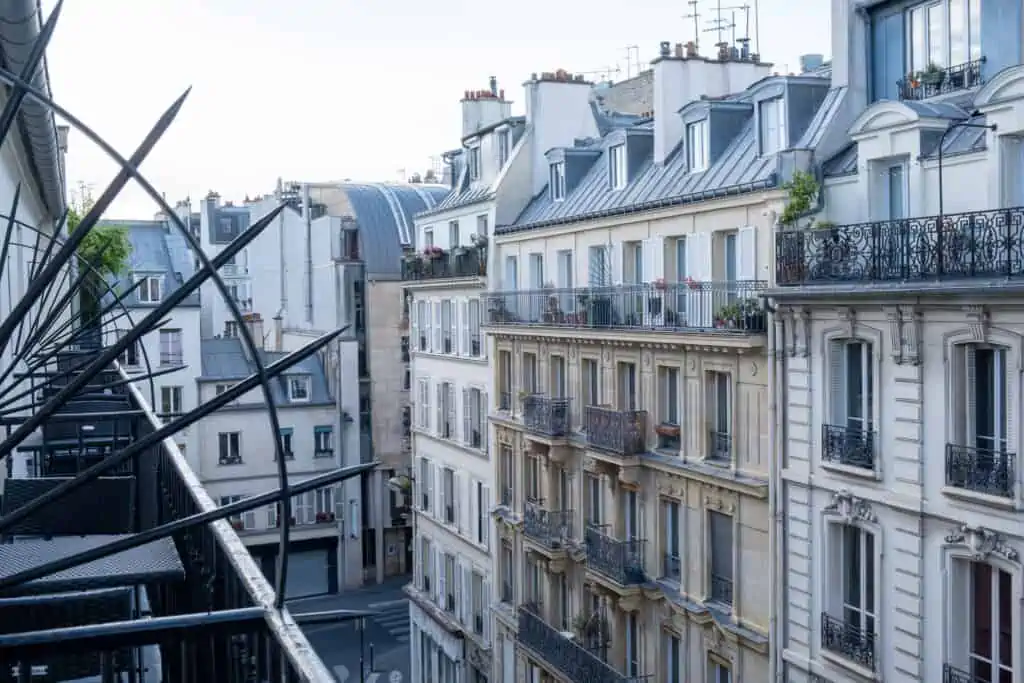 Where the 9th Arrondissement is Located in Paris
One of the reasons I love the 9th arrondissement is that while you may not be in a touristy neighborhood compared to other Paris arrondissements, you are well located to a lot in the city. The 18th arrondissement is Montmartre which is a great place to spend an afternoon. You can see my full Montmartre guide here.
South Pigalle, or SoPi, is another name for the 9th arrondissement of Paris. When I first moved to Paris in 2013, the area wasn't as hot and trendy as it is now. Finding a good coffee shop or brasserie that wasn't a tourist trap was hard. That has all changed in the last ten years, making this area a must-visit area of Paris filled with great food and coffee.
Main Streets in the 9th Arrondissement
There are a few main streets that make up the 9th arrondissement. Grands Boulevards is one of the largest streets that runs through the 9th and is also the central metro station when traveling around the city of Paris.
Rue des Martyrs is one of my favorite streets to walk down. The street is full of excellent bakeries, cafés, and coffee shops. My favorite places include Boulangerie Mamiche (get the brioche) and Sébastian Gaudard, which has the best lemon tarte. Pain Pain is also a popular spot. I always get overwhelmed in there with all of the desserts and can never make a decision.
You can walk up from Adéle and Jules to Montmartre in less than 15 minutes. You will be very close to Moulin Rouge and Sacre Coeur.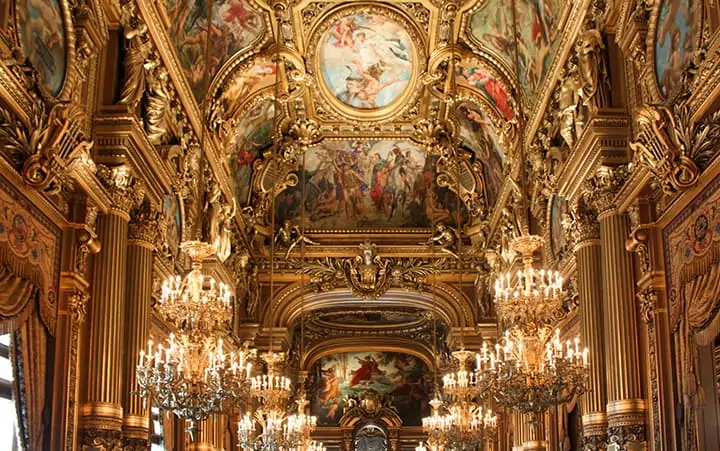 Boulevard Haussmann is the main street that will take you to Palais Garnier, the opera house in Paris. You will also be close to two of the main upscale department stores in the city. Galeries Lafayette and Printemps are located in the heart of Paris. These shops are also known as the grand magasins.
Rue du Faubourg Montmartre is also the main street to take you towards the center of Paris which has several restaurants and shops in the 9th arrondissement. It is a good street to bookmark and use as a base when exploring.
What to do in the 9th Arrondissement
Explore the passage des panoramas which are all over the 9th arrondissement. You can start at Rue des Martyrs and walk through covered passages down to Galleries Vivienne, which will end in Palais Royal. It is one of my favorite walks in Paris and one of the best places to spend on a rainy day.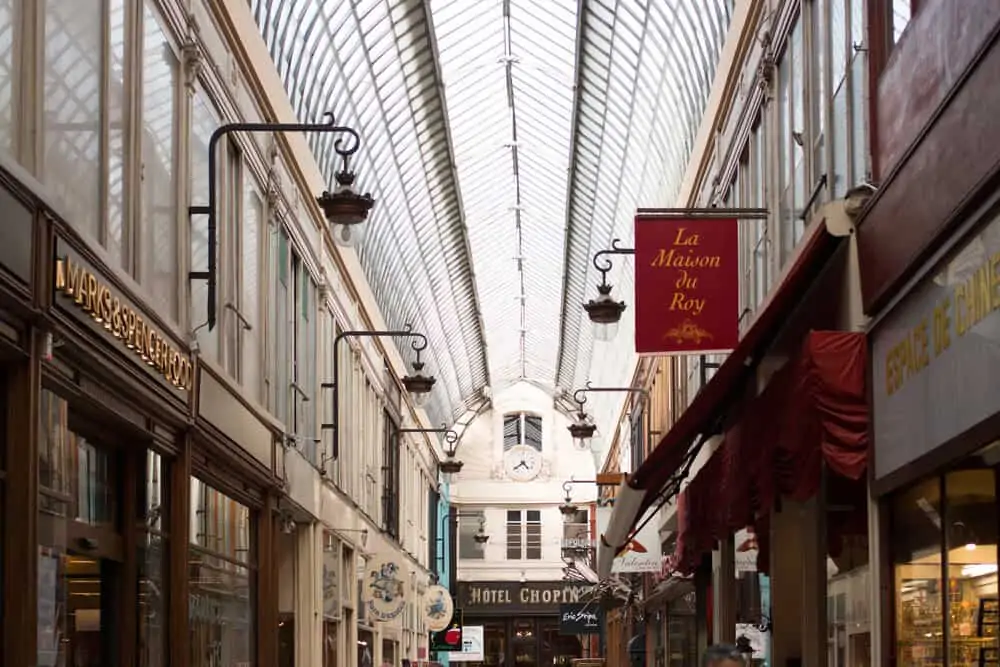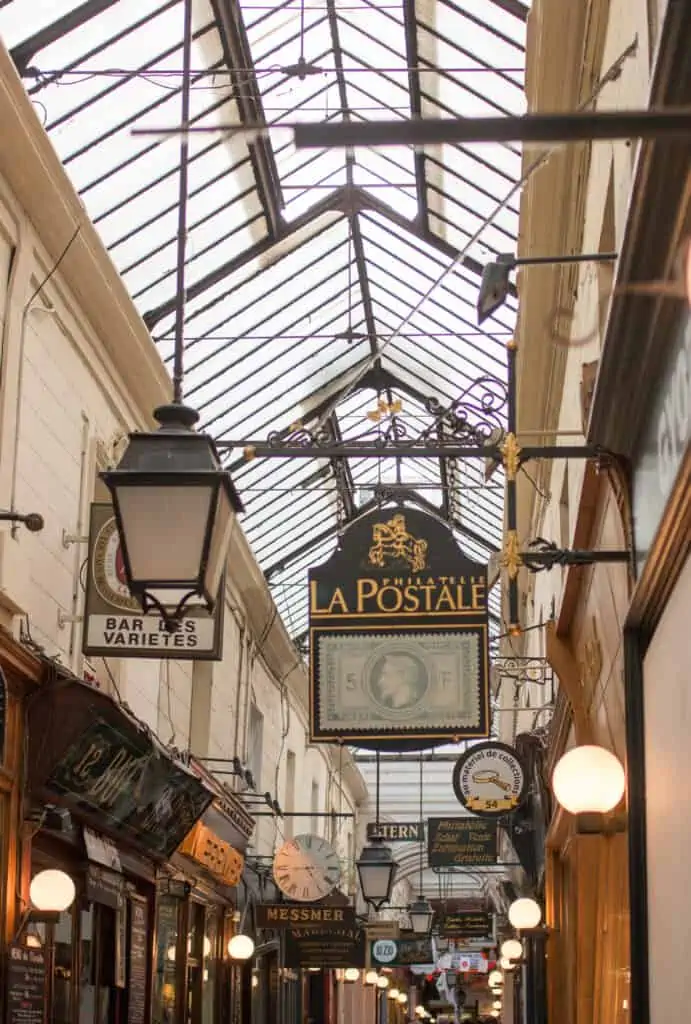 Musée de la Vie Romantique, which is the museum of romantic life. Even if you aren't into visiting the museum, I highly recommend the rose garden. You can also stop here for something from Rose Bakery.
One of the best views in Paris is at the top of the Galleries Lafayette Department store.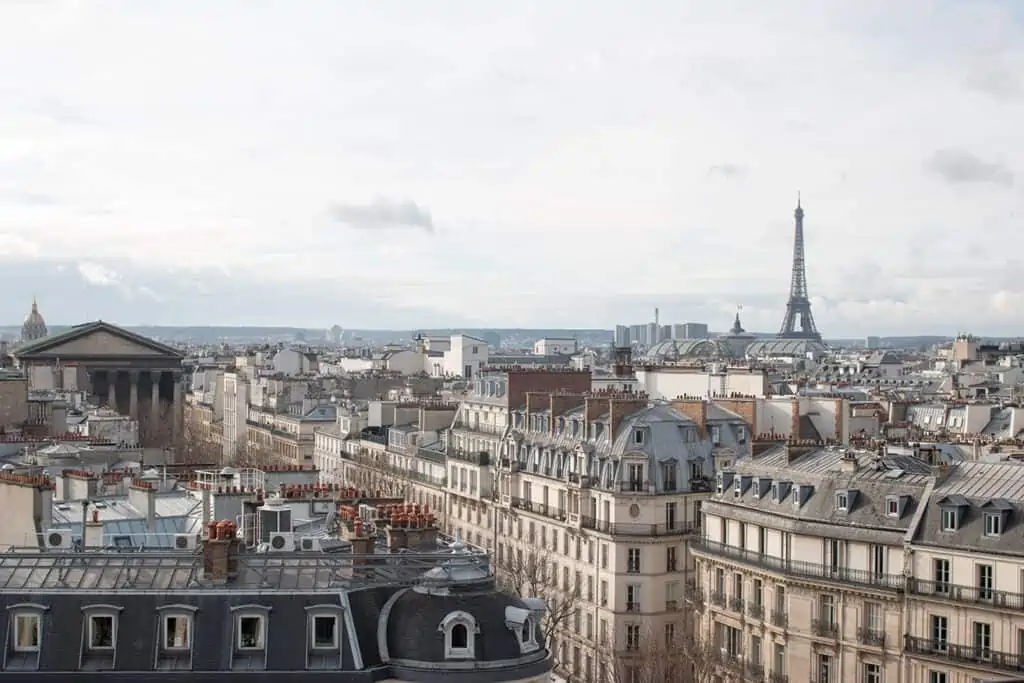 Where to Shop in the 9th Arrondissement
Sézane L'Appartement the main Sézane store in Paris is located just a quick walk from Adèle and Jules. They are closed on Sundays and Mondays, so consider that when planning your visit. Sézane now has multiple locations in Paris, but this is the largest one in the city. The lines on Fridays and Saturdays are long so be prepared or try to come just as the store opens. Bring a copy of your passport to collect the VAT tax if you spend over 100 euros.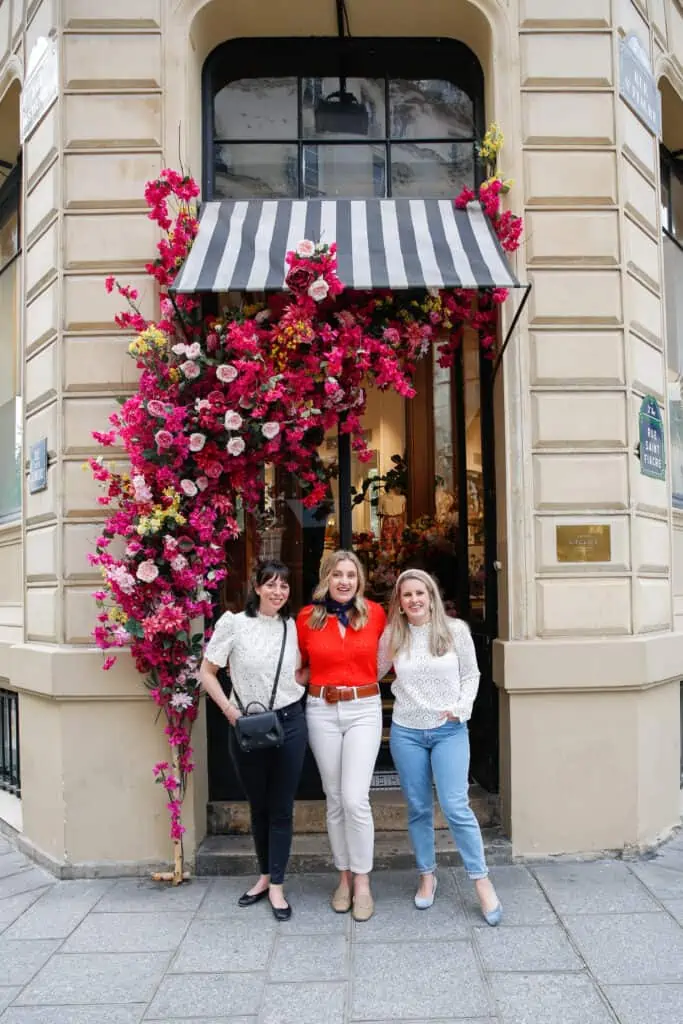 It is cheaper to buy Sézane in person, especially with the euro conversion. If you have your eye on something from Sézane that is a big ticket item such as a bag or coat, I would wait to purchase it in France.
Where to Eat Pastries in the 9th Arrondissement in Paris
Union Boulangerie is a must! Get the canelle roll (cinnamon) you will thank me. Make sure to check the hours as they are closed on Sundays.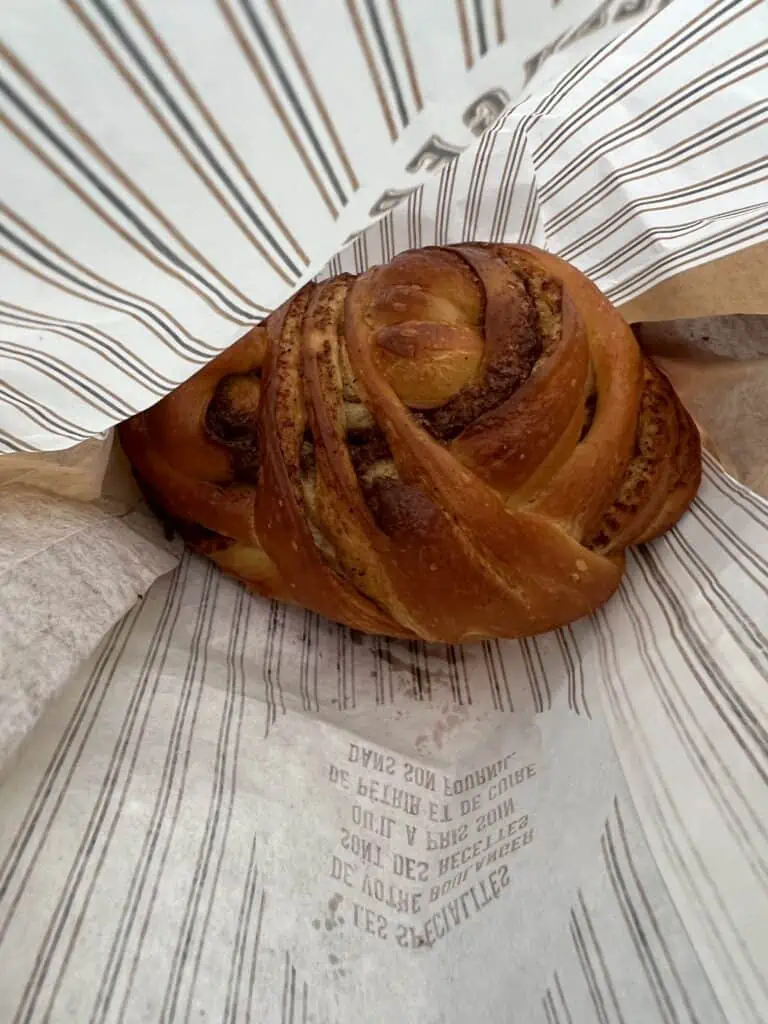 Babka Zana is incredible! Again, another cinnamon favorite when it comes to Babka flavors. Their chocolate is their best seller, and I highly recommend getting two. They keep well so you can nibble on them over a few days. If anyone stops here before flying back to Chicago, I will love you forever if you bring me back a cinnamon babka roll.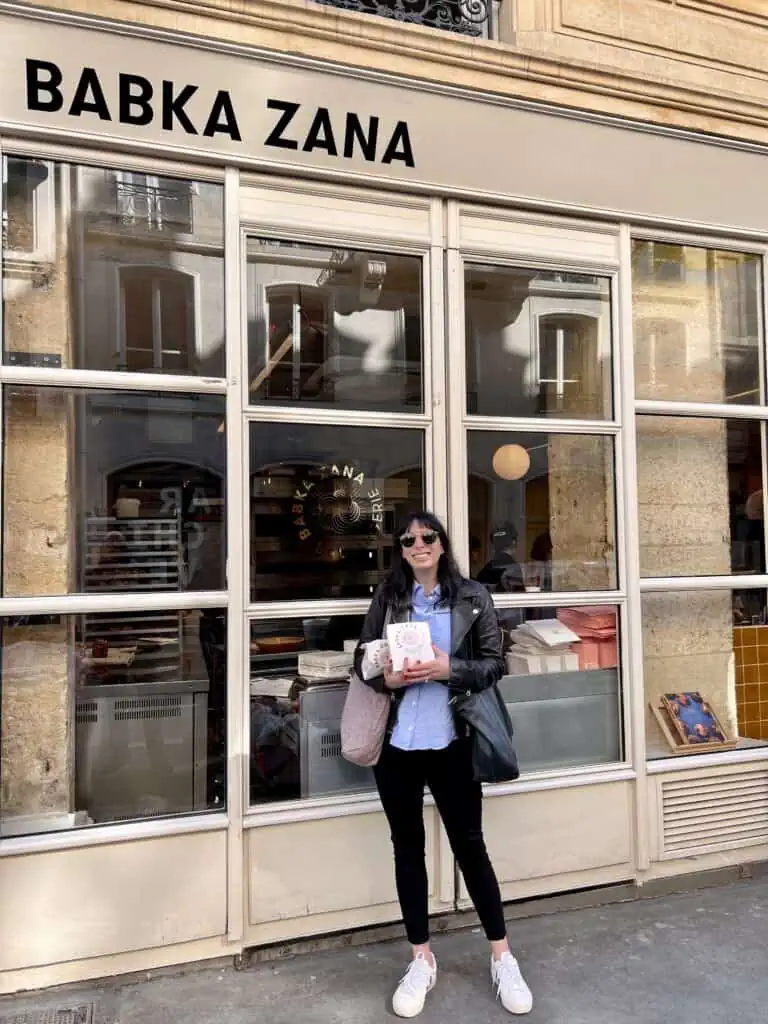 Coffee Shops in the 9th Arrondissement
Don't miss out on Café Pigalle and KB Café
Where to Eat in the 9th Arrondissement
Bouillon Chartier is just a quick walk from the grand boulevard. This restaurant is the perfect spot for a budget-friendly French meal in a lively atmosphere. The restaurant is easy to spot from the street because there is typically a line. They move you through fairly quickly.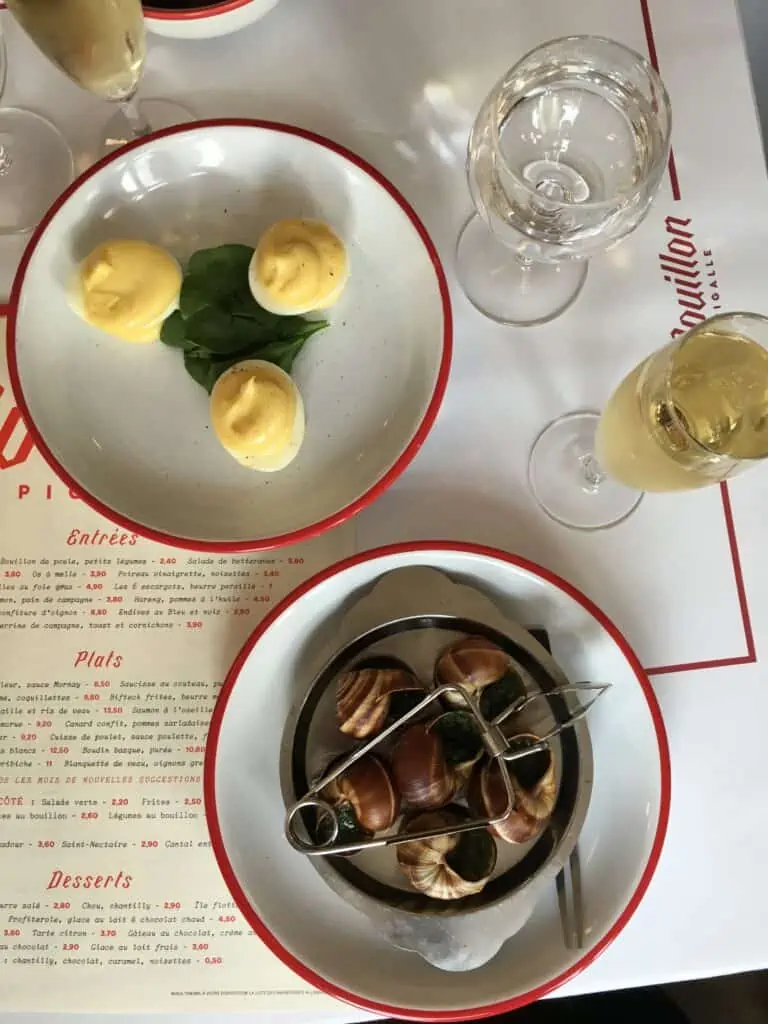 If you are looking to try a new French dish, this is the place to do it. The prices are reasonable and you won't break the bank if you don't like a dish or order multiple sharing plates for the table.
À la Mère de Famille isn't a restaurant but I highly recommend you stop by for a quick look. This chocolate and sweet shop is straight out of a movie set. The floors are checkered black and white and the store is arranged beautifully. Even if you aren't a sweet person, it is worth a visit. They also have great gift items if you are looking to take something home.
Pink Mamma and Pizzeria Popolare are both great Italian and part of the Big Mamma group in Paris. In the past, they didn't take reservations but it seems that may have changed recently. The lines outside are long but it is worth it. Try the truffle pasta and the pizza. You will thank me! Go with a friend so you can each order one item and split and get the best of both worlds.
I love exploring Rue Montorgueil which is not too far from Adèle and Jules. On my last trip to Paris, we ate at Maria by César for Italian food and really loved the pizza, pasta, and lively atmosphere. Rue Montorgueil is an interesting place for people-watching. Even if you aren't going to have a meal here, I recommend having a drink and watching the people stroll by, especially around 5 pm or on a Friday afternoon.
Bistro Rougement This was a recommendation from the hotel to stop here for lunch. The space is quaint and very Parisian. There is a small terrace for outdoor dining or tables inside. The chalkboard menu is full with seasonal specials at reasonable prices. They also have a great wine menu that they can make suggestive pairings. I have eaten here for both lunch and dinner and they were fantastic.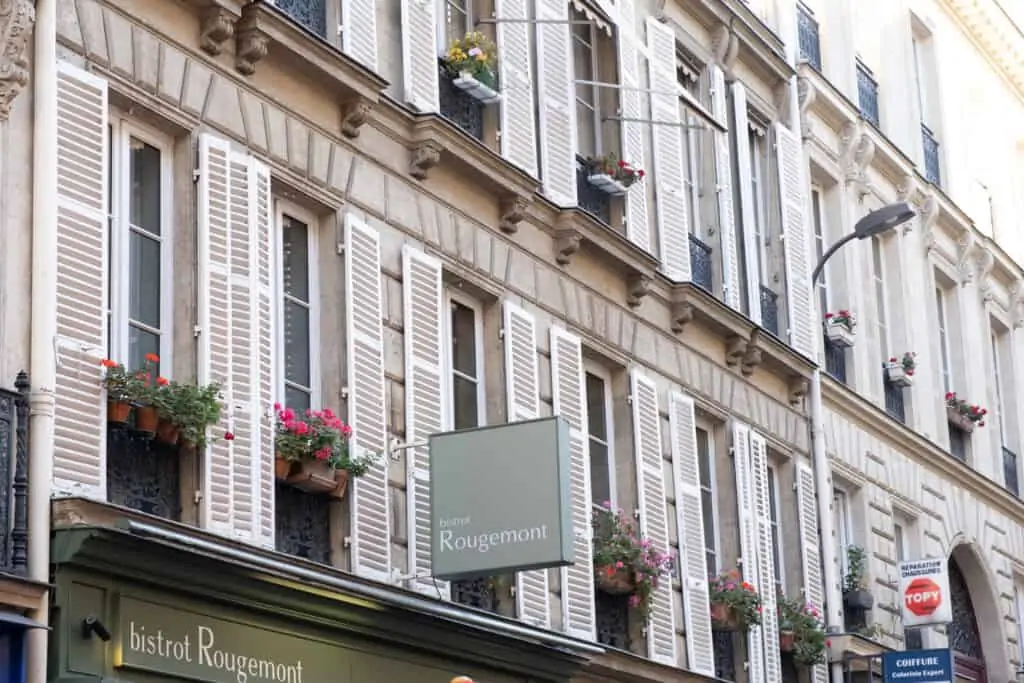 Richer is just a quick walk from the hotel on rue richer. It has a limited menu and the portions are smaller than other brasseries and cafés. The food is French and the menu changes seasonally. They have a great wine menu. The restaurant stays open until midnight which is a great option if you need a late-night meal.
The Hoxton Hotel is a trendy spot located in the 9th arrondissement. You can stay here or enjoy the bar area for small bites and people-watching.
Brasserie Dubillot is a traditional French restaurant not far from Adèle and Jules in the 9th arrondissement. This is where we had our welcome dinner for Atlas Adventures in the spring.
Inexpensive Places to Eat in the 9th Arrondissement
Miznon Paris is a favorite of mine and there is one so close to Adèle and Jules. I love their chicken pita sandwich. It's a quick bite you can eat there or take away.
Coffee and Brunch in the 9th Arrondissement
Bon Bouquet Café I have only been here for coffee which was delicious but the brunch looks incredible and there are lines out the door even on the weekdays. There has never been a moment I have seen this place not busy.
Café Pigalle opened up last fall and I was lucky enough to stumble upon it on my walk with the Atlas Adventures group. It is a great addition to the neighborhood.
You can save the map below and use it as a guide when exploring the 9th arrondissement of Paris. I color-coded everything to make it easy to navigate. If you discover something new that didn't make the list, please feel free to share it below! xo
For more tips on Paris, you can purchase The Paris Guide here!