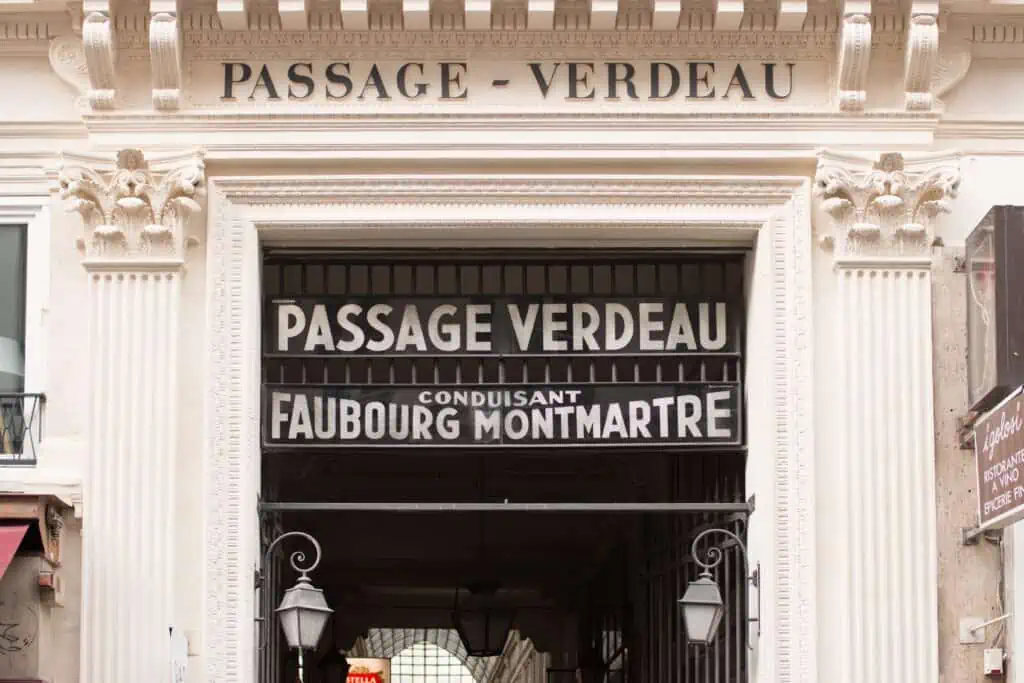 5 Paris Covered Passages to Discover in Paris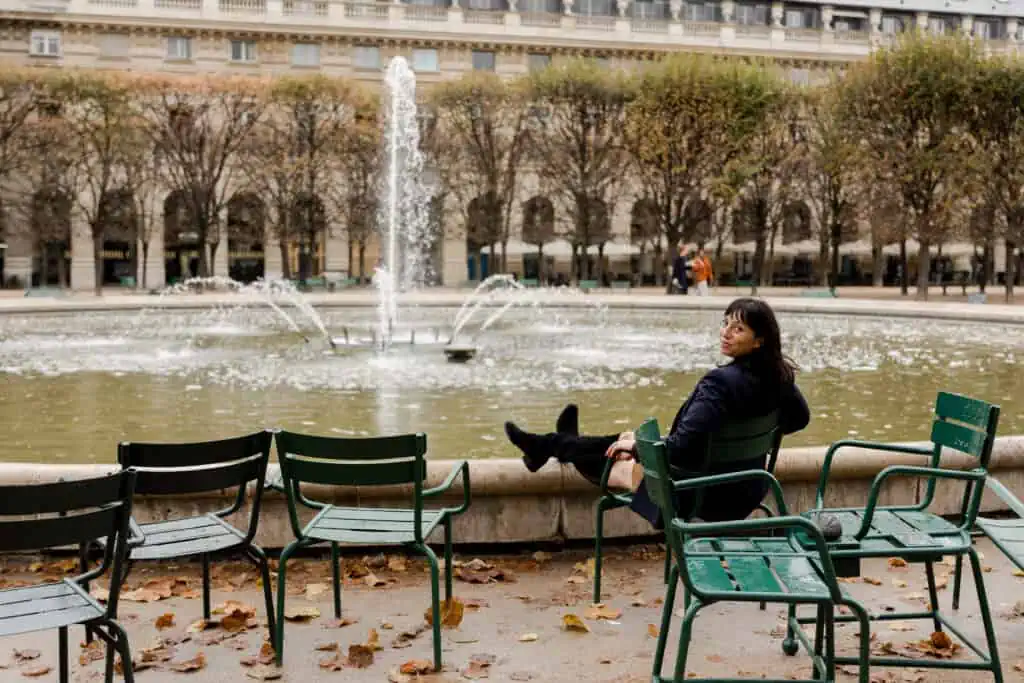 One of my favorite walks to do in Paris is to stroll through the Paris covered passages. These are a bit off the beaten path regarding a Paris itinerary. Once you have knocked the Eiffel Tower and Louvre museum off of your to-do list, you might want to explore the different neighborhoods of Paris. I first discovered the Paris passages when I lived in the 18th arrondissement back in 2013 and I would walk through various different ones avoiding the rain or bad weather. The walk took me from the 9th to the first arrondissement through Galerie Vivienne, where I first discovered Palais Royal. You can create a tour of the covered passages on a rainy day through Paris.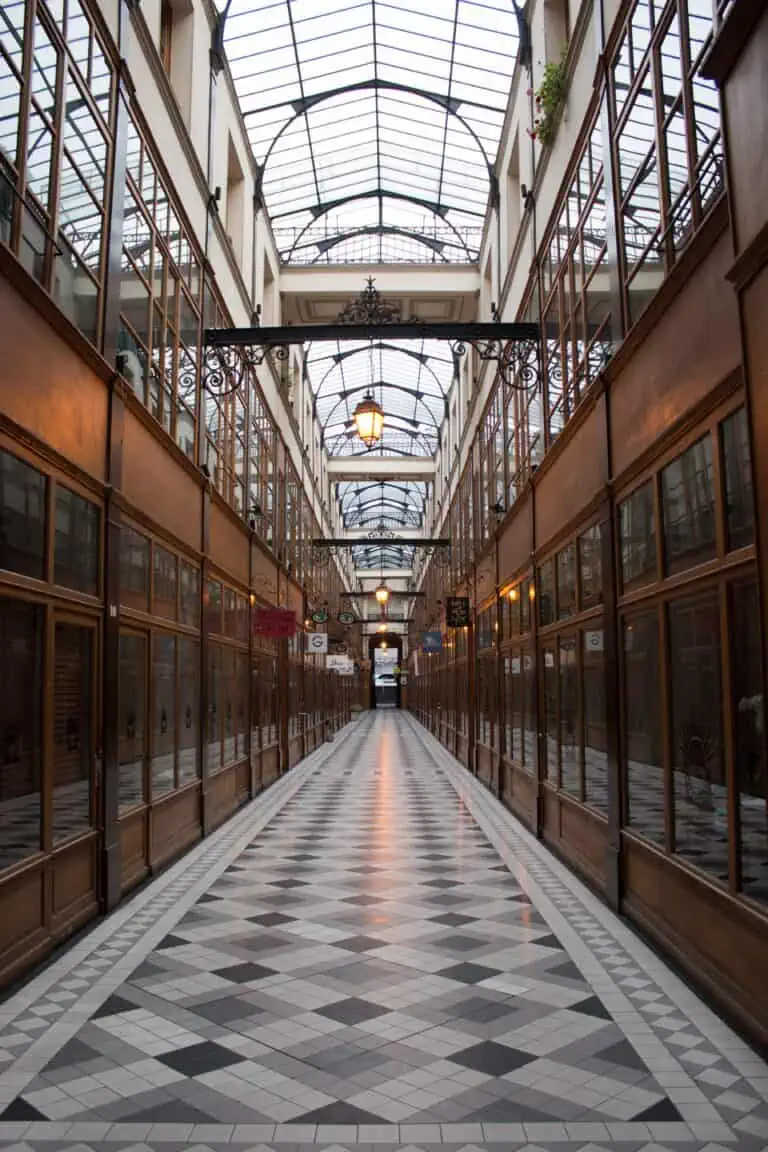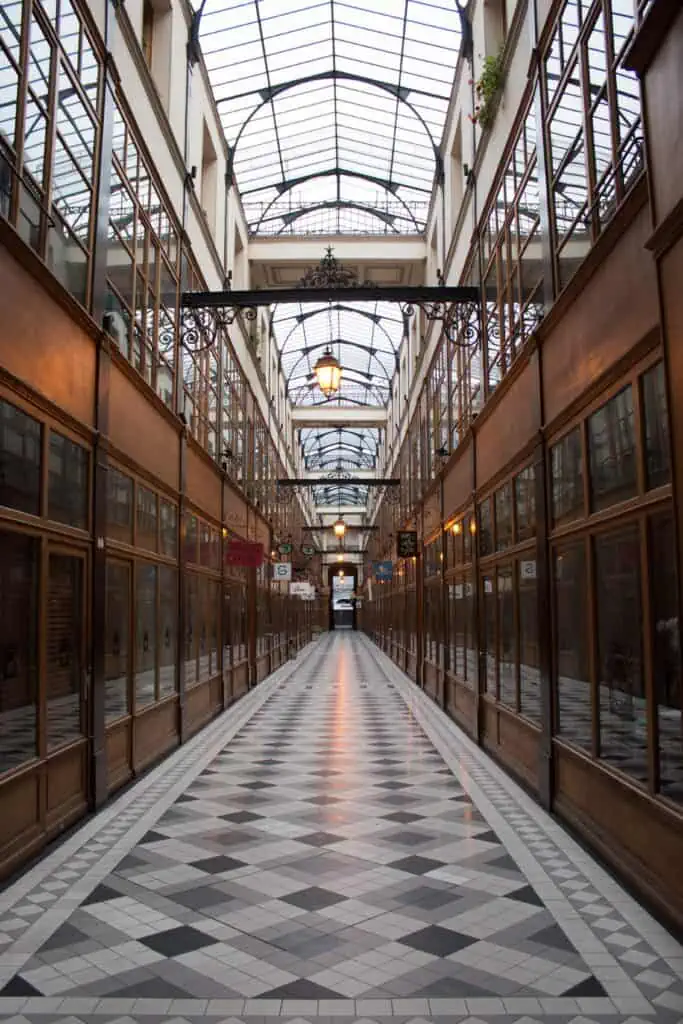 The covered passages of Paris are architecture-hidden gems filled with art galleries, luxury boutiques, restaurants, and antique stores to discover. Each passage has unique details such as a glass ceiling, checkered floors, wooden beams, hidden staircases, and apartments up above. You will want to discover each of the ones on this list to see the differences between each one.
Start on Rue de Faubourg Montmartre
If you would like to explore a little of my Paris history and favorite walk, you can start in the 9th arrondissement on Rue de Faubourg Montmartre just outside À la Mère de Famille which is a famous chocolate shop. The nearest metro is Le Peletier (line 7). There are now several locations of the chocolate shop in Paris. This one is the original and so unique in its design and details. The inside feels like stepping into a movie set in the past. If you are a kid at heart or have young kids that need a little distraction, you can pop in here first before exploring the passages walk. This is also a great place to pick up gifts for friends or family at home. À la Mère de Famille also has a beautiful book you can order for your coffee table.
Passage Verdeau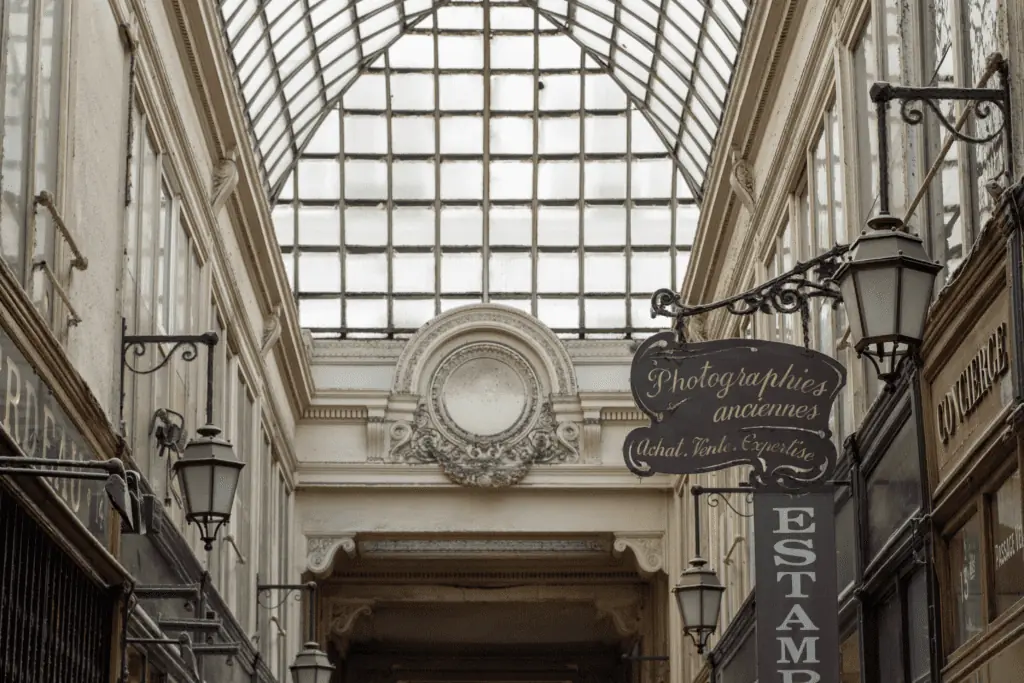 Passage Verdeau is one of the most popular shopping arcades out of all the Paris-covered passages and is filled with a variety of shops to keep your attention for a while even with little ones. The architecture of the beautiful glass roof letting in sunlight will catch your eye for its unique design. This is the first one I discovered when I lived in Montmartre and where I suggest you begin.
Passage Jouffroy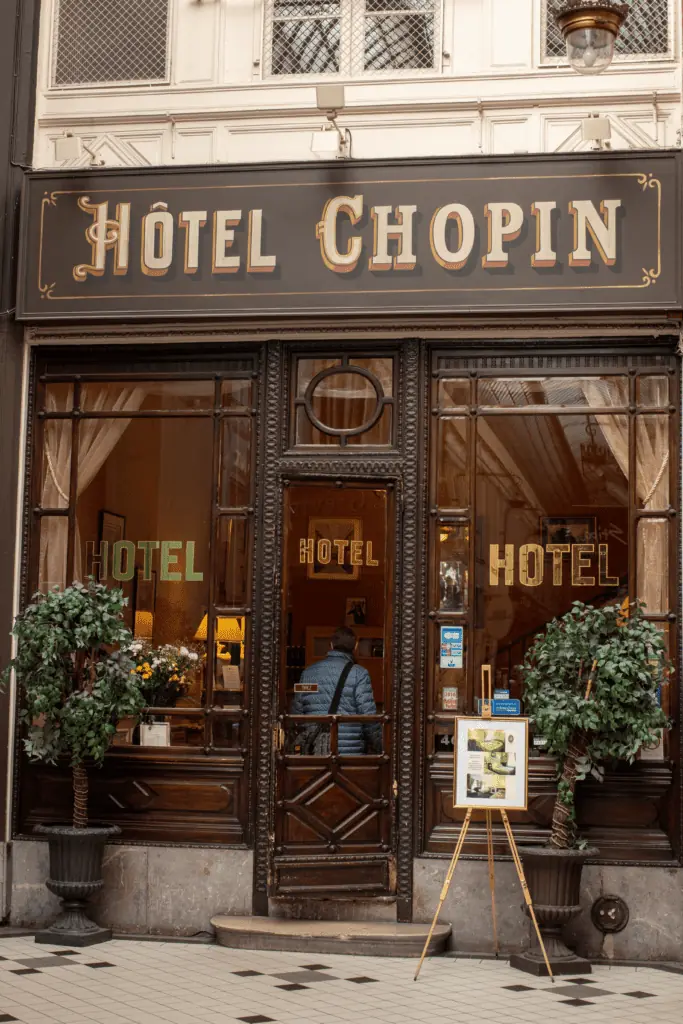 After Passage Verdeau, just a short walk across the street, you will run into Passage Jouffroy which has an adorable toy shop called Pain d'épices which is fun to discover even if you aren't traveling with small children. The low-budget but classic Parisian Hôtel Chopin is located there.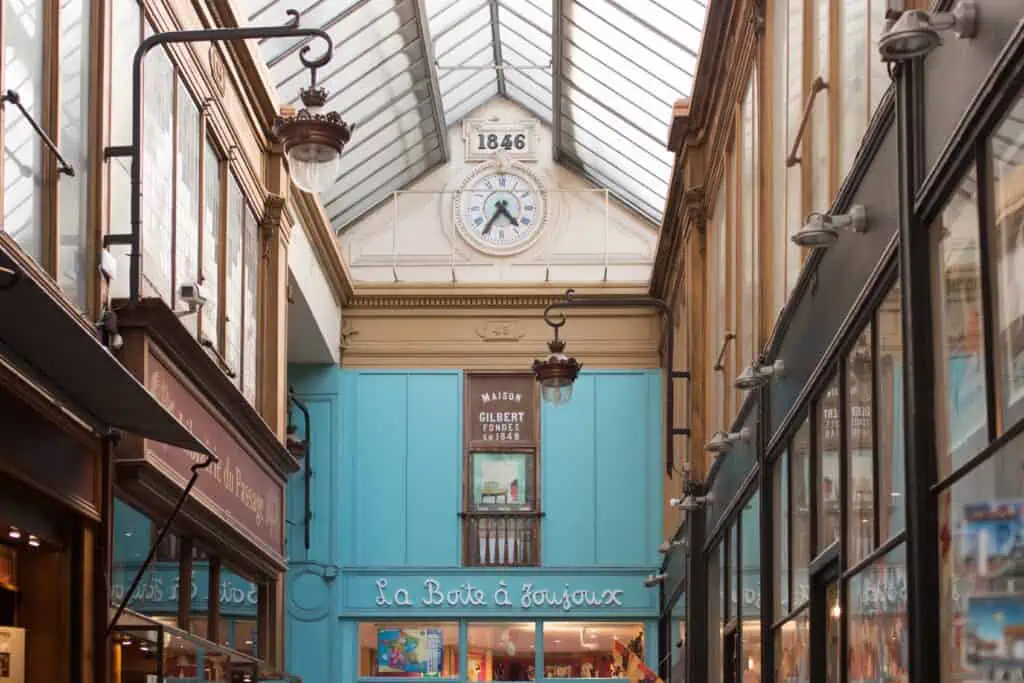 Passage des Panoramas
Passage des Panoramas is one of the oldest covered passages located with an entrance on Boulevard Montmartre in the 9th arrondissement next to the Grands Boulevards metro station. This is one of my favorite covered passages in Paris and is filled with bars, restaurants, and coffee shops. Last year we ate at Racines which is tucked inside. The interior is cozy and dark and there are tables on the exterior to see the hustle and bustle of the pedestrians using the passage to walk through to avoid the rain or to get from one point in Paris to the next.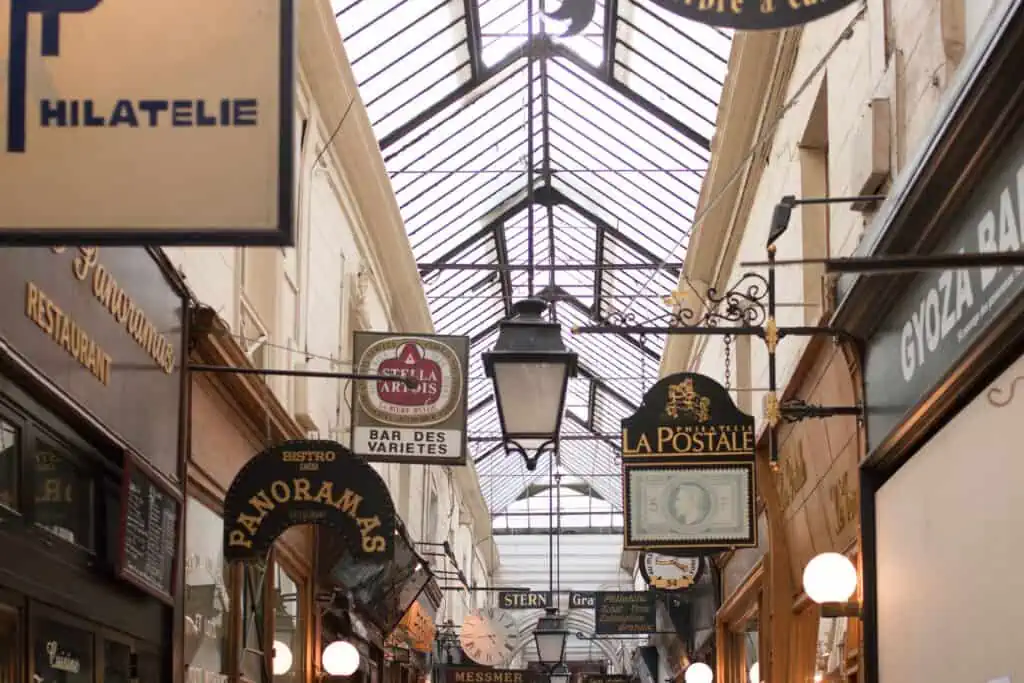 Across from Racines is Canard & Champagne which centers the entire menu around different duck dishes. It was the best place for fun people-watching from Racines while we enjoyed our pasta. Try Certified café for coffee you can enjoy it inside or have a takeaway coffee and continue your stroll.
5 Paris Passages: Galerie Vero-Dodat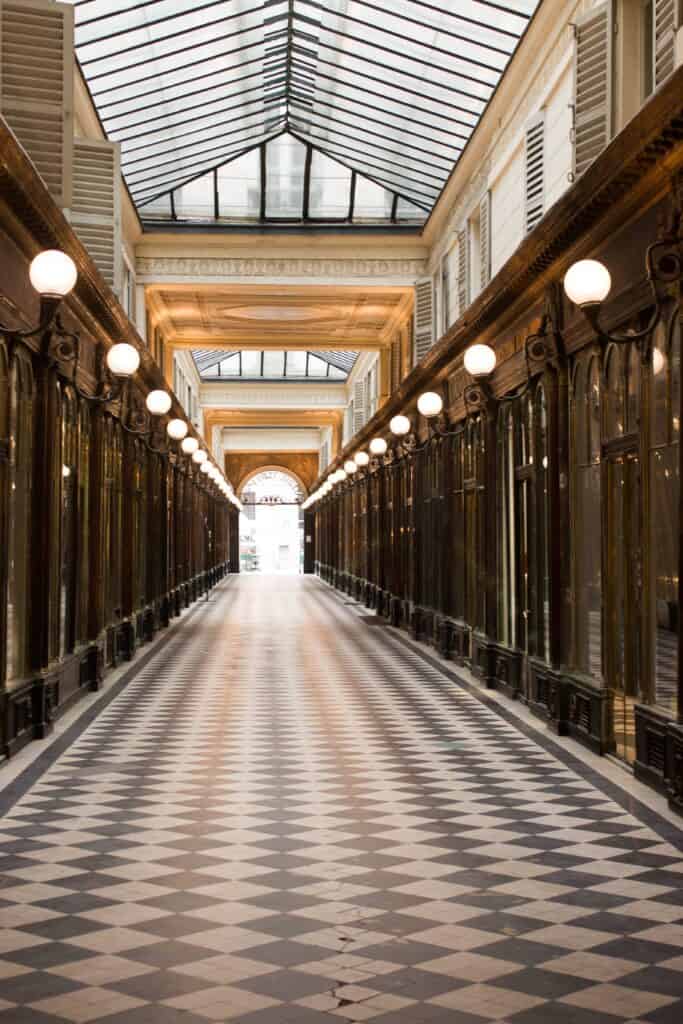 Galerie Vero-Dodat is filled with luxury shops including Christian Louboutin and is, in my opinion, one of the most beautiful Parisian passages with its black and white floors and lamps. Just around the corner from here, you will find a great pizza spot called Pizzeria Iovine's to try. It is an affordable lunch or dinner option to eat in Paris. It is just around the corner from Rue Saint-Honoré and Palais Royal. If you are looking to pop into a hidden Paris spot, this is a quick little adventure. One of my favorite coffee spots, Terres de Café is also nearby. There are many sprinkled around the city if you want to grab a coffee and stroll a bit from the Louvre.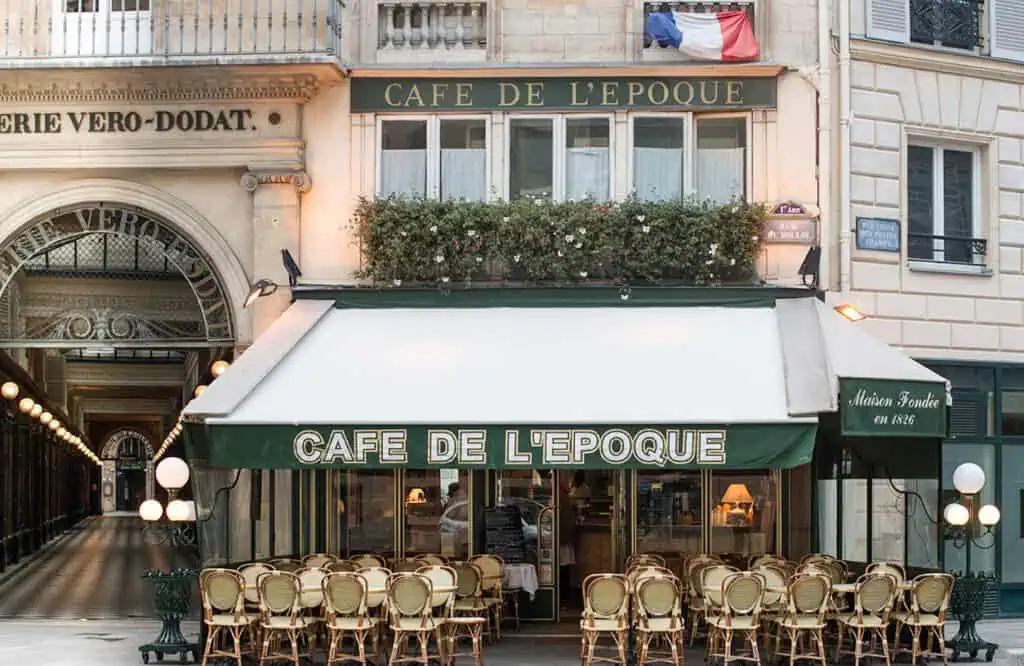 Galerie Viviene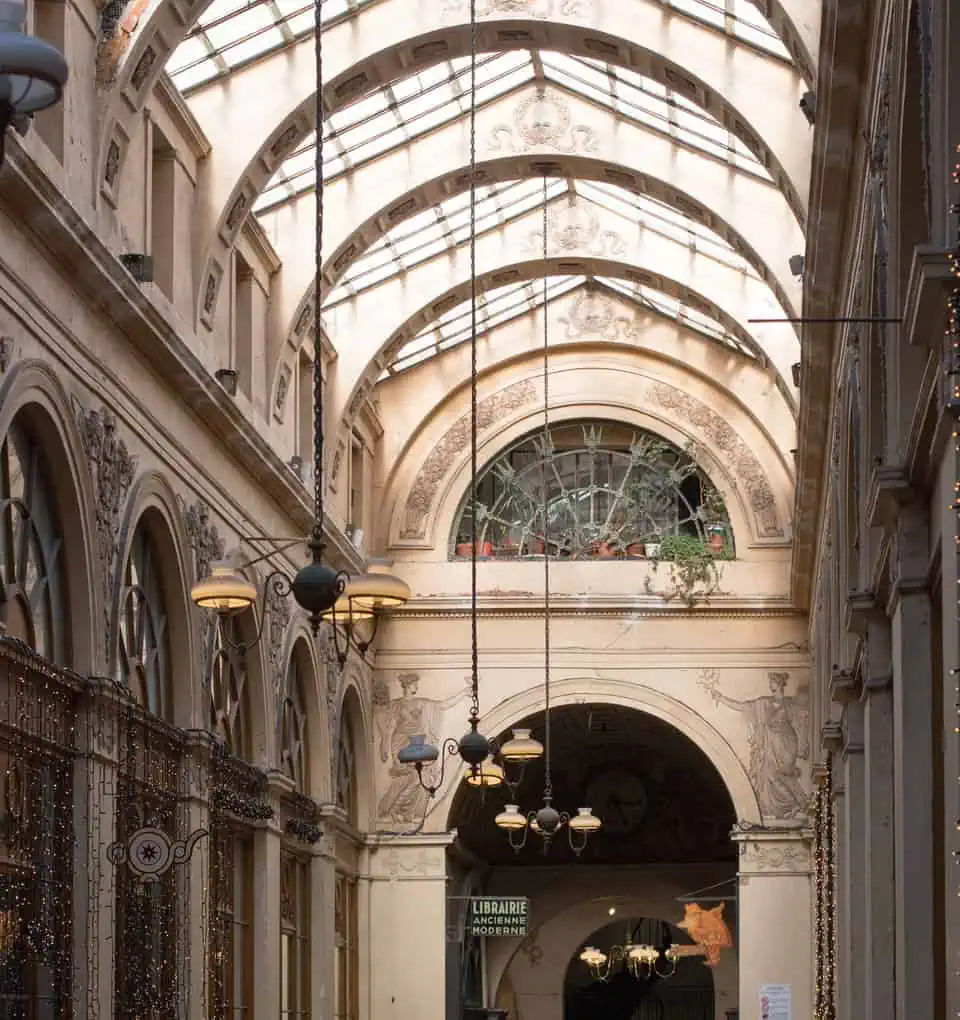 Galerie Vivienne located on Rue Vivienne is one of my all-time favorite Paris passages. In the winter, there are lights strung from the ceiling making it even more magical. I love the design of the mosaic floors leading you through to the other side. There is a café at the end called Bistrot Vivienne where I enjoyed a champagne toast after getting engaged in Palais Royal. Darocco Trattoria is a great spot for pizza or pasta that is a natural light-filled restaurant in the passage. Grab a cocktail in the evening at Danico or explore the corner bookshop inside. It is the perfect place to spend an afternoon or evening in Paris.
Galerie Vivienne Paris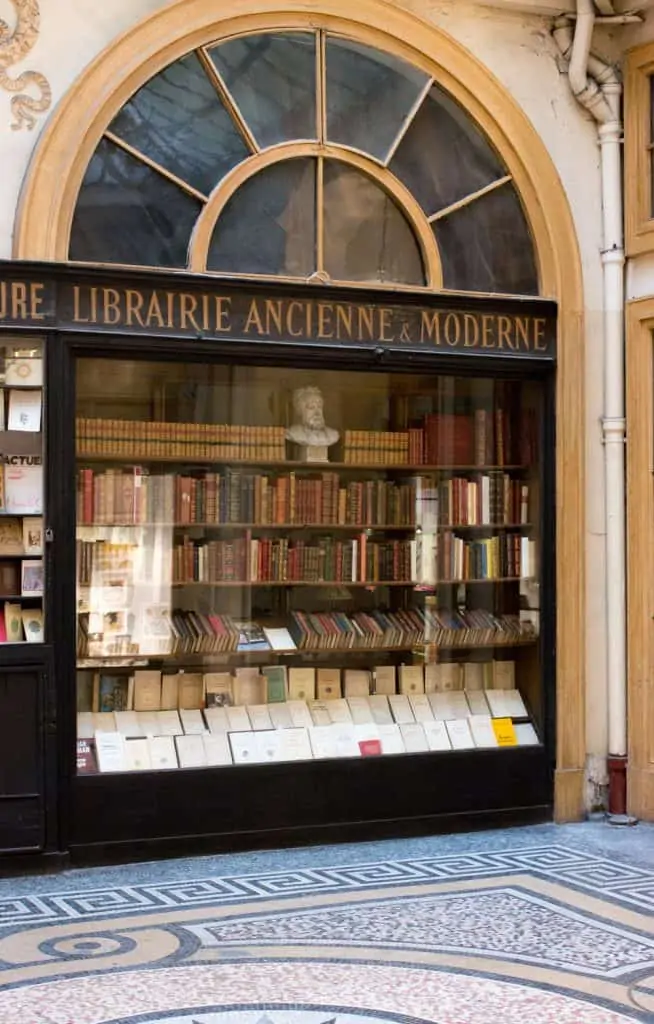 P.S. Galerie Colbert is just around the corner from Galerie Vivienne which also has the famous Le Grand Colbert from the movie, "Something's Gotta Give"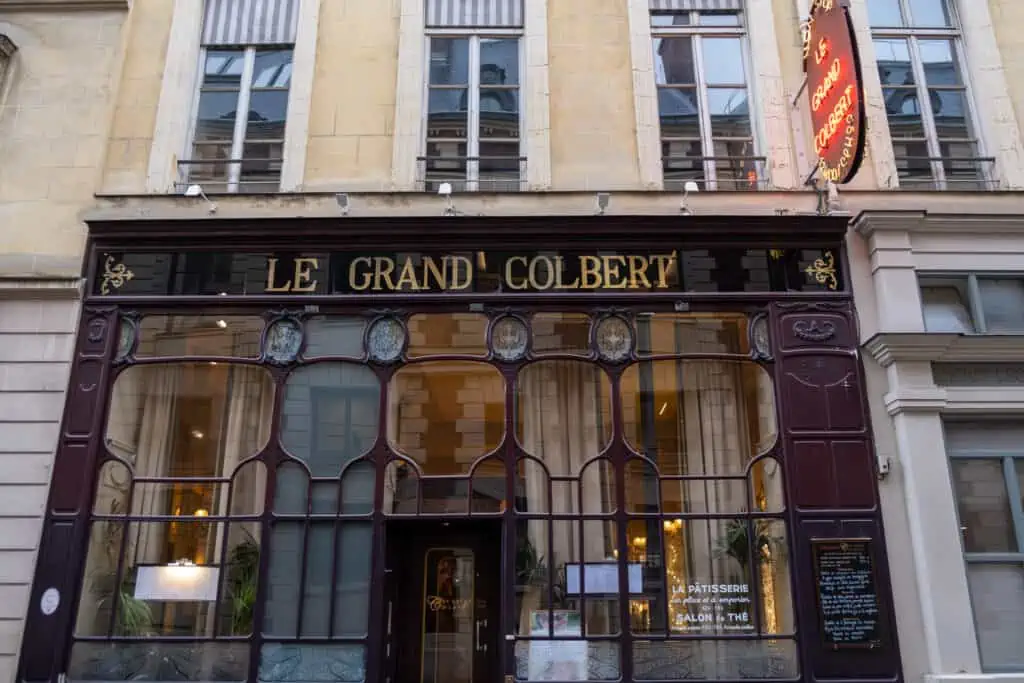 Bonus Covered Paris Passages
Passage Choiseul is the longest covered passage in Paris and is located in the 2nd arrondissement close to Opèra and Palais Royal. You can find it closest to the Pyramids metro stop. You will want to make a stop here to discover the glass roof of the Passage Choiseul.
Passage du Grand Cerf
Passage du Grand Cerf dates back to the early 1800s and is a covered arcade with a glass roof and shops offering jewelry. Étienne Marcel is the closest metro station and if you spend time in this passage I highly recommend Rue Montorgueil for a coffee, stroll, and people-watching.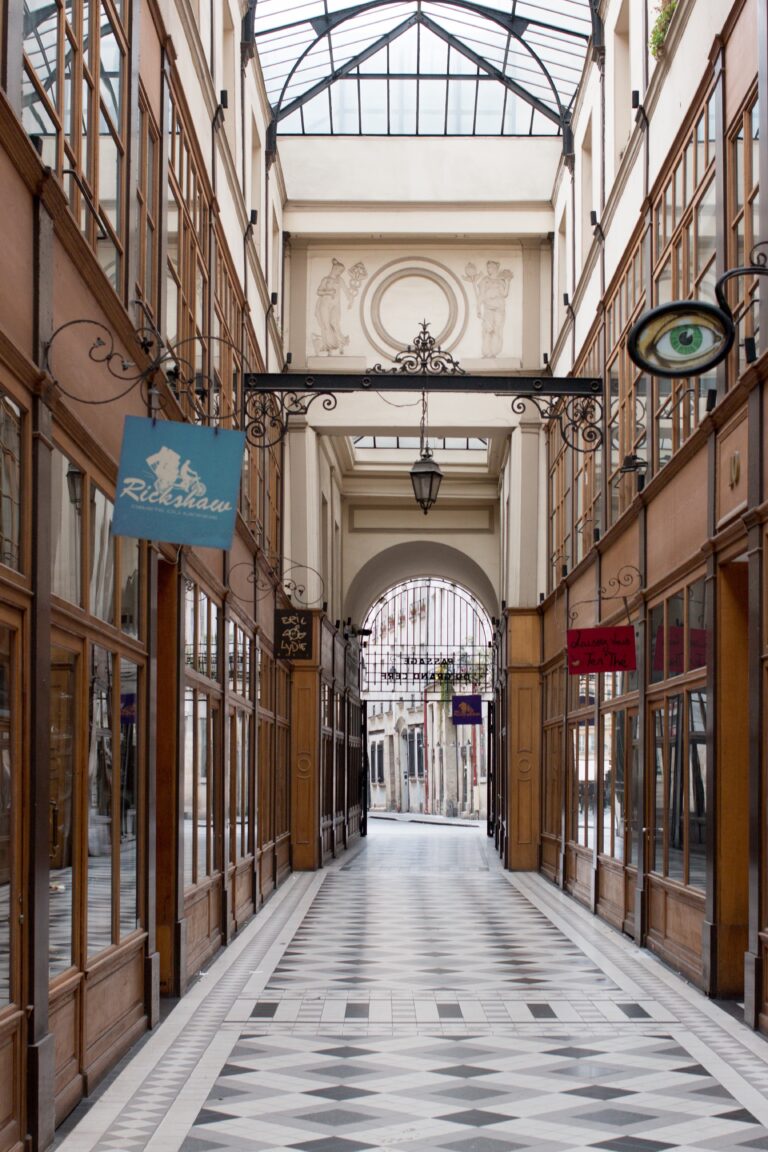 You can use this google map as a guide for a walking tour to discover the beautiful passages in Paris. Note, there are metro stations close by to these covered passages so if you have any limitations with time or traveling with small kids, you can go directly to one and not all of them. I always recommend leaving something to discover for the next trip to Paris.
P.S. For more ideas on what to do in Paris when it rains you can check out this post.