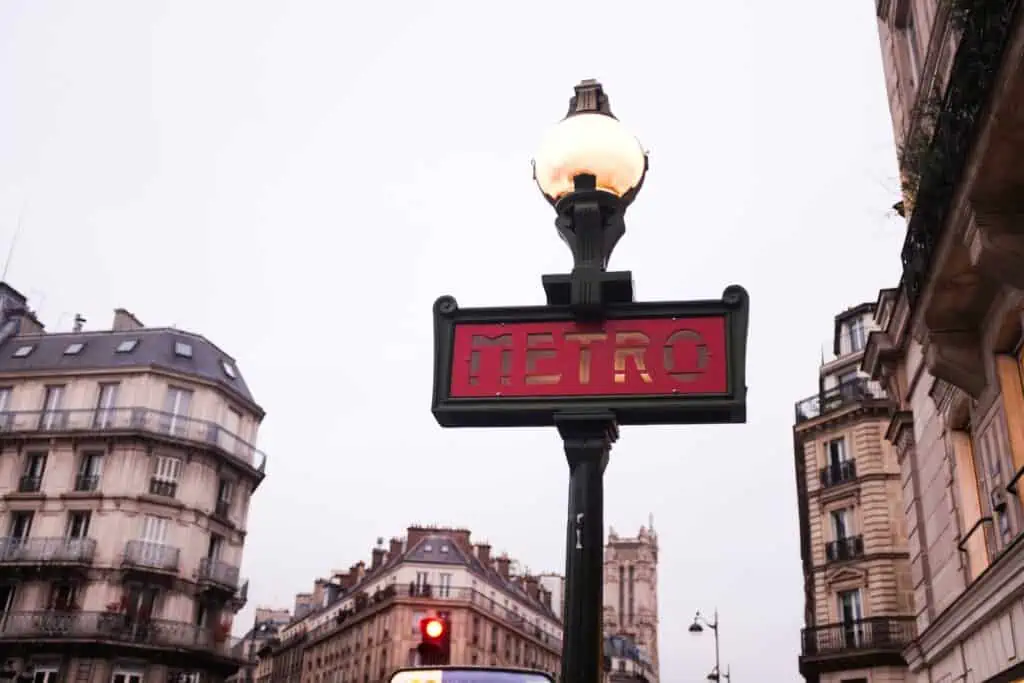 Paris is organized by arrondissement. Twenty different arrondissement neighborhoods make up the city of Paris. They are arranged like a snail, starting in the center of Paris. Arrondissements with low numbers are in the center of Paris up until 9. Larger numbers ten and above are further out from central Paris. Each arrondissement has a different vibe making it unique. In this post, I will share the best ways to get around Paris and some of the key arrondissements to visit to see Paris's major monuments, parks, and neighborhoods.
​5 Best Ways to Get Around Paris
To get around Paris there are five key ways to explore the city. Public transportation makes getting from one side to the next easy, especially during rush hour or peak travel times.
The metro is the primary train system running throughout Paris. Several different lines can connect you to Paris and all the top attractions. It is always good to see the Paris metro map to know which stop to get off. I highly recommend google maps or City Mapper, an app you can download on your phone which will help give precise directions to getting around the city. City Mapper works with the metro and bus routes to help get you to exactly you need to go with the estimated time for your commute and price for tickets.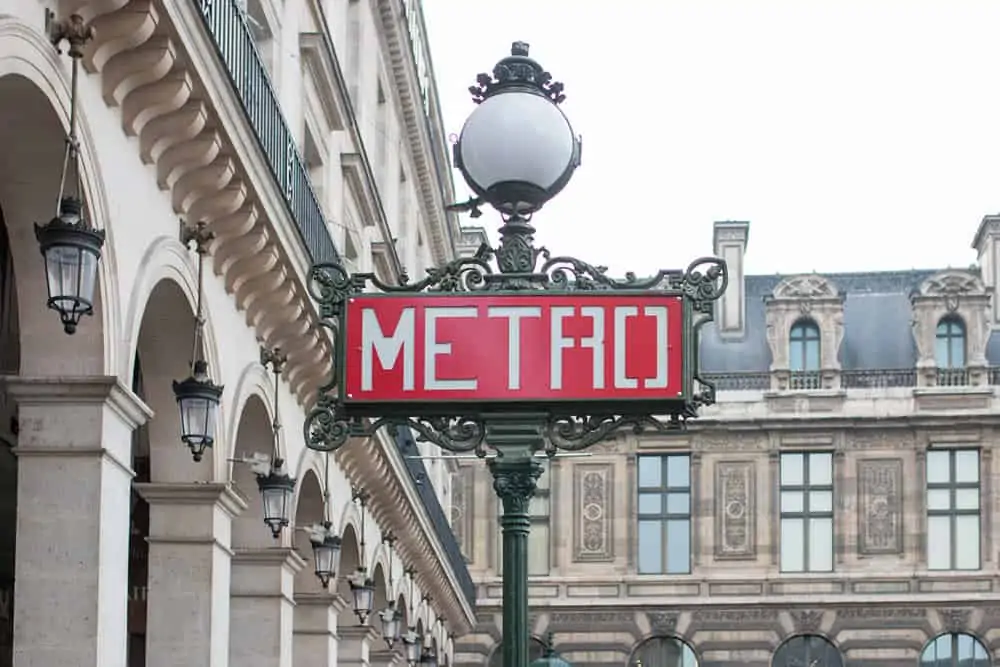 When you exit a metro stop, depending on the size, there are multiple exits. A sign at the exit will lead you to a specific area or street. Some of the major attraction exits will be identified with an image of the Eiffel Tower or Arc de Triomphe to help lead you. City Mapper and Google Maps will identify the best option for you to exit and give you a number to follow for the easiest way to your destination.
There are 14 metro lines, 1 through 14, throughout the city. Parisians and visitors use public transit often to get around the city. The Paris metro system is easy to navigate. You will find metro stations all over the city, making it one of the best ways to get around. I highly recommend bookmarking the metro station closest to your Airbnb or hotel to find your way back if you ever get lost or separated from your group.
Safety Tips for Riding the Metro in Paris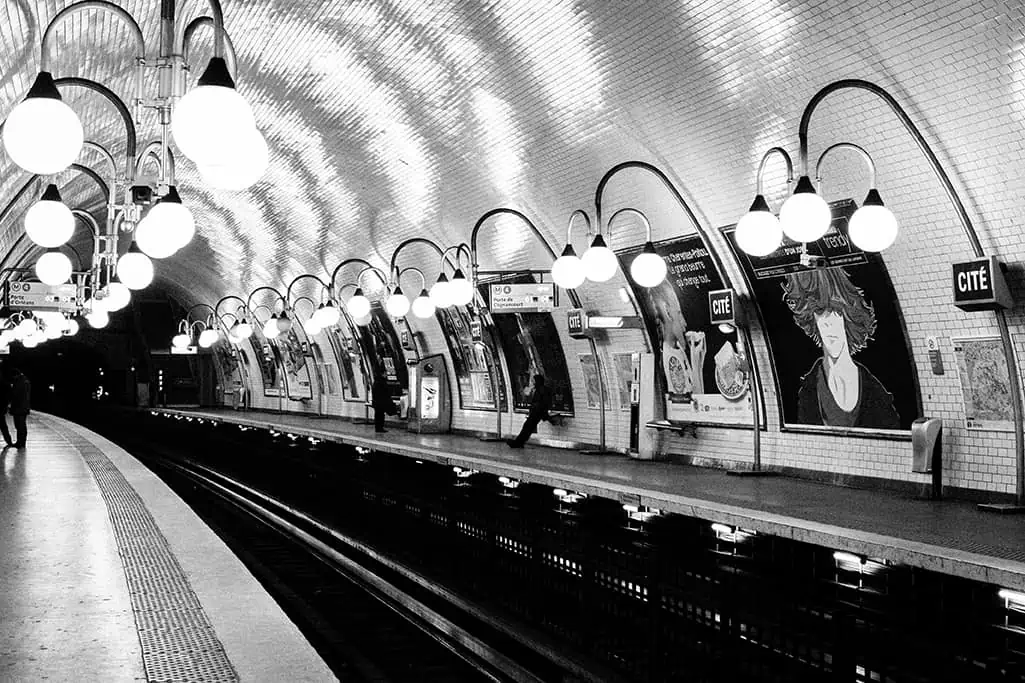 Always buy your metro ticket from an authorized ticket vendor at a metro station or a vending machine. Do not buy a ticket from someone in the metro, even if there is a long line. The tickets are magnetized to get you through the turn style, which you will enter individually. If you have small children, you can help them get through before you and follow behind them. Keep your tickets in a safe spot if you have individual single-ride tickets or a day pass. They can get demagnetized next to credit cards.
Keep your belongings close to you and your bags zippered. Do your best to keep your phones tucked away while riding the metro. Identify your metro stops or transfer stations before getting on the metro. Pickpockets do happen on the metro, and they will also mention this on the loudspeaker throughout your ride.
Some metro stations will be identified with a light flashing on the car map, while others will be mentioned on the loudspeaker. If the metro is full, do not use the folding seats in the entryway. Move towards the door when your exit is approaching to make it easy to get off during peak times.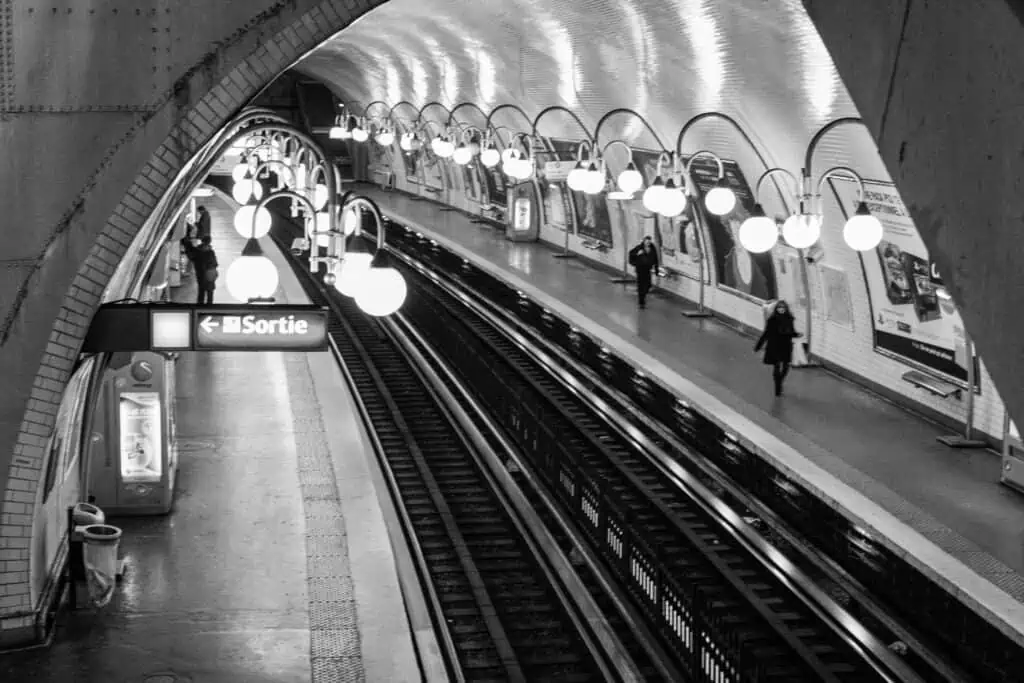 Stay out of the way when the doors are closing. Some doors can be pushed open with force, and others will close automatically and cannot be opened. Being near when the doors are closing, especially with kids, clothing (such as a jacket), or packages/bags is a safety risk.
Solo female travelers should avoid making eye contact with male riders. As in any major city, be aware of your surroundings.
If you have any safety concerns, find a metro employee or police officer in uniform.
How to Buy a Metro Ticket in Paris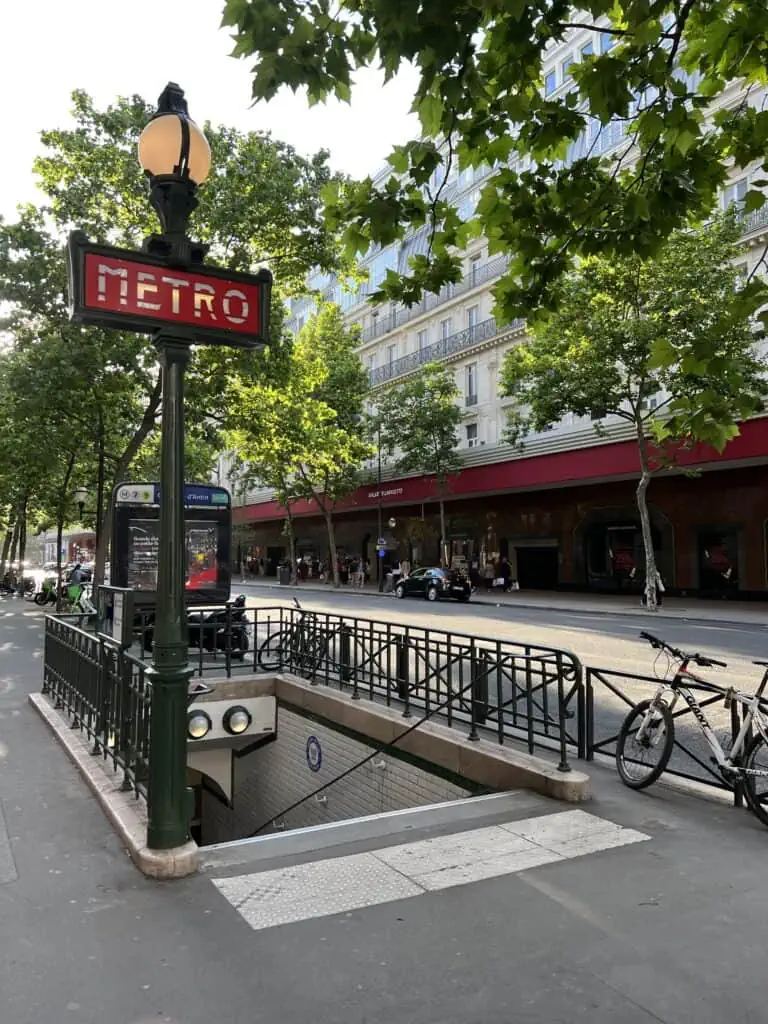 If you plan to be in Paris for a few days and the metro will be your main transportation form, buying a ticket offering unlimited travel makes the most sense. The Paris Visite travel pass comes in 1, 2, 3, or 5-consecutive day options and can be purchased directly through ticket offices at metro stations or through ticket machines. Prices range from 11.65 euros to 63.90 euros. The Paris visite pass will allow you to explore the city center on all 14 metro lines.
You can also purchase a single ticket through a ticket machine at most metro stations. Cash or credit card can be used. Not every metro station will have a ticket machine, so remember this as you plan your schedule. Grabbing tickets in advance is a good idea if you have to be somewhere at a specific time. Keep your single-use tickets with you until your final stop. There are occasionally ticket checkers at different metro stops around the city, ensuring you have a valid metro ticket. A fine and ticket will be issued if you do not have a valid ticket.
Metro times run from 5:30 am to 1:15 am. You will find the metro full even in the evening hours after dinner.
Additional Metro Tips for Paris
​Your destination may be a direct line from one point in Paris to another, or you may have a connecting metro stop. I do my best to find the fastest way when riding the metro with fewer stops. City Mapper will help with this if you are unfamiliar with the city. Large metro stops include Les Halles and Châtalet. I do my best to avoid these because they require a lot of walking from line to line when transferring.
Montmartre can be accessed through a few different metro stops. Pigalle (lines 2 and 12) , Anvers (line 2), and Abbesses (line 12). Abbesses has an elevator or a large number of stairs to the exit. Remember if you have mobility issues, as the elevator is slow and not always working. You will find the Montmartre funicular at the base of Sacre Couer with the stairs. You can use your metro unlimited pass to use the funicular or purchase an additional ticket. Riding the Montmartre funicular is the same price as a metro ticket.
Ticket Prices for the Metro in Paris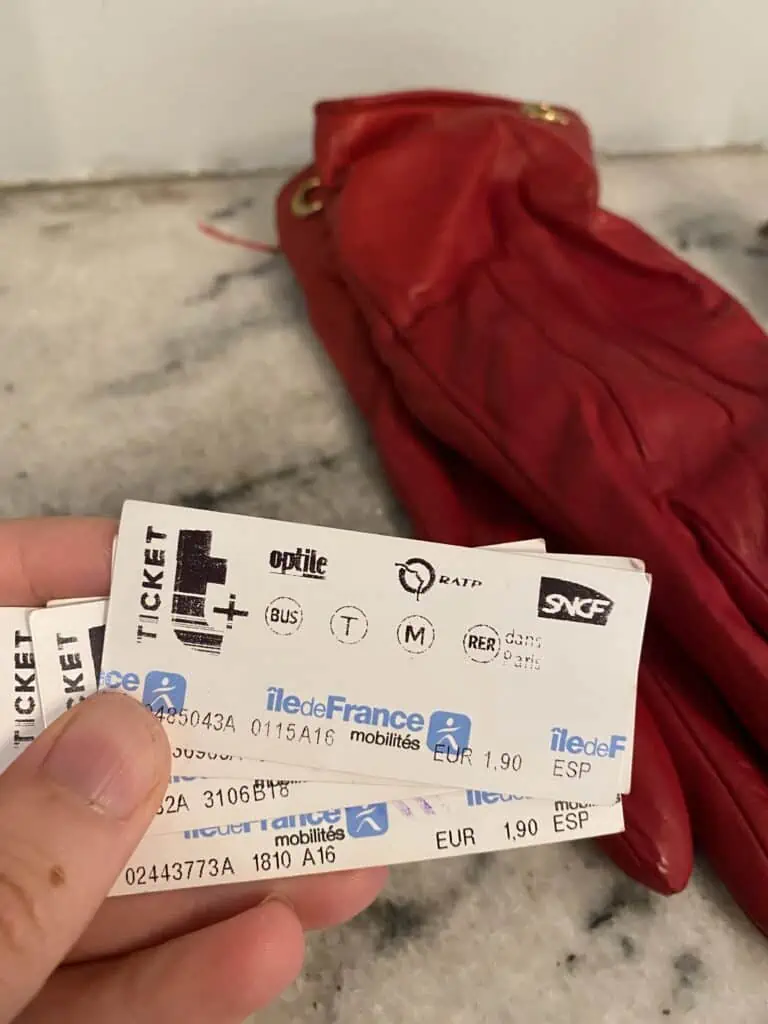 Kids are free under the age of 4. They are half of the price of a regular adult ticket up to the age of 10, and you can purchase the kid's tickets from a kiosk. Paris ticket kiosks can be accessed in various languages, so don't be discouraged if you are not fluent in French. I purchase mine in French to test my language skills, and you can do the same if you are practicing French and want to try it.
A Navigo pass is another option, a refillable card that you can purchase for 2 euros and use a specific amount of money occasionally. More details are available here.
RER Train System in Paris
The RER is an additional train system connecting the city of Paris to the suburbs and outside the city. There are five express trains, and those tickets are to be purchased separately and cost an additional amount based on the destination.
For instance, if you travel from CDG airport to Gare du Nord train station, you will buy a ticket for Gare du Nord at the train station. It will be a combined metro and RER ticket, so hold onto it as you will need it to exit and re-enter the metro system to your final destination. The RER trains can also take you to the Palace of Versailles line C. Disneyland Paris RER train line A. You can visit this helpful site to see more details on the train lines.
The Metro Line with The Best View of Paris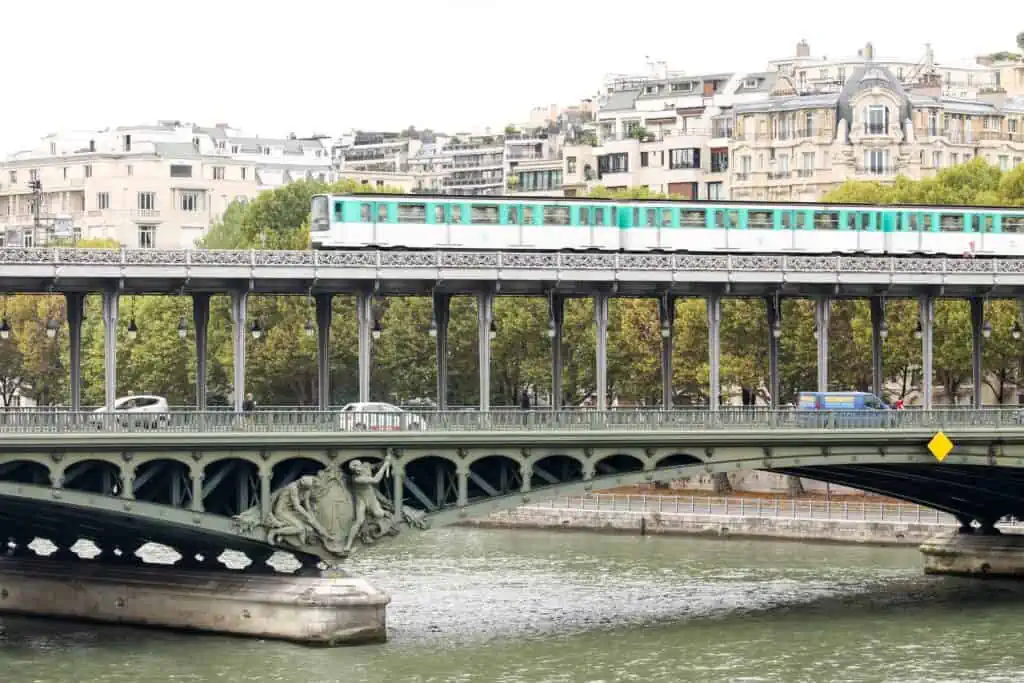 You will want to experience Metro Line 6 with the best Paris and Eiffel Tower views. While most lines run underground, this line runs above ground and crosses the Seine at the perfect moment to catch the Eiffel Tower with a glimpse through the window.
The Best Way to Explore Paris: On Foot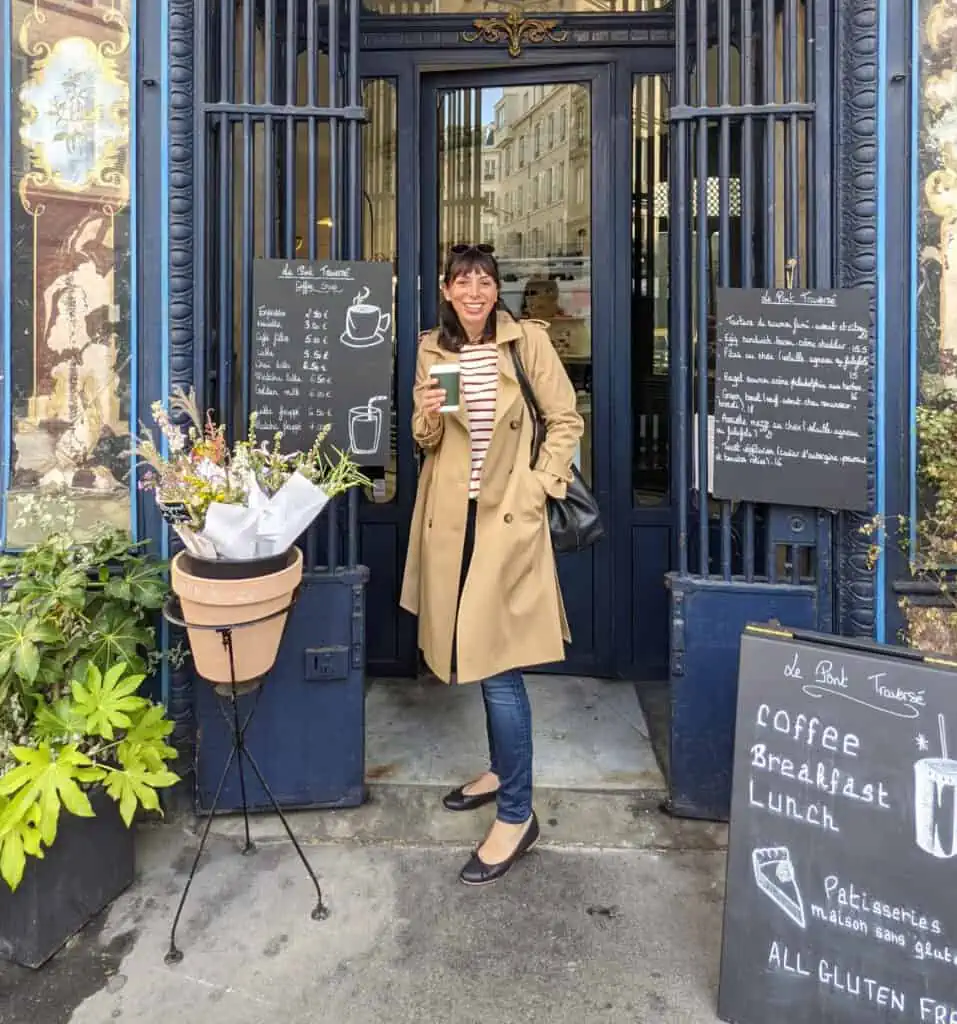 Now that I have covered the metro system and the best train stations at length, it's time to share my favorite way to explore Paris. Walking is a great way to see the city, especially if you have a flexible schedule. I say this because something always catches my eye when exploring Paris from a beautiful door, a side street I haven't walked down, or a new café or bakery to taste test. When meeting friends, I add a buffer of time to allow me to make it to my final destination with time to roam.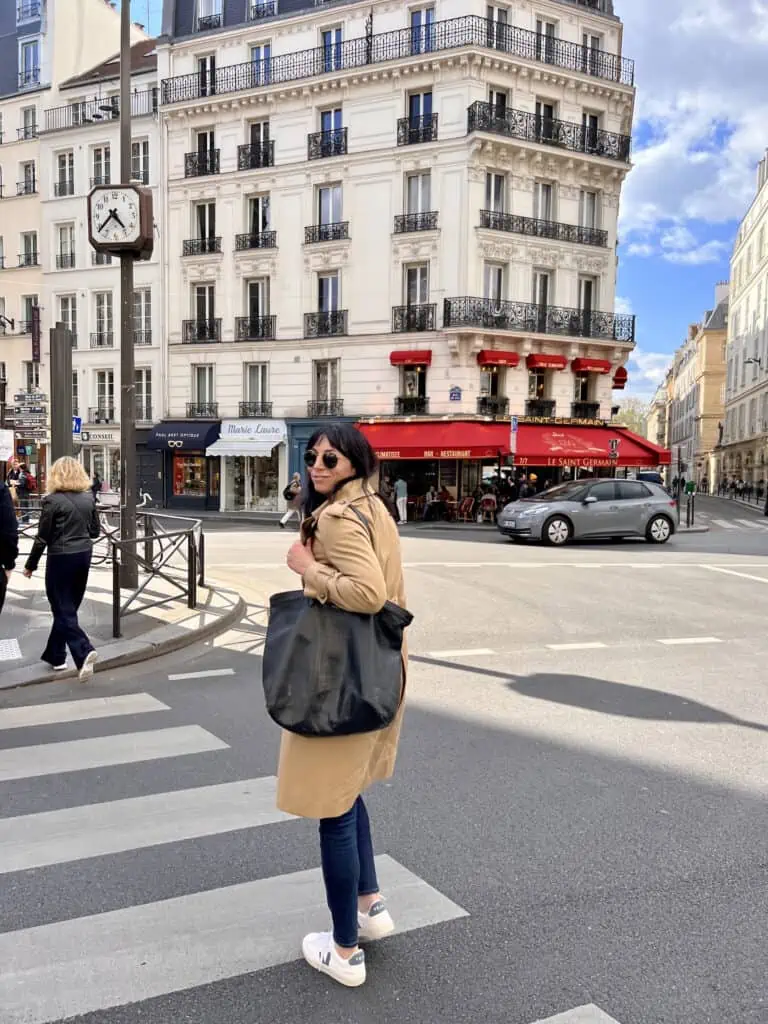 There is a French word, flâneur, to wander without purpose. Parisians are known for this on a Sunday or evening stroll. I highly recommend giving it a try when you have an afternoon free. It is very easy to pack a schedule full of activities and museums in Paris, but I always leave time to explore with my camera. Comfortable walking shoes are a must. Sneakers are widely accepted in Paris but leave the running shoes at home. I recommend Vejas for men and women, and these Madewell sneakers are under $100 and a reader favorite. Make sure to break the shoes in with some walks in your neighborhood before packing them for longer days in Paris.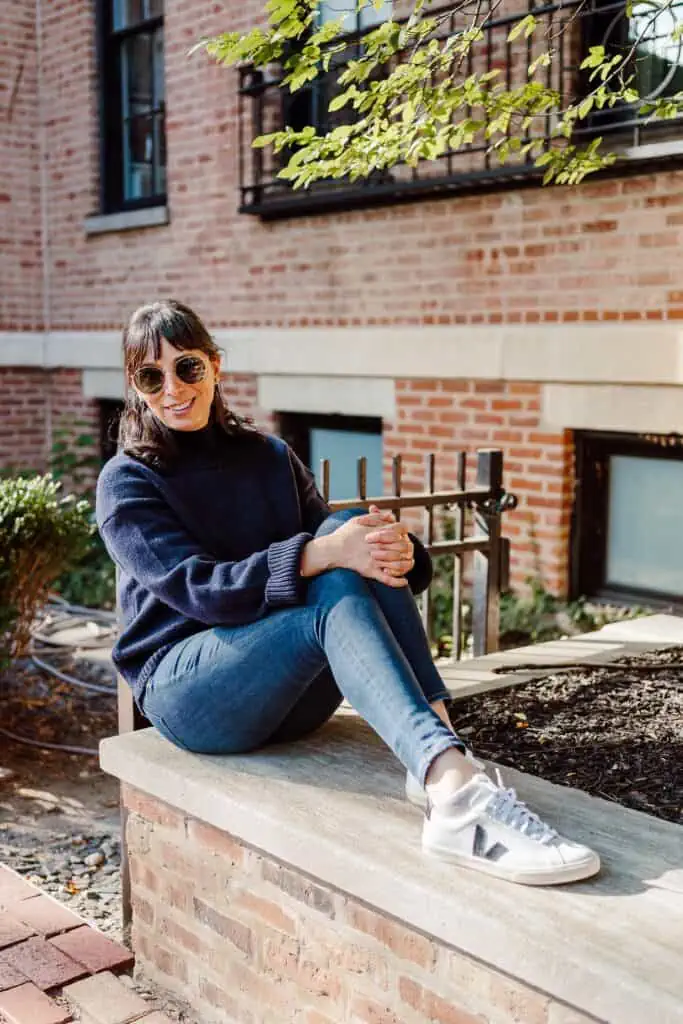 How to Use Taxi and Uber in Paris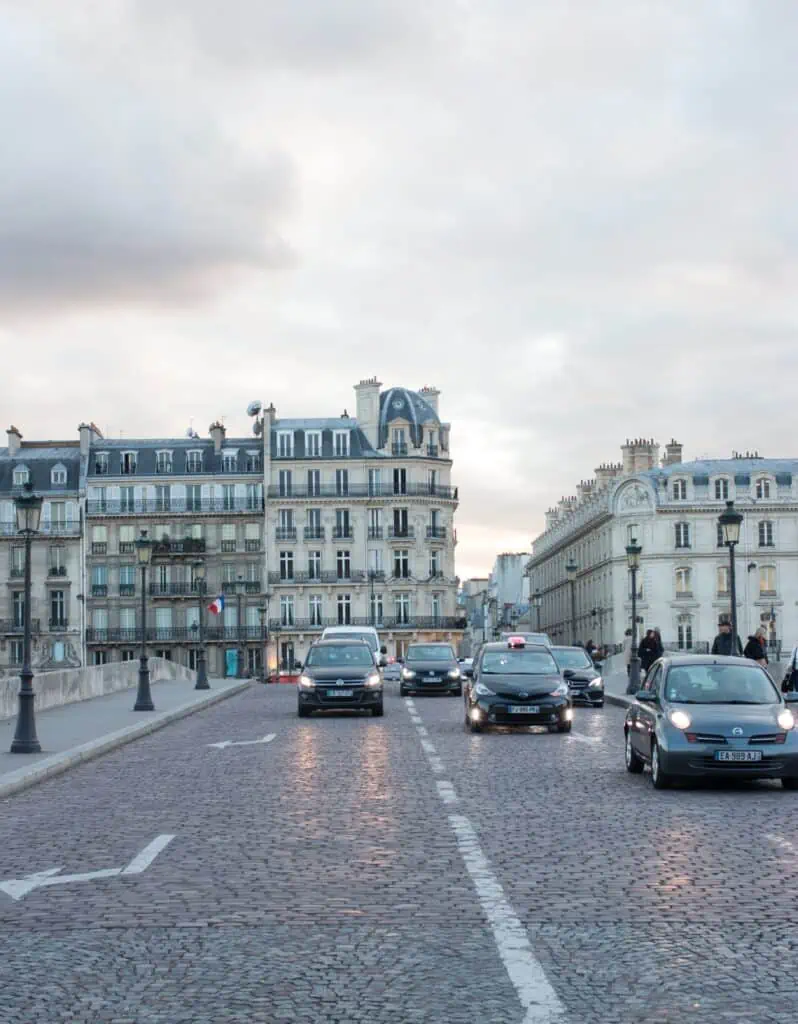 I have a specific post on navigating from CDG airport to Paris and recommended options for car services to and from the city. Uber runs the same as it does in the US, and I have found the drivers to speak English reasonably well. They do love practicing French when I am in the car. Keep this in mind if you are working on your language skills. G7 is the Paris taxi app for booking a taxi driver and works like Uber. I am not the biggest fan of a million apps on my phone, but this is worth downloading for Paris if you plan to take a taxi when traveling.
Consider your options and budget when booking a taxi/Uber compared to the metro. I have found the travel times can be similar to moving across the city and way more expensive. If you have multiple passengers and or luggage/bags you will want to use this option.
Try to travel during off-peak hours because traffic jams are expected in Paris during rush hour, mornings, and weekends.
Exploring Paris by Bike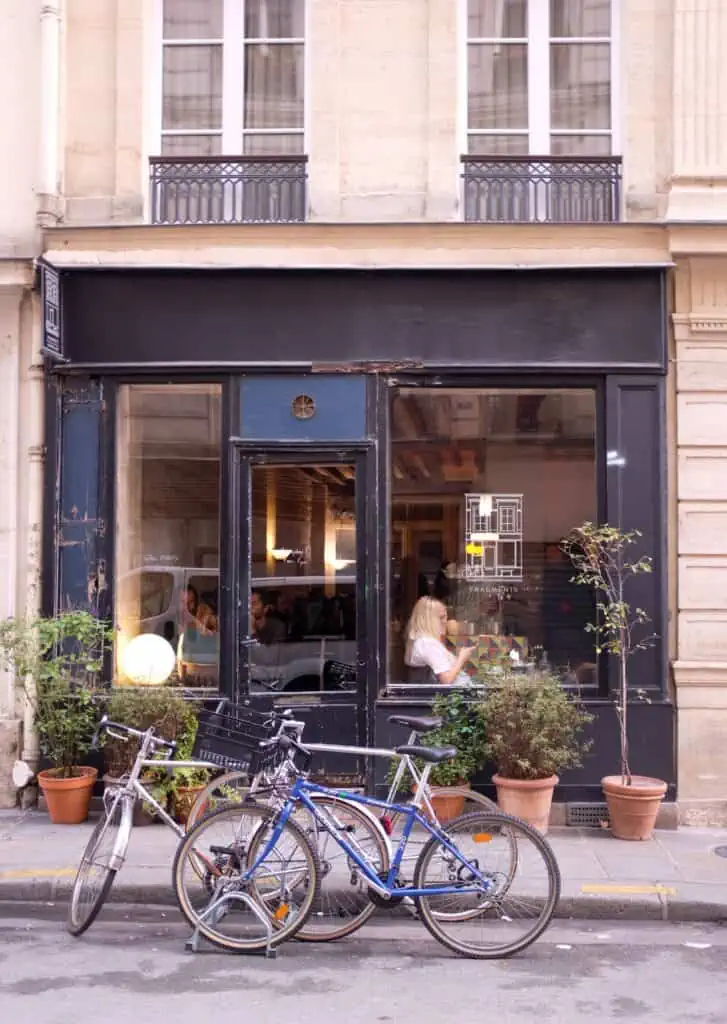 Biking in Paris has become more common in the past few years. Paris has a public bike system called Vélib. You can rent a bike all over the city at different Vélib stations, with over 20,000 available. Check your bike before choosing your rental, as some I have taken have had flat tires or broken seats.
You can find all the details on how to use the Vélib system here. Download the app to find the closest bike station to you. Return it and take a new bike as you navigate the city. Use the bike lanes throughout the city for the safest routes.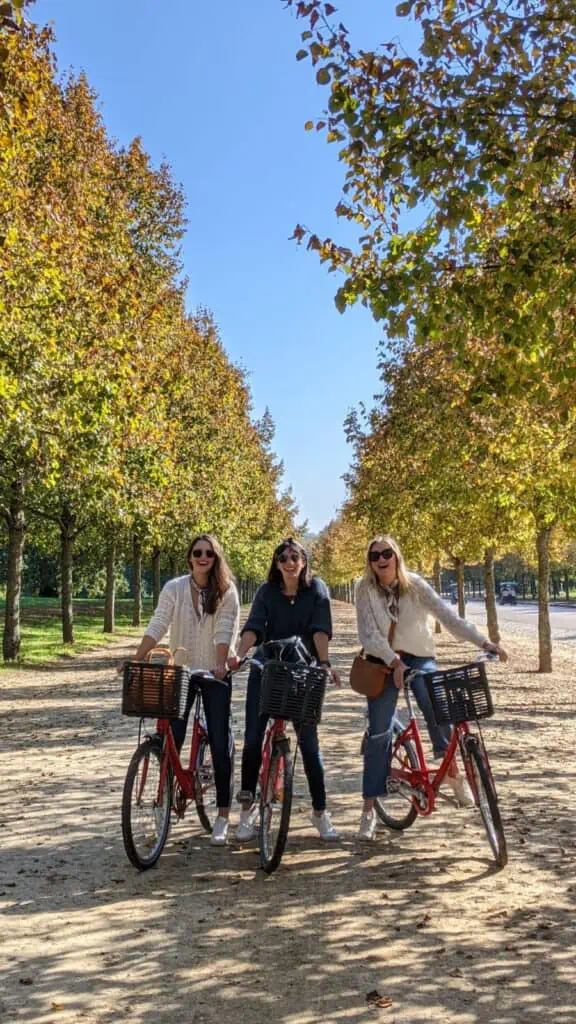 I loved biking with Fat Tire bike tours, an excellent resource in Paris. They rent bikes by the hour or day—book directly online or with an English-speaking staff member. Helmets, locks, and lights are included. (which I highly recommend) Fat Tire offers Versailles and Paris city tours with a knowledgeable guide.
Exploring Paris By Bus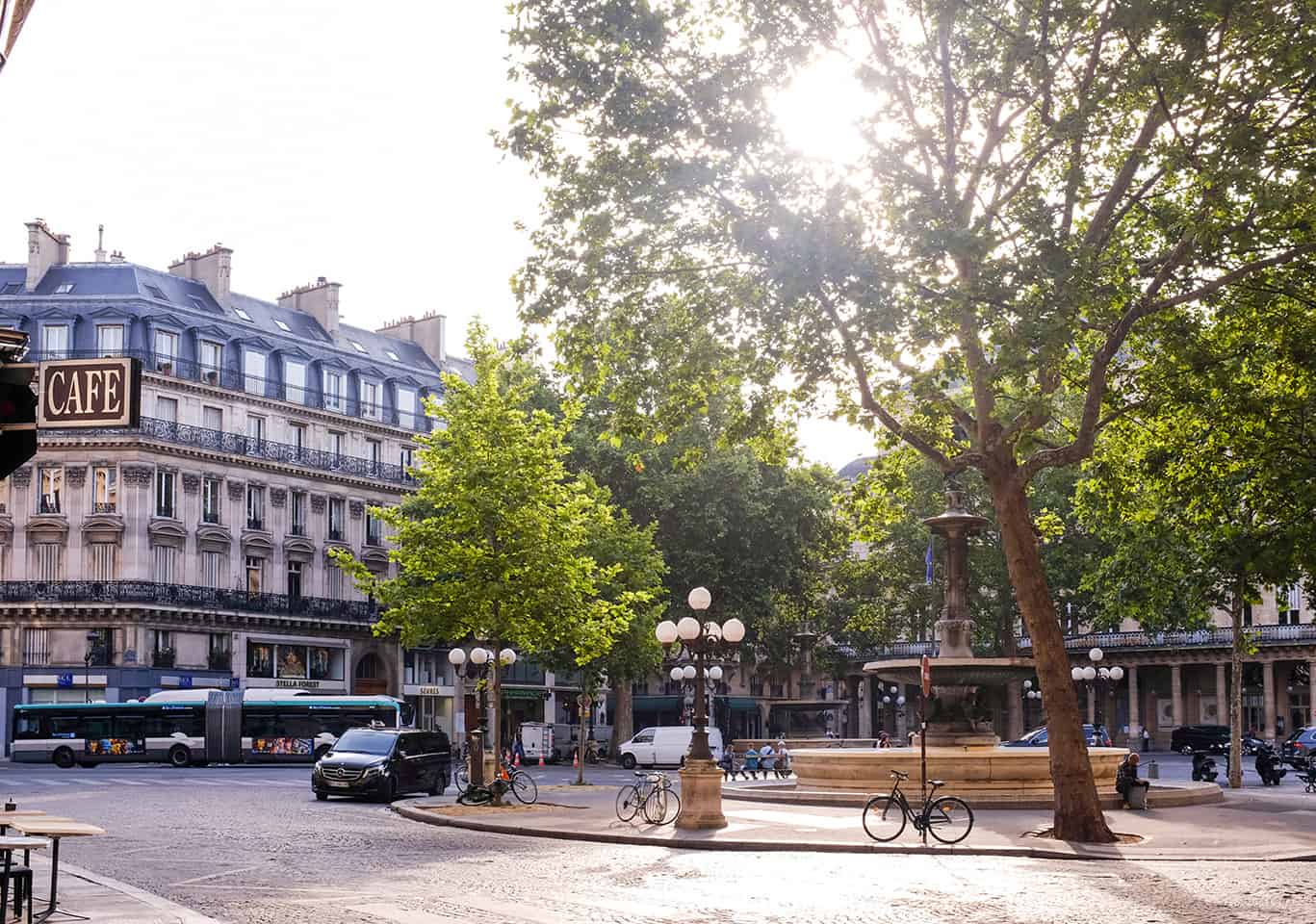 The Paris buses run throughout the city and offer a great way to get from one point to another. I also highly recommend taking the bus with kids or if it is one of your first times visiting the city. On your journey, you can see the Paris monuments, which is more of a local experience.
Getting around Paris via bus is easy to do with bus lines all around the city. If you have kids that don't need strollers, this is a fun way to get around the city (If you have a stroller, make sure it can fold up easily for space). The cost per person is 2.10 euros; you can buy tickets in advance. If you don't have a ticket, an SMS purchase option is now for 2.50 euros. An all-day pass will run you 6.75 euros, and you can hop on and off and move about the city.
The Best Ways to Get Around Paris
Some lines to be aware of for easy access to major monuments.
Line 69 covers The Louvre, Notre Dame, and the Eiffel Tower. This is an inexpensive way to see the city.
Line 72 is a straight shot through the Right Bank and has some great sightseeing if it's a rainy day and you score a window seat – this may do the trick for you or your little ones.
Line 89 gets you around the Left Bank to Luxembourg Gardens and Jardin des Plantes.
Paris Arrondissements to Visit
For more helpful tips on navigating Paris and where to stay, eat, and explore, check out The Paris Guide.
Some of the Most Popular Places to Visit in Paris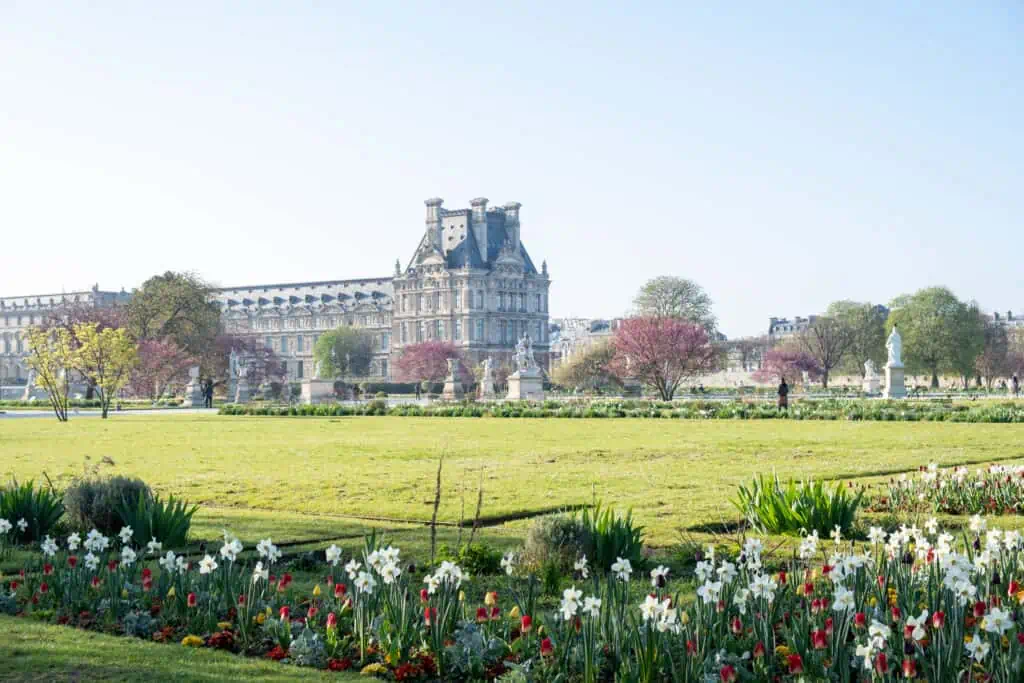 Eiffel Tower 7th Arrondissement
Use the Champ de Mars/Tour Eiffel Metro or RER here. I recommend the Trocadero metro stop, a popular destination to see the Eiffel Tower at sunrise or sunset.
Arc de Triomphe 8th Arrondissement
Take line 1 to Charles de Gaulle-Étoile.
Marais 4th Arrondissement
Paris Metro Line 1 St Paul
Hôtel de Ville and Rambateau Line 11
St. Germain des Près 6th Arrondissement
Odeon Line 4 and 10
St Germain des Près Line 4
Louvre Musuem 1st Arrondissement
Take Line 1 or 7 to Palais-Royal Musée du Louvre
Line 14 Pyramids
Luxembourg Gardens 6th Arrondissement
Metro lines Notre-Dame des Champs (Metro line 12) or Odéon (Metro lines 4 and 10)
Jardin des Tuileries or Tuileries Garden 1st Arrondissement
Line 1 stop Tuileries