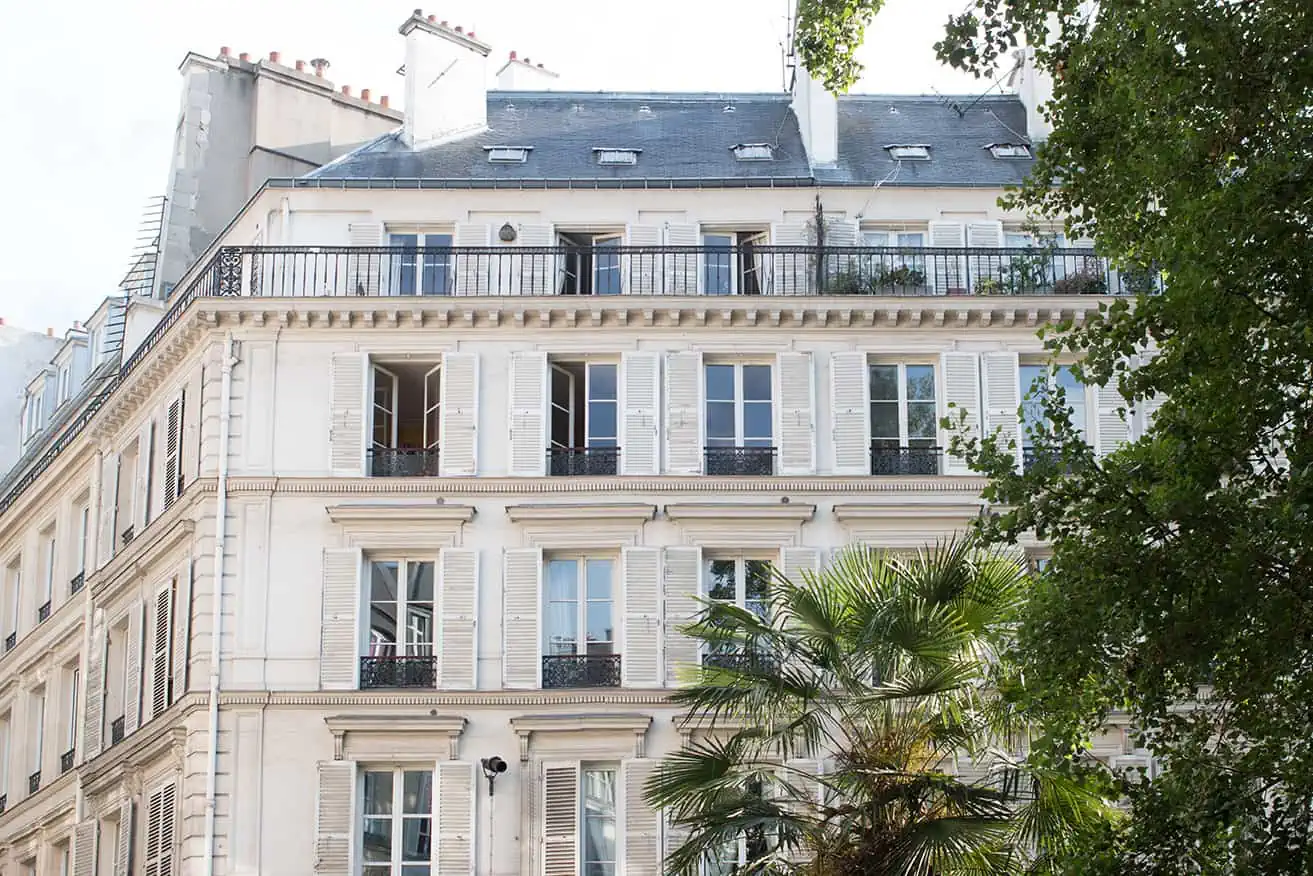 Links I Love Week 32
It is one week down of painting and only a few more weeks to go. Our bedroom has a nice refresh of deep blue paint, and our bathroom feels like a spa. My office has moved like musical chairs around our house, and I look forward to putting it back together in the original location this weekend.
The desk looks great against the pop of color. I will eventually do a fun gallery wall above my desktop computer. 
This week, I started my Amalfi Coast Guide, which will debut soon, along with new Italy prints for The Print Shop. I am waiting for the second edit from my printer to make the final selections.
I have a meeting for a very exciting project that has been on my list for years, and fingers crossed we can make it happen for holiday 2023! Stay tuned.
Grab your coffee and croissants, and join me for links I love.
How to navigate a French flea market like a pro
Six organizing mini moves via Real Simple Love this idea!
You guys loved the Paris sweatshirt I found, here are a few more options from other cities. This city sweatshirt comes in London, Pari, and LA and is super cute!
Salma Hayek Showed Off Her Grays and the 'Wisdom' That Comes With Them
How you should change your workout once you turn 40 via NYT. My doctor recently brought this up, and you should have seen my face. I have taken her advice and am working on mixing up my cardio routine with yoga and pilates.
We had friends over on Monday night, and I made brownies on a whim for dessert. Growing up, I was a box brownie girl until I realized my pantry ingredients do a much better job. This recipe is simple and pulls together easily. I like to add walnuts for a flavor boost. Pair with your favorite ice cream.
How to overcome your fear of flying (from turbulence) Anxious travelers, this is for you.
For those who love historical fiction, "The Keeper of Hidden Books" was recently released and had great views. It's on my to-read list.
My Quince sweater arrived in navy, and I love it. I have owned a Galleries Lafayette sweater just like this with buttons along the neck that was falling apart and this is the perfect replacement. One of the things that is great about this sweater is it isn't cropped it hits below the waist.
We have a winner of the Dermstore Giveaway. Michelle Anjel please check your email!
Some EDP community members are teachers and need help filling their classroom lists. It would be great if you could help them clear their list by purchasing any items on their list below. Thank you!!
Emily, 4th grade special education teacher
Sam 1st grade first-year teaching. Way to go, Sam! I hope it's a great first year.
Ms. Ren, 3rd grade Brooklyn teacher
Mara Middle School Art teacher (for all the aspiring artist students)
Miss Sara is helping K-5 students become better readers.
Miss Molly A French teacher with some adorable French-inspired items needed for her classroom
There is a new luxury hotel in Burgundy that I am adding to my wish list.
I ordered these Madewell ballet flats in an 8.5 and I love them. This hat was a last-minute add which is perfect for our coffee walks in the summer. Really crushing on these stovepipe jeans.
11 best hotels in Chicago, according to Afar. I am working on my Chicago guide and will share some favorites soon. This is a popular question among readers, and I wanted to share if you are in the process of planning a trip
These fall foliage trains have me excited for fall via Afar
The new old dating trend via The Atlantic
This 650-Square-Foot Tranquil Vacation Home in Italy Was Once a Farmhouse Stable.
A few people are dropping into my inbox, mentioning they aren't receiving my newsletters. Please add me to your safe list so I don't end up in your spam box. If you aren't on the list, you can sign up here!
A designer's chic Parisian apartment
Five benefits of wearing compression socks
The best ways to get around Paris
How to Save Your Relationship From the Social Media Comparison Trap
Last week I mentioned the new Cuyana bucket bag, I saw they introduced a small zippered pouch to go inside. I am a big fan of the brand and love how you can mix and match different pieces. This will be my next purchase for my system tote. I needed a zippered insert that wasn't too big and I think this is it!
The phone setting every parent (and grandparent) should try
This is a best seller with J.Crew and caught my eye. I ordered the sweater (in medium) for fall. J.Crew has changed their sale structure and a lot of items are excluded like this one and most of my saved cart.
Chicago friends, this is one of my favorite neighborhood floral shops. They just celebrated 50 years, and their story is interesting. I always love popping my head in here when I pass by.
This week's best sellers include a few items under $100 and the sweatshirt I have worn on repeat.
I am crushing on these heels for fall
Such an interesting opinion article from NYT. In Paris, I get judged more on what I speak, not how I look
How to Upgrade Your Airline Seat Without Breaking the Bank
Everything to Know About Flying with a Dog For everyone asking me when Henri is flying to Paris: I want to do it, but knowing it would be stressful for him makes me reconsider.
8 Tips for Getting Cheap Train Tickets Throughout Europe
10 Sustainable Button Down Shirts For Women – some of my favorites from Sézane and Quince are on this list!