What to do in Paris When it Rains

When it comes to what shoes to wear when it is raining. I LOVE my Blondos
. If you haven't heard about these shoes, they are just the best. Super comfortable, and stylish and they are waterproof. I have owned mine for years and they have been through many rainstorms in Paris.
The Parisians do still look stylish even in the rain. Make sure you pack the essentials if rain is in the forecast.

Rainy Day Activity: Walk the Paris Passages
What to do in Paris When it Rains: High Tea
High Tea is a real treat in Paris. A rainy day is a perfect time to spend an afternoon over tea in a beautiful hotel or one of the tea rooms in Paris. Some of my favorite hotels that have High Tea include The Bristol, George V Four Seasons, Le Meurice, and The Ritz. The tea will come with sweets, scones, and finger sandwiches. I spent a rainy day at The Bristol for high tea and ended up taking a box back to my hotel with sweets I couldn't finish. Definitely arrive hungry for a high tea.
What to do in Paris When it Rains: See A Movie
Try one of the historical theaters in Paris such as the Cinema de Pantheon. There are theaters close to the Odeon metro stop. Some of the movies offer English subtitles. It is the perfect excuse to enjoy the guilty pleasure of watching a movie in the middle of the day. I saw Midnight in Paris in Nice at a theater by myself and it is still one of my favorite solo travel memories.
Wait out the Rain on a Covered Terrace
The good thing about the Paris weather is that it eventually passes. Grab a glass of wine or tea/coffee and wait out the rain. You will still be able to people-watch for a bit while the storm clears. Crack open a good book and enjoy it from a covered terrace. Don't let a little rain ruin a trip to Paris.
Visit a Museum
When it comes to visiting museums in Paris, I like to leave them for a rainy afternoon. You can visit the Louvre museum and see Mona Lisa. The Musée D'Orsay is filled with French impressionist paintings. One of my favorite museums is Musée Nissim de Camondo which is close to Parc Monceau.
Purchase tickets for the Palais Garnier which is absolutely stunning and worth visiting. A guided tour is also available for an additional fee. The Palais Garnier is very close to many of the shops if you want to do some souvenir shopping or clothes shopping afterward.
For 5 Museums that aren't the Louvre, read this post.
Angelina Hot Chocolate
In the winter months, visit Angelina for their famous hot chocolate. It is decadent but a must-do at least once in Paris. They also have a cart outside on some days if the line is long to get inside, you can do takeaway and stroll around the arcades under Rue de Rivoli to wait out the bad weather.
Shop for Souvenirs
Embrace It
Some of my best-selling photographs in The Print Shop are from moments in the rain. I know I will get wet but exploring Paris in the rain is part of the fun. Grab an umbrella and go for a walk. The streets will glisten as the sun hits the cobblestones.
Wine Tasting in Paris
Enjoy a wine tasting at one of the many wine bars located in Paris. Some of them offer a covered outdoor terrace which is a great way to escape the weather or a quick shower. Some of my favorites include Septime La Cave, ô Chateau, Chez Georges, and Willi's Wine Bar. You can do a quick google search on your phone if you need a good option. There is no better way to learn about French wines than a guided wine tasting.
Do you have a favorite rainy day activity? Comment below and share!
xo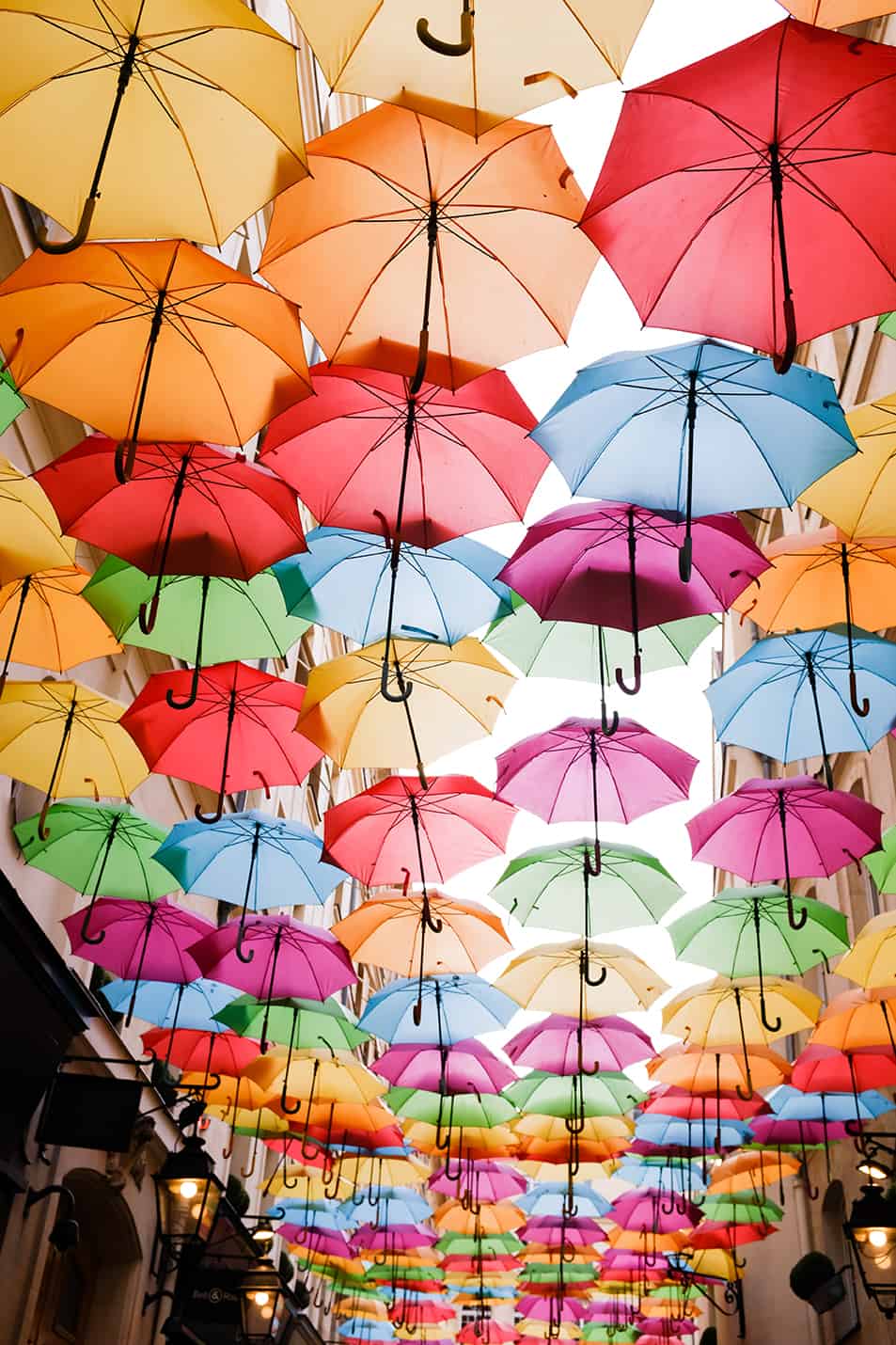 This post does include affiliate links that help contribute to my coffee and croissant research. Merci!
Photos of me by Jennifer Claire Watkins