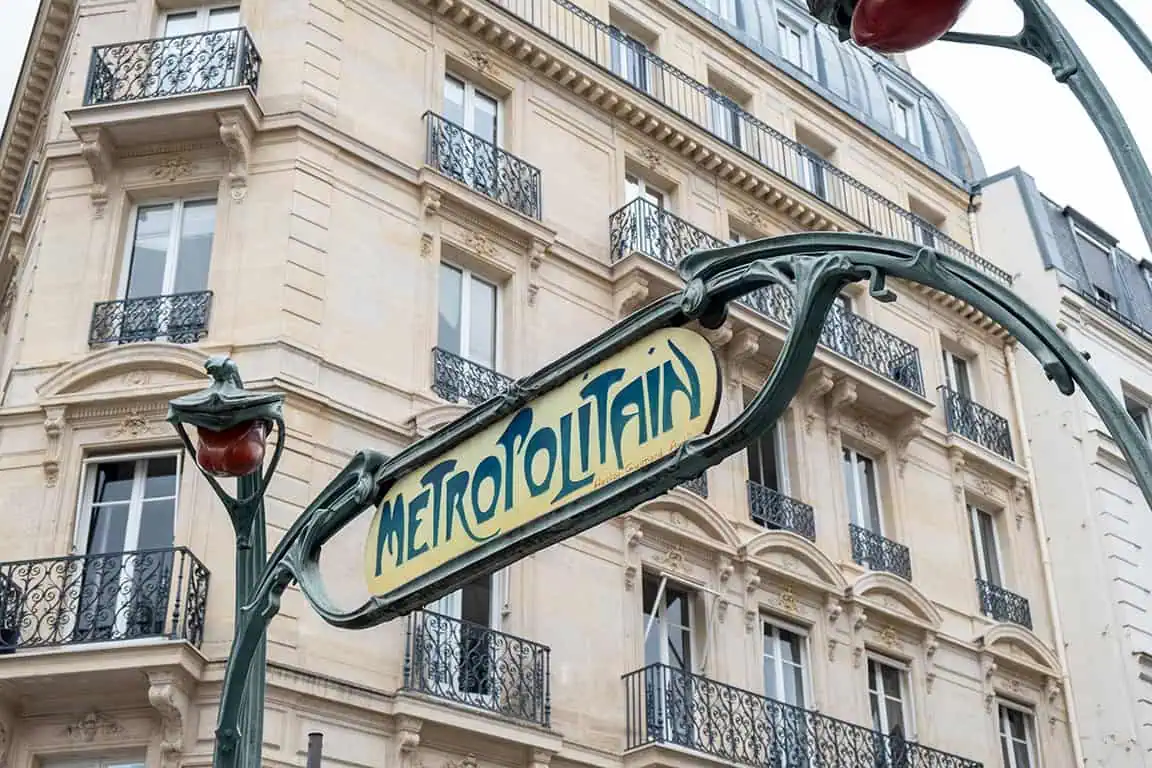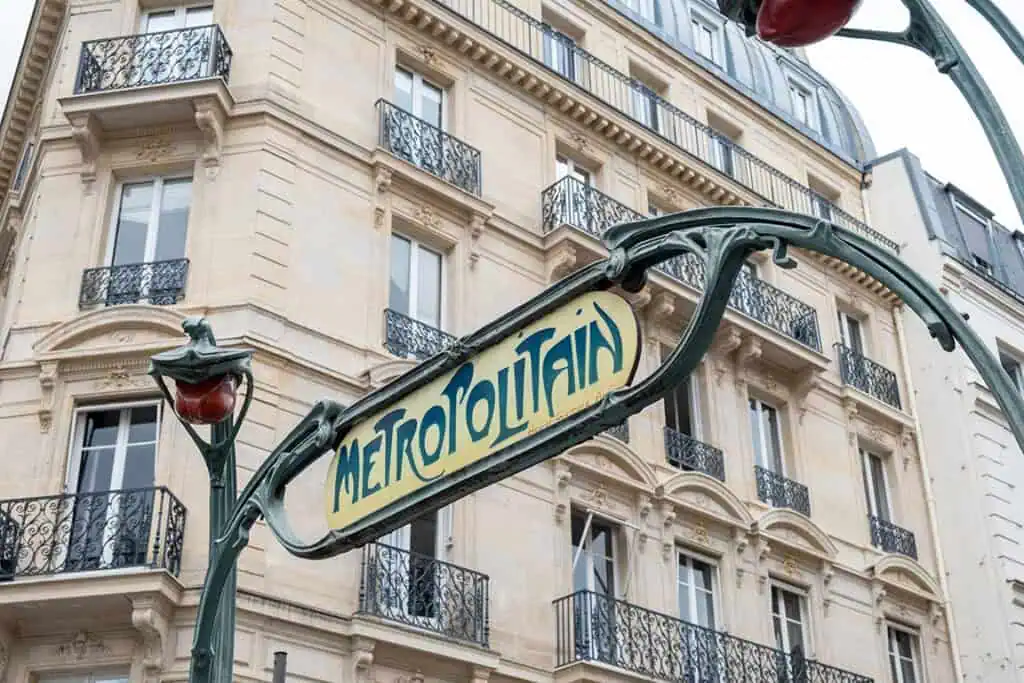 The best French souvenirs from Paris can be found in a variety of places in the city and not all of them have to break the bank. Some souvenirs can be sentimental like a metro ticket, matches, or a menu from your favorite bistro. Blog readers have been requesting this post for a while now. This post will cover a wide variety of ideas for you to bring home for yourself or the Francophile in your life. You can also think ahead for a birthday, baby gifts, and holiday gift ideas from your trip to Paris.
The Best Paris Souvenirs
Did I miss one of your favorite souvenir ideas? Drop your favorite below and share it with the community.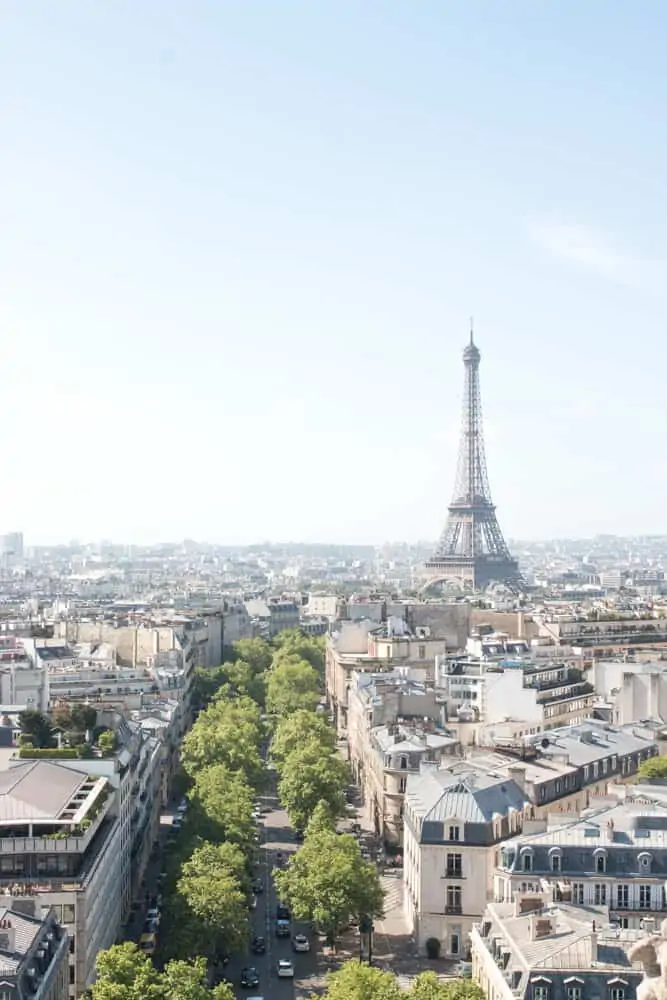 Paris Souvenirs at a French Grocery Store
You may not think of it, but the grocery store is a great place to shop for souvenirs. There are lots of unique French products to bring home. Browse the aisles and keep in mind if you are packing in a carry-on or checked bag. If you have a checked bag, look out for confiture (French jams in a variety of fruit flavors), olive oil, and honey. I love bringing back Fleur de sel as a gift for friends that cook. You can also bring back a colorful tea towel which is a Torchon in French. French kitchen items make the best souvenirs for the chef or baker in your life.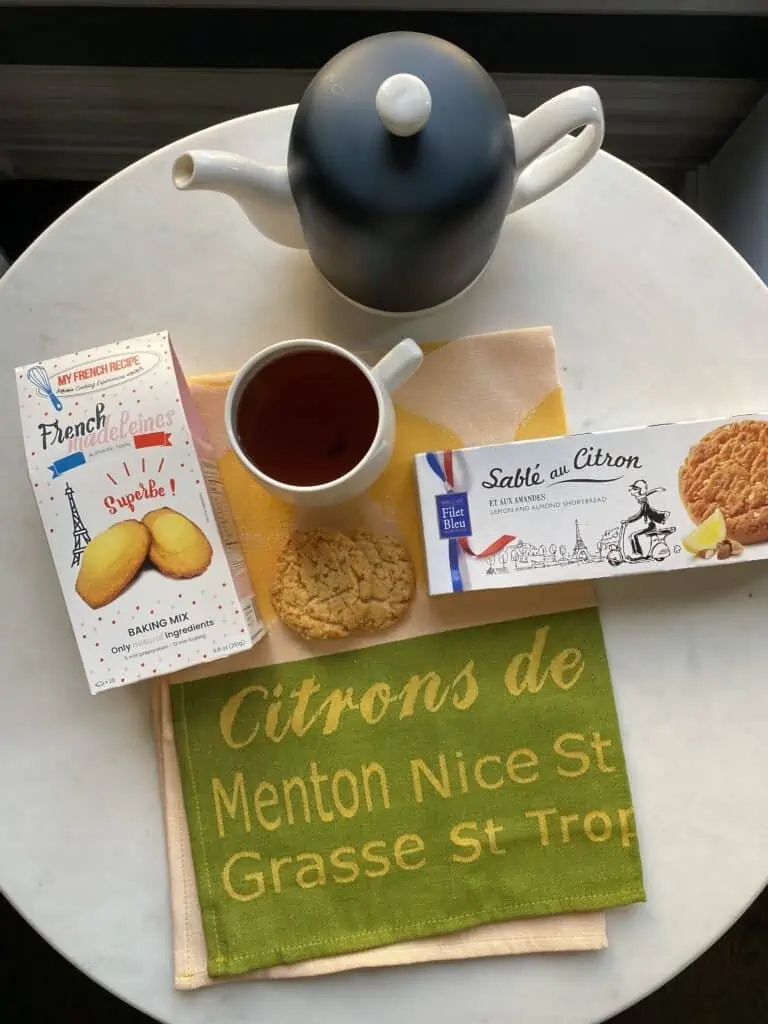 E. Dehillerin
Dehillerin is a kitchen supply shop in Paris that is world famous. My friends at La Cuisine Paris always talk about this shop. It is the perfect place to discover if you love kitchen items. They have a wide variety of professional cooking equipment, baking pans, and copper pots. They are closed Sundays so keep this in mind as you plan out your schedule. Dehillerin ships to the US so if something doesn't fit in your suitcase, you can have it sent home.
Flea Market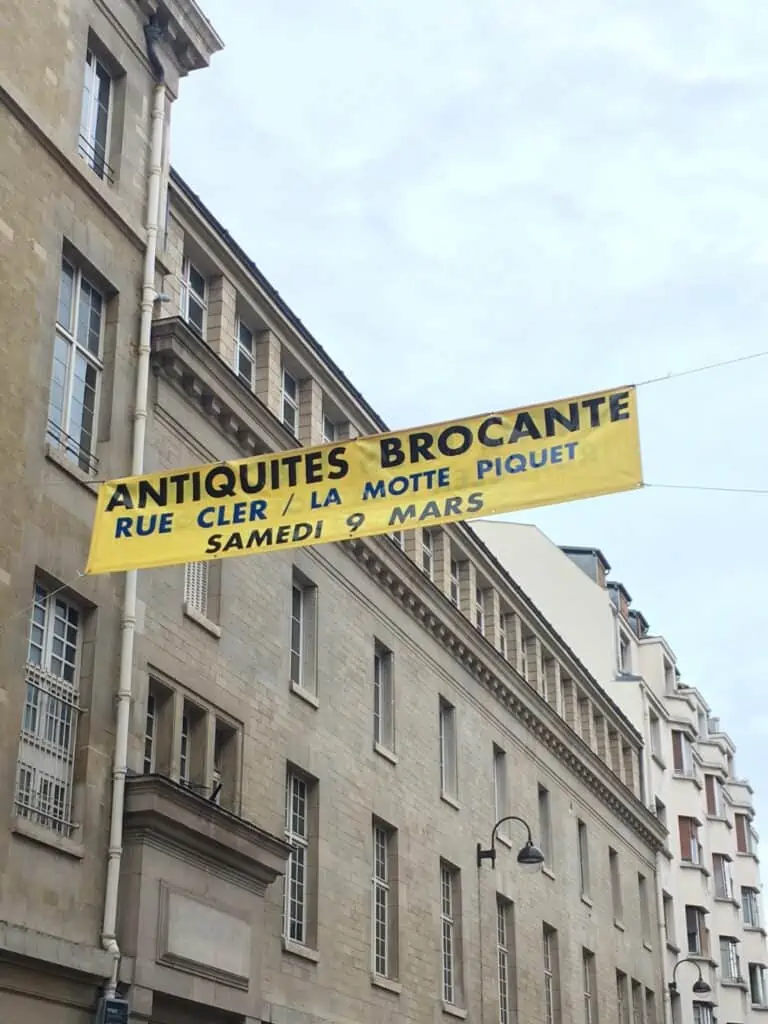 A Brocante is a French flea market and you will find them all over the city in different areas. There are pop-up Brocantes on the weekends that will be identified by signage in the arrondissement a few days in advance.
When I was engaged in Paris, I felt it was the perfect opportunity to get special dishes which I called engagement dishes. I wanted French dishes or a serving piece that was old and had character from one of the flea markets. There was a Brocante by The Saint James Hotel where we were when we got engaged and I was determined to find something. Sadly, we didn't have any luck with the dishes. I hope to find something fun and unique for us to use for entertaining in the future.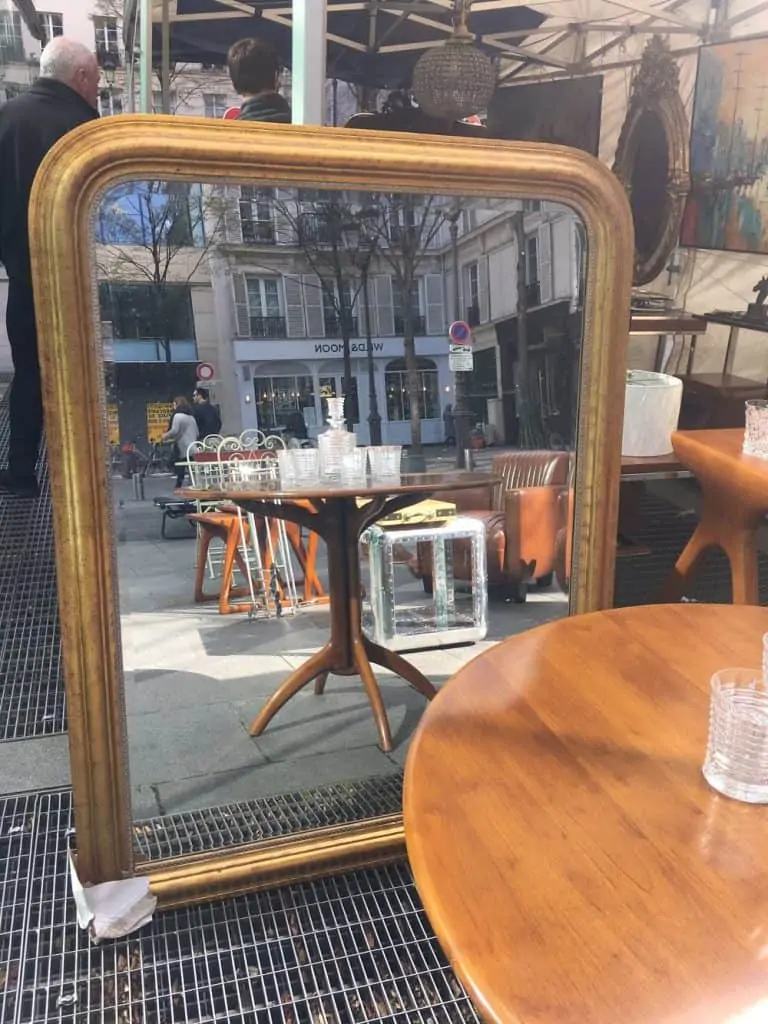 Paris Museum Gift Shop
The museum gift shop shouldn't be overlooked as they are some of the best souvenir shops. Pick up a postcard, bookmark, or poster from the Louvre or Musée D'Orsay. Each museum gift shop will have specific items based on the art and exhibitions at the museums.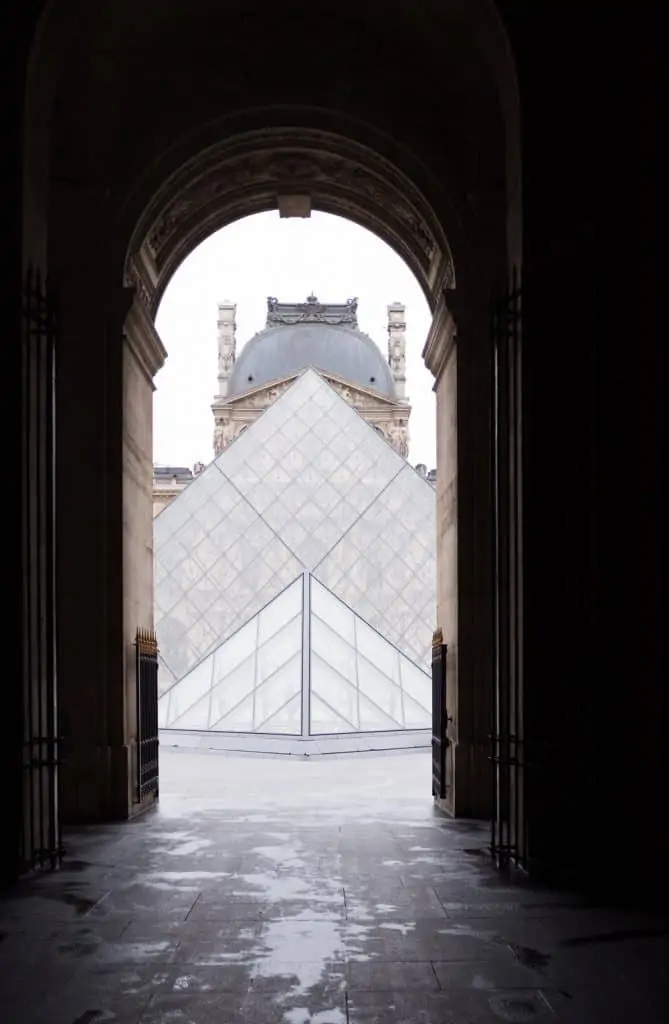 Buying French Perfumes in Paris
Perfume is very personal to me and may be best for a gift for yourself instead of bringing something home to a friend or loved one. You should wear the scent on you throughout the day to see how it changes and if you still enjoy it. You can create your own perfume in different places in Paris. Check out the Fragonard perfume museum close to the Opéra Garnier for something special. The Paris department stores have a wide variety of different brands of French perfume. This is probably the best place to purchase a perfume with the guidance of a sales representative. Don't be intimidated by the sales staff not speaking English, there should be someone on hand to help you.
Local Artists
Place du Tertre is known for the local artists in Montmartre painting portraits and selling their art. The area is touristy, and I recommend buying art on the banks of the Seine. I have had luck outside the Louvre museum crossing over to the Left Bank and on Pont Neuf finding local artists who paint or draw. A few years ago, I purchased a piece framed in my home and a beautiful reminder of Paris. You can also find a painter in Place des Vosges occasionally that does beautiful paintings.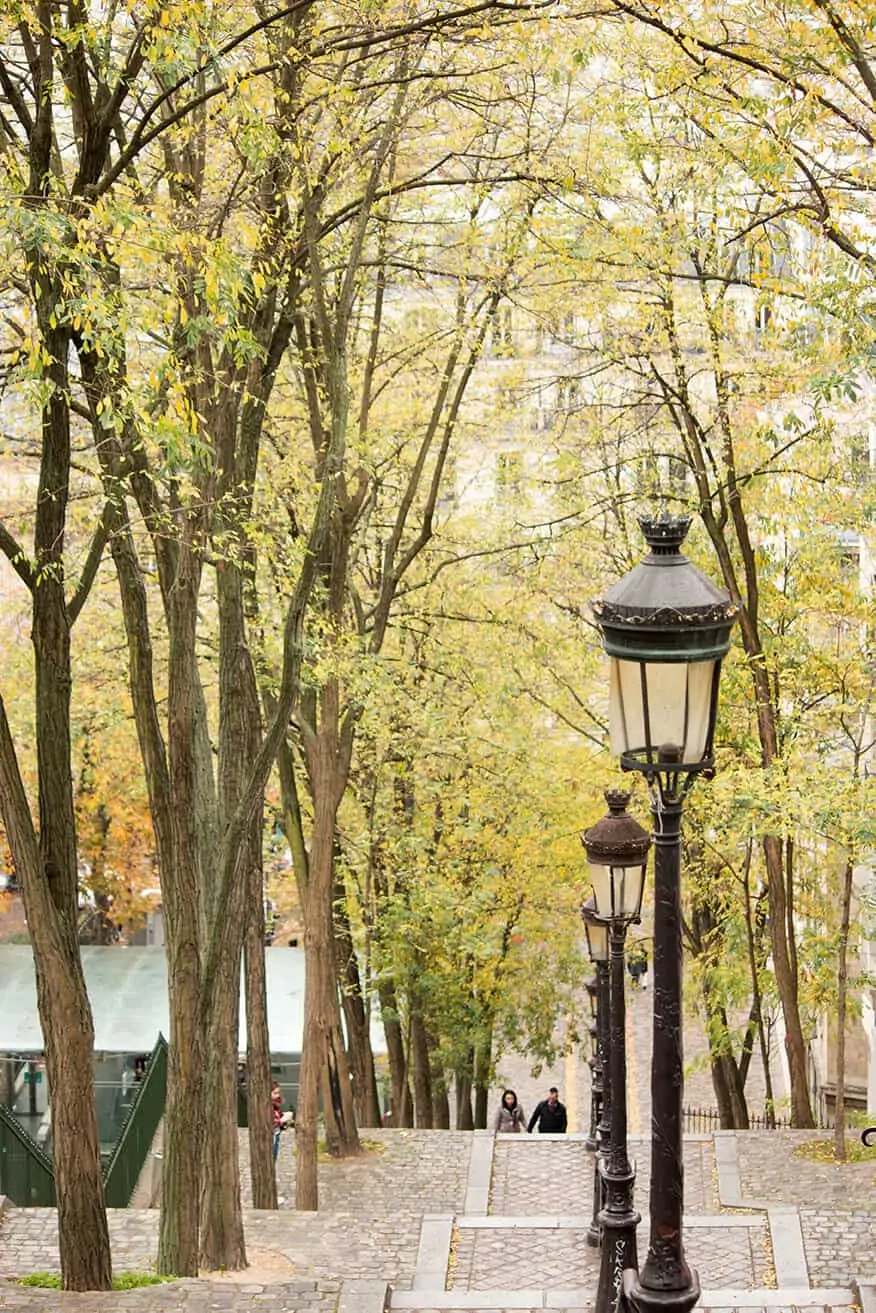 French Beauty Products
I love to shop the French pharmacies for beauty products. I started trying different French brands for skincare when I moved to Paris in 2013 and I haven't stopped since. There is always something new to try or discover. Some brands to look out for are Avène (they are famous for their healing thermal water), Klorane (my dry shampoo of choice) which is also the best-selling French dry shampoo, Caudalie, and Sisley Paris are my favorites. Sisley Paris is a higher-end makeup and skincare brand and you might have better luck finding it at duty-free or a department store.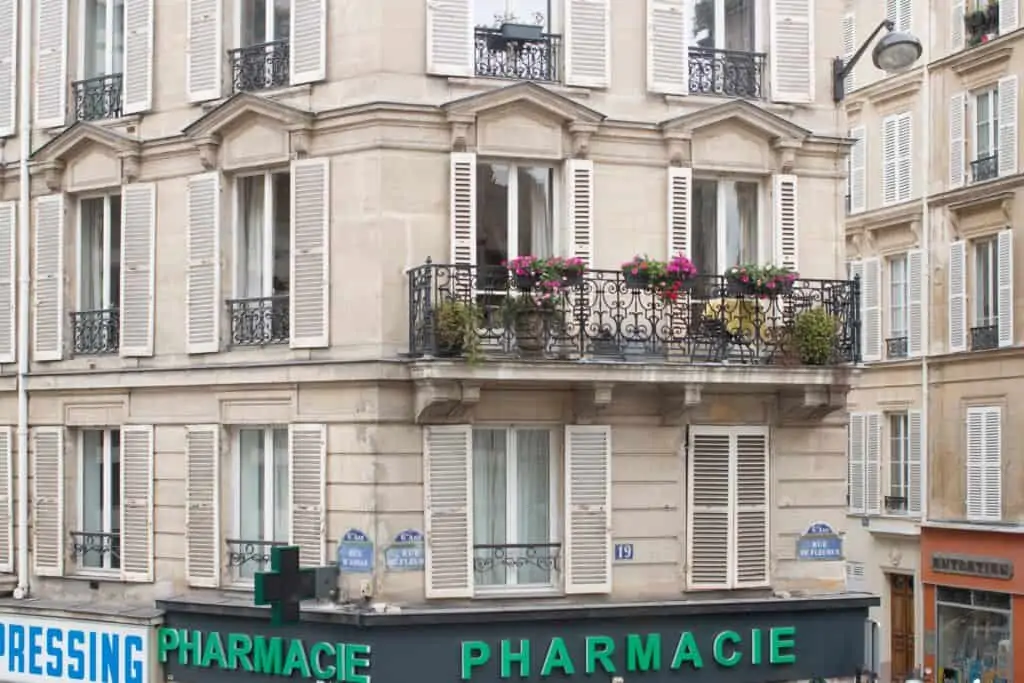 The Best Paris Souvenirs: Shakespeare and Company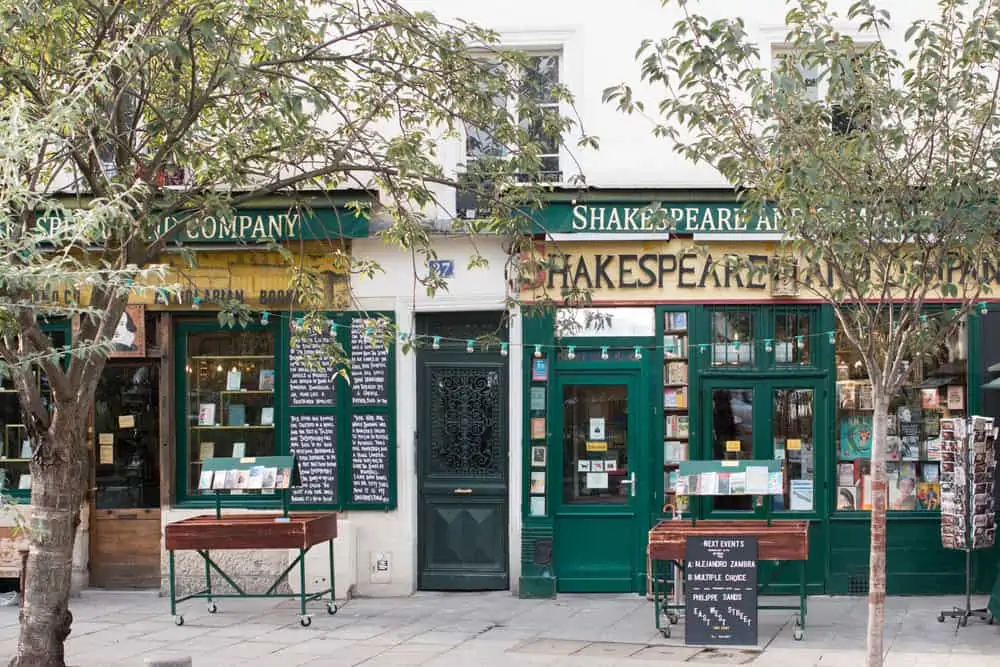 Anything from Shakespeare and Company is a great gift for the book lover in your life. This is one of the most famous bookstores in Paris. You can purchase second-hand books as well as new books from the bookshop. Always remember to have them stamp the inside with their iconic Shakespeare and Company stamp. If you don't have tons of room in your bag, you can always pick up a tote bag. These canvas tote bags help contribute money to the bookshop and can be used at home in the US to help you remember your special trip.
French Food Items
If you are a foodie or know someone who loves to cook, bringing home a French food item may be the perfect souvenir. French dijon mustard is a great idea and visiting the flagship store in Paris is also a fun experience. The Maille mustard shop is located close to the Madeleine metro stop in Paris. You can taste all different types of mustard some have unique flavors such as fig and classic honey mustard.
French cheese makes a great gift for a Francophile. Some cheese shops will vacuum seal your cheese so you can put it in your suitcase. Specifically, a cheese shop on île Saint Louis will do this for you.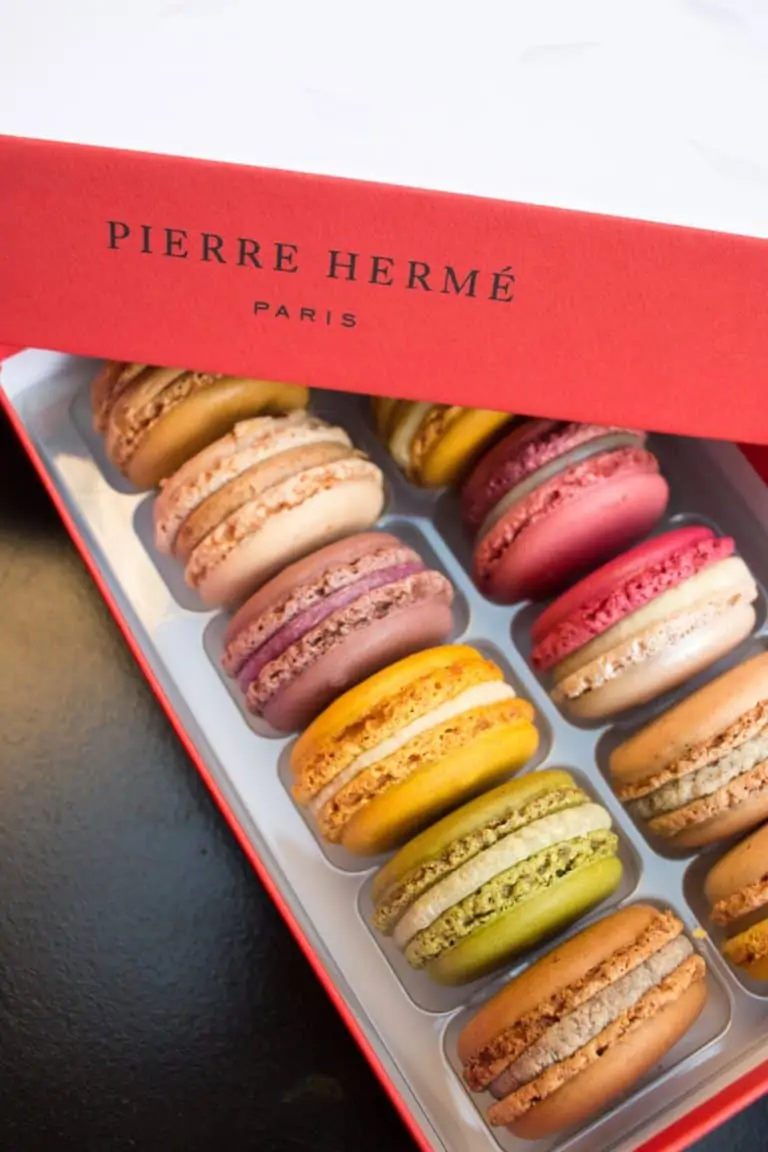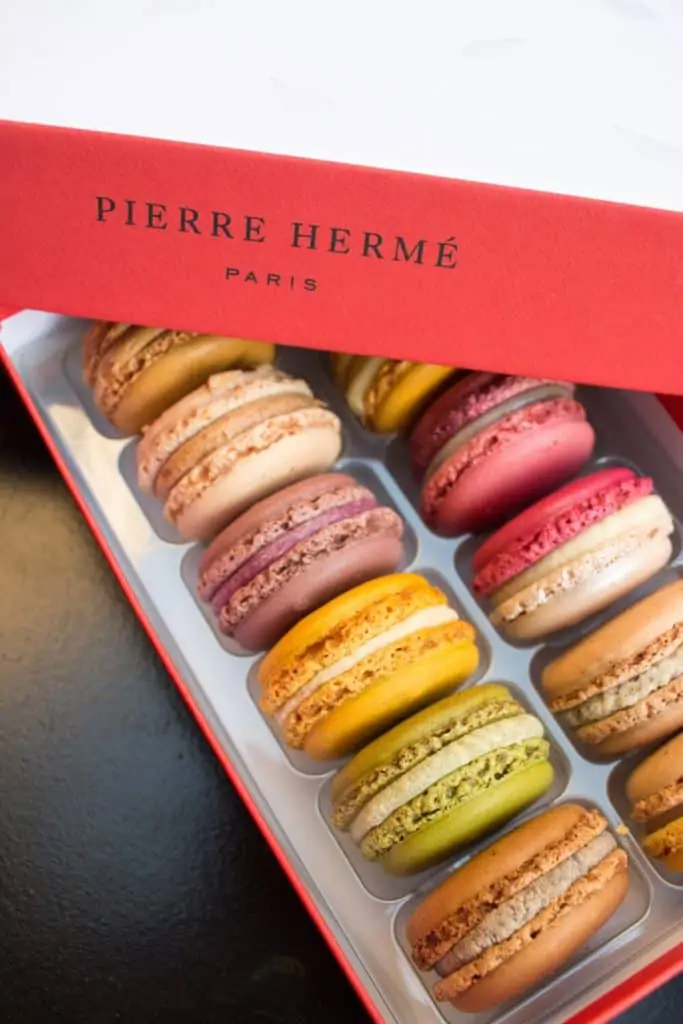 The Best Paris Souvenirs: French Desserts
French macarons from Pierre Hermé are my top pick for those who love macarons and want something French and fresh from Paris. There is a Ladurée shop at CDG but I would recommend you pick up a box of Pierre Hermé before heading to the airport. They will keep in the fridge for a few days or you can freeze them for up to a few months.
Angelina Hot Chocolate is a classic Parisian souvenir. You should try the hot chocolate yourself at least once but I will warn you it is thick and very sweet. They have a few shops around Paris and Versailles. I recommend the tea room on Rue de Rivoli for the full experience. It is one of the best things you can do on a rainy day in Paris if you are visiting for the first time. This goes over very well with kids. Angelina sells hot chocolate in a liquid form in a bottle or a powder version. You can tuck the powder version away in your carry-on.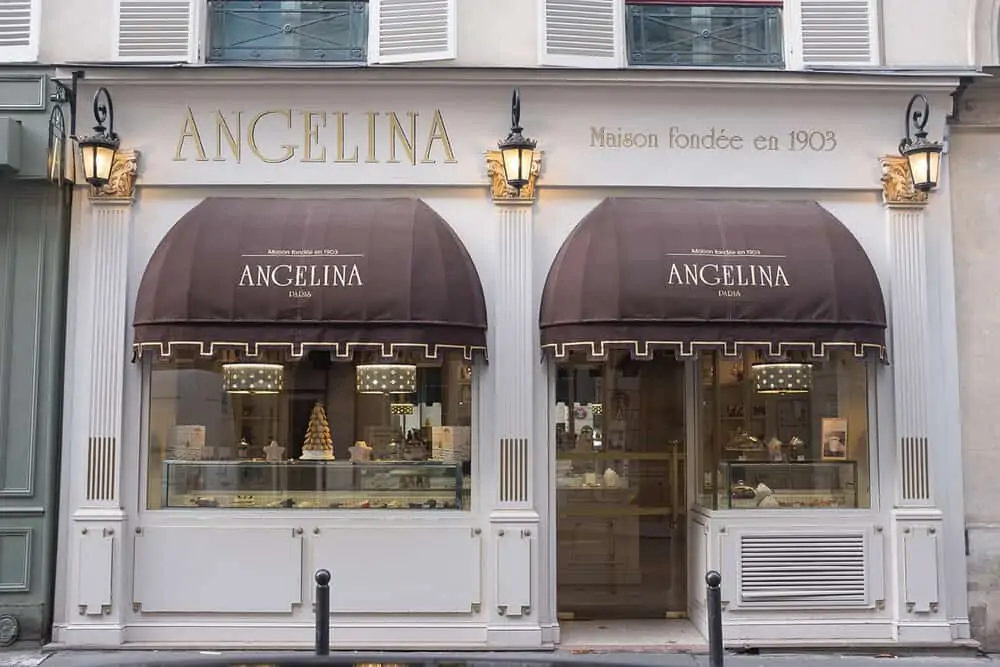 French chocolate is my favorite souvenir from Paris. Alain Ducasse is where I typically buy chocolate for myself and for gifts for friends at home. Their packaging is beautiful, and there are a few shops around Paris. I love anything praline and with dark chocolate or praliné avec chocolate noir. They have various flavors between dark chocolate and milk chocolate, available in bars and small chocolate pieces. The bars are my preference to take home, and I love to break off a little square with a cup of coffee to remind me of Paris.
The Best Paris Souvenirs: Tea from Mariage Frères
Mariage Frères is famous for its tea. They have a large variety of tea selections which makes a great souvenir. In Paris, there are several locations now to pick up Mariage Frères tea. My favorite shop is on the Left Bank of Paris on Rue des Grands Augustins. I try to pick up some tea for home each visit. Their fruity green tea is what I typically drink at home. If you are traveling during the holidays, don't miss their Christmas tea which is a top pick of mine. Mariage Frères has a new variation each year.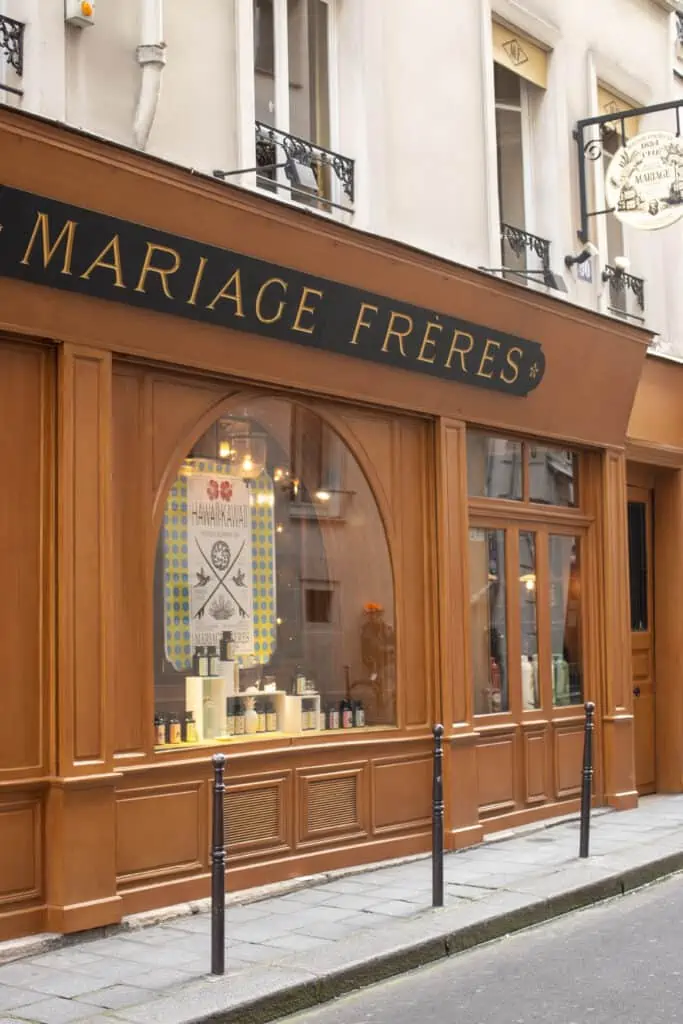 Paris Department Stores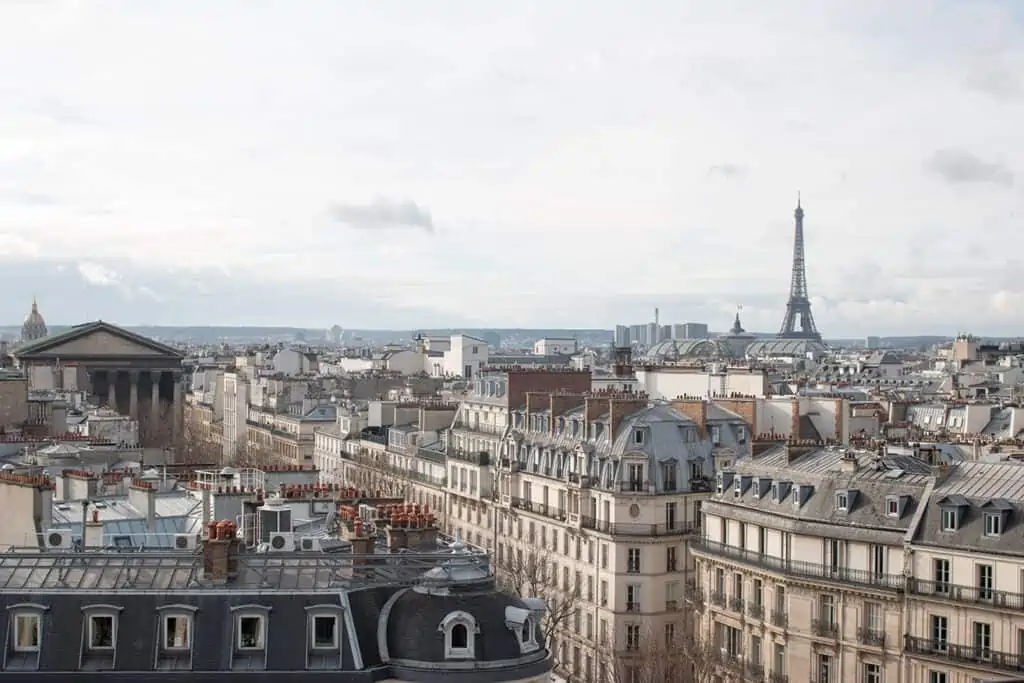 Galeries Lafayette and Printemps are two major department stores located on Boulevard Haussmann. The department stores are huge with a huge variety of clothing brands for men and women. If you are looking to buy gifts for multiple people, this is a great way to get it all done in one place. Don't forget to bring a photo of your passport so you can qualify for the VAT tax and save 12% on your purchases over 100 euros. The major department stores will be able to guide you easily and walk you through the process. You will have to turn in a form at the airport so allow extra time. You can do the VAT tax at stores all around Paris, just make sure to ask as you are checking out for the forms. It will take a bit longer as they have to enter it manually.
Photography
Photography of Paris makes my favorite souvenir. There are many trips when I barely buy anything to bring home but I always bring home photos of Paris. As a Paris photographer for over 10 years, I love capturing the city's everyday life. If you don't take the best photos, leave it up to me and enjoy the city of Paris and you can purchase something from The Print Shop to remind you of your trip to Paris.
I also recommend hiring a photographer to capture you in Paris. This idea is great for families, couples, and solo female travelers. My friend Katie Donnelly has done all my photography for years and her photos of me in Paris are some of my favorite memories.
The Best Paris Souvenirs: Metro Tickets
This may sound simple, but I truly love discovering old metro tickets in my pockets or at the bottom of my purse. They will eventually phase out the metro tickets, and these will be collector's items. The metro costs 1.90 euros to ride, and it's the perfect little memento of Paris. I use the metro tickets on my desk as reminders of Paris, and they make the perfect bookmarks.
Where to Buy Baby Gifts in Paris
One of the most popular French items you may know is the giraffe Sophie which is a teething toy. This can be found at different grocery stores and pharmacies in Paris. For a budget-friendly and cute option for clothing, I love Monoprix, like a French version of Target. They have adorable baby clothes and toys that fit easily in your suitcase. Also, I love Petit Bateau, a French brand you will find all over Paris. Their branding is iconic blue and white stripes with bright yellow; you can't miss it.
I hope you enjoy this post on the best Paris souvenirs in Paris and this helped you come up with ideas for your own friends and family for your next trip to Paris.
The Best Paris Souvenirs: Luxury Goods
The euro is currently at a very good rate in comparison to the US dollar which makes shopping even better for American tourists. If you are looking to purchase a luxury good such as a handbag, purse, or pair of shoes now may be a perfect time. Visit the Chanel store on Rue Cambon for the original Chanel store where Coco Chanel had her apartment in Paris. Louis Vuitton is less expensive in France than in the US and can be a fun experience if you are looking to purchase a bag.
I recommend having patience when shopping during peak times or during the weekend, as luxury shops can be extremely busy. Ask for a glass of champagne, take your time, and soak up the experience. The shops on Rue Saint-Honoré have a lot of the flagship locations of the major luxury brands. Even if you don't have it in your budget, they are fun to pop in for a look.