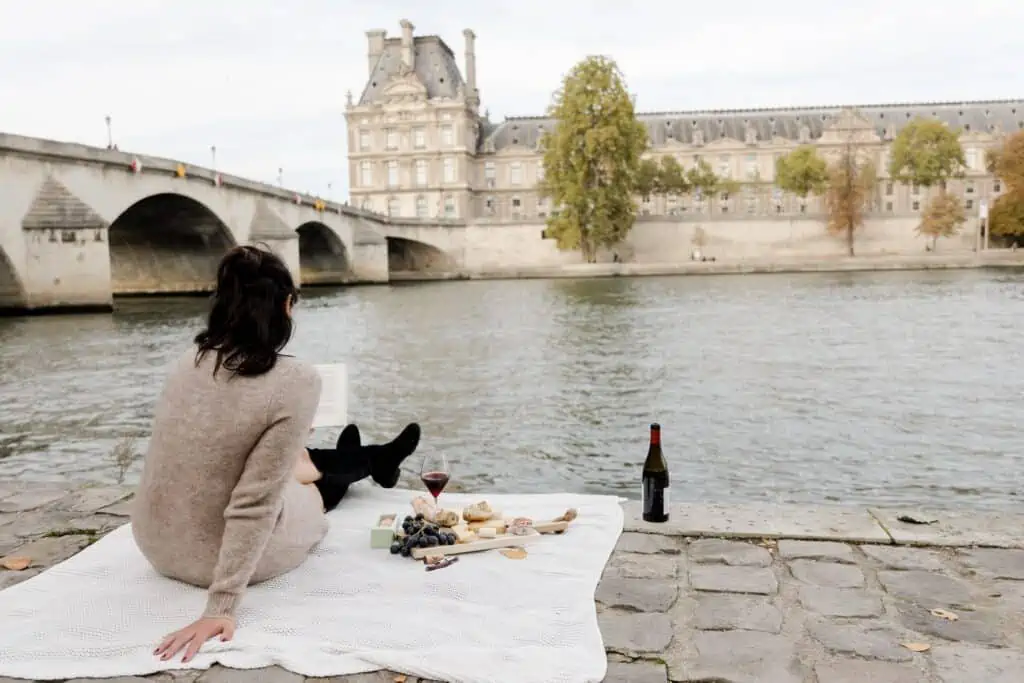 The Francophile Gift Guide is one of my favorite blog posts of the year. This features some of my favorite brands and small businesses I have shopped for and shared throughout the year. I truly hope this help find the perfect gift for your favorite Francophile not just for the holiday season but any time of the year.
Pour yourself a glass of wine and dig into these great gift ideas.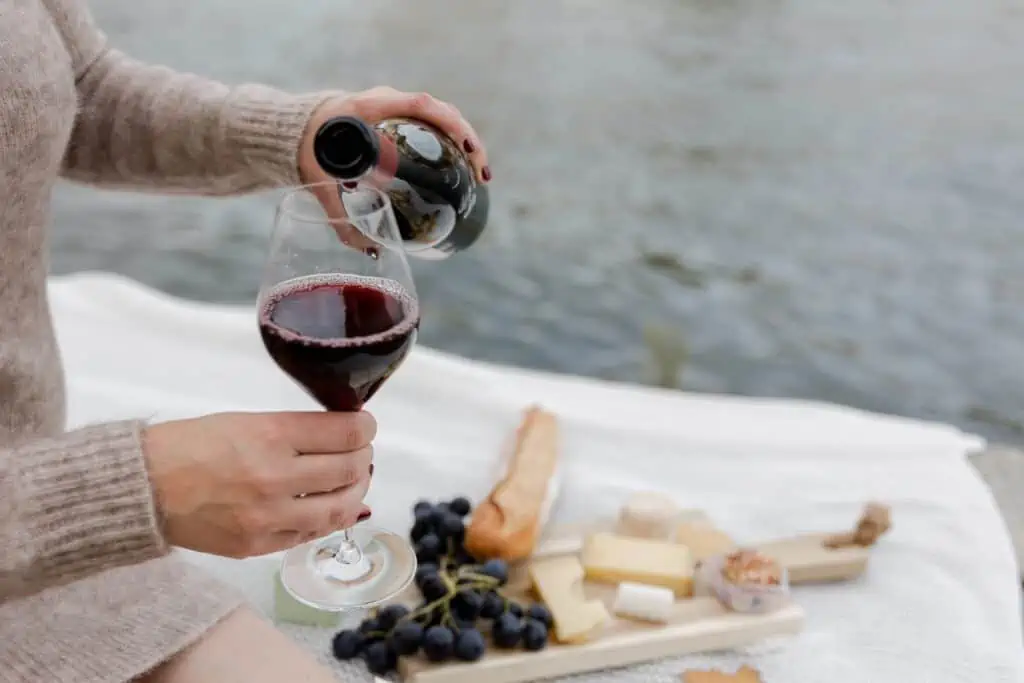 *This is a post I keep current and update often with new items.
Francophile Gift Guide
This gift guide doesn't necessarily have to be just for the holidays, you can refer back to this to help you find a gift for anyone who loves the French lifestyle and the Francophile in your life.
Francophile Gift Guide
Gift guides are back for the holidays! I love browsing gift guides because it helps me narrow down gifts from an overwhelming online selection. I hope this gift guide helps you find the perfect gift for the Francophile in your life even if that means you! Don't miss the opportunity to gift yourself something.
Polène bag. This bag brand has been on my radar for years and I finally made my first purchase in October of last year for this bag in black. I brought the Paris ladies along and I think just about everyone bought a bag in both October and Paris. I own this bag and this one as well which I love and brought to Paris. * gifted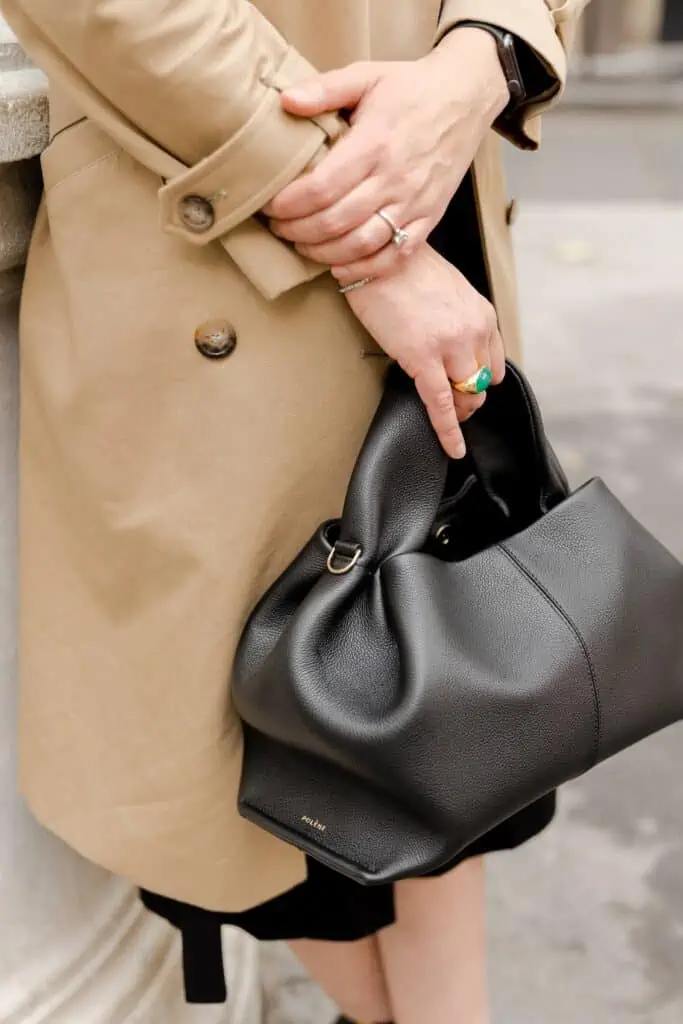 Gaspard Sezane Sweater. It runs a little big. I still take my normal size S. It can be worn two ways and it is one of the best-selling sweaters from Sezane and a very French iconic brand. I love that this sweater is size inclusive and comes in a wide variety of colors.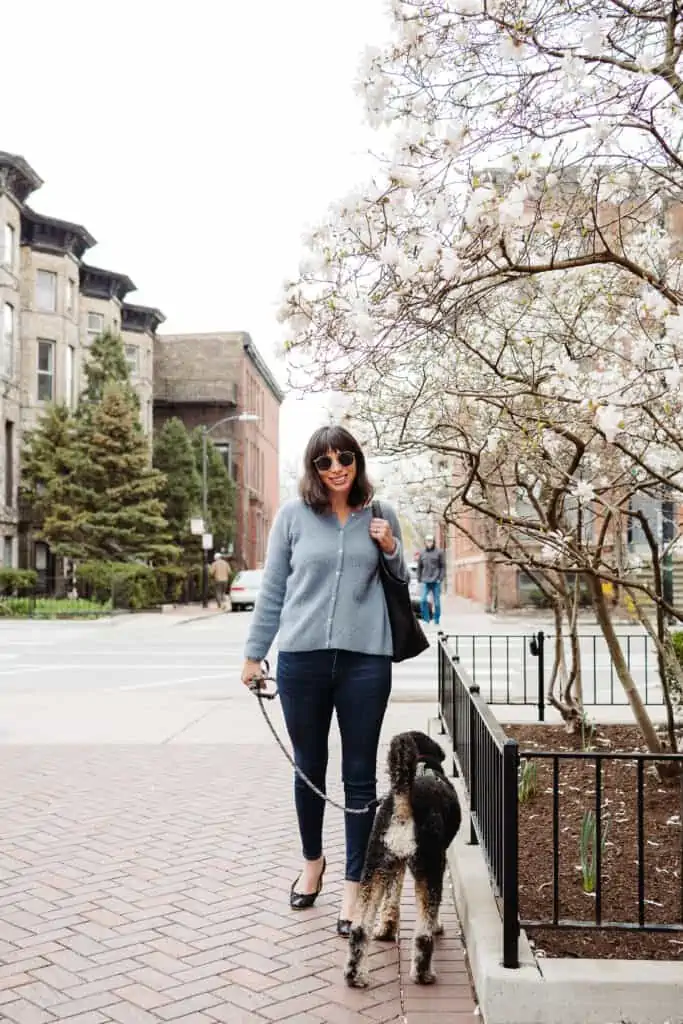 34 Boulevard Saint Germain Diptyque Candle I have this at home and love it. It has a Fall/Winter smell that is great for cozy nights at home. It has woodsy notes so you can burn it at home and your significant other might even love it as mine does. We love the ritual of burning a candle at the end of the day.
French champagne coupe $64. Perfect for toasting even the smallest occasions.
Bisous Notecards $30 Customize these notecards just for you. I have a set and love writing notes on them to friends.
French Picnic Basket In Bordeaux, my hotel served breakfast in the room outside of a picnic basket. I think it is such a fun and easy way to spend an inexpensive afternoon with a baguette, cheese, and a bottle of wine.
Madame de la Maison French linens. She offers a variety of colors of linen napkins and tablecloths to dress up your kitchen or dining room table for your next night of entertaining. We have the navy.
French Market Bag from my friends at POSH Chicago which is a French boutique store. This is the French market/grocery bag and you will be surprised how well it holds up with heavy items. Use it for the market or grocery store. It can be thrown inside a bag and pulled out for a quick grocery run.
Lucky Star necklace I discovered this brand while stumbling into the store in the Marais in Paris and wish I could gift it to everyone. I love the personalized pieces you can write anything your heart desires.
Rose soap dish from Diptyque. I love the design and it could make for a little catch-all on your nightstand for earrings or in the entry for keys.
Foodie Francophile Gifts
I love to bake and cook and I know that so many of you do as well. For the Francophile friend that loves to bake and cook like me. A few French brands that are popular and iconic include:
SomMailer French Wines delivered to your door. I recommend the C'est la Vie collection which is $99 for three wines. Each box is delivered with cards describing the pairing option, recipes, and flavor notes.
French Press coffee maker. We used a French press coffee maker at home all of 2020 and loved it. It definitely takes some time to perfect but the coffee is delicious. It's a fun weekend experience for coffee and croissants for a Paris breakfast at home.
Le Marais Classic Bake at Home Croissants. $60 I love the idea of making these around the holidays and the kitchen smelling just like a boulangerie in Paris.
La Cuisine Paris gift card for a cooking class or food tour. I love La Cuisine and rave about them for a good reason. I have taken their macaron and croissant classes along with a food tour. Everything has been so much fun and I can't wait to get back for more. I use a lot of their recipes at home in my own kitchen including their madeleines.
French Macaron Baking Kit $35. I love the founders behind Red Velvet. Macarons are much easier if you have this guide.
Tout Salad Plate $62. These are a splurge but if they fit their budget, they are adorable! I would love to have a few. These are selling quickly and will most likely sell out.
Eiffel Tower Cookie Cutter $5 My neighbor used a similar one to make Henri's treats and they were adorable!
More Francophile Gift Ideas
Mariage Frères Tea This is another iconic French brand you will find at cafés around Paris. Marco Polo is one of the most popular. I prefer the green teas which I bring home from Paris on the regular. You can bring home the black tins which make a great giftable item or just get the tea loose in a bag.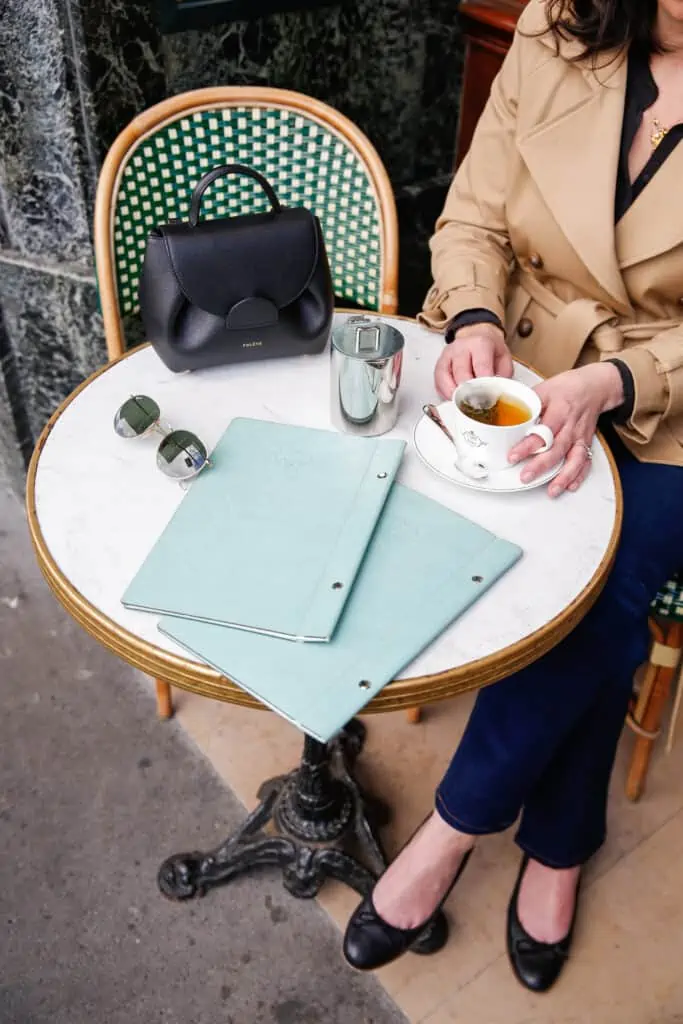 Degrenne Tea Pot This is one of the most used items in my kitchen from fall through spring. I make tea regularly in the morning and afternoon.
French Classic Cheese Collection. These are some of my favorite meals with a bottle of wine and a fresh baguette. I would love someone to send this to me.
When it comes to gifts, I prefer to give something to someone because I know they will find joy in it or it wouldn't be something they were planning to buy themselves. I don't always love buying gifts just around a certain holiday or celebration.
You could say one of my love languages is unexpected gifts.
Francophile Gift Guide
French Fashion Gift Ideas
I rave about Cuyana for a good reason. Their products are not only beautiful but they hold up well. I love this zip card holder for Paris. I carry just a few cards and very little cash these days. You can also monogram it with initials. Other Cuyana gift ideas include these travel bags which I think make the best wedding present with the new initials for future travels. Travel jewelry case for on-the-go small items.
Another travel wallet is this one from Sézane which is a bit larger.
Vejas I got my first pair earlier this year and love them so much. I have the blue in size 8. These are great for walking around Paris or pairing with jeans and a sweater.
Petite Plume Pajamas You know I love good matching pajamas and I have a collection of stripes in my closet. This combines them both!
Colette Marinère Shirt $100 I own this in red and wore it multiple times since purchasing it in Paris. I have it in size small. Make sure to read the washing instructions
Longchamp $145 Le Pilage Bag. I have had so many of these over the years in both navy and black. I also have the travel size for overnight and it folds down into a small bag which makes it easy to pack. A classic French bag that you will spot all over France.
Bouquet Roses Scarf from Marin Montagut is a great gift for a mother-in-law or mother.
Francophile Gifts Book Ideas
Shop The Print Shop for some of my photographs for yourself or as a gift. The prices start at $25 and there are budget-friendly options such as notecards and wrapping paper. Prints start at $35 and go up depending on the size. The Paris Calendar makes a great 2-in-1 gift item as well. You can cut out the images and frame the prints after you are done.
The guide covers some of my favorite books that I have read and ordered, and cookbooks that I have enjoyed and truly think make a great gift for a hostess or cook.
The Paris Library. This one is one of my favorite books I read in a long time. It takes place in Paris during WWII. I cried at the end. The story will stay with you. I also loved The Book of Lost Names I recently finished Jacqueline in Paris and ordered The Sweetness of Forgetting which is by the same author of The Lost Book of Names and The Winemaker's Wife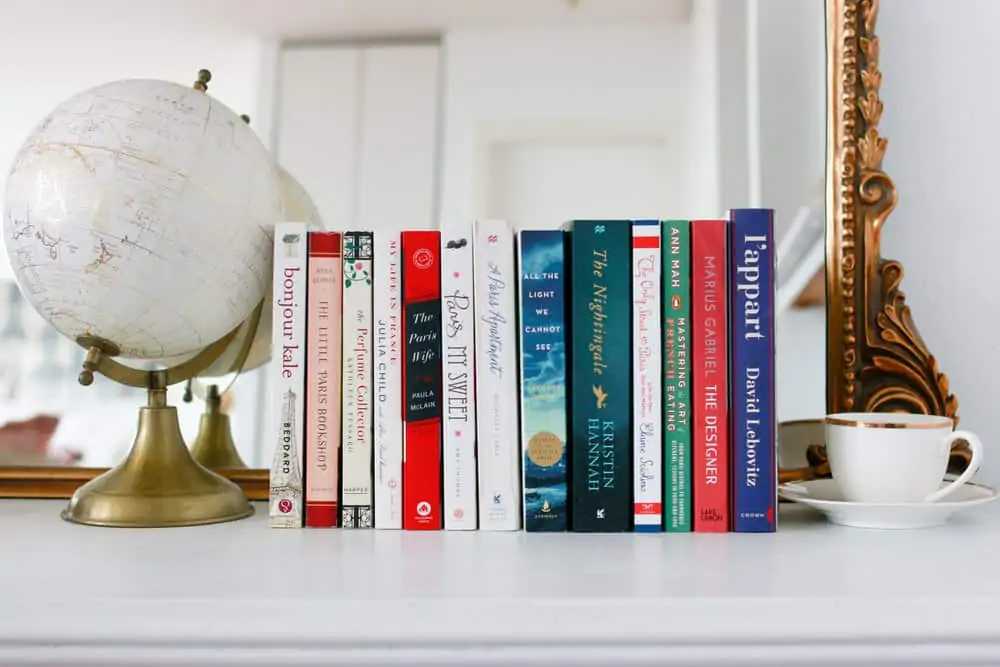 Makers Paris Hard Cover Book $30 This is a great book highlighting some of the makers of Paris.
I also love The New Parisienne of women shaping Paris.
More Francophile Gift Ideas
Art Prints by Shana Weisberg I had the pleasure to meet Shana who is an American who married a Frenchie and started a business in Paris. Not only is she the sweetest, but she is also crazy talented. I have a scarf of hers but they are sold out.
La Cuisine French Cottage Sign a fun addition to Frenchify your kitchen
A Year in Italy Calendar $35 For the Italy lover in your life.
Paris Monuments Votive $50 This isn't just for the holidays but a decorative piece for the Francophile year-round.
Roses Diptyque Candle is $68 and is one of my favorites to gift to friends. This is romantic and feminine.
For other candle ideas, Kerzon is a French brand you can buy at their boutique in Paris just outside Place des Vosges. They have a variety of candles named after different places in Paris.
For the French Kitchen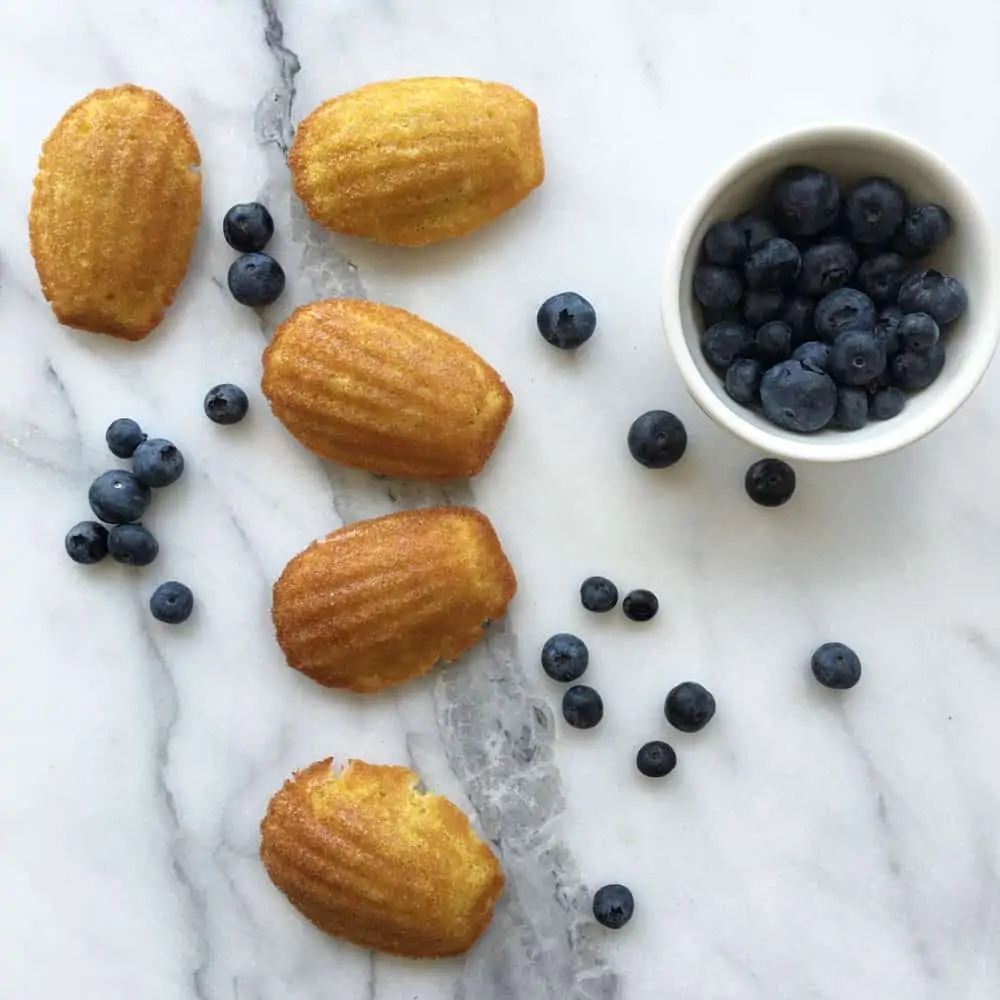 Madeleine Pan $33 Madeleines are one of my favorite French sweet treats. It is a must for a Francophile kitchen. Even if you don't bake, this beautiful gold tray makes a statement on a shelf.
Peugeot Salt and Pepper Shakers these are a classic French staple on the dining table. I want a set as a wedding gift.
Miel de Provence French honey from Provence. You will find every excuse to use this honey.
The Paris mug is back at Anthropologie. It sold out last year so quickly. I just ordered one for hot chocolate afternoons at home.
Fleur de Sel adds a little salt to every dish. Use it as a finishing salt for cooking and baking. You may also need this adorable salt holder to go with it.
French Market basket This one is under $30 and is one of the best-selling items on the blog available through Etsy.
Staub pan the 5 qt is really all you need. I bought this a few years ago as a gift to myself and I use it all the time for soups, roast chicken, and pasta. It truly is an amazing addition to the kitchen.
Compagnie de Provence Soaps for the kitchen or bathroom. This will make everything smell amazing. I love the rose and fig the best.
French Striped Organic Tea Towel I personally love the red.
French Beauty
How could we not talk about French beauty in a Francophile gift guide? It's one of my favorite topics and should have its own post.
Klorane Dry Shampoo is a French girl cult favorite. The minis are great for travel and I love refreshing my blow outs and bangs with dry shampoo.
Klorane Eye Patches I keep these in the fridge and when I don't sleep well or am puffy, it's an easy and quick fix.
Premier Cru eye cream I am including this because it is a splurge but I love the applicator so much and feel it's worth it. Definitely a good gift for a beauty lover.
Sisley Lip Twist The perfect red lip by Sisley. It's all I wear for lip colors. I love Burgundy 22 and 9 for a more casual look. I have so many of these in my bags and medicine cabinets ready to go for a fun pop of color. In the spring/summer poppy is my color.
Caudalie Vino Perfect set. This set has the Vino Perfect serum which is an essential part of my beauty routine plus two small travel sizes of the lotion and essence.
*This post includes affiliate links. I make a small commission off of items purchased from my links. merci!