Paris in the Fall is one of my favorite times to visit just behind blossoming Spring. Since 2013, I have enjoyed Paris in either September, October, or November. Our Fall in Chicago is quite short, we go from warm weather to maybe a week or two of sweater weather without coats and then boom it is is Winter.
Fall in Paris is a whole season! So I get the best of both worlds between the two. If you are headed to Paris in the Fall, make sure to check the schedule for activities that might affect your stay with hotel rooms. Fashion Week is in September and while it doesn't take over the whole city, hotel rooms are more expensive. If you are looking for places to stay, you can view my favorite boutique hotels here and there are more budget friendly hotel options in this second post.
Once you have a ticket to Paris and accommodations are sorted out, you are going to want to start planning activities. If you have never been to Paris I suggest you read this first time to Paris post. This is the list I send all my friends before heading to Paris for the first time.
Here are a few fun things that are happening in Paris in October that you should check out if you are in town:
Nuit Blanche on October 6th. This is called White Night and there are museums, galleries, and monuments that stay open all night long. I have never attended, my schedule has never matched up but I have heard great things. If you have been or plan on going, I would love to know your thoughts! This article has great information to food trucks and restaurants open as well as kid friendly activities.
October 10-14 is the Vendages de Montmartre. I went a few years back and it was a lot of fun! The event is free and Montmartre is so lively with people celebrating the harvest. There are food stalls just below Sacre Couer and a parade. You can see all the details here to help plan.
I am looking forward to Les Journées Particulières LVMH which takes place on October 13-14th. This gives a unique opportunity inside some of the best Fashion, Perfume, and Jewelry houses for a behind the scenes look. Tickets are available for booking on September 22, you can sign up on the website for ticket access. 56 houses in 14 countries! If you can't make it to Paris, take a look and see if there is something available in a city near you.
Jazz sur Seine October 12 -27. I plan on attending this while I am in town. I love jazz and this sounds like such a fun way to experience it. This year marks 100 years of Jazz in Paris so I am sure it will be a festive celebration. For details on booking your tickets.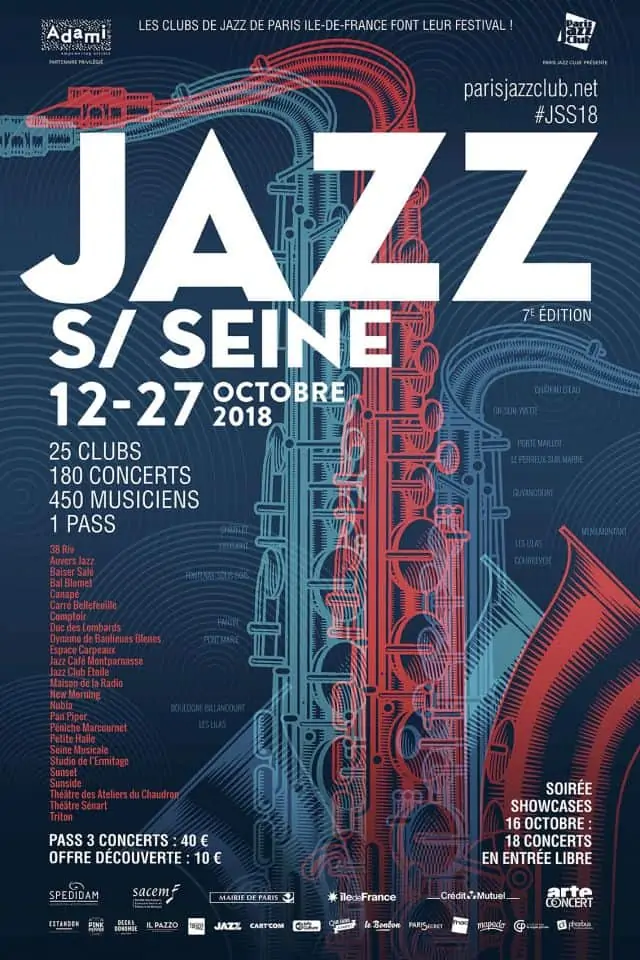 The Grand Palais is hosing the International Contemporary Art Fair on October 18-21. 180 different art galleries under one roof. If you haven't seen the inside of The Grand Palais this is a great opportunity.
Salon du Chocolat runs from October 31 to November 4th at Porte de Versailles. This is a fun activity if you love chocolate. I have never been but I have always wanted to go. You can find purchase tickets and find more information here.
Activities:
I always recommend a cooking class at my friends at La Cuisine Paris. They offer some fun food tours too! Tell them I sent you. They book up fast so make sure to book ahead online.
If it rains, which it most likely will at least once. Stop by Angelina for hot chocolate. There is a location just close to the Louvre. You can also take it to go and stroll the Tuileries.
Stroll through Luxembourg Gardens and read a book or pack a picnic.

Sweaters are a must! The first couple weeks will be an Indian Summer if you are lucky but towards the end of October there will be a chill.

For walking around Paris, I can't recommend my favorite Blondos enough. I own 5 pairs and counting. I can walk 10 miles in Paris in them and not worry about my feet. I have ruined way too many shoes by being caught in the rain.

For my full packing this for Paris in the Fall you can see this post.
I highly recommend getting lost in the city by foot and exploring new neighborhoods. Pick a café for a glass of wine and people watch. I try to get away from the touristy part of Paris as much as possible for terrace time. I never feel awkward by sitting alone at a café. I will strike up a conversation with a table next to me or with the waiter. You can bring a book with you if you don't want to talk to anyone. Just make sure to watch your belongings. My safety tips are in this post. 
If you are looking for a museum for a rainy day you can check out this post for some of my favorite museums that aren't the Louvre.
Have you experienced Paris in the Fall? I would love to know your favorite parts of exploring Paris during this season.