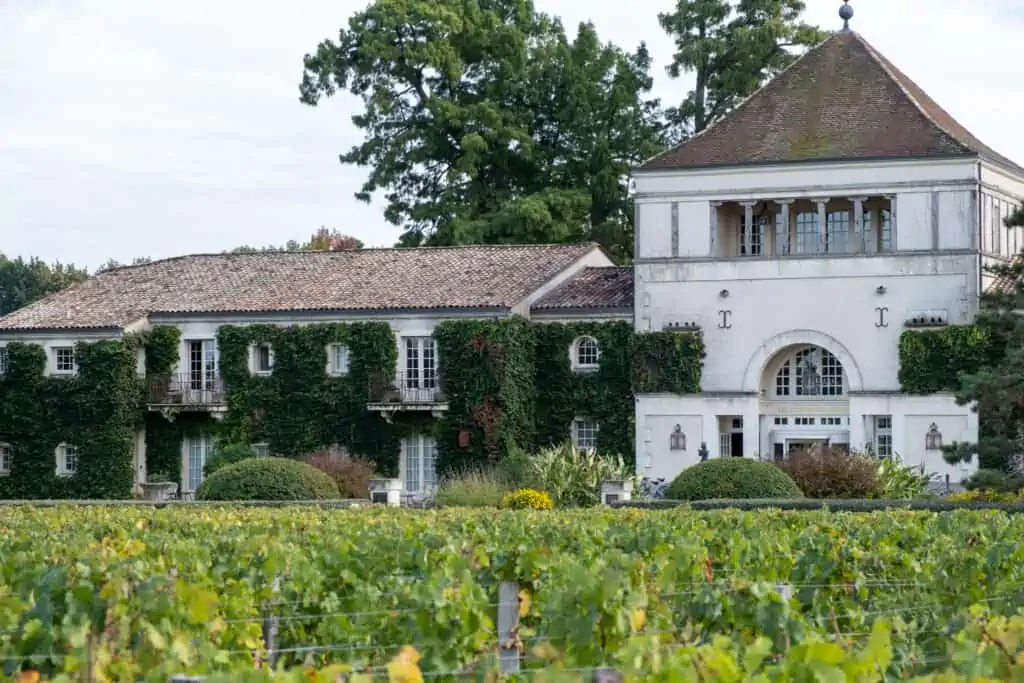 Les Sources de Caudalie Bordeaux
Trips to Paris have become a regular part of my job as I gather new content for the blog and take photographs for The Print Shop. I knew I wanted to explore more of France this year and The Sources de Caudalie in Bordeaux has been on my bucket list of hotels for years. It took three attempts due to my schedule but I finally made it happen in October. My fiancé was supposed to join me on the first two trips and when it came down to scheduling, I ended up going alone. I decided to turn it into my solo bachelorette party of one as my wedding is later this year. Truly, a great decision on my part.
First Impressions of Les Sources de Caudalie
I had really high hopes for this hotel so much that I was worried I would be disappointed. It has been on my bucket list for years and I have been following the hotel on Instagram. From the moment I drove up to the hotel, it was above and beyond my expectations. The hotel welcomed me at the front desk with attention to detail and even managed to ask about Henri! My room was ready and since it was my first time on the property, they walked me around to give me the layout and all the amenities including the spa.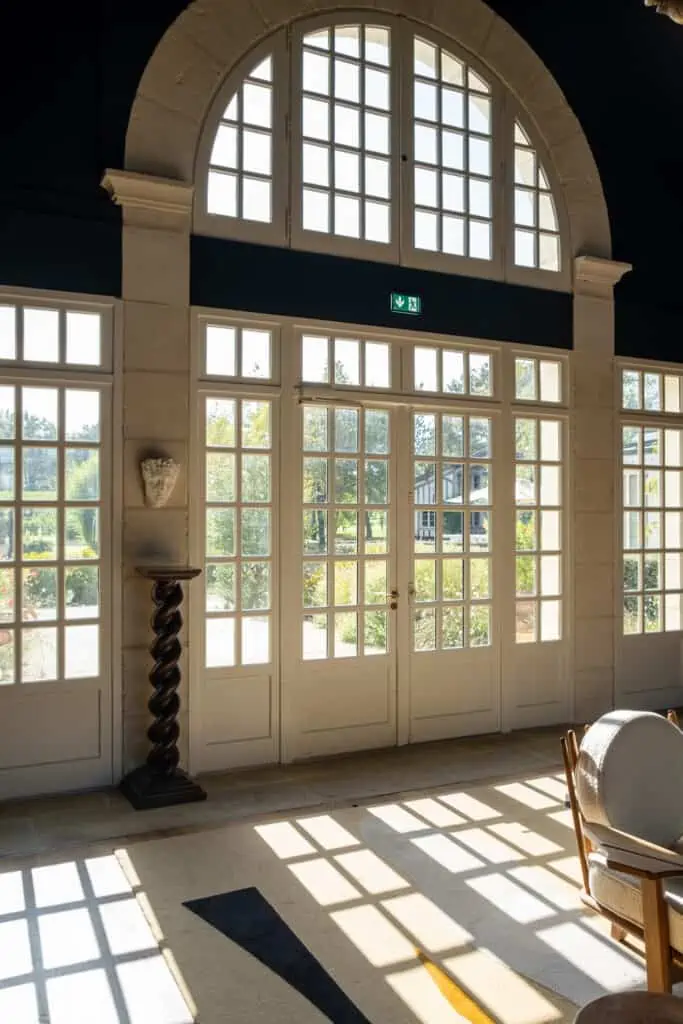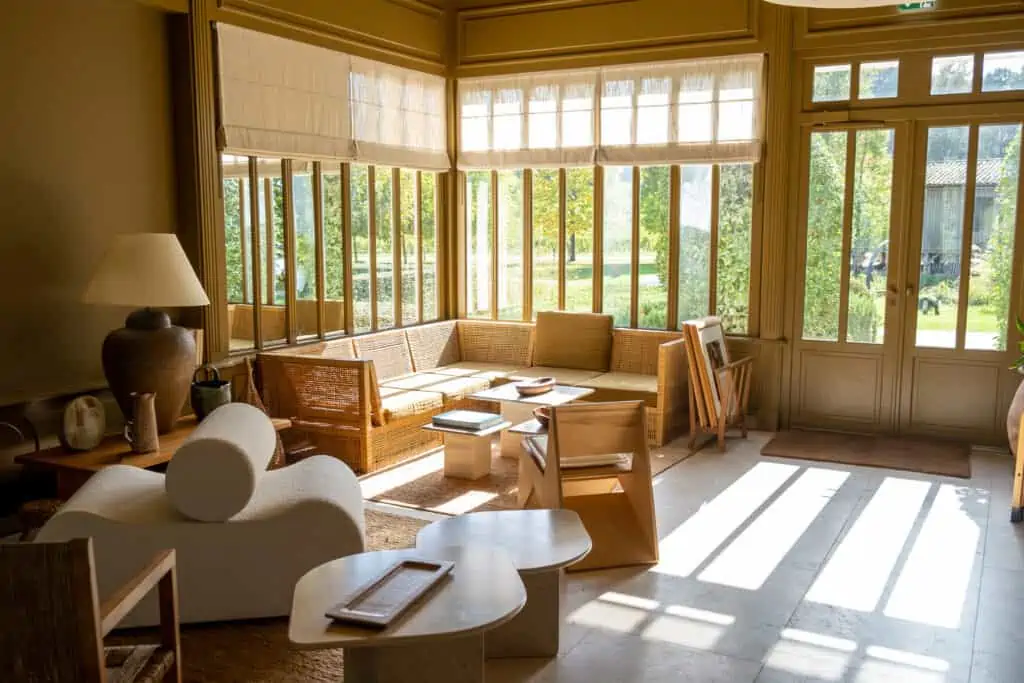 My Room at Le Sources de Caudalie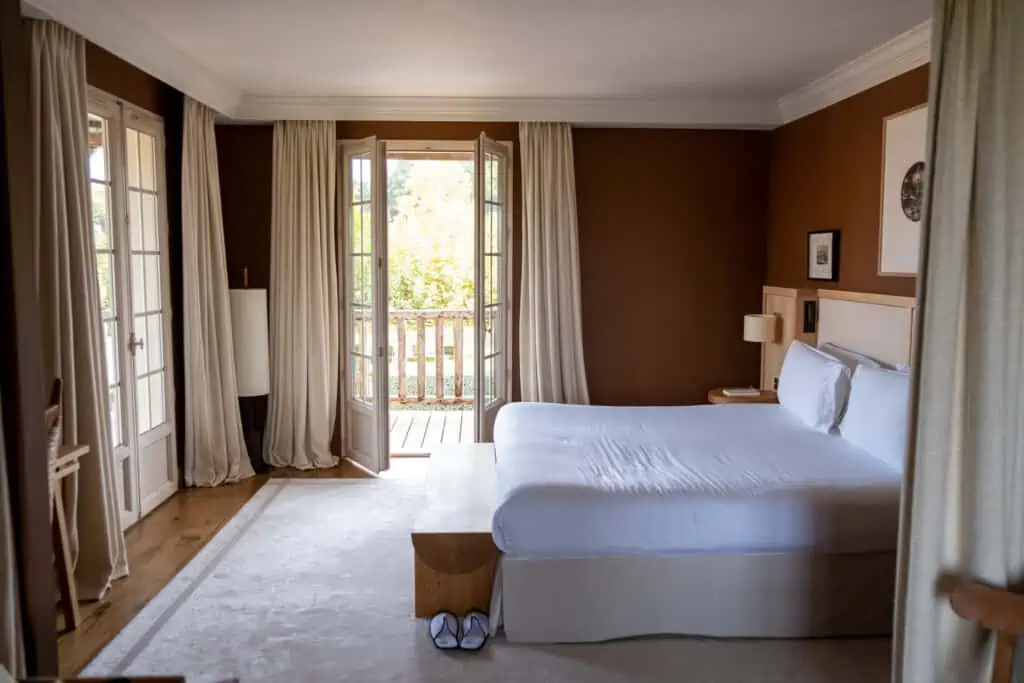 I booked and paid for my trip myself and was upgraded upon arrival. My room couldn't have been more perfect for me. There was a description of room 21 which was set in between the vines with the most amazing light coming in. The white vines were off the bedroom and overlooked the pool and the couch and the sitting area had a view of the red vineyards and the chateau across the way.
The hotel welcomed me with a note and the most amazing berries, grapes, and figs.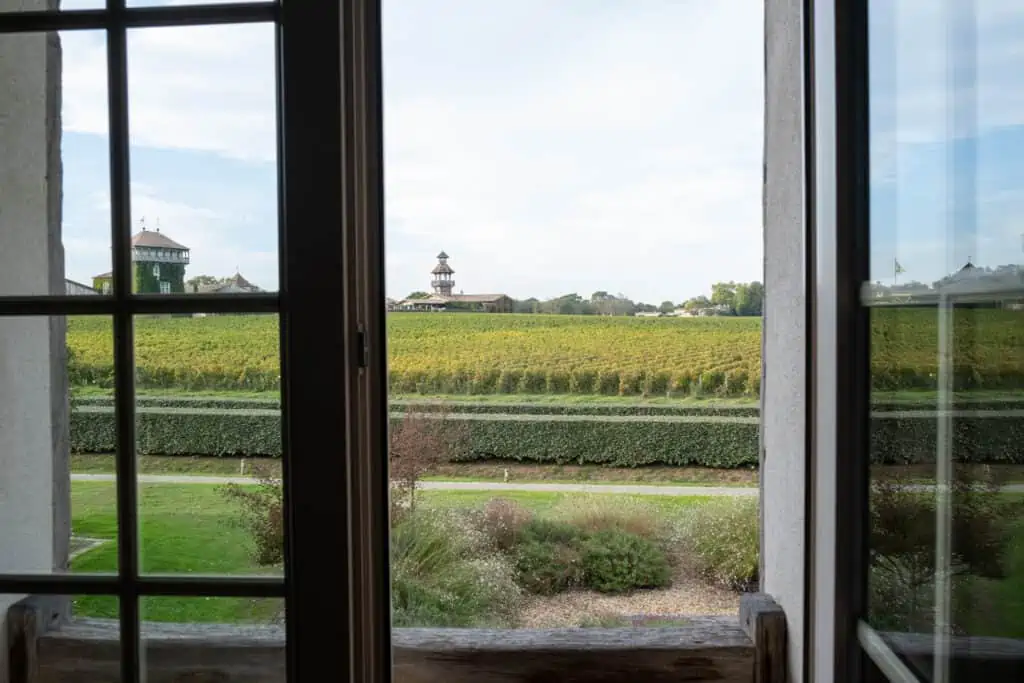 I booked two nights and could have easily done three nights at the hotel. Once I was relaxed and shut my laptop, I loved every minute of my stay.
Relaxing and Unplugging for Two Days
I started off like Amanda Woods in the movie, "The Holiday" I had NO idea what to do or how to relax and I walked in circles not knowing what to do. My friend Katie gave me strict instructions not to work and shut down my laptop. I promised her and myself I would do just that but shooting photographs brings me joy and there was no way I could put away my camera. The light and the colors were begging me to capture them as I walked through the vineyards. I inhaled the fresh country air, and let the dry leaves crunch under my feet. The rain had passed when I arrived and it was a sunshine-filled forecast.
I immediately changed out of my sweater and boots into a t-shirt and sneakers and took a walk around the hotel property.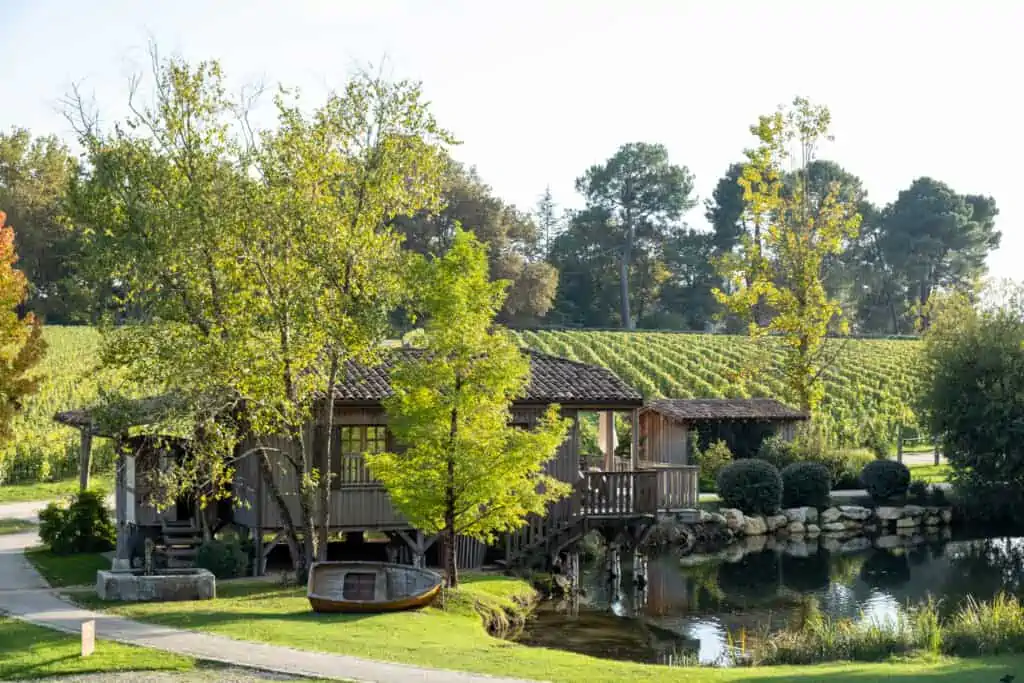 How to Get to Les Sources De Caudalie in Bordeaux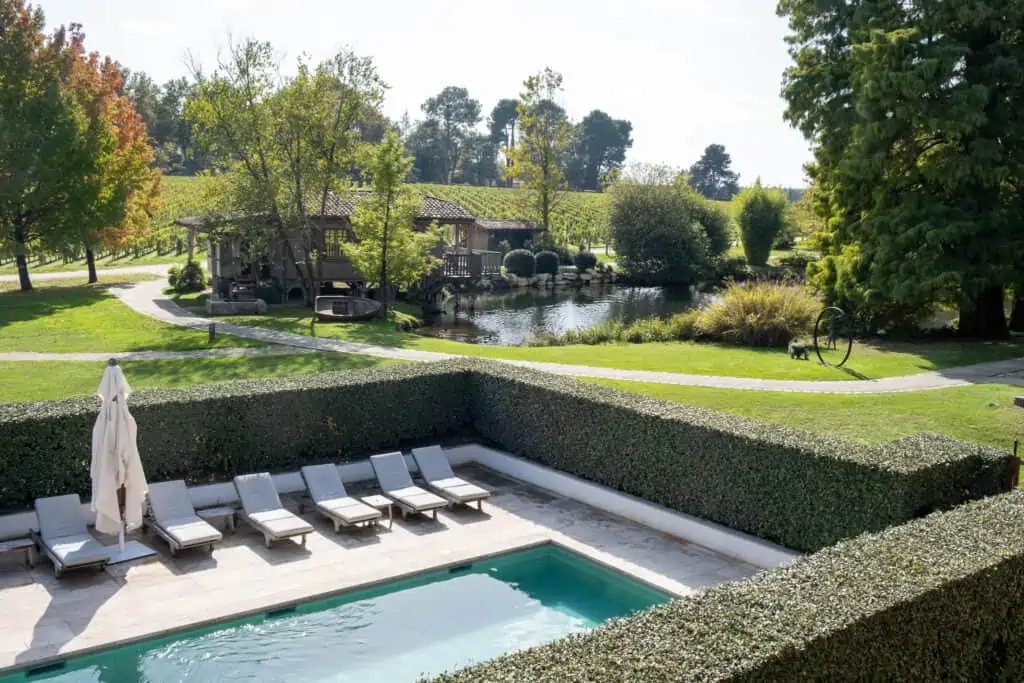 It is very easy from Paris to take the TGV. The fast train will get you there in about 2 hours from the Montparnasse station. I booked a train ticket a few weeks in advance, purchasing in advance is the key to train times and a good fare. There are lots of trains going back and forth to Paris from Bordeaux. You can also get a train directly at the CDG airport to Bordeaux but it may take a train transfer.
I met two other people at the hotel that happened to be on the same train as me. I took the 11:11 which got me into Bordeaux around 1:16 and I was at the hotel before 2 pm. I was originally planning to have a late train on my last day and arrive in Paris by dinner but I ended up having a lunch meeting and I took an earlier train. It was easy to make the adjustment online and I paid a $20 difference.
The train has two classes with the second class ticket being around $50 and the first class ticket at $75. I took a first-class seat for both trips. Les Sources de Caudalie offers several transfer options to the hotel, I ended up hiring a private taxi which was in contact with me before I arrived. It was $50 with tip each way.
Where to Eat
Rouge
It may surprise you as it did me, this was one of my favorite meals of my entire trip. I ate here for lunch and then met a friend here for dinner and didn't mind the same menu. In true fashion, I had the same salad for lunch the next day. I was hesitant to order the salad on the menu on my first day when I arrived starving but after discussing the choices with the waitress she convinced me. The trout salad was incredible and to be perfectly honest I dreamt about it that night in fear that it was not the same the next day. (good thing it was just a dream and perfect the second day) If you don't like fish, see if they could modify it or just take the fish off.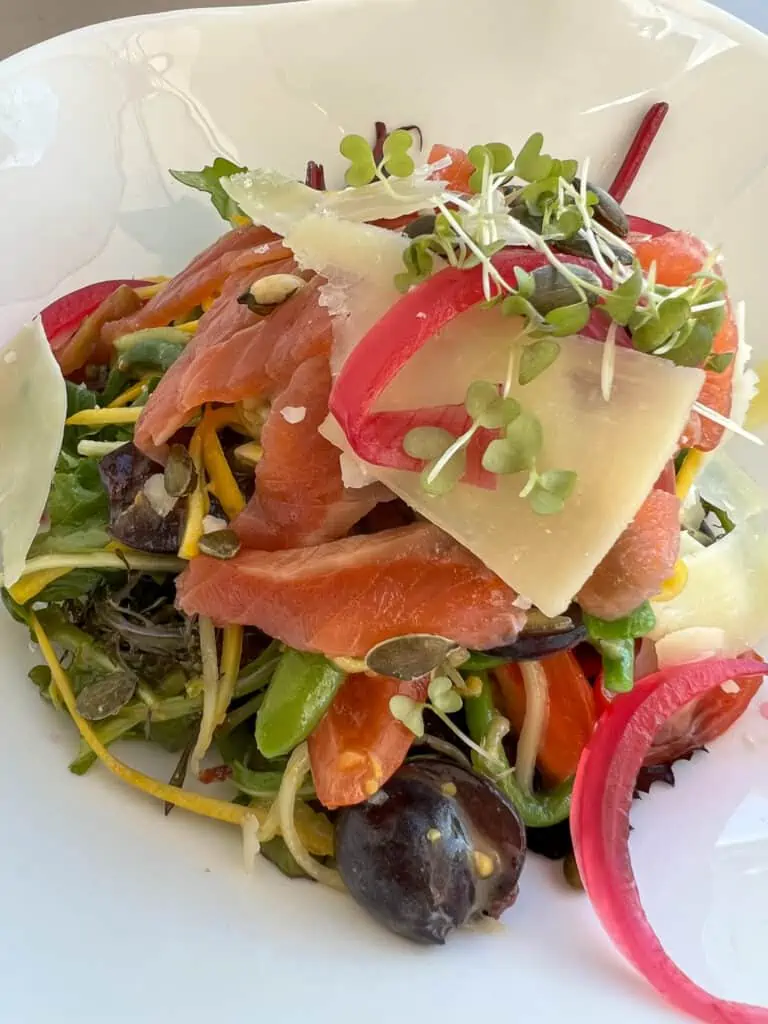 There were a few vegetables I was convinced I would pick around but I ended up devouring the whole thing. The flavor combination between the olives and grapes along with everything else was perfection.
Rouge also changed my mind about French oysters which I swore I wouldn't do again. I took a chance and was pleasantly surprised. Everything in the hotel is sourced with care and attention to detail down to the butter at breakfast which is from Bordeaux and honey from the local bees on site.
French Paradox Bar
I ended up at the French Paradox bar for a drink on my last night. It was my bachelorette party after all and I was dressed up for dinner. The space is absolutely gorgeous in the sunlight and moody in the evening. There are individual tables for singles or couples and groups. The bartender made me a white negroni which was served with a madeleine and canelé.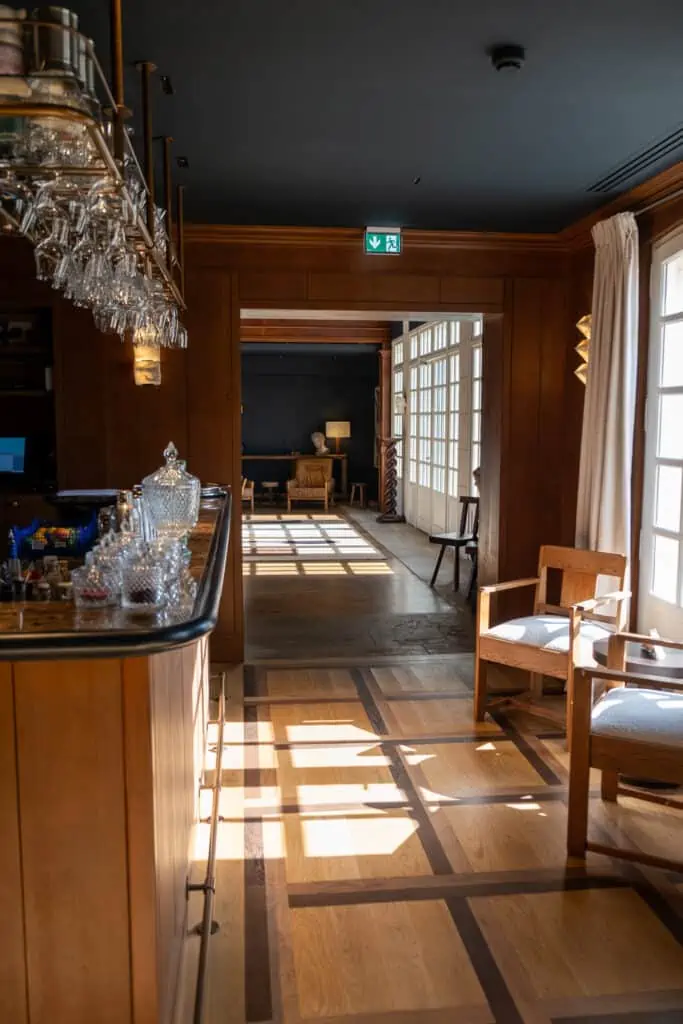 La Table du Lavoir
This is where you will most likely eat lunch/dinner. I pre-booked my table seating and paid for dinner here in advance which made it very easy once I arrived. The restaurant was fully booked for some of the other guests that I met during my stay. My meal was incredible and I had a delicious wine pairing from the vineyard I visited across from the hotel earlier in the day. There is a chalkboard menu with daily specials the waiter will walk you through. Don't skimp on the starter and dessert and soak up the atmosphere and food. There will be a mixture of languages and cultures in the room. The people-watching will be entertaining along with a delightful meal.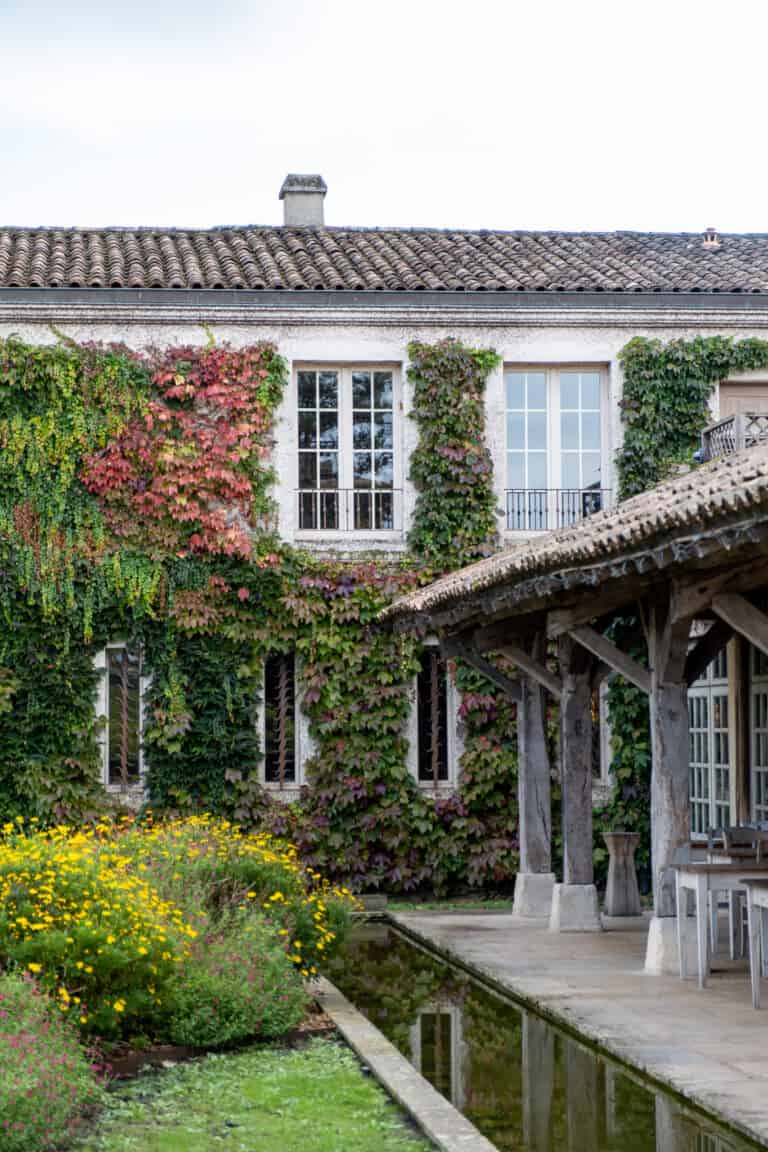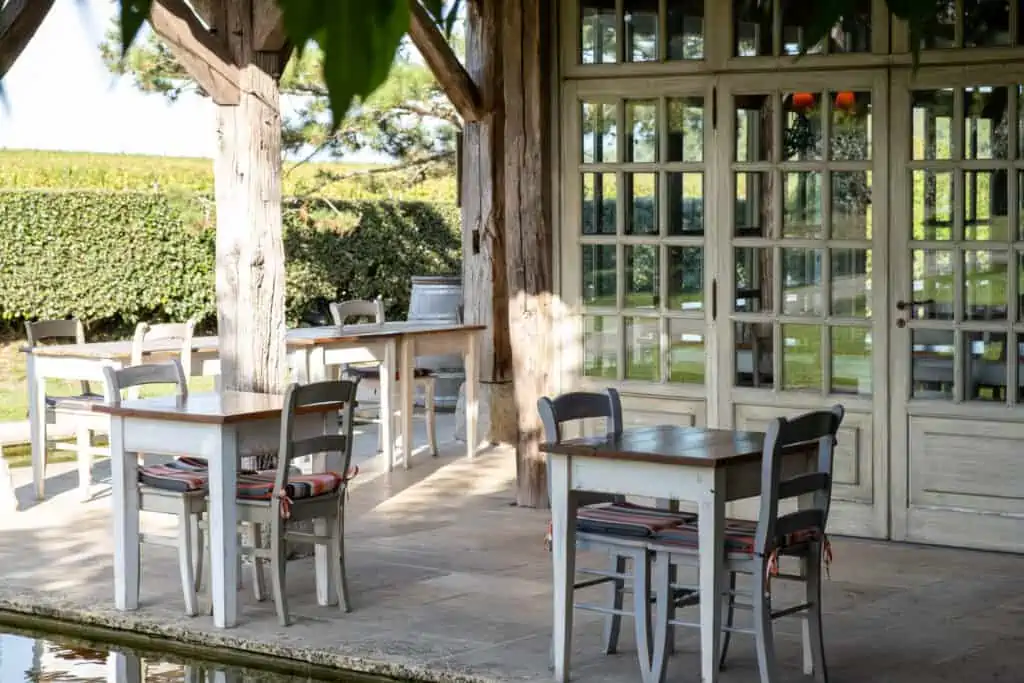 Breakfast Room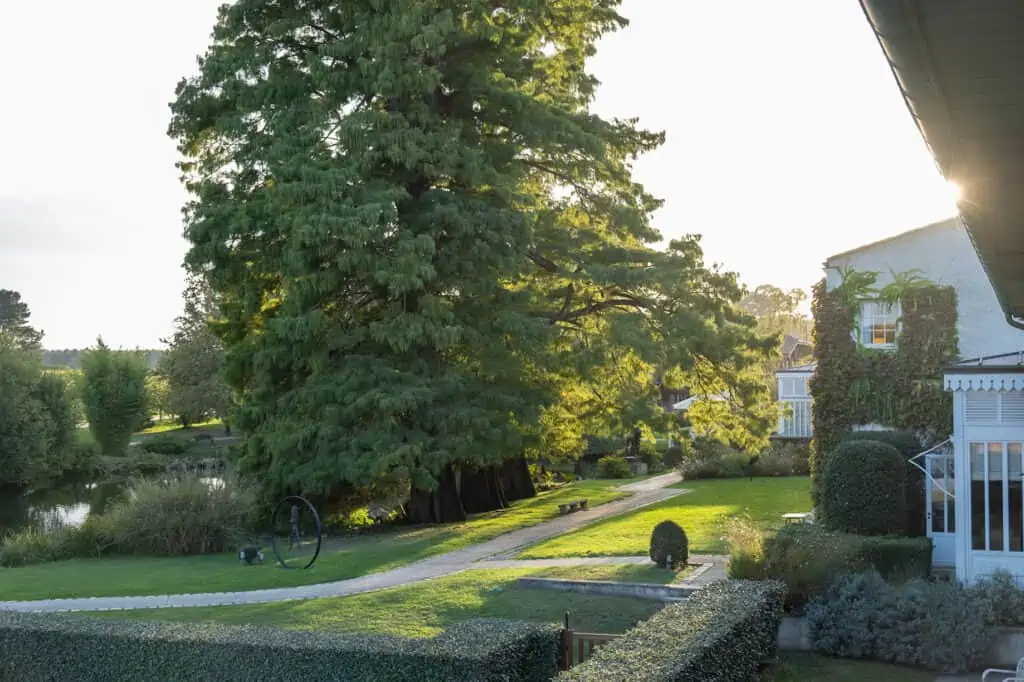 Don't miss the most amazing breakfast. I arrived just as it started both days and I had the room to myself. You can also dine outside on the patio under umbrellas. The breakfast is a large buffet filled with hot and cold foods and French pastries. Try one or try them all, I love the madeleines and requested them with my coffee at rouge. Oh, and the dishes are ADORABLE. It took a lot of restraint to not want to put them in my bag. Sadly, the dish pattern is already discontinued or I would be ordering sets online.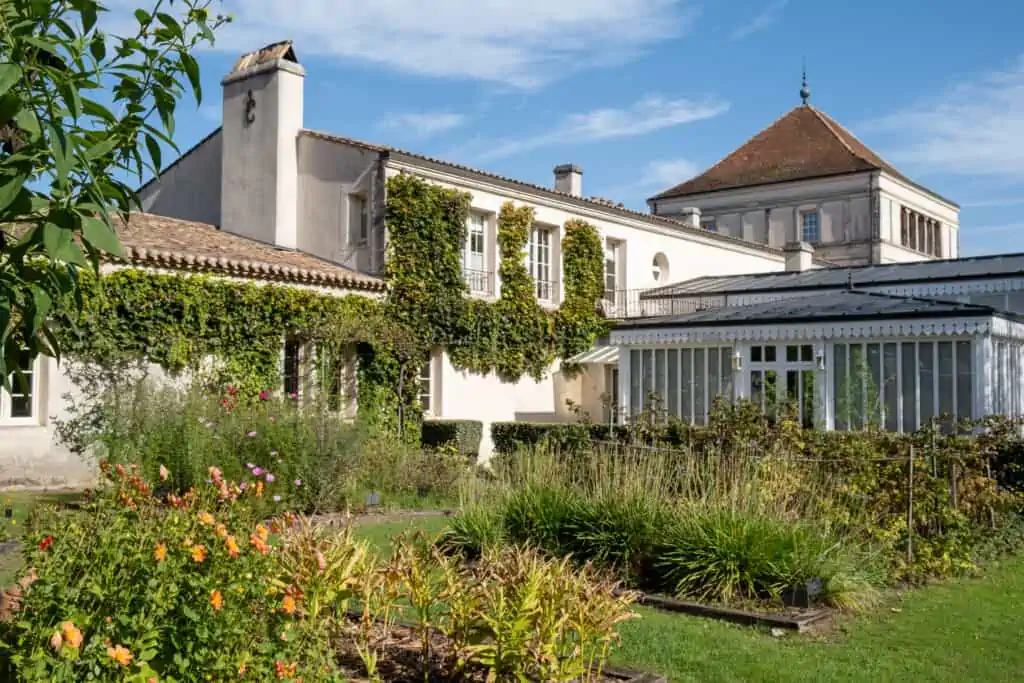 What to Pack for Bordeaux
Dress up for dinner! Even if it is just you, I highly recommend it. I packed this dress and this dress from Sézane. Along with a pair of ballet flats.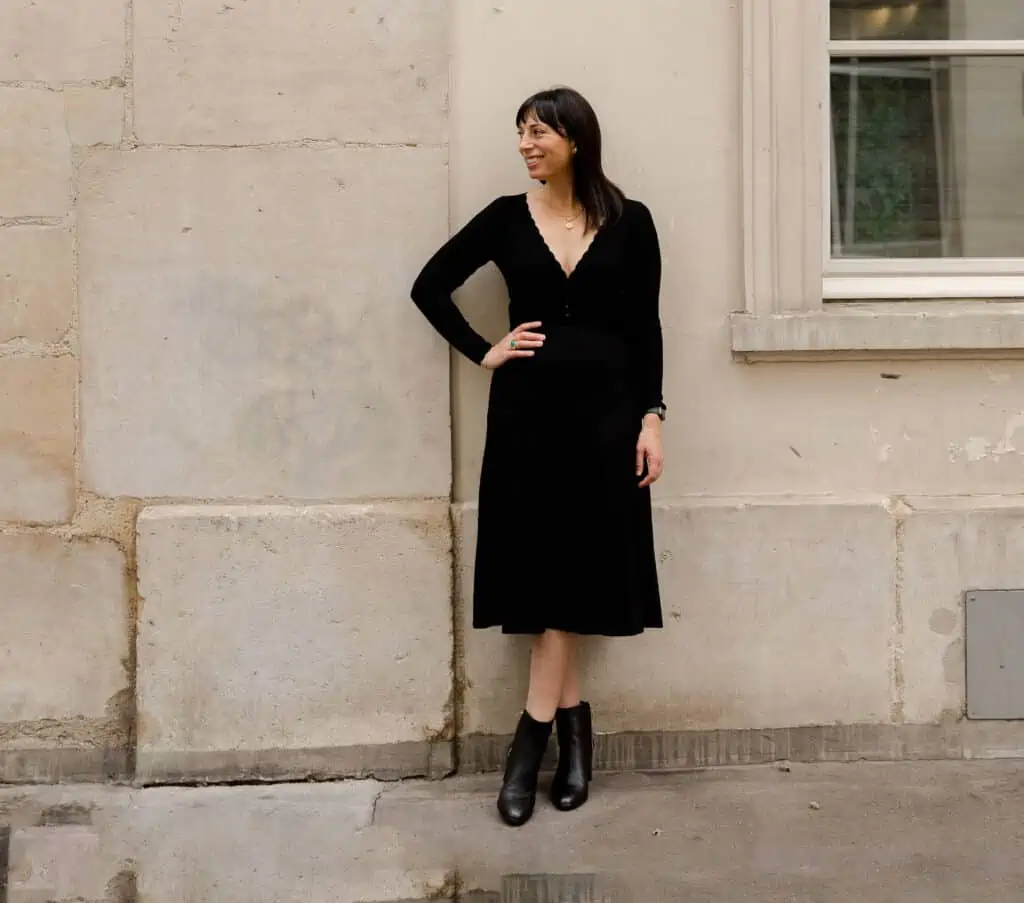 Comfortable clothes for lounging around your room after the spa. I had one of the best naps of my life in the afternoon with a view of the vineyards.
Sneakers for bike riding and walking around the vineyards. They have tennis courts, yoga, and multiple pools. Pack a swimsuit for the spa even if you aren't planning to go into the pool.
I had sweaters from Paris and a trench but I honestly didn't need them. Make sure to check the weather based on your visit to know how to pack seasonally.
When you book through the hotel website, the concierge will contact you to book your spa and anything else you may have selected. It is very easy to click and add after you select your room from an airport/train transfer, flowers in the room, and a tour of the vineyard just across the way.
You can bike all around the grounds of the hotel and to different vineyards. I took a bike around for the afternoon and it was truly incredible. The sunlight was hitting the vines and illuminated everything in my path. I even ran across a sun shower on my bike ride. My fiancé and I love the movie, "A Good Year" and I felt like I jumped into the movie set during my time in Bordeaux.
Enjoy a hike on the grounds of the hotel. There is a map with a few different paths to enjoy.
Visit Bordeaux and The Village of Saint Emilion. The concierge at the hotel can help arrange a tour and suggestions on what to do.
The Pools at Caudalie
Enjoy the pools at the hotel. My one regret was packing a book, but I didn't have room for it. It would have been incredible to sit on the deck of my hotel room or outside by the pool with a good book.
Even if the weather isn't great, the hotel has an indoor pool.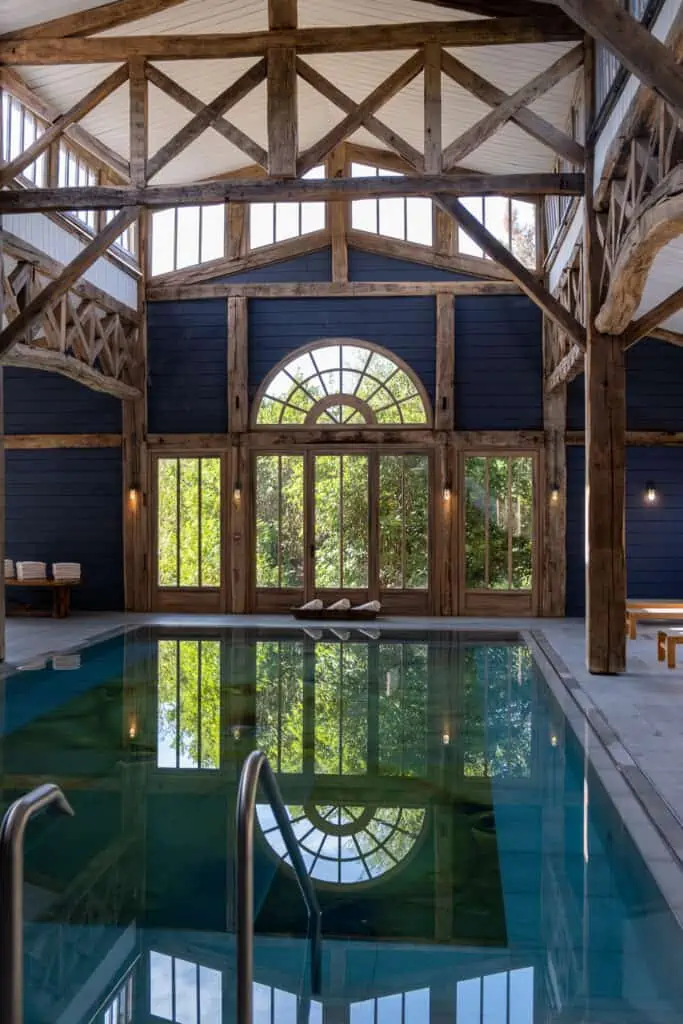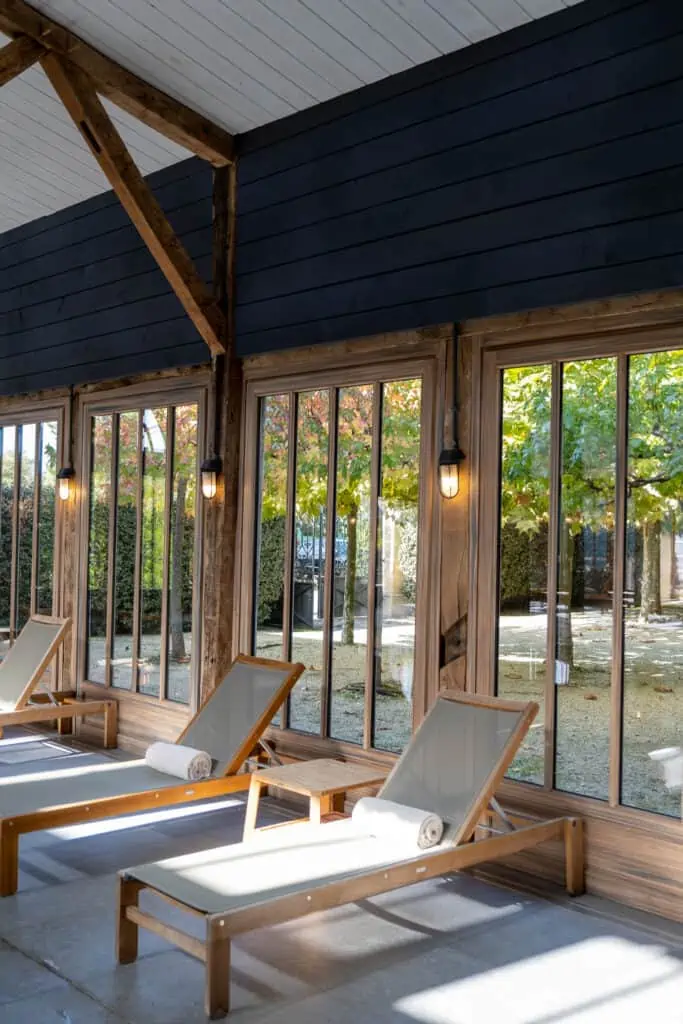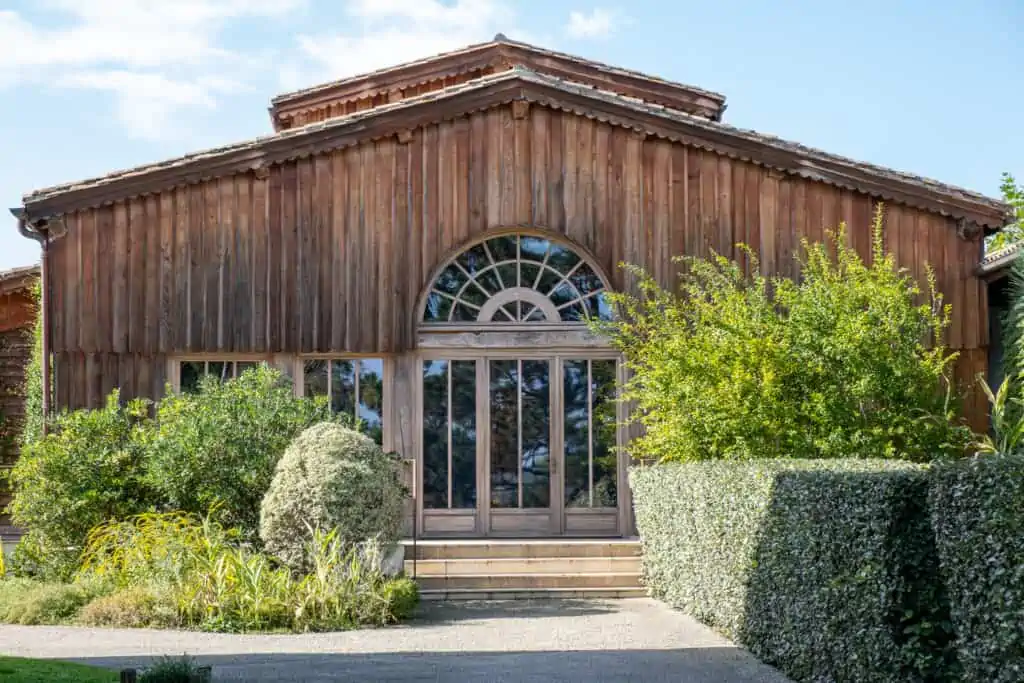 Visit A Chateau for A Wine Tasting
Chateau Smith Haut Lafitte is just across the way from the hotel and offers wine tastings and tours daily. You can book directly with the hotel and they will arrange your time around your spa and meal bookings. I was lucky to have a private tour of the chateau and it is well worth the visit. You can walk directly through the vineyards of Chateau Smith Haut Lafitte to and from the hotel.
They will take you down into the wine cellar, show you the process of making red and white wines, and enjoy the tasting room. There is also a boutique on-site to purchase wine to bring home or enjoy in your room.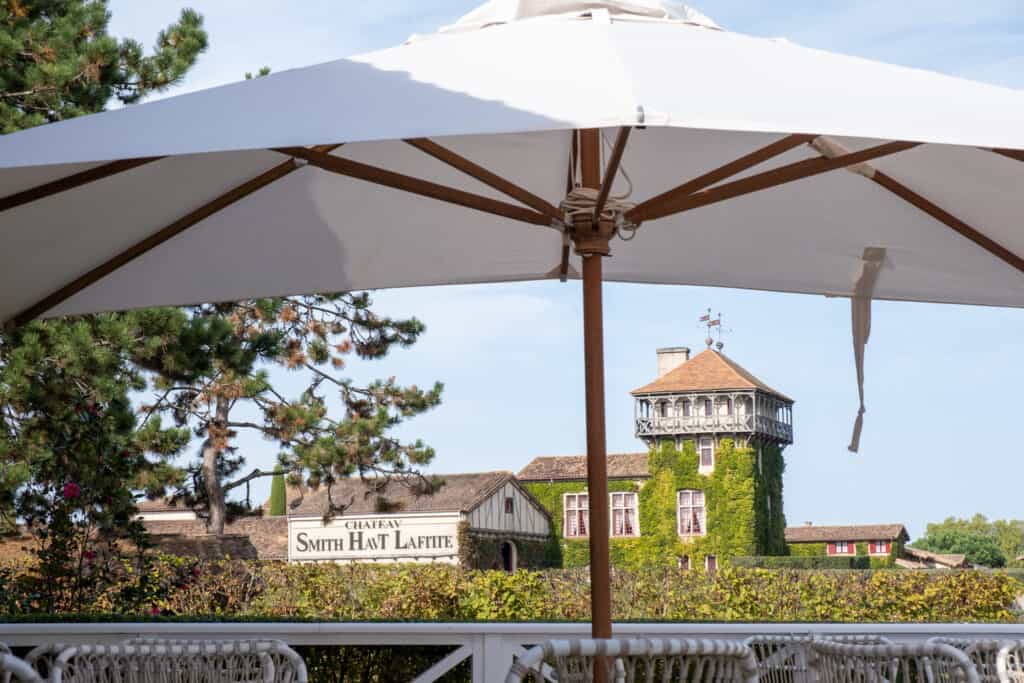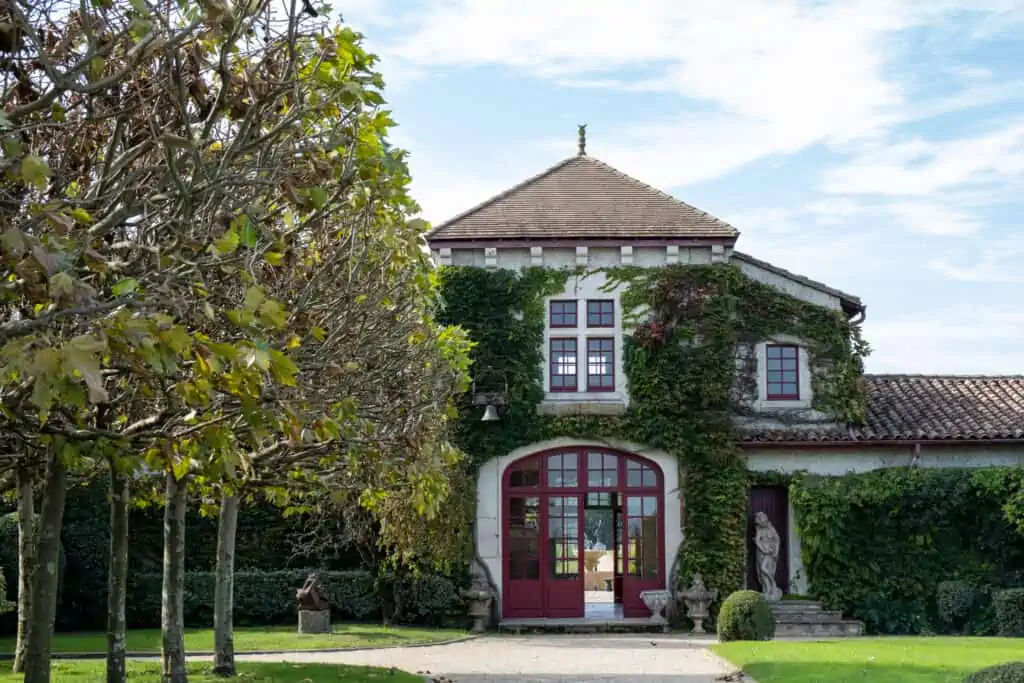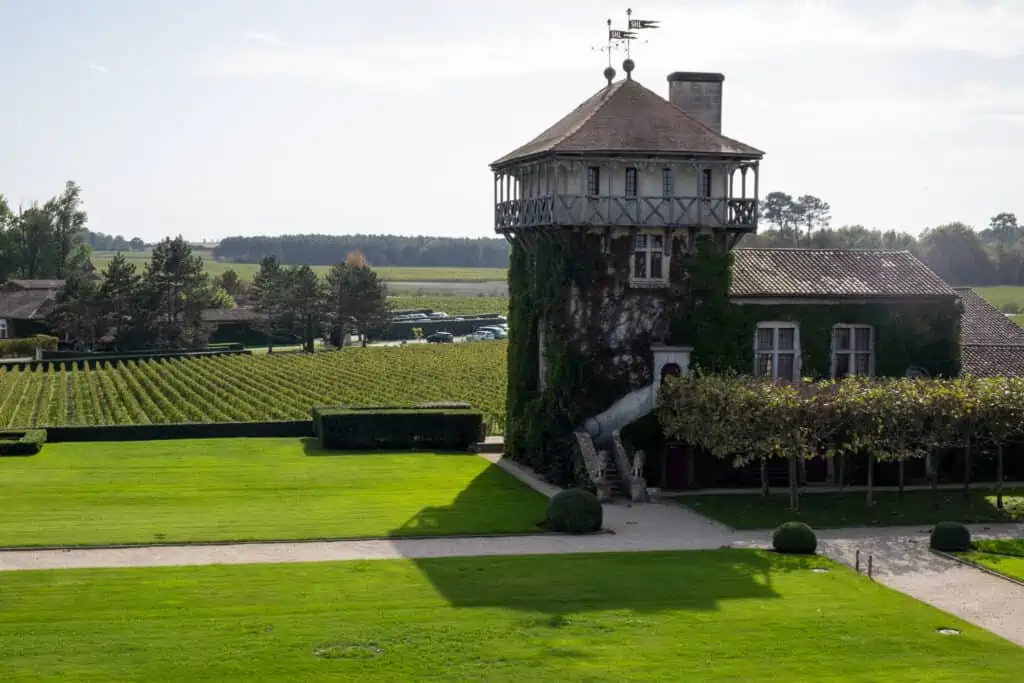 The Spa At Caudalie
Pro-tip is when you book the hotel get your spa appointments lined up. These fill up fast and for a good reason. I have been a loyal fan of Caudalie for years which is probably how the spa got on my radar. This is where everyone comes to train for Caudalie at this spa! So when you are getting an education on products or a facial at a Caudalie boutique anywhere else, they learned here. The staff that works at the spa is the best of the best.
When I checked in I received a paper with my spa menu for the next day with the times of my appointments. Everything was booked early which I didn't mind at all. The spa was empty when I arrived and I could sit and enjoy the peace and quiet and soak up the sunlight coming in. You can enjoy the beds inside or outside in between spa appointments. If I was booking again, I would splurge and go beyond my half-day spa experience. At the end of your treatment, you are given personal suggestions based on your skin and everything is available for purchase. Everything is also available online so if you don't grab it in France, you can also buy it in the US.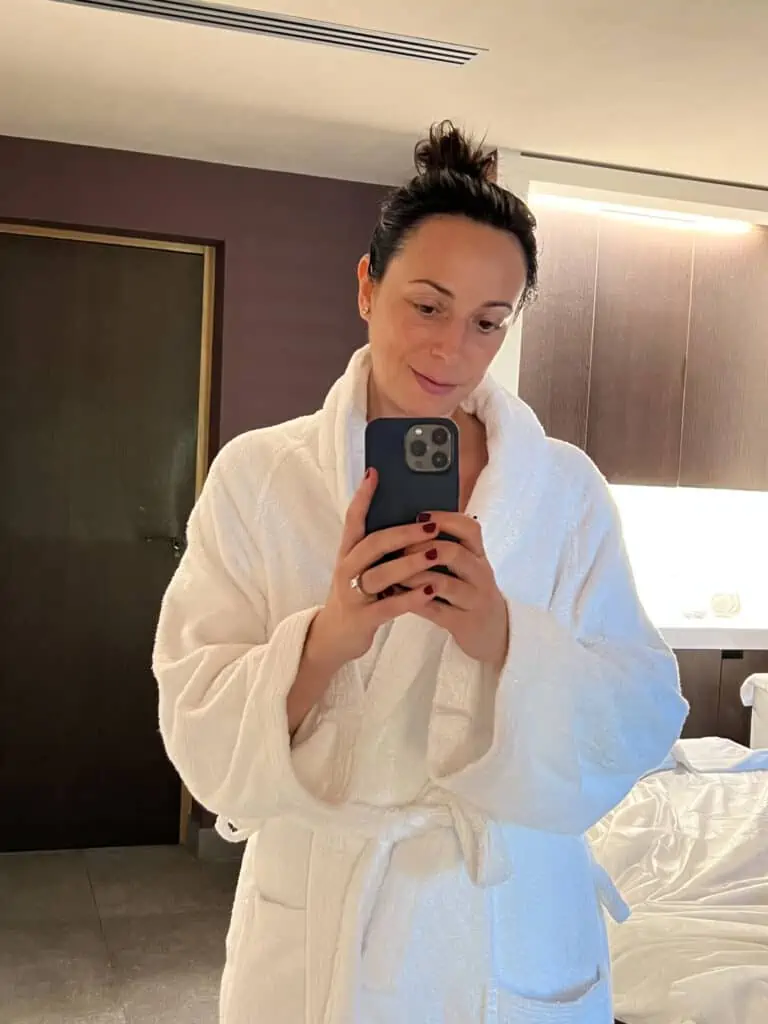 The Best Time to Visit Les Sources de Caudalie
Anytime but January as they are closed for most of the month. I truly loved the fall and would return in a heartbeat.
On My Next Chapter
One of the questions I got asked most about being engaged and my next chapter was, "how will this affect my travel schedule?" "Do you plan on traveling less now that you are tied down?" I started a business based on solo travel so I understand how that could be a question. My fiancé is very supportive of my travel schedule; if we didn't have Henri, we would be traveling a lot more. We both love to travel domestically and internationally and will continue to do so once we are married. Our honeymoon will most likely be in Greece and we have a long list of dream trips.
Yes, my life will change a bit but it already has with the addition of a dog. My fiancé was very bummed that he couldn't join me in Bordeaux but it worked out perfectly that I could do my solo bachelorette party before the wedding.
Next time around, I want to invite a few friends and make a weekend out of it. I will make sure to put in a special request for the same room 21 because I want to soak up that magical light of Bordeaux and be able to share it with my husband.
*This trip was booked and paid for by me. The rough total estimate was $2,000 including the room, spa, food, and transportation.
This post does include affiliate links that help contribute to my coffee and croissant research!