I have curated a variety of different gift guides for the holiday season but I haven't done one for her. If you are struggling with what to ask for this holiday season, I hope this guide inspires you or leads you to an idea that you hadn't thought of yet. Some of the best gifts are things you wouldn't buy yourself or are unexpected.
I also read an article yesterday that the reason why kids love Christmas so much is that kids tell their parents exactly what they want and their wishes are fulfilled. It's that simple! Now if we could only make a wish list for our loved ones to make sure we get what we want.
Gift Guide for Her
The perfect Zip Bootie from Sarah Flint. I am in love with these booties, they came with me to Paris. Black is classic and brown is stunning. You can't go wrong with either color. Use the code BAREBECCAP at checkout for $50 off your first pair of Sarah Flint shoes.
Blondo Boots if you are looking for a more affordable and practical boot, the Blondos are it. I wear mine all the time and they hold up year after year. Plus, they are waterproof suede. They come in black and brown. I wear a 8.5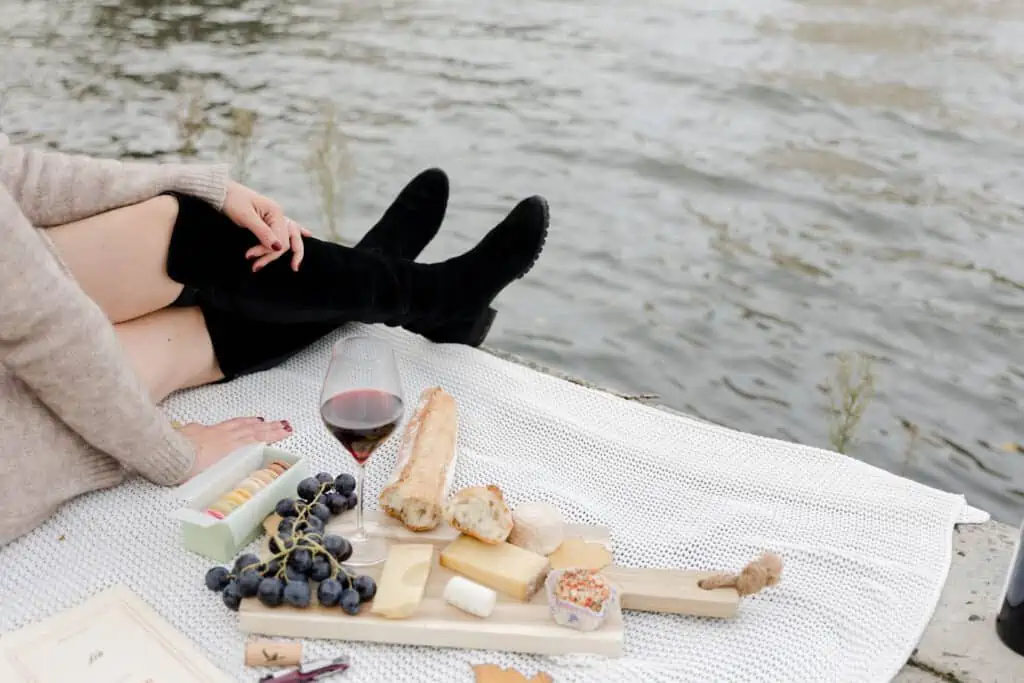 Polène Bag I have numero neuf in black and I love it. She was fun to bring around Paris in October and I can't wait to take her out in Chicago. Polène has a loyal following and brand awareness is growing. There is a line outside the Paris shop daily. You can shop online and there is also an NYC location. I have three of the bags and everything is made of the highest quality leather.
The Black Rose Sisley Mask is my go-to for plumping and hydration. It's an investment but a little goes a long way. It not only works but smells incredible. You will be reaching for it more often than you think.
Hatch Restore Sleep Alarm $130 I bought mine at the beginning of this year and I couldn't wait for the UPS driver to drop it off. It was an easy setup and I use it nightly. I invested in the app which has a lot of wind-down and meditation options. You can make it turn on at a specific time with light to make wakeup easier. It truly changed the way I wake up and fall asleep.
Breville Coffee Maker This is on my own wish list. Hint hint 😉 I wanted to add it to our registry but it never made it. We have a Breville Precision but I think this would be great for different types of drinks when we don't want drip coffee and the grinder is attached. Feedback from readers has been 100% yes, do it! Everyone I have asked has raved about their Breville.
Cozy Gift Ideas for Her
Lake Pajamas Pima Robe Any color of this would be great! I own it in the Elderberry and wear it often, especially with a pair of slippers on the weekend. Now that it is colder, I put it on to grab a coffee in the kitchen in the morning. The red is on my wish list for the wedding. Sizing is true to size. I have a small.
Sézane Mederick Coat I ordered this in camel and now it is offered in navy. A navy wool coat has been on my wish list and is one of the big trends I saw in Paris in the fall. It's an investment piece for sure but it will last seasons. The coat is an easy way to feel put together any day of the year. Also, if you live in a colder climate like me you will want a beautiful coat because we wear them for half the year.
Boll and Branch Waffle Blanket We currently have two on our beds for the colder weather. Our bedroom gets freezing in the winter. Plus, Henri loves one and so do I. This is one of my favorite Boll and Branch items and I have been sleeping with one for over 6 years. My fiancé is now hooked and he requests it on the bed.
Gift Ideas for Her
Boll and Branch signature hemmed sheets. My whole family has these now as I have given them as gifts. We sleep on them every night and they truly get softer with every wash. If you have one pair, buy a backup so you never have to sleep without them.
Gaspard Sézane Sweater This is THE iconic French Sézane sweater that everyone is wearing. It can be worn three ways, backward, forwards, and as an open cardigan. I have it in three colors if it says anything. The sweater is size inclusive which I love. It does run a bit big but I prefer my normal size small.
Lake Relax Set I have this in green and now I want this in every color. It is so comfortable you won't want to take it off. This is on my wish list for Santa in the blue. I would say this is a step above the Lou and Grey sweats that I rave about.
Cast Iron Staub This was a gift to myself in 2020 and has changed the way I cook. I love it and think everyone should own one. My only regret was buying white because I was overwhelmed by the colors. Do a darker color so it doesn't show grease. You can clean it with bar keepers friend if you do buy the white.
The signature Thin Gold Bangle is One of my favorite Monica Vinader pieces I own. There are different sizes and I have a small wrist so I went with the small and easily done a medium if needed. Her pieces are stunning and I have a nice collection of her gold pieces that are fun to a layer including this locket necklace.
More Gift Ideas for Her
Cuyana System Tote The perfect gift for someone who returned to the office or is constantly on the go. I have this in the black with the mini flap bag and I use it all the time when I travel or take my computer out for meetings. The mini flap bag fits inside which is perfect for travel when you don't want to take a larger bag out for dinner. You can read more of why I love it in this post here.
Cuyana Classic Tote This is what I want to get my sister because she needs a work bag and this is more her than the System Tote. It's a great everyday bag to carry on the go. As a working mom, she needs a bigger bag she can have for multiple uses. I would love one of these too!
Dyson Hair Dryer You can blame Amanda and Jackson who do my hair for this one. Every time I go in they ask if I have one. I don't dry my hair much but always my bangs. I had the opportunity to try one of these in Bordeaux at Caudalie and now I am convinced I need one. It's an investment but a good one!
Passport Case is the perfect present for someone who is engaged, getting married, or your best friend that loves to travel. You can personalize it too! My name will stay the same but I need a new passport case and this one is stunning. It has sold out in the past and this is a newer version. RLP are my initials in case anyone needs help.
Gift Ideas for Her
Caudalie Premier Cru Cream This is a great deal if you love the Caudalie Cru line. I had the opportunity to try it and now I am hooked. The eye cream is amazing.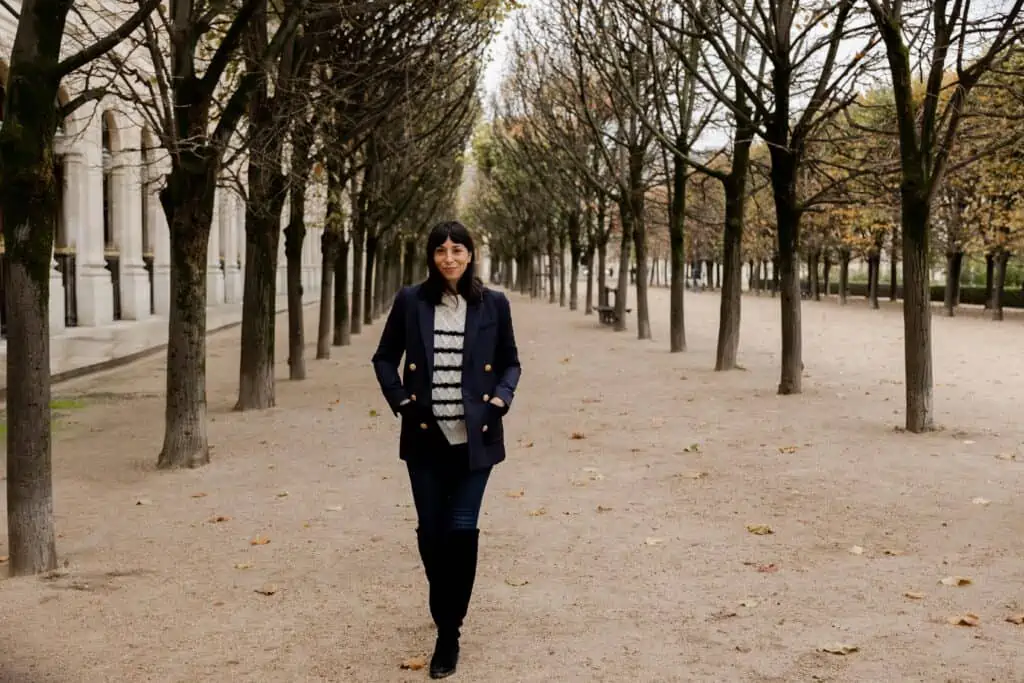 Sézane James Jumper I own this in the navy and cream stripes with buttons down the neck. It is so soft and comfortable. A heavier knit for the colder months. They make it in a beautiful pink that I would love to own.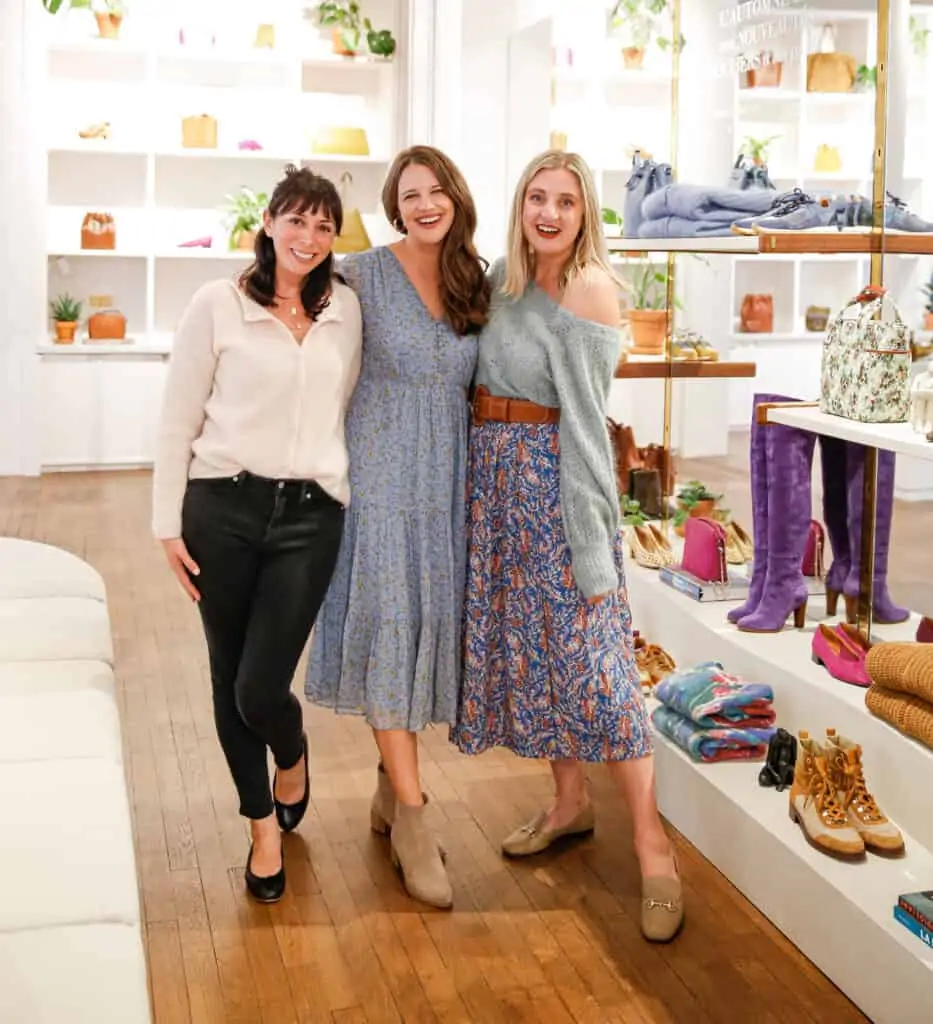 Jenni Kayne Cashmere Fisherman Sweater is on my own wish list. I bought my first sweater a few months ago and I am in love with the softness and quality of the knits. These are investment pieces that will be in your wardrobe for years. All the colors are classic but I would go with navy or cream on this one.
Did you find a gift idea for you or a loved one? I hope so! Comment below and tell me your favorite gift from the list.
*This post includes affiliate links. I make a small commission from items purchased from my links at no cost to you. This helps contribute to my coffee and croissant research fund! xo