Sézane Gift Guide
By now you know I love the French brand Sézane. If you are looking for a gift for the Francophile in your life or just some really great gift ideas, Sézane has some great options for gifts at different price points. I have been buying pieces from Sézane for over 6 years now and the quality has held up so well. Some of my favorite sweaters in my closet are from Sézane. They are classic styles that you can wear on repeat year after year. Below are some of my top choices in this Sézane gift guide for her and a few items for him!
Sézane Holiday Shipping Cutoff
There are a few things to note: the shipping cutoff for Sézane holiday is December 14th and for anything personalized, the cutoff is the 11th. This means it is time to start shopping. The good news is Sézane offers express free shipping for over $200. You will receive your gifts before Christmas.
Sézane Gift Ideas
When it comes to Sézane sizing, the French do cut things a bit smaller than the US. If you are in between sizes, I always recommend sizing up. I am typically the same size in Sézane a size small or 36 in coats and jackets and size up for bottoms pants and skirts are size 38. In the US, I am a size 4/small. If you are looking for more in-depth sizing, you can read this post here.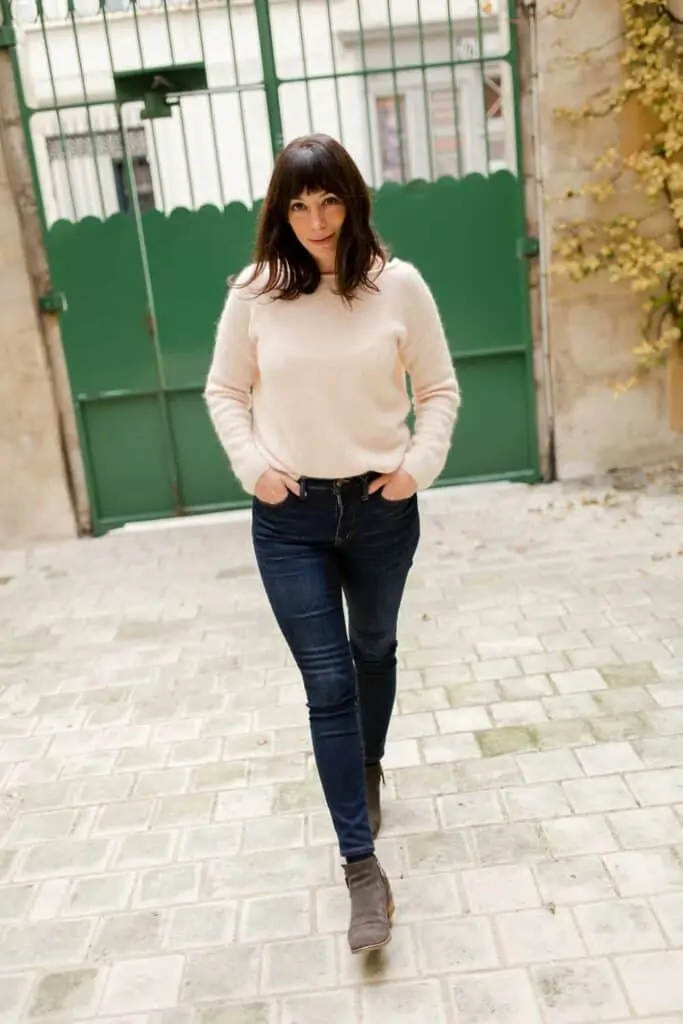 The Gaspard sweater $120 is my top pick if you are doing a piece of clothing. It is size inclusive going all the way up to XXXL and it comes in a variety of colors. Plus, you can wear it in three different ways. The sweater is made in Italy from a combination of fabrics including kid mohair. I own it in black, pink, and blue and wear mine on repeat. This is their top seller so you can't go wrong if you are looking for something to wear on your next trip to Paris. Choose the recipient's normal size/ if they are between sizes size down in this one as it runs big.
Tomboy Shirt $110 comes in classic white and blue. A great addition to your wardrobe for a classic staple piece that can truly be worn year-round.
Tessa Dress $215 This is a great sweater dress and comes in two colors gold and navy and white and navy. I am 5'6″ and it is in the shorter size but not too short. Wear it with knee-high boots.
Malou Jumper $145 I love this emerald green jumper. It can be worn forward or backwards. I have it in size small and it was an early gift from Santa.
Colette Marinère $100 This is a great price point for this striped classic French shirt. It comes in a variety of colors and has beautiful button detail on the shoulders. I own it in size small and wear it on repeat.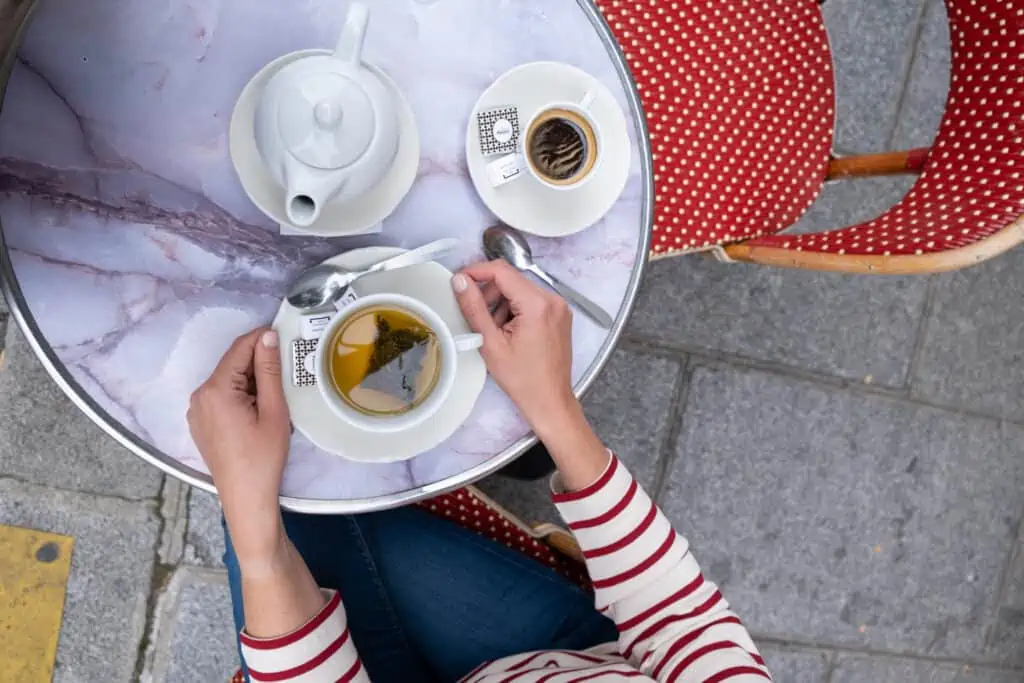 Sézane Coats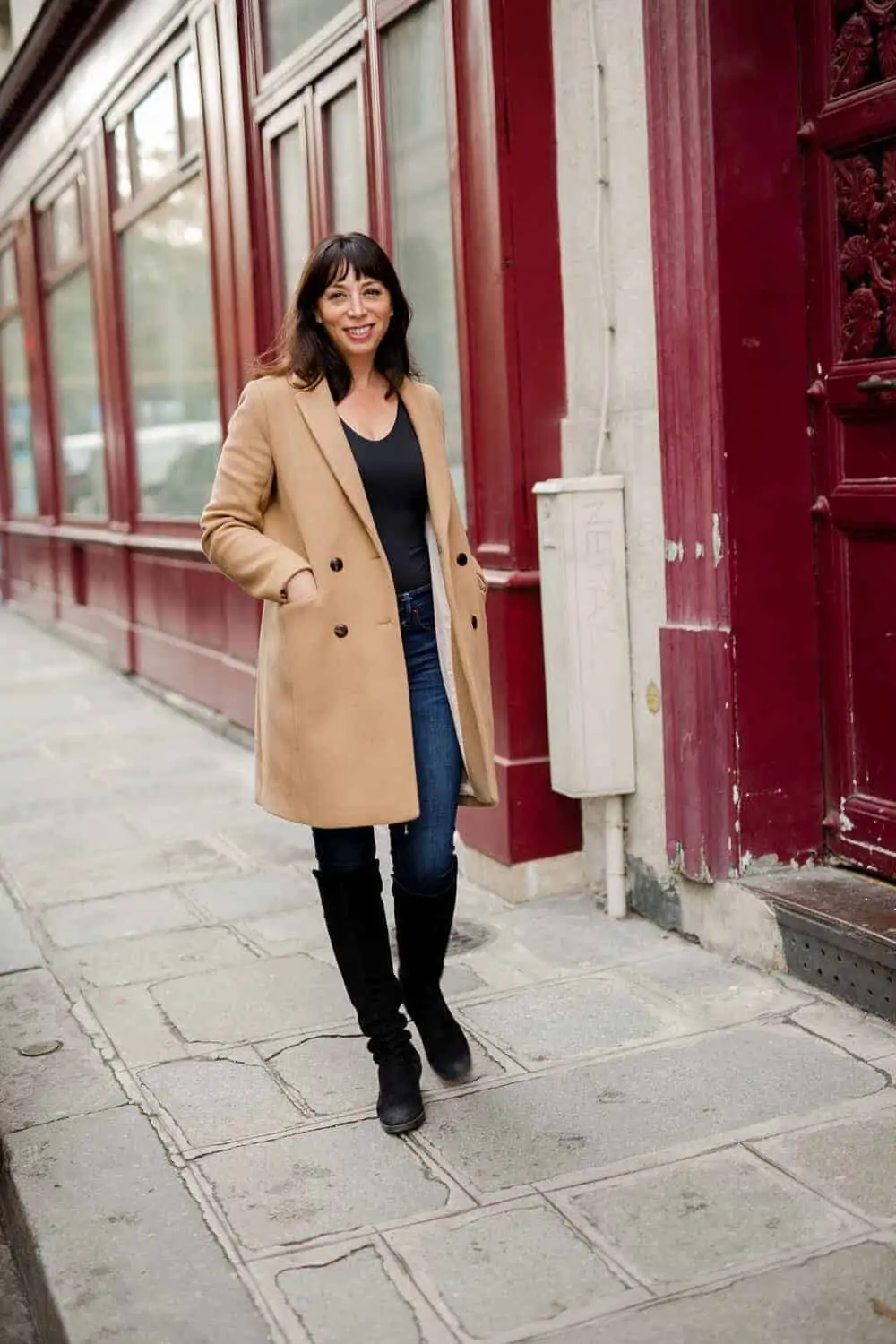 If you have the budget for an investment piece, I highly recommend the Sézane coats. I purchased the Johnson coat a few years back and have gotten some great wear out of it over the years. It is a great coat!
Mederick Coat $485 long belted coats are a top trend in Paris right now. The minute I saw this coat, I jumped on it because I was worried it would sell out. I got it in the camel color because that was all that was offered but now they have a light blue and the navy I love and wish I got instead. I have already worn it twice in Chicago and it is so soft and really helps pull an outfit together.
Scott Trench Coat $305 This is an iconic Sézane item that you will wear for years to come. I purchased mine last October and have worn it on repeat in the spring and fall in Chicago and Paris. It is another great piece that will tie an outfit together even if you are in ballet flats, jeans, and a t-shirt.
Sézane Accessories
Large Alfred Card Holder $70 This comes in multiple colors. I like the brown the best. It can be monogrammed too which I love. I have a similar one in blue that I carry daily from Sézane.
Beanie and Scarf Gift Set $160 in a variety of colors.
Appoline Letter Mug $40 This comes in white with cold and also a beautiful blush pink with gold. I have the white version with the letter R. It's great for a big mug of tea on a cold day.
Small Auguste Wallet $110 if you prefer a little more room in your wallet for more than cards. I love the classic black but it also comes in colors.
Toiletry Case Velvet Navy $55 These are great for weekend bags and keeping your skincare and makeup organized on the go. I have the jewelry version of this.
Clark Bag $380 is a beautiful and iconic black crossbody bag from Sézane. This is sure to be a home run during the holidays.
Romeo Bag $310 If you are looking for a different style crossbody that is less formal and more for every day, the Romeo bag is what you are looking for. Another iconic bag in a variety of variations. I would go towards the brown leather but the color is also fun.
Sézane Sweatshirts
Ciao Amore Sweatshirt $120 comes in red. I quickly added it to my cart after I saw it on the site. My first love was Italy and red is my color.
Amour Café Crème Sweatshirt $120 I own this in two colors and wear it on the weekends.
Sézane Under $100 Gift Ideas
Paul Beanie $65 this comes in a variety of colors and makes a great stocking stuffer. I have this in pink and wear it often for a pop of color.
Sézane For Him
You may not think of Sézane for gifts for men, but they have a whole brand devoted to them called Octobre. If you want to turn him Parisian, this is a good way to start. I have a lot of readers that ask what their guy should wear in Paris to fit in, take style notes from Sézane or order directly here.
The Lee Scarf $90 this comes in blue or green. Parisians love their scarves especially in the colder months. Pair this with a trench or your favorite wool coat.
Peter Parka $390 I love this in navy. It is water repellant for the rainy cold days of winter.
Turner Hat $65 this comes in a variety of colors and pairs great with one of the scarves.
*This post includes affiliate links. I make a small commission off of items purchased from my links at no cost to you. Merci!