You don't have to spend a lot of money to give a meaningful and special gift. It all goes down to how it relates back to the recipient. I hope you find something on this list for people on your list this holiday season. This holiday gift guide under $100 includes a lot of my favorite things that I own myself.
Cue the Christmas music, pull out the lights, and let's get ready for one of my favorite times of the year.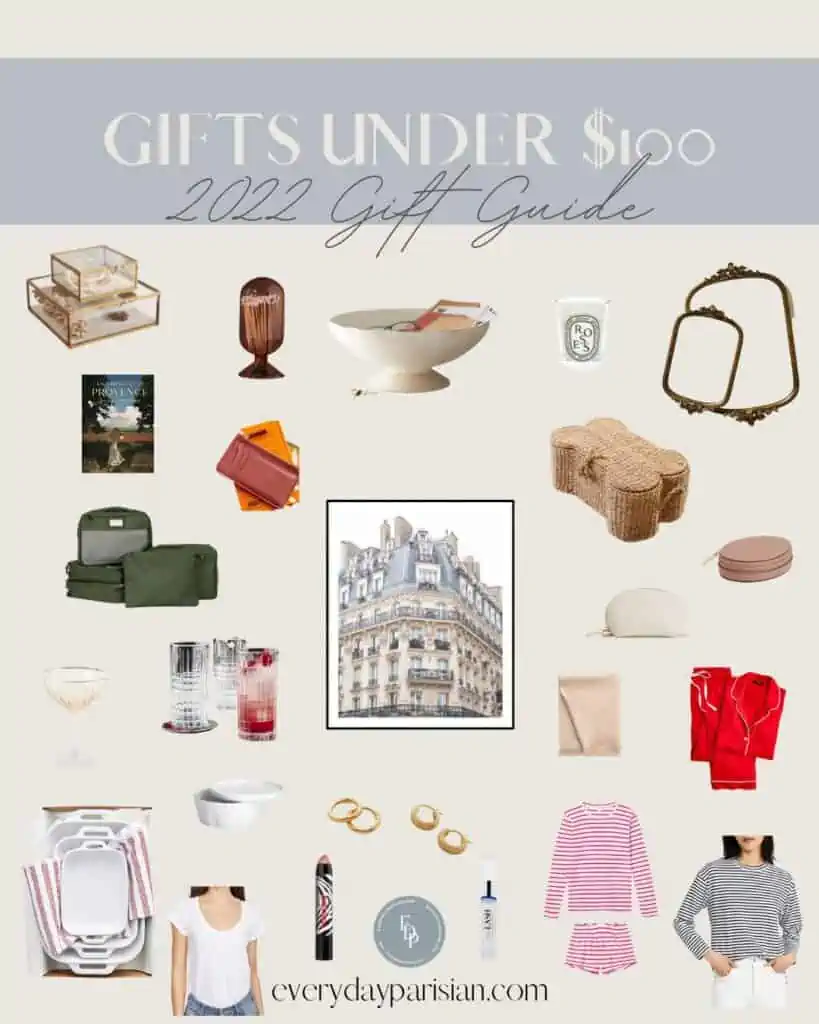 Holiday Gift Guide Under $100
Sisley Lip Twist – to say I am obsessed with this is an understatement. I have so many colors of this twist. Color can be intimidating but these lip twists make it easy and fun to play around. Burgundy #22 is my signature fall/winter color.
Waterfall Coupe Glasses with gold edge trim $64 These would make a great wedding gift too. Very festive for the month of December and New Year's Eve.
Match Cloche $34 to go with all my candles. We light a bunch of candles in the fall/winter months when we are at home. This is a beautiful addition to any coffee table or mantle
Diptyque Roses Candle This is what I got my brand manager Alyssa for the holidays. It is one of my favorite scents of Diptyque and makes a great gift. I have been crushing on the bigger pink candle for home.
Travel Jewelry Case $98 from Cuyana. This comes in multiple colors and keeps your earrings and other small jewelry pieces in one spot.
Glass Jewelry Box $36 – $94 in a variety of sizes. These are delicate but beautiful. I have a few for keeping larger items organized in my drawers.
Sidewalk Low-top sneakers from Madewell. I buy a new pair every year because I love a good fresh pair of sneakers. They are affordable and so comfortable for walking around the neighborhood or Paris.
Degrenne Pitcher, I have fallen in love with this French brand and we have the plates and bowls for our everyday dishes.
Shop The Print Shop and support a small business (aka me) These are my best sellers if you need a head start narrowing items down. An 11×14 is $90; you can frame it with a mat to make it 16×20 which is a great size for a wall.
More Under $100 Gift Ideas
The BEST white t-shirt. I was researching this for a blog post and ended up ordering one too many shirts to try. This is the white shirt that so many of you asked about on my Bordeaux trip. It isn't see-through which is a significant plus, washes well, and is so comfortable. I have a size small. They also make it in black.
Natasha Breakfast Tray $98 I snagged this one on sale. The shipping is delayed so it may be better suited for Christmas/Valentine's Day. This is a great way to have breakfast/coffee in bed.
Provence Glory $95 For the person who dreams and loves the south of France. For the coffee table or bedside table.
Houndstooth Scarf $90 It comes in multiple colors and I am crushing on it. I just added it to my cart because I believe it will be sold out before the end of the month.
An American in Provence $36 Jamie Beck is an American who moved to Provence and is raising a child with her husband in a small town. She is an amazing photographer and storyteller. There are recipes, lifestyle tips, and photographs inside.
Gift Ideas Under $100
Siren Muse Mini Huggie Earrings $70 to put in a jewelry box as an extra special elevated gift. These are simple and elegant and can be worn daily.
Packing Cubes $68 I have these in pink and now I wish I got a solid color. They make my life so much easier when packing in a carry-on for longer trips. Everything has a place and I feel like I can pack so much more.
Alfredo Coin Case. $55 Sezane gifted these to the girls from the Paris trip. I ended up using this instead of my larger wallet for moving around Paris. There is enough room for a credit card and ID and a few coins. The Larger Wallet is $70 I have both and love them equally. This one has room for dollars and a few more cards. It is all personal preference and budget.
Wine Chiller $89.95 This comes in a variety of colors. It is a great option for the wine lover who always loves a nice chilled glass of white or bubbly.
Paris Chic Book $95 I have had my eye on this book since its release. A great gift for the Paris lover that hasn't made it back in a few years.
More Gift Ideas
NeuLash Serum $98 I used this for a while and saw great results. You see results pretty quickly after using it and definitely after 30 days. With under 60 days to the wedding, I am using it daily. There is a minor irritation when starting it but it goes away quickly and the lashes are worth it. With or without mascara. Once you add mascara it's a whole different world.
Bone Storage Basket $99 I immediately thought of Henri and all his toys. We need this to keep everything organized. If only he put his toys back at the end of the night.
Cashmere Beanie $98 So many of you asked for a red beanie just like mine. This is a great option. Plus, it comes in a ton of other colors too.
Cuyana Vanity Case $98 This was a gift from a few years ago and love using it for travel and home. It is way better than a plastic bag that you may be currently using. It looks great on the counter for a little pop of color too. I have the pink option. You can also get this in a men's version and monogram it for a great gift.
Cuyana mini travel case is $58. This is great for a bigger bag so you don't misplace small items like lipsticks and earrings. I live for these little pouches that keep me organized. I also have a ton of Cuyana bags and this baby would fit right in.
More Gift Ideas Under $100
Monica Vinander Huggie Earrings $95 I bought these as a gift for myself earlier this year and I love them. I have very sensitive ears and these were a great affordable option.
Sézane Scarf $90 I bought this as a gift for myself and one for a friend. It's a great way to elevate your winter wardrobe. In Chicago, we will be wearing a coat and scarf for the next six months.
Water Resistant Ugg Slippers $100 Now that I have a dog, having slippers that I can run outside quickly and back in is essential. I own these in size 8 and love them. I wear them all the time around the house. I wear size 8.
Cashmere Socks $60 These are essential. I have them on my feet as I type. They come in a variety of colors. I went for the classic black.
These dreamy pajamas $90 are so comfortable and come in a beautiful holiday red color.
Gleaming Primrose Vanity Tray $54- $88 comes in two sizes. If you love the look of the Primrose mirror, this is the same material but in a vanity tray. Beautiful and very French-inspired.
Kitchen Favorites Under $100
Staub Baking Set $98 This comes with 3 different sizes, dishtowels, and spatulas. It makes a great registry item too. We bake a lot of chicken parmesan in these dishes and would use them for so much for entertaining friends.
Degrenne Bowls and Lids $36 Another Degrenne favorite. We have these bowls and lids in our kitchen and use them ALL the time. They look beautiful in our fridge and really keep food well. You can instantly use them from fridge to table for entertaining or serving.
Plaid Glasswear Collection $96 This is great for someone who loves to make cocktails or has a home bar. My sister hinted that they wanted something similar in their own home.
Ceramic Decorative Bowl $60 these come in multiple colors and will sell out fast. Perfect for the kitchen or entryway.
*This post includes affiliate links. I make a small commission off of items purchased through my links. Merci!