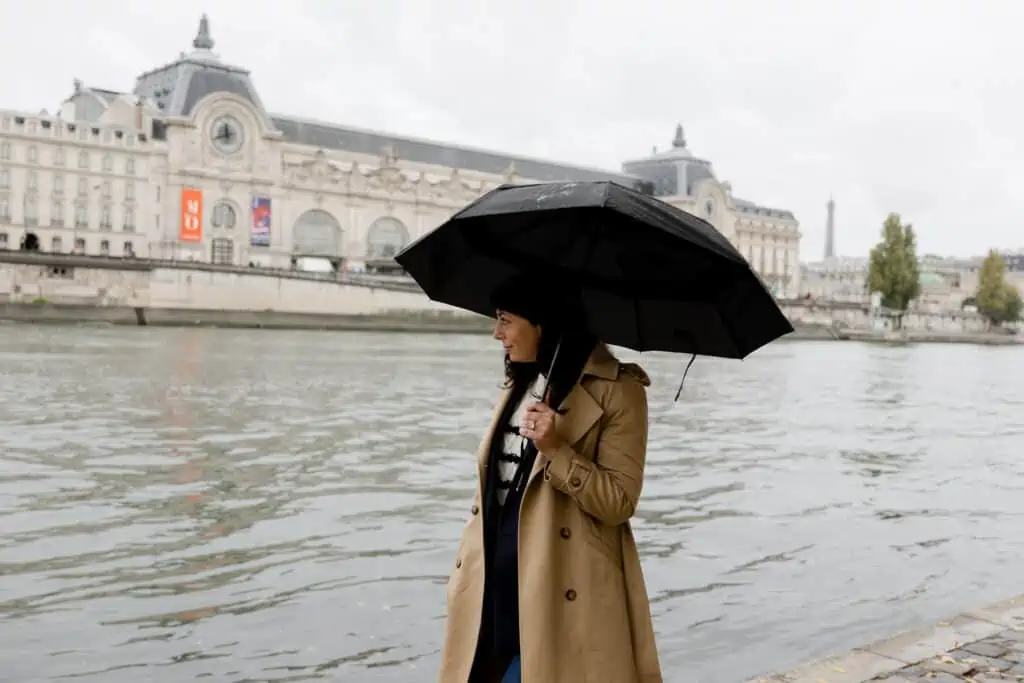 I have always been behind the lens when it comes to photography. In college, I would always offer up to take a photo of the group because it meant I didn't have to be in the photo. I am so camera shy and it feels awkward to be in front of the camera for me. It wasn't until my late 30's I started getting regular photoshoots with a photographer in Paris. The photographs were for the blog, newsletters, and marketing and while it was very out of my comfort zone I knew it was important to do. Katie Donnelly and I were introduced by a mutual friend and she suggested we do a shoot together. We hit it off instantly and became friends and Katie was able to put me at ease when it comes to being in front of the camera. She has not only taken beautiful photographs of me throughout the years but Katie was also there for the special moment I was engaged in Paris. The photographs Katie has captured of me have always been so special and I have some of them framed throughout our home. "What to wear for a photoshoot in Paris" is one of the questions I get asked the most, Katie and I wanted to put together this post to help you have the best photoshoot in Paris.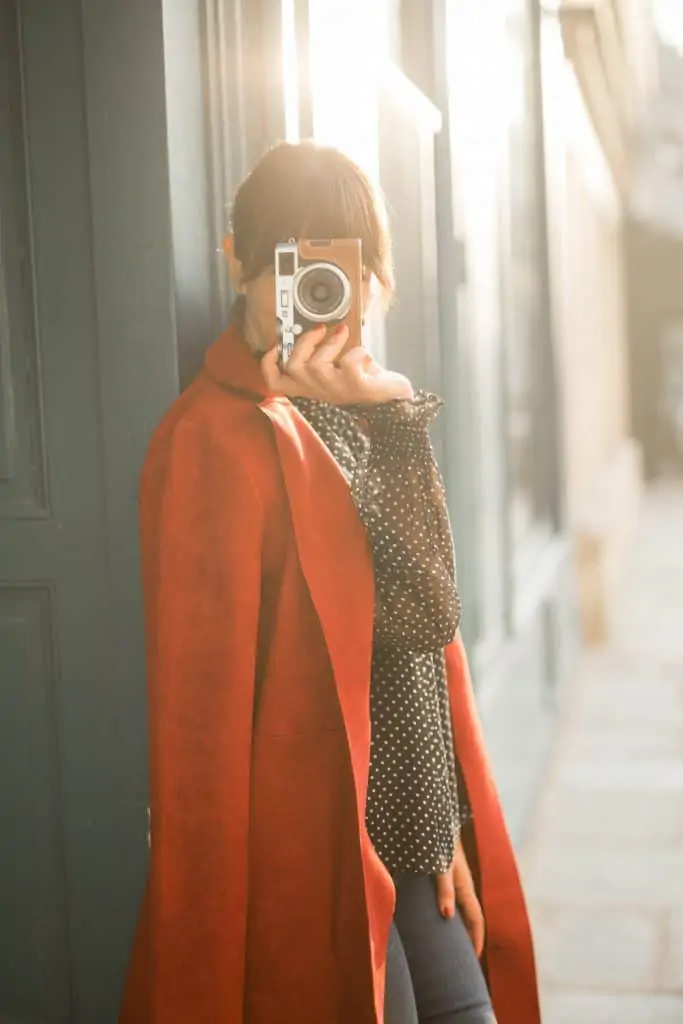 Katie is incredible for family photo sessions (she is so great with kids and is a mom), couples, and individuals, and I highly recommend booking a session with her for your time in Paris. Once you have your session booked with Katie, the next big question is what should you wear?
What to Wear for a Photoshoot in Paris
Katie – Hey guys, we are SO excited to be making this comprehensive guide for you because these are questions we get ALL the time about photo sessions in Paris, and after photographing probably 1000+ family, couple, and solo portrait sessions around Paris I definitely have lots of recommendations and great resources to share! This guide is a great way to ensure when you are in front of the camera you will be confident, look amazing in the right outfits, and get beautiful photos.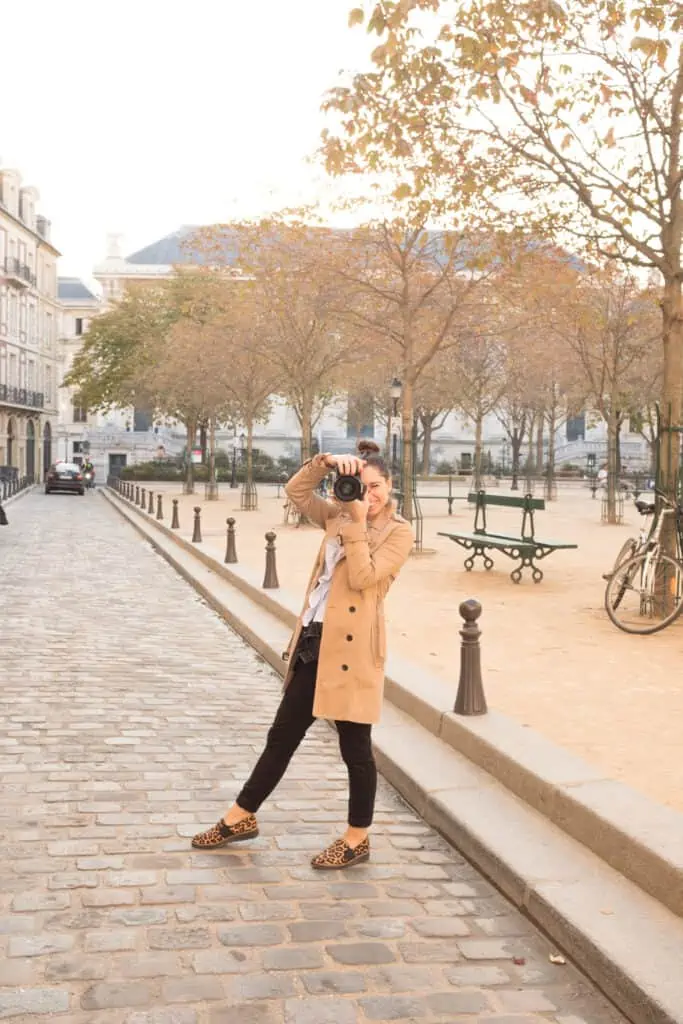 What to Wear for your Photoshoot in Paris: Book Your Photoshoot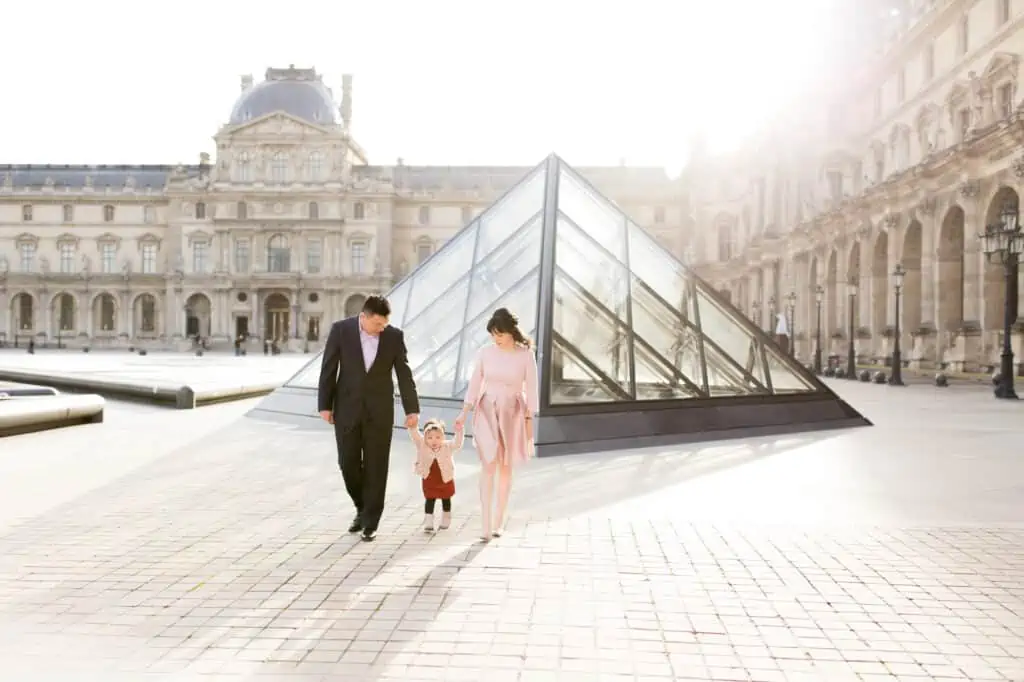 Katie: The most important thing, book a portrait session with a Paris photographer. It doesn't matter if it's your first time or your tenth time here, you could be a solo person, a couples photoshoot, best friends photos, or a big family photoshoot, hiring a professional photographer in Paris is always a great idea. The city of love is such a unique place you'll want to relive it every day and bring memories home with you. Reserving your portrait session with a local photographer is really simple, just send us an inquiry through the Katie Donnelly Photography website and my amazing team will get back to you with lots of info, options, and dates/times to reserve what's most convenient to you! All we need from you is dates and a little info about yourself/yourselves so we can really tailor the experience for you!
When you are booking your shoot, the KDP team will ask you where you want to shoot in Paris. We always recommend our favorite locations like the Eiffel Tower, the Jardin du Luxembourg, Pont Neuf, Palais Royal, and the Seine river (we'll get more into these and other iconic landmarks below) and have lots of prep guides to make your photo shoot as easy and stress-free as possible.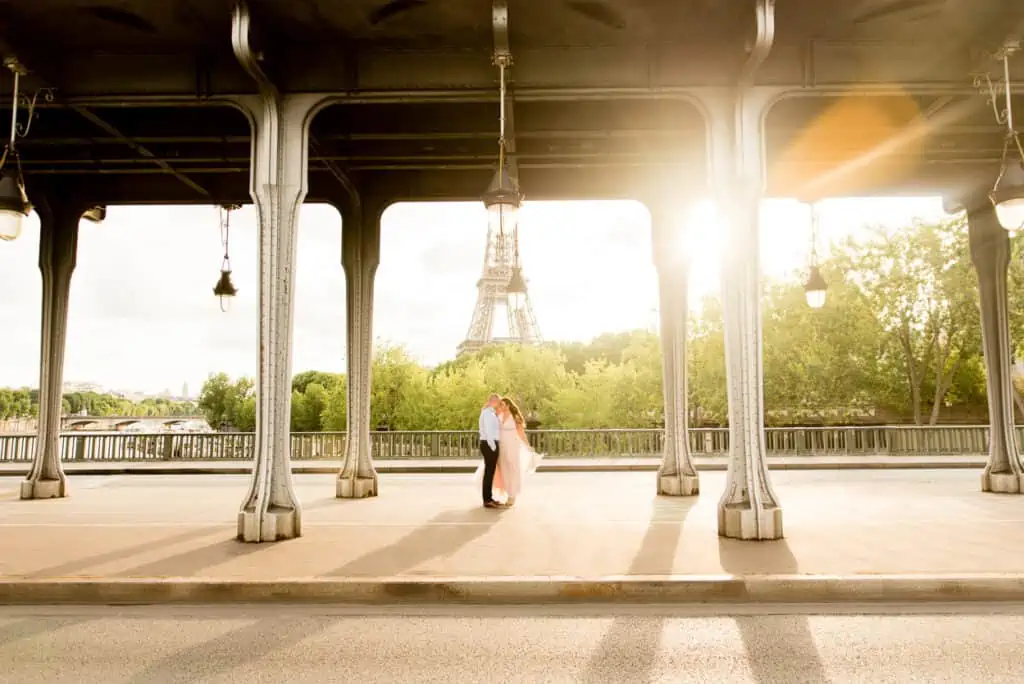 Oh, one last thing, you want someone who fluently speaks your language, so if you're coming from the united states on vacation, you'll definitely want to look for an English-speaking photographer.
When to Book Your Paris Photoshoot
KATIE – We use the saying all the time in the studio: "There's ideal and there's realistic and we usually find ourselves somewhere in between." Ideally, you schedule your portrait session a few months before when you're planning your trip and you have your dates in Paris so we have lots of flexibility to play with. OR if you live here, if you want a weekend, a few months out is good. Let's be real here though, we get a TON of last-minute inquiries for Paris portrait sessions every week. We manage to fit them in or make last-minute changes to our schedules about 90% of the time! So even if it is for the next day or two days from now, go ahead and get in touch with us! If you do have plenty of time to plan, then you can choose your outfits (and any outfit changes!), schedule professional hair and makeup (my team can help you do this!!), and all around make it a little bit less stressful for you.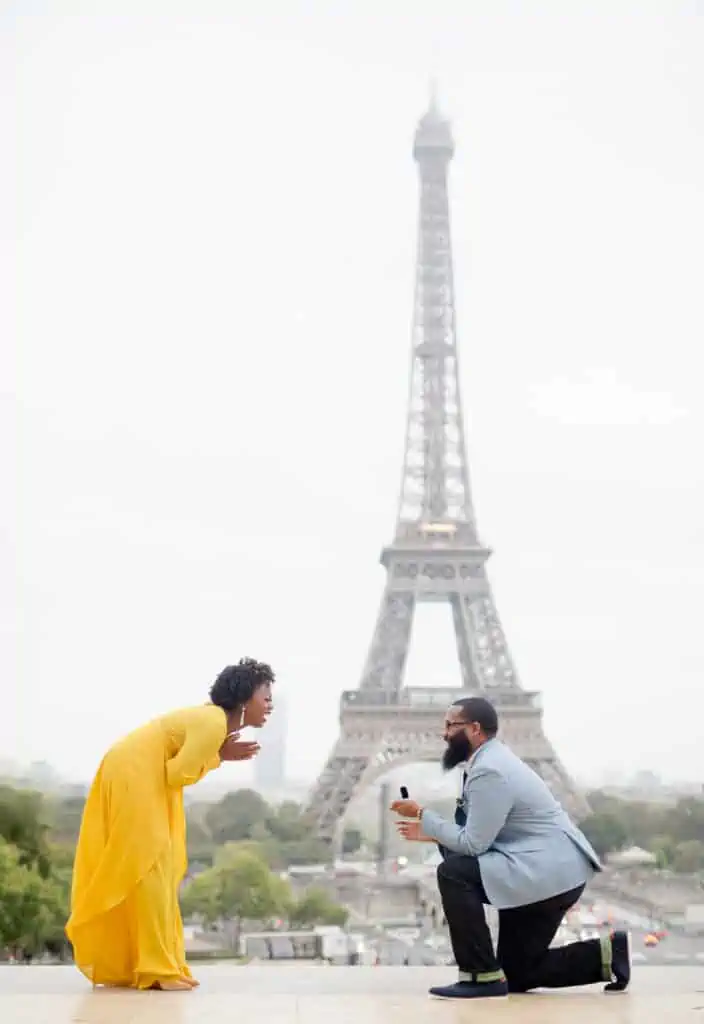 Plan around a Season or Special Occasion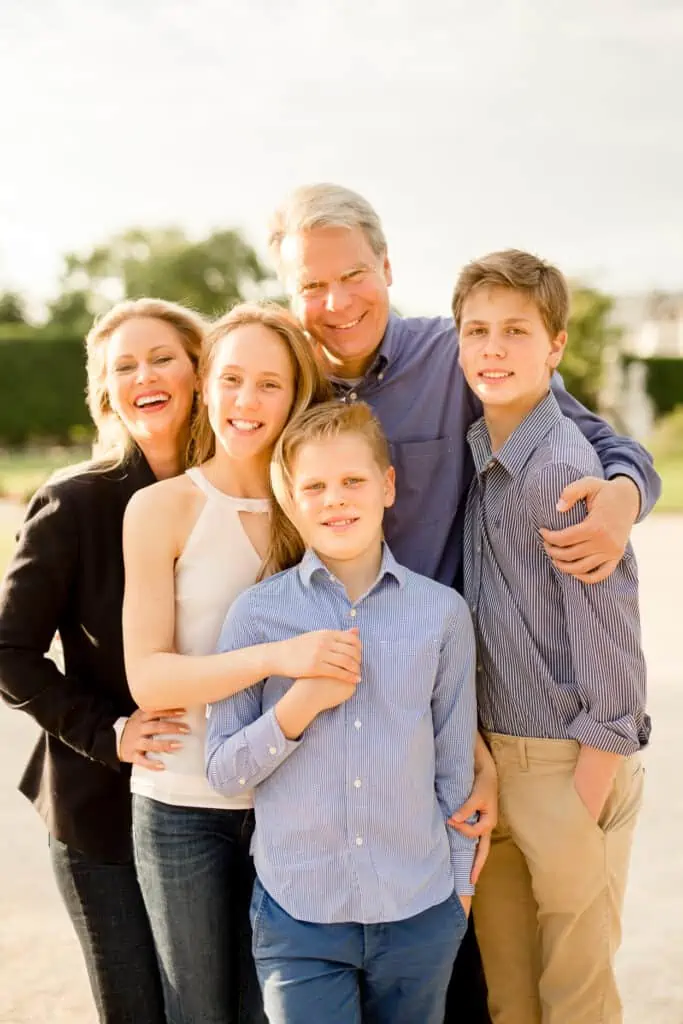 KATIE – Let's be honest, sometimes we think we need a "reason" to have a photo session. Shouldn't celebrating yourself be reason enough? What about celebrating a vacation you've been looking forward to? SO OFTEN even as a photographer, I come home from vacations with tons of iPhone photos and selfies but not the beautiful portrait or landscape I'd love to hang in our home. This is where a professional photography studio comes in, at our studio, we focus not only on the beautiful photographs but also on the stunning piece of art that will be hanging in your home afterward and the albums you'll bring out each time your family comes to visit. If you do have a special occasion though, a Paris photo shoot is really the perfect opportunity to celebrate it. Be it engagements, marriage proposals, anniversaries, birthdays, pregnancy/maternity, having the entire family together, or any other special moment, Paris is the perfect place for it.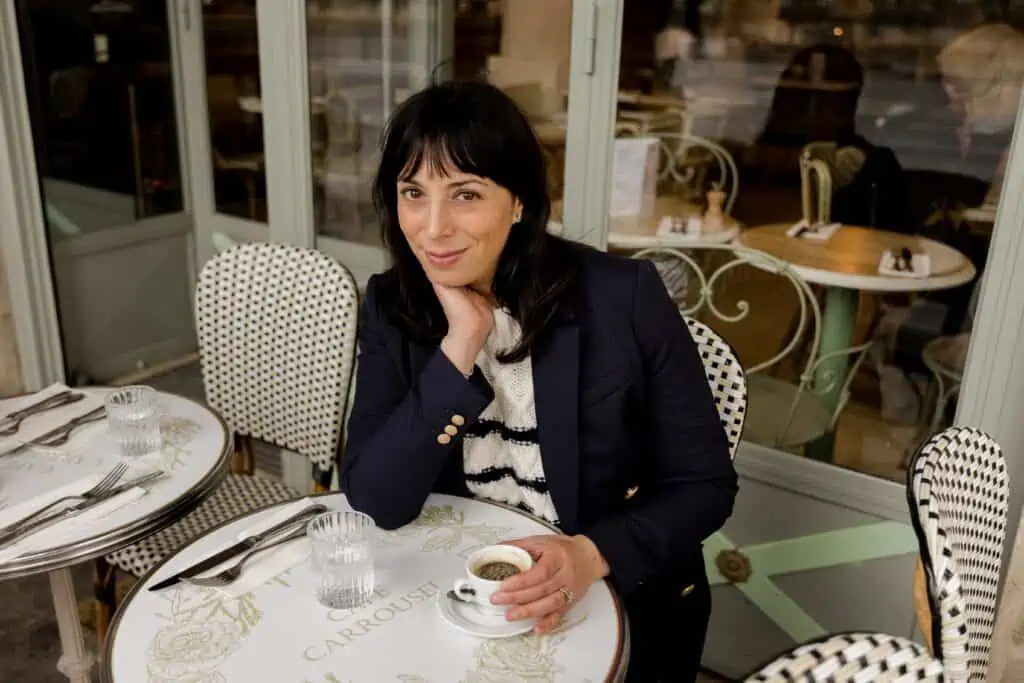 Rebecca: Katie's team and I have been shooting together for years and I rarely have a reason to do a photoshoot it just has become part of my Paris agenda. I love to choose places around the city that are personal to me. Palais Royal is one of them where we have done a few shoots. Parisian cafés are also great spots too. If you enjoy a glass of wine or coffee on a terrace during your time in Paris this is a great spot for a photo. Katie's team is honestly the best. On my last trip, I chose the location and we were able to find so many unique photos and corners to make it look like we were in multiple locations.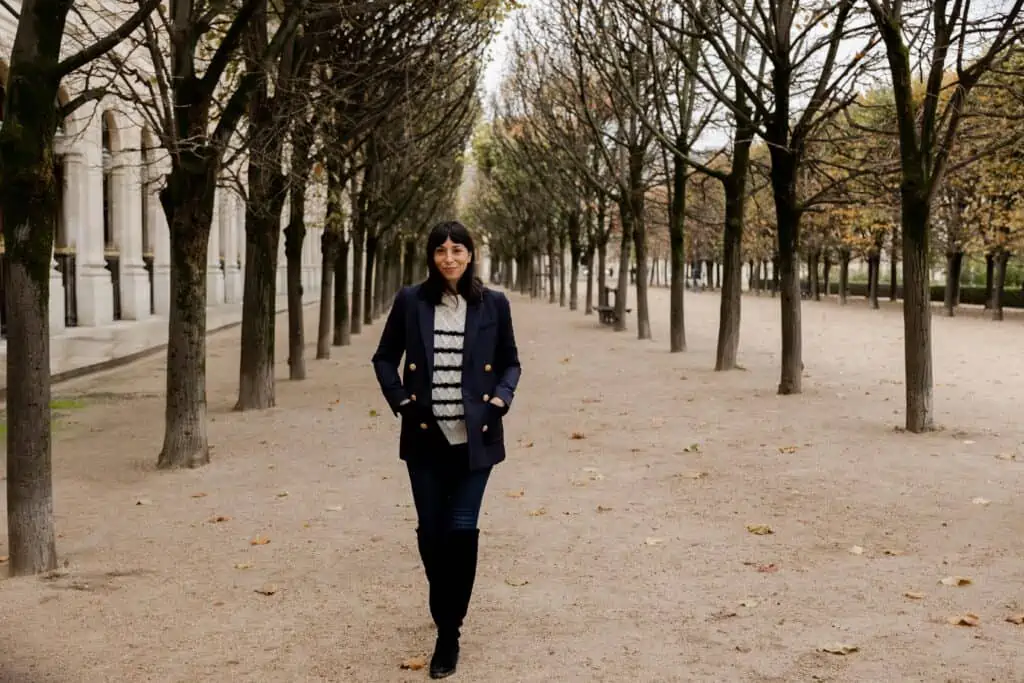 What to Wear for a Photoshoot in Paris: Photoshoot Prep
Katie:
After you have chosen what to wear for your photoshoot in Paris. Put your outfit out the day before and make sure it's steamed/ironed. Make sure your shoes are clean and also put out. You don't want to stress about this in the morning.
Get a good night's sleep the night before. All of our outdoor portrait sessions are in the AM, you will probably be slightly jet-lagged so having a solid sleep before will really help everyone start off the day in a good mood!
Map out how you're getting to the starting location of your photo session the next day. Plan a time to leave that gets you there 10 minutes early… then add 15 minutes to that. If you're planning on taking the metro or an uber everything can easily go your way and just as easily not go your way. Don't put yourself in a rush. Just plan more time and the worst case is you are a few minutes early and grab a coffee at a local café. If you've booked a driver, your driver will be able to help you plan for the correct time because they'll know what regular traffic will be like in the mornings.
Make sure you have your photographer's number in case you need to contact her before the session. (If you work with Katie, you'll already have this as all of her clients get an imessage or what's app group from the team before their session)
Put some thought into what you would like to do with your portraits afterward. Where would you love to see these hanging in your home? After all of our photo sessions, our clients come back into our studio to view their portraits for the first time and decide what they would like to have on their walls and in their albums. It is such a fun part of the experience and makes it so you can truly relive Paris each day from anywhere in the world.
Rebecca's Photoshoot Prep Tips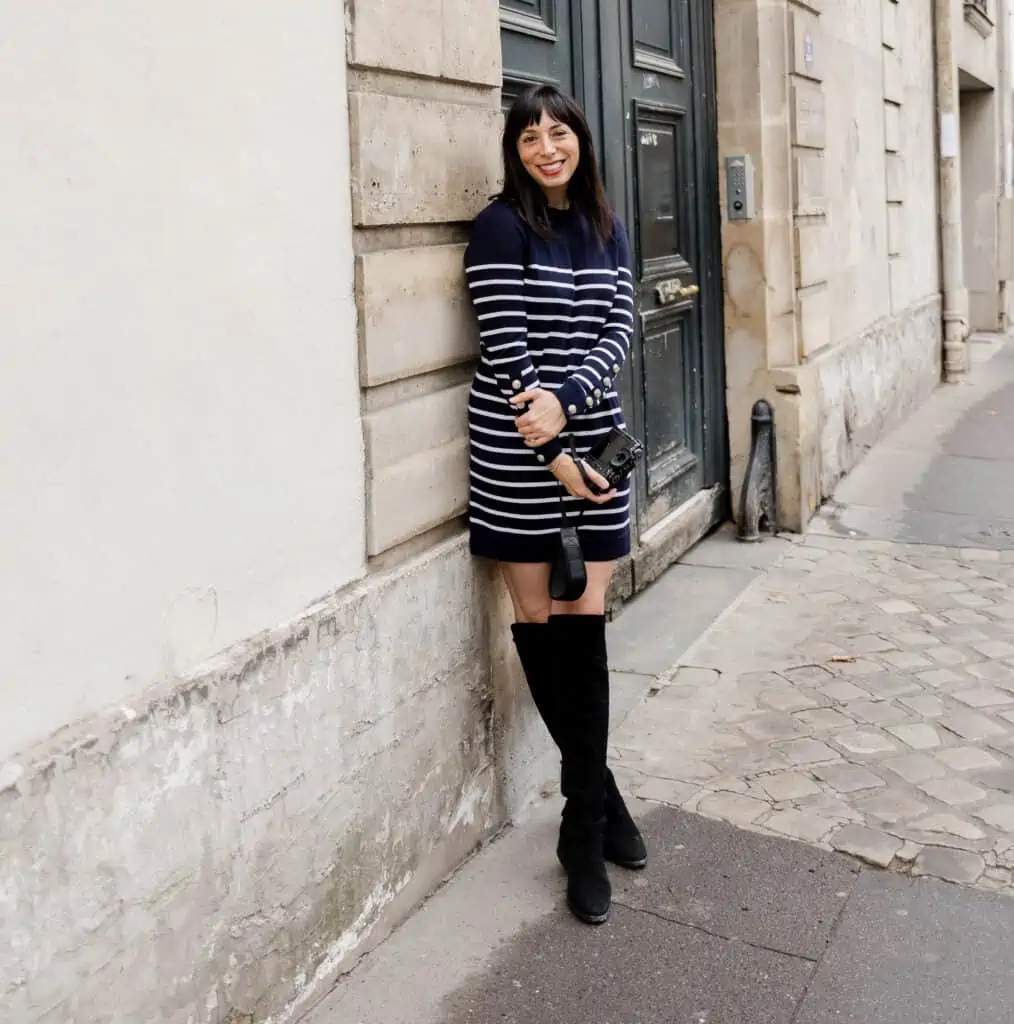 Rebecca's tips. Don't try anything new a few days before the shoot. Keep your usual skincare routine and make sure to stay hydrated. I always love using these eye patches under my eyes while I get dressed for the shoot, they relieve puffiness which happens when I fly or don't get a good night's sleep. Try your best to limit alcohol the night before a shoot so you don't look puffy and drink lots of water. Katie's shoots are typically in the early morning. I try to get up early and eat a good breakfast and walk to our location so I can get some fresh air and be awake for the shoot.
In addition to figuring out what to wear for a photoshoot in Paris, don't forget hair and makeup. Get your hair blown for the photo shoot. I did this on my last trip and it made all the difference. Paris water can do crazy things to your hair if you aren't used to it. A quick blowout which can be done all around the city will be a great investment plus you won't have to wash your hair for a few days after which makes travel life so much easier. Katie's team recommended and booked a blowout for me and you can also try René Furtherer which I tried out earlier this year and had a great treatment and blowout. You can show the salon a photograph of what you want your hair to look like to help guide them to your own style.
I keep my makeup style the same as I would any other time so it looks natural. I do a very simple makeup routine and add eyeliner. A pop of color on your lips really makes a difference in photos. I like to stick to burgundy in the fall/winter months and a lighter pink in the spring/summer months.
What to Wear for a Photoshoot in Paris: Building An Outfit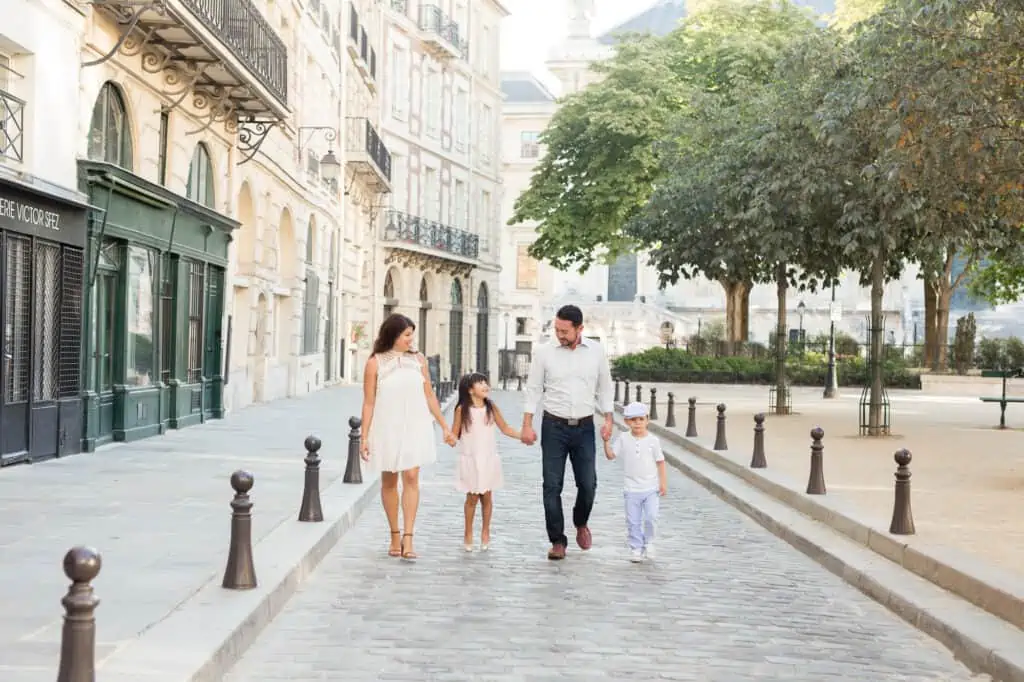 KATIE – Outfits are important and they can bring your Paris photography session to the next level. You want your outfits to compliment the different skin tones in your portrait as well as everyone's body type (this is especially important when you're doing a family picture!). It can be daunting thinking about putting together great outfits for a group so instead, we choose the easy way: Start with one person and build around their outfit. Say for example you have favorite statement pieces (like a great pair of high heels you LOVE, fur coats, statement necklaces, or a bow tie for example) start with that! Build YOUR outfit first. Then take the colors in your outfit and build around that. The idea is that the final result is a group of people who aren't wearing the same outfit but match in tones and feelings. This should help guide you on what to wear for a photoshoot in Paris.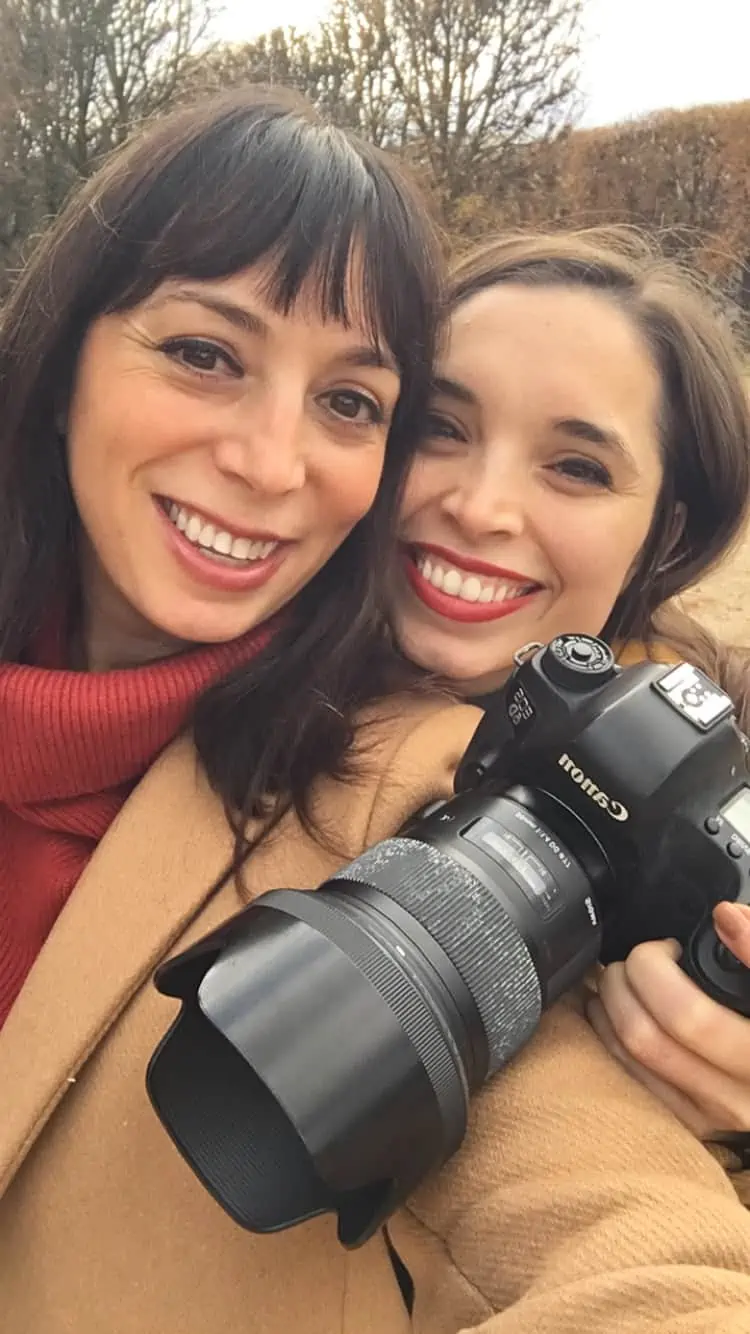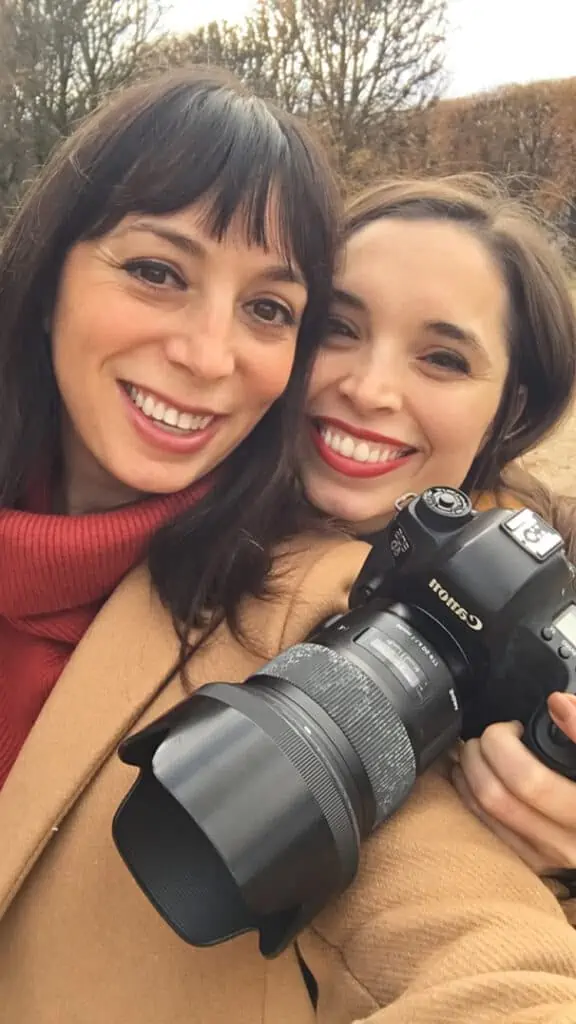 I'm a color person. I LOVE yellows and greens, they have a special place in my heart. But Paris? Paris is a monochromatic city with lots of creams and blacks (and the occasional blue sky, haha). If you love bright colors you're absolutely going to POP in this beautiful city. As a Parisian photographer who has done over 1000 sessions in this city, I would highly recommend sticking with a color scheme that includes two colors and then a shade. So for example white (shade), camel/deep beige, and a pop of red. Another good idea would be pink, blue, and white.
What to Wear Rebecca's Tips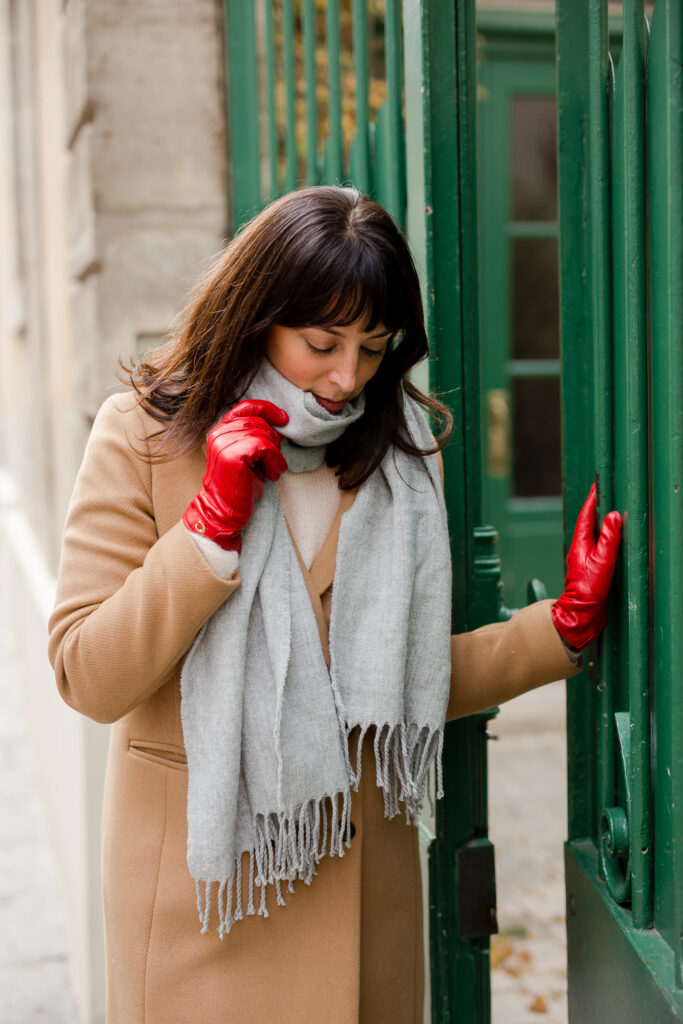 I recommend choosing something that makes you happy and you feel comfortable in it. Don't wear a dress that isn't you just because you are stressed at the last minute about something to wear. (Believe me, I have been there). I prefer to stick with solid colors which work for me against the background of Paris. Red seems to be my color so I typically will now pull something with a pop of red as my signature. If you have a special accessory or color that identifies you then that is what you should be wearing.
Some of my favorite outfits have been a red dress or little black dress that you can also wear for a date night or solo dinner out.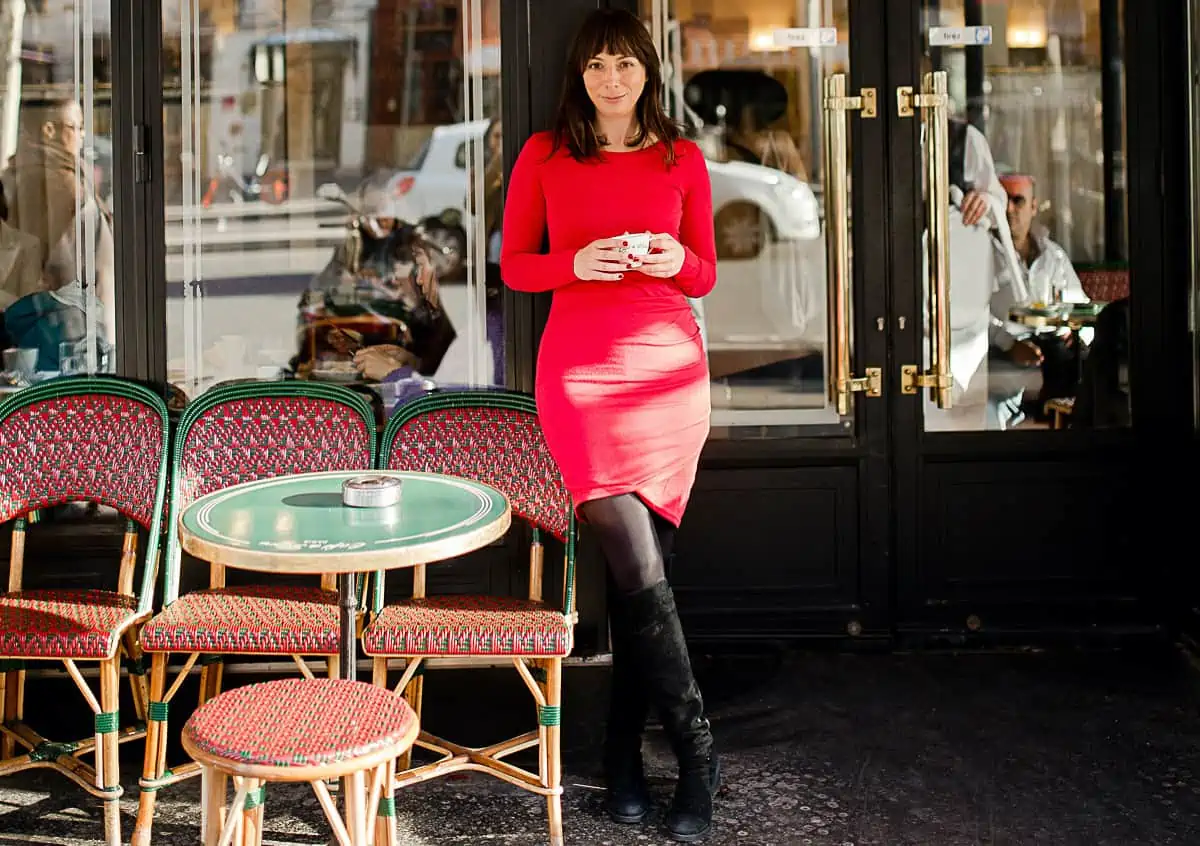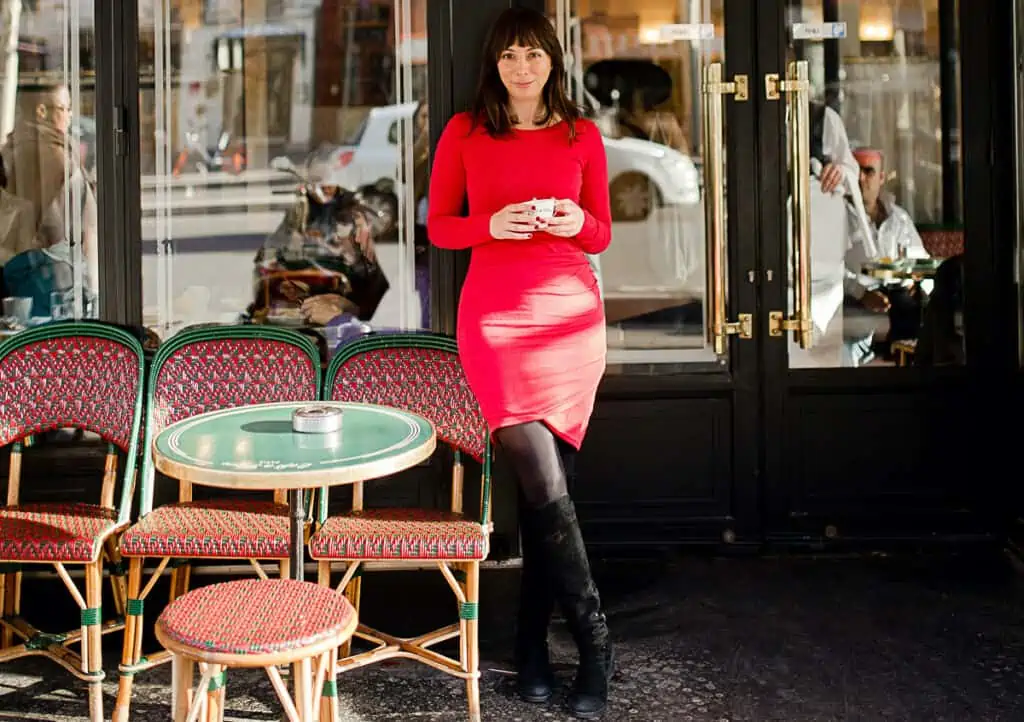 Incorporate color/texture/accessories
KATIE – During a long photo session, you might want a choice of outfits or different looks. This is definitely doable, but as most of our family photoshoots are shorter, I'll focus on how to make the most of one outfit without changing! A very easy way of having variety within your Paris photoshoot with one outfit is simply layering. For example, you can have a nice jacket with a scarf, then take that off to reveal a sweater. Now you have two versions of the same outfit. Having accessories to add on (hats, scarves, etc) can also, make a difference! Just a slight change-up always seems to add some fun. If you do have a more monochromatic outfit be sure to have at least one thing with a bold color or a few accessories with strong colors, this always creates that "pop" that you want.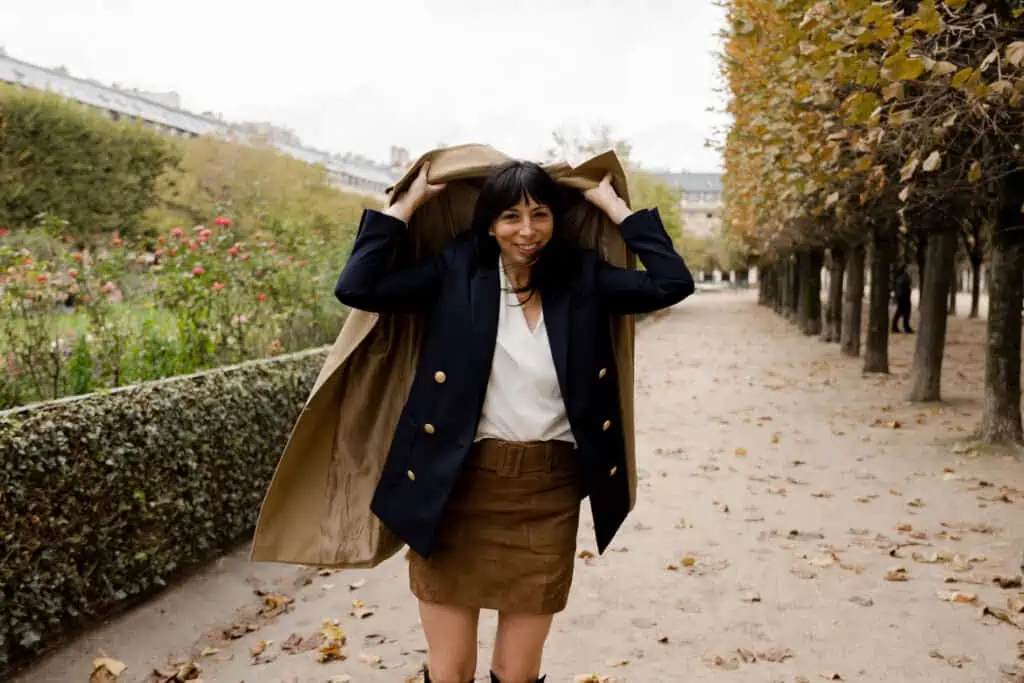 What to Wear for Your Photoshoot
Katie: Oh my gosh, Rebecca is certainly the style master here. Maybe it's helpful for me to write what to avoid in order to get good results on your big day:
Dirty shoes (make sure you clean them, Paris can also get VERY dusty in the parks!
Wrinkled clothing – Be sure to iron everything the night before or if you don't have a travel steamer (I LOVE this one to travel with), hang the clothes up in the bathroom and leave the shower on hot to steam them.
Not enough layers (especially for a winter photoshoot). With the cold, I recommend thin warm layers (like tights under jeans or a thermal thin shirt under your dress), and easy easy-off thin jackets.
Try your outfits on before you pack for Paris and make sure everything fits and you are comfortable in it. Layers are key when shooting because you can always take something off or add something for a different look. Jewelry, a bag, or something textured or a pop of color. I have done many photoshoots in the freezing cold you will just need to have a beautiful coat as an accessory and gloves and a scarf if you need it. You can always stop at a café for a coffee or hot chocolate to warm up and a café is one of my favorite personal spots for photos.
Rain During a Paris Photoshoot
Rebecca: Don't worry about a rainy forecast for your photoshoot, the weather changes in Paris in an instant. I packed my own umbrella and Katie's team also has umbrellas to make the shoot go smoothly. I had never had a shoot in the rain until this last trip and these may be some of my favorite photographs ever! Paris is romantic and moody in the rain.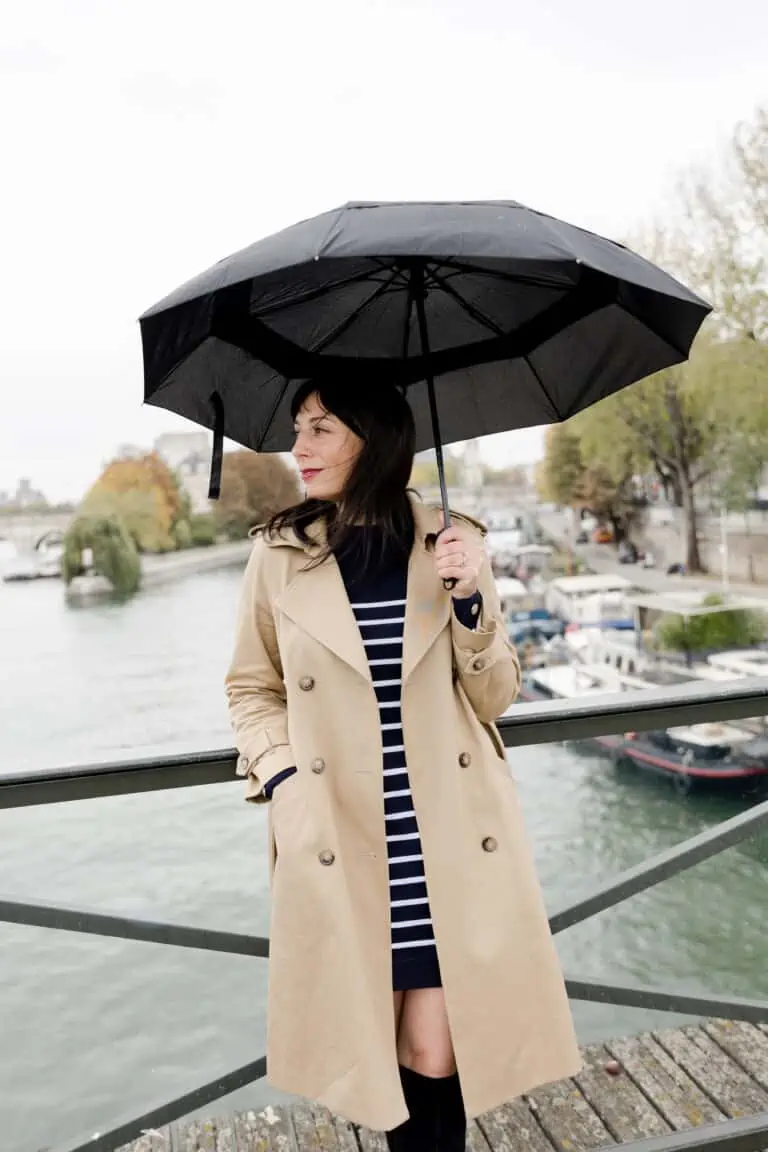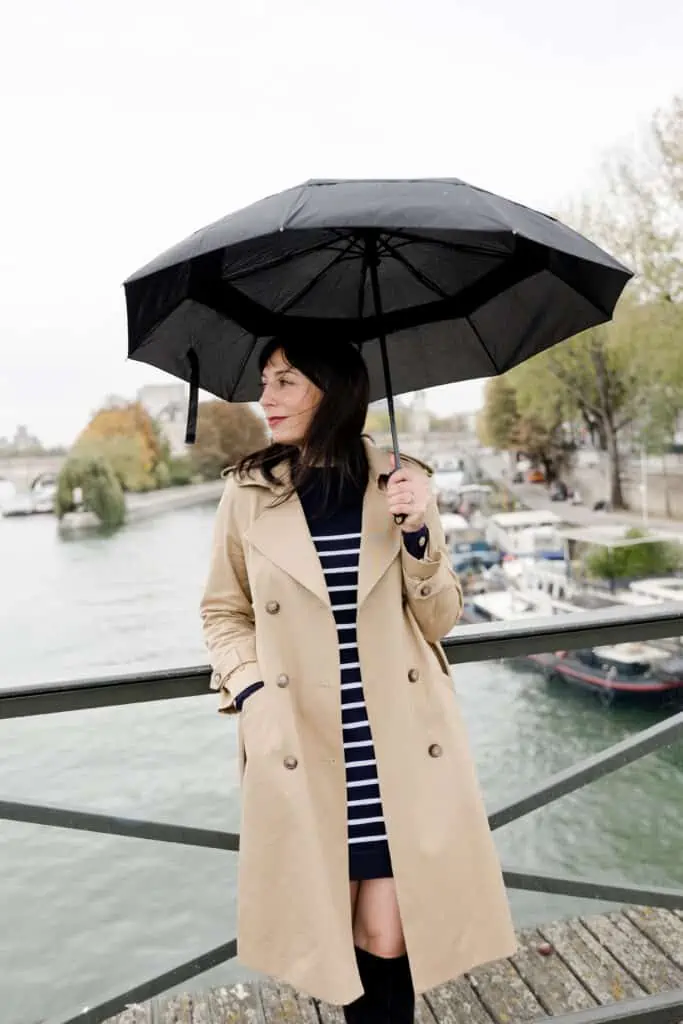 What to Wear for a Photoshoot in Paris: Choose Your Location
KATIE – Oh my goodness, we have a huge whole guide on this for our clients because it really changes the feel of the session to be in different places! First thing, choosing the best places/place for your family photo session should start where Paris is important to you. If this is your first time, you probably don't know this yet! So you might want something that really screams Paris, like the Eiffel Tower area. Here are our favorites that we recommend to all of our clients: Pont Neuf/Place Dauphine, Jardin du Luxembourg, the banks of the Seine river, Palais Royal, and Saint Germain des Près area. All of these neighborhoods have a HUGE variety of great places inside them so you really get a lot of great options in one small neighborhood.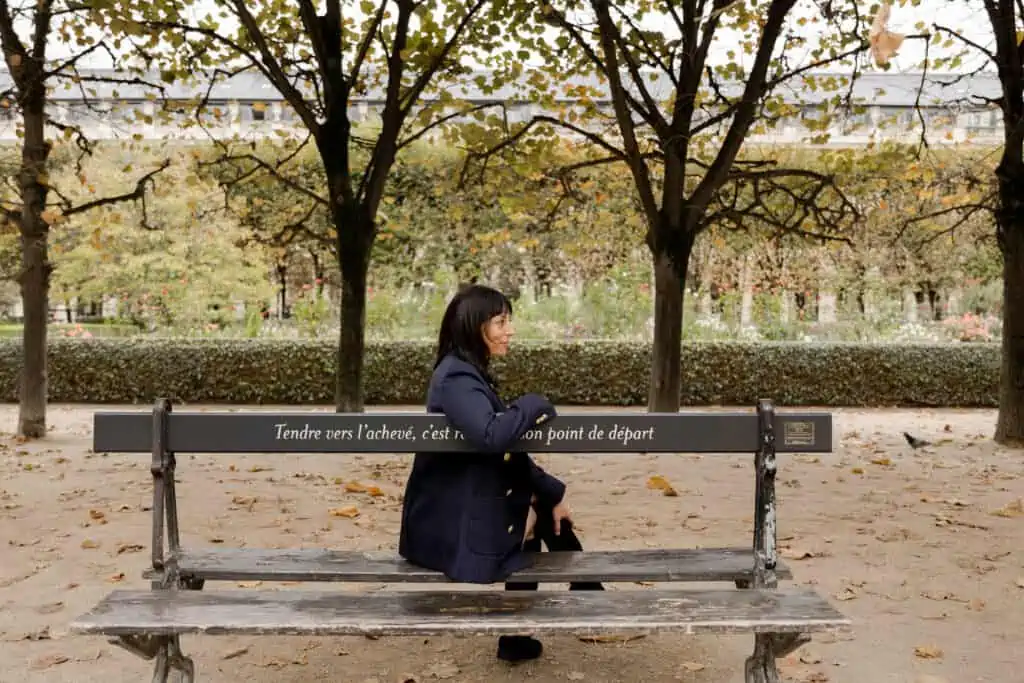 Rebecca. I have shot all around the city and Palais Royal is a personal favorite. The parks are a favorite, especially with the green chairs in Luxembourg Gardens and The Tuileries. The Eiffel Tower is iconic and a very obvious choice. I get this question a lot after people book with Katie and her team. The photographs you will love the most are taken in places that hold special memories for you. If you spent hours at a little café on the Left Bank for an afternoon, that is where you should shoot. Don't feel pressure to do anything that isn't you. Katie's team can also recommend some great spots if you can't make a decision or don't know the city well. You can also scroll through Instagram and send ideas of locations that way.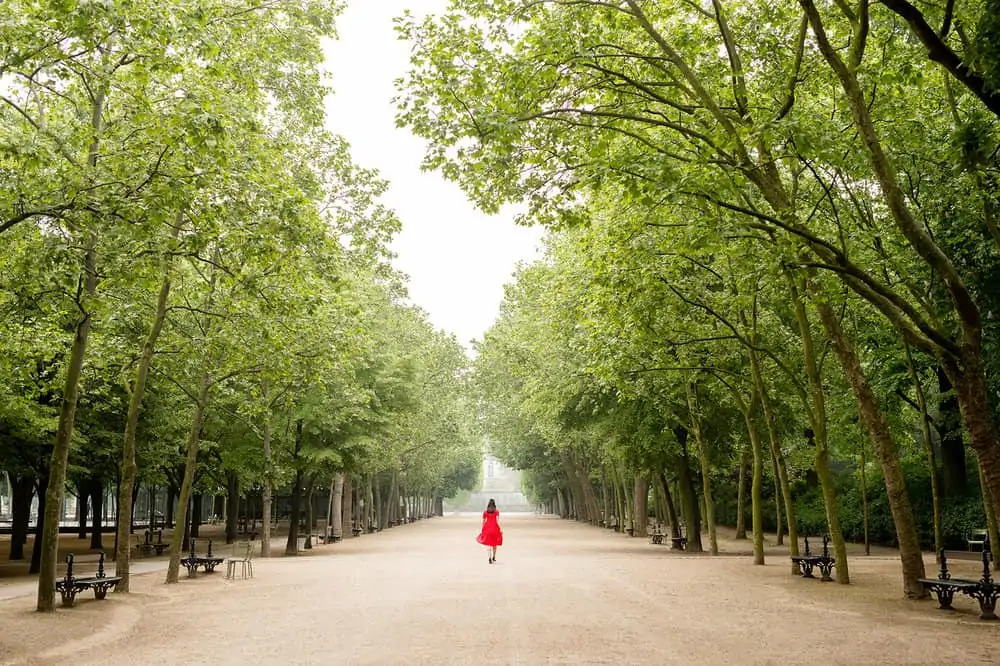 Most importantly, have fun with your photoshoot in Paris. Let your personality shine and leave the work to Katie's team. It should be an experience and beautiful memories to last a lifetime. In fact, a few hours after your session, you'll go back to the KDP studio to view your beautiful portraits and order your favorites as artwork. (for your walls and in albums)This way every day back home you'll have a piece of Paris.
When it comes to hesitating on a solo shoot in Paris, I can understand why you may think this should be for couples or families, do it for YOU and your family and the people that love you. One of my favorite things I own is a photograph of my mom when she was younger in black and white. I know that my niece and nephew will treasure the photographs of their auntie in Paris and hopefully want to frame one when they are older. It is so important to me to inspire them as and I hope they have the passion to see the world and experience other cultures on their own one day.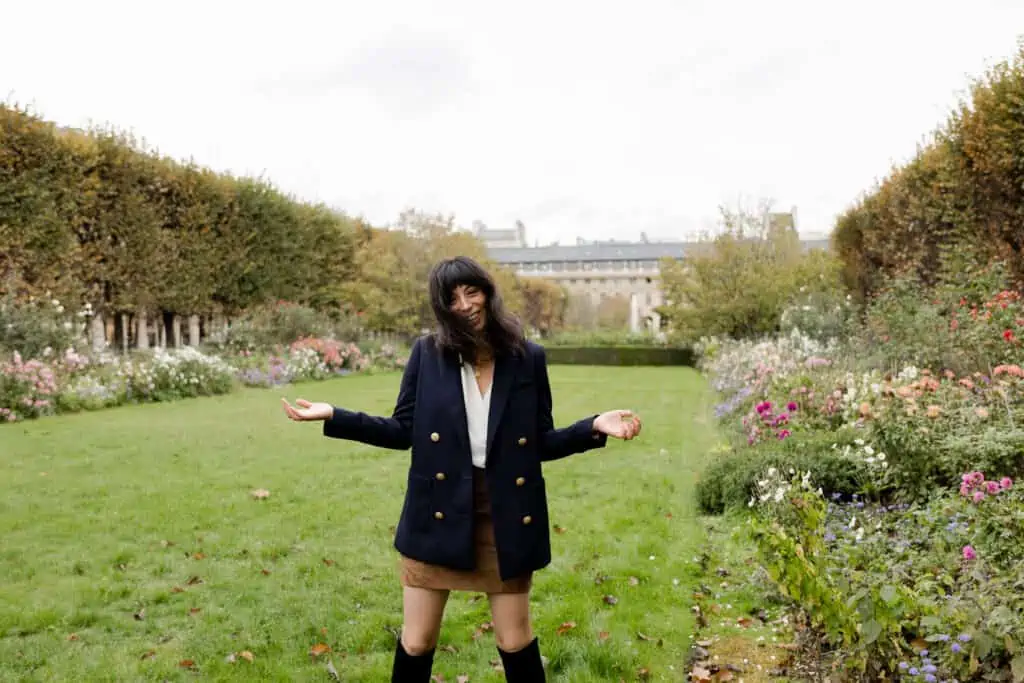 Comment below and tell us how I can make your Paris experience better. If you are planning to book a with Katie, I hope this was helpful on what to wear for a photoshoot in Paris.
All photos taken by Katie Donnelly Photography. This post does include affiliate links. I make a small commission off of items purchased from my links. Merci!