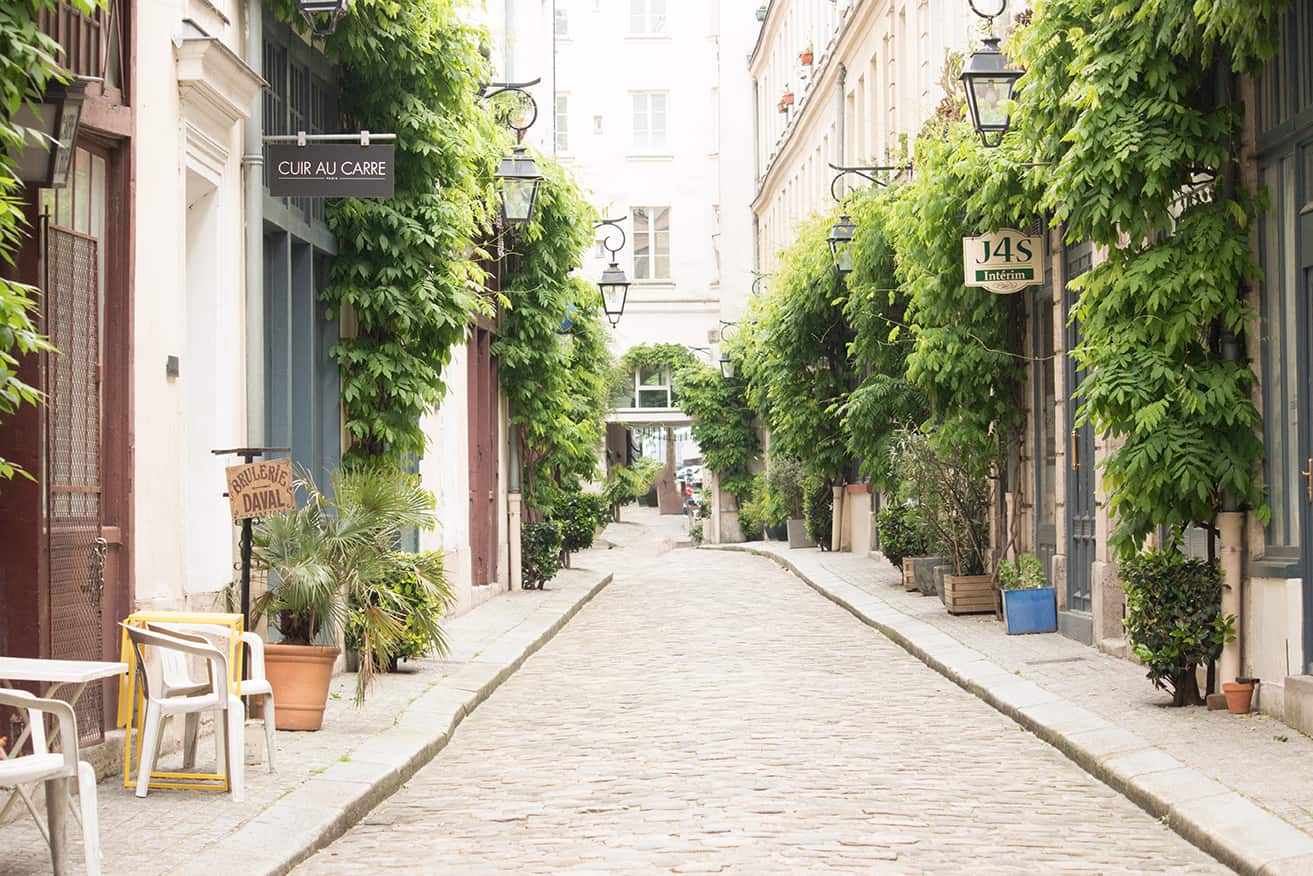 15 of the Best Things to do in Paris in the Summer
Paris in the summer is a popular destination. Summer vacations, school trips, honeymoons, and college kids spending a summer abroad. The city can be packed with tourists so keep this in mind when planning your trip. Earlier in summer would be best to avoid the crowds and heat waves in July. In August, a lot of the city closes down for the summer holiday including restaurants, bakeries, and shops. Paris by Mouth always has a great up-to-date list on what is open in August. I always remind people of this in August if they are planning a trip during this time. The bakery or shop that was on their must-visit list might be away on their own summer holiday. The locals escape the city to the country or south of France and return for le rentrée at the beginning of September.
The weather can be extremely hot in the summer months and air conditioning isn't standard in all hotels and apartments. Make sure to do some research before booking your accommodations. The sun sets late and can be after 10 pm.
If you are planning a summer trip to Paris or thinking of one for the future, this post will give you ideas on what to do during your time in Paris. You can use this packing guide if you need help on what to pack for your upcoming trip.
Bastille Day
Bastille Day is always a popular time in France. On July 14th, there are fireworks in front of the Eiffel Tower to celebrate and a parade down the Champs Élysées that starts at the Arc de Triumph. You can picnic with the rest of Paris on the Champs des Mars. I would recommend trying to find an apartment or balcony you can enjoy the fireworks and celebrations that are a little less crowded. I have never been to Paris on Bastille Day but it would be something to do at least once.
French Markets
Visit the local French markets to experience French culture. See how the French shop at the meat and cheese vendors. The stalls with the longest lines usually have the best fruits, vegetables, and cheeses. For tips on how to shop at a French market like a local, you can check out this post. This is one of my personal favorite things to do. I love going to the Bastille market which is on Thursdays and Sundays. The best time to go is early in the morning before it gets too crowded. This is around 8 – 9 am. Thursdays are less crowded than Sundays and I find that the prices are a little better.
Banks of the Seine
Take some time to hang out and people watch on the banks of the Seine. This is a great way to meet French people. You can take a bottle of wine, baguette, and cheese and make a little picnic. You will see the banks filled with people from the Marais to the Eiffel Tower. There isn't a wrong place to spend an afternoon or evening. Just head towards the river Seine when you are ready to take a break and rest your feet.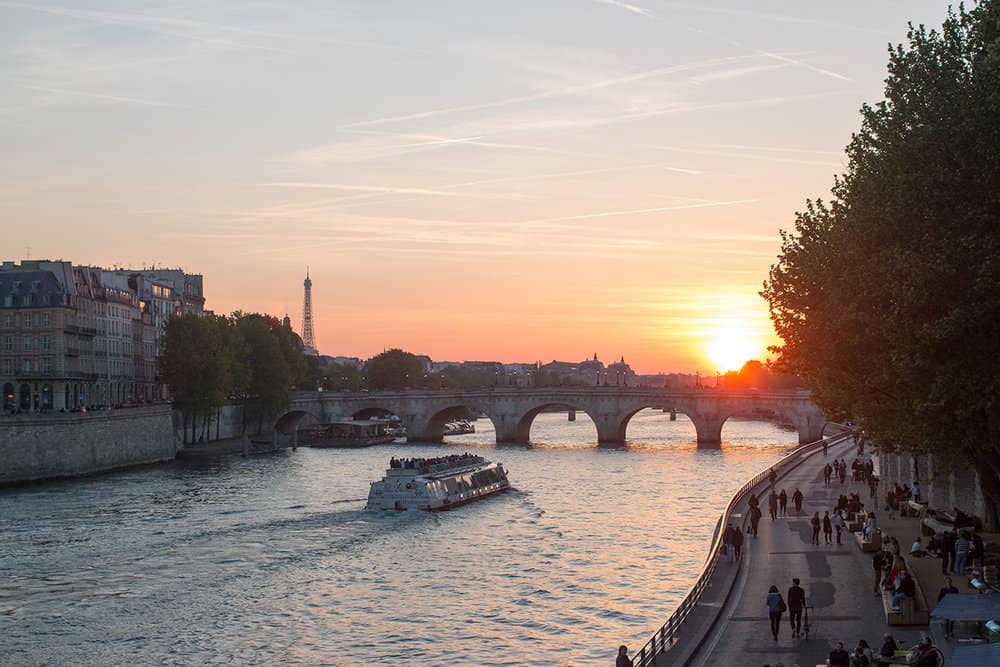 Jardin des Tuileries
You can spend time here walking through the gardens, people watching from the green chairs around the fountains, or letting your children run around in the park. There are some kid-friendly activities in the Jardin des Tuileries including a playground and carousel. This is a perfect place for a picnic or ice cream break. In July and August, there is the Fête des Tuileries which includes carnival rides, games, and food. You can also ride the Ferris wheel which gives a great view of the city.
Paris Plages
Along the banks of the seine in the summer months, you will see the Paris plages pop up which are man-made beaches for those that can't escape the city. This happens between July 9th and August 21st.
Ice Cream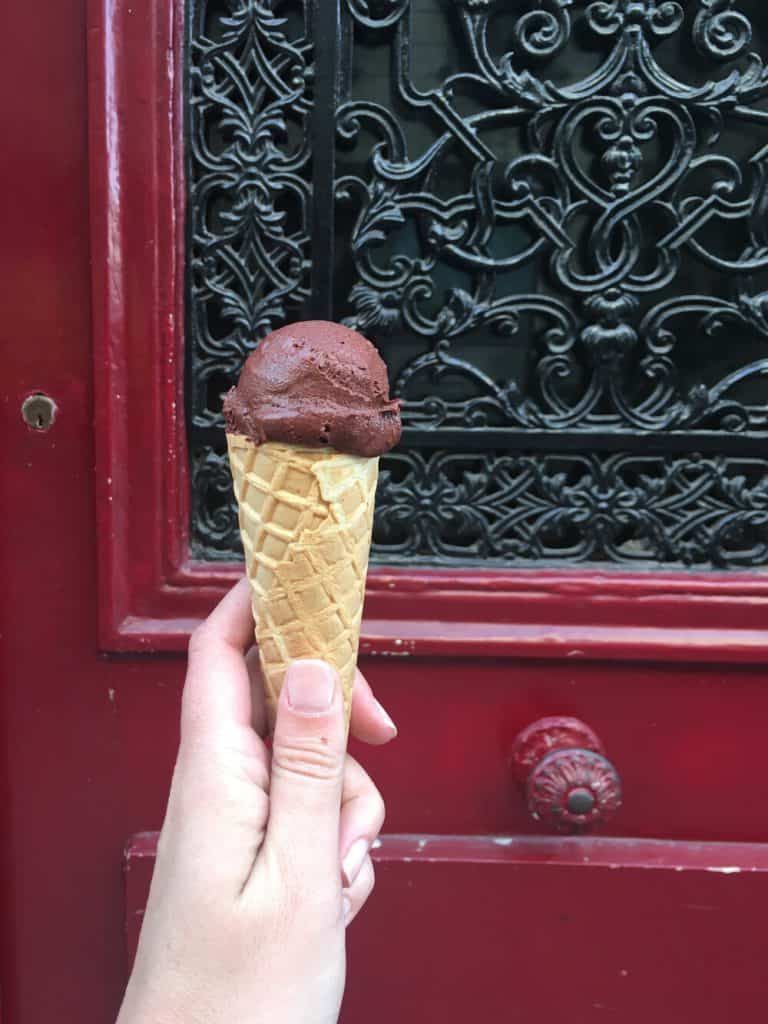 Cool off with an ice cream in Paris. Berthillon is the famous ice cream that can be found on île st louis. There will be long lines, especially on the weekends. I really enjoyed Alain Ducasse's ice cream found in Palais Royal but it can also be found in his chocolate stores around the city. The lemon sorbet was by far my favorite.
Rooftop Bar
Visit a rooftop bar to beat the heat and see the city from a different viewpoint. I have enjoyed Le Perchoir at the top of BHV in the Marais. Terrass hotel has a great rooftop in Montmartre. Cheval Blanc also has a rooftop bar with an amazing view of the city. The department stores Galeries Lafayette and Printemps also have rooftops with iconic Eiffel Tower views of the city of light.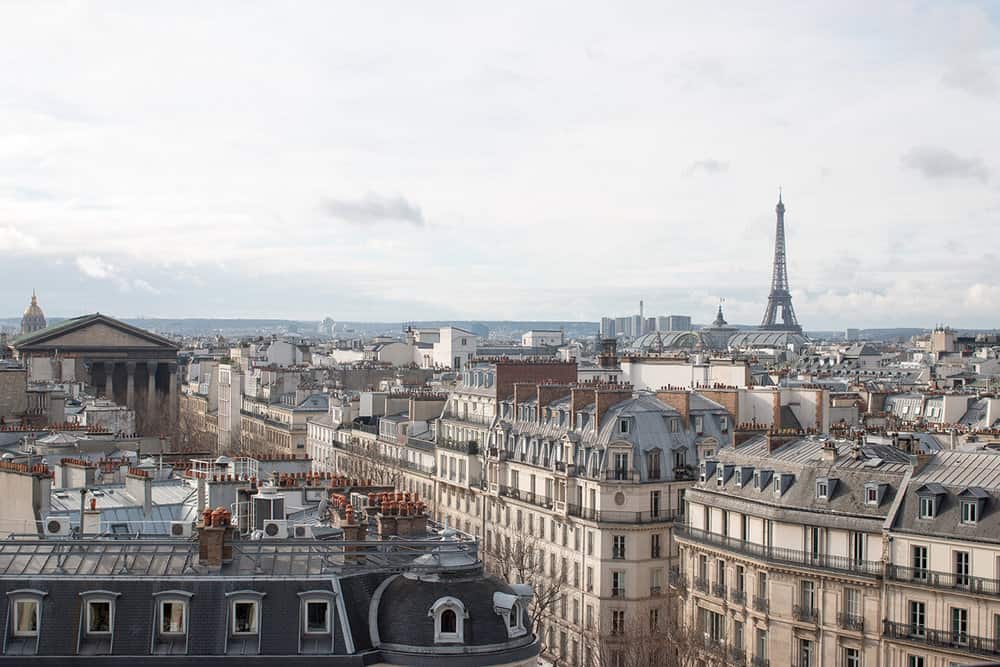 Picnic
I always have to have a picnic at least once while in Paris, especially in the summer months. If the banks of the Seine aren't your preferred spot. Try the Champ de Mars in front of the Eiffel Tower. We had a picnic here during our Atlas Adventures Paris trip in October and in April. We stayed until we saw the Eiffel Tower sparkle at the end of the evening. Arrive early to get a good spot. It will be busy on holidays and peak season.
Jardin du Luxembourg
If you prefer the Left Bank, this is one of the best places to people watch. Stop by the Medici Fountains for a photo or sit in the green chairs surrounding the water fountains. You can picnic here or read a book. I always recommend this spot for families with kids. You can push wooden boats across the water as an activity. For a few euros, your kids will have entertainment for an hour.
Seine River Cruise
I always recommend a Seine river cruise if it is your first time in Paris. I recently discovered Green River cruises if you want something more luxurious and private. Some of the river cruise options are much larger and will be packed with tourists. You can try the Batobus which offers a 2-day consecutive pass for 19 euros, kids are 10 euros. You can use this instead of walking or taking the metro to get to different famous landmarks around the city. Hop off at Notre Dame and explore and grab another boat to the Musée D'Orsay or the Louvre museum.
Bike Ride
Grab a city bike and explore the city in the early morning. I really enjoyed a bike tour with Fat Tire bike tours to Versailles last fall. They take care of everything and allow you to skip the line for entrance to Versailles which is so helpful if you are short on time but want to see as many sites as possible. You are also able to bike around the town of Versailles and the grounds.
Watch an Outdoor Movie at the Cinema en Plein Air
This will be happening at the La Villette Open Air Cinema in Paris from late July to the end of August. The theme of the year is dancing which sounds like so much fun. Give this a try if you have the time. All the details are here.
Café Terrace
Don't forget to stop and take in the view of Paris from an outdoor café. Grab a seat and stay awhile. Once you have a table at a café it is yours for the morning or afternoon. They won't rush you away like in the US. You may actually have to take some effort to get your check when you are ready. Order a soda, glass of wine, or my favorite citron presée (lemonade) This is also a great time to practice your French and order with the waiter.
Explore the Puces/Brocante
The Puces are the Parisian flea market at the top of the city. You can take the metro to the end of the line and walk or take an Uber or Taxi. There are also Brocants (flea markets) in different arrondissements around the city. They will be announced each week with signs in the area. You can also check this website for places to find a flea market in Paris. You can also explore the Village St Paul close to the Marais if you don't have time to make it to the Puces. Mache D'Aligre close to Bastille also has a flea market every day but Monday. The weekends are the best especially Sundays if you want to see some antiques or pick up something small to bring home. This is fun just to explore and browse for an afternoon.
Pro Tip
The weather can be touch and go in the summer months.
Expect warm weather but also pack comfortable shoes for long walks and a trench coat for rainy weather. I have a trench coat from Sézane that I have worn more than any other jacket in Paris over multiple seasons. You will see tons of people walking around in trench coats in Paris. If you want a more affordable version, you can try one from J.Crew or Mango.
The summer months are considered high season and the prices are higher than other times of the year.
Keep this in mind as you are planning your summer vacation. One of the best ways to save money on a trip to Paris is to stay in an apartment rental vs a hotel. You can visit the local markets or grocery stores and cook meals. You can also save by taking public transportation vs a cab or Uber. I prefer to walk most places but if you have a destination that is too far to walk, there are metro stations all over the city to take you exactly where you want to go.
Another way to save money is to purchase a Paris museum pass.
If you have a strategy on museums you want to visit, you can cover a few in two or three days. You can also do this if you have a few rainy days in the forecast. This also helps you avoid the long queues in the heat.
A few touristy things to skip:
I have not been to the Moulin Rouge for a cabaret show but I have heard that it is like Las Vegas. I have been to Crazy Horse which was an interesting experience. A once and a lifetime last-minute visit that I will save the story for another time.
Be respectful of the French culture and know some basic French vocabulary.
Bonjour and merci go a long way. Practice your language skills with the waiter, the boulangerie, or when offering a coffee. You can use this blog post on French phrases for your next trip to Paris.
If you are planning to head to the Paris Olympics in 2024 or know someone who might be. Bookmark this post for a future summer trip.
*This post includes affiliate links. I make a small commission off of items purchased from my links. Merci.