As many of you are taking your first family trip to Paris with kids for spring break this year, I thought this post would be timely and helpful. Below are some ideas for things to do in Paris with kids. I also included a scavenger hunt for little ones to keep them entertained as you navigate the city.
Jardin des Plantes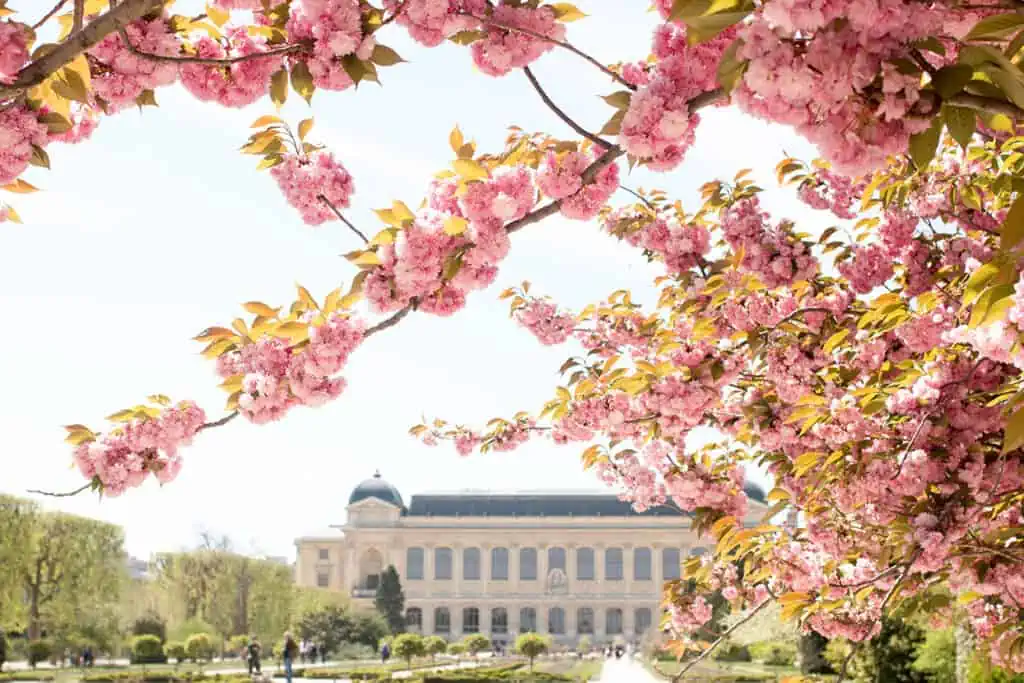 Jardin des Plantes is a massive park on the left bank of Paris. In the spring, it is one of the best places to see Paris in bloom. The botanical garden is filled with various flowers, and there are incredible cherry blossom trees that kids can run under. You will also find a small carousel for little ones to ride. Explore the zoo located next to Jardin des Plantes for a fun afternoon. Tickets can be purchased online here. A Natural History Museum is also in the same area for a rainy day activity.
Scavenger Hunt
The idea for a scavenger hunt came when I ran into a neighbor with young kids planning their first trip to Paris. She asked me for suggestions on what to do, and I told her to make a game out of exploring Paris as a fun way to see the city. I immediately ran home and compiled ideas for what kids could search for in Paris. Not only is this scavenger hunt fun, but you can also use it as a teaching moment for kids to explain the culture in Paris.
Jardin des Tuileries
Spend an afternoon in the Jardin des Tuileries (Tuileries gardens) in central Paris, just next to the Louvre museum. You can grab an ice cream in the park next to the fountains in the warmer months. Pull up a green chair and let the kids run around and burn off some energy; it's a perfect place to spend some time outdoors. There is a carousel located in the Tuileries that you can buy tickets for, and the whole family can ride this. Younger kids can enjoy a playground for an afternoon. For older kids, explore the trampoline park beside The Tuileries, closest to Rue de Rivoli by the Place de la Concorde exit.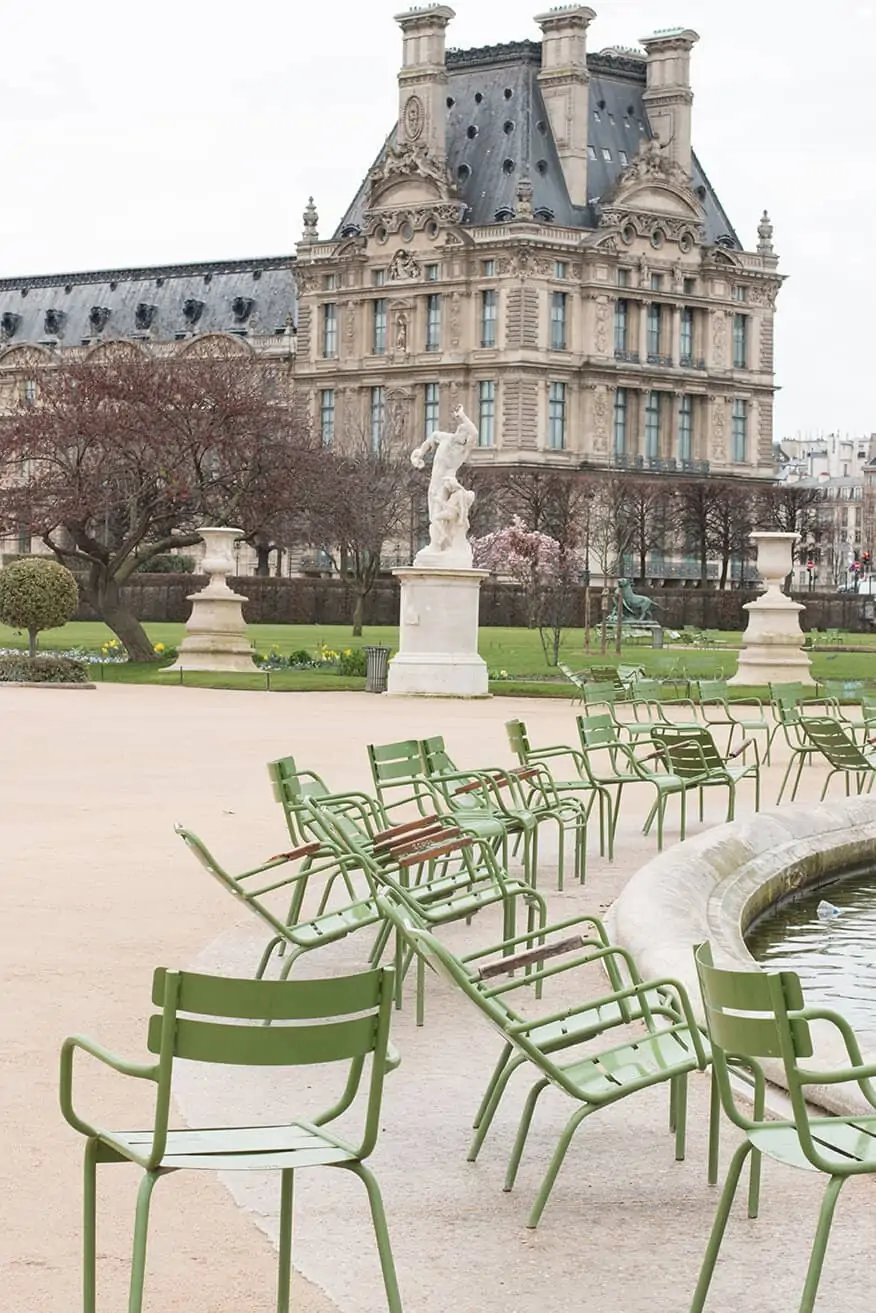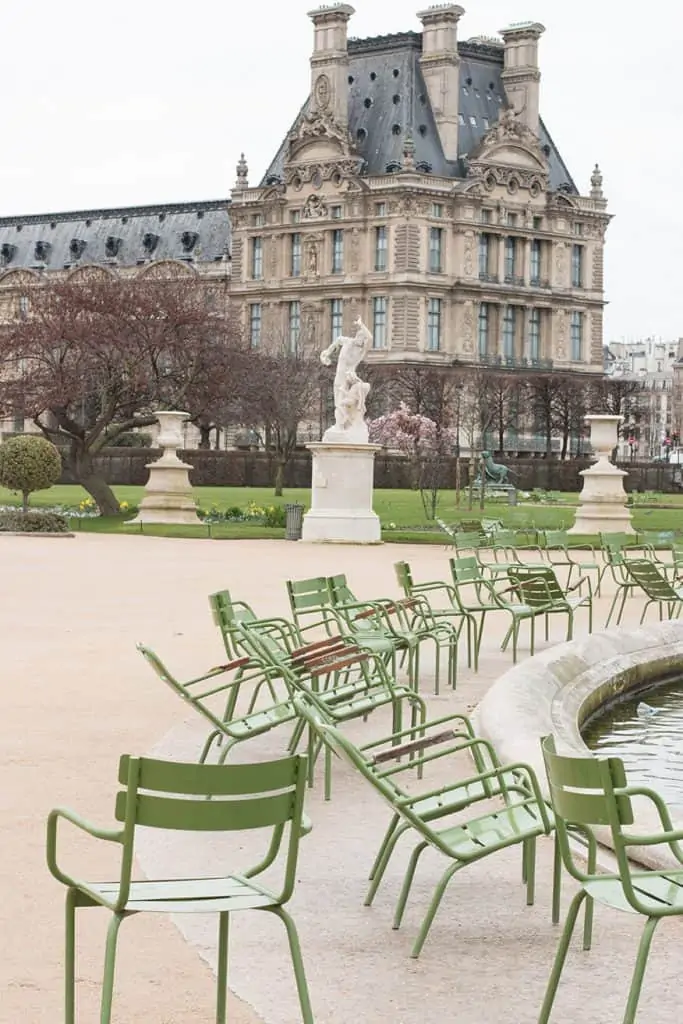 Ideas for Kids in Paris: Jardin du Luxembourg
Luxembourg Gardens is a great place for kids on the Left Bank. It is an excellent place for children of all ages. The same green chairs from The Tuileries are scattered around the garden. The chairs will fill quickly in the busier months, but empty ones will become available as people come and go. For the younger children, there are small wooden boats to push across the fountain for an hour for a few euros. It is the perfect spot to spend an afternoon soaking up sunny days in Paris.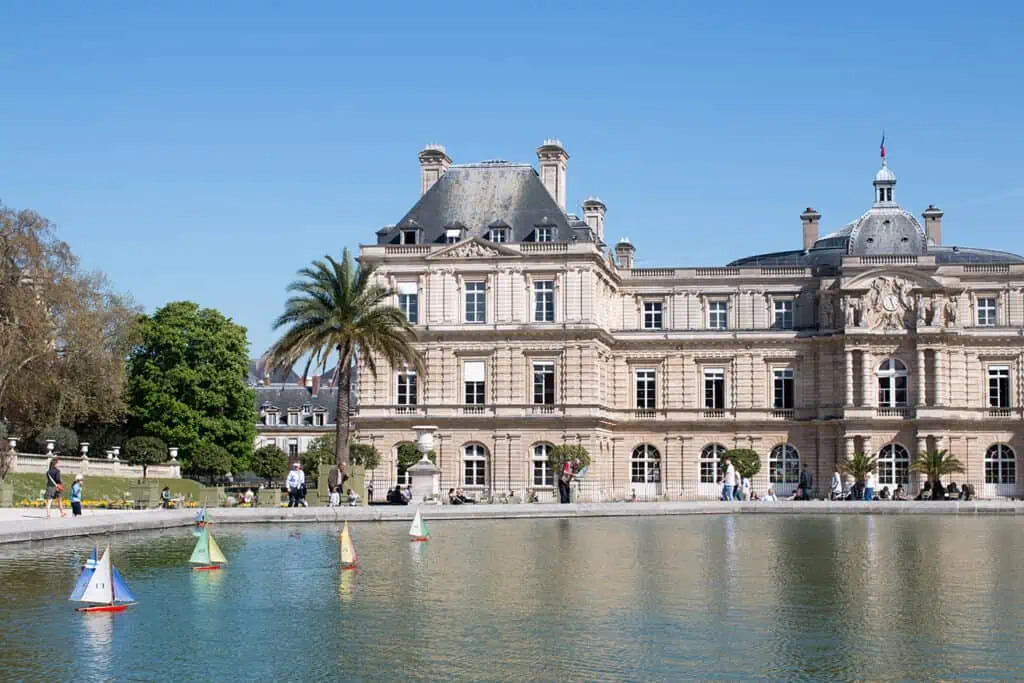 What to do in Paris with Kids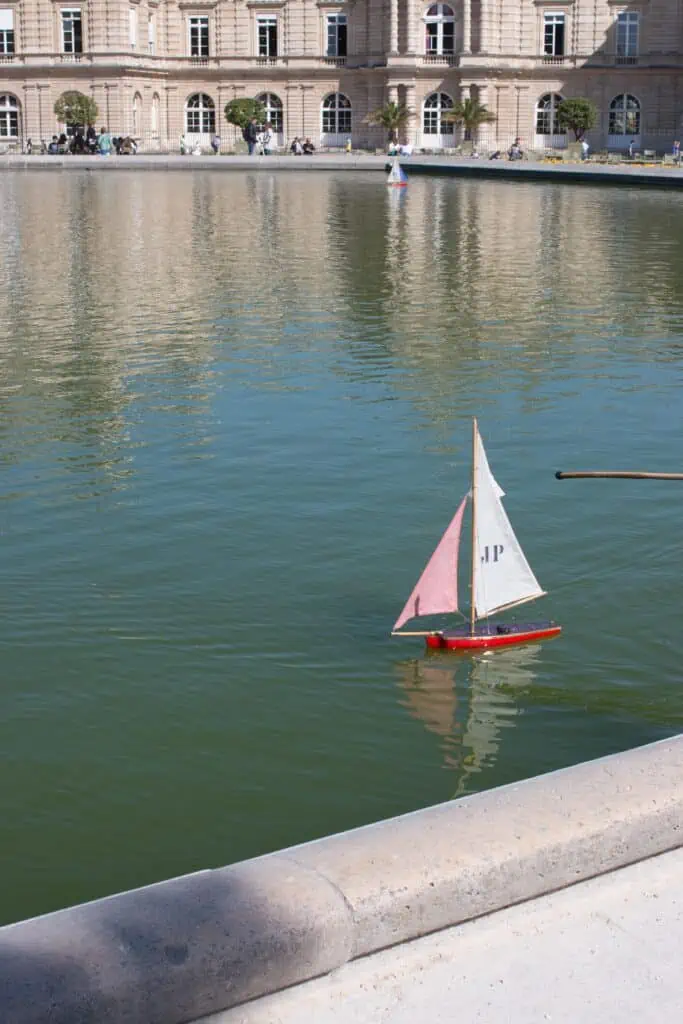 There is a great playground for kids in Luxembourg Gardens. Small kids will need an adult, and larger kids can play solo. It is a paid playground and will require a few euros to use.
Arc de Triomphe Kid-Friendly Ideas for Paris
Arc de Triomphe is one of the best views of the city of lights from the top. Purchase tickets in advance using the Paris museum pass to avoid long lines. I prefer this perspective of the city to the view from the Eiffel Tower. There is an elevator for those traveling with small children who can't climb the stairs to the top. You can point out all the major landmarks of Paris from the 360-degree view from the top.
Take a Seine River Cruise
There are many options for Seine river cruises. For kids, I prefer the Batobus because it can hop on and off at different Paris attractions along the Seine. You can bring your small kids in a stroller and be able to navigate the city a bit better than the metro. The pass also lasts for 24 hours, so if there are mini meltdowns and you have a change of plans and need to return to your hotel or apartment, you can try the next day again. The Batobus times are 10-5 pm on weekdays and 10-7 pm on weekends. This may change with the season and extend more in spring/summer. You can buy your tickets online here.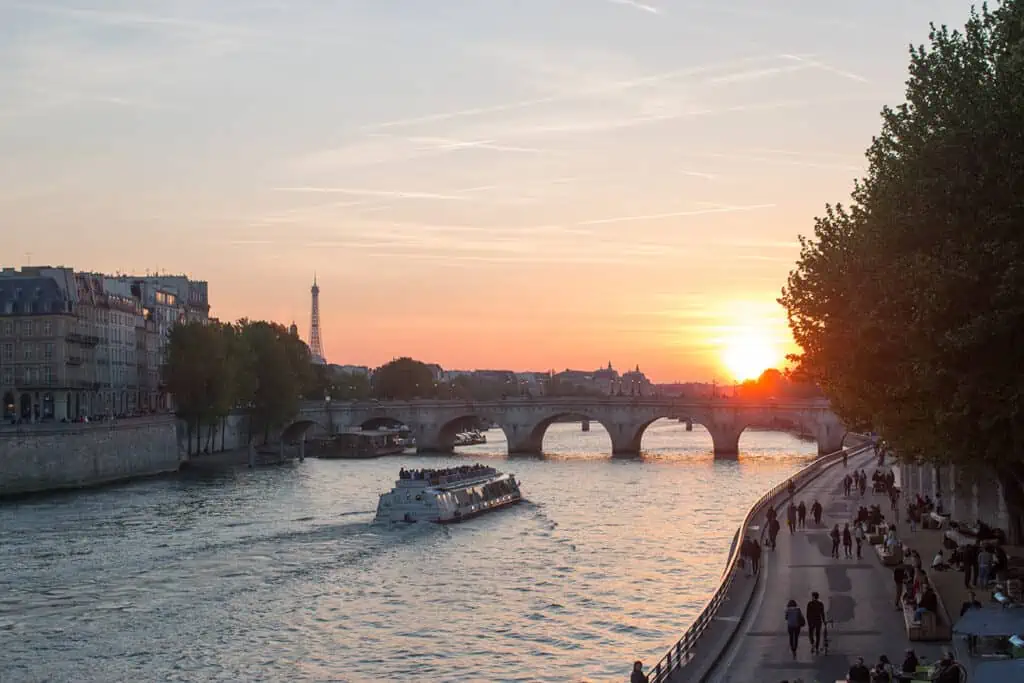 The Eiffel Tower sparkles every hour on the hour after dark; dusk is a great time to take a boat tour down the Seine. Bateaux Mouches is an excellent option if you don't want to do the hop-on-and-off boat tour. For those of you with small children, I recommend this over going to the top of the Eiffel Tower. It is much easier and more interactive than standing in lines. Plus, the best view is right underneath the Eiffel Tower when it sparkles. At the base of the Eiffel Tower, you will find a carousel, gift shop, and crêpes for something sweet.
Tips for Traveling with Kids
I don't have kids, but I have traveled with my entire family abroad a few times to learn some tips on making days more manageable. My sister and brother-in-law are amazing and have been bringing their kids on vacations very early to get them well-adjusted to long flights and experiencing new cultures. Seek out playgrounds close to your hotel or apartment and bookmark them on google maps. In Nice, we rented an apartment with a playground in front because we knew it would be the ideal way to get some energy out.
Moving around the city with a stroller will be challenging, especially with narrow streets and cobblestones. I can't give exact details on which stroller is best, but remember you will have to fold it up when riding the bus in Paris if you take public transportation. Not all metro stations have elevators, and the best way to get across town may be an Uber or taxi.
Ordering Food for Kids in Paris
The French don't have the same kid's menus as they do in the US. Don't feel discouraged if you don't find chicken fingers and french fries or pizza as an option. Ask the waiter for guidance and suggestions but don't assume you can customize items on the menu. French fries will be an option as a side at most cafés and restaurants. Park picnics are a great way to feed small kids or picky eaters. Simple baguette sandwiches available at just about any boulangerie are also an option.
Jet Lag Tips for Kids Traveling to Paris
A few things to note, jet lag is tough on adults and will be a challenge for kids, especially if it is your first time abroad. Drink lots of water leading up to your trip and on the flight, and do your best to avoid alcohol.
Disneyland Paris for Kids
I don't have any insight into Disneyland Paris as I haven't been. My friend Angie Niles is an expert in Disney and can give better advice if you plan to visit the theme park for a day trip.