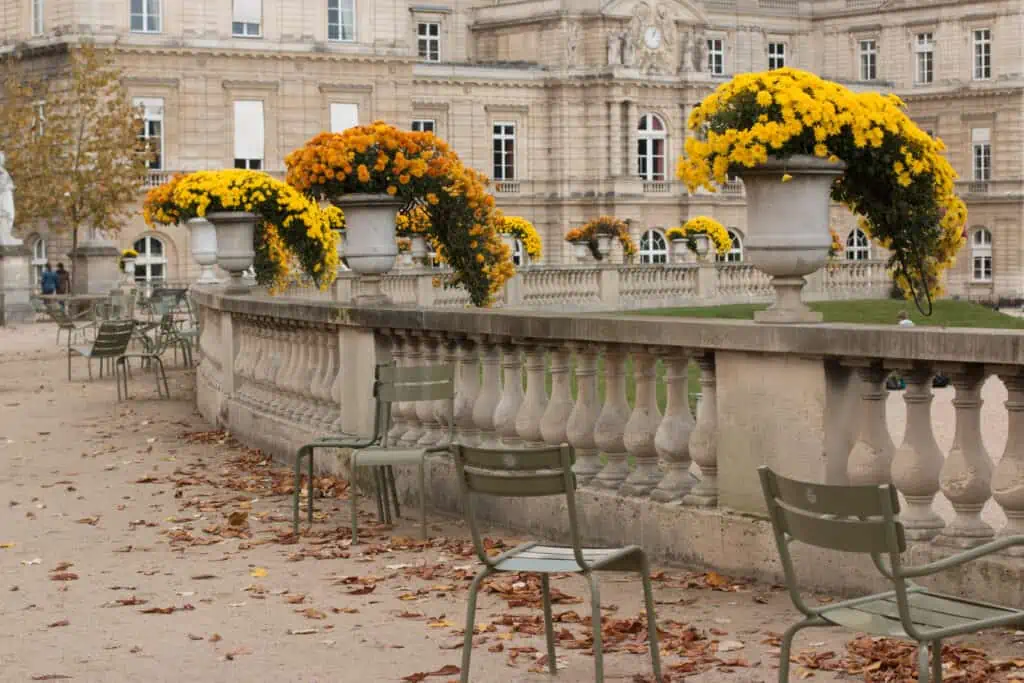 Paris in the autumn is one of the best times to visit. The city of light is full of energy. The changing colors on the trees and ivy filling the city pop against the neutral greys and blues of the building's architecture. In the early autumn, expect warmer days and lots of sunshine. Typically, the average temperature in September will be in the low 70s. This can continue into early October. There will be rain in autumn, so prepare when packing for Paris. Even when rain isn't in the forecast, it is good to plan for it. Evening temperatures can drop into the 50s toward the end of October, so a light scarf is recommended. Here's what to pack for Paris in the autumn.
What to Wear in Paris in the Autumn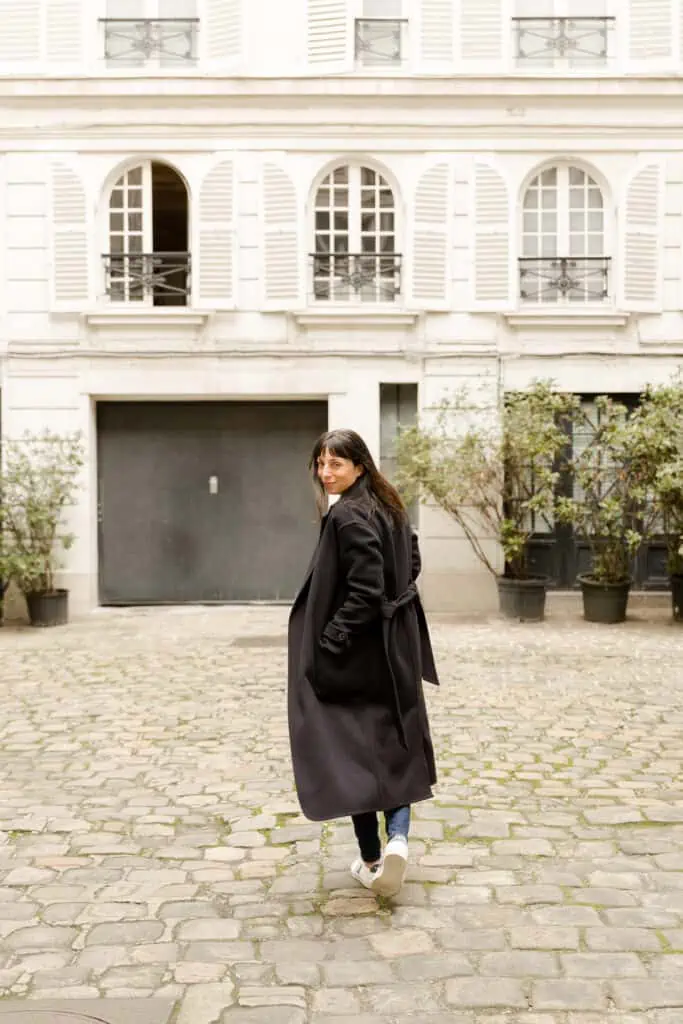 You will want to ensure you are warm enough for dinners and sightseeing. You will notice a temperature drop in November and early December; it is essential to pack a wool coat for the cold weather. Of course, there are lots of shops around Paris to pick up anything you have forgotten or if you want to look more like a Parisian woman.

P.S. For ideas on what to do in Paris in the Autumn, you can check out this post!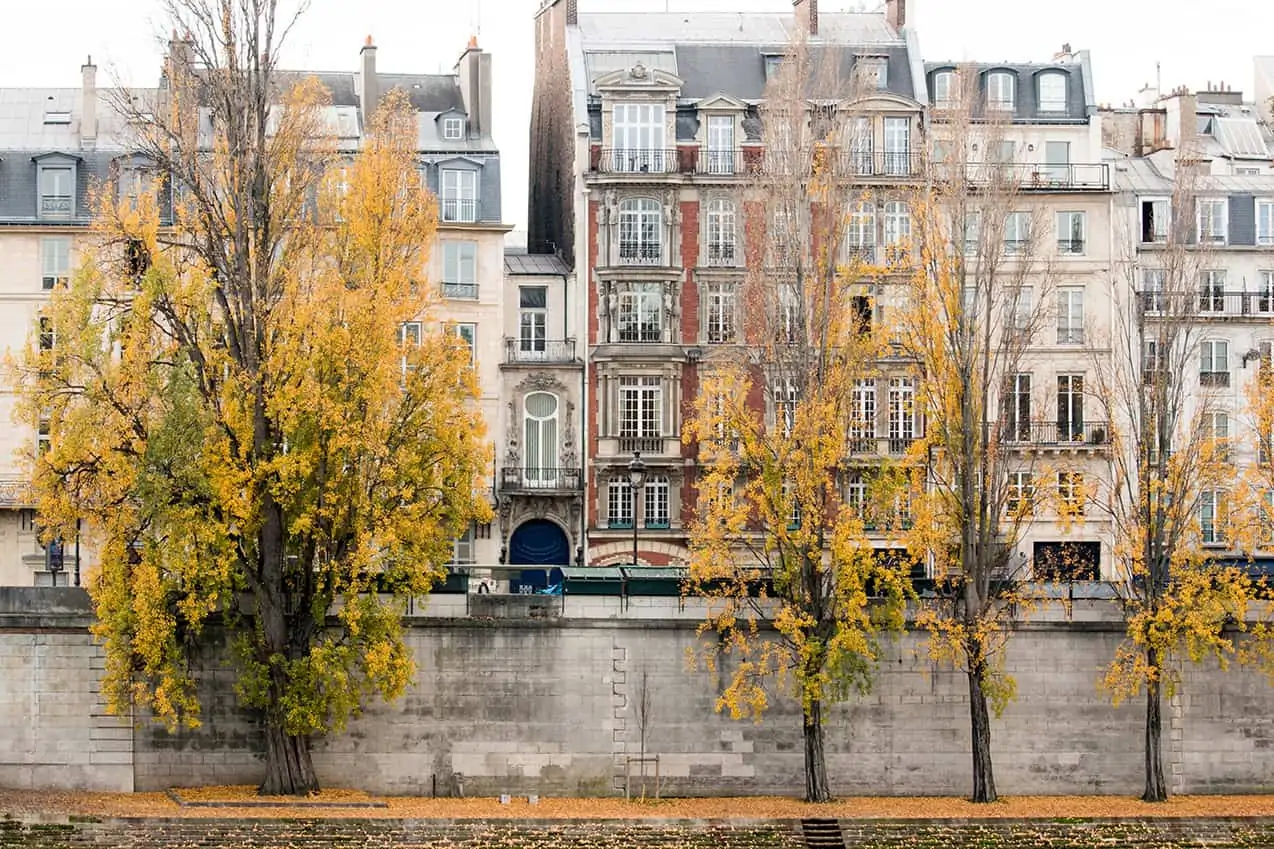 There will be plenty of sunny days in Paris, so don't forget sunscreen and sunglasses. I had ten straight days of warm weather and sunshine. My trip in October was much warmer than my visit in April earlier this year.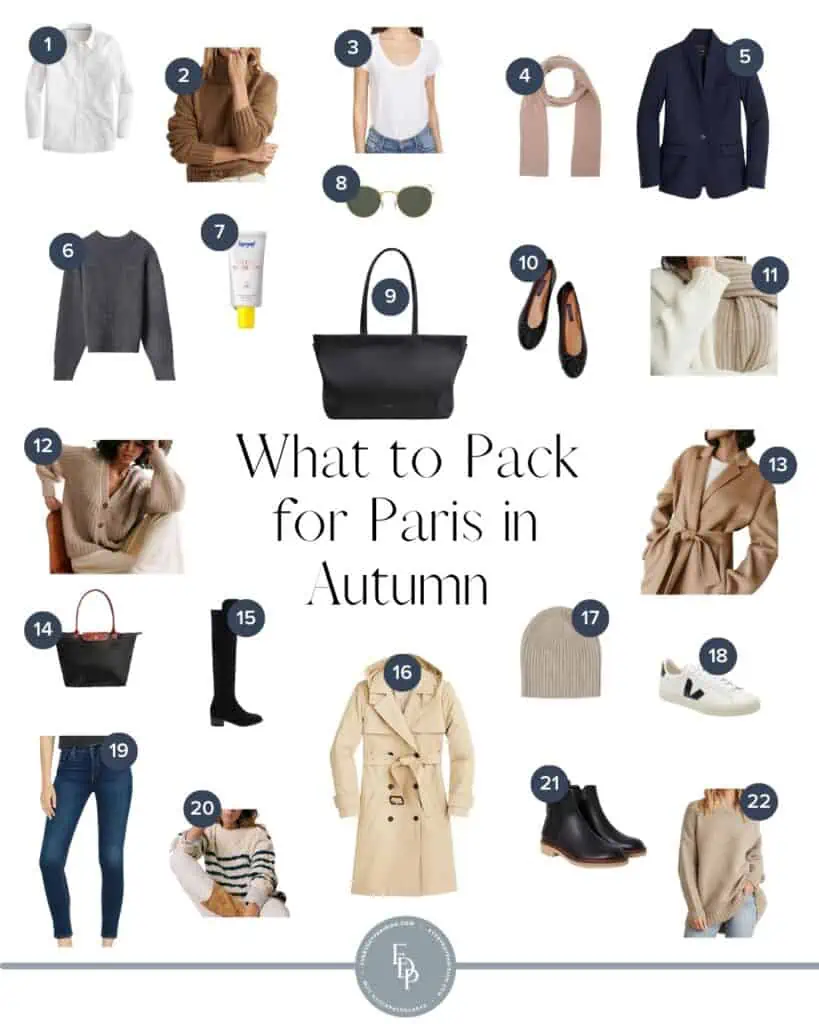 What to Pack for Paris in the Autumn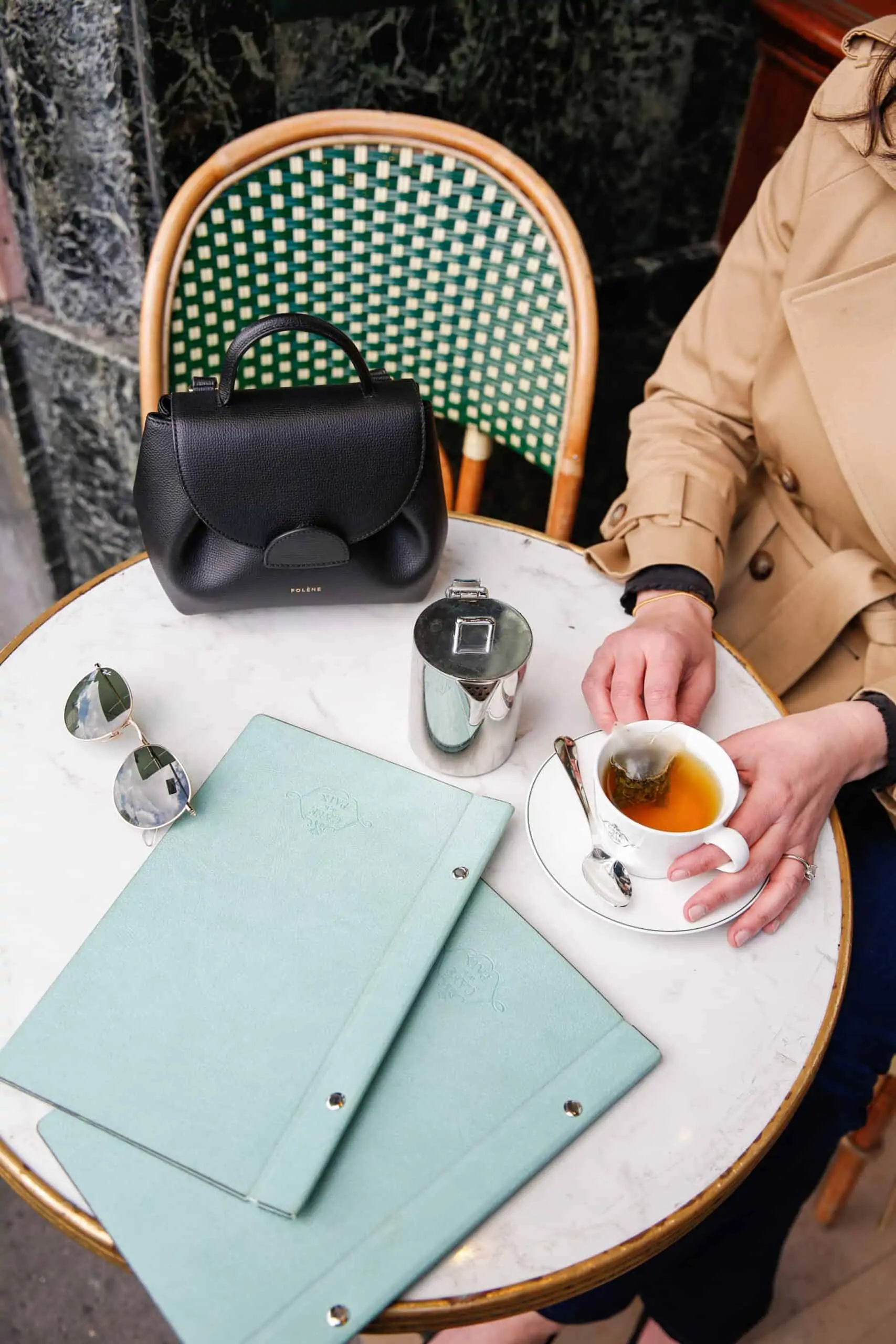 What to Wear When It Rains in Paris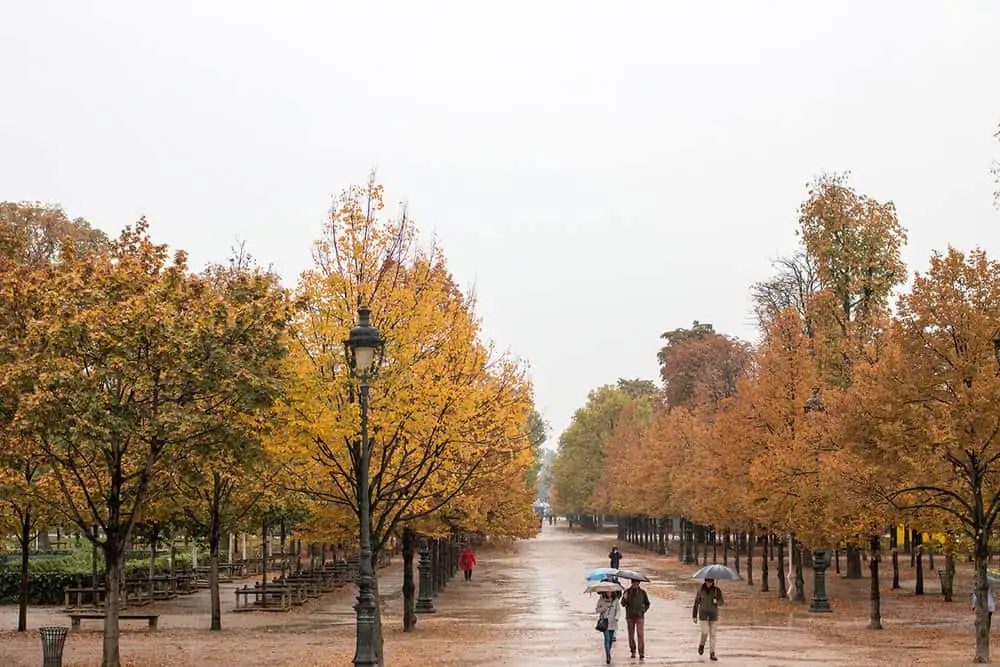 What to Wear in Paris in the Rain
When planning a trip to Paris, it is a good idea to plan for rainy days. Activities on a rainy day in Paris include a cooking class with La Cuisine Paris, museums, embracing the rainy weather, and sitting at a Parisian café terrace. I recommend packing a travel umbrella in your day bag for unexpected rain storms.  Blondo ankle boots are waterproof shoes and are great for Paris in the autumn. They are stylish and some of the best shoes in Paris on rainy fall days. Blondo boots also make high boots that go to the knee, which I love. They are trendy, and the flat boot is a good option for walking all over the city.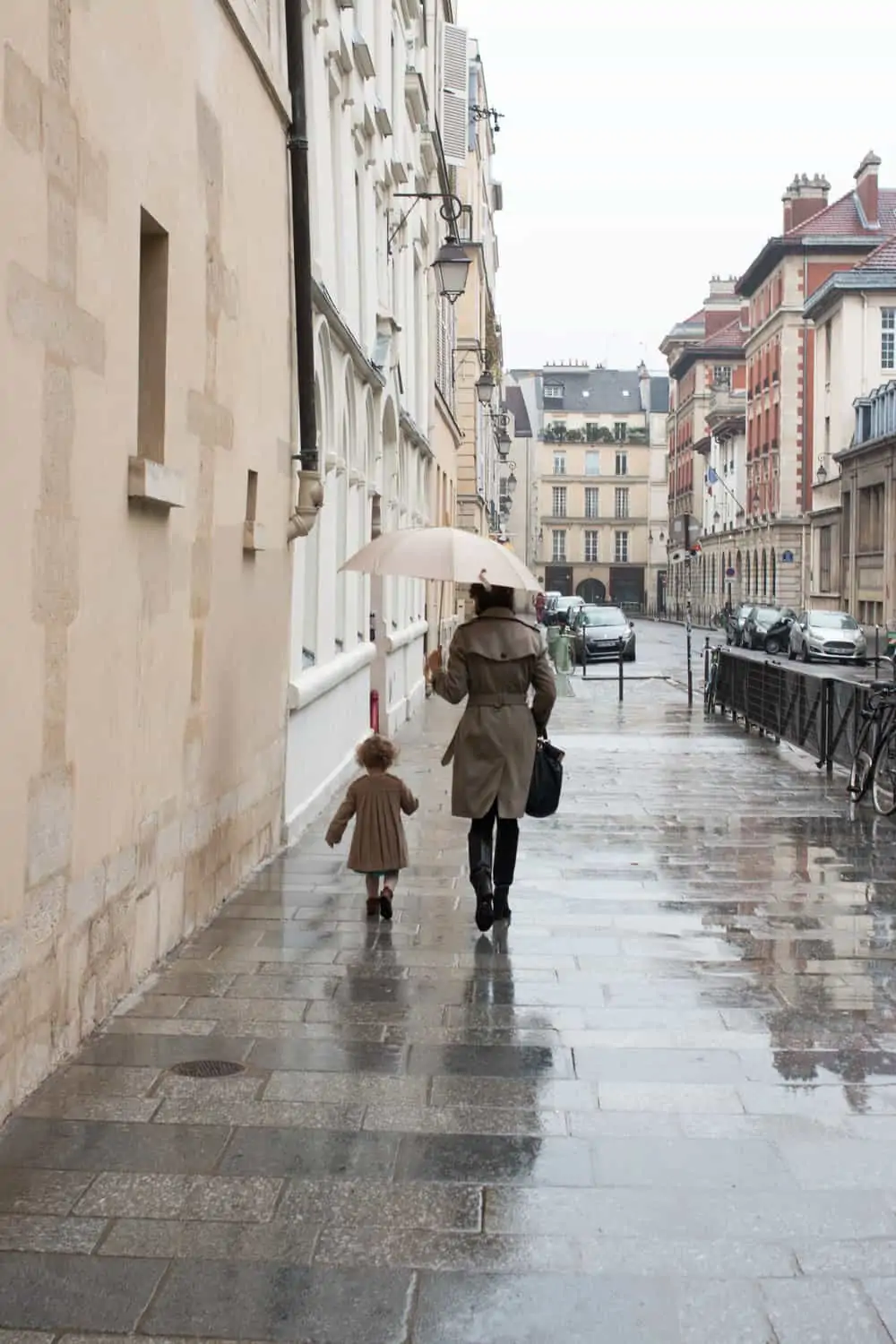 Packing Tips for What to Wear in Paris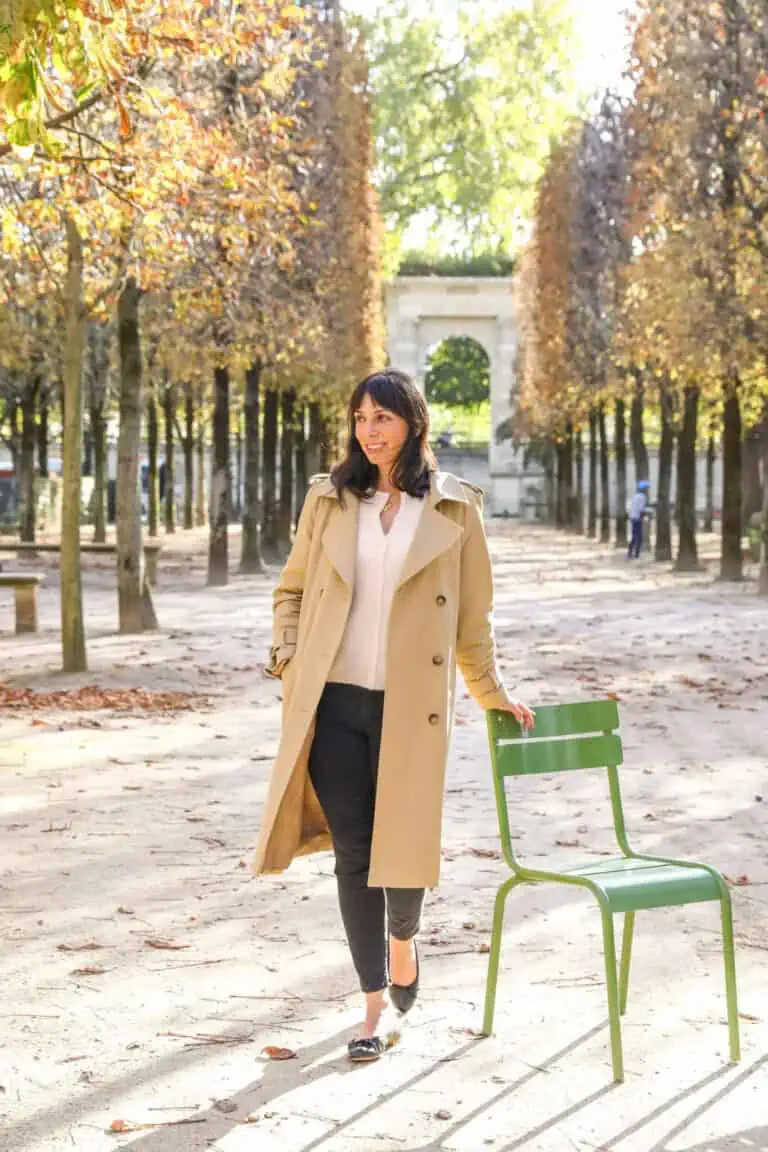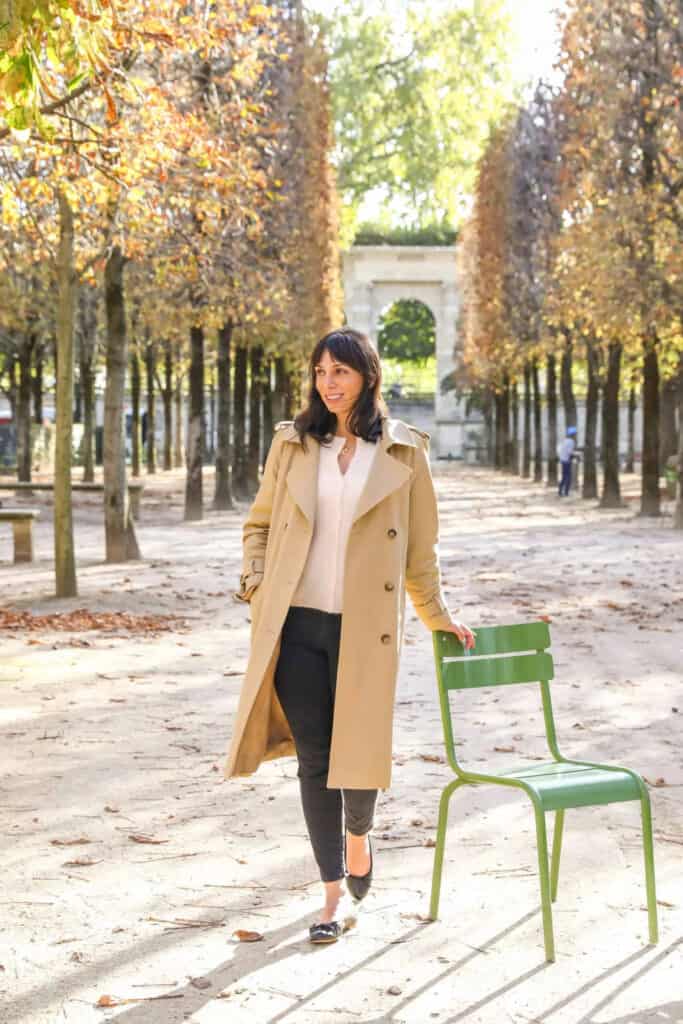 Parisian women have a great sense of style and work around neutral colors. You can mix in a pop of color, but when packing for Paris in the autumn, basics work best with a few essential accessories. The Parisian-style capsule wardrobe is easy to accomplish with jeans, a little black dress, ballet flats, a white blouse, and cozy sweaters.
Wide-legged and straight jeans are on trend right now. Paris is a stylish city, and dressing up is recommended.

I highly recommend packing in a carry-on when packing for Paris or any European trip right now. This way, you don't have to worry about not having your clothes when you touchdown in Paris and can hit the ground running. I always shower, change into clean clothes, and freshen up when I land. Packing cubes can make a huge difference when packing in a carry-on suitcase. I love these from Calpak, which I have been using for years. If you are a heavier packer, they just introduced compression packing cubes to make it easier. You can easily pack what to wear in Paris for a week's trip this way.
Enjoy this printable Paris packing list that will help you plan what you need for your upcoming trip to Paris in the fall.
Coats to Wear in Paris
A light or leather jacket will be great during the earlier months. If you check the weather forecast and there is rain, you might want to pack a stylish rain jacket. I say stylish because I would say leave your rain slicker at home. J.Crew has a cute one here if you are looking for ideas. I also recommend a trench coat. This is a hot trend in Paris, and it isn't a coat worn just when it rains outside. You will see many Parisian women walking around in various colors of trench coats. The camel color is the most popular. I have one from Sézane that I always love to wear in Paris. J.Crew has an option for a trench coat here.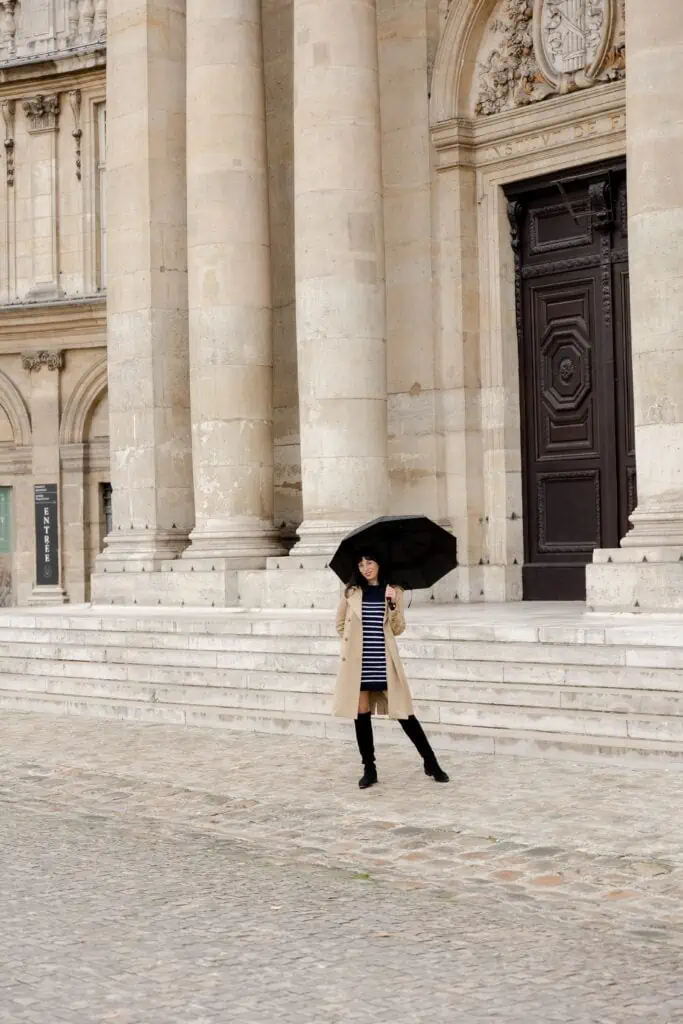 A leather jacket is also an excellent option for the earlier months of the fall season. You can pair this with a scarf and black pants and feel Parisian. I bought my leather jacket from Madewell, an investment piece (I got it on sale). Sézane also has a great option that I love. Quince has one that is a fraction of both the Madewell and Sézane jackets.

You will want a warmer coat and scarf for colder days and nights of autumn in Paris. Sézane, J.Crew, and & Other Stories all have great options. On my last trip to Paris in October, I saw many Parisian women wearing navy, longer wool coats, and I purchased one last year that I can't wait to wear again this fall/winter.
Sweaters to Pack for Paris in the Autumn
In early to late September, you should be okay with lighter sweaters. Once the weather turns in October, you will want to pack thicker sweaters for the colder months. I love the sweaters from Sézane. The Gaspard sweater is a French girl staple and can be worn in three ways. I have it in multiple colors. I must pack at least one of my coziest sweaters in my closet for a rainy day in a Parisian café for a little extra warmth for an outside terrace.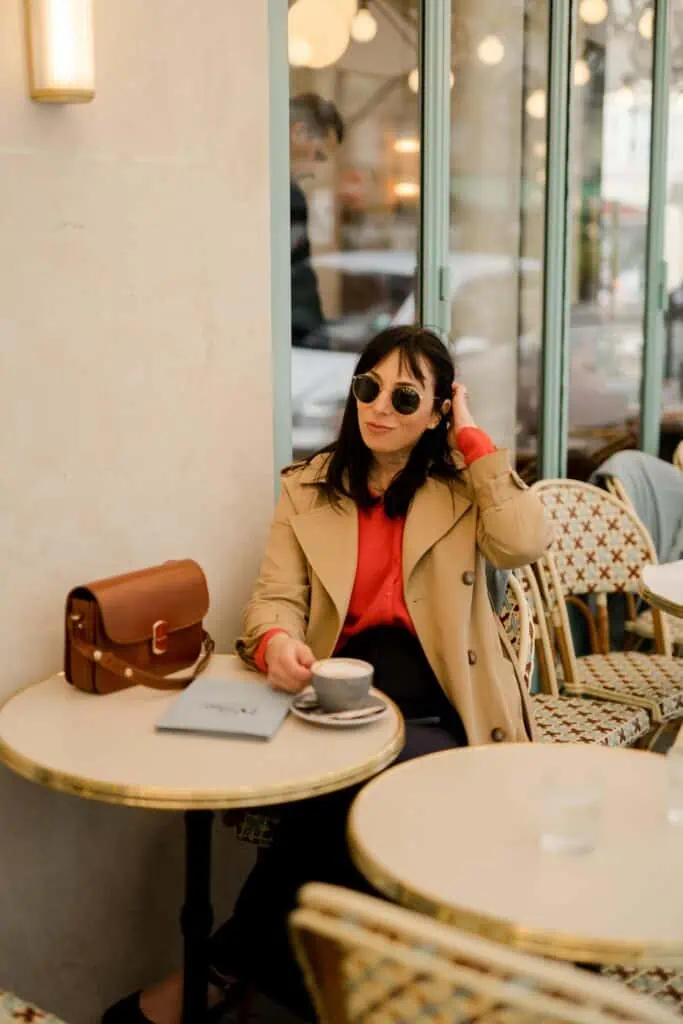 The James Jumper is a favorite of mine, and I own it in two colors.
The Best Shoes for Walking in Paris in the Fall
I highly recommend packing comfortable walking shoes and leaving the high heels at home. They can be tough to navigate in the cobblestone streets of Paris and aren't worth it. For the fall, sneakers are a great option for walking around Paris. Make sure they are comfortable. I highly recommend these Madewell sneakers that I have worn for years. You need to break them in before you leave, or else you risk getting blisters. Once they are broken in, you will love them. Sneakers are perfectly acceptable in Paris right now and are even considered trendy. Sézane makes the jack sneaker, and there is also Véjas, a French brand.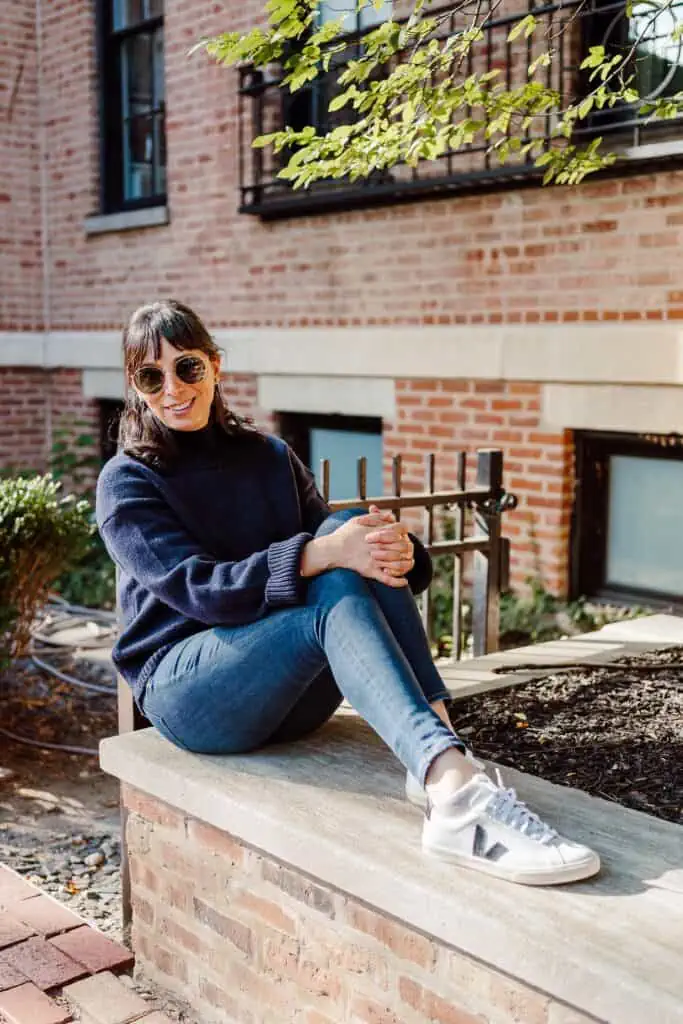 Ballet flats are also comfortable shoes for walking around the city. I have owned these Margaux demi flats that I repeatedly wear in Paris. The Margaux flats have an Audrey Hepburn look and are more affordable than a Coco Chanel flat.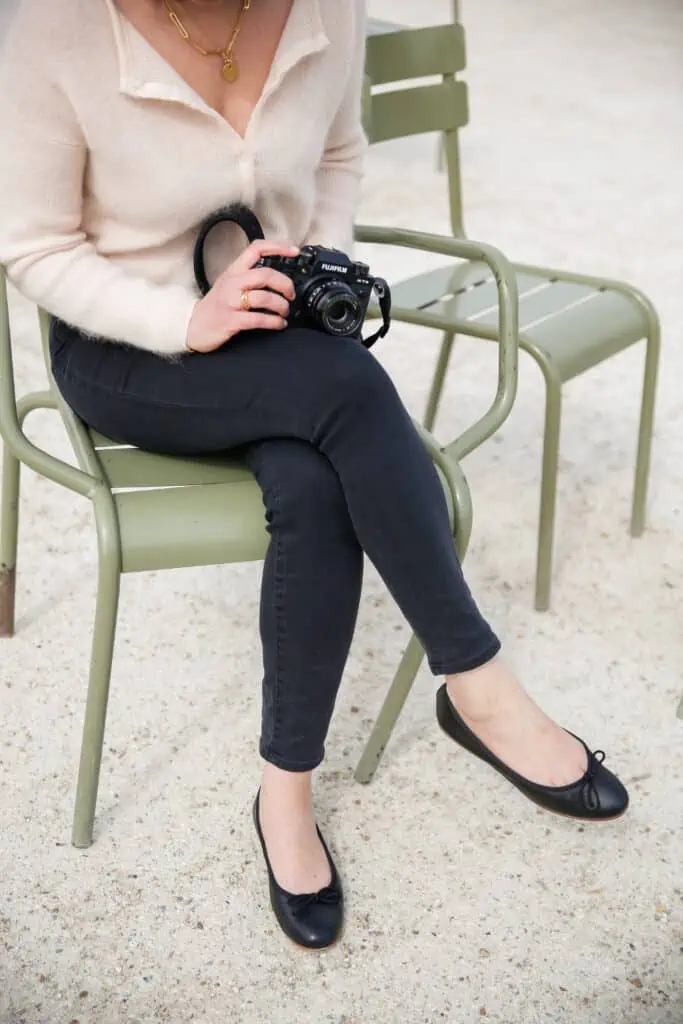 What to Pack for Paris in the Fall: Knee-High Boots
Knee-high and over-the-knee boots are trending right now in Paris. I love these from Blondo. They are affordable and waterproof. You will thank me once you get caught in the rain in Paris.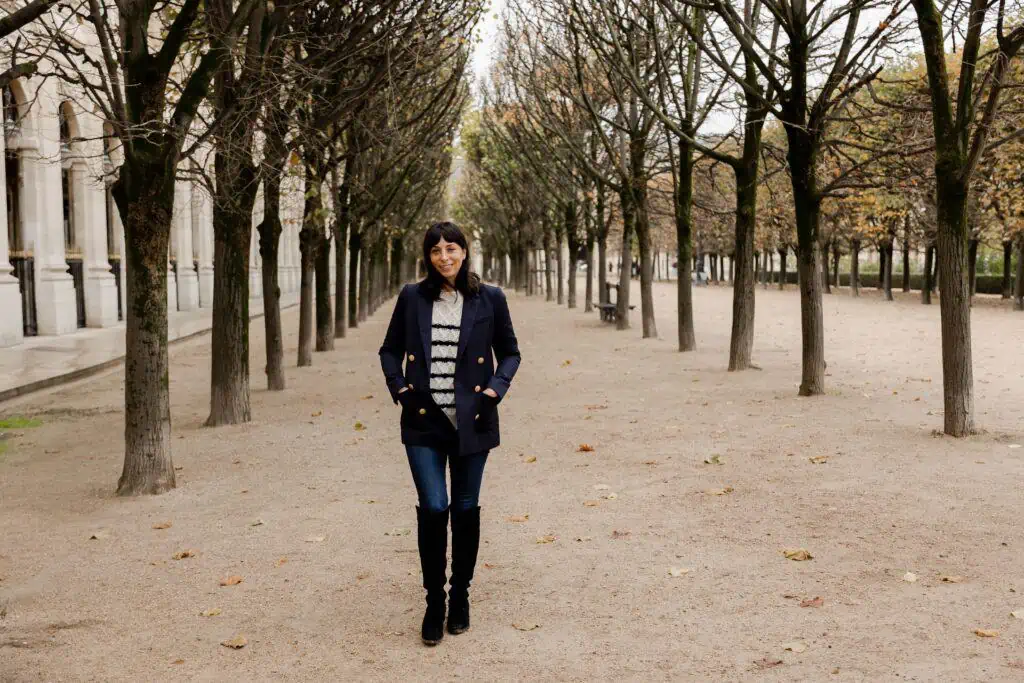 Makeup and Skincare to Pack for Paris in the Autumn
French women are more natural when it comes to makeup. Mascara, eyeliner, a good concealer, and a red lip are all you need to look put together. Good skincare and glowy, healthy skin are easy to achieve with French products from the pharmacy. Avène, Klorane, Bioderma, and Caudalie are some brands you will notice for sale almost everywhere. You can also buy these in the US, but they are less expensive in France.
Don't forget your sunscreen.
Accessories to Pack for Paris in the Autumn
French women use scarves as an accessory staple. It is a great way to add another layer of color or texture to your Paris outfits. Even in warmer months, you will see Parisians wearing light scarves. Depending on whether you are visiting at the start of Autumn or towards the end. Pack a warmer scarf for the colder evenings.
Crossbody bags and zippered totes are great for walking around Paris. You may prefer a smaller evening bag for nights out. Just make sure it can close properly to keep your belongings secure.
When traveling in Paris, I use a small wallet for a credit card and ID when I am out and about. This one from Cuyana is a good choice.

I recommend using a large back as your carry-on with a smaller crossbody bag for day-to-day sightseeing. I typically walk around with my top zip tote bag or my Longchamp since I bring my camera around with me. I love the Longchamp bag because it can be folded small into your suitcase.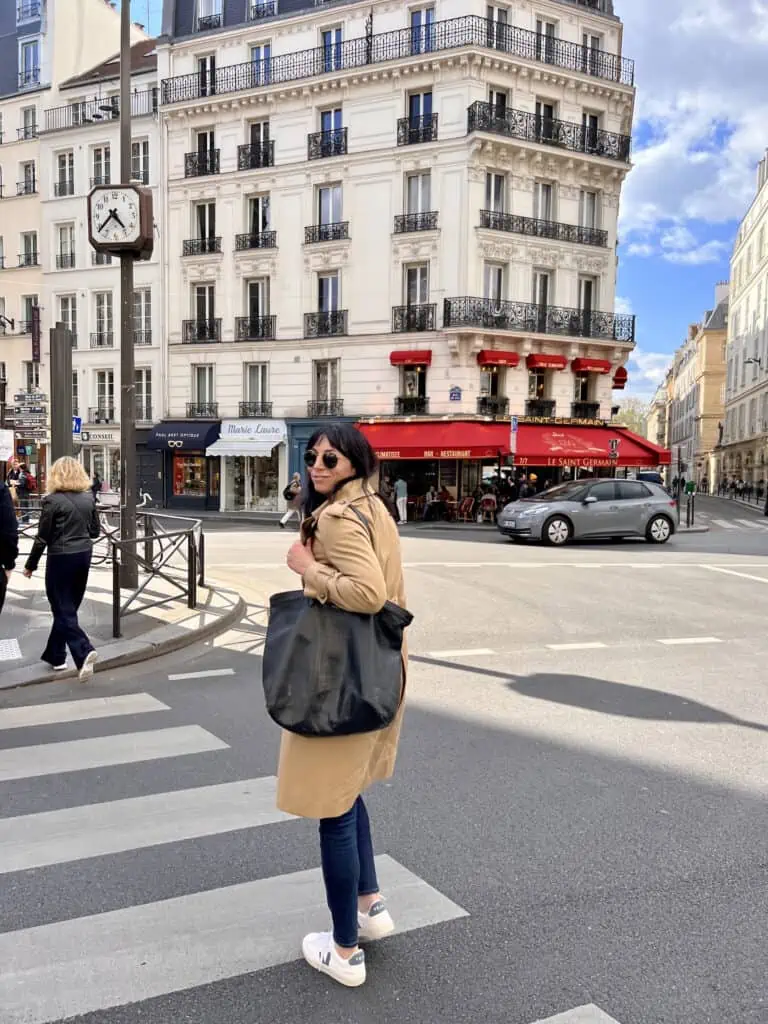 Additional Items to Pack for Paris in the Autumn
Paris offers a lot to explore in the Autumn months. Even a walk in the Paris parks is enough to spend an afternoon with the changing of the colors and the golden light.
A camera: As a travel photographer, I always pack my camera wherever I go. Currently, I am using and loving my Fuji XT4. Your camera on your phone does a great job, too, so don't feel the pressure of having a fancy camera for your trip to Paris.
A journal: I always like having a notebook to jot down ideas and inspiration. It doesn't have to be big, just a tiny journal.
The Paris Guide: The Paris Guide helps you navigate the city and discover hidden gems. Use the maps, recommendations for my favorite restaurants, neighborhoods to explore, and shopping tips to bring home the best souvenir.
With these additional items, you'll be prepared to make the most of your trip to Paris.
Travel Accessories to Pack for Paris
Travel adaptors are so necessary. Some hotels will offer backups at the front desk if you have forgotten yours, and you can also pop into Monoprix to purchase one. I leave all my travel chargers and accessories in my tech pack to make sure I don't forget anything when I travel. A portable charger isn't a bad idea to pack in your day bag in case you need an extra charge towards the end of the day.

Getting around the city is easy. You can take the Paris metro available at all points around the city. I love walking the most because you can see so many details of the beautiful city. As a photographer, I am always finding something that catches my eye. One of my favorite times of the day to explore Paris is early in the morning before the city wakes up. The light is magical this time of year.
Travel Insurance for Paris
I hope this post helps prepare you for your next trip to Paris. Travel insurance is always a good idea. I use World Nomads. I can insure my laptop and camera and have health coverage for traveling in European countries. It is an added cost, but it provides peace of mind when traveling outside the US and staying in a hotel room.
*This post includes affiliate links. I make a small commission off items purchased from my links. Merci!