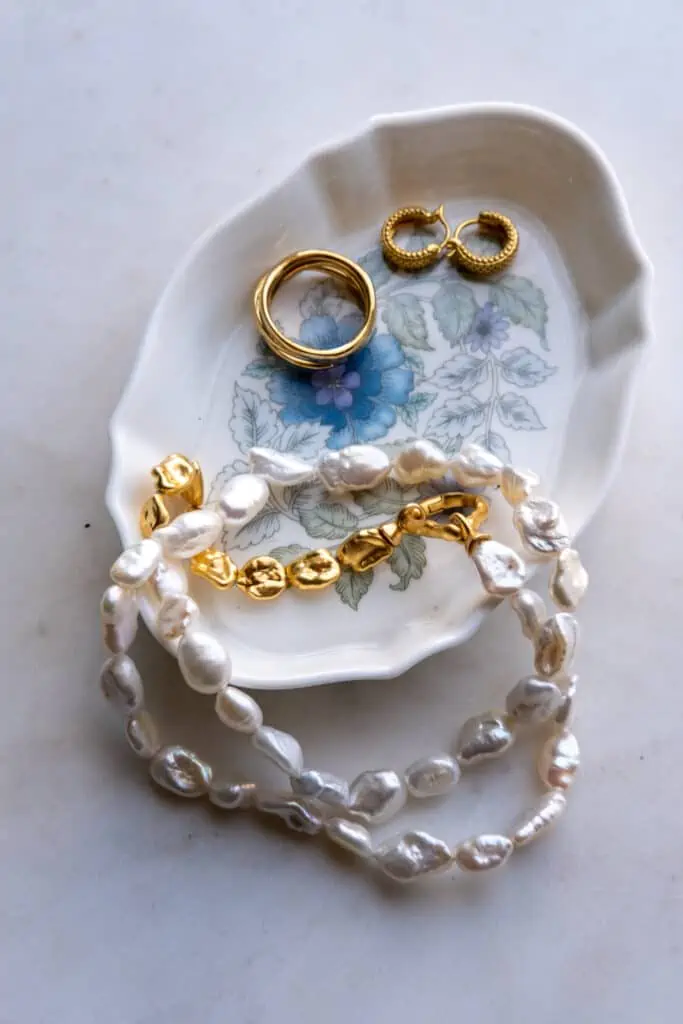 Monica Vinader Jewelry Favorites
Monica Vinader has been one of my favorite jewelry brands for years. My husband purchased my first piece, a bracelet for my birthday a few years ago, and I have been adding it to my collection ever since. I have purchased one or two items as gifts myself each year to add to my Monica Vinader jewelry collection. This post includes a discount code from the brand so you can save 20% on my Monica Vinader favorites.
One of the questions I get asked the most about is the necklaces I wear daily. Both are from Monica Vinader. One necklace was a gift I bought myself. And the other, from my fiancé.
In the above photo, I am wearing their newest pearl necklace, a mixture of pearls and gold.
There are a few things I love about Monica Vinader. The designs are simple and elegant, and nothing feels too clunky or heavy. I prefer lighter jewelry around my neck and on my ears. I have very sensitive ears, and I am allergic to a lot. I can wear my gold Huggies without any irritation.
Monica Vinader is female-founded, and she still runs the brand today.
Each purchase is back with a 5-year guarantee. If something breaks, they will fix it. Fix a scratched piece or resize a ring. They will replace it, no questions asked.
Jewelry from recycled metals and source their stones sustainably. Each order is shipped in as little packaging as possible, and the packaging is made from recycled materials.
My Monica Vinader Favorites
Monica Vinader Necklaces
I love this green pendant necklace. They also have a green ring that I have my eye on.
Locket and curb necklace set. This will be my next purchase. I love the look of this necklace. It can be engraved too.
Diamond essential necklace. This is a great pairing necklace with another piece.
If you are into the idea of layering necklaces but don't know where to start, this set is a great option.
Monica Vinader Rings
I have this cross-over ring in gold. *
I am crushing on this siren stacking ring in green. It comes in multiple stone options.
This Donia cross ring is beautiful.
Bracelets by Monica Vinader
I really would love a stack of gold bracelets on my list. And I am slowly collecting them.
I love this signature gold bangle. I have a size small. My wrists are small but I could have gone with a medium. *
Doina fine chain bracelet. It's smaller than it looks online. I would pair it with another bracelet or two. *
Siren muse thin cuff. This would be a great option to pair with a thin bracelet.
Earrings
Now that I know I can wear the gold earrings without having an allergic reaction, I have a long list of earrings I want.
These green siren wire earrings. Again, crushing on that green. 😍
Gold huggies I currently own and love.
I love these twist mini huggie earrings too!
Mini pearl studs are simple and elegant.
If you have your eye on an item as a gift for you or someone you love, you can use the code REBECCA20 at checkout for 20% off.
You can engrave certain pieces to make your gift even more special.
*This post includes affiliate links. I make a small commission off of items purchased from my links. Merci! Any item with a * notes it was a gift from the brand. This post was not sponsored. All opinions are my own.