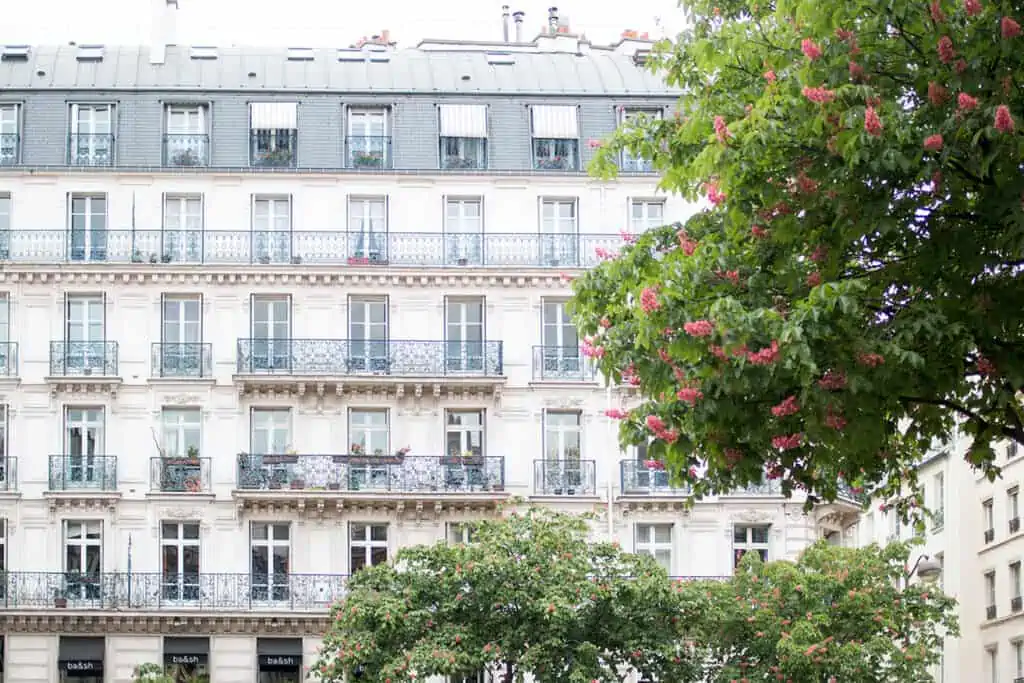 Shop Chestnut Blossoms in Paris Print Here
It has been a busy week and I am happy to have some downtime this weekend. I worked on a campaign for a brand that I love and have been using for years. I can't wait to share more details soon! I booked a trip home to Ohio to see my family soon and Henri is coming with me. He hasn't met my sister, niece, and nephew yet and I am very excited to have them meet. I will also be seeing some childhood friends when I am home.
I also crossed booking summer travel off my list. My fiancé and I will be traveling with my family and then taking some time to ourselves for a few days to a place I have never been but always wanted to go to.
Grab your coffee and croissants for this week's links I love.
There is a new movie coming out called "Mrs. Harris Goes to Paris" the main character is older than your typical lead role and it looks like a fun visual distraction set in Paris.
A smarter way to divide chores? Do you do everything together or divide and conquer?
Henri and I will be at the Gallagher Way French Market to kick off the season in Chicago. You can come to hang out with us on May 12 from 5:30-7:30. Details are here.
Planning a trip to Paris? I am bookmarking tons of apartments on Plum Guide. It's like your typical Airbnb but so much better. They have high standards and every home is put through a meticulous vetting process. Think of it as a Michelin guide for apartments. The prices are comparable to other sites in value. If you are traveling for a longer stay or traveling with family, this is a great option.
Boll and Branch just introduced a waffle duvet made out of their best-selling waffle blanket. We have two waffle blankets, and one duvet from Boll and Branch. Now I want this! Maybe I can register for it? 😉
I am not huge on Tik Tok but I love how some people are using it to educate. Dietitians are encouraging people to stop dieting.
I watched Anatomy of a Scandal over the weekend. It's just 6 episodes and you can get through it quickly. The story had me hooked and I hope there is a second season soon. Also, the house is dreamy 😍 I also discovered this site to shop all the incredible outfits from the show. I wish they also linked the home decor.
J.Crew new arrivals are here for summer. I love this hand-knotted bag, smocked ruffle gauze top, and canvas espadrilles in a ton of fun colors.
I am crushing on these colored bistro glasses. We had a meal with them in Paris which prompted us to find them online. There is a budget-friendly version available here. I bought them in the peach color.
Travertine is the next hot decorating material.
The lip color I have been wearing on repeat is quickly selling out at Nordstrom.
New high-speed train routes are coming to Europe
The most exciting hotels opening this spring
My favorite lash serum is on major discount. You get two tubes for $60. This is better than Nordstrom's anniversary. I use this once a night before bed and WOW my lashes have grown. I don't notice it as much until I put on mascara but it is completely worth it.
How Paris is waging a war on noise pollution

The final episode of "This Is Us" is happening in May. My heart can't handle it. I need to catch up on this season and prepare myself. I have been trying to savor them.
The navy Boden swimsuit that sold out is back in stock. I love it so much! It's so flattering and fits great. I bought a size 6.
Best Sellers this week and Best Sellers this month
Voice Notes Are Keeping Friendships Afloat I love them! I have been leaving them instead of written DMs to readers because it is so much easier when walking Henri.
I dropped the lid to my favorite water bottle in the disposal. Major fail moment. So I ended up buying two of these to replace the one I love. These are dishwasher friendly and fit in the cup holder in the car which is a bit easier than the bigger bottle.
Fauci says the U.S. 'right now' is out of the 'pandemic phase.' NYT
How to properly read the labels of our clothes?
Laundress is on sale! I am stocking up on my favorites. The stain solution is a must. Signature detergent and scented vinegar are great for cleaning!
The Brand Behind the Famous Bridgerton-Style Nap Dresses Just Launched Gorgeous New Cooling Pajamas
The question I get asked often via email and DM, Where to get a Covid test in Paris
Lauren Hutton on Going Your Own Way – Six decades into her singular career, she's still an adventurer
I haven't worn a belt in years, but I have been eyeing this style from Sézane. I picked this one up in Paris so I could try on my size. I am a 90 and typically wear a 27/4 if that helps you when you are purchasing a belt.
The Best Coffee Shops in Paris
Best Desserts, Beautiful Ideas, France Travel Tips: Discover 'Sweet Paris'
I am hosting a giveaway with Frank on Instagram for 3 copies of his book.
French Bee Is Launching Cheap Flights to Paris From LAX This Month
I have a code for Monica Vinader for 25%. Use MOTHERSDAY25-C1F1 at checkout. You can see some of my favorite pieces in this post.
The best restaurants in Chicago via CNTraveler. Some I agree with, others I don't. It's a good starting point if you are visiting or live in the city.
Stanley Tucci's advice for traveling to Italy for the most authentic meals
Searching for Italy Season 2 debuts on May 1st
This Madewell sandal sold out during the sale but now it is back in almost all sizes. I ordered it in the English saddle color.
P.S. Don't miss a blog post. Sign up to get Links I Love delivered to your inbox every Sunday.
Supporting The Print Shop helps bring valuable free content to your inboxes each week.
*This post includes affiliate links. I make a small commission off of items purchased through my links at no cost to you. Merci!