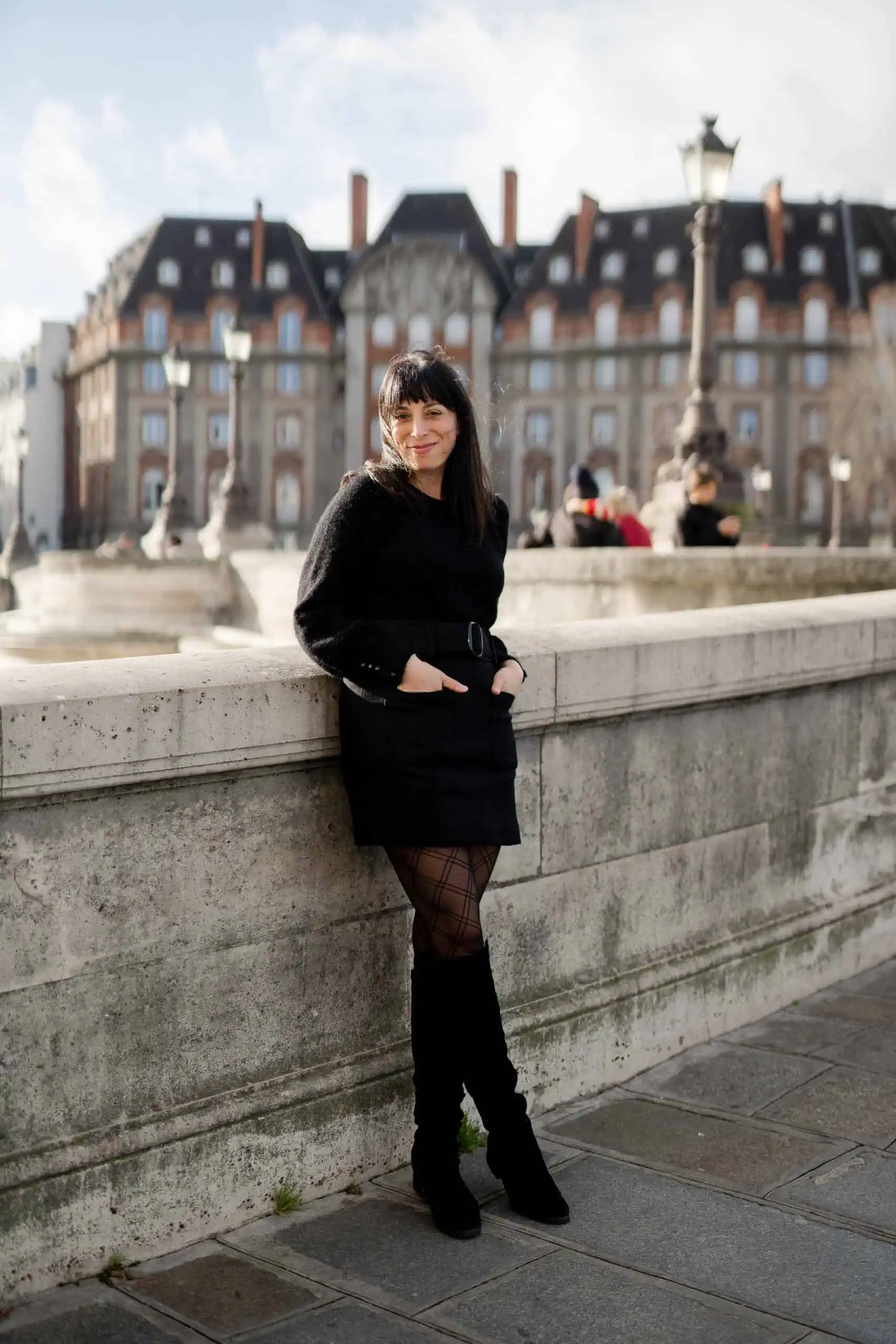 What to Wear in Paris in the Winter
Paris in the winter is a great time to visit with fewer crowds and shorter lines for museums. You really get the opportunity to experience more like a local without the tourists. The weather can be on the cold and damp side but there is also an opportunity for a break in the weather with some sunshine-filled days for afternoon park visits. If you have a trip to Paris booked in the winter or you are thinking about a trip, this post will cover what Parisians are wearing right now. This post will also give some great ideas on what to pack if you want to look more French and what to wear in Paris in the winter.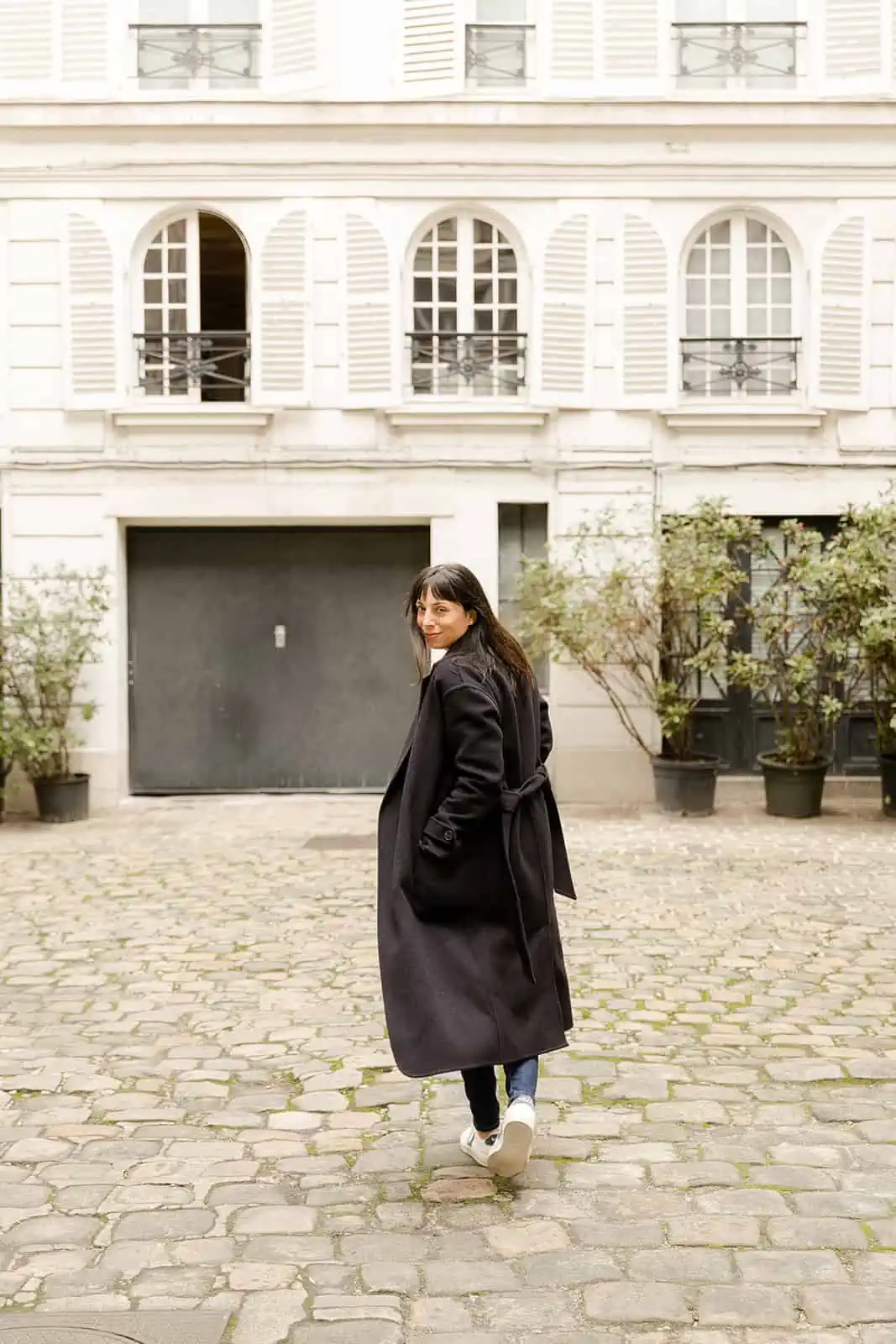 One of my favorite things to do in Paris is people-watch and take notes on what styles are trending. I like to think Europe is one year ahead of us with fashion trends and these styles and items will be ones to invest in this year. A few years ago, I saw long belted coats on Parisian women and this year the trend continued which you will see below. I am so happy I invested in this coat from Sézane earlier in the year and felt like I fit right in.
How Parisians Dress in the Winter
I used a rainy day in January on a Parisian terrace to snap some photos as well as on my walks around the city to capture some Parisian style and inspire your next fashion investment pieces. The French are all about timeless classic pieces in their wardrobe.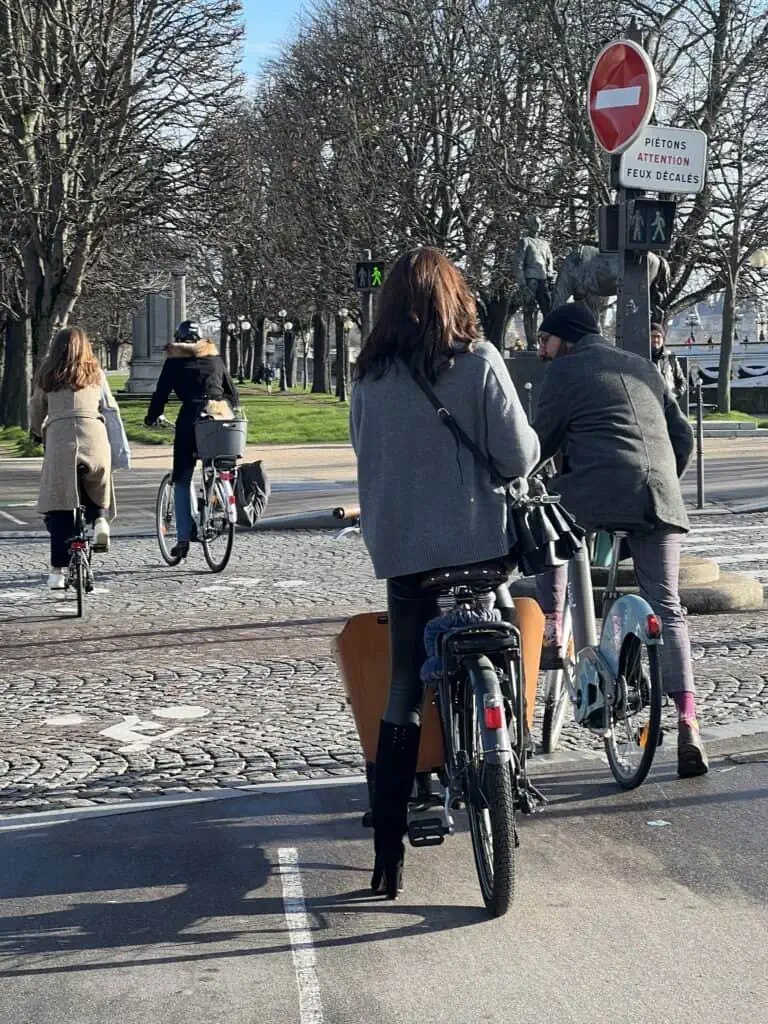 Winter Coat Ideas
The long coat for French girls is very in for Paris winter fashion. It was the coat I saw on just about everyone that passed by me on the streets and at cafés. Dark colors such as navy and black were the top colors followed by camel.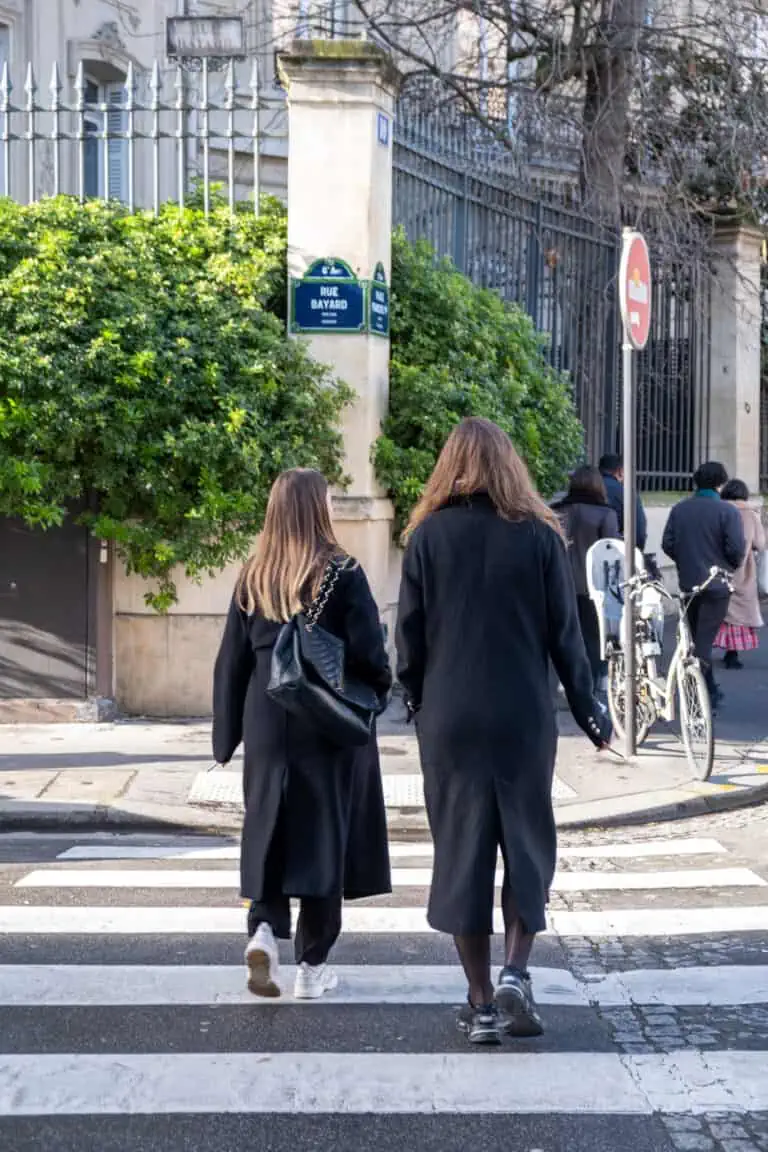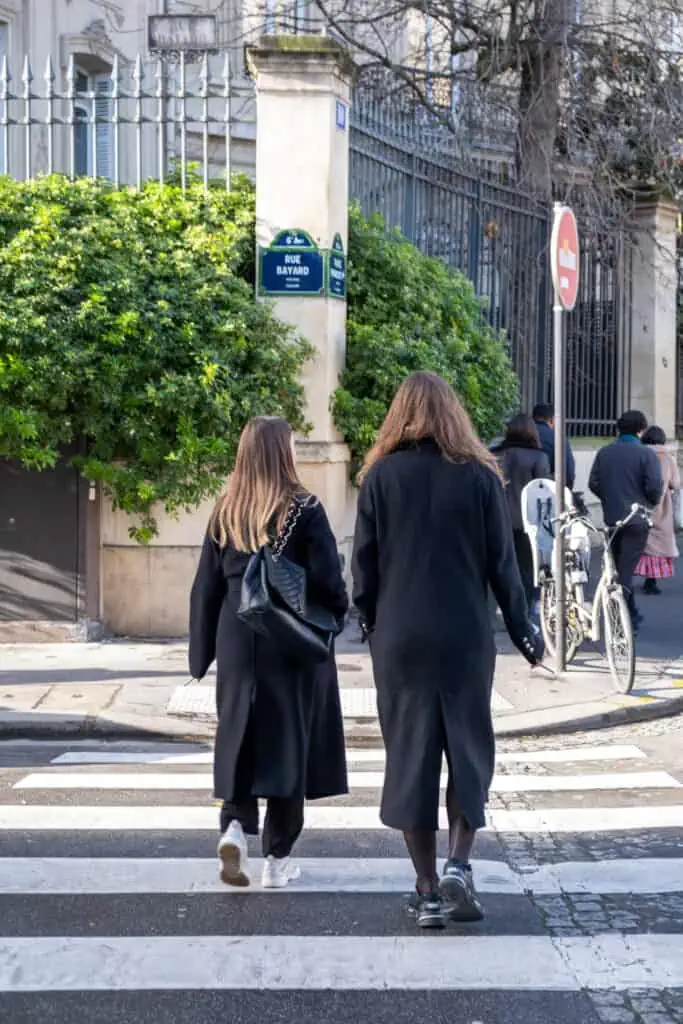 Puffer coats are the key to keeping warm when the cold temperatures hit Paris. You can find a small shell or layering piece to wear underneath your wool jacket.

Classic Pieces for Paris in the Winter
A turtleneck sweater in neutral colors is great for layering underneath your wool coat and looking pulled together with a pair of jeans and knee-high boots. A cashmere sweater is also a great classic piece to put into your Parisian capsule wardrobe for winter clothes. Chunky sweaters are some of my favorites for colder weather. I like to call them café sweaters which are something warm and cozy for people watching at a Parisian café to keep warm in the rain. This one is one of my favorites and it comes in a bunch of colors.

Monochromatic Outfits
This outfit I pulled together happened organically and I added my navy jacket to it which worked out so well. Tights are huge when it comes to dresses and skirts in Paris in the winter. A key French fashion accessory.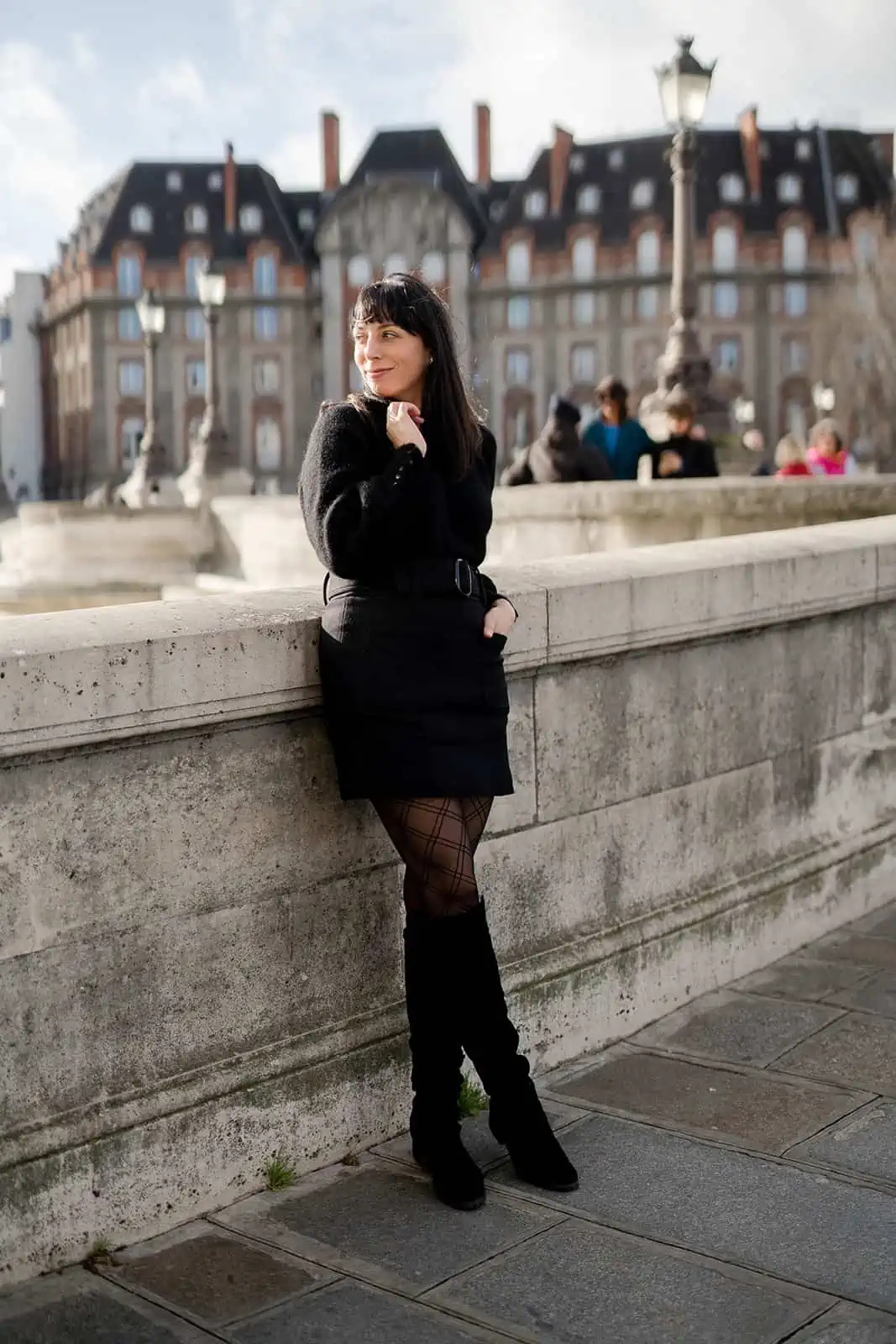 Winter Boots
Tall boots are still very much part of French fashion right now for a winter wardrobe. Black leather or suede are great for going with everything. The Chelsea boot is hot right now and all over along with combat looking boots as well. Make sure to wear warm socks or cashmere socks with boots to keep warm. I typically pick up some at Calzedonia when I am in Paris, they have some great and affordable socks and such fun tights.

Snow is rare in Paris so if you are planning to pack light for Paris, I would leave the snow boots at home. A pair of waterproof boots will do the trick. Black ankle boots are a classic staple and are great for wearing with a pair of skinny or straight-leg jeans.
Sneakers in Paris
Paris is ALL about the sneaker trend right now. Veja is a brand I saw over and over and even picked up a pair for myself at BHV while I was in Paris. They have a wide variety of sneaker brands in Paris in the department stores so you can choose your favorite style and what fits your budget. Sézane also has this pair of sneakers which are trendy. I saw just about everyone wearing sneakers on the weekends walking around Paris. These aren't your gym sneakers, these are typically white with a pop of color and comfortable and stylish for walking around the city. I also love these from Madewell which are a reader favorite.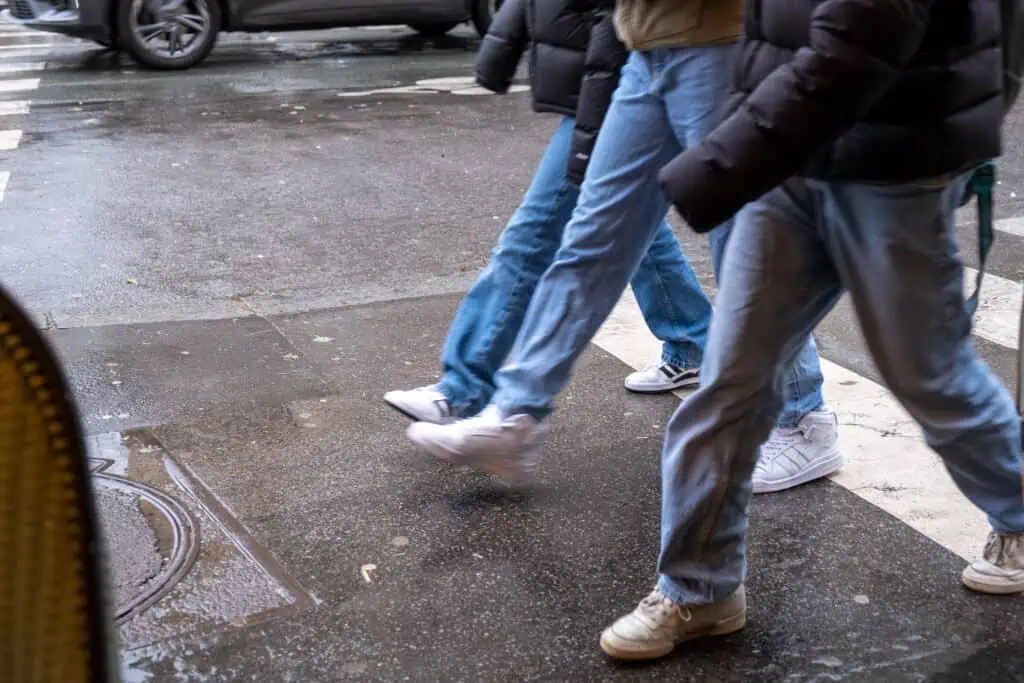 On the weekdays as men and women were back at work, boots and loafers for men in black and brown were the majority of footwear seen, and barely any sneakers out and about.

Winter Accessories
A wool hat or beanie is essential for the colder months in Paris. This was a trend for men and women and can be found just about everywhere. I have one from J.Crew and one from Sézane. I also picked up this wool hat for my husband at Octobre when I was in Paris earlier this month. One of the most important things to pack is an umbrella. I use this travel umbrella that fits in my bag. You never know when it is going to rain.

Scarves and leather gloves are other winter essentials for Paris in the winter. I made the mistake of not packing a pair of gloves in January and ended up grabbing a pair at Monoprix. (which is like a French target) they have them all around Paris. Chunky scarves are very much in season and I loved seeing these in prints and pops of color against the neutral coat colors.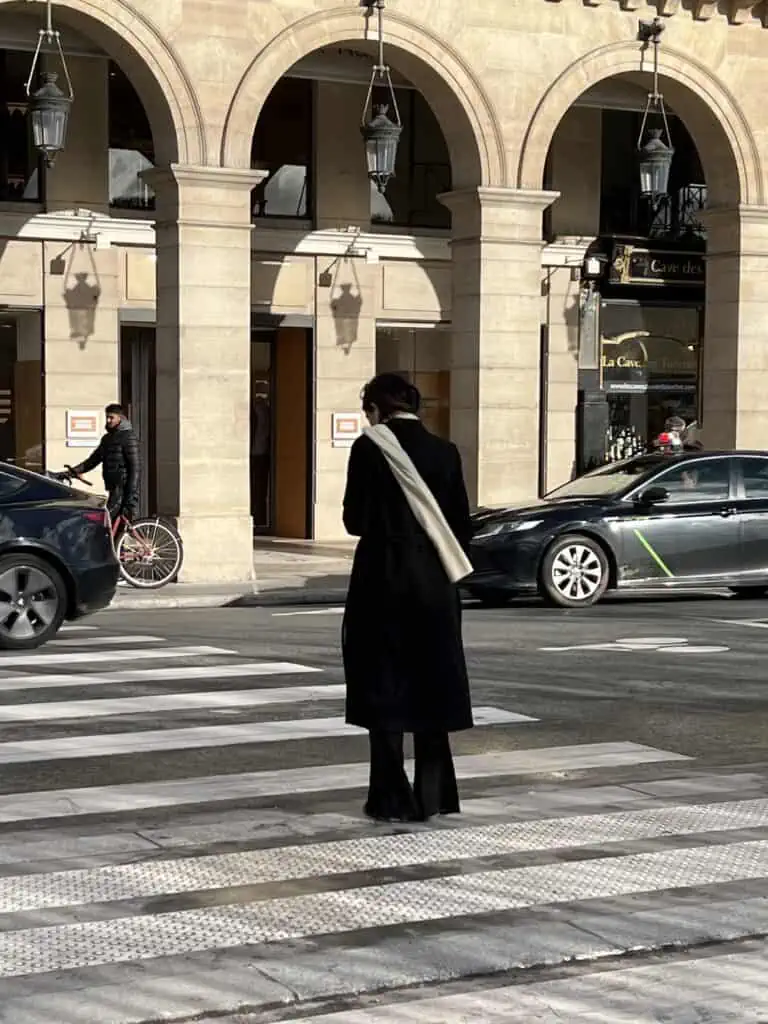 Check the weather forecast before heading to Paris but I always make sure I have a pair of sunglasses for sunny days and sunscreen even on cloudy days. You can always pop into a pharmacie like I did for sunscreen from Avène and I love this Supergoop glowscreen which has a tint or this daily sunscreen.
Little Black Dress to Wear in Paris in the Winter

I love packing a little black dress for nights out in Paris. If it is cold, you can pair this with boots and tights with a long black coat to keep warm. On my recent trip to Paris, I packed this velvet dress that I wore for my rehearsal wedding night. High heels aren't always recommended as the cobblestones in Paris are difficult to walk on. Pack them if you know you won't be doing much walking and plan on taking a taxi or Uber to dinner and back. Flat ballet flats or booties are a good idea for walking in Paris in the winter.
Crossbody Bag
The crossbody bag big and small is the Parisian fashion trend for women. Polène is a very popular brand for these bags and I have a few. This is my exact bag from Polène below. You can visit the store in person or purchase directly online. There is a new store in New York if you want to see the bags in person. There tend to be long lines at the Polène Paris location so plan ahead, it is worth it! Other crossbody bags I love that are similar include this one from Cuyana and this one and this one from Sézane.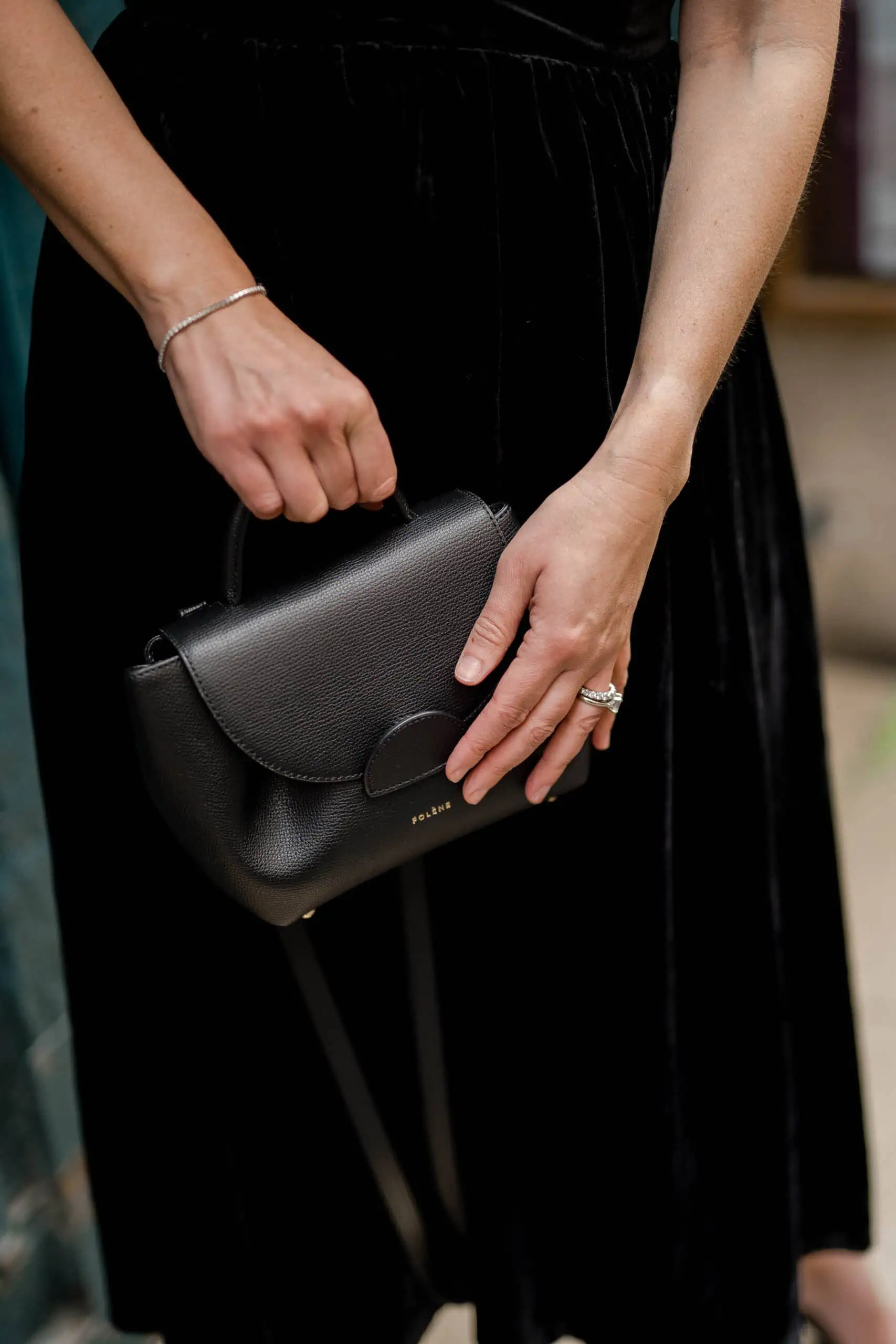 Trench Coat
The trench coat is a great transitional piece for the end of winter and early spring days. If your trip is on the cusp and the weather looks mild, you can go ahead and pack a trench coat and some great layers to make sure you keep warm. A trench coat is not a raincoat and shouldn't be confused as one. This is a coat you will see on all the French women walking around in the parks and at cafés. It is a great piece to invest in if you have the budget, or you can buy one at Mango, H&M, or J.Crew (on sale)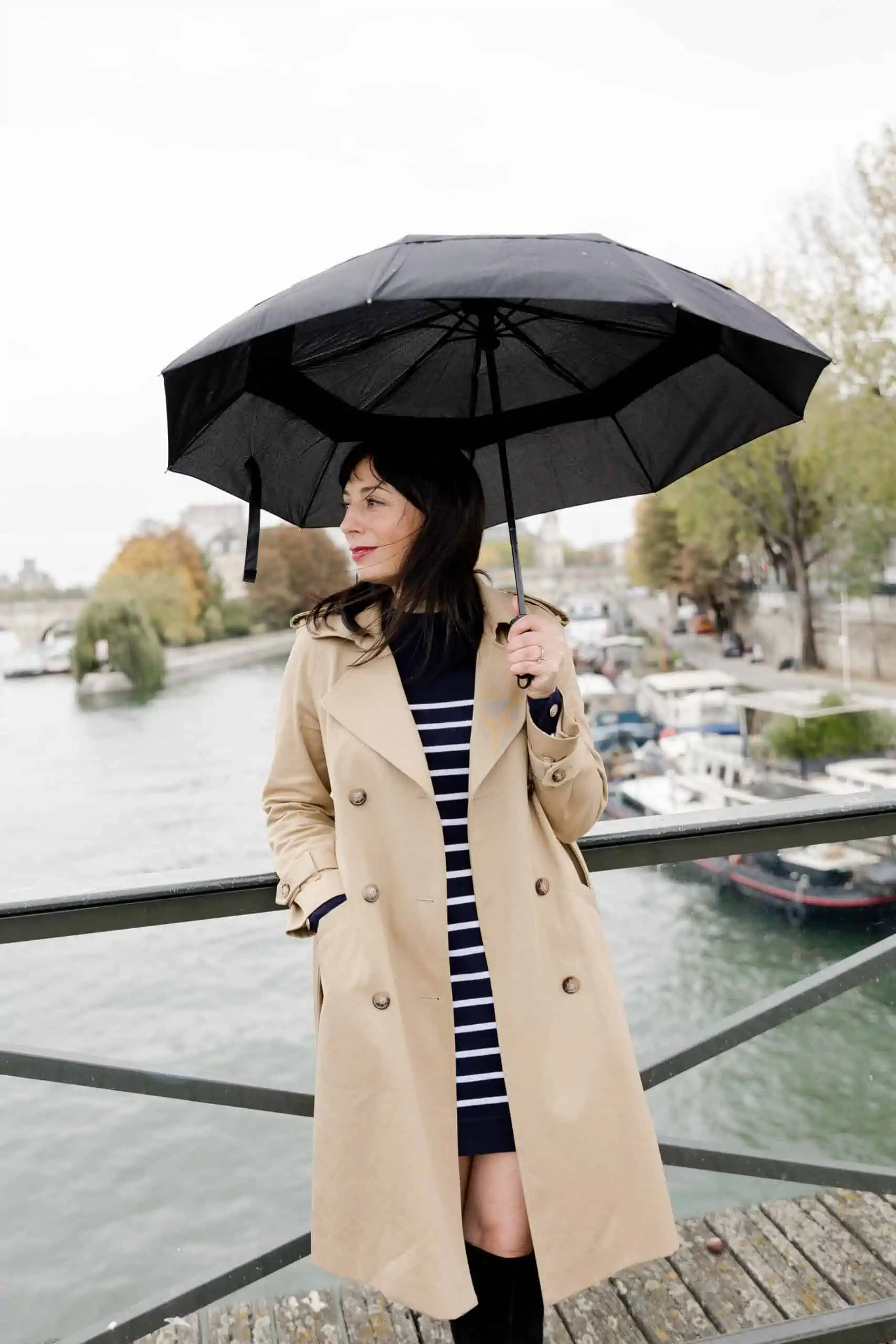 I hope this post helps give you some ideas for your Parisian winter style and packing ideas.
All photos of me by Katie Donnelly Photography and her team
This post includes affiliate links. I make a small commission from items purchased from my links at no cost to you. Merci!
P.S. If you are heading to Paris and need help with what to pack, you can use my downloadable PDF packing list here!