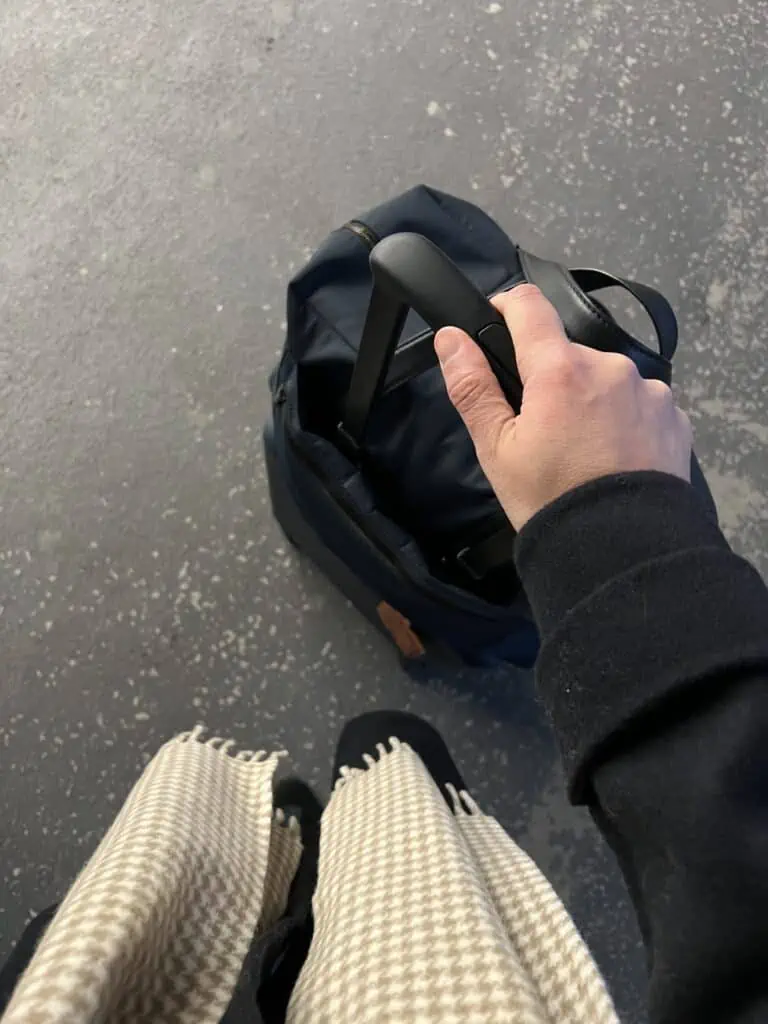 My Away Carry-On Suitcase
One of the questions I get asked most when traveling is all about my suitcase. To make life easier for both of us, I wanted to write a blog post for easy reference. This post covers my Away carry-on suitcase and all the helpful accessories I use to make traveling easier. If you have any questions on specific details feel free to comment below and I will do my best to answer. I have owned my Away bag for the past four years and truly love it. I have purchased less expensive brands for suitcases in the past and the quality has never been as good as my Away suitcase. I knew it was time to invest in my suitcase as I traveled frequently and needed something to hold up. Plus, I love the limited lifetime warranty that Away offers with their suitcases.
I have the away carry-on in the larger size and it fits in the overhead bin when I travel. I haven't had any trouble using it on International flights. I know someone will comment on their particular travel experiences with other major airlines. I fly United airlines as much as possible and I haven't had any issues to date even when I fly smaller airplanes domestically. I typically bring my bag as carry-on luggage due to ease of travel and not waiting for a checked bag. There are instances when I do check it and I will explain when/why further below.

Favorite Away Bag Features
The hard shell on the Away bag makes it durable and protects my belongings inside. The bag has 360-degree spinner wheels which make moving around the airport easy especially if I have a heavy bag and move from around the airport terminal to a taxi. The suitcase has a removable battery pack that you can use to charge your phone which is an additional $20 and may need to be removed from your suitcase before putting it in the overhead bin. (ask your airline carrier for details) The Away suitcase also has a TSA-approved combination lock so you can keep your belongings safe and secure on the go.
I love that the Everywhere bag has a slot to fit on top of my suitcase handle so I can wheel them both around the airport at the same time. It makes life so much easier and a heavy camera bag doesn't strain my back.
Packing Cubes
To keep myself organized, I always use these packing cubes from Calpak which come in packs of different sizes. I prefer to keep my belongings in the packing cubes for easy unpacking and finding my belongings especially since I am always on the go and moving around. I use each packing cube for a different item category and when I am headed home, I can use one specifically for dirty clothes and clean clothes and they are machine washable.
For toiletries, the minis offered by Biossance, Sisley, and Caudalie are a dream because I can bring my favorite products on the go without having to compromise. I use a Cuyana travel bag for my skincare and toiletries.
You can easily check the bag as well and I have had no issues with finding my checked bags on the baggage carousel. I have the navy color but there are lots of different colors you can choose from Away. All of my pieces from Away are navy so it matches. You can have a colorful luggage tag to identify your bag for easy spotting.

This is the bag everyone seems to ask about which fits on top of my rolling suitcase. I ordered this bag in 2020 and use it for all international flights when I have my camera and computer. It gives me so much extra space for all my belongings and it fits under the seat as my personal items. I am able to travel with the Everywhere bag and my larger carry-on suitcase and typically do not check a bag.
The Everywhere bag holds so many things and the pockets are a dream for someone who likes to have a place for everything. On the side exterior pouch closest to my body, I can store masks, hand sanitizer, and my phone for easy access. You could also fit a tiny wallet or store your passport here when traveling Internationally.
I also use this tech organizer for all of my cords and chargers on the go. I have found it is easiest to have a backup charger for everything I have at home so I am never at a loss for a charger.
Cuyana System Tote
When I am not flying internationally, I love my System Tote from Cuyana for traveling as my personal item. It fits perfectly on top of my suitcase and I can keep my laptop protected in this sleeve. What is great is the flip top bag fits in here so I can use one bag for business and the second bag detaches for a night out. I don't have to worry about squeezing in two bags when I am tight on space. I have my eye on this insert which would hold my phone and passport securely in a zipped bag inside.

Longchamp Foldable Bag
If I end up needing additional packing, I always bring this Longchamp foldable bag with me. There is a big debate with readers but sometimes I check the Longchamp if there are items I am not stressed about losing or filling with my French beauty products that are too much to carry on. I haven't had any issues on it ripping or getting lost yet. There is also the option to carry on the Longchamp and check the Away bag. Since my Everywhere bag is quite heavy with my computer, books, and camera, it feels easier for me to have the rolling suitcase underneath as I move around the airport. Plus, I prefer to have as many of my belongings with me vs risking a bag getting lost or delayed. It's a personal preference.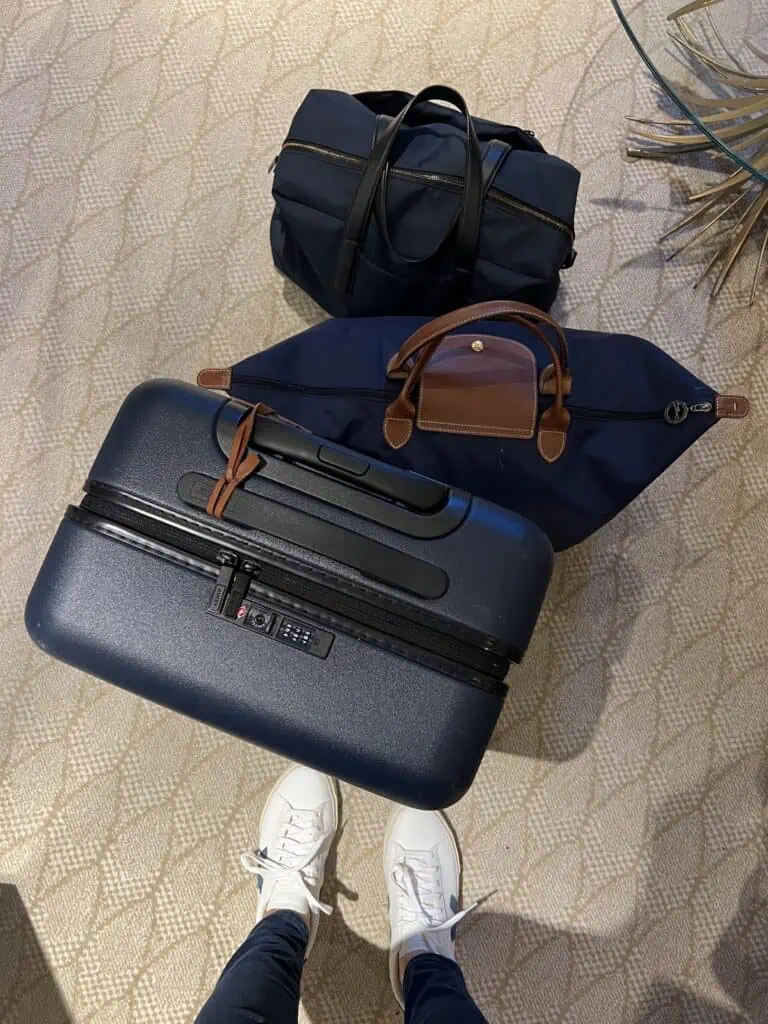 The price tag for a standard carry-on bag from Away is more than you will find from other bags but I do believe in the quality and how well it has held up over the years. This is my preferred luggage band at the moment. If you are purchasing an Away bag for the first time, you can use this link and take $20 off. It's a friends and family code. Once you get your first bag, you can also have a referral link to share with friends.
Other Favorite Away Items
My husband recently purchased this Away garment sleeve which helps keep my dresses and shirts looking fresh after traveling. I try to hang as much as I can and this fits on one side of my suitcase. Once, I arrive at my hotel, it is easy to unpack and hang in the closet.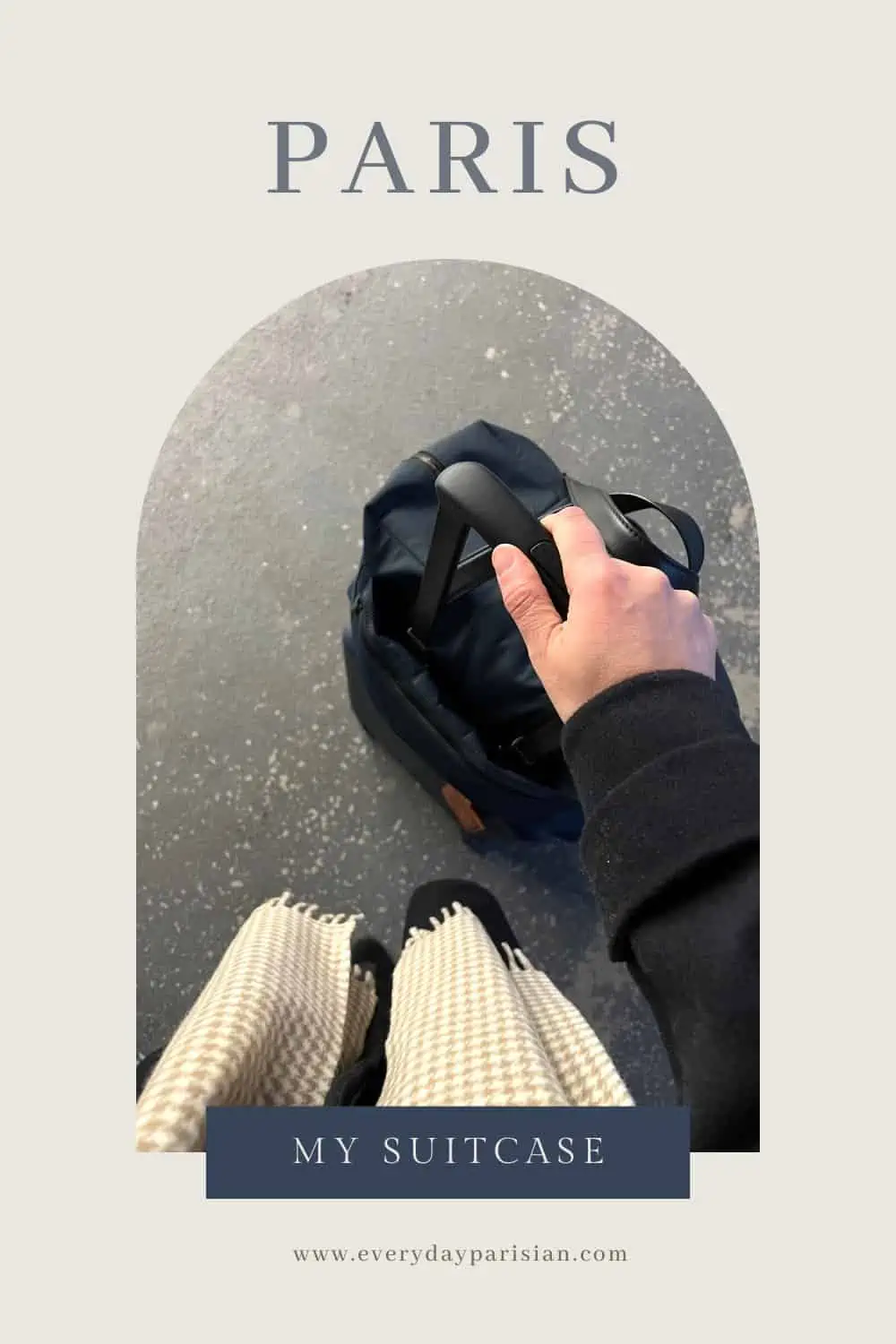 Product images courtesy of Away and are not my own.
*This post includes affiliate links. I make a small commission when you purchase something from my links at no cost to you! Merci. xo