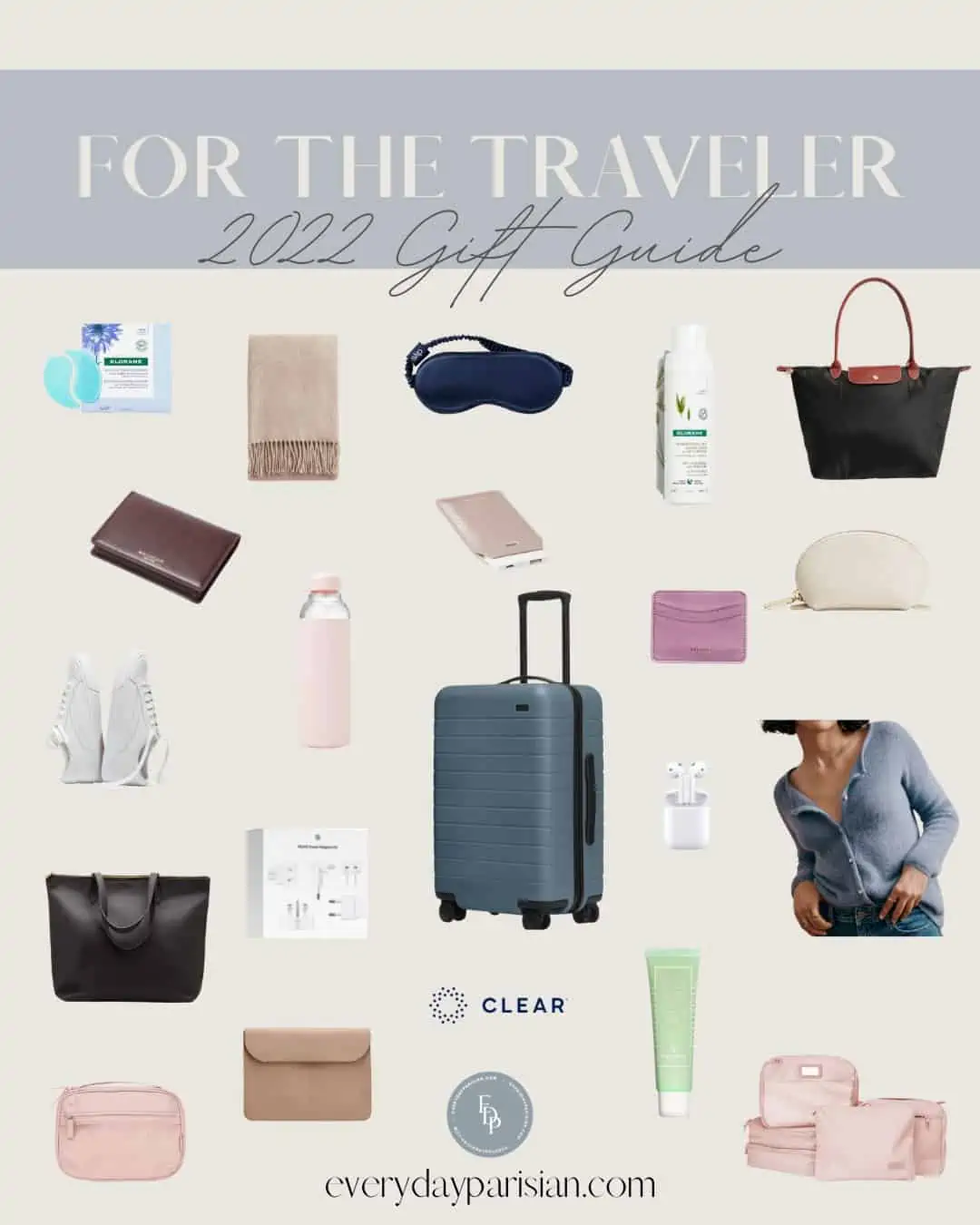 Travel is at the top of our minds for so many of us. After two years of not traveling much, people want to take the trips they have been dreaming of. It could be a trip to see family, and friends, or that dream trip to Paris. This gift guide is to inspire gift ideas for the traveler. A lot of these items are ones I own and recommend from my experience of traveling back and forth to Paris.
Gift Guide for The Traveler
Large Le Pilage Longchamp Tote $145 I have owned many of these over the years in multiple sizes. This is a great size for use for a day out in Paris. It folds up nicely so it is easy to pack.
Madewell Luggage tags $26 An essential with traveling so your bag doesn't get mixed up with someone else's. This happened too many times in Italy and my bag was missing a tag. Lesson learned. I have this one with my initials on it.
Gaspard Sezane Jumper $120. This sweater can be worn in multiple ways and is a great piece to look elevated when traveling. Throw over a dress or wear it with jeans. I always have a sweater with me even in the warm months.
Cuyana Tech Carryall $195 This is chic and I just love the quality of Cuyana. Keep your laptop safe along with your charger while traveling with this beautiful leather laptop sleeve. Monogramming is available for an additional charge.
The Away Bigger Carry On $245 I invested in this in 2019 and I used it so much. They have a lifetime guarantee and I have had no issues with it. I have brought it for so many international trips and it fits in the cabin with me.
Sézane Card Holder $50 You can monogram this too. I have it in blue and use it daily for my cards because I rarely carry cash anymore.
Power bank external charger $40. This is the one thing I forgot to pack for Paris and could have used. There were a few times when I borrowed power chargers from the girls when we had downtime. It's essential!
Cuyana Classic Top Zip tote $225 I have owned mine for almost 6 years and it has been around the world with me. I highly recommend the insert if you can afford it. It makes it easier to organize keys, water bottles, laptops, and other accessories.
Gift Ideas for the Traveler
Calpak Packing Cubes $62 Packing is so much easier with these packing cubes! I don't know what life was like before them. I store them in my suitcase when I am not traveling to make them easy to find. Each pack holds a different category, shoes, undergarments, tops, and bottoms. It also helps maximize packing in a carry-on. They come in a variety of colors.
Pure Silk Sleepmask $50 I have slept with one for years. It helps on the plane and hotels when I need to fall asleep.
Apple Airpods $119 I don't know life before these. I use them when I can't fall asleep at home to listen to podcasts and on the go for phone calls and for plane rides. It connects to your phone's Bluetooth. Just make sure they are charged.
Passport Holder This comes in two colors and holds your passport and a few credit cards. Easy to slip into your travel bag.
Orange Sim Card $50 20 GB for international travel. I have used this card several times. It really cuts down on the price of cell and data when abroad. Verizon is $10 a day and my data was drained by the evening. If you are going for more than 5 days, this is a great option. Just pop out your own sim card (keep it in a safe place) and put the new one in. I do this on the plan using the tray table.
Klorane Non-Aerosol Dry Shampoo $20 You can use the aerosol can as well but I like this one because you don't have to worry about packing it in your suitcase. This has saved me so many times in freshening up my bangs in between washes. Perfect staple for the toiletry bag.
Camera Strap $7 I ordered this exact one for my Fuji. It is a fun way to personalize your camera.
Passport Holder $85 This one comes in a variety of colors. It is a fun and essential gift. A friend gave me a red leather passport holder before moving to Paris and I still have it. Another option with more colors.
Gift Ideas for the Traveler
Cashmere Wrap $195 This is a multipurpose piece that serves as a blanket and scarf. My aunt gave me one a few years ago and it is sentimental. It is beautiful and has traveled with me so many times over the years.
Apple World Traveler Adapter Kit I bought this years ago when I started traveling and I think the price was a lot higher. This is affordable and easy to pack in your travel bag to swap out adapters for Apple products.
Glass water bottle $30 I own multiples of these and they are great for traveling on the go. I pack one in my bag or in the car and use it to refill instead of taking plastic water bottles. They are easy to clean in the dishwasher.
Tech Organizer $30 I don't know what I did before this little pack and I am so happy I own it now. I bought one as a gift for my fiancé too. I keep travel backups of all my cords and keep them here. When I am traveling, I just add this to my bag and I never forget a cord or adapter.
Klorane Eye Patches $26 Great for travel under your sleep mask before you land. This helps reduce the puffiness and dark circles under your eye caused by a lack of sleep.
Clear Membership My fiancé encouraged me to join earlier this year and it makes travel a breeze. I have TSA but this is an alternative to get through the lines faster. Plus, I always have the fear of not having my ID on me when I am traveling and this is a backup. It is super simple to join and saves lots of time at the airport.
Travel Jewelry Case $145 To keep all your jewelry safe and organized in one spot. You can monogram this too.
Sisley Sleep Mask $145 to keep your skin hydrated and plump while in the air. I always use a mask when flying because my skin runs dry as it is and flying makes it so much worse. Slather it on and let your skin soak it up as you sleep. The Sisley Eye Mask is also a great duo to pair with the sleep mask. I put this on under my eyes and it helps keep that delicate area hydrated for long flights.
Sidewalk low-top sneakers from Madewell. Highly recommend you catch them on sale. Currently 50% off. You need to break them in before long stretches but they are worth it. This is a reader favorite and so many of you rave about them too!
*This post includes affiliate links. I make a small commission off of items purchased from my links. Merci!