Spring is coming and I am starting to pick up a few items here and there to update my wardrobe. After not going out much at all in two years, I am in for a major refresh. Madewell is currently offering 25% for Insiders and Stars. To become an Insider, you can sign up here. There is no cost to join as an Insider and it allows you to have the discount and also FREE shipping. I don't get any credit for having you sign up, this is just one friend to another sharing a brand I love. I have spent enough to qualify me to be a star. It is well worth it for the discount.
*I do make a small commission off of items purchased from my links. It helps contribute to my coffee and croissant fund for Paris and treats for Henri. Merci!
Last fall, I picked up this leather jacket for Paris at a discount. This only happens twice a year so it was totally worth it. I know I will be wearing this jacket for years to come. The quality is fantastic and it fits so well. I ordered a medium and sized up due to my bust size. I needed a little extra zip room.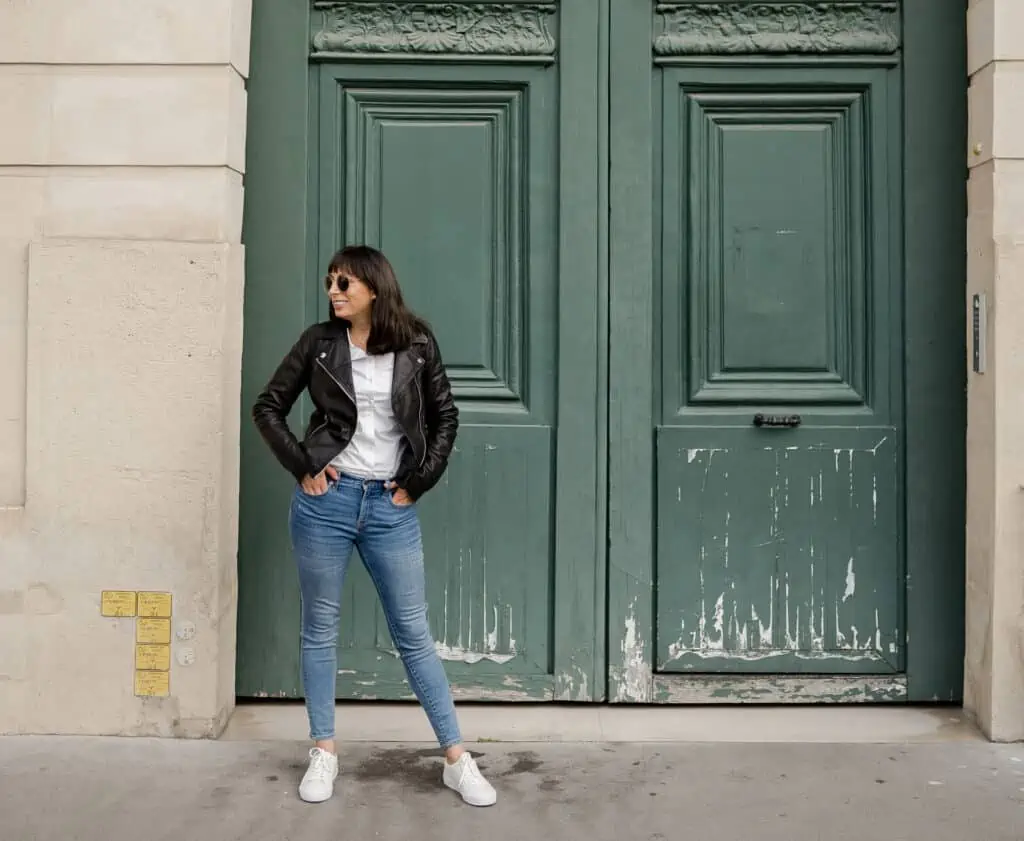 I can't wait to wear this jacket in the spring when I am back in Paris.
Below are a few of my top choices to pick up at Madewell. The collage is shoppable, but you can also click through my descriptions below to take you directly to the item.
Madewell denim shorts. I have a pair from last summer. I never thought I would wear jean shorts again but here I am and I reach for them all the time.
Madewell seersucker drawstring shorts are perfect for throwing on for the beach, pool, or market.
Straw packable hat. I ordered this one with a discount. I am headed somewhere fun in the sun next month and I will need a hat. There is a J.Crew one that is almost identical.
Leather motorcycle jacket I own this in size medium color black. I can't say enough about it. It's a splurge but a great wardrobe staple.
Birkenstocks. It doesn't look like these are included in the sale but still totally worth it full price. I bought a pair last year and I lived in them all summer. They mold to your feet over time and just are the most comfortable sandal for casual wear.
Sidewalk low-top sneakers. I share these all the time because they are that good. I bought a pair years ago not on sale right before Paris and they were perfect for walking around. I buy a new pair every year for that clean white sneaker look. Make sure to break them in before you pack them. They do need a little bit of a stretch right out of the box on your back heels.
Slide sandal in leather. Both the black and brown are great options.
The transport tote. I bought this in brown leather when I moved back to Paris not on sale but it has proved the cost per use. I kept it in the closet for years not using it and have broken it out since 2020 and it is one of my most used bags. I don't typically use a wallet now with apple pay so it's a lot easier to tote a water bottle and some of Henri's things around with me. It gets better with age. Mine might be 7 years old and has held up great.
High-rise black denim jeans. These are 10 1/2 high rise so be warned if you don't like to go that high. They are super cute and a great addition to your spring wardrobe.
Northover Jacket I purchased a similar one from Madewell last year and have worn it so many times. It's a perfect transition jacket for spring/fall. I keep treats in the pocket for Henri and it was great for our walks without me having to bring a bag.
Woven Leather Belt. I have not worn a belt in years. But… Sézane has been showing them with every dress which has me convinced I need to order one. These are half the price so grab one if you want to try the trend and if you end up not liking it, you aren't out a ton of money.
Pintuck easy midi dress. A great opportunity to try out your new woven leather belt. This needs a belt in my opinion. I got the dress in black. Now I am eyeing it in white with a brown belt.
Camera transport bag. I have a similar one from Cuyana but it sold out. This is a great size for carrying things for walks with Henri or going out. I needed the larger camera bag for Paris. I tested the sizes out in the store with my camera, just in case you are thinking ahead for travel.
Whispers V neck cotton tee I buy some of these every year on sale. They do eventually get holes in them if you continue to wear them. They aren't the best quality but great for throwing on.
Thanks to Henri for sleeping while I wrote this post. 🐶