I will fully admit I was 100% influenced to get this Eufy RoboVac from my friend Danielle Moss. I saw her mention it a million times on her Instagram and I finally added it to my wish list. I talk often about loving a clean house and while I have my Dyson Vaccum, I love the idea of having a vacuum that helps clean some hard-to-reach places. When my sister asked what I wanted for Channukah, I couldn't think of anything except this vacuum. It was one of those things that were on my list but I wasn't ready to buy myself one. Now that I own it, I think it is the best and am not sure why I waited so long.
To give you an idea of how much I love it, I raved about it and convinced my sister to buy one. Now she loves it, my dad was in town visiting and he wants one now too! Alyssa who works with me bought one. We are all part of the Eufy family.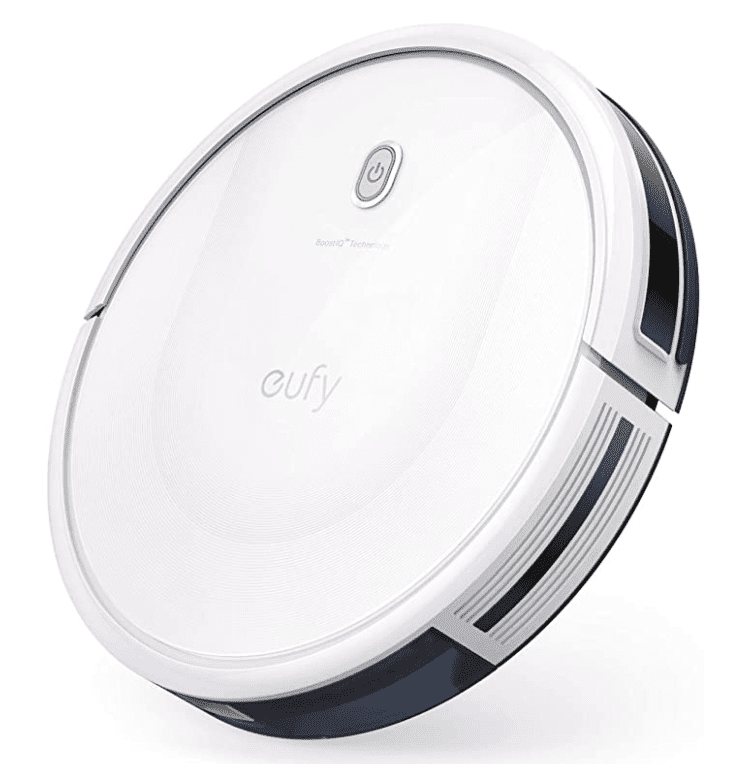 To give you a bit more background on the vacuum. Danielle posted the exact one she had and I didn't do any research. I literally clicked the link and sent it to my sister. Now I see there are SO many options. If I was buying a second one or doing it the first time, I would most likely buy one a bit more expensive and get it to use the iPhone app vs the remote control. Perhaps I will add it to my wedding registry.
I can't tell you how hard or easy it was to set her up. My fiance grabbed the box and set her up once she was delivered. We set her up under my desk and out of the way. She doesn't take up much space but it is nice to have her tucked away. We only see her when she is out cleaning.
I would recommend cleaning her out after each use. It is a bit like a dryer where you should empty the lint. You will be amazed how much she can pick up in an hour.
What I love about it:
It picks up so much dirt! The first time I emptied her tray, I was shocked! How is that even possible? We clean the house weekly on a regular basis.
Henri chases her. I schedule her to start at 8 am which is right when Henri needs some entertainment and I sit down to work. He chases her and barks for a few minutes before moving to another room.
I can set her to automatically run. I love a good routine so I chose 8 am while I am working and making breakfast. Setting her at night would also be a great option depending on your personal schedule.
She gets to the places I can't. Under the couch, bed, the coffee table is all small places that really need help. Crumbs and dust collect here and it's not so easy to clean. I swear she was picking up evergreen garland for weeks when I first got her.
What I don't love about it:
Sometimes she gets caught on our side tables and under our console. She needs a little supervision to make sure she runs smoothly. Make sure to pick up any toys (Henri) cords, or anything that might stop it from working efficiently.
I have the remote version and would prefer the iPhone app version which is a higher price point. I would purchase a new one for a different part of the house just to have this option.
I wish she got a little closer to the edges in the kitchen. This may be a learning curve but I wish she got a little closer to where the crumbs collect in the kitchen. I quickly run over this with Dyson.
Overall, I love having her as an addition to my clean routine. Henri doesn't shed but my sister's dog does and she was shocked at how much hair the Eufy picked up. If you are constantly picking up hair, crumbs, or dirt I would highly consider adding this to your home. The entry-level Eufy is around $150 with the coupon from Amazon.
*This post includes affiliate links. I make a small comission off of items purchased from my links. Merci!