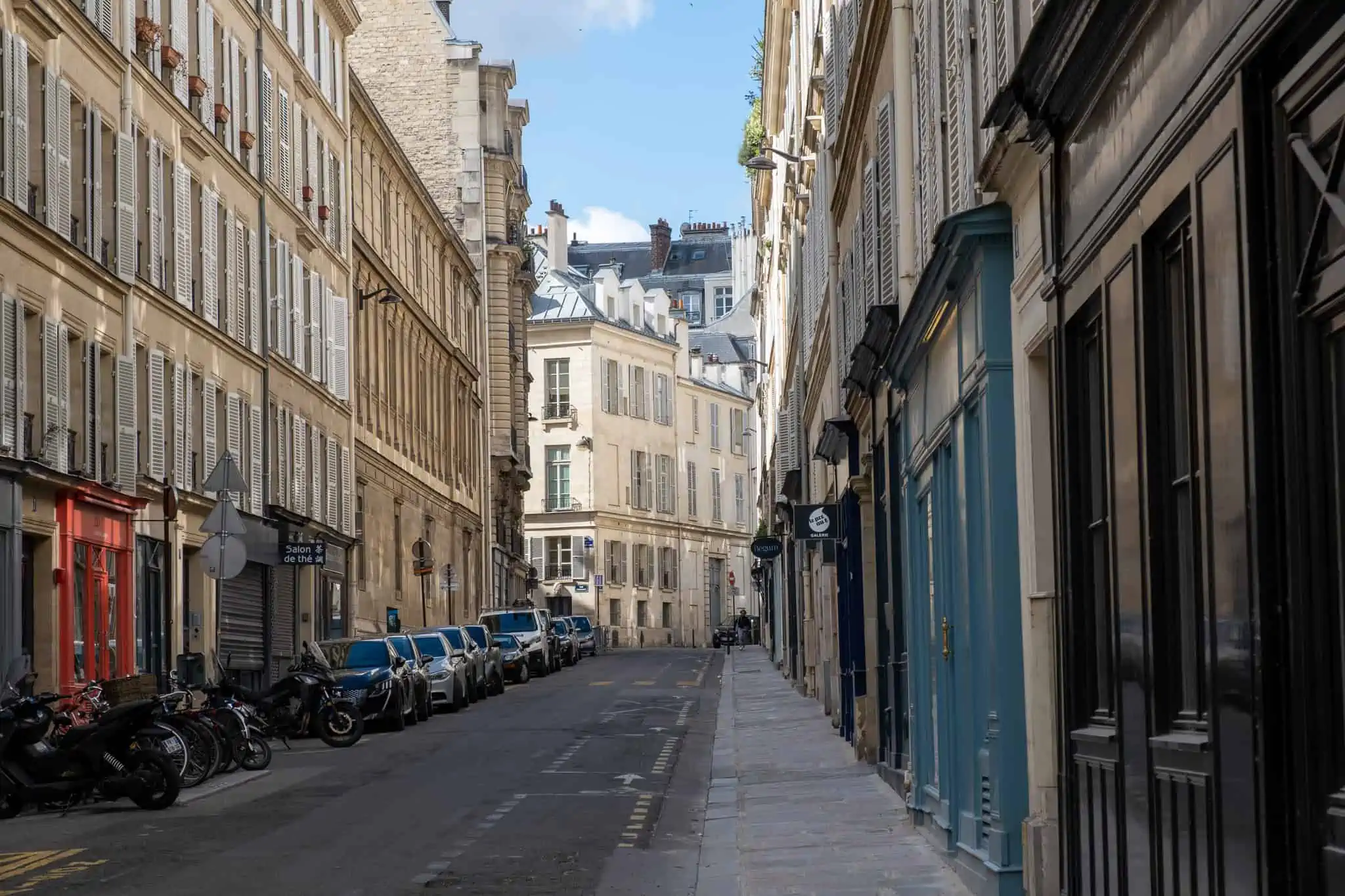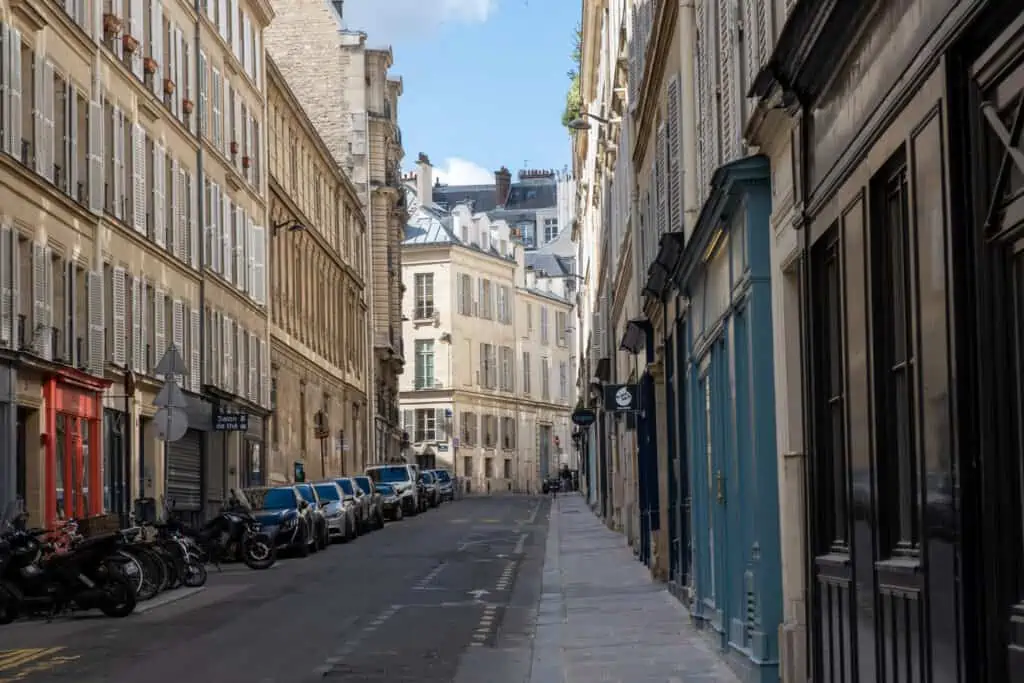 A Weekend in Paris
My fiancé surprised me with tickets to Paris earlier this month that were booked for the long weekend of Memorial Day. A few things needed to be sorted with work for both of us before we felt the dream trip was a reality. He booked the flights and since I know the city, he left the accommodations and meal bookings up to me for a weekend in Paris.
I knew the weekend would be busy in Paris but the city was packed. There was a final football (soccer) match that was planned for St. Petersburg but moved to Paris last minute, a bank holiday for most of Europe, French Mother's Day, and a long weekend for the US, oh yes, and the French Open. Finding accommodations felt next to impossible. I kept searching and I almost surrendered and we didn't go. There were a few spots still available but nothing in our price range and 4 stars were going for crazy prices not to mention 5 stars.
I ended up settling on two hotels. One on the Right Bank and one on the Left Bank. It was a lot to switch rooms halfway through because it broke up some of our days along with COVID tests to get home. But both hotels were worth it and I felt it was a great excuse to check out two new properties for blog readers.
None of this was sponsored.
Everything was booked by me after lots of research. I did reach out to both hotels to let them know I was trying them out after the reservation was booked.
We flew from Chicago to Paris. I booked Victor Cabs to pick us up and take us to CDG. It was much easier than dealing with trying to grab an Uber/Taxi. I have used them multiple times and never had any issues with timing. They are fair with pricing and have clean and friendly drivers. (I make no affiliate commission from them and they have no idea who I am besides my booking name)
Where we Stayed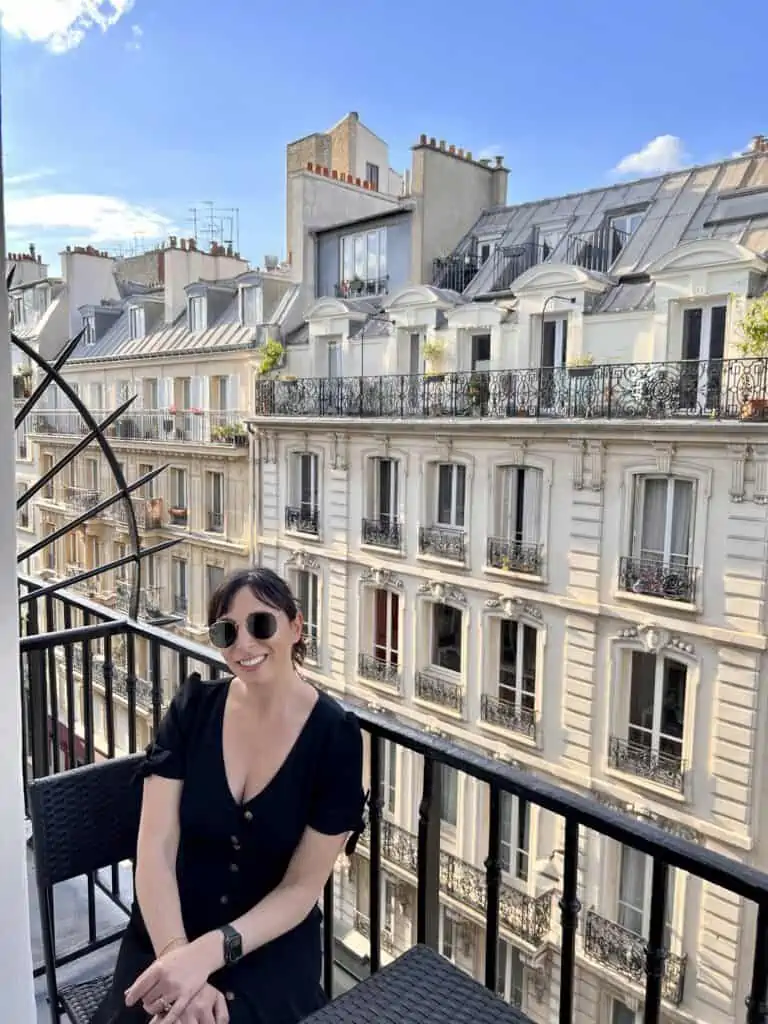 We arrived at our hotel and due to the limited amount of rooms, we actually booked one tiny room and one small room at Maison Mère based on availability. It was the only hotel I could find that was reasonably priced, had a good location, and had great ratings. (4.9 on google!) Upon check-in, they held our bags while we got a much-needed coffee. We were surprised to find out our room was ready for us and we were upgraded to a balcony room and didn't have to switch. YES!! I had room 501 for reference if you want to request my exact room.
One of the reasons why I booked Maison Mère besides the reviews was that I knew the area. I lived not too far from the hotel back in 2013 but also Adèle and Jules another great property I stay at was only a quick walk away. I already had bookmarked coffee spots and restaurants nearby from a previous trip.
We showered, unpacked, and changed to hit the ground. The past two Paris trips since 2020 were for Atlas Adventures trips. This was my first trip without a project or agenda. Of course, I had a million ideas for blog posts and a list of places to discover. I can never fully shut off my brain.
My last trip in April was filled with 10 days of snow and rain. I was thrilled to have sunshine and warmer temperatures. And I packed a few dresses but ended up only wearing this one. I wore jeans, tops, and jackets for the rest of the trip. You can see what I packed for the trip here.
I also wanted to shoot new photos for The Print Shop.
It feels like I haven't updated anything since last summer's Italy trip. My full-time job is as a Paris photographer. I don't have many photos of Paris in the summer so this was a great opportunity. The city was packed, but I did get some! I will be releasing a mini-collection soon.
We stopped for coffee and just walked to get some fresh air. I did not eat on the plane and I get hangry so I was on a mission to find something to snack on before our late lunch. We weaved in and out of the first arrondissement and found some good coffee and enjoyed the sunshine.
We had lunch on the terrace of Drouant Paris.
I will add this to my where to eat and drink in Paris master list. It was beautiful and tucked away right in the center of the city. It was on my list and my fiancé was easygoing in terms of where I booked. We had a great meal. It took longer to get our check than the whole service of starters, wine, and lunch but that is Paris for you. We weren't in any rush.
We walked through The Tuileries and then to Palais Royal.
Since we were so close, my fiancé asked if we could go back. This is the spot where we got engaged. It was always a personal and special spot to me and now it is very special to us. The whole park was packed with people and great energy buzzing. It was hot and sunny. I wanted to do a roundup of ice cream spots in Paris and found an outpost for Alain Ducasse. I chose two sorbets framboise (raspberry) and citron (lemon). This may be one of my favorite things I ate all trip. I love anything lemon and this was so perfect.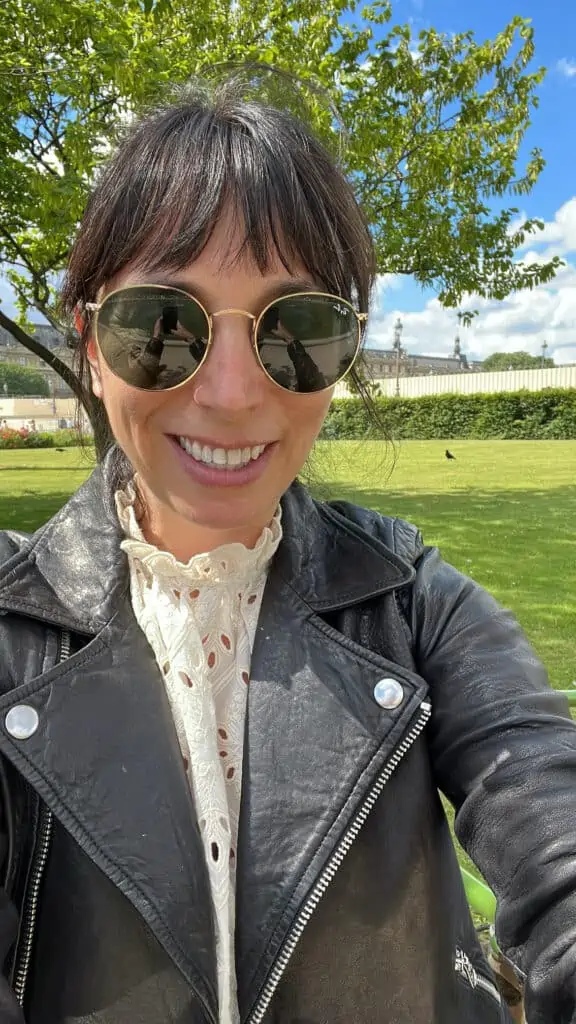 I am not sure how we had enough energy to keep walking and enjoying Paris. There was a rooftop on my list that I wanted to check out not far away. They opened at 5 so we walked over to try to get a table. The views were lovely but the service wasn't great and I didn't love the vibe. It was some interesting people watching. For a few reasons, I am not sharing the name of the spot.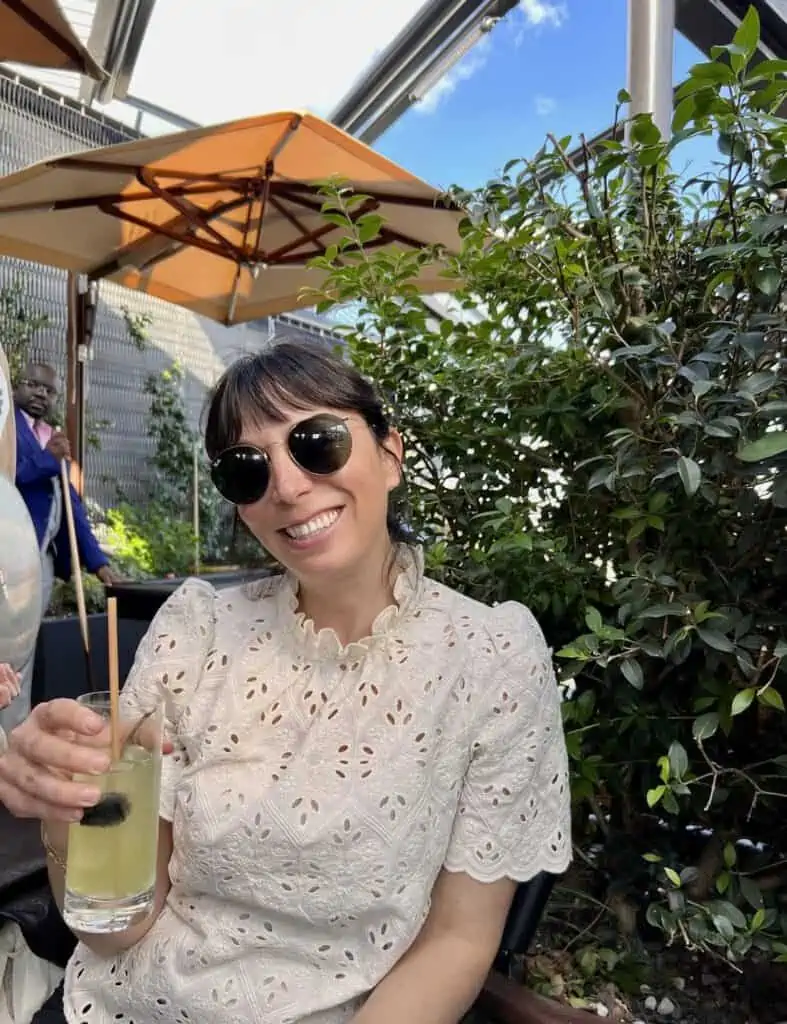 We had a very late dinner reservation that was a close walk to our hotel. We walked down Rue Montorgueil to grab cheese and a baguette to enjoy on our balcony. I worked for a bit while my fiancé rested.
After dinner, we walked through Paris talking and enjoying the quiet of the city.
We decided to extend the evening and found a bar close to our hotel for a glass of wine outside. We ended up being out past midnight the first night. I always reference "Midnight in Paris" to him which he still hasn't seen. It seemed to fit my sense of humor because it was midnight in Paris and the scene felt fitting.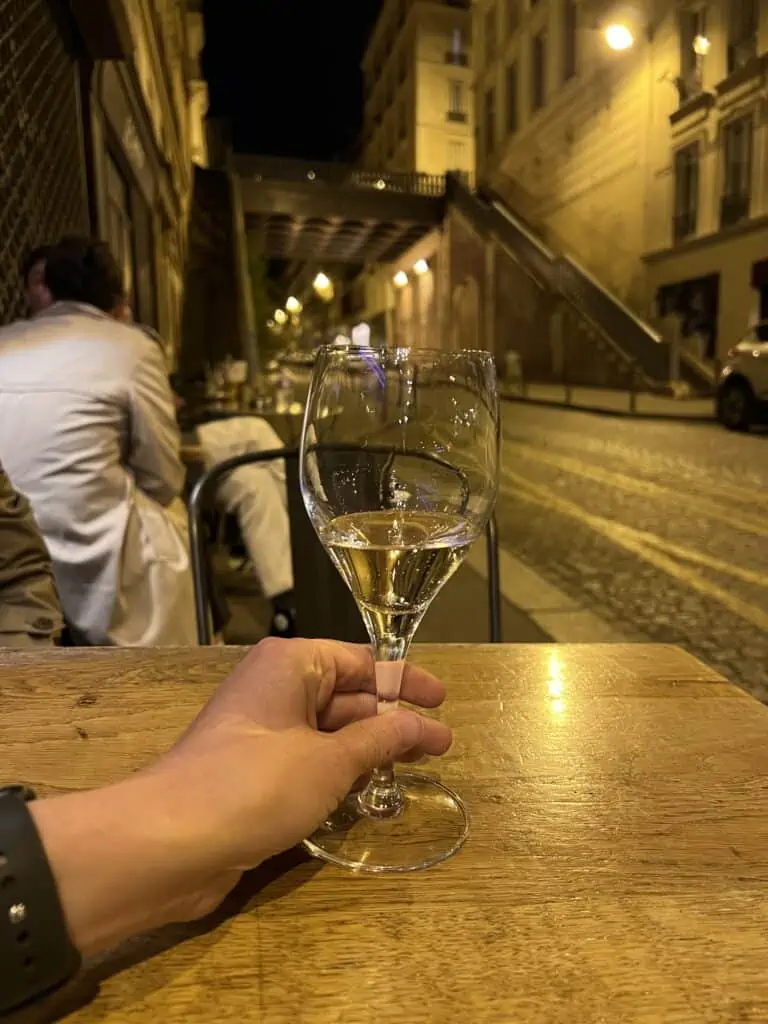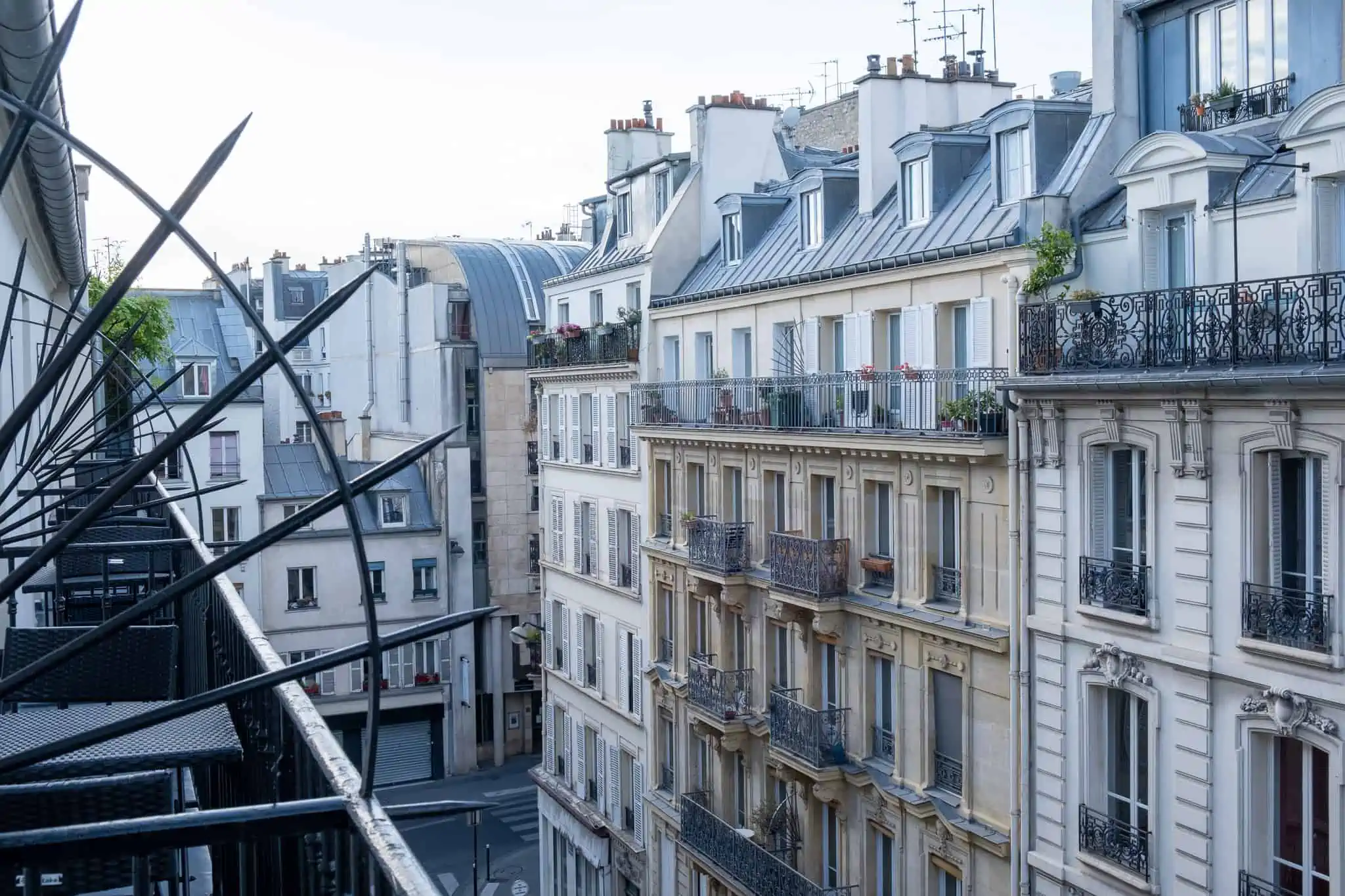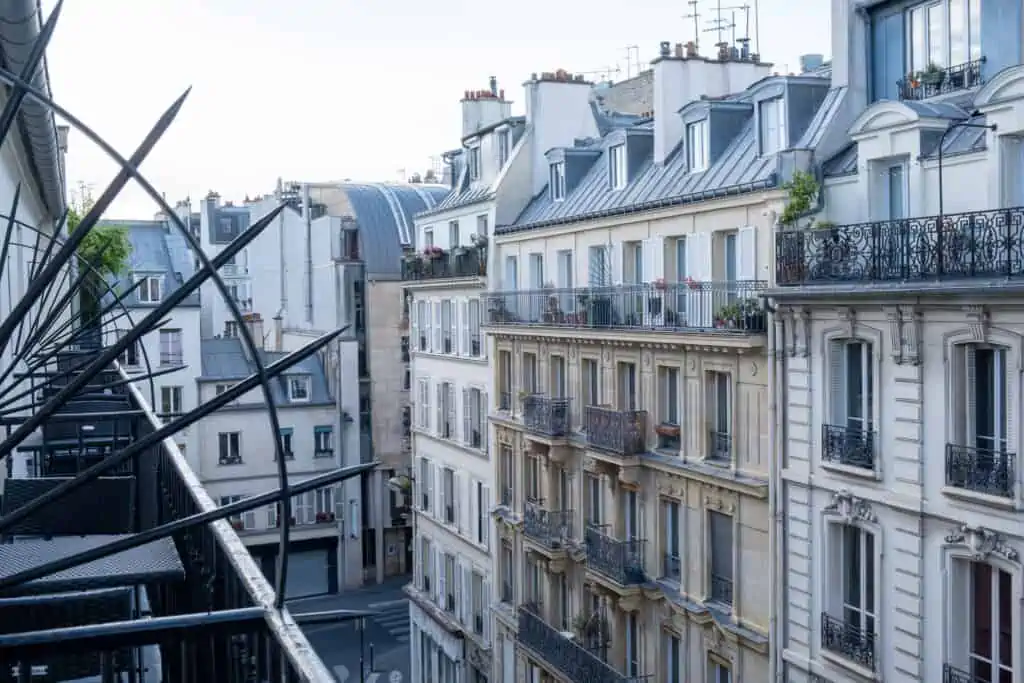 I didn't set an alarm and could have slept much later than I did. My fiancé woke me up at 9:30 am to a balcony filled with sunshine. I slept so well that I forgot where I was (jet lag) and thought I was having a dream I woke up in Paris. The minute I realized it was a reality, I jumped up to get coffee and start the day. Our hotel offered breakfast downstairs but we also walked for a coffee close by the hotel.
Léandres has brunch and coffee along with takeaway pastries. I had the cardamom bun ( a favorite of mine) and a flat white. You can just pop in and walk to the end of the restaurant for a takeaway. Both were delicious!
We stopped for another coffee along the way at Café Kitsuné which is always a favorite and on my coffee shop list.
I picked up two madeleines at Le Ritz Comptoir. I love madeleines and make them often. The lemon beat out the chocolate by a landslide. I prefer the less sweet options but they were fun to try! This is also a great option if The Ritz prices aren't in your budget. Le Comptoir offers reasonably priced (in comparison to The Ritz) breakfast, baguette sandwiches, and pastries. You can take these to The Tuileries which is a quick walk away.
I haven't seen the city this full in a long time or maybe ever. This goes to say that you should prepare for a busy time in Paris if you have any upcoming trips. It was lovely to see the energy back in the city.
We made plans to meet my friend Katie Donnelly, her husband, and her new baby for lunch.
Katie photographed my engagement and it has been really great having her get to know my fiancé. We met them for lunch on the Left Bank and tried a spot called Marco Polo. I have always passed by it but never had the opportunity to try it. It was a lovely lunch with a great vibe. We got to sit, drink, chat, and catch up. It was just what I needed.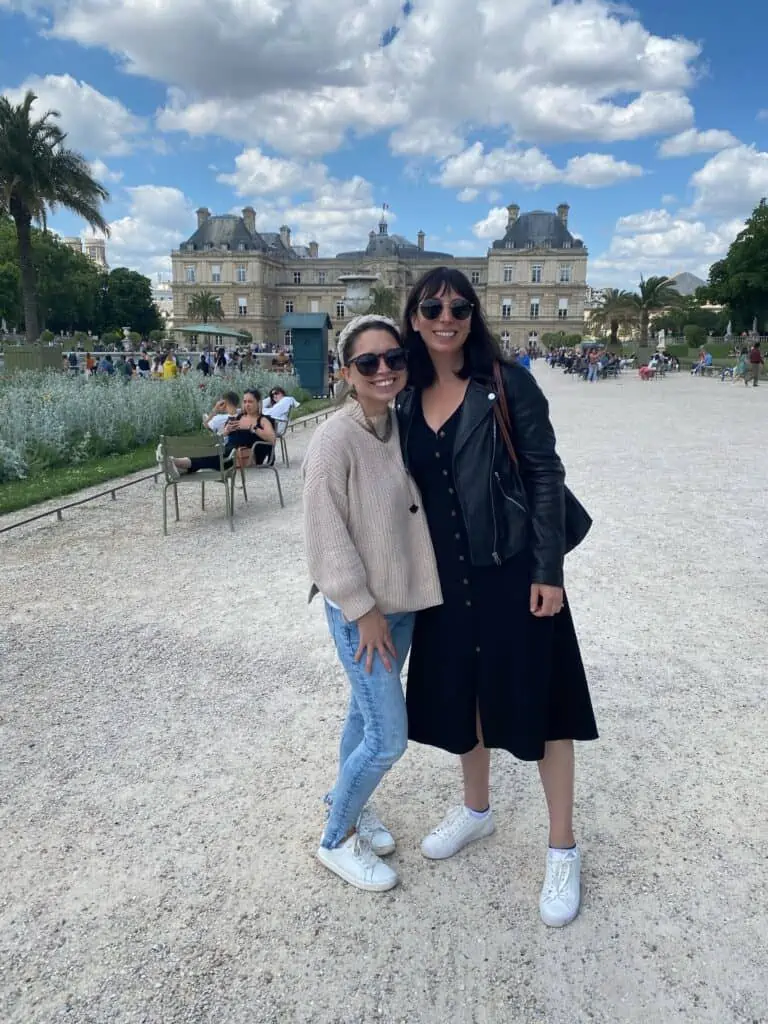 We strolled through a very busy Luxembourg Gardens and then they were off back home. We made our way to Bon Marché to look for sneakers and a few other items.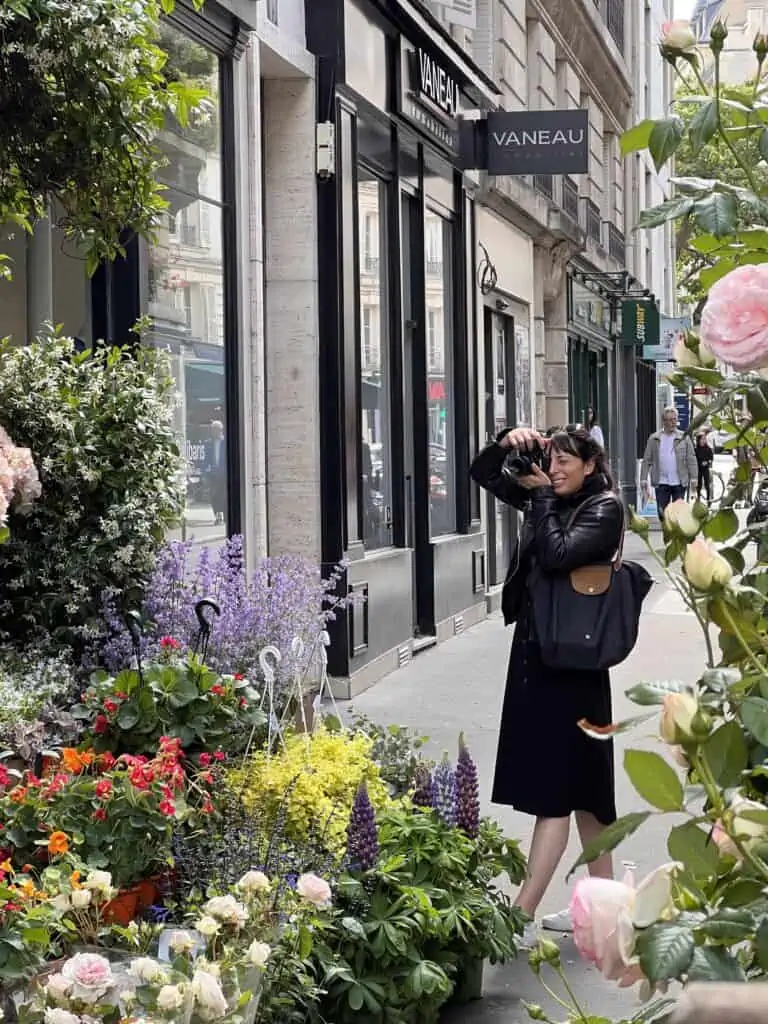 One of my favorite scents is jasmine.
I haven't been to Paris at this time of year and was so surprised and happy to see the city filled with it! If you want to see a great display, Pavillon de la Reine is covered in it this time of year. I bumped into so many terraces and displays with jasmine. I was always a few steps behind my fiancé because I found another jasmine pocket. Peonies, sunshine, and jasmine really was an amazing time to be in Paris.
We stopped at a café after a long day of walking in the sun for a citron pressé (fresh squeezed lemonade) and people-watching.
We slowly made our way back to the hotel which was a good walk to rest before dinner.
I had booked an amazing dinner which just happened to be Italian. I didn't plan for Italian for lunch it just happened that way. We loved our time in Italy so I don't think he minded too much. We walked there and the night was perfect.
I found a new spot, Lazzi close to Opéra that just opened with a lovely terrace.
We were transported to Italy. The city was oddly quiet which we figured out was due to the soccer match happening. There were French kids playing in the square in front of us and it was a great hidden spot in the city.
P.S. the man in the photo below is not my fiancé.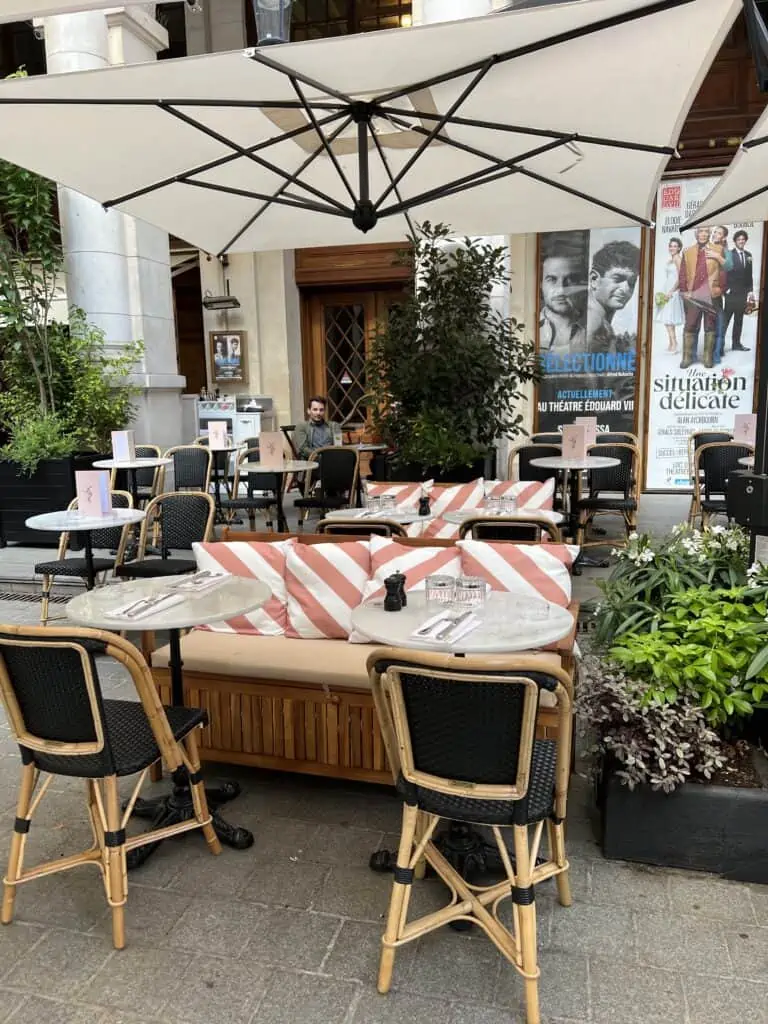 We arrived back at the hotel to watch part of the game and enjoy Blue Hour from the balcony.
Sunday in Paris
Sundays in Paris are my favorite. I love the energy in the city and the French mentality to focus on friends and family and not work. This is one of the reasons I send out Links I Love on Sundays as a way to unwind and transport yourself to Paris. I typically will visit the Bastille market on Sunday and we had plans with a friend but she was also jet-lagged and canceled last minute. I was awake early overthinking the COVID test and stressing about coming home.
As of now, Americans need a negative COVID test regardless of vaccination status to return to the US. This has to be done one day in advance of your flight. I wrote a post about it here for more details.
We moved from the Right Bank to the Left Bank which took a little time out of the day. I wanted a full experience on the Left Bank.
I already miss the balcony at our hotel but I knew the next new hotel would be lovely as well.
It just opened in April. I missed the opening by a few days from my last trip. I have stayed at Pavillon des Lettres and Pavillon de la Reine and was excited to check out their new property.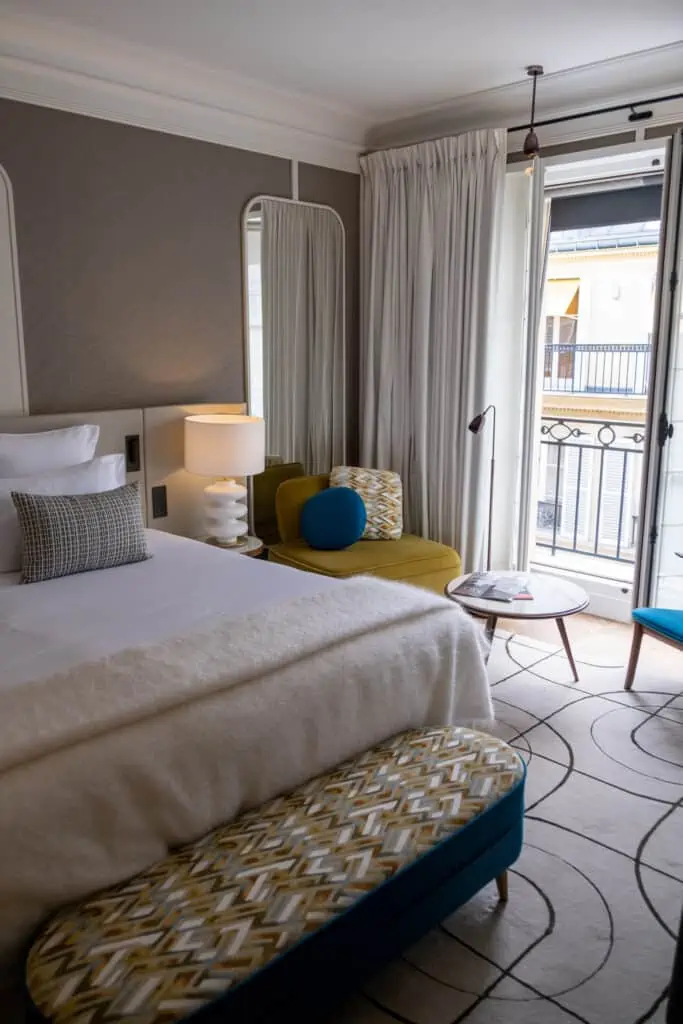 The new hotel did not disappoint. We did have to wait for our room to be ready but that was expected as we arrived early and the hotel was fully booked. We had breakfast in the restaurant and planned to walk around for a bit.
Shop A Summer Weekend in Paris print here
We ended up spotting an open pharmacy to get a COVID test. We also packed the Abbott COVID tests that you can do virtually. But we decided to keep those with us just in case we tested positive, we would need those to self-test while in isolation. For more details on where to get a COVID test in Paris, you can check out this post.
There was a bit of a line but the pharmacy was efficient and organized despite the chaos and amount of people. I don't know if there were many pharmacies open that early on a Sunday or at all in the area making it busier than normal.
After getting my results, we had a celebratory omelet (my fiancé's request) on rue de Buci.
There were a lot of requests for the exact address of L'Atlas. Our meal was great and the service was good but the place was empty. I think we were the first to arrive. I wouldn't recommend this spot for dinner as the reviews aren't great but for a drink/small bite/people watching you should be good.
We walked around Saint Germain and picked up chocolate at Alain Ducasse.
I love this spot for gifts and chocolate to bring home. I picked up some for the friend that was watching Henri. This just happens to be the same name behind the amazing ice cream I had at Palais Royal.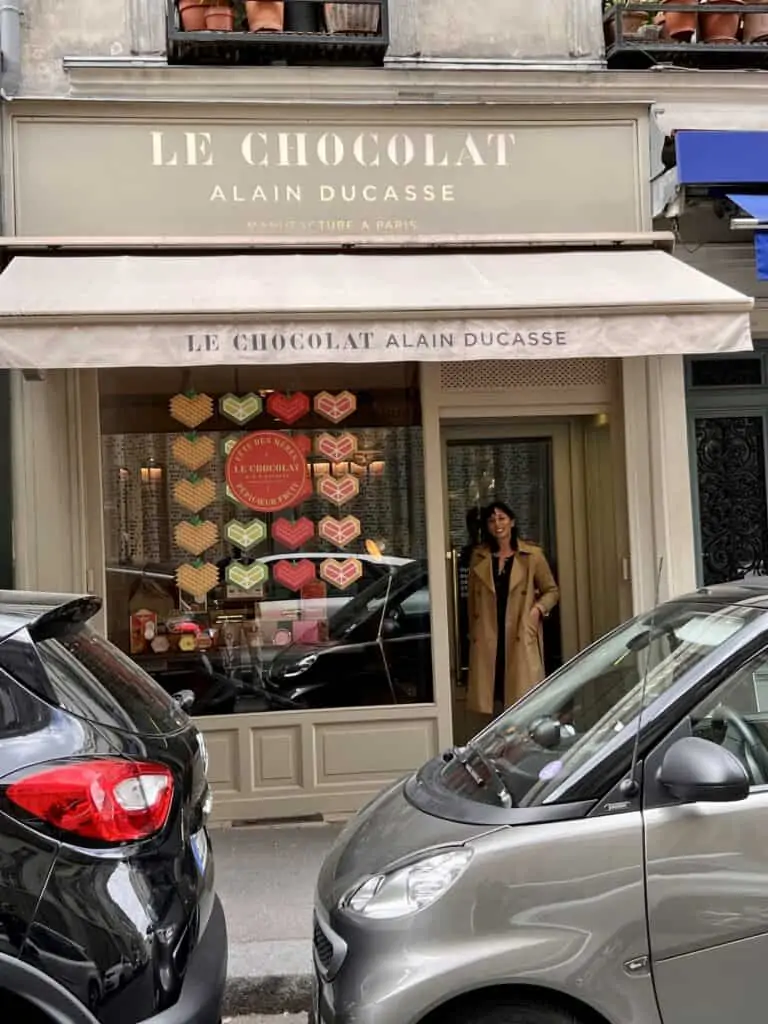 We got to check into our room and we relaxed for a bit. They had macarons and champagne waiting for us and I ended up taking a nap with the window open and the sun shining in. Henri and I usually take a nap together on Sundays so it seemed fitting.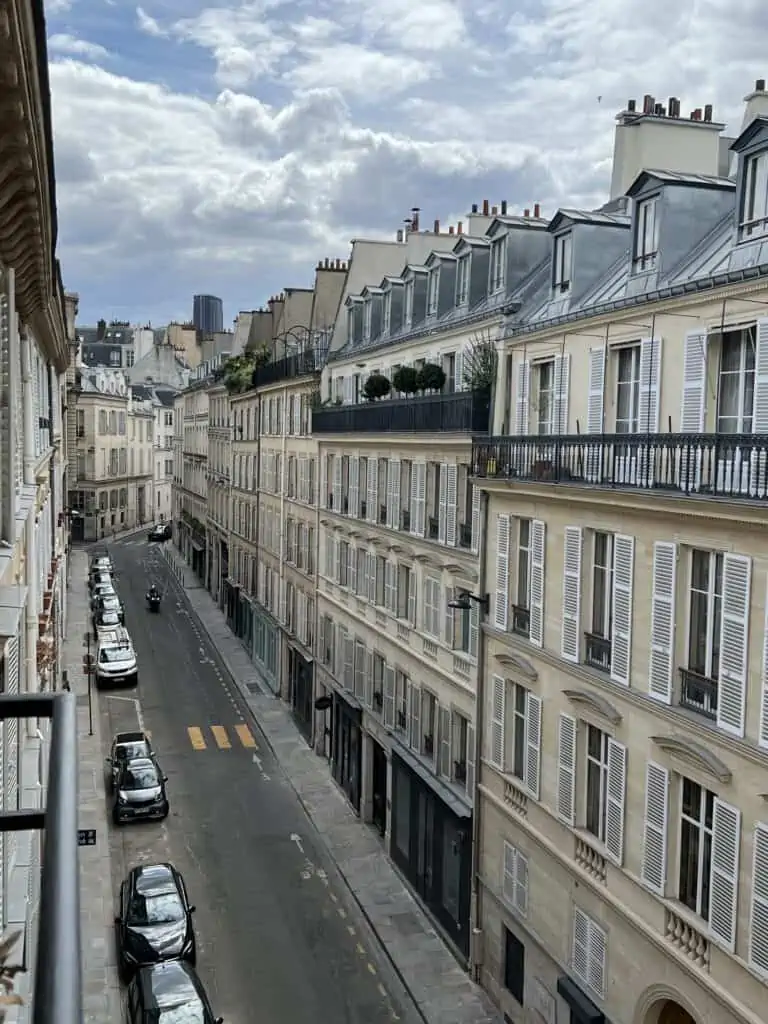 We really loved Pavillon Saint Germain. It was the perfect location for the Left Bank. A quick walk to the Tuileries and Boulevard Saint Germain. I arranged for readers who book directly with them to get a half bottle of champagne, macarons, and a breakfast buffet. You have to mention @everydayparisian when booking on their site. That's it!
We spent some time walking around Saint Germain and decided to walk to The Marais.
The Marais is a buzzing spot on a Sunday. It was a bit of a walk and it warmed up a bit while we were out.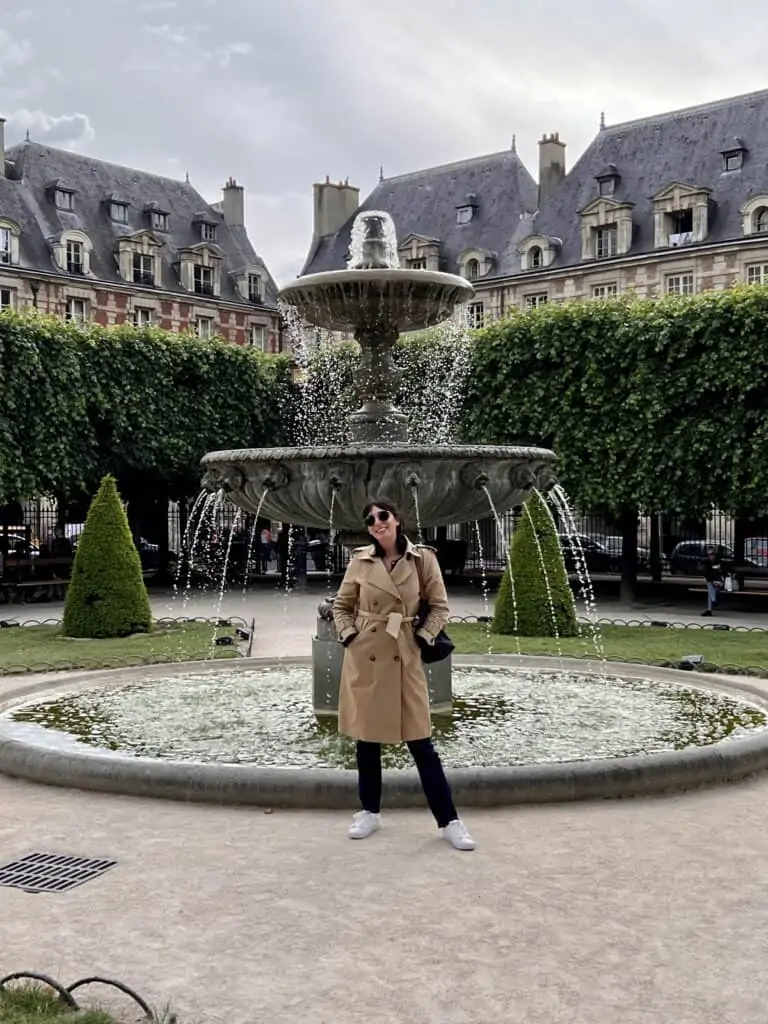 We walked through Place Dauphine one of my favorite little corners of Paris, across the Seine to île st Louis for a glass of wine and ice cream and then to the Marais.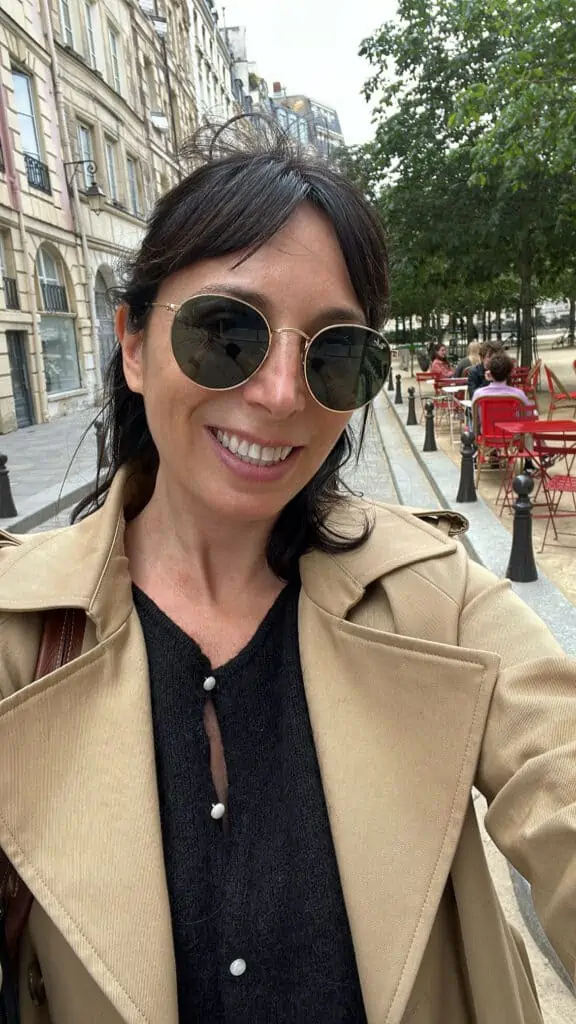 We walked around Place des Vosges, did a little people watching, picked up some tea at Mariage Frères, and walked back to Saint Germain. I was rethinking my sweater and trench by this point. I almost melted down.
We finished the night back at our hotel tired and jet-lagged from the quick weekend. I didn't want to leave the hotel for the evening. We ended up at a great pizza spot less than 10 minutes walking from our hotel. And we were able to get an outside table at Agata. We had wine, salad, and pizza and I know it isn't French it was a great end to the trip.
I took advantage of the lovely bathroom at the hotel and rainshower and unwound before packing for an early flight home.
Au Revoir Paris
I had to have one last moment on the balcony before leaving. The breakfast room at the hotel didn't open until 7 am but we were able to order coffee in the room and they were nice enough to pack a to-go coffee and back of croissants for the road.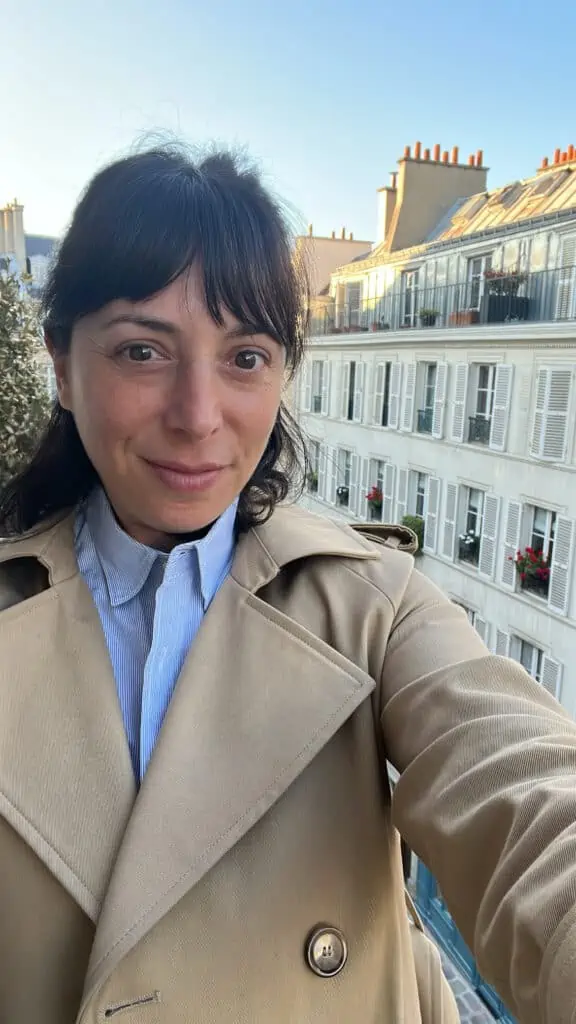 I hope you enjoyed this type of post! It's a bit different from what I usually share. It has been a while since I have traveled like this. I used to write a series called The Paris Diaries which covers my whole trip by the day. I used to send my grandma detailed letters of my travels and this is a nod to her. She would have really soaked this up and asked lots of questions. ❤️
*This post does include some affiliate links. I make a small commission off of items purchased from my links. Merci!