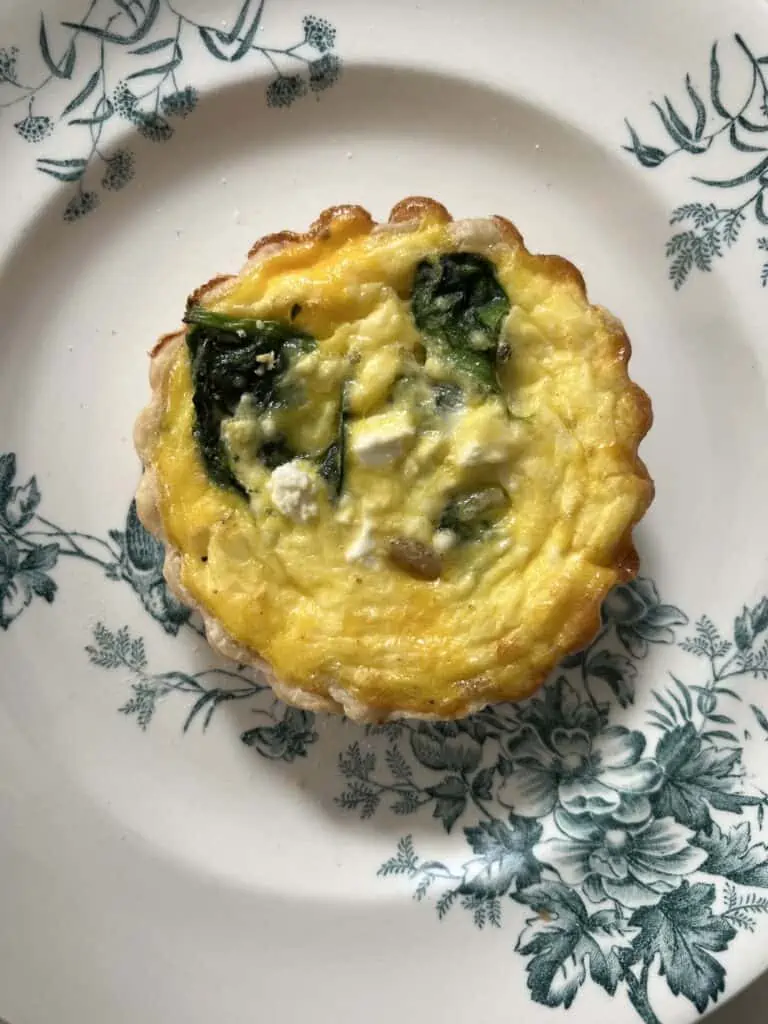 I recently made these mini quiches when I was having a few friends over in the backyard. When I was telling my fiancé what I was serving for coffee/light snacks, he suggested I add in mini quiches. He is a big fan of quiches and I think it was his way of asking me to make him some. I served homemade biscotti, madeleines, and these mini quiches.
I already had these mini tart pans leftover from a dessert and they were perfect for testing this idea out.
It is fairly simple as I make quiche in a large pan on the regular. I divided the big recipe up into smaller pieces.
You will use similar measurements. These are a little smaller and I only have 6 mini tart pans so the eggs will be fewer. I use about an egg a tart if that helps if you are expanding the recipe.
I use store-bought pie crust for my quiche. This works well with both whole-wheat and regular.
Mini Quiche Recipe
Instructions:
Step 1
Roll out the dough with a rolling pin. Make sure the dough will be thick enough to place inside the tart pan.
You should be able to get 6 individual quiches from one dough package. They come 2 per package so you would get a total of 12.
Step 2
I spray my pans with a little olive oil. But you don't need to if yours are non-stick.
Step 3
I did a mixture of spinach, onion, and feta. I sautéd the spinach and onion in a pan and put a little of the cooked mixture on the bottom of the quiche.
Step 4
Crack 6 eggs with a splash of milk in a bowl. Salt and pepper as you wish. Wisk together.
Step 5
Pour this mixture into each individual quiche evenly.
Step 6
Sprinkle feta (about 2 oz total) or whatever cheese you wish on top.
Step 7
I put my tart pans on a baking sheet so they don't spill in transit.
Step 8
Bake at 400 degrees for 10-15 minutes depending on your oven. I would take a look at about 8 minutes and see how they are baking.
They will puff up a bit but you will know they are done when the crust is brown.
Below is the recipe for the larger quiche. You essentially divide the recipe into smaller pieces for the minis! I used much less cheese than the recipe below. About 1.5 -2 oz of feta sprinkled on top depending how much you love cheese.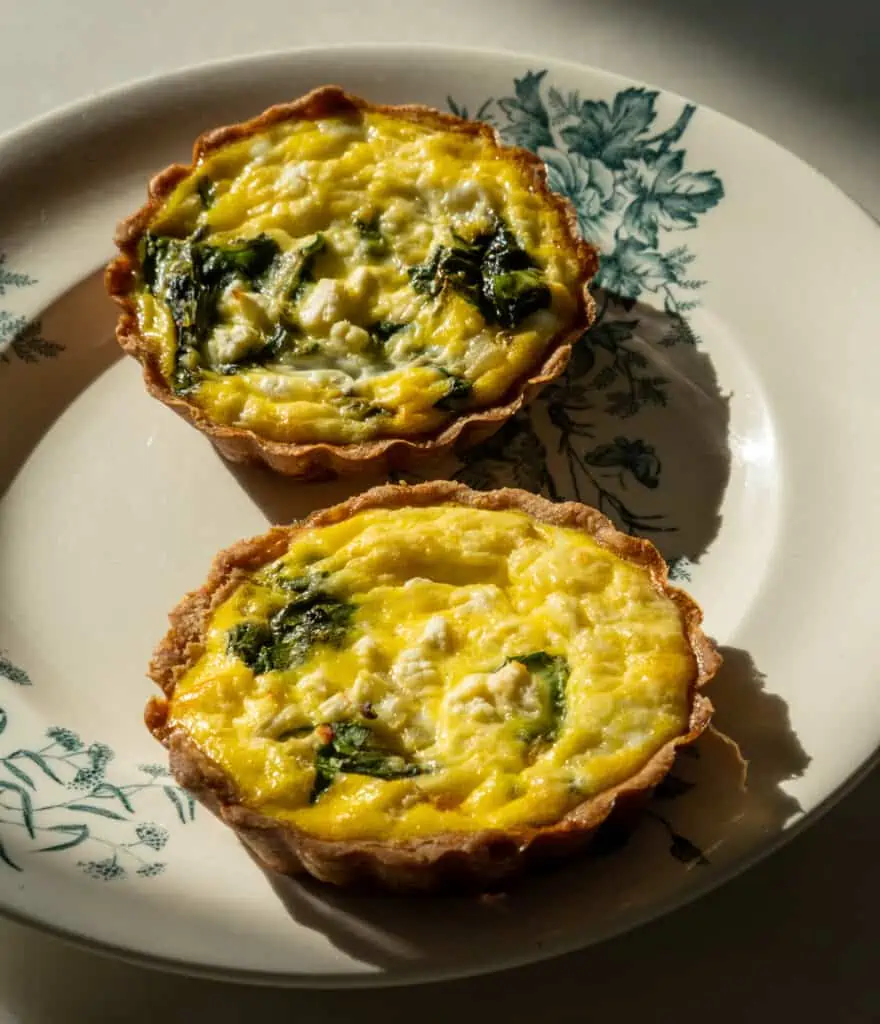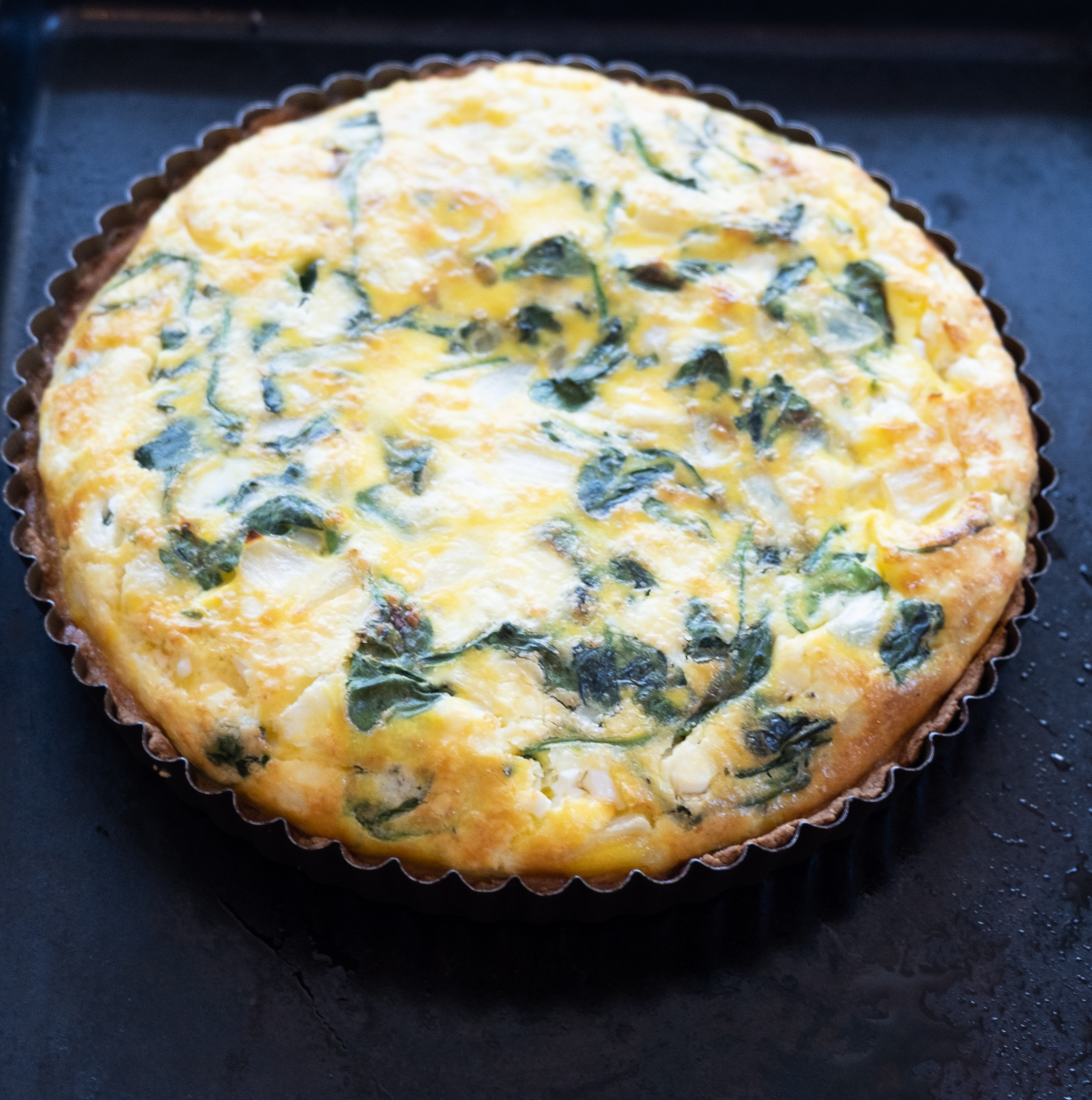 Simple Quiche Recipe
8

eggs

1

cooking spray

1

splash of milk (your choice)

1/4

cup

onions

1

cup

spinach

6

oz

feta or cheese of your choice

1

pie crust
Spray quiche pan with cooking spray.

Fit pie crust into quiche pan and pinch to sides

Sauté onions and spinach until cooked with a tiny bit of olive oil or olive oil spray

Crack eggs and scramble with salt and pepper

Layer ingredients and egg mixture in pie crust

Bake at 350 for 30 minutes until golden brown and fully cooked