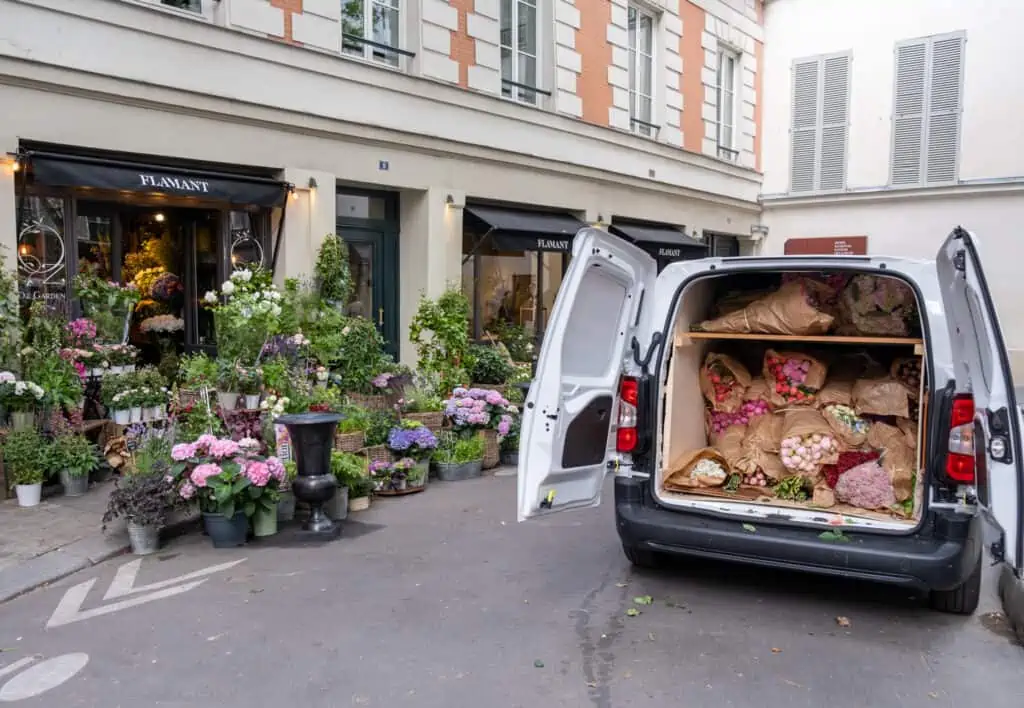 Shop Peonies Truck in Paris Print Here
I am back from a lovely weekend in Paris. In case you missed it, you can see a full recap here. I will be spending the week in Chicago editing images from my latest trip to add to The Print Shop and the Wells Street Art Fair. If you are in Chicago, I will be at the Wells Street Art Festival next weekend. As soon as I have my booth number, I will share it. Henri will hopefully be making an appearance as long as the weather is decent.
Grab your coffee and croissants and join me for this week's links I love.
Links I Love: Week 23
Airlines' premium economy trick
New pop-up in Paris. I had a few people mention this to me. We couldn't get reservations on short notice, but it didn't look full when we passed by.
I am crushing on this eyelet dress in white for summer. Waiting for it to go on sale. (Impatiently)
A recap of my weekend in Paris. Everything from where I ate, stayed, and explored.
Wearable sleep trackers might be worth the hype. I wear my apple watch to bed and I have been using a sleep tracker since the start of 2021. My fiancé and I compete on our sleep.
The baking notification project. This is genius. My neighbors have benefited well from my pandemic and stress baking over the past couple of years.
I am shocked to report that I saw Birkenstocks for sale in Paris. I love mine and would happily walk the streets of Paris wearing them.
This dry shampoo gave life to my hair, especially while traveling to Paris.
8 cookbooks coming out this summer via NYT
I impulsed purchased this Clarin's eye serum duty-free. It is plant-based which I love. I will report back. They have friends and family right now so you will be able to snag it at a discount.
It's an age by age post that could be helpful to parents NYT
I recently bought this Boden sweater which arrived while I was in Paris. I wore it for date night this week. It will be perfect for cooler nights of summer. I got a size 6 and it fits perfectly. You can see it on me here!
These are the no-show socks I wear with my Madewell sneakers.
Some people argued with me on this one, but you still need a COVID test to enter the US regardless of vaccination status.
My mini quiches recipe is perfect for weekend baking and you can pop them in the fridge or freezer for the week.
My sister always raves about these glow peels so I ordered them to try.
I am loving the straw version of the Madewell transport tote. Perfect for summer beach or market trips.
You can preorder it now to be released in September. I can't wait to read it. It was this article in the NYT that inspired the new book. 
Diptyque just launches a new collection for the home. I ordered this odor-eliminating candle that has a basil scent for the kitchen. I love a clean kitchen and can't wait to try this new one out.
Half Wave hair is going to be everywhere this season
See a quick video glimpse of a day in Paris
This is the coffee maker I want to register for. After asking Instagram followers what they thought of this machine, it was an immediate YES! Everyone raved about it. (except for one person) 
Dress like a coastal grandmother all summer long with these Amazon finds
7 great biking cities (and where to ride) including Paris NYT
The pleated midi skirt is a trend I saw over and over in Paris.
It's not easy to find now but I have a hunch, we will see it more next spring/summer. I found this one and this one available now depending on your budget. 
20 classic French dishes everyone needs to try
This week's best sellers Skincare was a fan favorite.
I am in full-on Wells Street Art Fair prep mode so that means I am preparing a lot of products to sell at the festival next weekend. I listened to this podcast episode and watched this movie on Amazon Prime.
Six beautiful castles to visit in France
I bought this Sézane dress in khaki for Italy this summer and these sandals in chocolate. (gifted) I ordered the in an 8 and they are perfect. I am usually an 8.5. Their newest collection is out now. You can preview it here.
How oysters are farmed off the coast of France
This Longchamp weekender bag is perfect for travel. I have it in two colors. It rolls up small and can be unrolled if you want to add another suitcase for last-minute purchases in Paris or any other destination.
Pay what you can at this organic grocery store in Paris
This short-sleeve linen shirt is too cute for summer. Comes in multiple colors!
P.S. Don't miss a blog post. Sign up to get Links I Love delivered to your inbox every Sunday.
Supporting The Print Shop helps bring valuable free content to your inboxes each week.
*This post includes affiliate links. I make a small commission off of items purchased through my links at no cost to you. Merci!