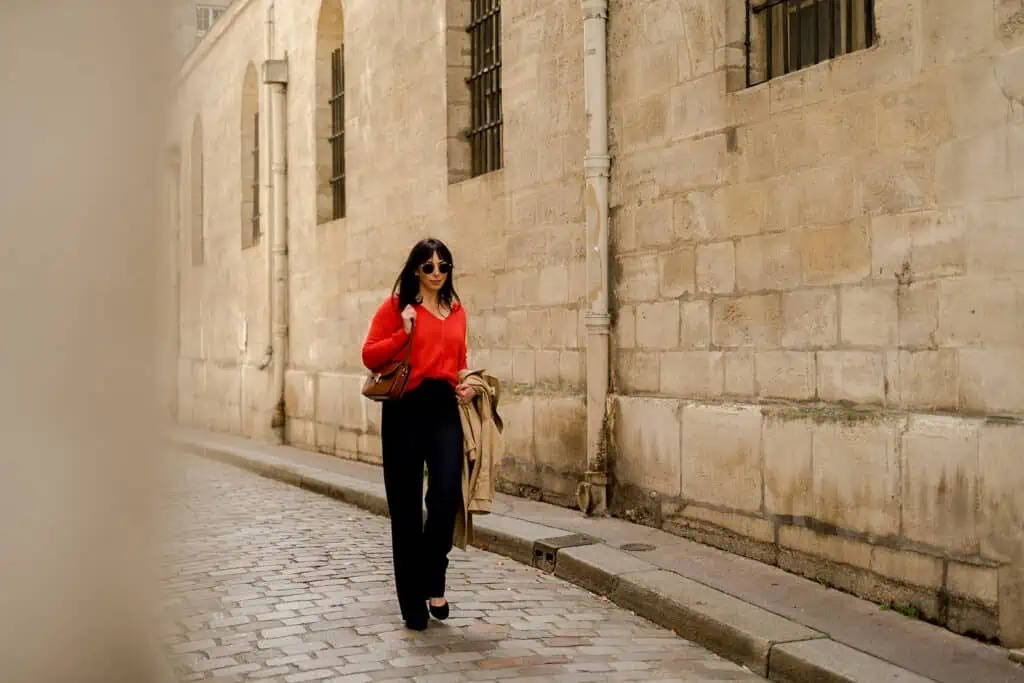 What I Wore in Paris: My Spring List of Outfits
One of the most popular times to visit the city of light is spring, and for a good reason. The city is in full bloom, and spring is a magical time in Paris. I try to get back for my April birthday every year. This year, the weather was mixed with sunshine, cold weather, and rain. It took some miracle, but I packed everything in my AWAY carry-on bag, knowing I would pick up a few things and need to extend into my Longchamp bag for the way home. This is everything I wore in Paris outfits this spring and a few things I purchased.
My AWAY garment sleeve was handy, and I could use it for dresses and blouses. The minute I could check into my room in Paris, I unpacked and hung this bag in the closet. A quick steam was all I needed for my clothes to look refreshed and ready to go. Half my suitcase was the hanging garment bag and two pairs of flats. Wearing my sneakers on the plane helped to keep my suitcase clear of bulky items. 
Spring Outfit Inspiration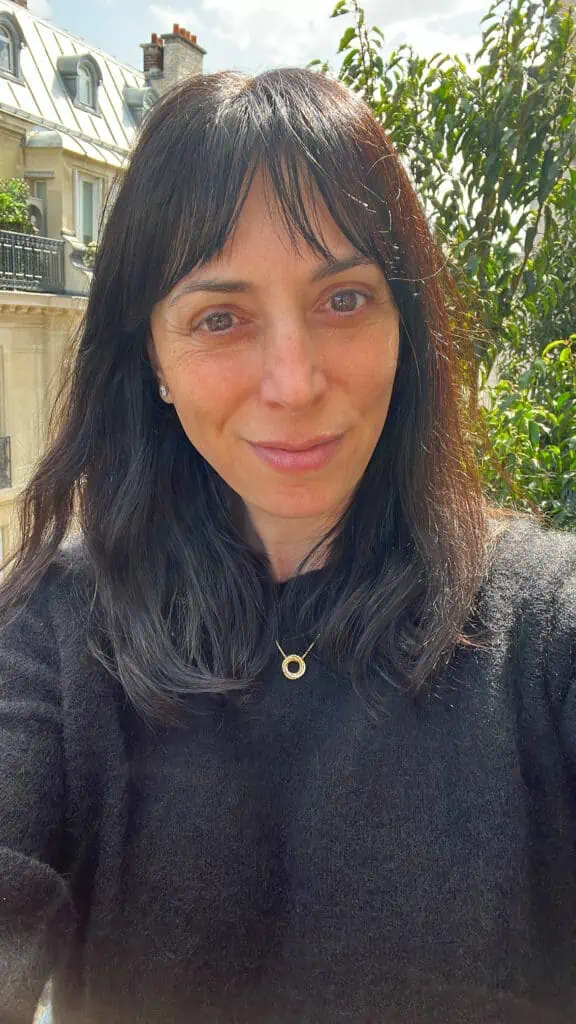 I arrived in Paris with what I wore on the plane. My room wasn't ready until after 3, I was well dressed for walking around Paris until I could get refreshed. For the first day, this Sézane sweater, Vejas sneakers, and Madewell jeans. Some of you asked where I put my trench coat while traveling; I brought it on the plane and could hang it up during the flight. You can always tuck it into the overhead bin on the way over.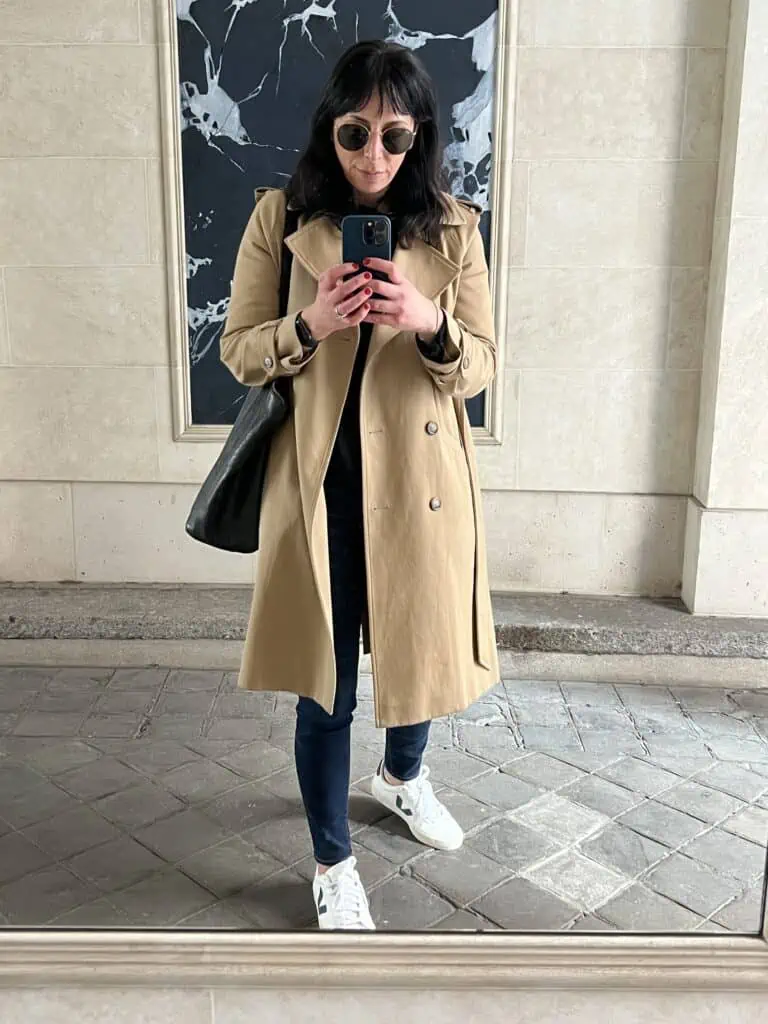 I changed into fresh jeans, my Gaspard black sweater, and ballet flats for dinner.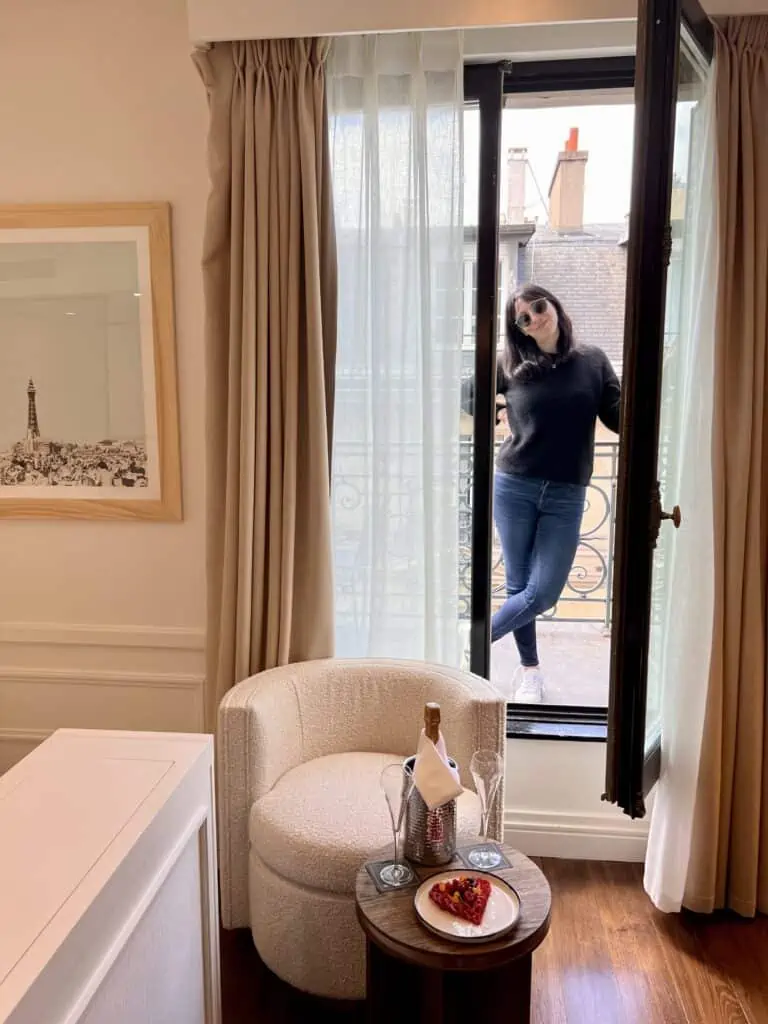 Spring Weekend Outfit in Paris
It turned into the warmest day of the trip, and I reapplied sunscreen often. I wore an older blouse from Boden with my leather jacket but eventually took off the leather jacket as it was too warm. We shopped in the Marais at the new Sézane store, and I fell in love with these high heels, which I wore later in the week. 

We shopped, ate, explored, and walked around the city. My husband was visiting for the weekend, and there were a few spots I wanted to show him. He also requested a trip up to Montmartre.
Spring Outfits for Paris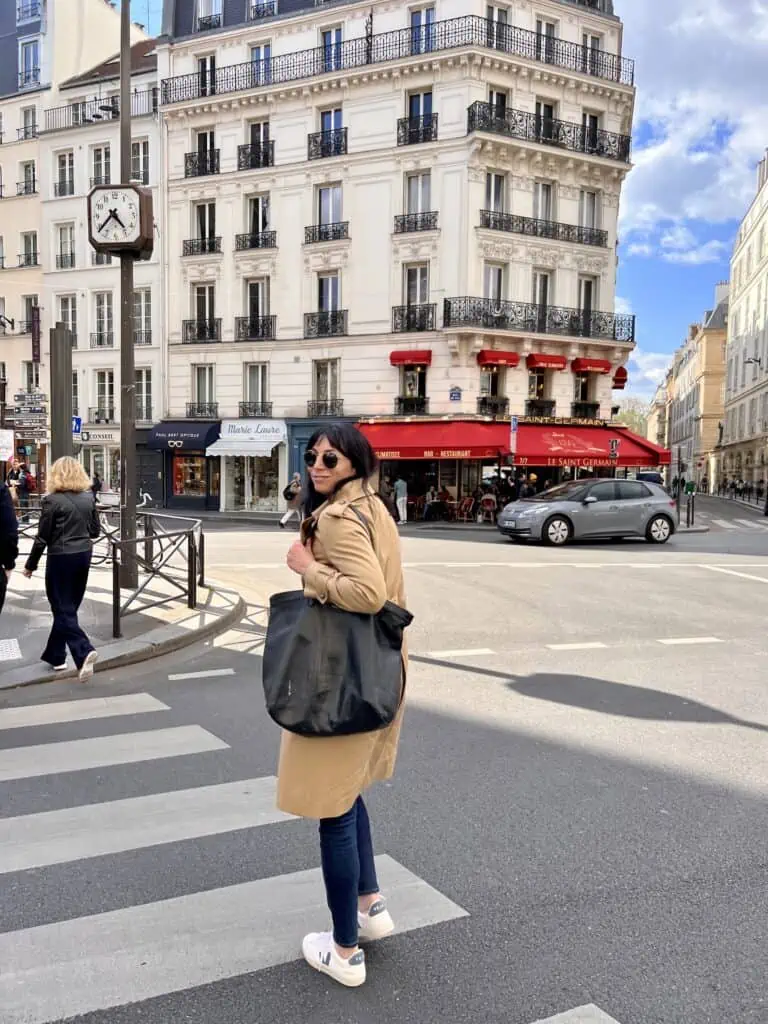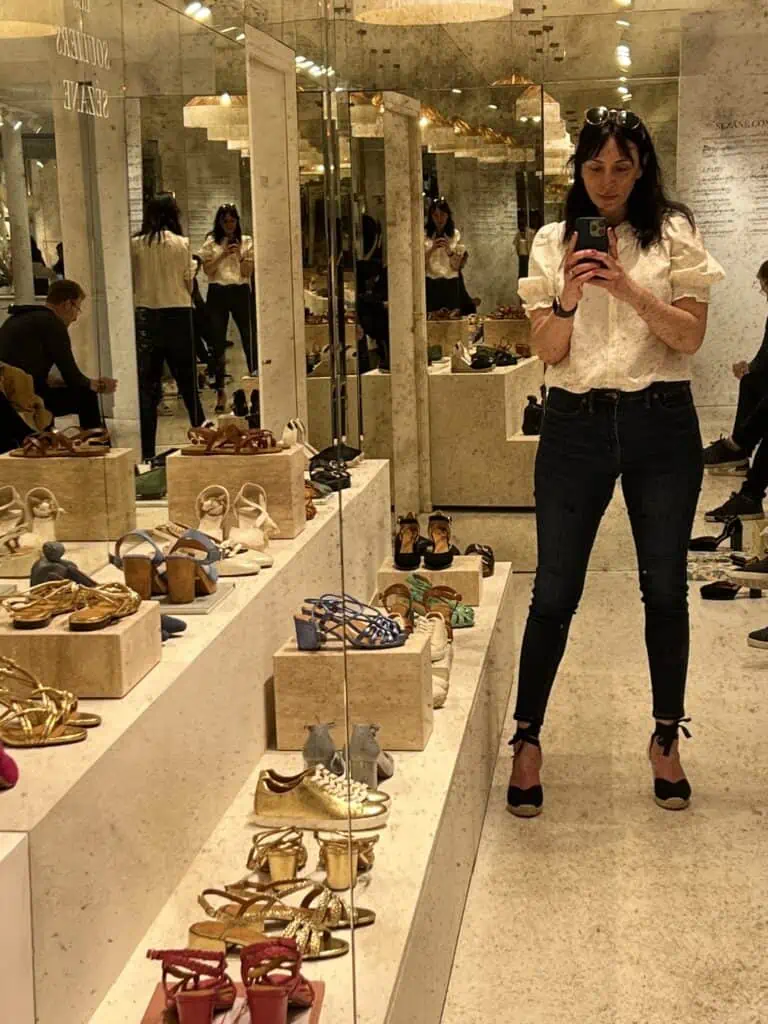 I fell in love with these espadrilles while shopping in Paris.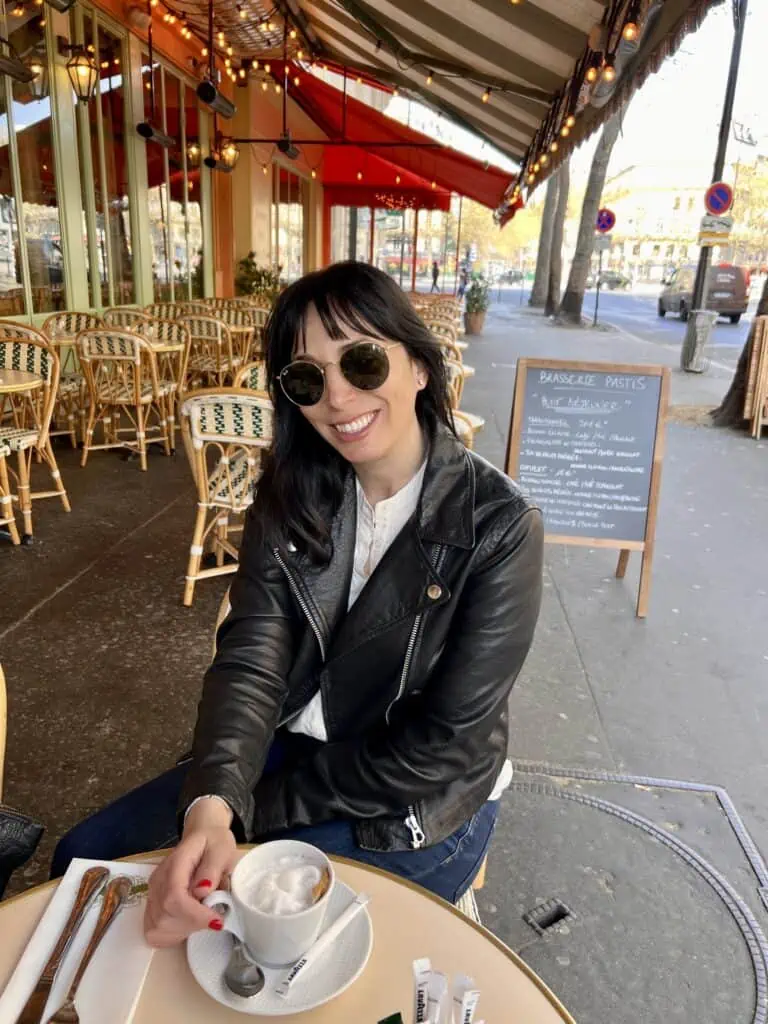 Spring Outfits for Paris
I ended up picking up this Barry sweater in red at Sézane. It was a birthday gift from Sézane, along with these Martin trousers. (size up one size to a 6. Their bottoms usually run small)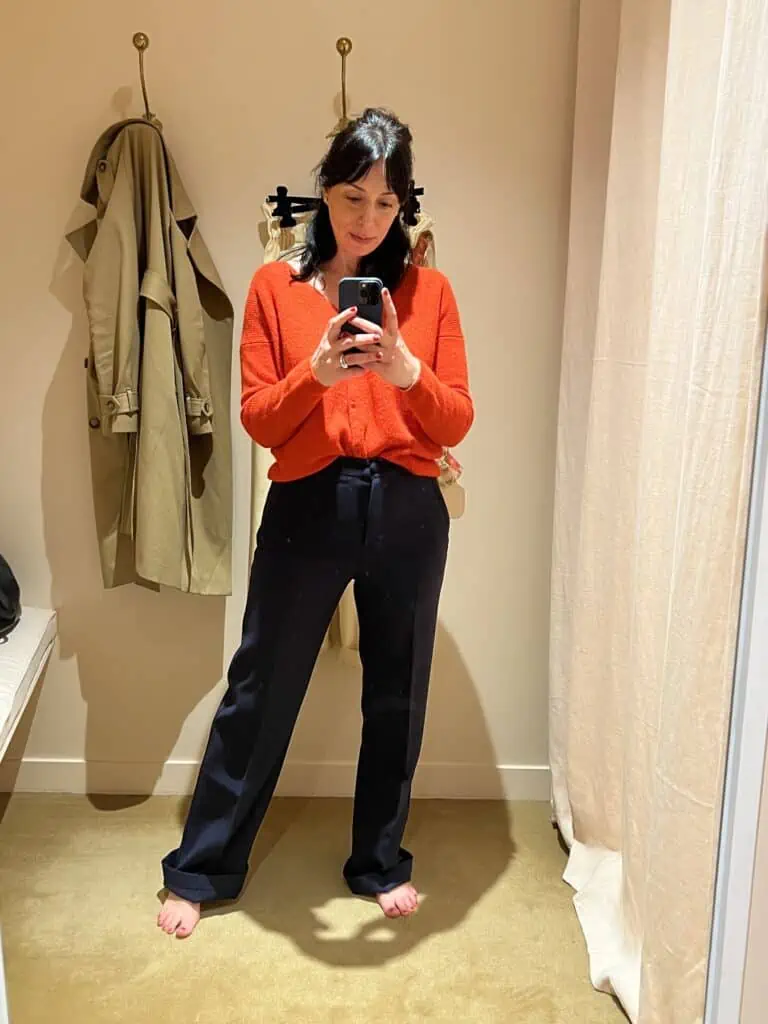 From the dressing room to Paris streets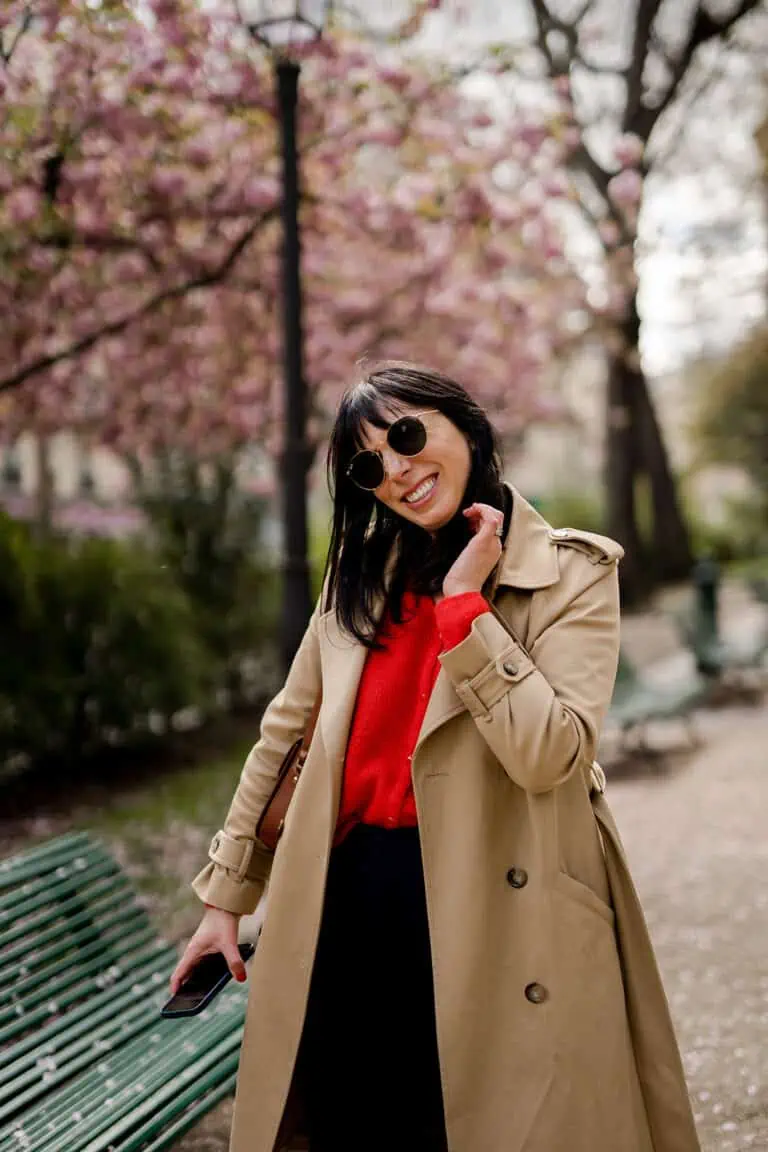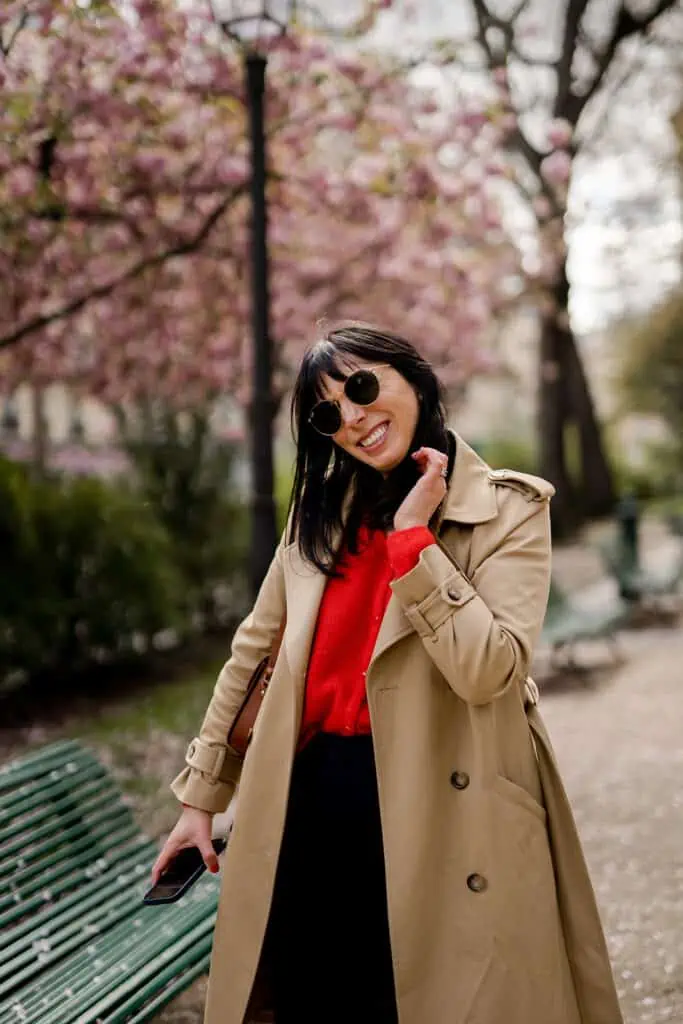 These photos are from Katie Donnelly Photography. We had so much shooting together and her vision was beyond anything I dreamt of.
Paris Spring Luxembourg Gardens
Magda from Katie Donnelly Photography captured me in Luxembourg Gardens on my birthday. I wore this A-line white dress with a leather jacket and these espadrilles. I cannot wait to wear this outfit again once Chicago warms up. This basket bag will be essential for the market and summer picnics and will sell out quickly.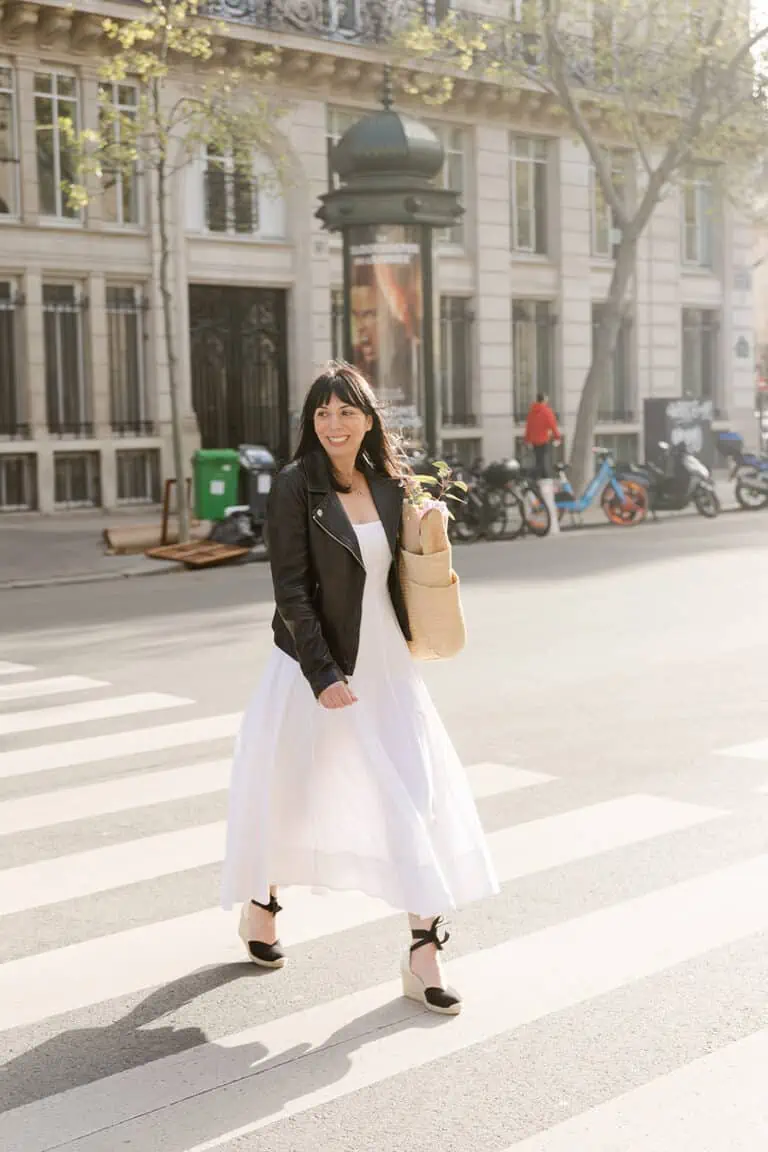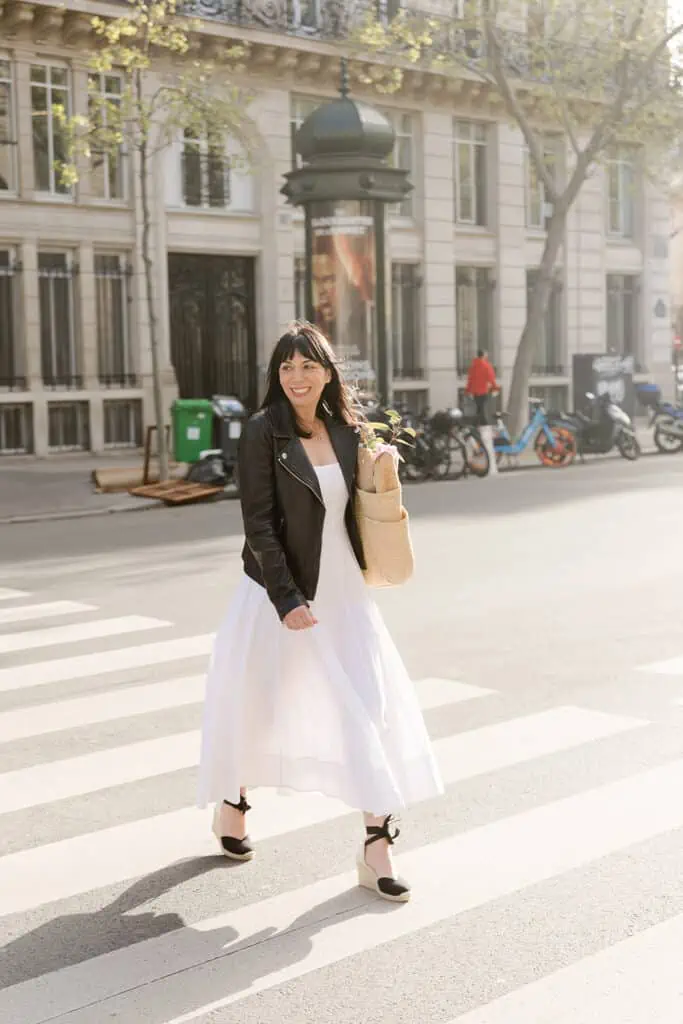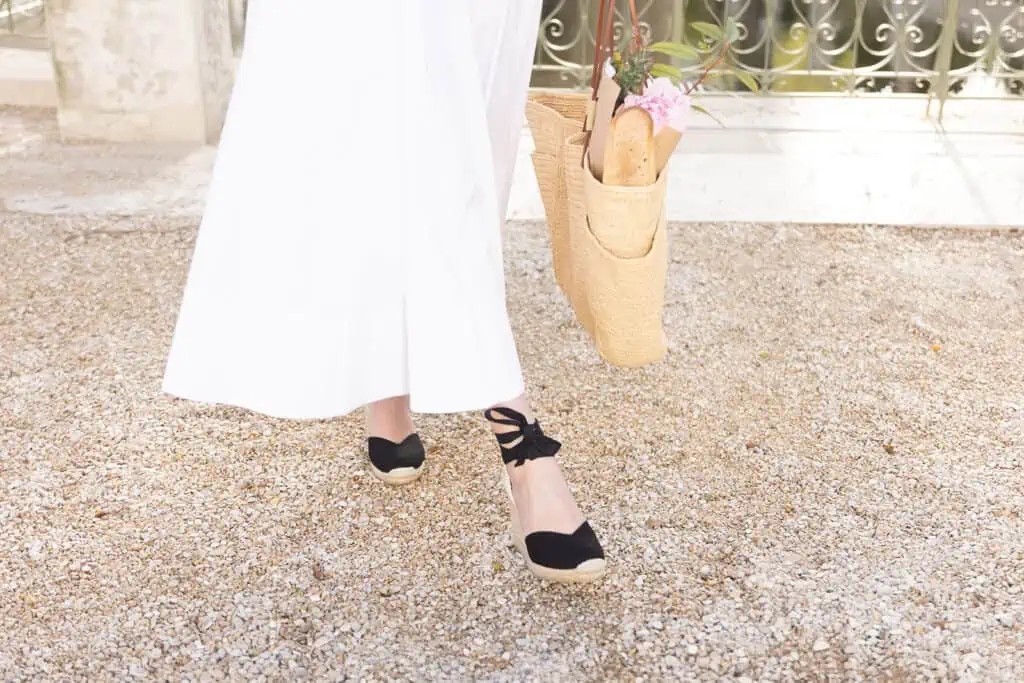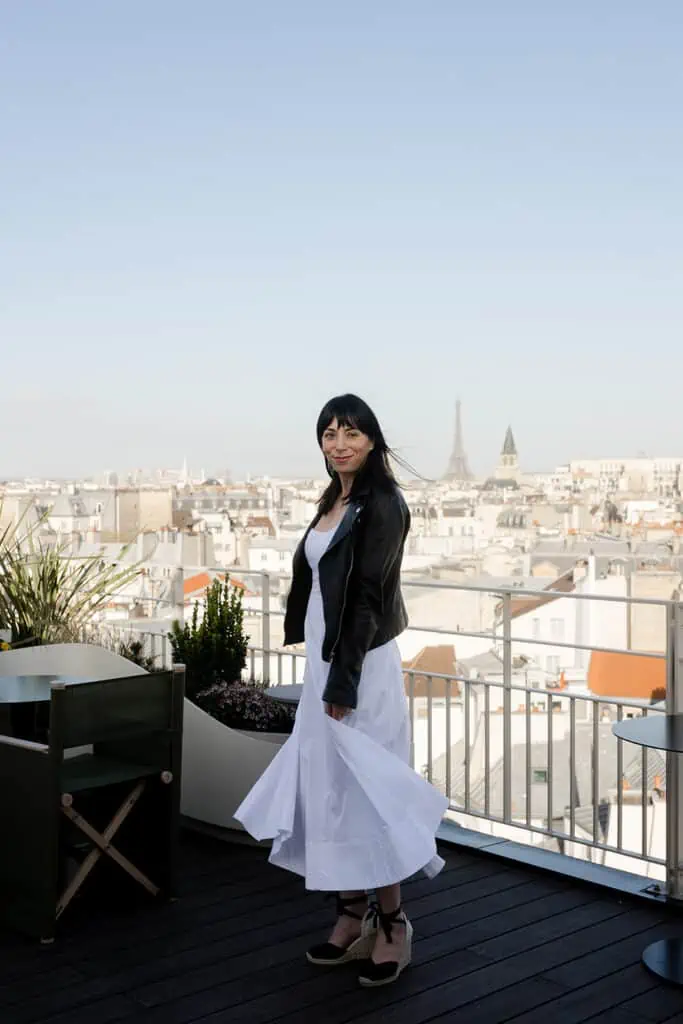 Spring Outifts in Paris with Frank & Eileen
I packed a few pieces of Frank & Eileen which were very versatile. These pants in both black and denim were easy to mix and match with different sweaters and tops. This button up could be tucked or tied depending on how I was feeling or where I was going.

Spring Bags for Paris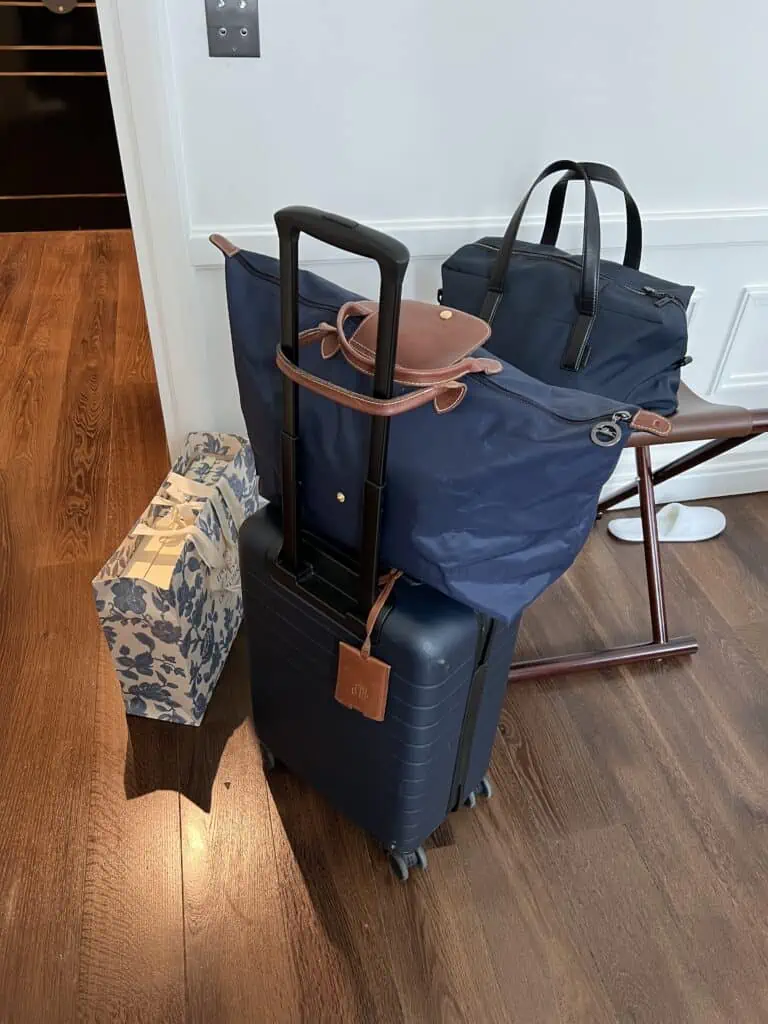 I packed this Longchamp travel tote, making transporting anything I bought in Paris easy. This was my personal item on the plane, and I checked my hard shell AWAY bag.
Spring Dinner Outfit in Paris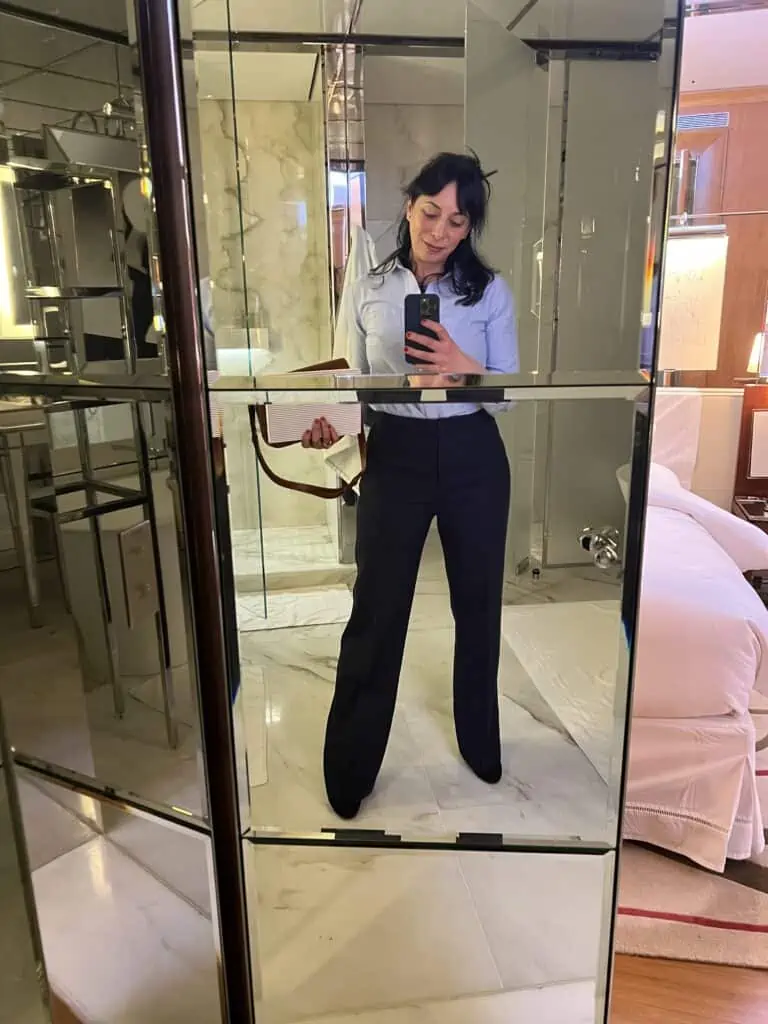 On the last night in Paris, I took myself out to dinner and repurposed a few things in my suitcase. This blue tomboy shirt paired with the Martin trousers and the Katie baby shoes. I carried this Milo bag with me to dinner with a lipstick, my phone, and wallet. It was a rainy evening so I didn't have to worry about a jacket or umbrella. It was one of the best meals I can remember. I promise to update you on all the good restaurants soon!
*This post includes affiliate links. I make a small commission off of items purchased from my links. Merci!