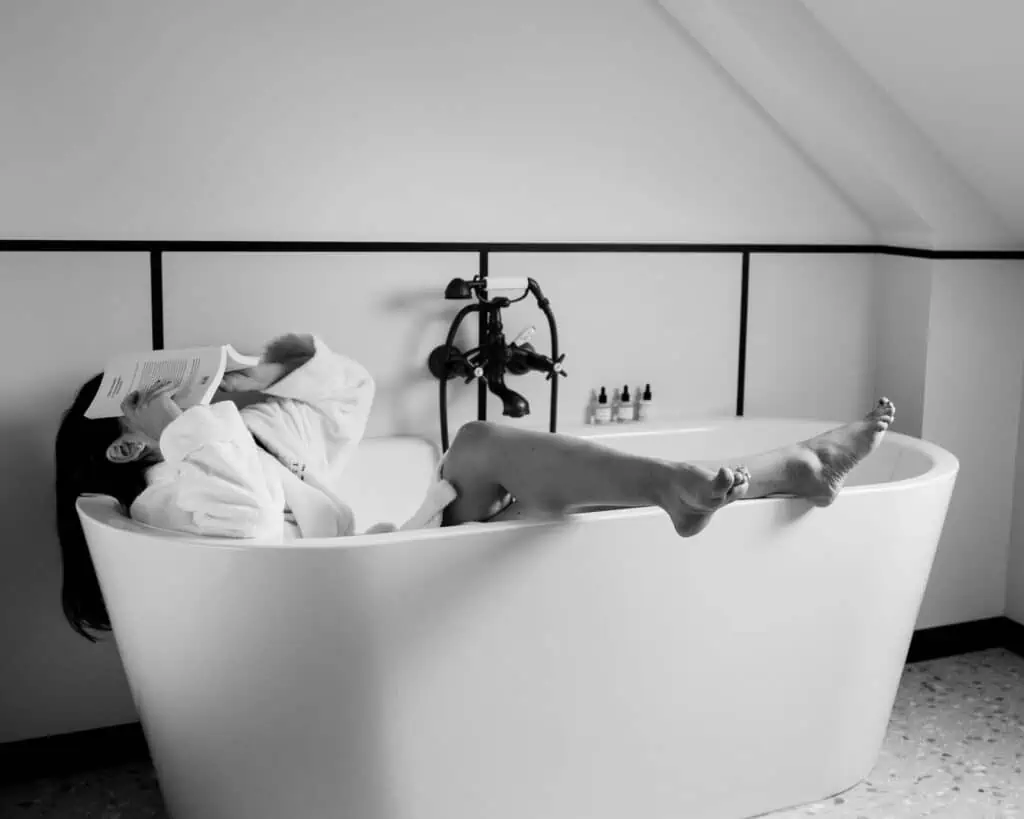 I hadn't initially planned for a Mother's Day gift guide but changed my mind recently. Currently, I am spending the weekend with my niece and nephew. I am a hands-on Auntie and have been involved with them since they were born. This morning I was negotiating a brand partnership via email, making homemade pancakes for the kids ages 6 and 9; my niece was making a mess in the kitchen, and my nephew was attempting to take a beanbag down the stairs (in the danger zone). I wish they lived closer so we could have these moments more often, but it also made me realize how much moms have on their plates all the time. It is also clear that moms deserve more than one day. I hope you enjoy my Mother's Day Gift ideas for 2023.
When I asked on Instagram recently what moms wanted the most, it was time. Time for self care, rest, and relaxation. Remember this as you select the perfect gift for the special mom figure in your life. Mother's Day isn't just for moms; it's for stepmoms, grandparents, aunties, caregivers, and anyone that helps you get through your day.
Mother's Day Gift Ideas 2023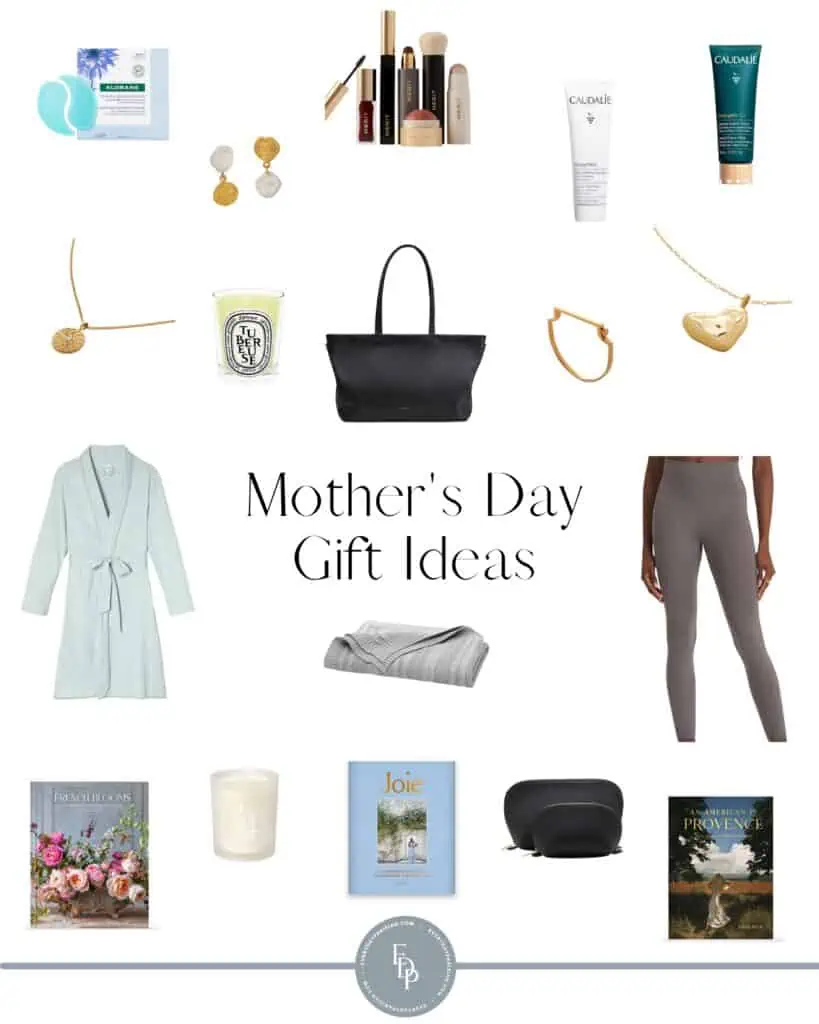 Mother's Day Gift Ideas Books for the Francophile
Joie is a brand new book that was just released about celebrating the good life in France from an American who moved to Paris 10 years ago and what she has learned in the process about celebrating life. She has a beautiful website selling French antiques and linens that ships worldwide. An American in Provence is about an American photographer who moved to Provence. Her photographs are stunning, and she shares her life in a memoir of her life in Provence, along with a visual armchair journey and recipes. Les Fleurs is a love letter to France with instructions on creating French-inspired arrangements for different parts of your home. My two aunts are getting this! 

Special Time for Mom on Mother's Day
Quiet time and time with family. Book a massage, mani/pedi, walk, and make breakfast or coffee. A good nap on a Sunday in her favorite chair or part of the house. This cable knit blanket is a favorite for naps with Henri. 
Give Mom some time to herself. Take care of dinner and let her book her favorite workout class.
You can't go wrong with any of the scents. Baies is always a best seller. I love Tuberose, Jasmine, Fig, and Rose. We have so many candles around the house; it is a great way to transition out of the workday. I also love burning a candle on the weekends when we get home from the farmer's market, tidying up on Sunday, and reading the paper. 

Beauty Gift Ideas for Mother's Day
I love the 5-minute morning from Merit Beauty. Their products are affordable, excellent quality, and clean. This set has it all and allows the mom figure in your life to pull together and feel good quickly. I am wearing their makeup here in Paris. The pink beet lip was the color I wore on repeat.

French Skincare Gift Ideas for Mother's Day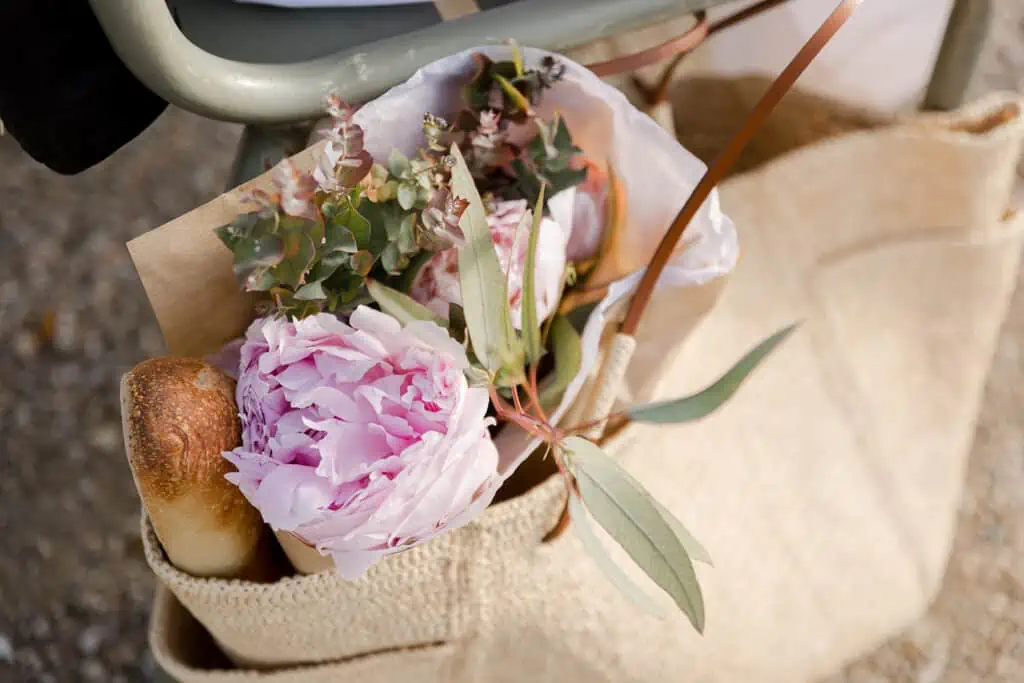 The French are all about good skincare; I have taken notes over the years. I love these sheet masks from Avène. It's an easy and quick pick-me-up for your skin. The thermal water is so refreshing in the warmer months. From Caudalie, this mask is excellent right after the shower. These Klorane eye patches are in my fridge and perfect for puffy eyes from late or sleepless nights. New moms will love these.
Favorite Sisley products include this Black Rose mask; this hair oil is a dream. It smells so good and refreshes dry hair. 


Monica Vinader jewelry is a brand I have been wearing for years. It's a female-owned sustainable brand out of the UK. The brand has great shipping times, and each item arrives in a beautiful box ready to gift. I love a few top suggestions: this locket necklace and this heart necklace. Layer the pieces together to make a unique look. Gift one now and purchase another for a birthday, anniversary, or holiday. I keep adding to my collection every year. 
These pearl earrings are perfect for dressing up any outfit, and my ears are allergic to almost everything, and these don't give me any issues.
This bracelet I own in size small. (I have a small wrist) I have my eye on this one next. Hint hint!
Use the code REBECCAP25MV for 25% off your order
Pajamas/Fitness Clothes for Mother's Day
For pajamas, I love LAKE and Cosabella. Both are incredibly soft, and I can't get enough of matching sets. Try this one, this one, or a robe and slippers.

For activewear and fitness clothes, Vuori is my favorite. We now have a shop in Chicago, and staying away is hard. I always reach for the performance joggers in my drawer. ( I own the long pair and prefer them over the cropped) for workouts, the Evolve legging, and these tops.
Leather Goods Gift Ideas for Mother's Day
I am obsessed with all things Cuyana, and for a good reason. Their items last for so long, and everything is high quality. It is my go-to for gift-giving. For the mom on the go, I love this tote bag with the insert to organize all the little items. I own this and love it, and I brought it to Paris on my latest trip. For the mom/auntie on the go, this travel set (monogrammed) is my favorite gift. You can always add a few beauty/skincare items into the bag to make it an added bonus.

Sézane Gift Ideas for Mother's Day
Sézane put together a fabulous gift guide for mom. You can never go wrong with a Gaspard sweater, I have three and just recently picked up the Barry sweater in red, which is similar with a lower v-neck. The Gaspard sweater can be worn three ways, and it buttons down the front, making it easy for nursing moms.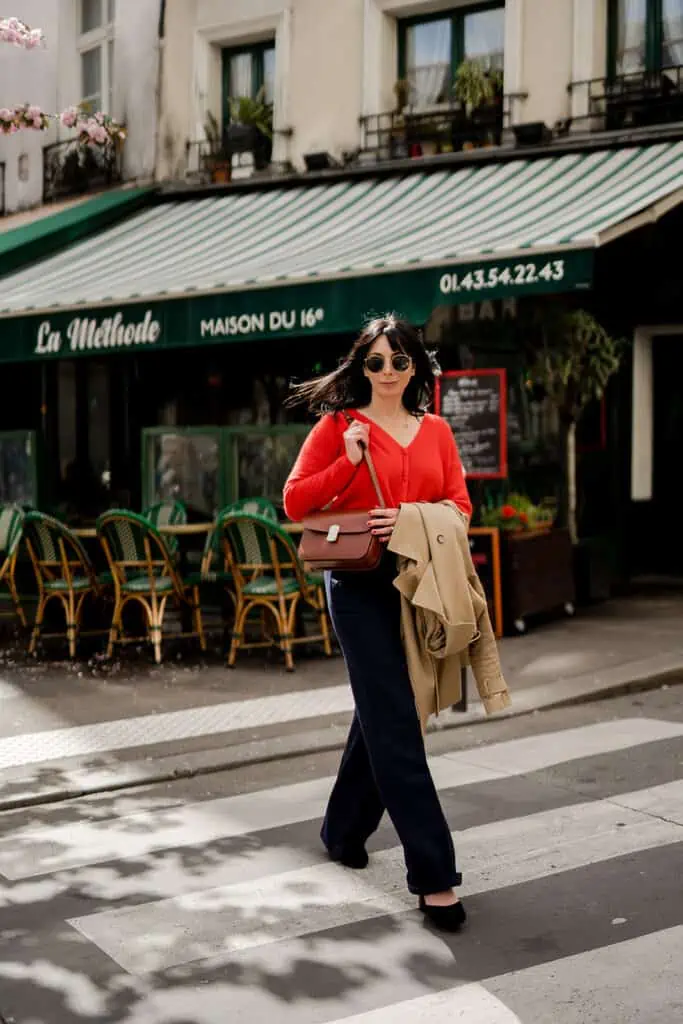 For a splurge, I love my new Milo bag. For a smaller bag, there is a micro Milo which I will pack for Italy. The Will jacket is a bestseller, and I just ordered it in the khaki.

This mug is beautiful for the mom who loves her morning coffee or tea. I own it with an R. I own two of these cafe, creme, amour sweatshirts. I would size up in this to a M.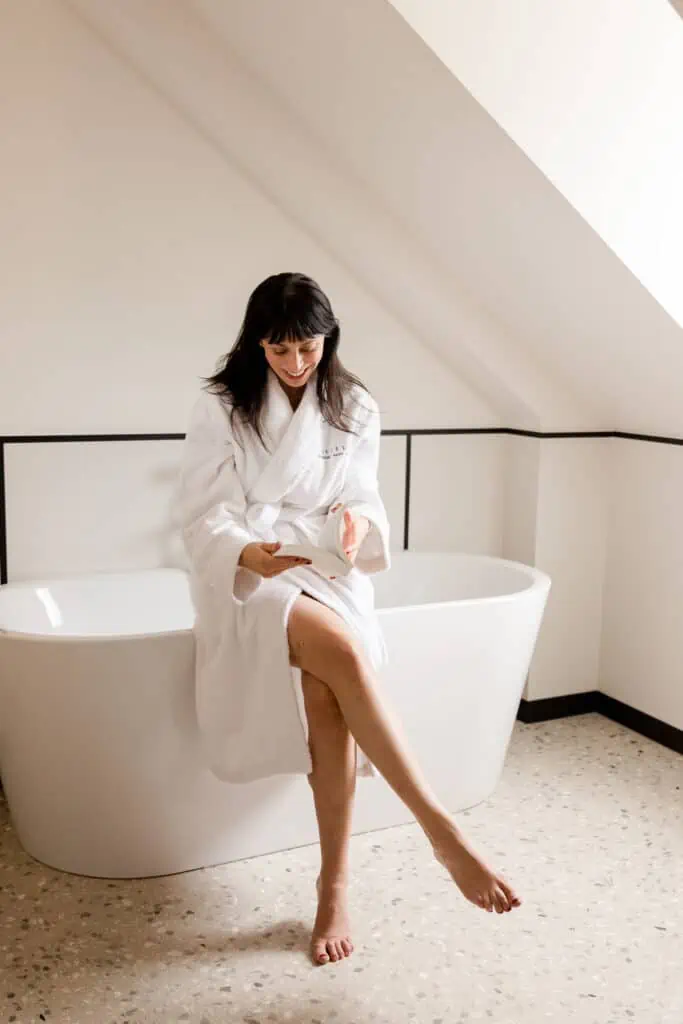 Here are a few bonus ideas:
Make memories and document your time together. This digital frame is a hit with parents/grandparents. You can update it from an app to add current photographs. My parents are both getting this as a gift.
Make her breakfast, dinner, or both! She will appreciate any meal she doesn't have to think about. Make sure to clean up too! This is the real bonus.
Book a photoshoot in Paris with Katie Donnelly Photography. Magda part of the KDP team shot these images of me. Katie and her team do a great job with families, couples, and solo shoots. I have seen some incredible sessions with friends of mine who are moms. It gives them an opportunity to get dressed up and have portraits taken for memories to last a lifetime.