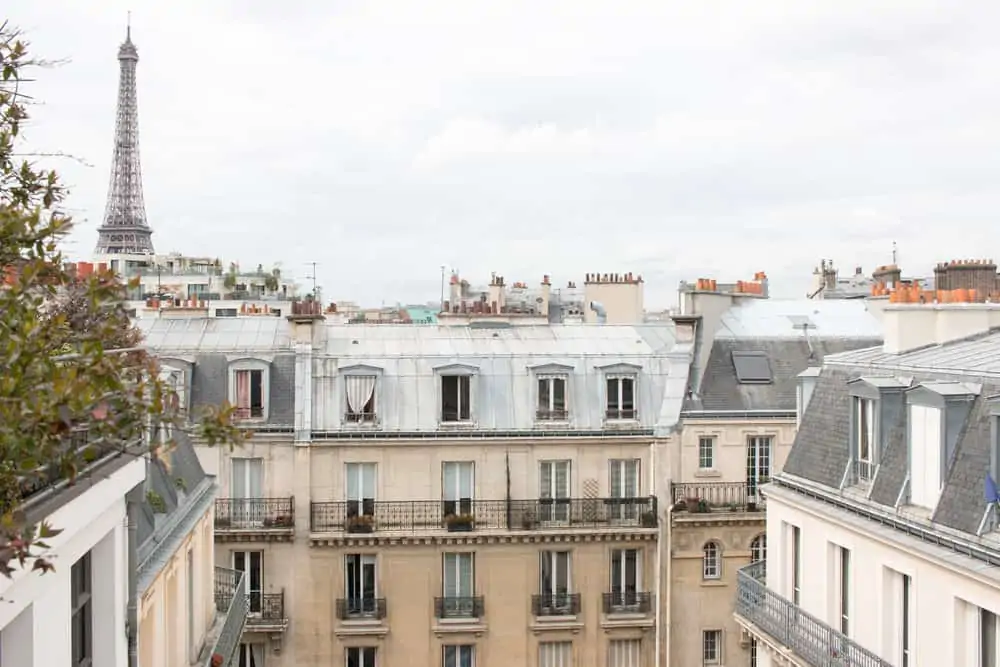 What I am Packing for Paris in the Spring
This week, I am headed back to Paris. My last Paris trip was in January to capture images of Paris in the winter and holiday decor for The Print Shop later this year. This time, I am returning to the city of light to research new restaurants, hotels, and museums for blog content and updates for The Paris Guide. Spring in Paris is filled with unpredictable weather, so it can be challenging and a good idea to pack layers for warm and colder temperatures. Make sure to check the weather forecast before your trip. Below is what I am packing for spring in Paris.
Below is a look at what I am packing for Paris this spring:
The post above is shoppable. You can click on the + to capture any details and shop.
If you are headed to Paris in the spring, you can look at this blog post for packing ideas.
As you will see with the collages below, many of the items I am packing can be mixed and matched to create new outfits. Packing with packing cubes helps keep everything organized, and I swear I have more space.
Sweaters for Spring in Paris
A cashmere sweater is a great layering piece as an extra layer on colder days. I typically put a basic tee under any of my sweaters. This Gaspard sweater is always a favorite, and I own it in 3 colors. The Charlotte sweater is a new favorite and will be great for Paris in the spring.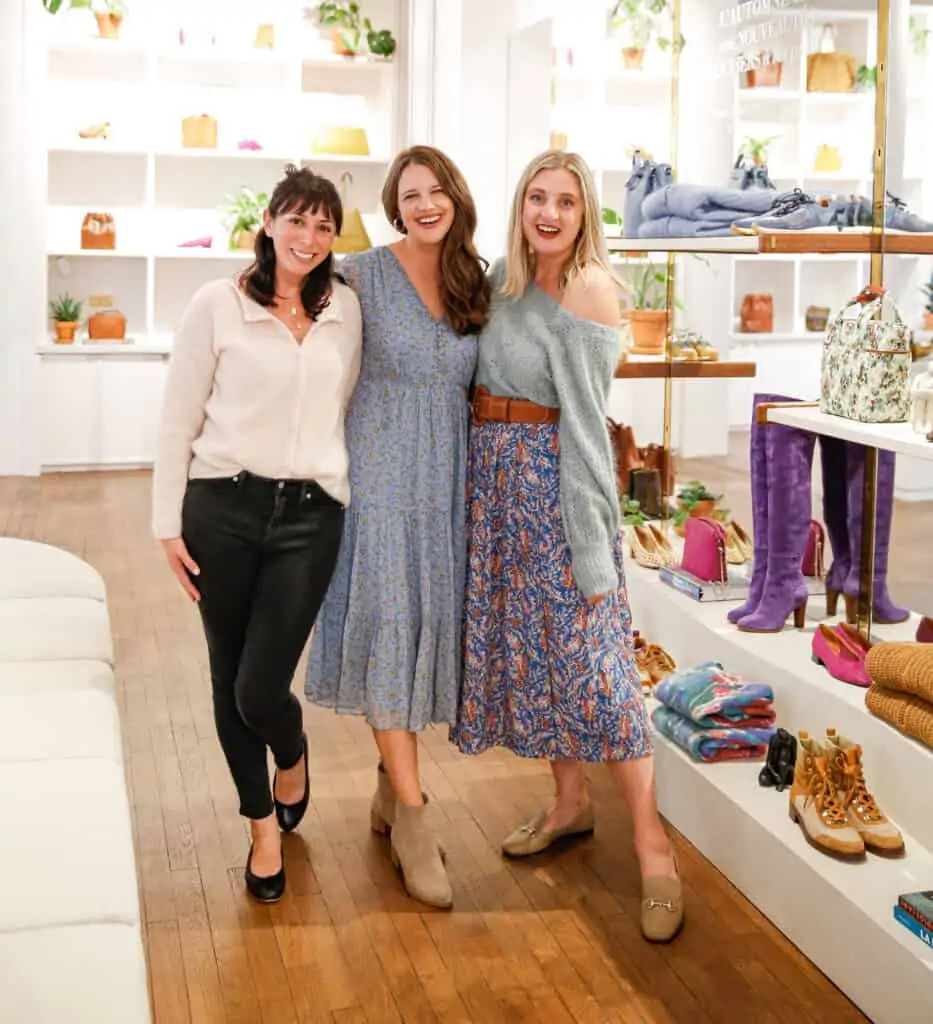 I am also packing this red striped shirt that I bought in October.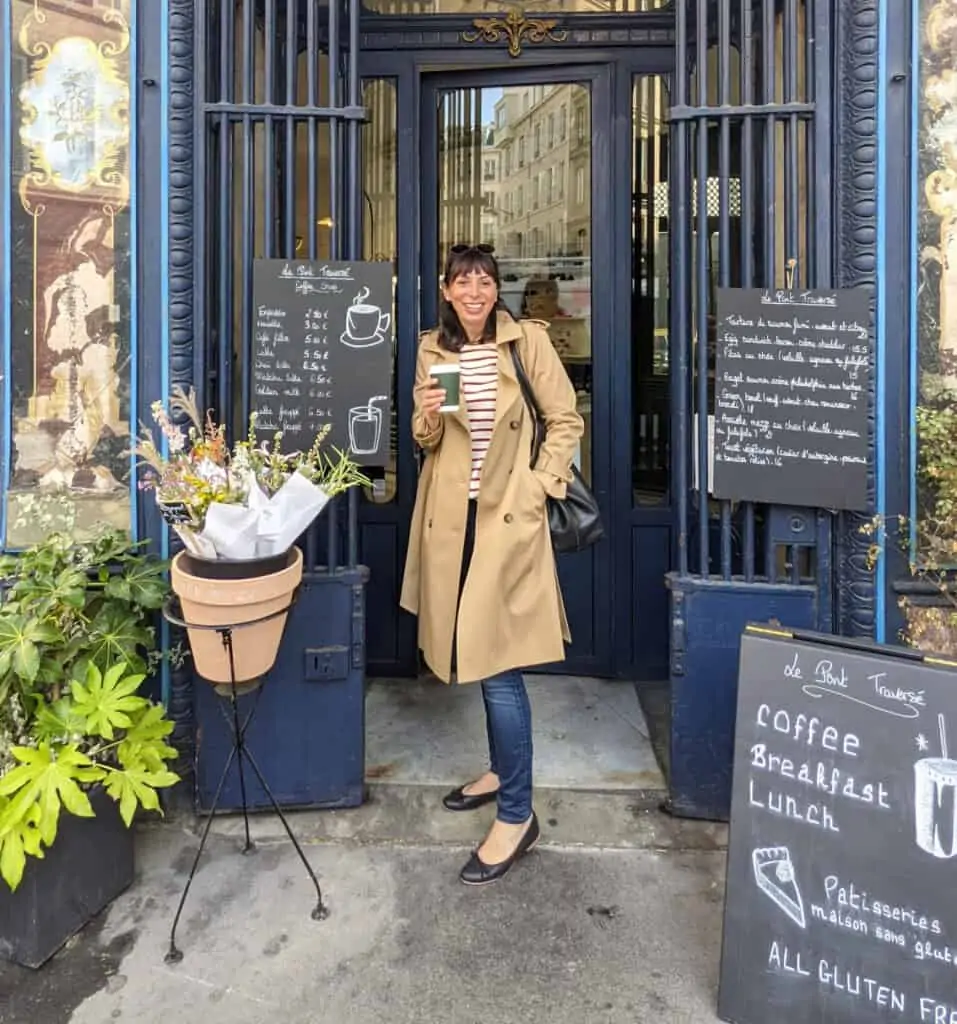 Jeans and Tops for Paris in the Spring
I have a few pairs of jeans packed for Paris. Straight-leg jeans and skinny jeans are very much still in. Black jeans, white, and a denim pair to mix and match for different Paris outfits. These from Frank & Eileen are new favorites for denim, and I also have a few long sleeve button-down shirts to pair with them.

Shoes for Paris in the Spring
Comfortable walking shoes are key as the best way to see Paris is on foot, and you should plan to do a lot of walking. This is my one challenge as I pack because I want to bring four pairs of shoes. I still need a good solid shoe for wet weather if it rains, which would be these Chelsea Boots. Last year, I wore my pair of ankle boots almost the entire time because it was freezing. The weather forecast looks more optimistic this time around. I always recommend wearing the bulkiest pair of shoes on the plane and packing the lighter pairs in your suitcase so they don't take up as much room. Comfortable shoes for walking around Paris are an absolute must.

Ballet flats are very much in right now, and my favorites are these from Margaux. A tie at the top makes them adjustable if you feel they aren't fitting right. You can tie the bow to make them work for your feet, making all the difference. I fell in love with this pair of loafers in brown. White Sneakers are very in right now for French fashion for men and women. Vejas are my favorite, typically available at different retailers such as Nordstrom, Neiman Marcus (currently in stock in all sizes), and Anthropologie. They have been sold out many places, so check back for restocks. You can always buy them at a Vejas or department store in Paris like Galleries Lafayette or BHV.
High heels are beautiful but not ideal on the cobblestone streets of Paris. Leave them at home unless you plan on taking a car to and from dinner. You won't see them on many French women unless its fashion week.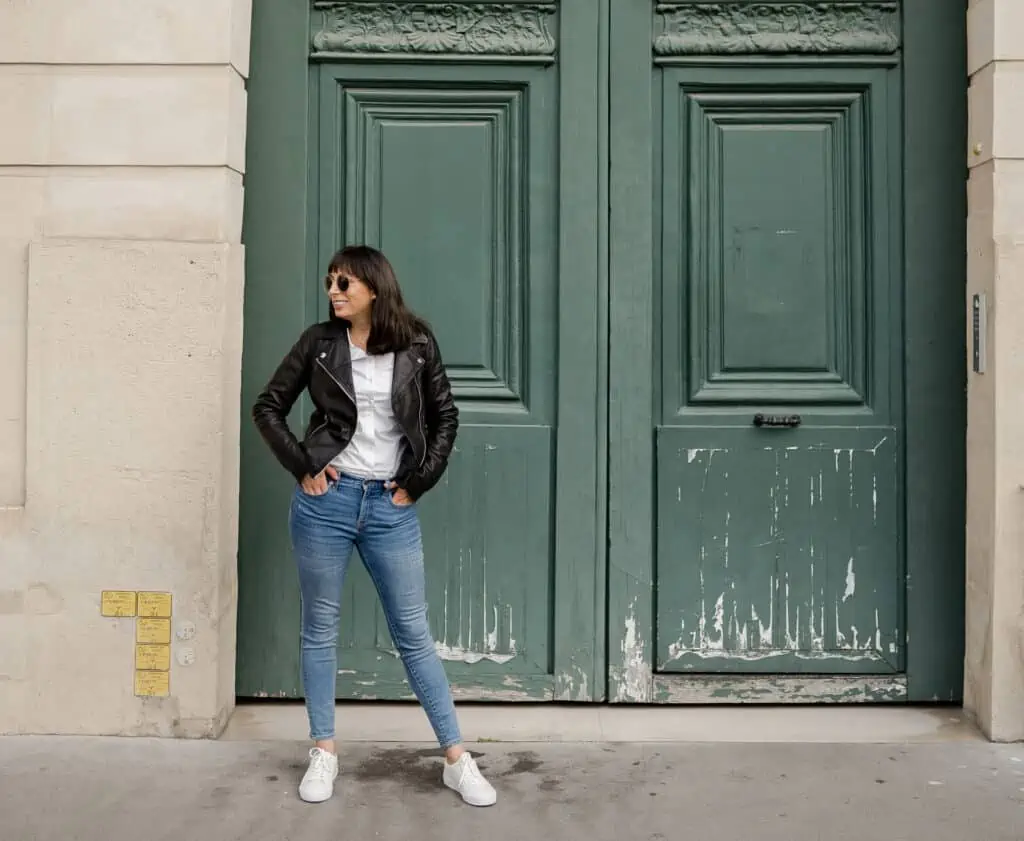 Neutral Color Palette for Paris in the Spring
I pulled together many of the items I planned on packing for Paris, and they are all neutral colors of black, brown, white, and denim. This makes it very easy to create different outfits from wardrobe staples.

The Best Bag for Walking Around Paris
A crossbody bag is an excellent option for walking around Paris. The most important thing is to have a bag with a zipper to keep all your items secure. I love the Cuyana zip tote and a Longchamp bag for out and about. This Polène bag is also great and a personal favorite.

Spring Dresses for Paris
Two dresses are packed right now for spring. I don't expect the weather to be too warm, but these will pair nicely with a leather jacket. This black belted dress makes the perfect little black dress with sandals or flats. I have my eye on a pair of espadrilles from Sézane that I plan on picking up to pair with this dress. This white dress fits so well; it could also pair with espadrilles or sandals.

Spring Paris Accessories
Scarf A scarf is always a good layering piece to keep warm.
Sunglasses I am hoping for some sunshine during this trip. I love these Rayban glasses. The brand Jimmy Fairly is similar to Warby Parker in France; you will find them in several areas of Paris. This is a great spot to pick up a pair of Parisian sunglasses. I have bought two pairs from here in the past.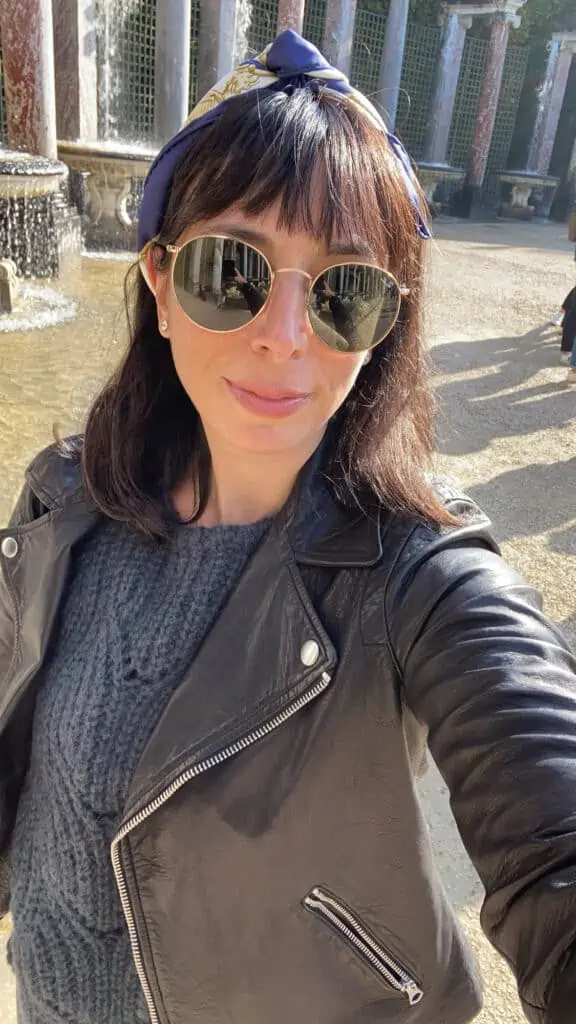 Umbrella This looks like it will be essential. Plus, you never know when you will need it, especially in spring.
Coats for Paris in the Spring
Due to the varying weather temperatures, I love packing a trench coat and leather jacket for Paris. If the weather is really cold, you can always layer the leather jacket under the trench coat, as I did in October. The trench coat can instantly pull an outfit together, and you can throw it over a pair of skinny jeans or a dress with shoes.
If you are heading to Paris towards the end of spring, you might want to swap the leather jacket for a light jacket instead.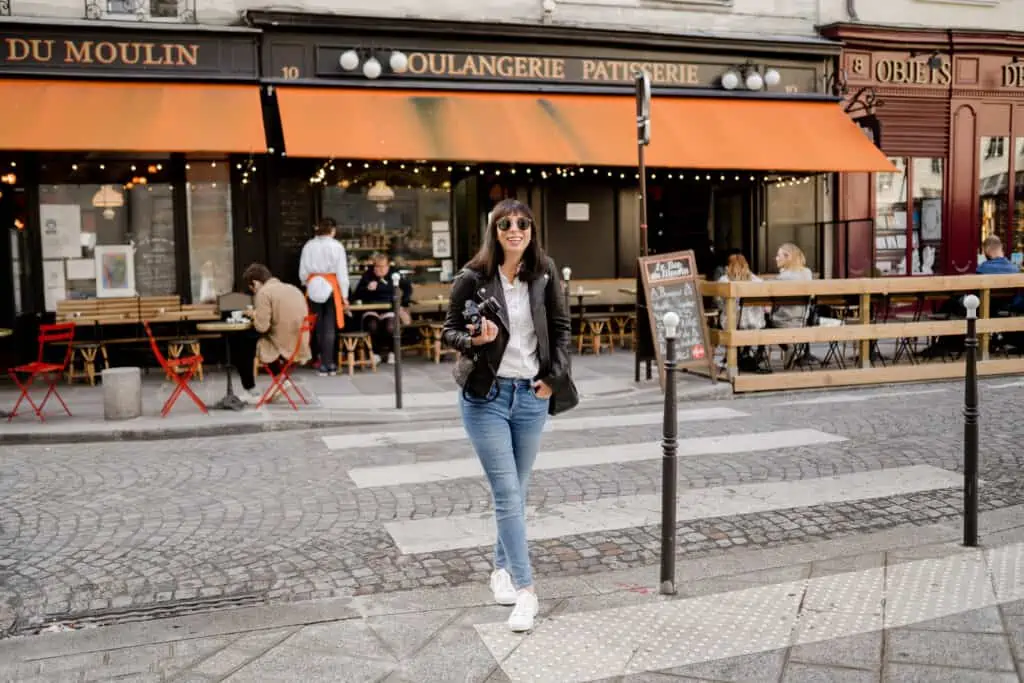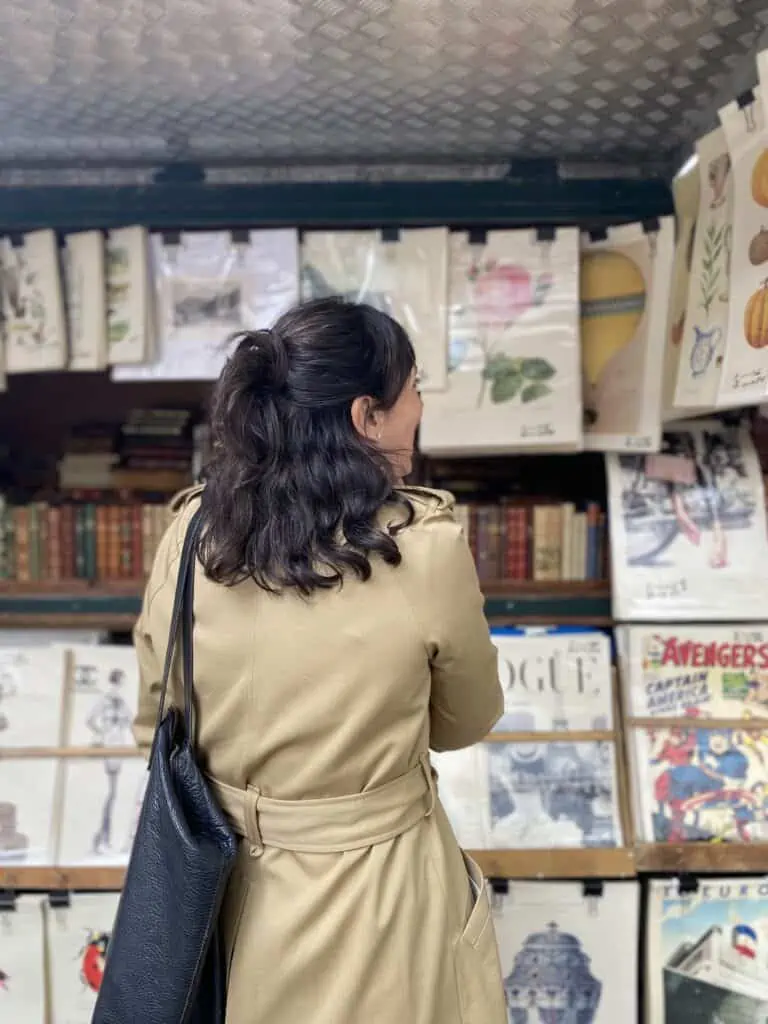 Makeup/Beauty

I have a lot of Biossance and Caudalie minis I am bringing for travel.
My makeup will be minimal, but I am packing a lip twist and this lipstick from Sisley. I love the Merit products, especially the concealer/foundation stick, mascara, and cheeky blush.
As you plan your packing list, I always suggest leaving the gym wear at home or saving it as your travel wardrobe for the plane. You won't see many Parisians dress in activewear unless they go to or from a call or the gym.
P.S. This post shows my travel essentials for flying to Paris.

*This post includes affiliate links. I make a small commission off of items purchased through my links. This helps contribute to my coffee and croissant money.