Best Stocking Stuffers for 2023
I pulled together some of my favorite brands in this blog post. We don't do stockings at our house, but I love the idea of them for the holiday season. They look so cute hanging above the mantle for each family member. Browse through the post and see what catches your eye. A gift card is always a last-minute gift for a stocking stuffer.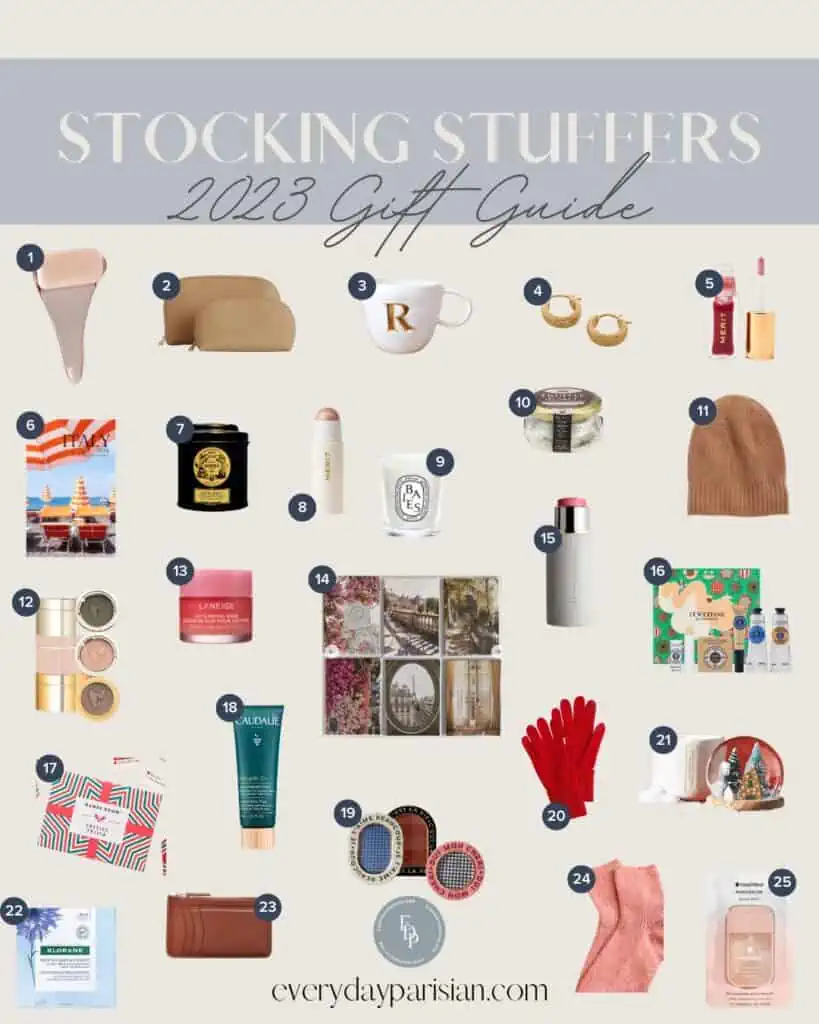 When do you open your stockings? Christmas morning or Christmas Eve? I feel like I would want to sneak a peek way too early.
Use the coordinating number to match up with the item to shop.
1. Face ice roller. $10 I have heard fantastic things about ice rollers. This was a suggestion from Alyssa, who loves hers!
2. Quince Travel Set $70 A more affordable version than the Cuyana one, but looks similar. It comes in multiple colors. Add some of your favorite beauty items inside as a bonus.
3. Sézane Letter Mug $40 This comes in white and pink. I have the R, and Alyssa has the A. It was a gift for her last holiday season. It is a more oversized mug than the standard mug so lots of room for coffee, hot chocolate, or tea. 
Stocking Stuffer Gift Ideas

4. Monica Vinader Huggie Earrings $95 I have owned these for years. They are a great small gold accessory. I have very sensitive ears, and these don't bother me. 
5. Merit-tinted lip oil $24 Pink beet is a favorite of mine. I also own Sangria, a darker color, and Marashino, a fun red that goes on sheer and adds a little color.
6. Italy Calendar $35 For the Italy lover, each month is a different image from the Amalfi Coast. At the end of the month, you can cut and crop the photograph and hang it as art.
7. Mariage Frères Tea $32 This is a classic Parisian tea brand I drink daily. Discover other options from Palais des Thès and Damman Frères if this sells out.
8. Merit Day Glow $32 The cava color is the reader best seller for all of Merit. This is a great highlighter for your cheeks for an extra glow. 
Stocking Stuffer Gift Ideas for 2023
9. Mini Baies Diptyque Candle $42. For Diptyque, this is one of the most popular scents and the first one I purchased many years ago. It makes a great stocking stuffer for the Francophile and a home run as a gift.
10. Truffle Salt $30 A little goes a long way with this truffle salt. Add to potatoes or popcorn for movie night.
11. Recycled Cashmere Beanie $44 I have gotten in the habit of wearing one of these once the weather gets colder in Chicago, and I think they make the best gifts. My husband wears them also, and he is always misplacing them. You can never have too many between the two of us. This particular style comes in tons of colors! 

12. Westman Atelier Eye Pods $88 This set of three eye shadows gives a pop of color to your holiday makeup. I have been wearing Westman Atelier recently and love their products. Fits perfectly in a stocking. 
13. La Neige Sleep Mask $24 This goes smoothly to your lips and smells good. I have the original berry flavor, but now there are many options. It will keep your lips hydrated with Vitamin C. I used it before bed as my last step.
14. Paris Notecards Assorted $35 from The Print Shop. Choose your favorite image or grab the assorted pack. These are great for a housewarming gift or when you need a card to write a thank you or quick hello.
Stocking Stuffer Gift Ideas
15. Westman Atelier Baby Cheeks Blush $48 I use the darkest red/pink shade, and it goes on my lips and cheeks. Readers tell me petal is the color to order. 
16. L'Occitane hand cream and lip balm $29. They can be broken up into little gifts for multiple stockings.
17. Festive Trivia $12 These cards are a great conversational starter for your party.
18. Caudalie Instant Detox Mask $42 also comes in a mini version. I use this mask at least once a week. It went viral on TikTok for a reason.
Gift Ideas for Your Stockings 2023 Holiday
19. Claudette Frames $48 in multiple French sayings. These are a huge hit with readers and best sellers for the holidays. Add a photo to the frame to make it more personal.
20. Cashmere Tech Gloves $70 (These could be on sale, so keep an eye out) Grab them if they are!
21. Monogrammed Snowglobe Candle with a pine scent $38 A great way to celebrate a name change of someone newly married. 
22. Klorane Eye Patches $26 I swear by these and use them before a photoshoot and when I fly. There are multiples to a pack to break up the box for multiple stockings.
23. Sézane Card Holder for credit cards is $70 and is available in black and brown; you can monogram it. I have one in blue that I have been using for years from Sézane. It makes a great gift that someone will use for multiple years and think about you!
24. Sézane Lurex socks $20. I own a few pairs and love them. Great for boots or loafers. 
For other holiday gift inspiration, you can check out the gift guides for 2023 on the blog here. 
This post includes affiliate links. I make a small commission off of items purchased from my links. Merci!