This year's holiday gift ideas under $100 come are from best sellers by readers and a few of my favorite things. Gifts for the Francophile are included here and budget friendly. Don't miss these gift ideas to put under the tree or unwrap this Channukah with loved ones.
Holiday Gift Ideas Under $100
1. The Paris Guide: $30 for the digital version and $35 for the printed version. The perfect gift for someone planning a trip to Paris soon. It has hidden gems, restaurants, parks, and shops to explore.
2. Madewell Sidewalk Sneakers $88, currently 30% off. These are a reader favorite and so great for walking around Paris. I recommend breaking them in, and then they fit nicely around your feet for long walks.
3. The Workout Mat is $98 from Lululemon for the yogi or aspiring yogi. I have been doing yoga for years and think I needed a mat in Florida while visiting family.
4. Kindle $99 The lightest and most compact Kindle. My husband bought me one earlier this year, and I love it. You can have so many books at your fingertips.
5. Monica Vinader Earrings $95 I own these and love them. They are one of the other brands that don't irritate my sensitive ears.

Holiday Gift Ideas Under $100
6. Croissant Ring $78: For the person who loves croissants and coffee as much as I do. Comes in gold and silver.
7. Three Days of French Classic Entrées $100 On busy nights, it is so nice not to think about dinner or what to cook. This is such an excellent gift for a busy Francophile. Just heat up and eat.
8. Westman Atelier Eye Pods $88 A set of three eye shadows. I am a big fan of this clean beauty brand and have loved everything I own by them.
9. Quince Travel Set $70 A similar one from Cuyana is more expensive. I love adding a few beauty products to the bags as a bonus. They could be as simple as hand cream, a face mask, or lip balm.

10. J.Crew Pajamas $45 I love good matching pajamas, and I love to gift these classics each year.
11. Rollneck Striped Sweater $98 on sale for 30% off. Order up one size as it runs small—a great striped sweater under $100.
12. Colette Marinière $100 This is an iconic Parisian shirt for the Francophile. I own it in multiple colors and love it. You can even monogram it for free, which is a fun way to make it personal.
Francophile Gift Ideas Under $100

13. Seraphine Scarf $90 I own this and love it. It was one of my most asked-about items when I wore it in January. This will sell out quickly.
14. Paris Market Bag in Black $78 This makes a great home accessory for a corner to store things or to bring to the market. A Francophile will be happy with this gift.
15. Rue Madame Drinking Glass $96 Hand painted by Marin Montagut a Parisian artist. You can shop his adorable boutique on Rue Madame in Paris. If you can't travel, you can have this memory of Paris every morning.
16. Match Cloche $34 a great addition to any coffee table. We keep a little tray of match boxes but this is also a beautiful accessory.
17. Emile Henry Pizza Stone $70 We have pizza night at least once a week, which is handy. It was a wedding gift, and we loved it.
18. Cuyana Cardholder $98 Comes in multiple colors and leather types. I carry a similar one daily with my ID and credit card.
Gift Ideas Under $100

19. Calpak Packing Cubes $68 My life changed with packing cubes. You can fit so much more in your suitcase, keeping me organized. For the person who loves to travel, this makes a great gift.
20. Timeless Paris $40 Marin Montagaut's book makes a great coffee table addition. The author takes you into twenty of his favorite Parisian addresses that are timeless and offer inspiration.
21. Italy calendar $35 A year of The Amalfi Coast from Positano to Capri. Each month delivers a memorable and beautiful photograph of Italy. Can be cropped to 5×5 and framed once the month is complete.
22. Paris Votive $60 A beautiful carved design of Paris iluminates with a candle.
23. Sheer Rosewood by Sisley Paris $63 One of the colors I wear the most for lipstick shades.
24. Diptyque Paris Rose Candle $74 A classic Diptyque scent and a favorite. This is a gift that is an instant hit. Makes a beautiful display and also a lovely smell year-round.
25. Paris Calendar A year in Paris $35 and $55. The small size is 5.5×8.5″ and the large is 8.5×11″ and offers full-size images (5×5 and 8×8) to be cropped and framed after each month is finished.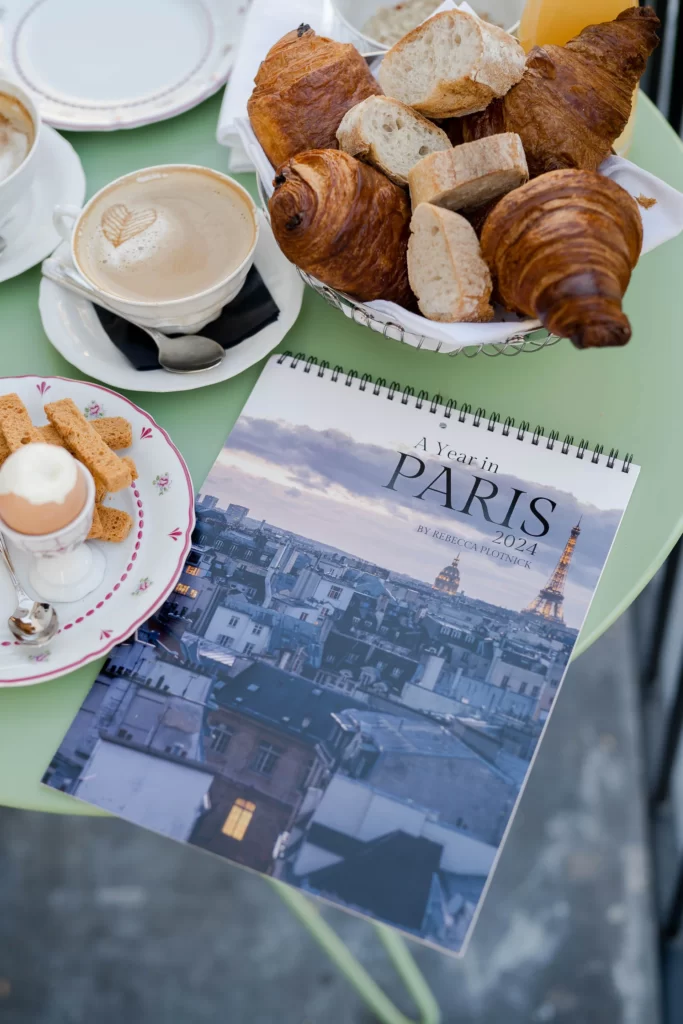 For more gift guides, check out the Francophile Gift Guide.
This post includes affiliate links. I make a small commission off of items purchased from my links. Merci!