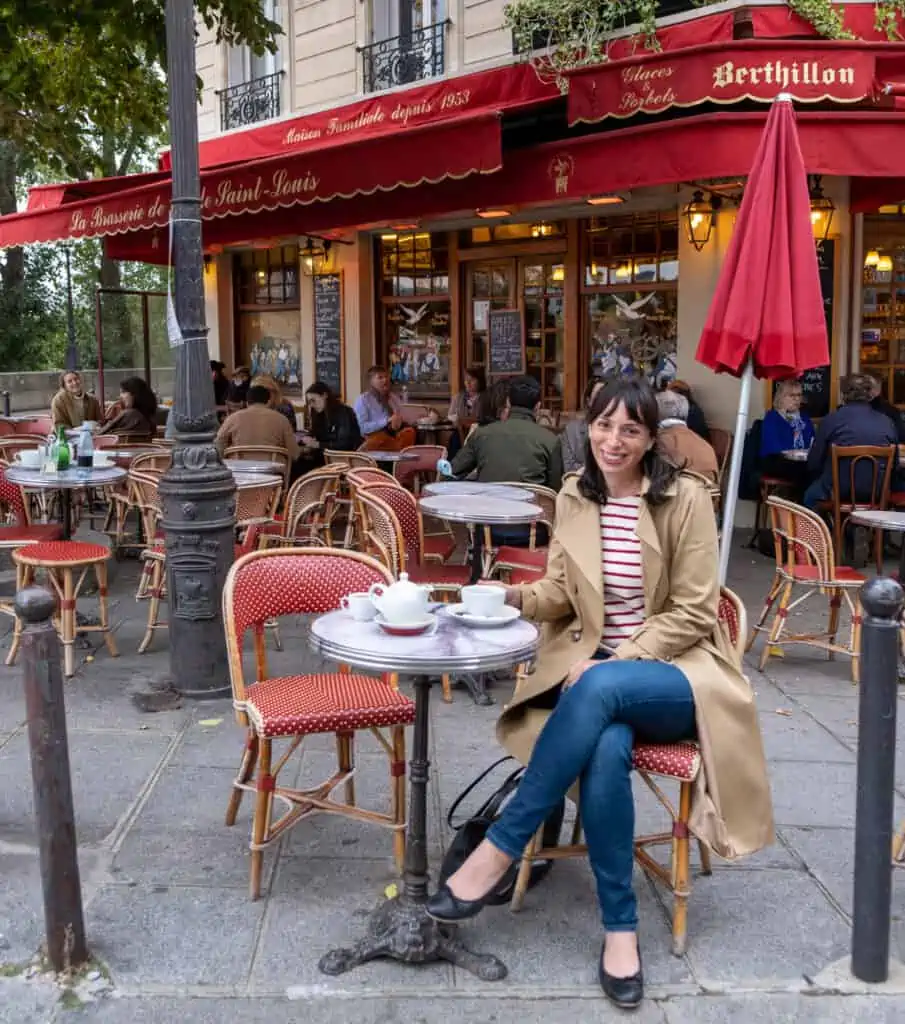 A French fall capsule wardrobe is a great way to create a variety of outfits with a few key pieces. I love the French style of investing in timeless pieces that can be worn for years not just one season. Feel free to put a spin on my suggestions with your own personal style.
Fall French Capsule Wardrobe
Everyone has a unique body type. Don't feel pressure to own something if it doesn't feel like you. The Parisian style is much more colorful and unique than what we view as a stereotypical French woman.
Below is my fall capsule wardrobe checklist:
Black Blazer (or navy)
A blazer is a must-have wardrobe essential right now. The ones offered at J.Crew for affordable options, wait for a sale to grab one. You can pop a white button-down underneath to pull it together. Sézane also has great blazers. On my Paris trip last fall, a bunch of the women bought them and then went back to order more because they loved them so much.

Leather Jacket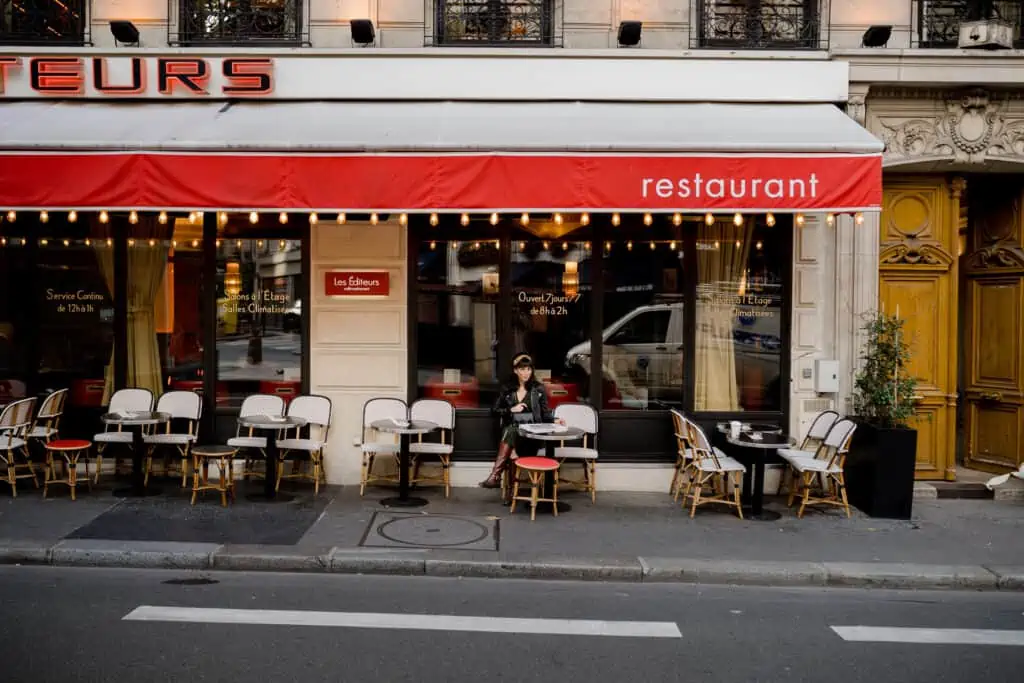 A leather jacket is an investment piece worth making when you have the money. I bought this one from Madewell last October on sale and I have worn it so many times it was well worth it. I got it in size M so I could wear sweaters under it and close it comfortably. There are many other options from other retailers use your own style and choose one that fits you best. You will find more excuses to wear it than you think. If you are headed to Paris, you will wear this in the early part of fall. You will need a warmer coat towards mid-October and on into winter.
Classic Wool Coat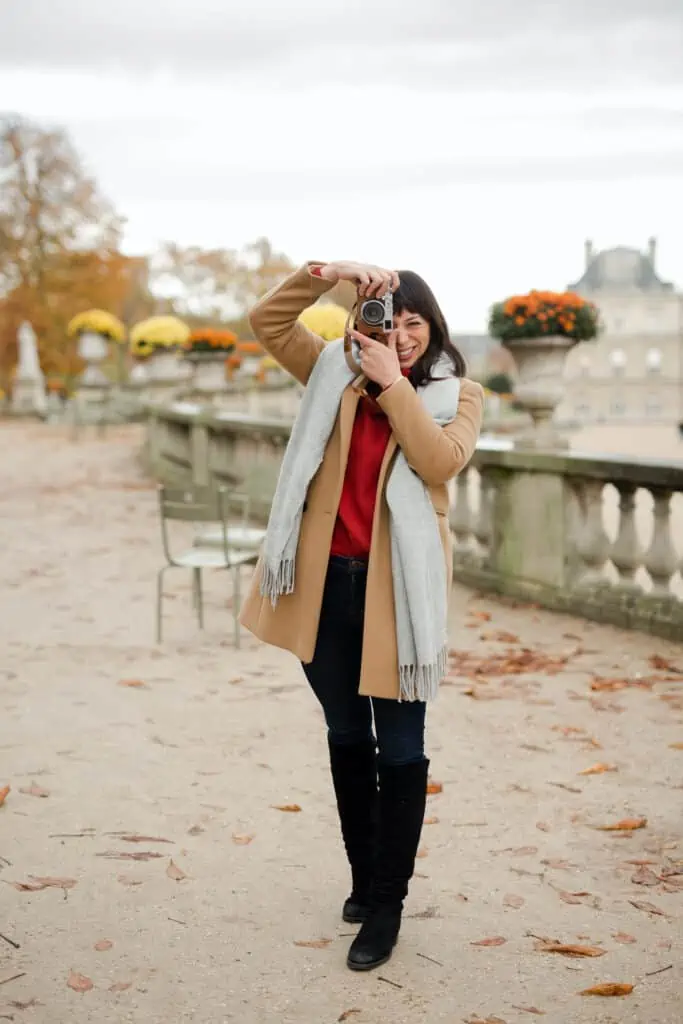 On one of my first trips to Paris, I was just starting as a photographer and had a limited budget for just about everything. The temperature dropped and my leather coat was not going to hold up with the weather. I had my eye on a Sandro coat and the guy I was dating at the time convinced me that I would wear it for many seasons and that it would be an investment. He was right and the coat lasted longer than he did! A wool coat and scarf are great wardrobe pieces to keep warm.
There were a lot of navy wool coats last October and I expect that trend to continue. I am on the hunt for a beautiful navy wool coat.
I am wearing the Johnson coat above and it is going into my 4th season. The coat is a great investment piece.
French Fall Capsule Wardrobe: Basic Tee
A basic tee is something that is in my wardrobe year-round. I will pair it with shorts in the warmer months and under a blazer or sweater in the colder months. There are pricier tees you can invest in or look for a more affordable option. For inexpensive options, I like the ones at Madewell and they are often on sale. Below are a few basic tees in both black and white. They are on sale during the Shopbop sale which is a great opportunity to research your new favorite. I purchased these four and promise to report back. Splendid has always been a favorite brand of mine and the quality is long-lasting.

Ballet Flats
Ballet flats are a classic french wardrobe style that has never gone away. Audrey Hepburn wore them and they have stuck around in some fashion ever since. There have been a lot of articles lately about celebrities wearing ballet flats and how they are the "it" shoe for fall. My favorite ballet flat is the Margaux Demi. I own it in black and now I really want it in brown. I wear these flats all of the time in the fall and in Paris, they are one of my favorites for walking around Paris. They hold up well for long walks around the city.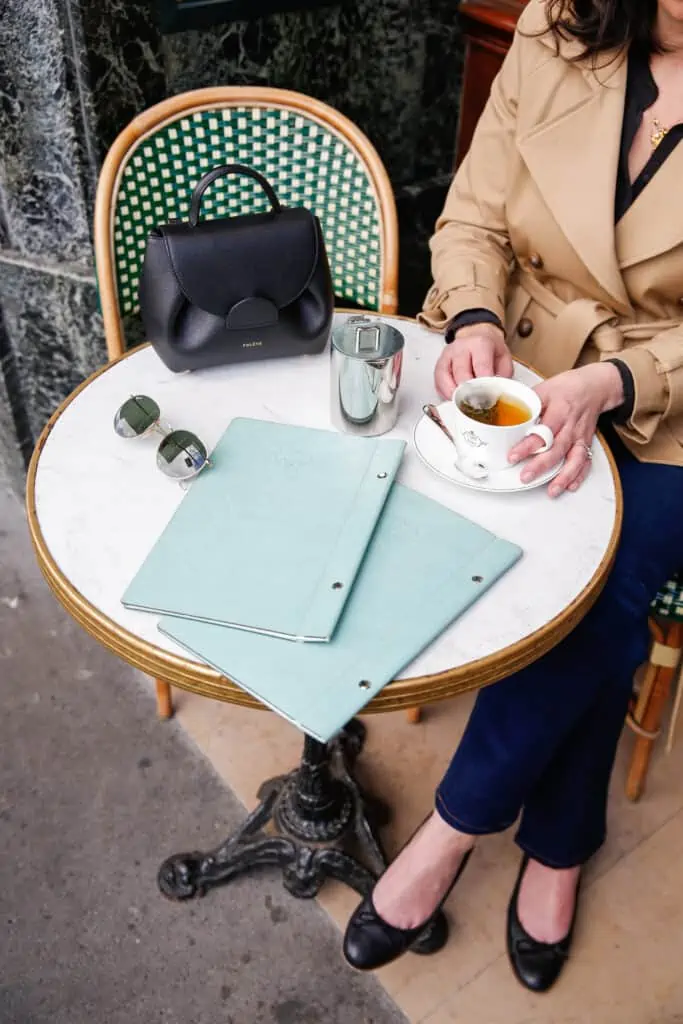 Trench Coat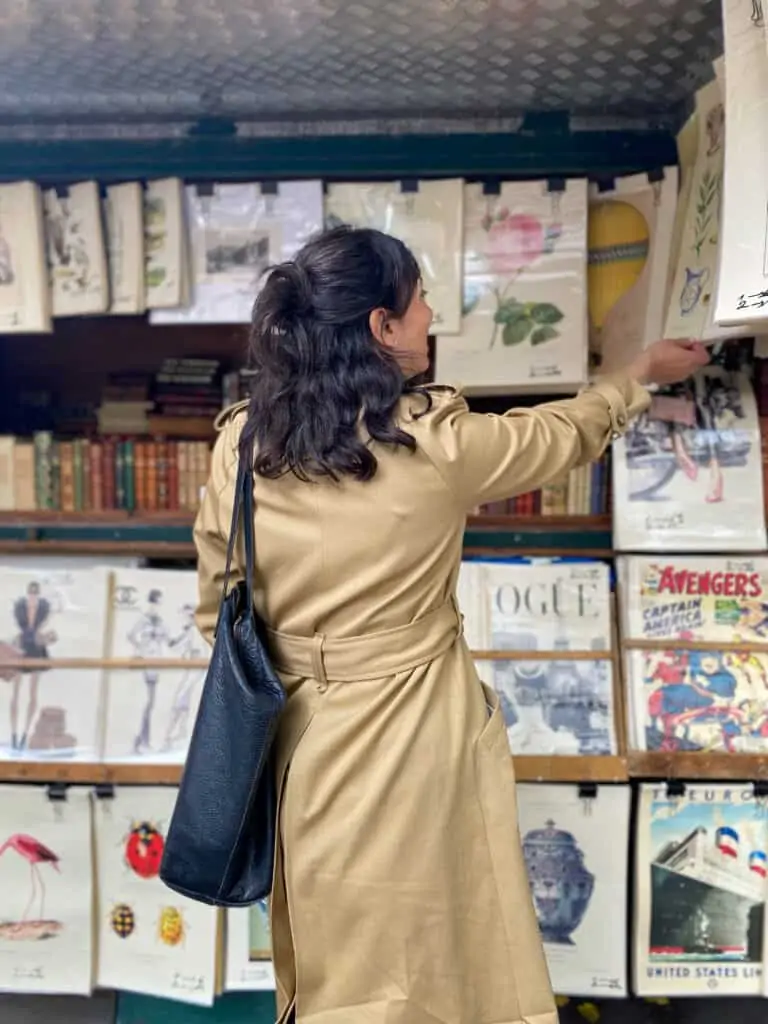 Trench coats are an investment piece that you will wear for more than one season out of the year. French women wear them not just in the rain but also when it is sunny. I bought mine from Sézane last fall and I wear it on repeat. I wrote a whole blog post about it here and will be bringing it to Paris in October.
Cashmere Sweater
Cashmere sweaters are a great addition to your fall French capsule wardrobe. For a quality cashmere sweater, you will have to pay the price but they will keep you warm and last in your closet for years if properly cared for. Jenni Kayne has some beautiful cashmere sweaters in different styles. I just purchased my first sweater and heard rave reviews from other readers who own her items. This turtleneck cashmere sweater in cream is on my wish list for sure! Jenni Kayne does do some 20% off discounts, it is worth it to get on their email list!

White Button Down
J.Crew offers a great white button-down that can be worn alone, with a blazer, or under a sweater for a layered look.
Midi Skirts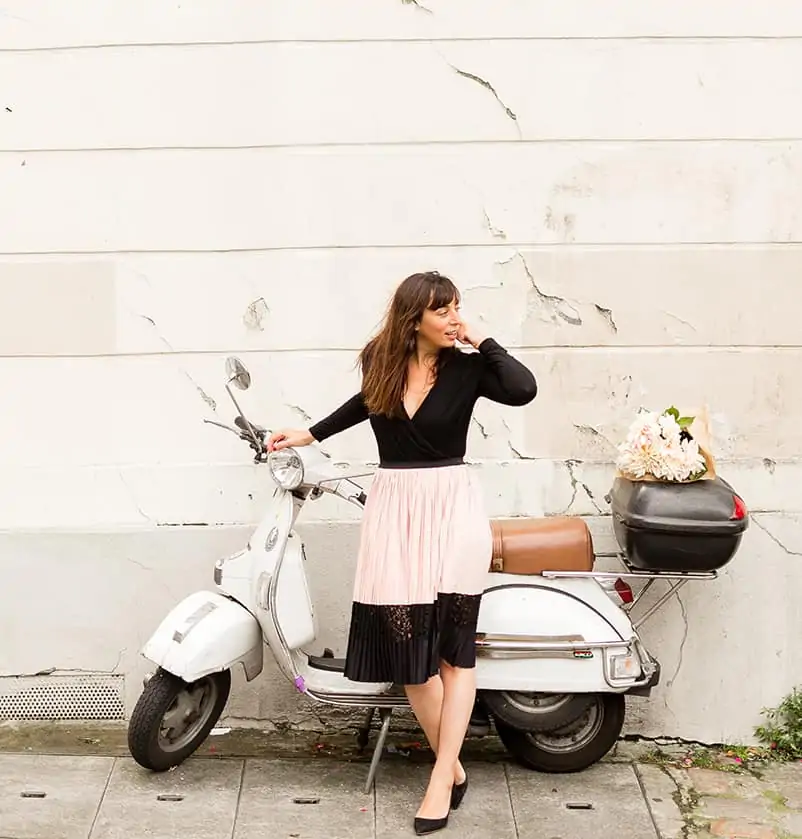 One of the trends I noticed the most in Paris this last trip was the midi pleated skirt. I am crushing on this investment skirt. There are not a ton offered currently, but I suspect this style will be around more in the coming year.
The above skirt was an old Zara find, it's still in my closet.
Knee-High Boots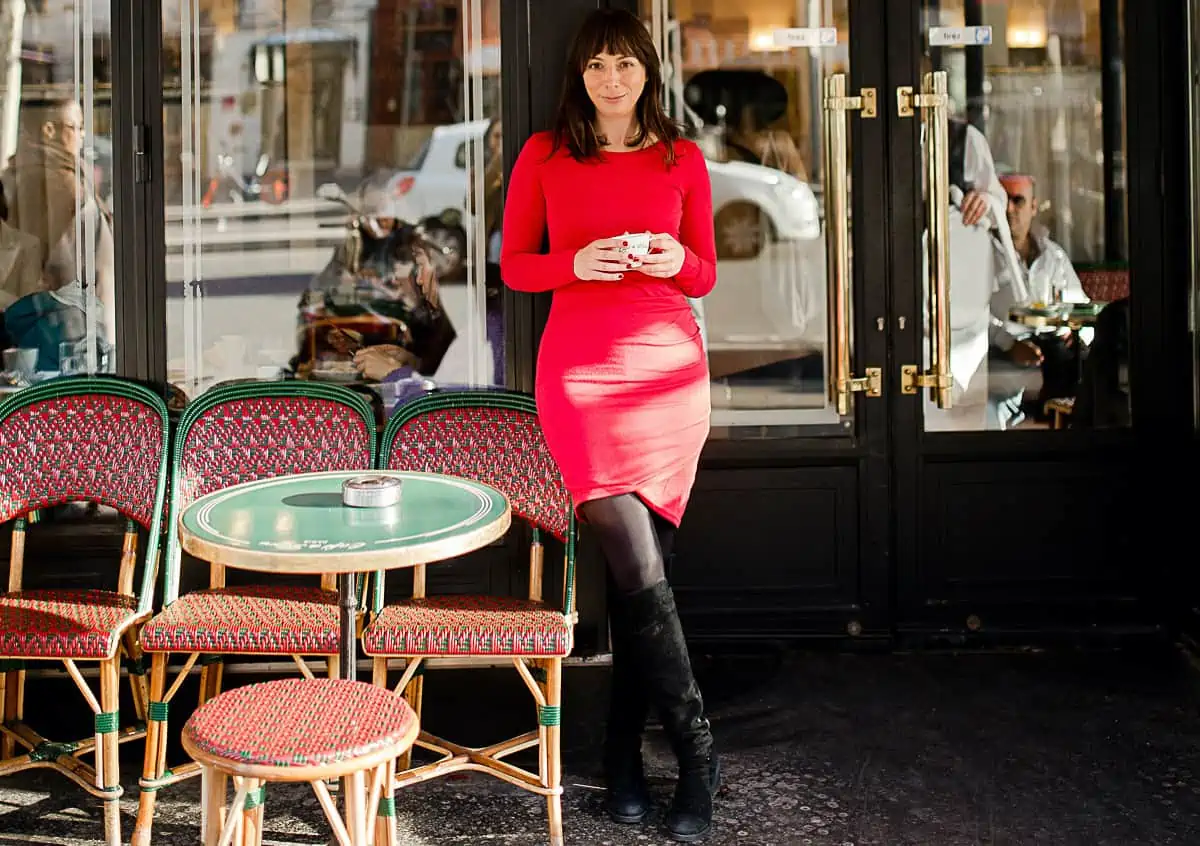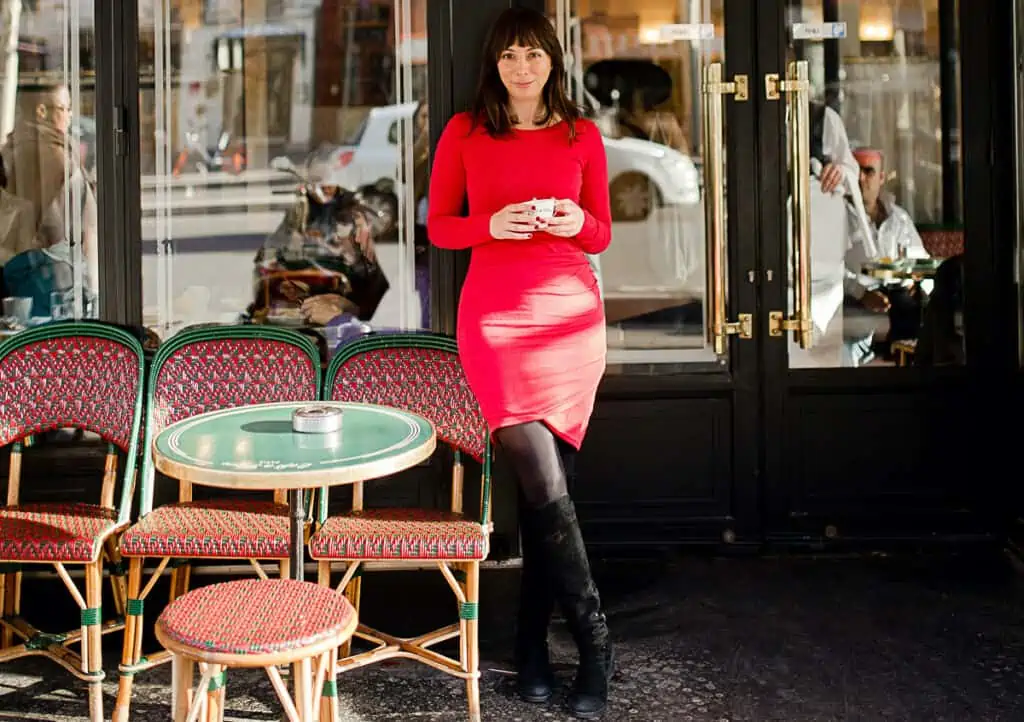 These are a favorite from Blondo and are also waterproof. The knee-high boots can be worn from fall to spring and in leather or suede. This is a trend I continue to see year after year.
If you don't think you can pull off the knee-high boots, leather ankle boots are a great option and can be worn with jeans, shirts, or dresses.
Sarah Flint shoes can be a bit pricey, you can use my code for $50 off your first pair, SARAHFLINT-BAREBECCAP at checkout.

Other Shoes
Classic loafers are going to be everywhere this fall, these from M. Gemi are on my wish list.

White Sneakers
A pair of white sneakers is a great French girl wardrobe essential to have in every season. In years past, I wouldn't think to put a sneaker as a part of the French wardrobe but it is now much more accepted as a style, and is one of the biggest trends in footwear for women. The Madewell sneakers, Veja, or the Jack sneakers from Sézane are my top choices.
Striped Tee
The striped tee is a bit of a cliché french-girl style to mention a striped tee or sweater but it is a classic style that comes back year after year. I have owned some Saint James shirts I bought with my aunt and uncle and they have heard up so well over the years. In my recent visits to Paris, it is one of the trends I noticed the most among the French was a striped tee layered under a solid blazer, trench, or just with a pair of skinny jeans.
I own this shirt in size small from Sézane that I wear on repeat. The pop of red is fun and it's a bit different. There is a whole tee and striped sweater section in my own closet.
Little Black Dress
A little black dress is a must for date nights, meetings, and going out with friends in the city. In Paris, I would skip the high heels and go with an ankle bootie or flat. Sézane has some great black dresses for the fall, also try Sandro and Maje.
*This post includes affiliate links. I make a small commission off of items purchased from my links. Merci!