On hot summer days, the last thing I want to do is turn on a hot stove. I put together this list with the help of the EDP community for easy dinners for summer. I love visiting my local farmer's market for fresh produce. And I do my best to pick up as much locally before making a run to the grocery store. The fresh flavor of the fruits and vegetables is so much better and supports the local community.
It is always helpful for me to prep any of these meals earlier in the day before the heat of summer is too much.
Any salads can be made in a double batch for the next day. I love doing a simple marinade with garlic cloves, lemon, and olive oil on chicken breasts. It is beneficial to have leftover chicken to throw on a simple salad for lunch or dinner.
I recently heard that Ina Garten surrenders to picking up a rotisserie chicken on hot summer nights for an easy summer meal just add it to any of these salads below.
15 Easy Summer Recipes
It is peach season at our local market. I love the mixture of the sweet and ripe peaches with the salty burrata. I don't eat prosciutto personally but this reader recommendation sounds like summer on a plate. You could always sub another protein or a vegetable to lighten it up.
This was a suggestion by a reader. I found a simple recipe online. I love this with fresh mozzarella and tomatoes and olive oil and balsamic glaze drizzled on top.
This is something I have been making for a few years now. It's a cold summer salad with feta, red onion, fresh cucumbers, and olives. You could also add fresh cherry tomatoes to the mix. I make the orzo ahead of time so it is nice and chilled. I toss in the ingredients and top with lemon juice, olive oil, salt, and black pepper. Then I mix everything together and serve on the side of a protein. This is something I prep on the weekends for the week so I have something to go with lunches and dinners in a pinch.
I recently had this at a restaurant while I was home in Cincinnati and it was delicious. I'm making a version of this for dinner tonight with grilled chicken. I am subbing greek yogurt instead of tahini to make the dressing lighter.
A few years ago, my friend Jennifer and I ordered this at a restaurant. We split it among a bunch of other dishes. This stood out as a favorite to both of us we ordered a second one and skipped dessert. That says a lot for me! I try to make it each summer when zucchini is in season. In fact, I love lemon and feta on just about anything. I love how this easy recipe really breaks everything down for you into easy steps. It is a great addition to a delicious meal. You will thank me and I didn't really eat raw vegetables until recently.
This recipe sound so good if you want to change up the traditional marinade or spices you typically do. We have been eating a lot of Greek food lately. My fiancé and I love chicken and fresh pita as a go-to meal. I will usually throw in some sweet potato fries to add with it. I want to try this recipe. You can also throw the chicken on the grill if you don't want to turn on your oven.
Our farmers market is filled with fresh corn at every stand. This is the time to make everything with corn. This was a reader recipe suggestion. I haven't made this recipe but would love to try it.
Caprese Salad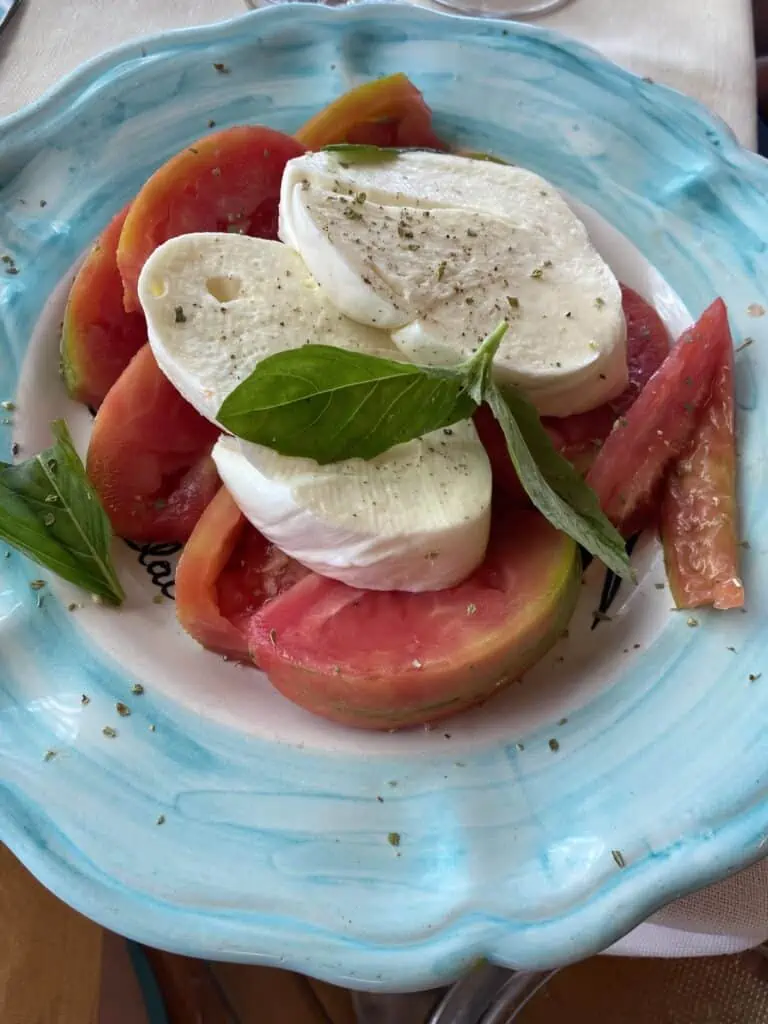 If you have a garden full of fresh vegetables or access to a local market or farm stand this would be even better. I don't eat cooked tomatoes but I love a Caprese salad for the fresh mozzarella and basil along with the olive oil and balsamic drizzle on top. This is a minimal effort recipe and always a crowd pleaser.
This is from the NYT so you may require a subscription to view it. If you don't want to subscribe, try googling something similar. This has almost 7,000 reviews and looks too good not to include.
Mezze Board
I always forget about these as a dinner option but it is a great one. We are always making an excuse to visit our Middle Eastern Bakery in Chicago. I pick up hummus, grape leaves, fresh pita, olives, and feta on the regular. It would be easy to put these all together on one big board. Toast the pita just before serving. You can cut up some fresh veggies too to add to the board.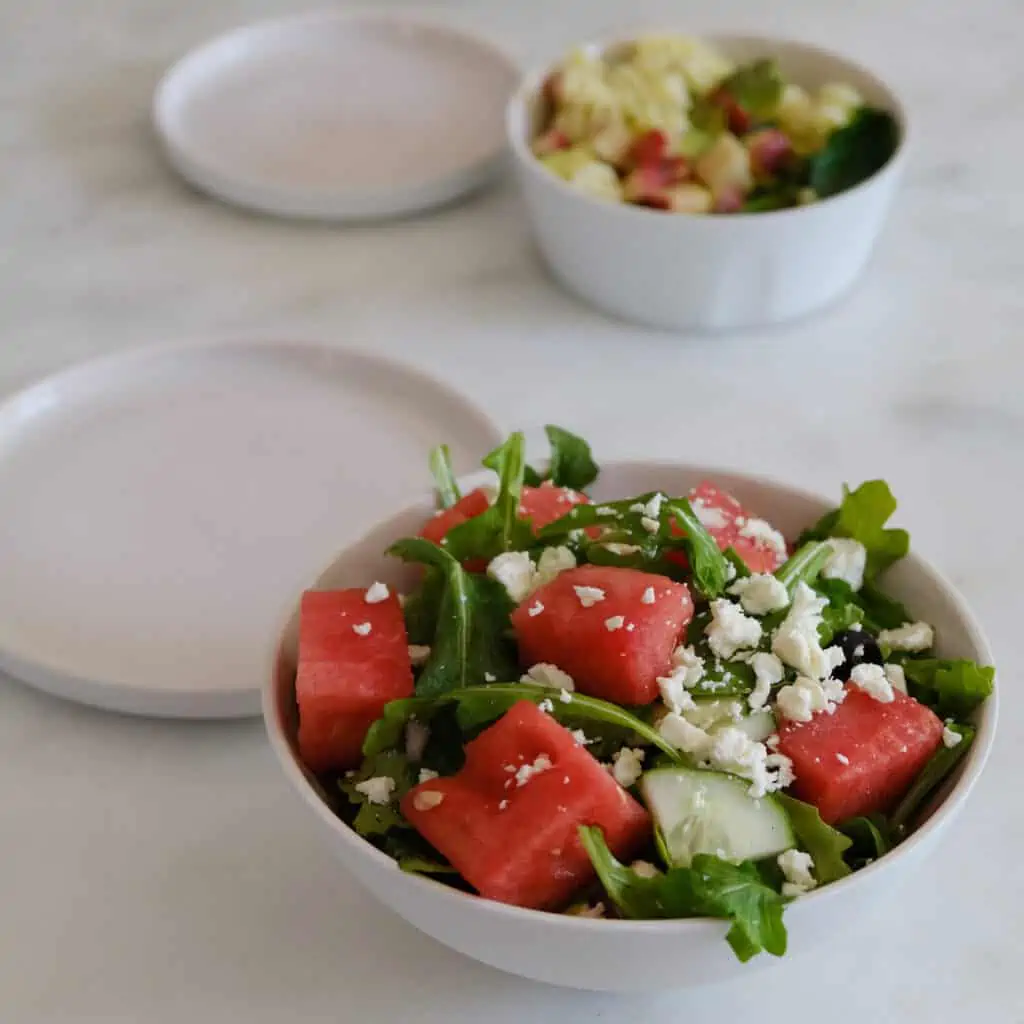 This is a family favorite between my sister and me. We always make this as soon as summer hits and it is one of the best things for warm summer days. You can prep this if you are having a dinner party. I like to eat this the day of because of the red wine vinegar dressing. You can make a variation of this however you wish. We do watermelon, feta, cucumbers, red onion, and olives. You can never forget the olives in our family. Drizzle with olive oil and red wine vinegar and top with salt and black pepper.
Ina's Gazpacho
This was a reader's recommendation. I haven't made this but you can find the recipe here. I have also had watermelon gazpacho which is delicious on a hot day.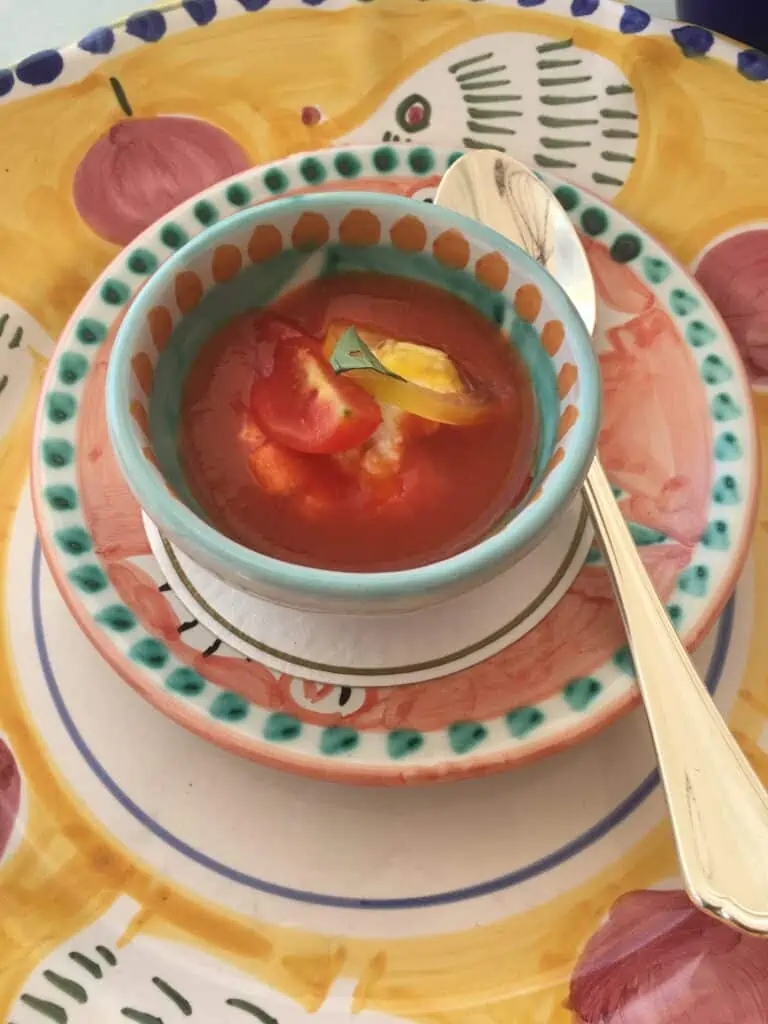 I started making this during the pandemic and it became my comfort dish in the summer months. I love any pasta with cooked tomatoes. And I could eat this a few nights a week as my fiancé has learned. I always offer up this or sushi for dinner. It's an easy meal to throw together in a pinch. I buy fresh seasonal tomatoes at the market in August/September weekly so we always have something on hand for a last-minute lazy dinner. My sister also makes the same dish in Florida. We both started making it around the same time in 2020.
I made this for my whole family when we were in Lake Como and it was a hit. The huge bowl of pasta was gone quickly which made me really happy. We had the freshest ingredients from the local market in Italy and the backdrop of Lake Como surrounded by my family made it even better. You can always switch up the noodle to make things fun. I love adding fresh basil and mozzarella at the end.
Cheese and Charcuterie Board
This is a great idea if you are having friends over. My sister loves a good French cheeseboard, especially if has brie and comté. I recently took a cheeseboard-making class and I will take any excuse to make a cheese and charcuterie board.
I always have fresh pesto in the house and I love the idea of changing things up a bit with these Caprese pesto skewers. This recipe is on my to-make list for the end of summer.
This is an easy one and the flavors of the fresh mozzarella and peach along with the noodles really make it delicious. This is an easy one to prep ahead. A few summers ago I made it and had it on repeat for a week. You can also make this recipe if you are invited over to a friend's house if you need a simple summer recipe.
Bruschetta is a simple recipe for hot weather. My friends in Capri have made this for us when we visit with a simple drizzle of olive oil and sea salt. You can use heirloom tomato and fresh mozzarella.
I hope this inspires delicious dinners the whole family can enjoy!