What to do in Paris in December
December is an exciting time of year to visit Paris if you are looking for festive holiday decorations and the spirit of Christmas. The city of lights is well-decorated for the holiday season from Christmas markets to department stores, you will be able to find a little bit of magic everywhere. Below you will find activities for what to do in Paris in December for Christmas and the best things to do for New Year's Eve. This is one of the most asked questions I have been getting in my inbox, and having a resource in one place is helpful.
Paris Weather in December
Expect winter weather for December in Paris. The average temperature in the daytime will be in the '40s and evenings in the 30s. For rainy days makes sure to pack waterproof boots, I love my Blondos. An umbrella is a good idea for your day bag. Your hotel or apartment rental should offer an umbrella but it is good to have a compact one like this to make it easy to carry.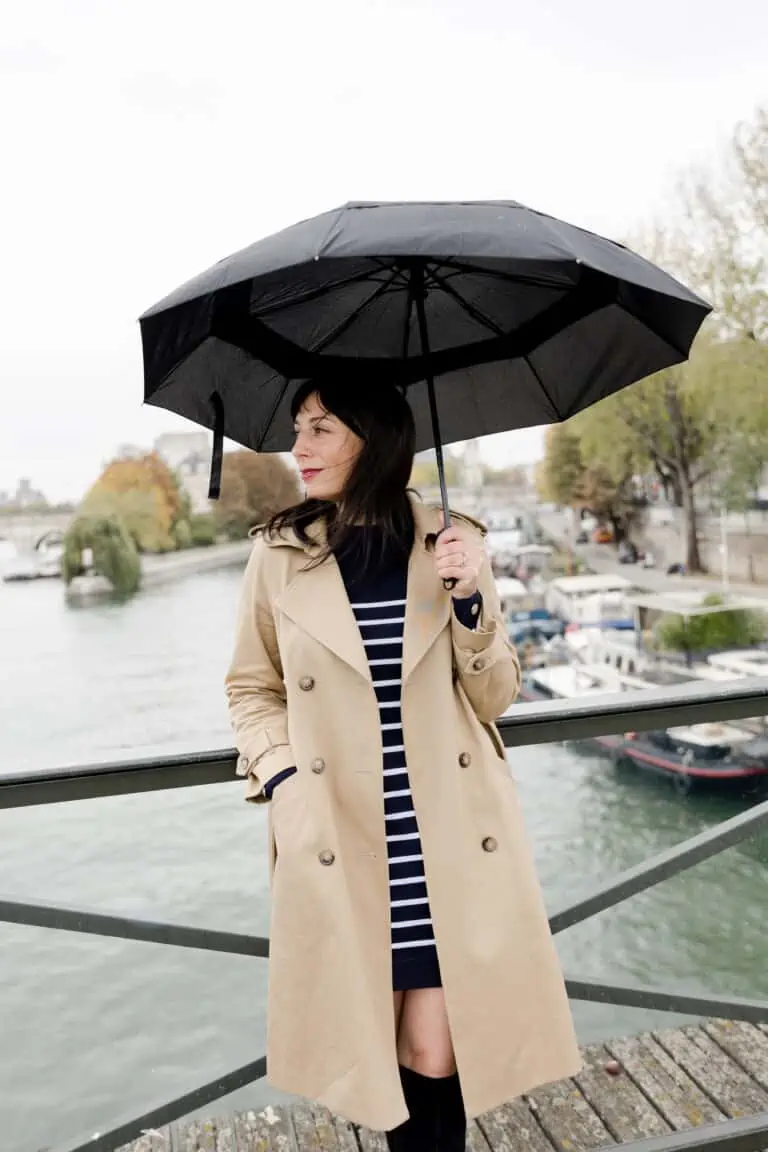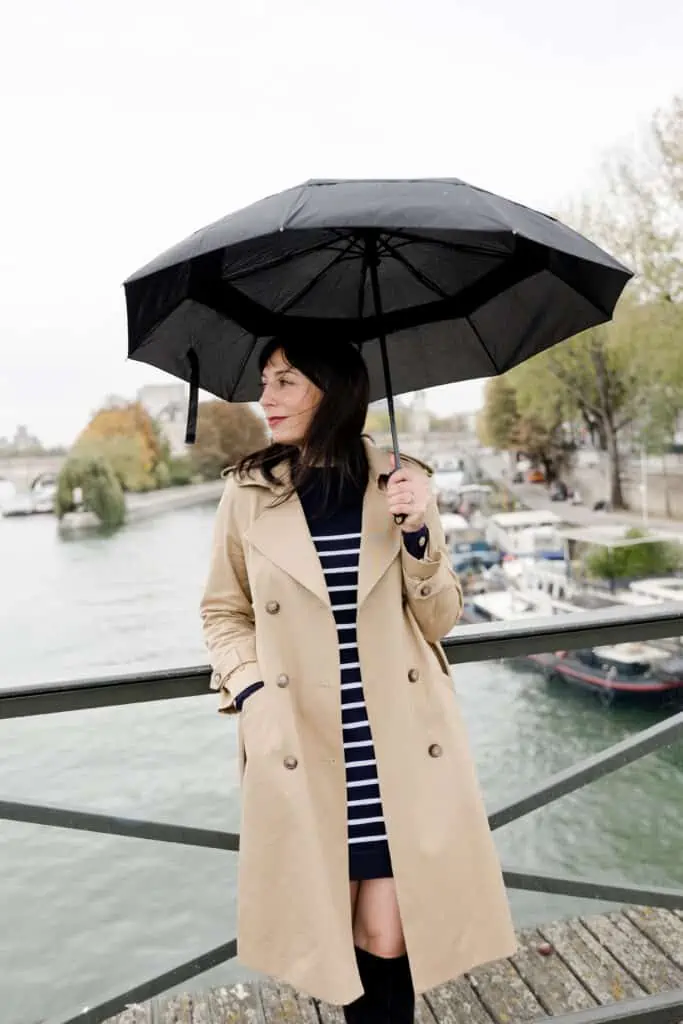 *Here are some ideas for what to do on a rainy day in Paris.
A café is always the perfect place to warm up in the colder months if you are out and about in Paris. Grab a hot chocolate or glass of wine and duck into a café. Les Editeurs on the Left Bank of Paris by Odeon is a favorite of mine and is close to Luxembourg Gardens.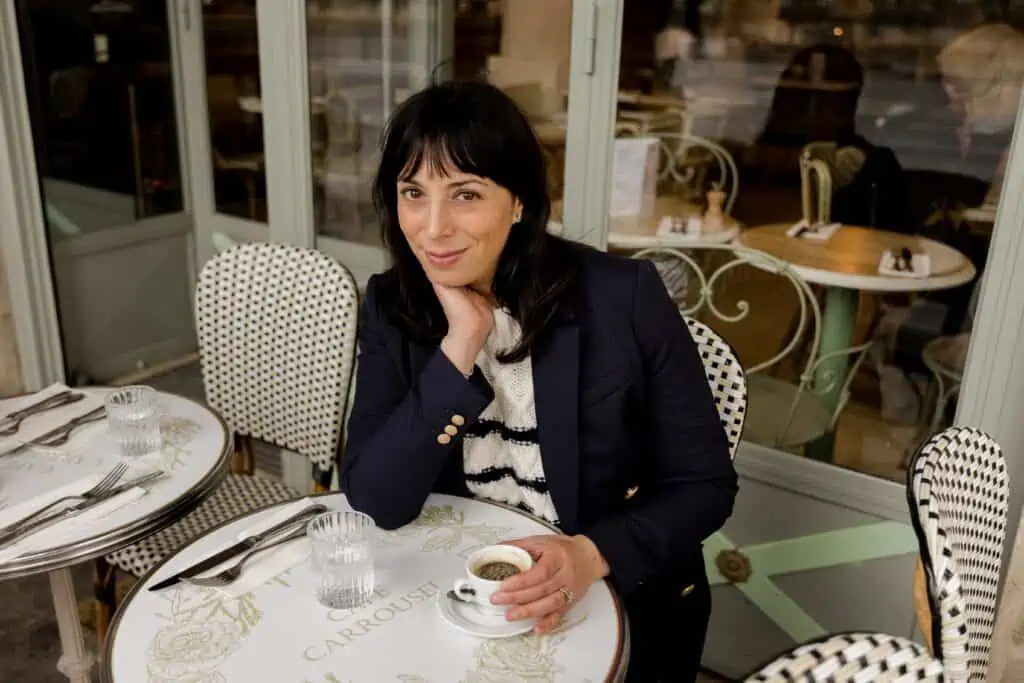 What to Wear in Paris in December
Cold weather should be expected. Bundle up with a wool coat (suggestions are in this post), gloves, a scarf, and a hat. The Parisians love their scarves. This is also a great excuse to pick one up at a local French shop or department store as a souvenir.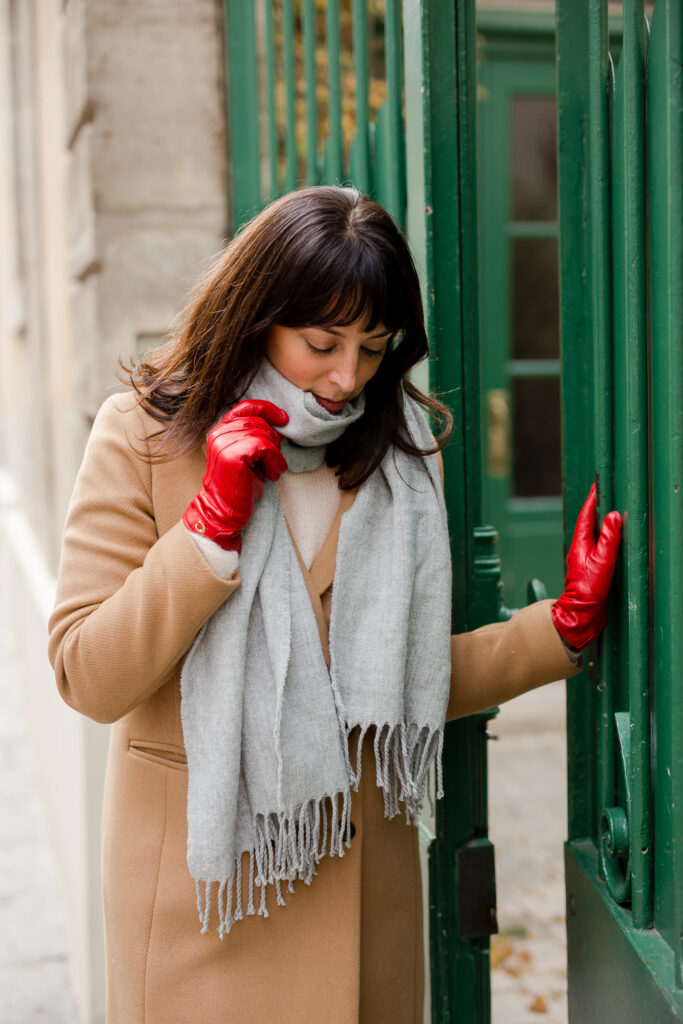 Boots, loafers, or sneakers are acceptable for shoes. Sweaters are essential for keeping warm. You can always pop by Sézane to grab a sweater or additional coat to keep warm. If you purchase anything over $100 make sure to ask for the VAT tax form (you will need your passport) to get a refund at the airport. It takes a little extra time but is worth it for the 12% discount.
Where to See the Christmas Decorations in Paris
Paris dresses up for the festive season which starts at the end of November and for the entire month of December. You will see decorations and holiday lights on the exterior of buildings all over the city, including cafés and storefronts. It is a great time to visit for a long weekend or change things up with your regular holiday routine and book a trip to Paris.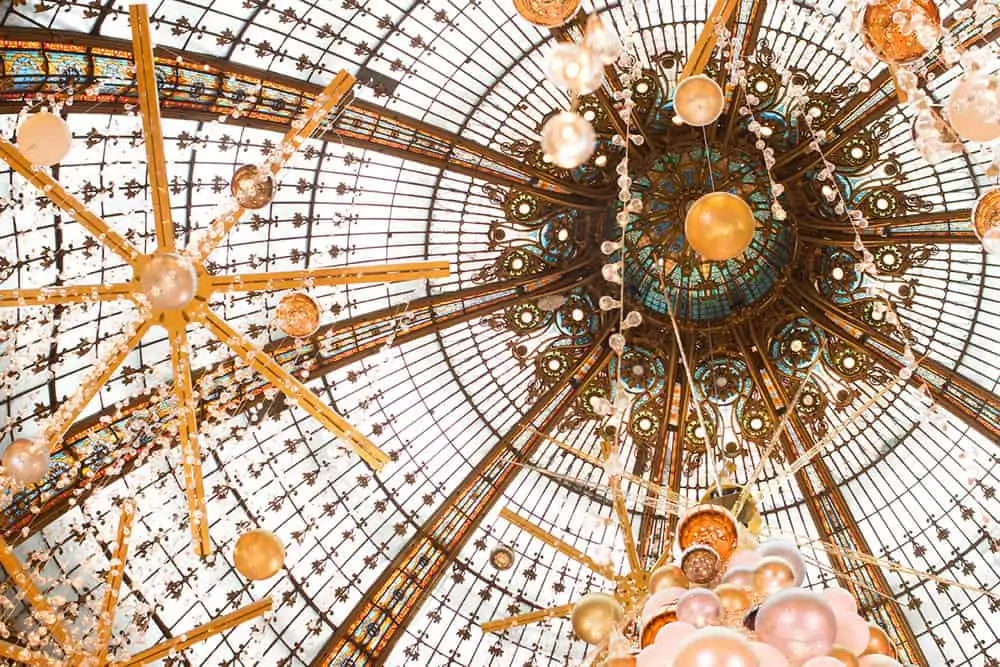 Galeries Lafayette has one of the best Christmas displays in my opinion for department stores. If you haven't been inside, you can't miss the glass ceiling. The Christmas tree will be right in the center of the store. Check to see if the panoramic terrace is open on the roof. It is a bit of a maze to get through the store to find the top but it will be worth it with the stunning free views of Paris. It is one of the best places to see the Parisian rooftops and take a photo.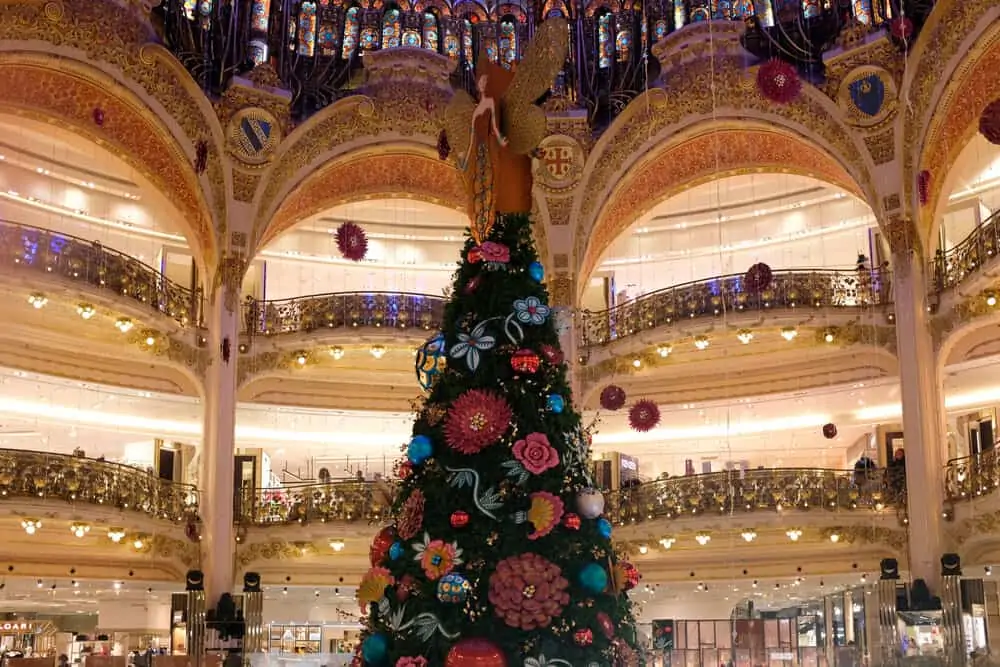 Walk down Rue St Honoré to Place Vendôme by The Ritz. This is one of my favorite places to see Christmas in Paris. The best time to visit is early morning before the crowds arrive. I walked here in the early morning in late November and was thrilled to see the area decorated for Christmas.
Where to See Christmas Decorations in Paris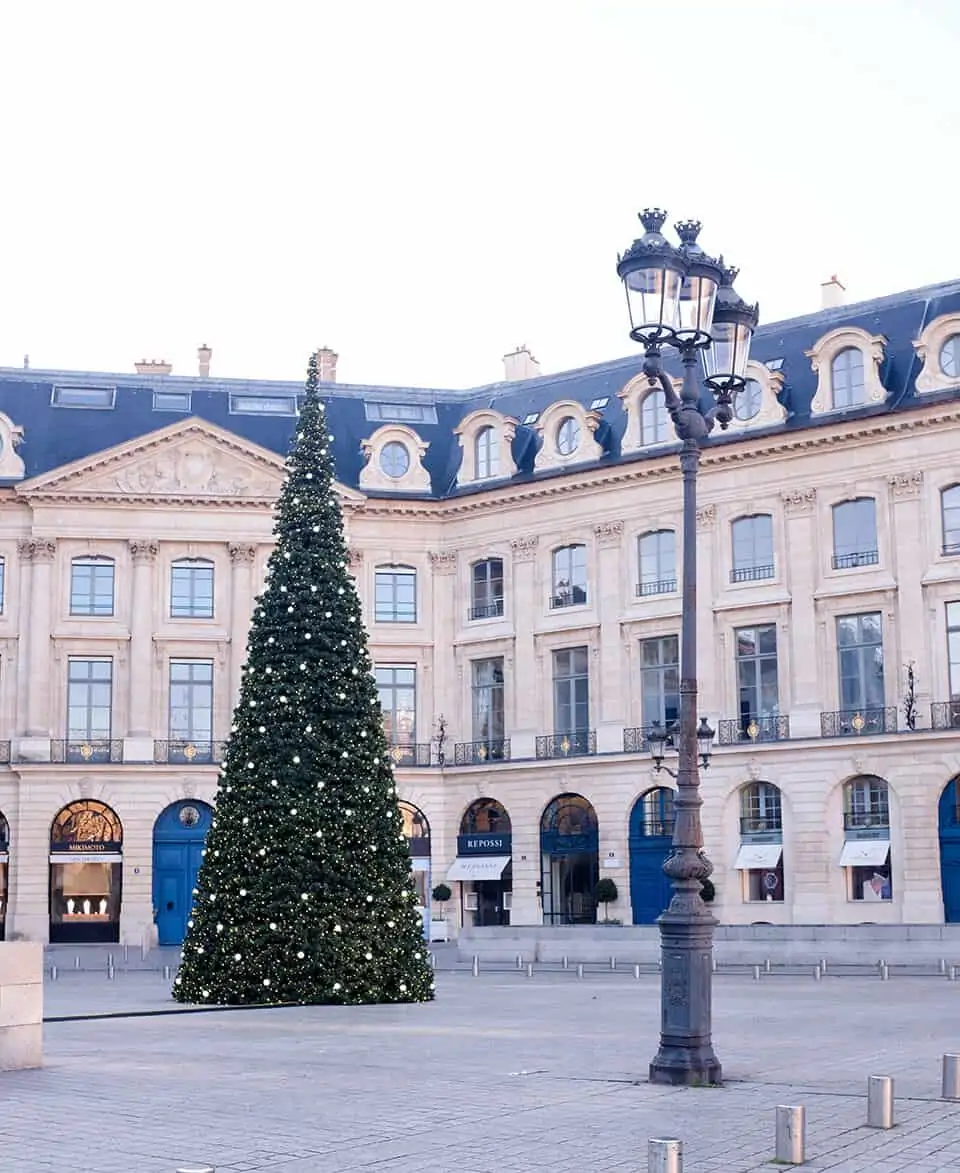 The Champs Elysées is lit up with lights for Christmas and is one of the iconic streets of Paris. Head to the top of the Arc de Triomphe for a city view. You will also find smaller streets covered in hanging lights throughout the city. If you are around the Champs Elysées and looking for a dinner spot, I love the cozy and classic Chez André.
Montmartre puts on a fun display of Christmas lights hanging from the buildings. If you have kids, this is a fun way to keep them busy by watching for decorations and a little scavenger hunt between sightseeing.
The Paris Christmas markets are in different parts of the city and are explained in further detail below. The markets are a must-visit to have the full magical experience of Christmas.
French Winter Food
If you like cheese, this is a great time of the year to try raclette (melted cheese on meats and potatoes), fondue, or aligot which is a very cheesy potato dish. Try aligot as a side to your chicken or beef at a restaurant. It is a stick-to-your-ribs kind of dish but so good with a glass of red wine.
Other foods that are popular around Christmas in Paris are oysters, foie gras, and a bûche de Noël which is a cake in the shape of a yule log. You will be able to find these cakes at most bakeries in Paris.
You will also find chestnuts sold on street corners. The smell of roasted chestnuts is part of Paris to me and can be found throughout the winter months. Chestnut is used in desserts and is called marron glacé you will find this at different pastry shops in Paris such as Angelina (their Mont Blanc is iconic) and ice cream at Berthillon. I find the chestnut flavor to be an acquired one and not my favorite but one to experience at least once, especially at Christmas time in Paris.
Paris Christmas Markets
The city is sprinkled with Christmas markets and depending on where you are in the city, you can visit different ones. I prefer the one right in The Tuileries garden, centrally located in the city center. It is the perfect time for a vin chaud (hot spiced wine), a mulled cider, or a hot chocolate. You will find artisans selling jewelry, Christmas ornaments, and small giftable items to help with your Christmas shopping. There is also a Ferris Wheel in the Jardin des Tuileries to see the city all lit up with Christmas magic.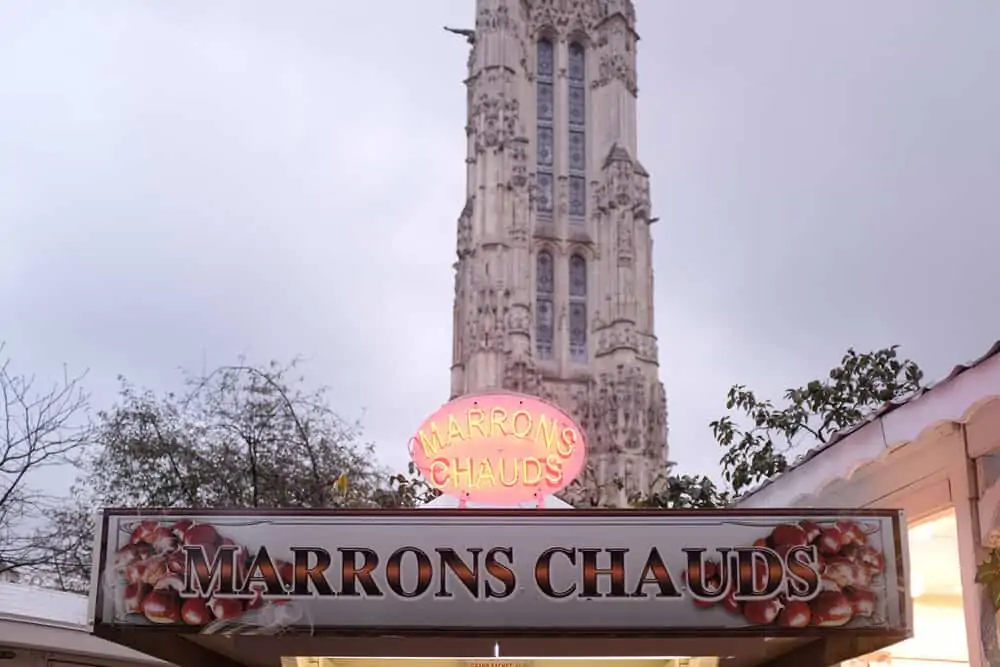 What to do in Paris in December
You will also find an ice skating rink in The Tuileries Christmas market area. Don't forget your gloves which are essential for ice skating in Paris. I had the opportunity to skate outside of Hôtel de Ville a few years ago and it was such an incredible experience. They do make you buy gloves if you don't have them before entering the ice rink. (une paire des gants is the French) More details on the ice skating rink here which runs through January 8th.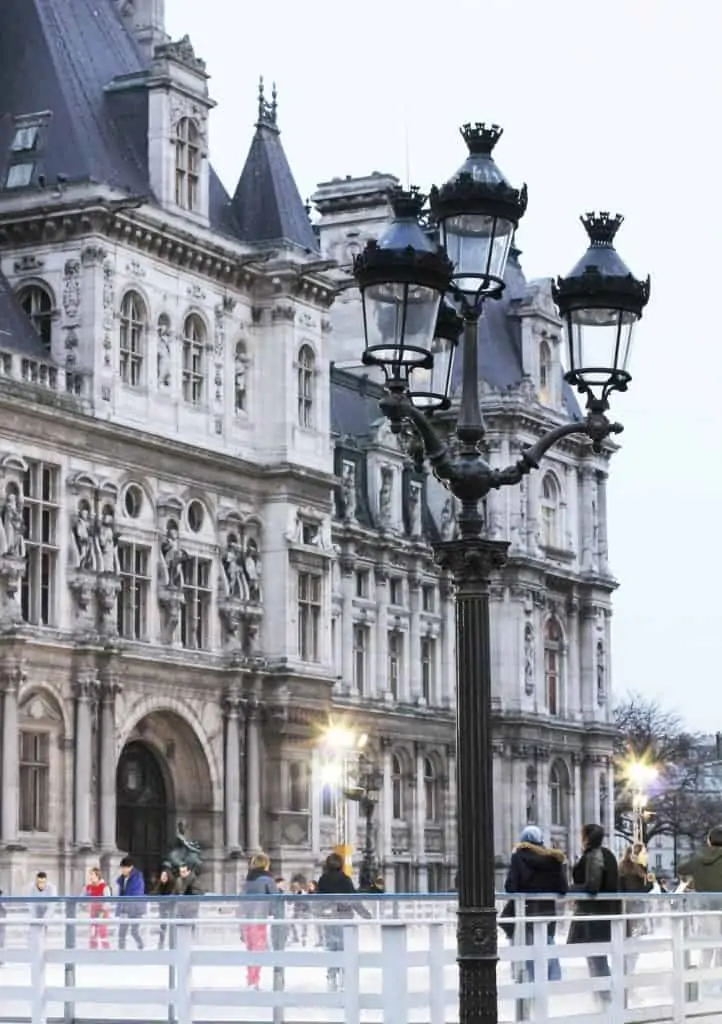 Explore the Christmas Market in Saint Germain des Près if you are on the Left Bank of Paris.
You should visit at least one Parisian Christmas market while you are in Paris in December.
Christmas decorations will be up until early January so if you are headed to Paris towards the end of December or early January you will still see Christmas lights in the city.
Ideas for Christmas Day
Stroll around the city and look at the Christmas windows at the department stores. BHV in the Marais always has a great window display that captures the Christmas spirit. On the Left Bank of Paris, stop by Le Bon Marché they also do a nice display for the holidays. A few years back they had Christmas trees lit up in the interior.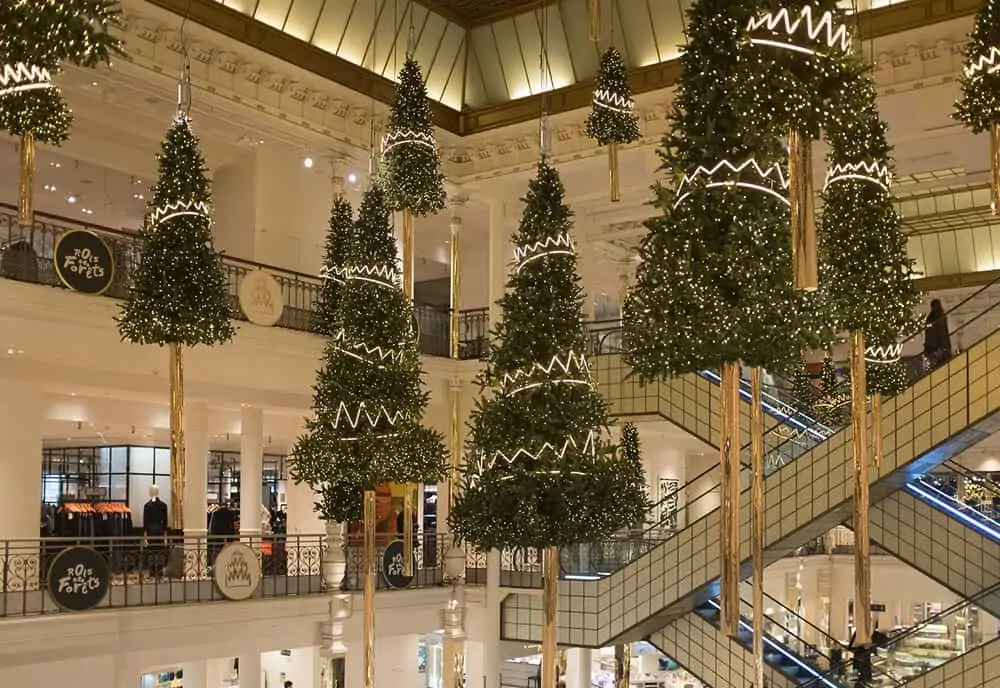 Book a restaurant in advance as you won't be the only one looking for dinner on Christmas or Christmas Eve. Ask your hotel for help or check out this post for ideas. I would reserve it as soon as possible.
Le Train Bleu is offering a Prix Fix dinner menu and although the restaurant has been around for over 100 years it has become more popular thanks to Instagram. If they are fully booked, try to pop in for a coffee or breakfast. The ceiling is a must-see in Paris.
There is a Christmas concert at the Eiffel Tower with champagne for 75 euros. You can get tickets here.
New Year's Eve in Paris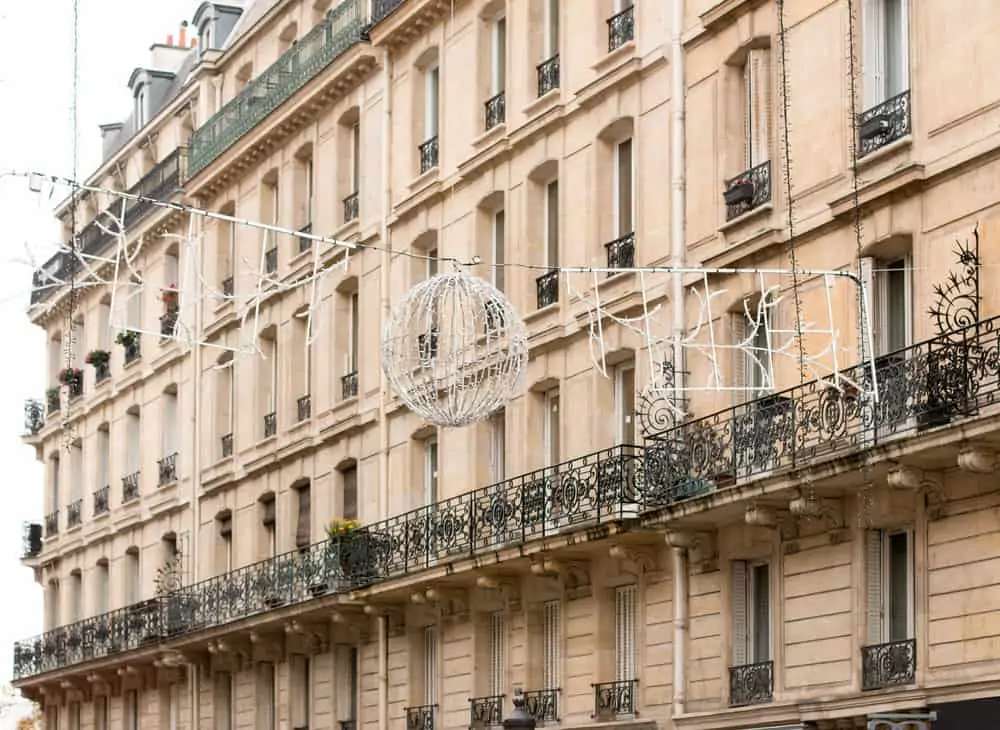 This is always a popular question. You could take a Seine river cruise or visit the Eiffel Tower for some classic Paris activities. If it was up to me, I would cozy up at a hotel bar and people-watch on New Year's Eve. The holiday isn't my favorite and I am a low-key girl. I have been suggesting to readers that they book a classic French bistro for the evening. I can't think of a better way to spend the end of the year in Paris than enjoying a great meal. You can check out this blog post for a list of restaurant suggestions open on New Year's Eve. One reader took my suggestion of Chez Ferdinand on Rue Christine and booked a table so I know they are also open.
If you have a Parisian balcony in your hotel or apartment, I would put some champagne on ice and pick up some cheeses and a baguette, and watch the city from the comfort of my pajamas or robe. This would be my ideal way to ring in the new year in Paris.
*This post includes affiliate links that help contribute to my coffee and croissant research fund. Merci!