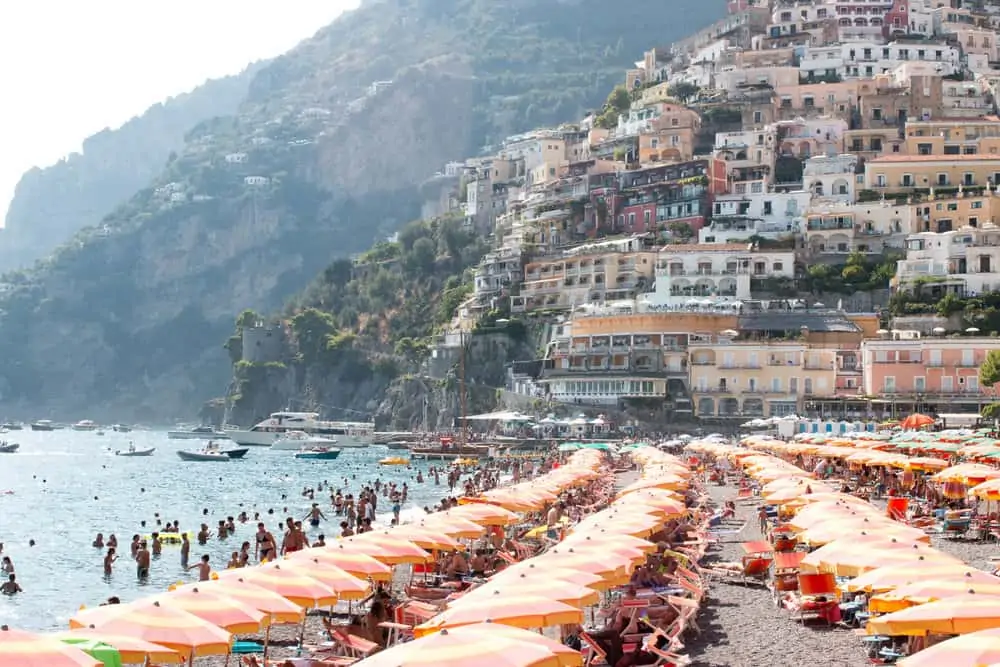 I have officially arrived in Italy with my carry-on suitcase. I ended up leaving for the airport in a hurry and packed so quickly. Henri was watching me and I got the biggest guilt trip! I used these packing cubes and made it out the door just in time. I will share more about the requirements to travel to Italy in a different post. Also, I almost forgot my Birkenstocks but ended up grabbing them on the way out and luckily, I had room for them in my suitcase.
What I am Packing for Italy
I bought these jean shorts from Madewell. These will be perfect for t-shirts, linen shirts, or fun tops. I will pair these with espadrilles or sandals.
Square Puff Short Sleeved Top. I got this in small in both cream and red.
I bought this linen shirt in white and then went back for French blue. It has the ability to tie or just be a light cover-up.
Denim Jacket for over dresses to keep warm at night. Since I pack in a carry-on, I try to wear the heaviest pieces on the plane including this jacket because it takes up a lot of space.
Dresses
I bought two picnic dresses from Everlane. They have this still in stock but very limited sizes
Polka dot green wrap dress is from & Other Stories. It is last year and sold out. This is similar. If you are new to this brand, I highly recommend sizing up at least one. It runs small.
The Blue and White dress is from J.Crew. It was on major sale and I posted about it multiple times. It is now sold out.
I bought this Sézane dress on sale from the archives. I know it belongs in Positano and I can't wait to take it there.
This Nordstrom Black dress sold out fast. I grabbed it while I could. It looks like they restocked. It was under $100 and looks so put together and very comfortable.
The Nap Dress in white. I got it in an XS. I have already worn it 3x and love it.
Swim
I want to pack at least one one-piece suit. I have this one from Summersalt I ordered right before 2020 and haven't worn it much. Also, I grabbed this one from J.Crew on Sale.
I have a few bikinis to pack. So, I am waiting on the order to arrive but I think I am going army green and a red classic suit.
Shoes
Madewell Sneakers. These are so comfortable. I rave about them because they are so great for walking. Also, I don't plan on doing a ton of walking these are mostly for the airplane and getting around. I will most likely change into sandals when I get to Positano.
Sandals. I will bring the original pair I bought in Capri 5 years ago. I will plan to bring a pair of Havianas for the beach. These can easily get wet and are very lightweight for transport
Birkenstocks. I live in them and can't really imagine not bringing them.
Espadrilles These are perfect for dinner out. The low ones just make more sense. I do love the heels but these are easier to walk in and after not being in heels for 2 years, my feet are not used to it.
Accessories
Straw Hat. This one is not foldable so I may be wearing it on the plane if not buying one that is similar. The weather is expected to be 80 and sunny but I need to protect my face.
Sunscreen. I have SuperGoop Sunscreen and this Avene mineral sunscreen. Since I am packing in a carry-on, I will have to buy more sunscreen once I arrive. The face sunscreen is what I am most concerned with so those will come with me.
Airpods for listening to music or podcasts on the plane.
Sunglasses. I scored these Ray-bans on sale. I am happy to have a new pair and to protect my eyes.
Camera. I just got this new Fuji camera I am looking forward to using on the trip.
*This post includes affiliate links. I make a small commission off of items purchased through my links. Merci!