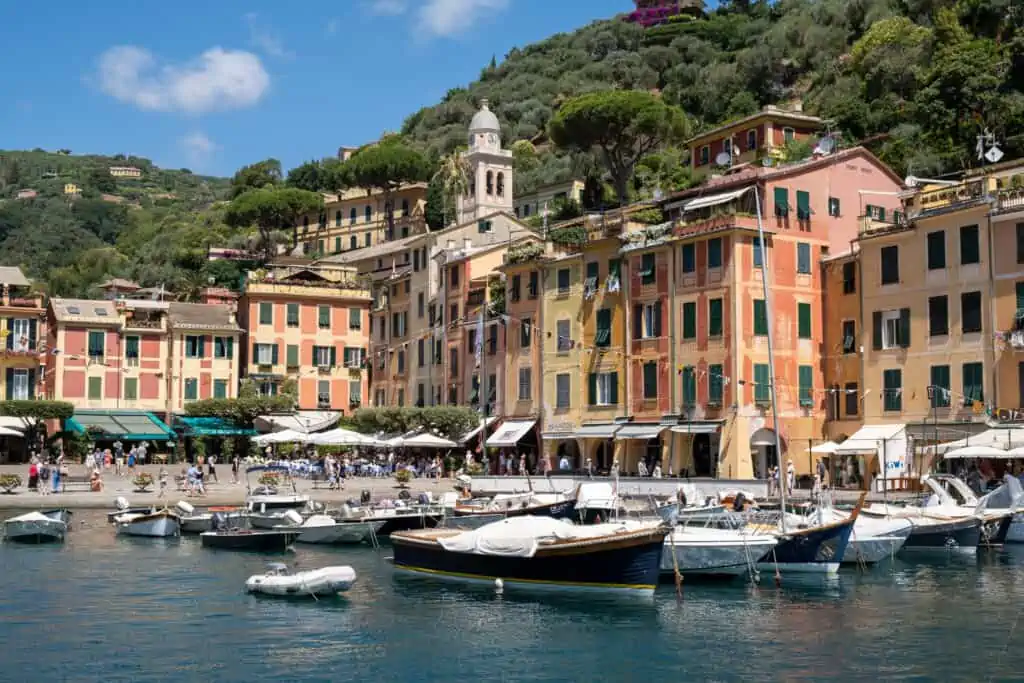 Travel Guide to Portofino
Portofino Italy had been on my bucket list for years. I had passed through it on the train to and from Cinque Terre. My face was always pressed against the glass for a quick glimpse of the colored houses and water many people have talked about over the years. My family booked a week in Lake Como earlier this summer and my fiancé and I decided to stay a few extra days to explore on our own. Since we flew in and out of Milan, I wanted something close by since we didn't have much time to travel.
Portofino is a little town on the Ligurian coast and is known as the crown jewel of the Italian Riveria. It is a popular destination for its beautiful views, harbor, and old-world charm.
How to Get to Portofino
We took a train from our house in Como to the central train station in Milan. From Milan, we took a train to Santa Margherita Ligure which was about 2.5 hours. There is a direct or inner city train, we bought our tickets a few days before so there were fewer options. The first class car is nicer and just a little more money. We opted to pay for the first class car. Round trip tickets for 2 people were about $120.
The train station had snacks and coffee to purchase before boarding the train. There was a heat wave happening in Milan at the time and it wasn't fun standing in the heat waiting for the train. Masks were not required inside the train station but you had to wear one while riding the train. There were announcements that you be removed from the train if you did not have a proper mask. We had e-tickets for our journey so we didn't need to worry about validating our tickets. If you have paper tickets, ask someone to make sure you have validated your ticket properly so you do not get fined.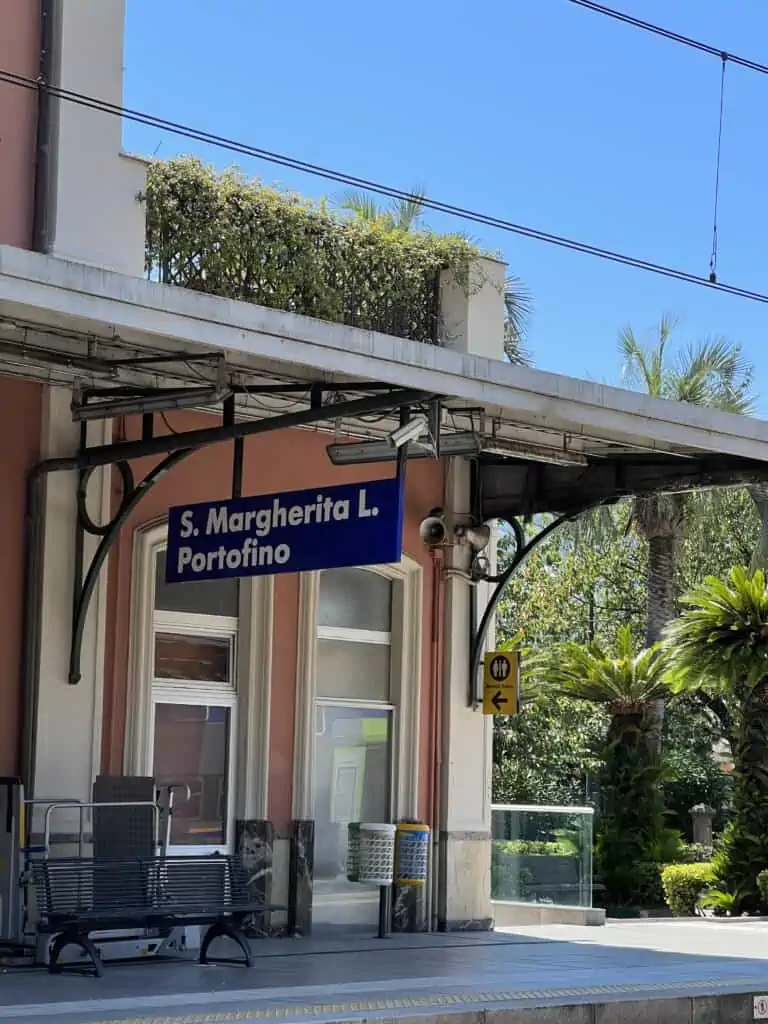 Our hotel told us that it would only be a quick ride from the train station to the hotel via Taxi. There were no taxis available and it was hot when we arrived in Santa Margherita. We were able to have help from a private driver who called a taxi for us. A quick ride in under 10 minutes cost almost 40 euros to the hotel. Make sure you have cash. I don't think I have taken a more expensive taxi ride. The view from the train station was filled with palm trees and the beautiful harbor.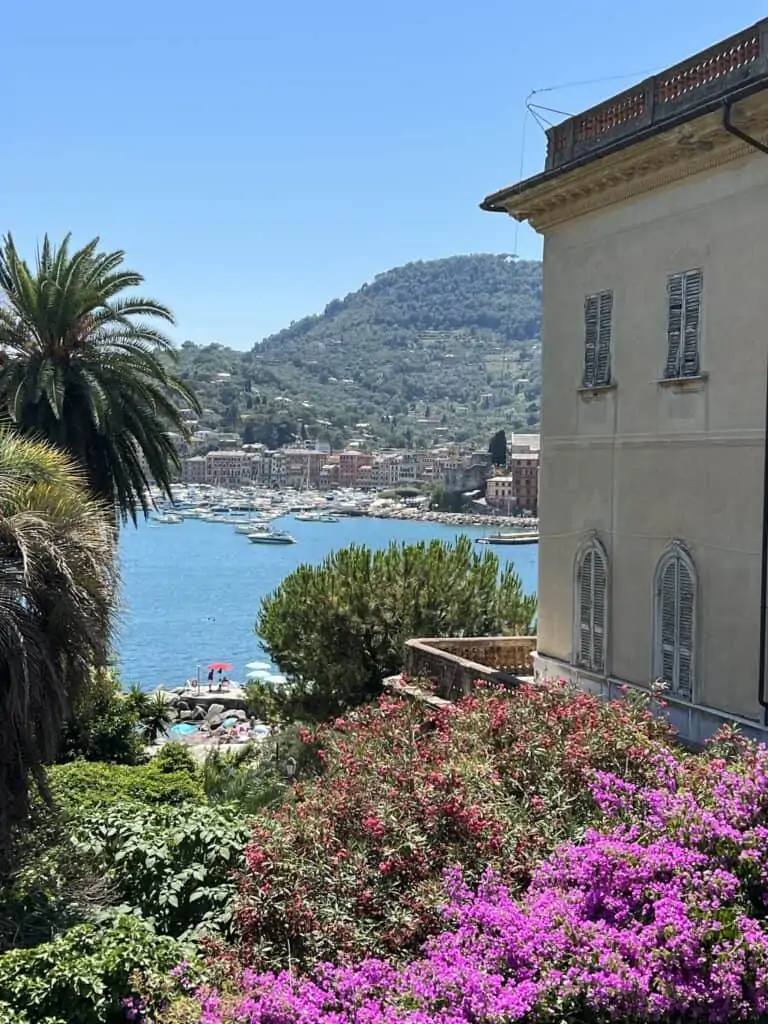 When I booked the hotel, I didn't realize the layout of the towns.
I booked a hotel in Rapallo which I thought was closer to the village of Portofino. If I had my choice, I would stay in Santa Margherita next time. I will share more about the hotel options below.
Our hotel had fantastic reviews which is why I booked it and I was looking forward to our stay. Unfortunately, there were a lot of reasons why I wouldn't recommend it to blog readers and I will keep the name of the hotel private. The beach club/restaurant was the best part which we really enjoyed.
Where to Eat in Portofino/Rapallo/Santa Margherita
This was a recommendation from our hotel. There was a big celebration in town and we arrived on a Sunday. There was a good chance we would have trouble finding a table. They seated us outside and the service was fast. Fireworks started during our meal and lasted for hours afterward. We stopped for gelato on the way back.
We stopped by a wine bar in Rapallo for a glass of wine before dinner. I don't remember the name and I paid cash so I have no record of it. There are a few spots around Rapallo for the wine you can do a quick google search and find one close by to where you are. The bar served us house wine and small bites (Cicchetti) which helped us curb our hunger while we waited for our reservation. The town of Rapallo was very lively for the festival that evening. We had a lot of fun people-watching at an outdoor table.
A tiny place serving gelato is located in Santa Margherita. We ate here twice. Apparently, they are famous for their gelato-dipped cone. My fiancé got banana gelato with chocolate dipped and it was way better than I expected. I opted for mint chocolate chip and dark chocolate which did not disappoint.
I highly recommend ordering the house wine if you are out to dinner. We really enjoyed some great wines from the region of Santa Margherita and Cinque Terre.
La Cambusa in Santa Margherita This was a recommendation from our concierge at the hotel. We probably wouldn't have picked it ourselves but it had a great view of the water and it was a good meal on a cute outdoor terrace.
Reve Cafe in Santa Margherita We didn't eat here and I wish we did. It had an adorable courtyard and we passed by it on our way to another dinner. The next night they were closed and the night after, they had a private party. Please go, try it, and report back!
Di Giorgio
This little café overlooks San Frutusso. We had a coffee and stopped for the view. I can't say anything about the food. It does look like La Cantina would be a better option if you had a choice. Tables are placed on the beach for a seaside lunch. This is probably more expensive than Di Giorgio by the looks of it.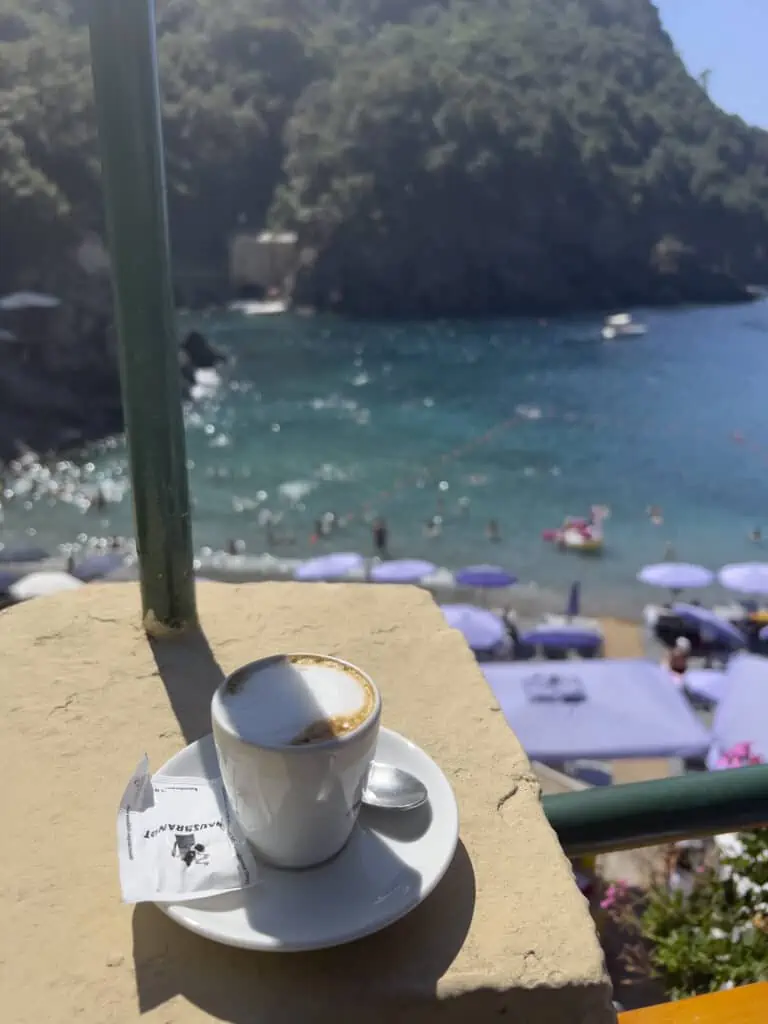 There are tons of options for food and drink when you first enter the port of Portofino. We are so happy we strolled a bit looking for our lunch destination and we stumbled upon this female-owned wine bar. She spoke English and was so kind to help us find our way to lunch. We got a glass of wine and small bites for 15 euros per person. The wine was the house's special local wine. The wine shop sold a variety of wines and alcohol options. We ended up buying a handmade cheeseboard from her and truffle salt to bring home. I think these were the only souvenirs of the whole trip.
La Terrazza is located at the Belmond Hotel Splendido. We splurged here for a lunch and were so happy we did. It was one of the best meals of the trip. Their reservations fill up quickly so make sure to reserve ahead with plenty of time. We had a table overlooking the water. with breathtaking views of Portofino. The service was outstanding and the food will be something we talk about for years to come. I had the most amazing Caprese salad with local olive oil and pasta. We ordered coffee which came with a few sweets to end the meal.
Where to Stay in Portofino
I mentioned earlier in the post, we would definitely come back to the area and stay in Santa Margherita instead of Rapallo. Rapallo was a five-minute walk from our hotel to the main square which was lovely but we never had a strong connection to Rapallo. If I stayed in Portofino I would want to be at Belmond Splendido Mare. It's a splurge but looks completely worth it if you have the budget. It would make a perfect place as a honeymoon hotel or anniversary stay. I did see multiple kids at different tables while dining at lunch and the staff was very kid friendly.
Note, that there are two Splendido hotels in Portofino. One is in the hills up above and one is closer to the port. To get to the one in the hills, you can get a taxi from the Pharmacie at the center of town. A car will pick you up which is much easier than walking up the hill in the heat.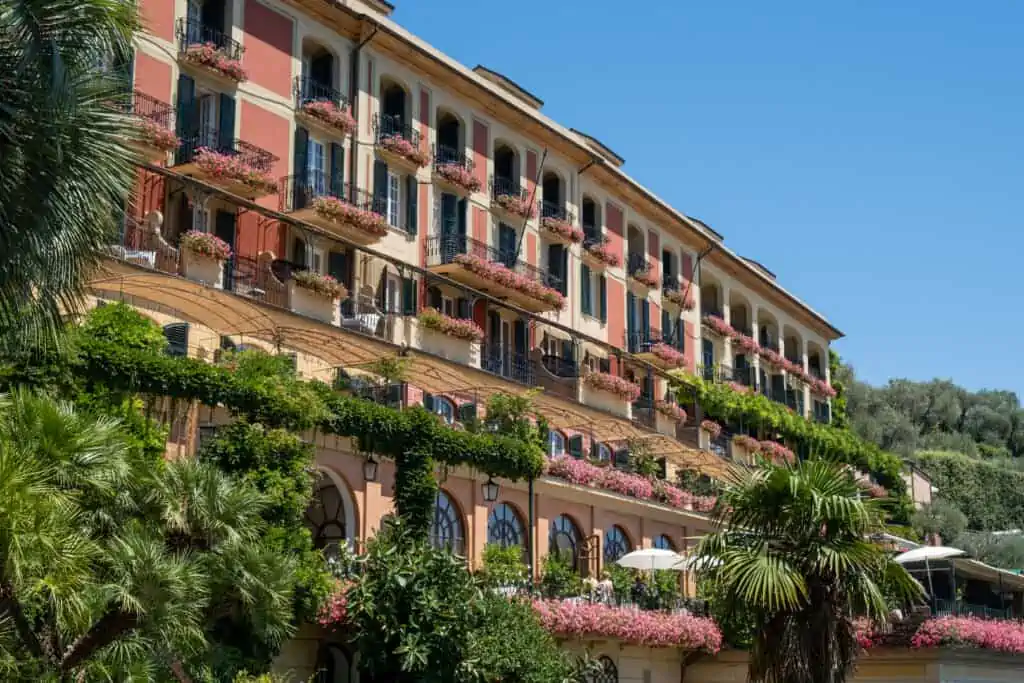 This was just below Splendido so you will have the same fantastic views at a much better price point. You won't have the same amenities but most of the time is spent outside of the room on a beach vacation.
This is where I wish we stayed. The prices jumped dramatically once the world opened up to travel and I missed out on a great rate at this hotel. Summertime is high season but if you can go in the shoulder season, it would be a less expensive luxury getaway. I hope we can stay here in the future. We did stop here for a drink before dinner and it confirmed my thoughts on the hotel. The service, grounds, pool, and interior were all lovely. This hotel is full of old-world charm with a small bar and terrace overlooking the beach. It is a short walk from the center of town and just off the main road.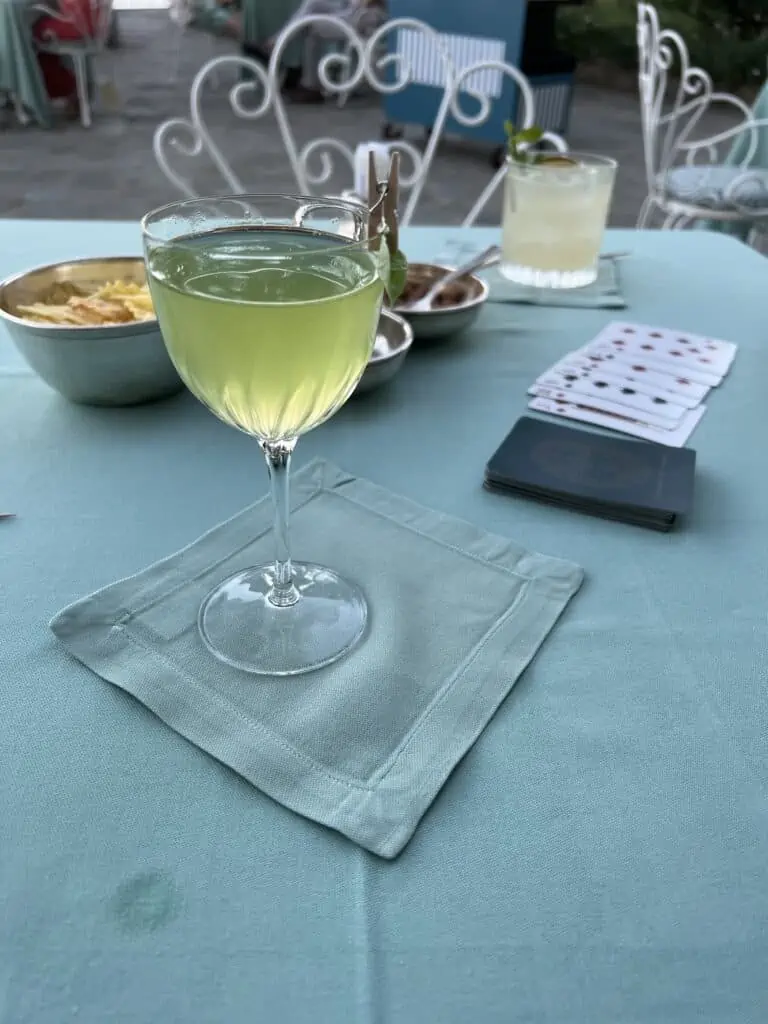 Getting Around Portofino
The best option is by foot or by boat. We walked from Rapallo to Santa Margherita a few times which was a hilly 30-minute walk with a winding road connecting the two towns. There are beaches along the walk with a small harbor where locals enjoy the crystal clear water without as many tourists. We enjoyed the beautiful walk in the morning down the main street with cafés and an outdoor market in the center with fruits and vegetables. You can take a taxi but it is expensive. Santa Margherita and Rapallo each have their own train station to get in and out of town. Our hotel was between the two stations.
We took a ferry from Rapallo to Portofino. The boat stopped in Santa Margherita and continued on to San Frutusso which is a tiny town. You can buy a single ticket or a daily pass. The boats run frequently about every hour just keep an eye on the timing for the last boats of the day. We purchased our tickets at the port in Rapallo. The line was extremely long before the first boat at 10 am. I would arrive early grab your tickets and get a coffee while you wait. The rush wasn't worth it. The times vary on the weekends.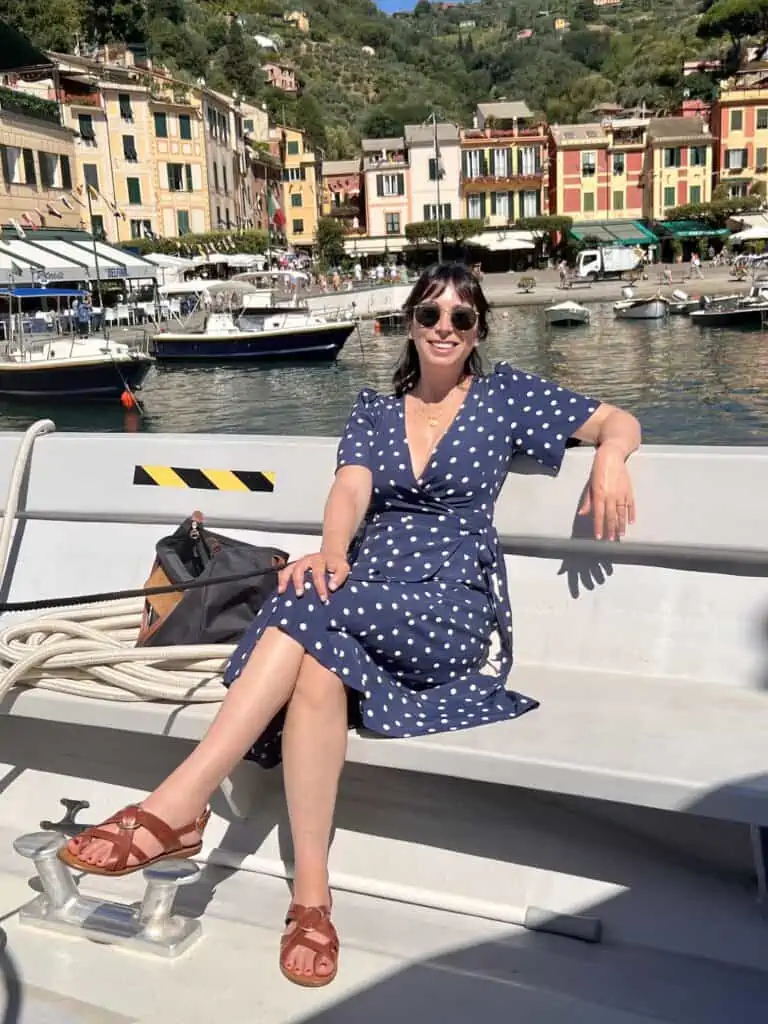 Santa Margherita, Rapallo, and Portofino are all small towns on the coast of Italy.
It is worth a visit and not a bad journey from Milan by train. You can also visit Cinque Terre which is close by. There are boats taking you to Cinque Terre at the same boat dock as Rapallo. That is definitely worth a visit. I have been twice and we just didn't have it in our schedule to go. Cinque Terre is a combination of 5 towns which you can hike from town to town with spectacular views.
For the best view of Portofino, make the hike to the top of Castello Brown. We didn't have the opportunity to make it up there. It was extremely hot and we used our extra time to go to San Fruttuoso instead. You will have amazing views of Portofino and the best place for a photo opportunity.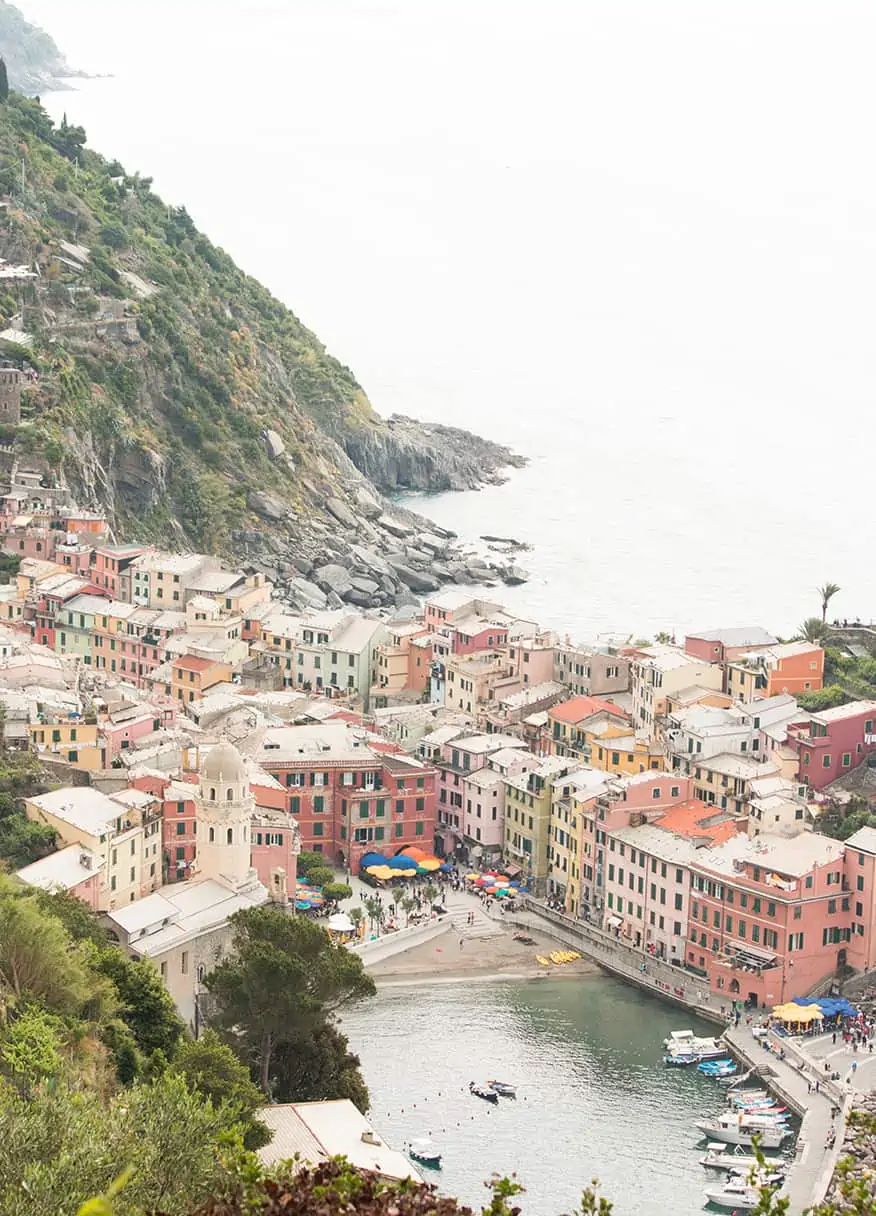 SAN FRUTTUOSO
You can get to the Abbey of San Fruttuoso by boat or a two-hour hike. Considering the heat, I would advise on the boat instead. I really wanted to see the area and it was a quick stop from Portofino. We didn't have our bathing suits and were not prepared for a swim so we ended up doing a quick turnaround after a coffee and a view from the top. It was totally worth visiting to see the clear green waters even if we didn't go in for a dip.
The boat was docked there just enough time to grab it to return to Portofino without waiting long. You can grab a snack at Di Giorgio at the top overlooking the beach and escape the heat with a little shade. This was one large beach with purple umbrellas. If you continued to walk all the way around, it looked like there was a private beach with yellow umbrellas.
The sun was bright and the water had a magical sparkle. The whole scene looked straight out of a movie. There were tons of kids and families so if you are looking for more of a relaxed atmosphere, I would try the private beach club or stick to your hotel pool.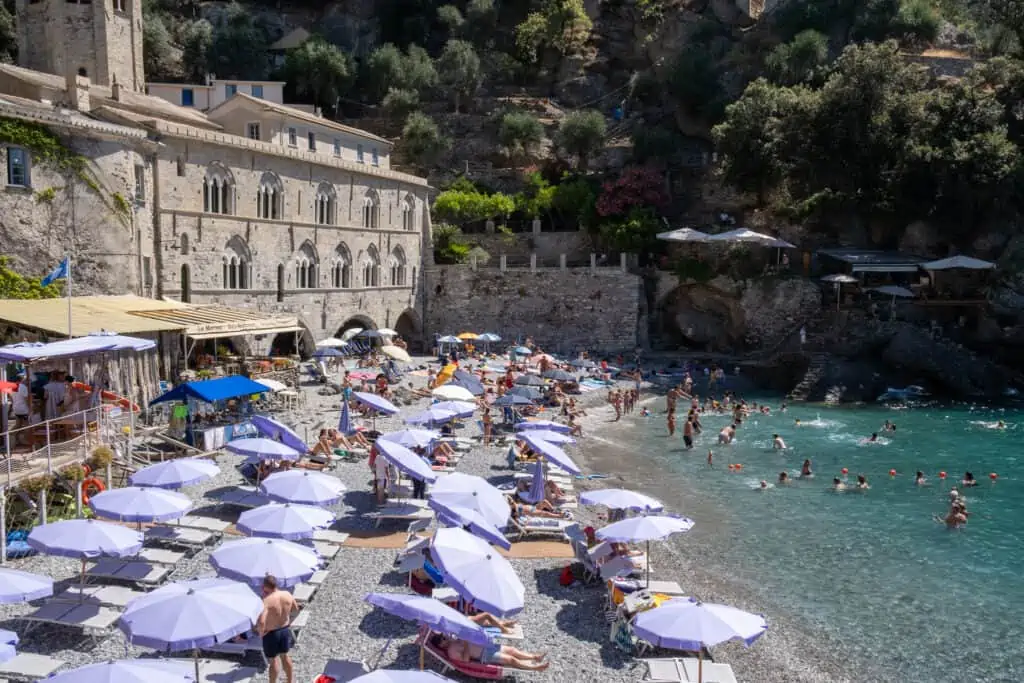 Overall we had loved our time in Portofino and Santa Margherita. We already know we want to come back again and visit. I would love to use Santa Margherita as a base and explore the town more. We would also love to get to Cinque Terre. We spoke about visiting with our families next summer but would consider renting a house closer to the center of the town of Santa Margherita for less walking and hills than we experienced in Tremezzo.
If you are considering taking children, it would be a great option. You will probably want to opt for a car or take the ferry to get from town to town if you have a stroller or small kids the hills were a bit steep from Rapallo to Santa Margherita. The restaurants were kid friendly and the beaches and pools are a great way to beat the heat and keep the kids entertained.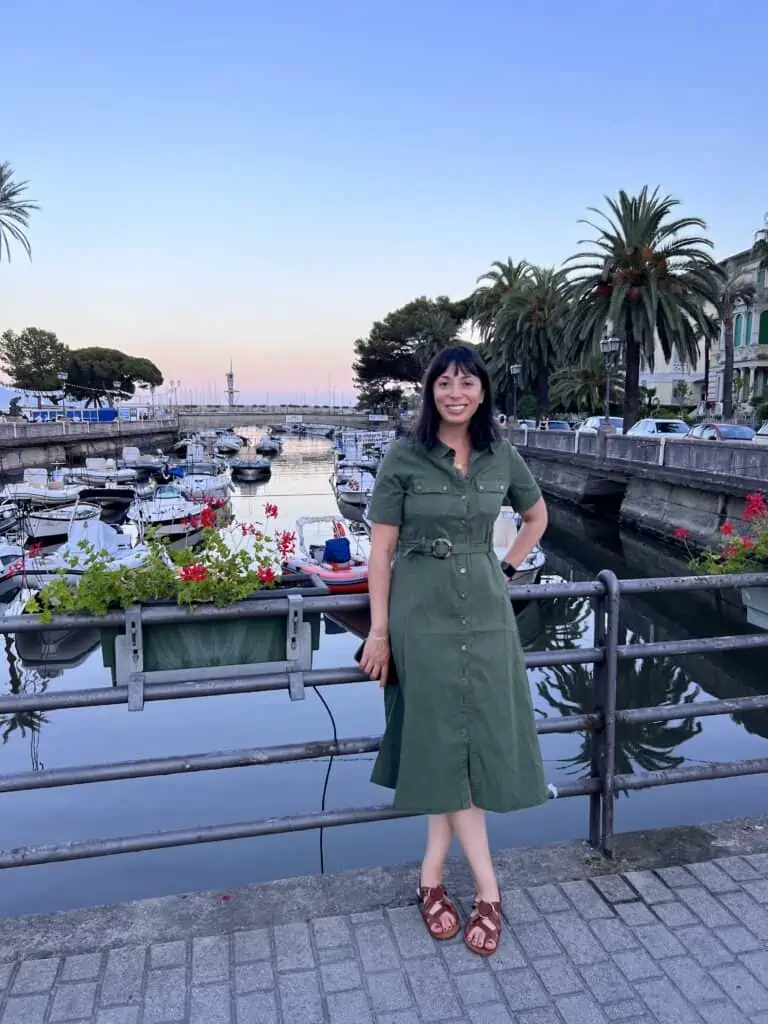 Have you been to this part of Italy? I would love to know your thoughts and if you have recommendations for readers or for me for the next trip.
P.S. For ideas on what to pack for Italy in the summer, you can check out this post!