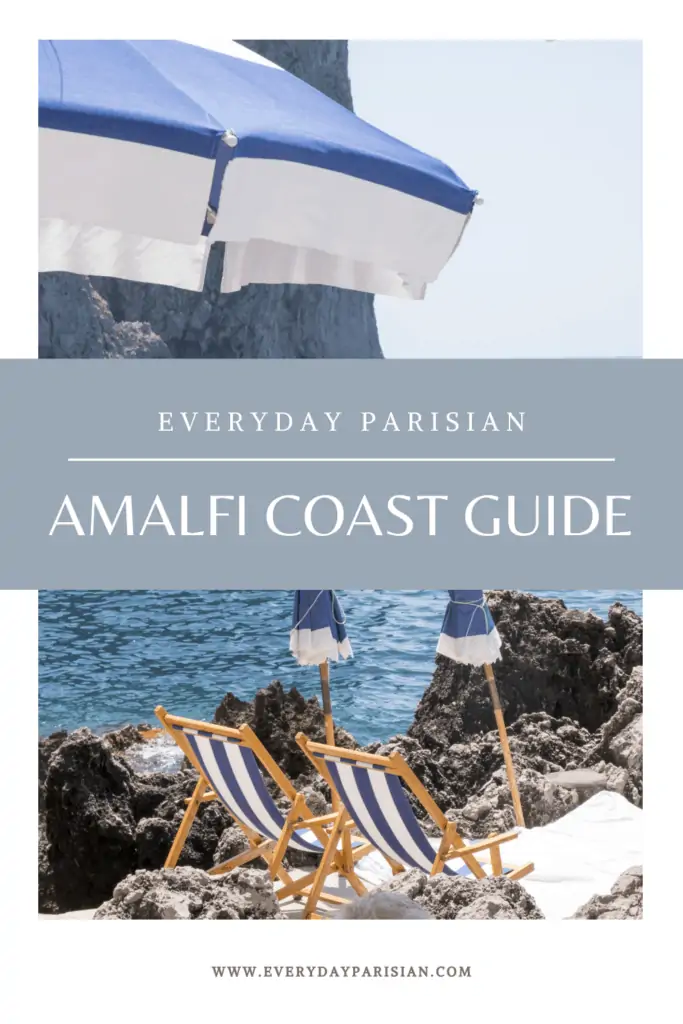 If you are headed to Italy, don't miss this PDF packing guide to get you prepped and ready for your adventure.
Amalfi Coast Guide
I have been to the Amalfi coast several times over the last couple of years. The Amalfi Coast is made up of a few smaller towns and islands including Positano and Capri. I visited Sorrento when I was younger and used that as a home base when exploring but I prefer just visiting Positano and Capri much better. The Amalfi Coast guide is to help plan your upcoming trip with my favorite places I have enjoyed over the years.
I have been to Positano single and now with my fiancé and they were both wonderful trips. There are some family-friendly activities including beaches which you will find below but I think it is more of a honeymoon or anniversary destination from experience. I have also been with my dad who struggled with the hills and walking. It is something to consider if you have mobility issues.
How to get to the Amalfi Coast
To get to the Amalfi coast, I booked a ticket from Chicago to Naples. I didn't have a direct flight and had a transfer. It all depends on your city. I think the best way to the Amalfi Coast is to fly into Naples. You can also fly to Rome, you can take the train to Naples.
To get to Amalfi from Naples you can take a ferry from the port or you can take a car. I hired a car from my hotel. I emailed the front desk at Hotel Poseidon and they were able to do the booking directly for me. When I arrived in Naples, I didn't check my bags and it was easy to get off the flight and outside into the sunshine.
Due to Covid, it was the first time I had fresh air after a long day of flying with a mask. The driver was holding a sign with my name on it and was able to take the bags and lead me to the car. There was a little outdoor bar and I quickly grabbed an iced coffee before heading to the car. There is nothing like Italian coffee.
Amalfi Coast Guide
I don't have the name of the driver to Positano but you can look for resources and reviews online. The price was around $150. This is a site I found from a quick google search, I have not used them so make sure to do your research fully before booking.
The driver stopped at different places around the way. I was able to take some photos and get some fresh air as I wore my mask in the car. He was very engaging and happy to have visitors in Italy. Tourism has been down and the Italians overall were very welcoming.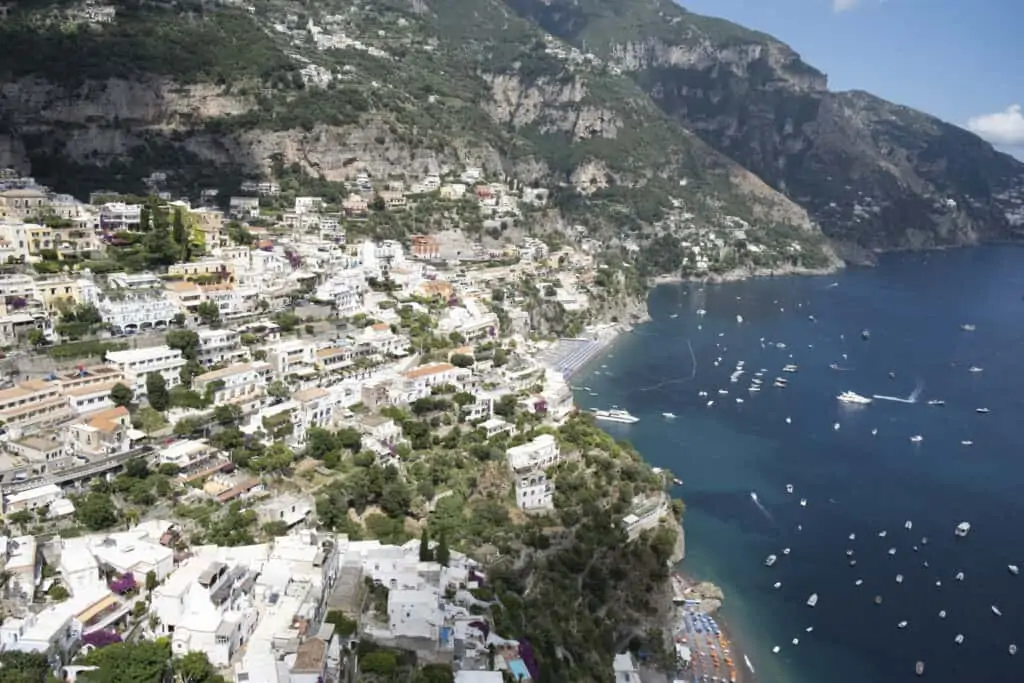 I had passed by this hotel on my walk back in 2016 and loved the exterior of the hotel and the location. Also, I wanted to look into staying here on a future trip. When it came down to booking a hotel I was overwhelmed and didn't know what to choose. After looking at the rooms and prices online, it was an easy choice. I love that the hotel is family run and you can see it in the love that they give to each guest.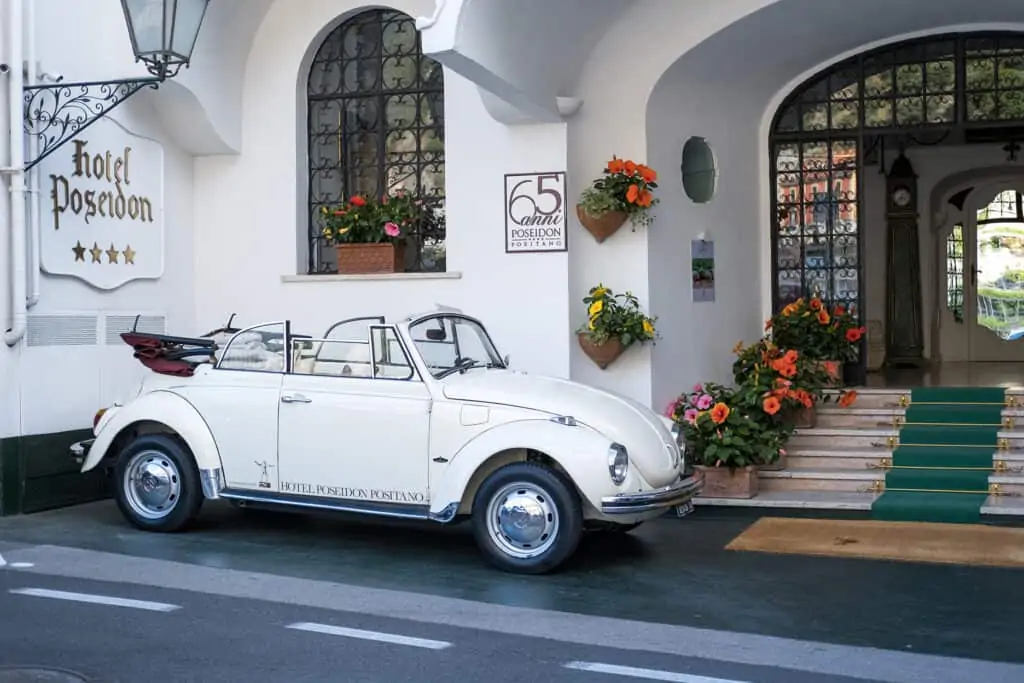 I booked the funny room which all the staff laughed at when you told them your room number was 45. "Oh, the funny room" they would say. The room was small, and there were three stairs leading out to a HUGE terrace with an amazing view of Positano. The terrace was bigger than my last apartment and had tons of space. You could easily have breakfast here with this view and watch the sunset over cocktails. There was a refrigerator in the room to hold cheeses and wine.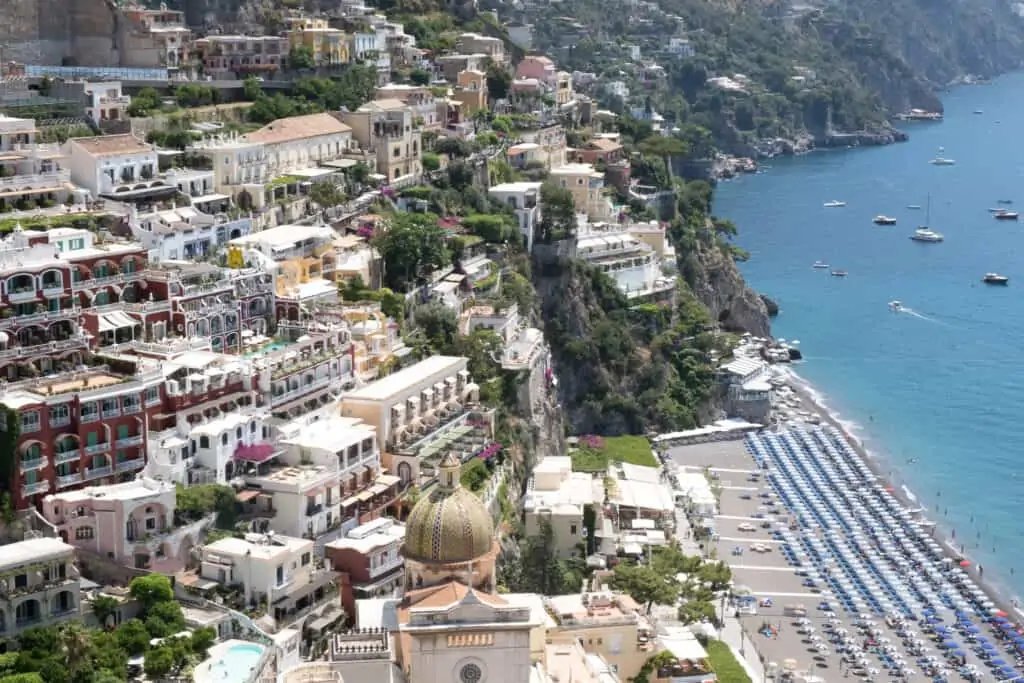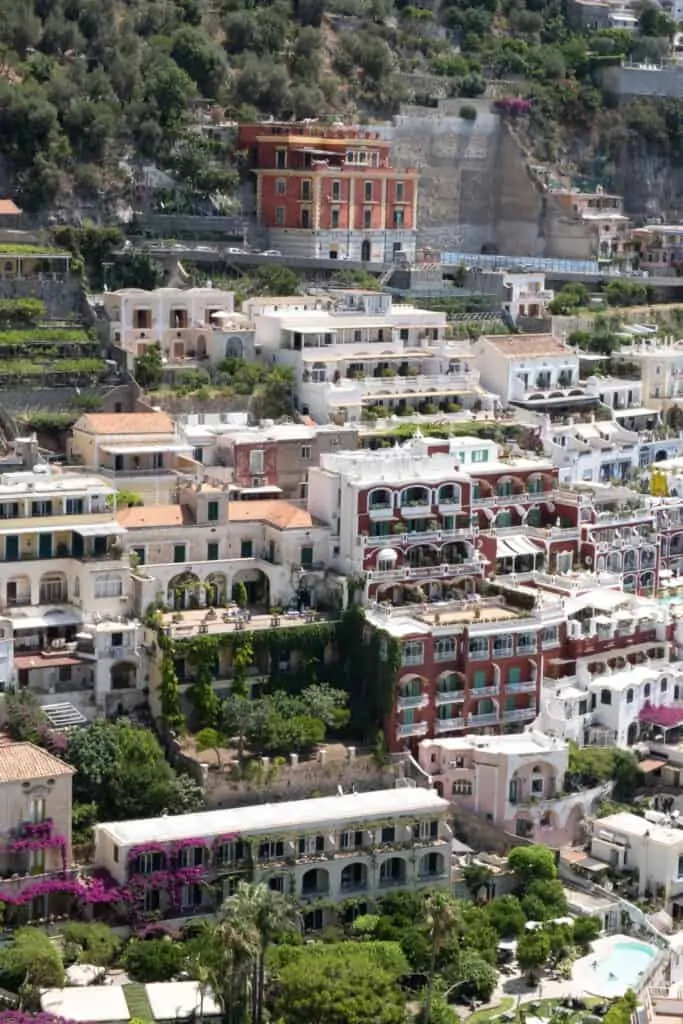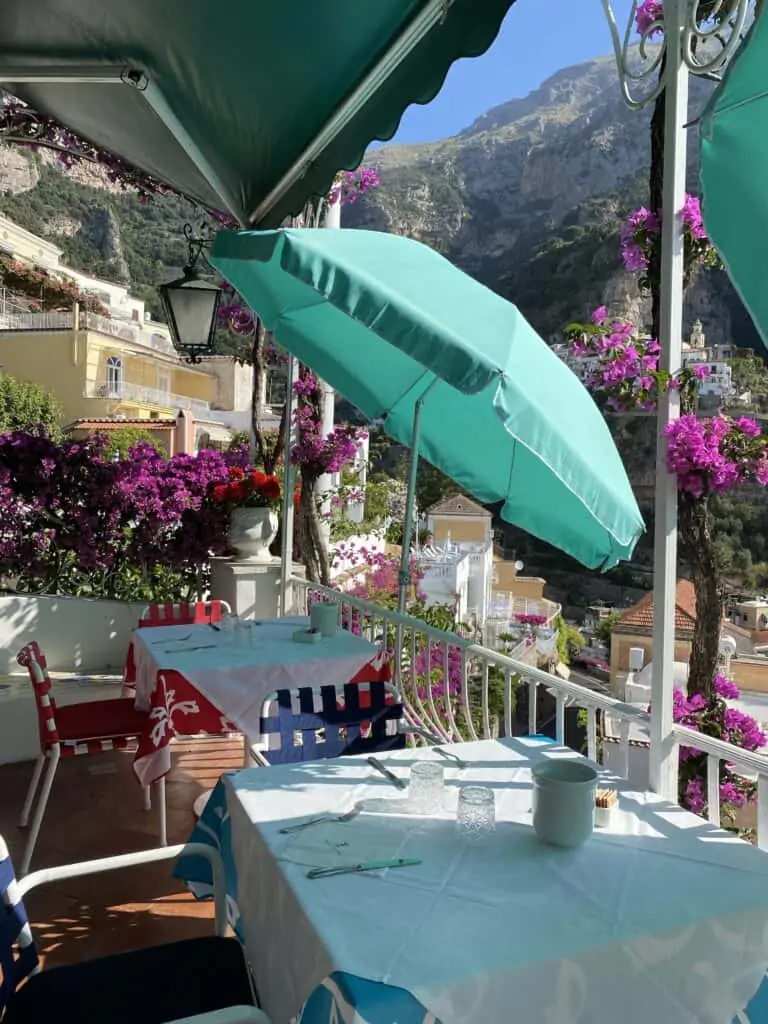 This was the restaurant/breakfast spot at the hotel. It was dreamy and they made sure to take good care of their guests. I had multiple coffees sitting in this spot.
Latteria
This is the shop across the street from the hotel which has groceries. It is a corner store that has it all. I loved the wine selection, fresh fruit, and coffee. Also, I was able to buy meats and cheeses here too. I watched them make sandwiches here while I checked out and omg, they looked amazing! I would go back just for this store. Plus, the family that owned it was so friendly and kind. They spoke English and encouraged me to tell other Americans to come back and visit.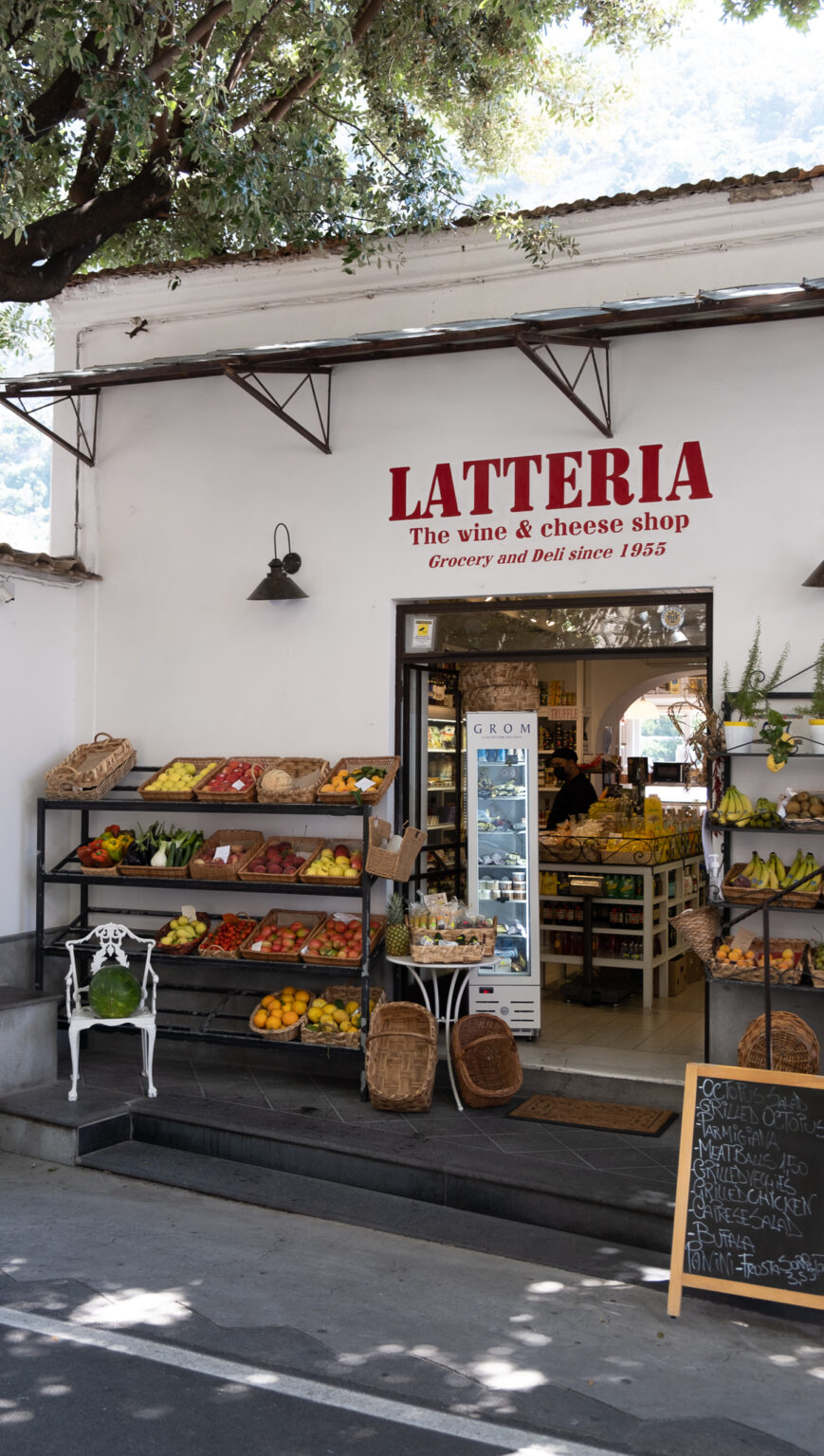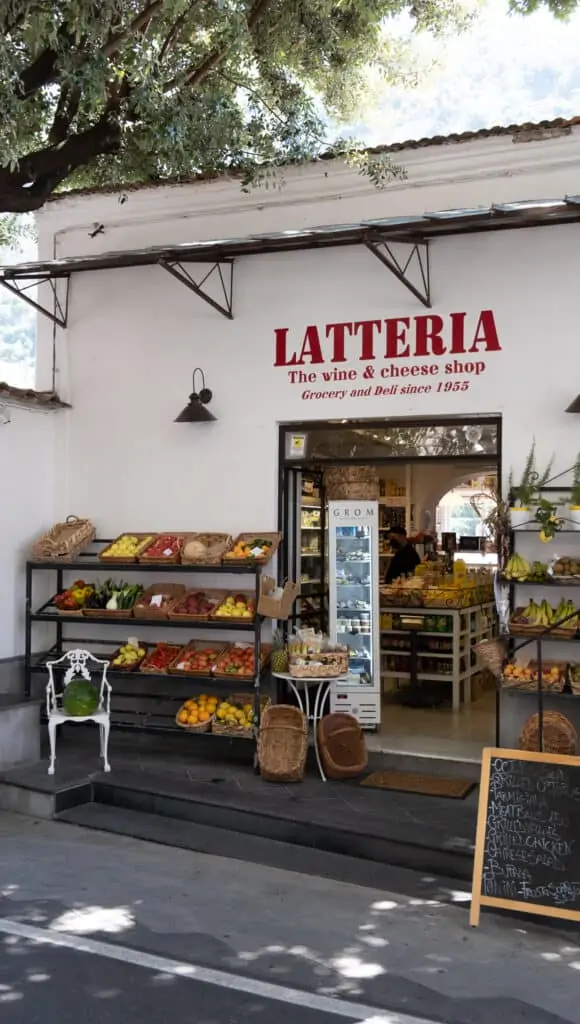 Pupetto Beach Club
I booked a few beach clubs in advance and did my research. You can book beach chairs for the main beach just by walking up to the kiosks along the beach. I didn't look into reserving in advance because I knew I wanted to skip this. It is a great option if you just have a day and want to reserve a chair and go to the beach. There is a free beach, but the beaches with umbrellas are the paid beach clubs. Each beach club has a different umbrella color.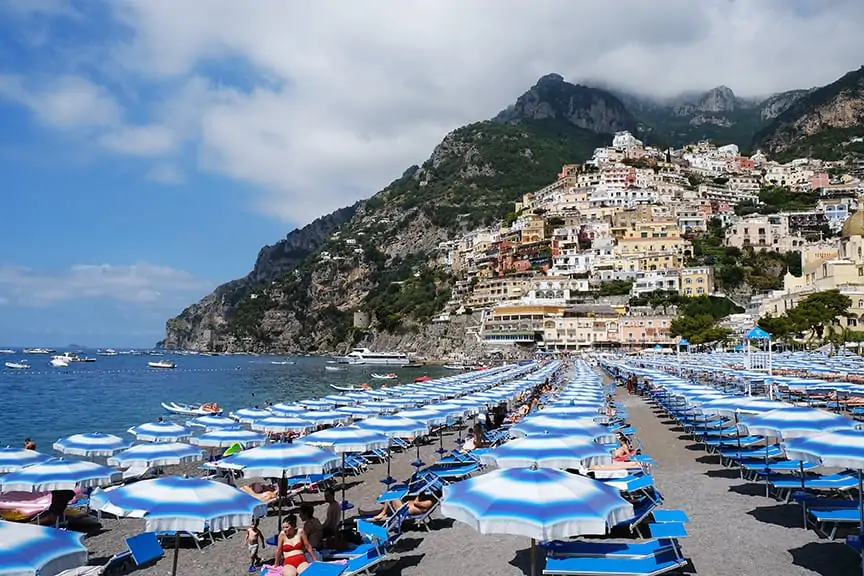 Pupetto Beach Club is located on the other side of the main beach which is called Fornello Beach. It is much quieter and the restaurant and drinks are less expensive. There are a few beach clubs on this side as well. I stayed at Hotel Pupetto a few years ago and they have their own private beach and restaurant.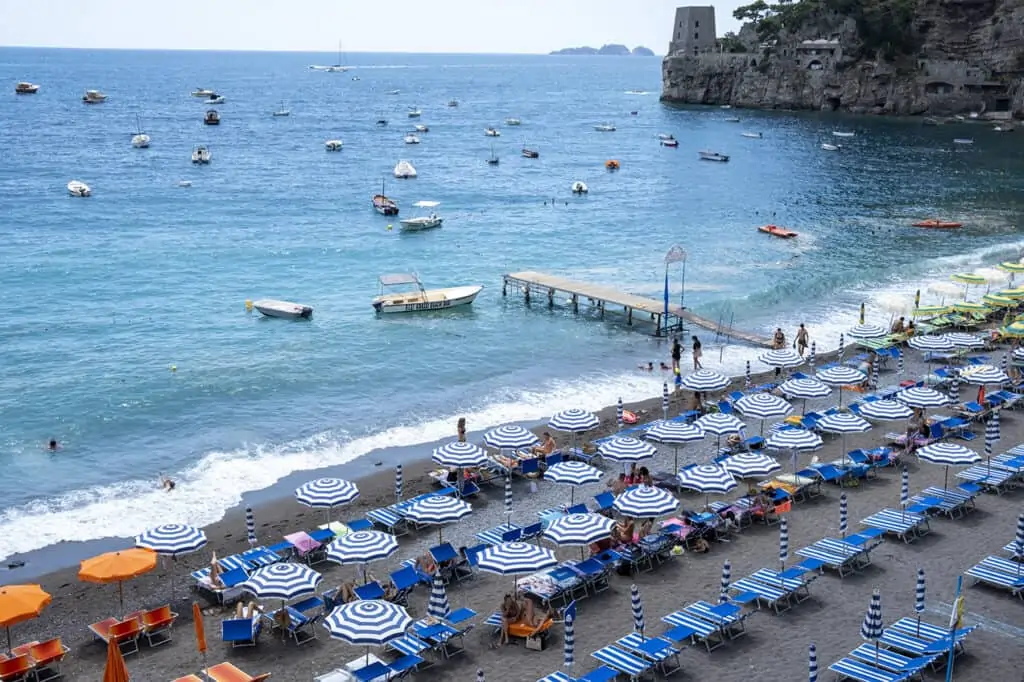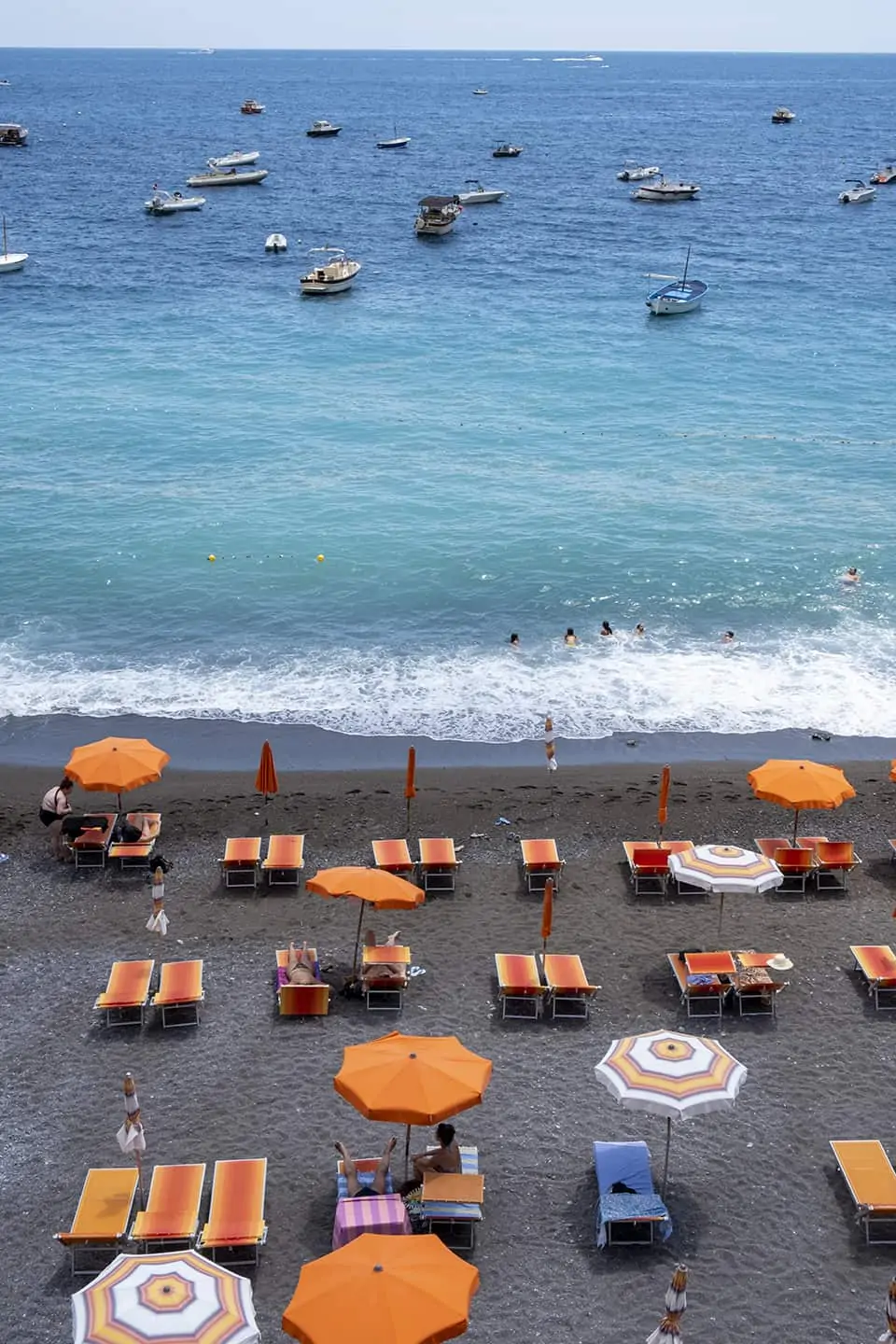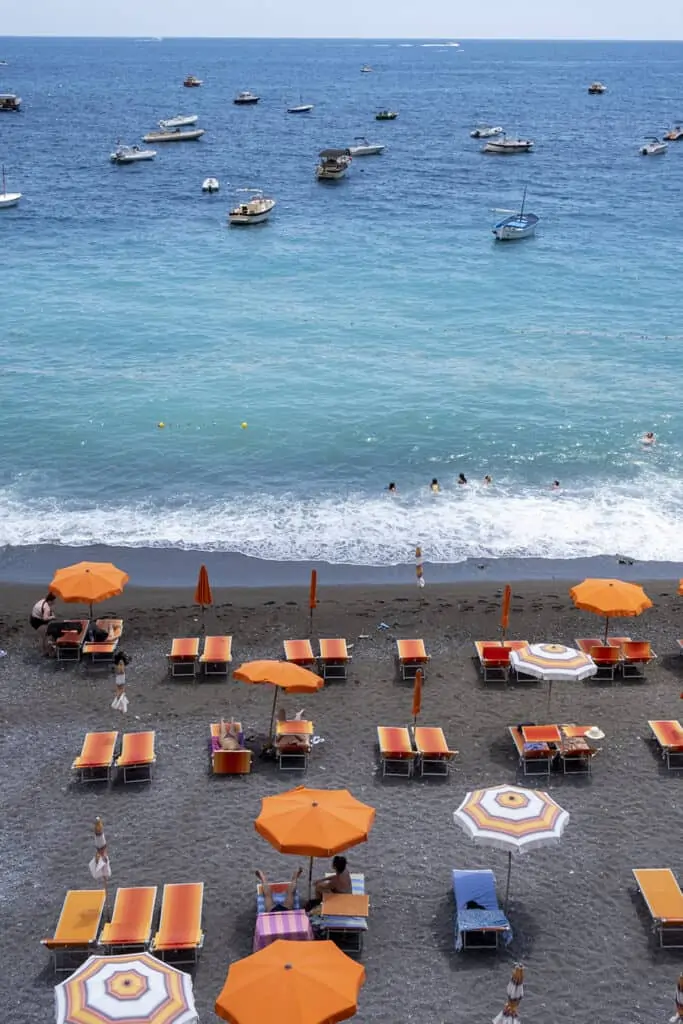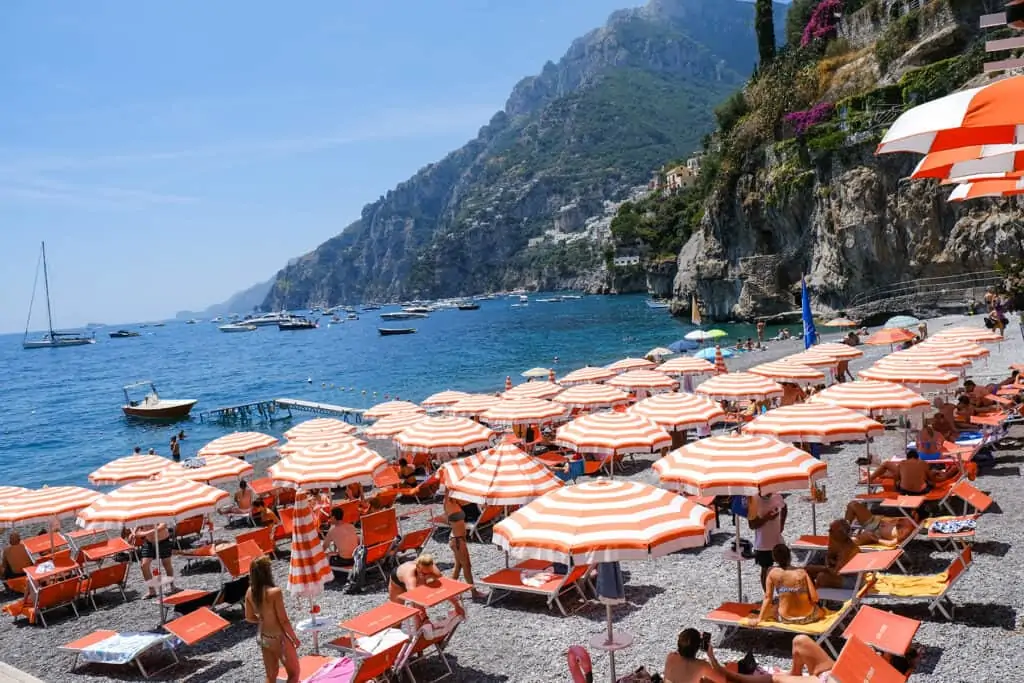 I booked two days at Arenzio Beach Club and I couldn't have been happier. You can book online in English. You pick up the boat from the center of Positano beach which comes every 30 minutes from 9 am until 1. Also, you arrive on the private beach and the afternoon boats back to the main beach start again at 4 pm.
You have to book a lunch at the restaurant when booking a reservation. Then, you pay for the chairs, umbrella, beach towels, drinks, and food. It will run you around $75 per person for a day. It is totally worth it if it is within your budget. They have fun music and it isn't overcrowded. The staff is always ready to help with drink and food orders. You can eat at the restaurant or by the water. The lemon ravioli will be a dish I will dream about for years.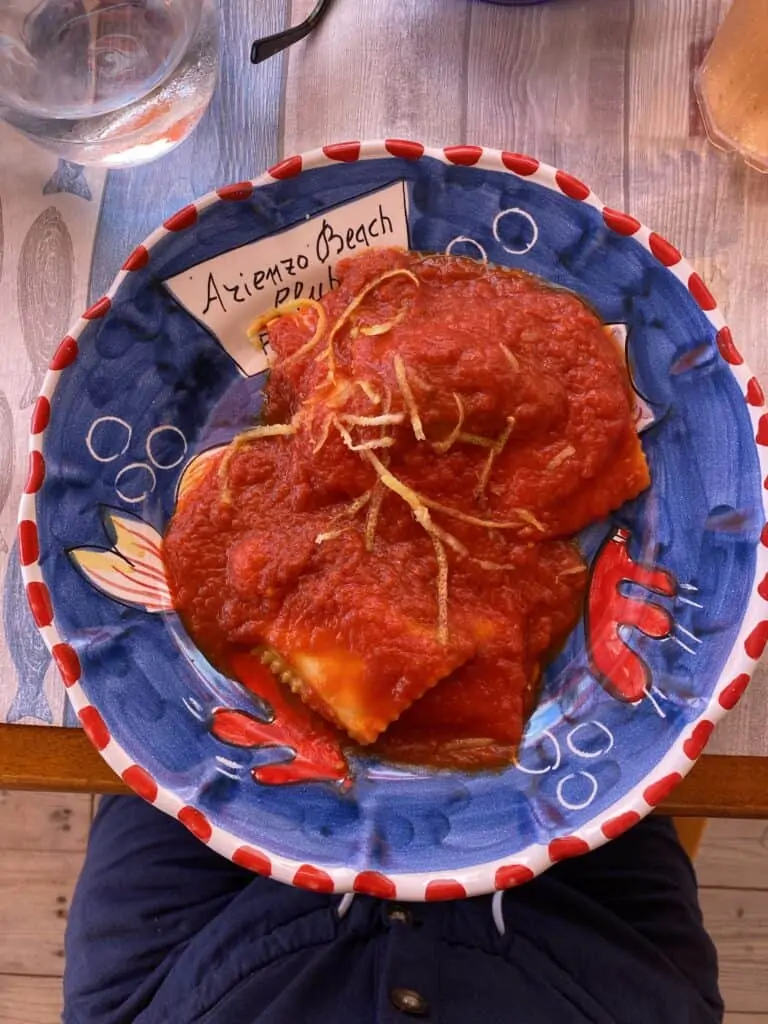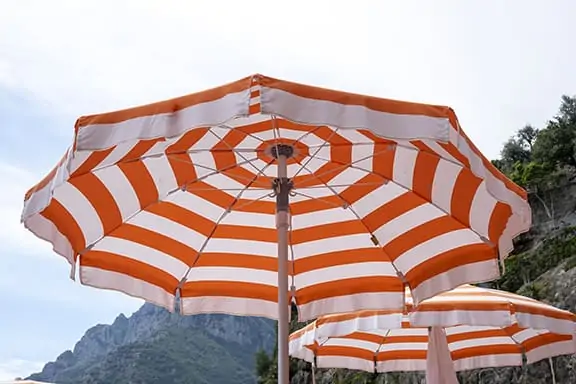 If booking a day here isn't within your budget, there is a great option for a beach/lunch/boat. Da Adolfo is a 5-minute boat ride from Positano's main beach. You get a boat transfer and beach access with your reservation. The restaurant is known for its fresh fish lunches. I did not try this while I was in Positano but I have only heard great things.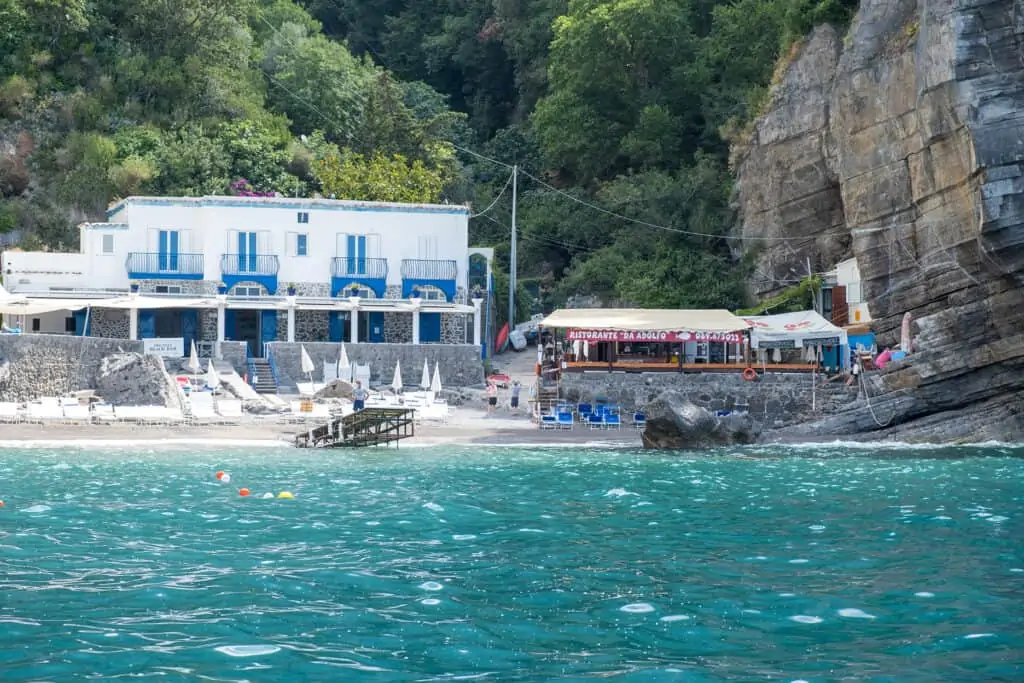 Where to eat in Positano
Saraceno D'Oro was affordable and SO good! I ordered the house wine and it did not disappoint. I think it was 10 euros for a bottle of wine. Also, I bought one to take back to the room. I couldn't log onto their site for a reservation so I ended up sending them a DM on Instagram and was able to book that way. They have PLENTY of outdoor seating and can turn tables quickly.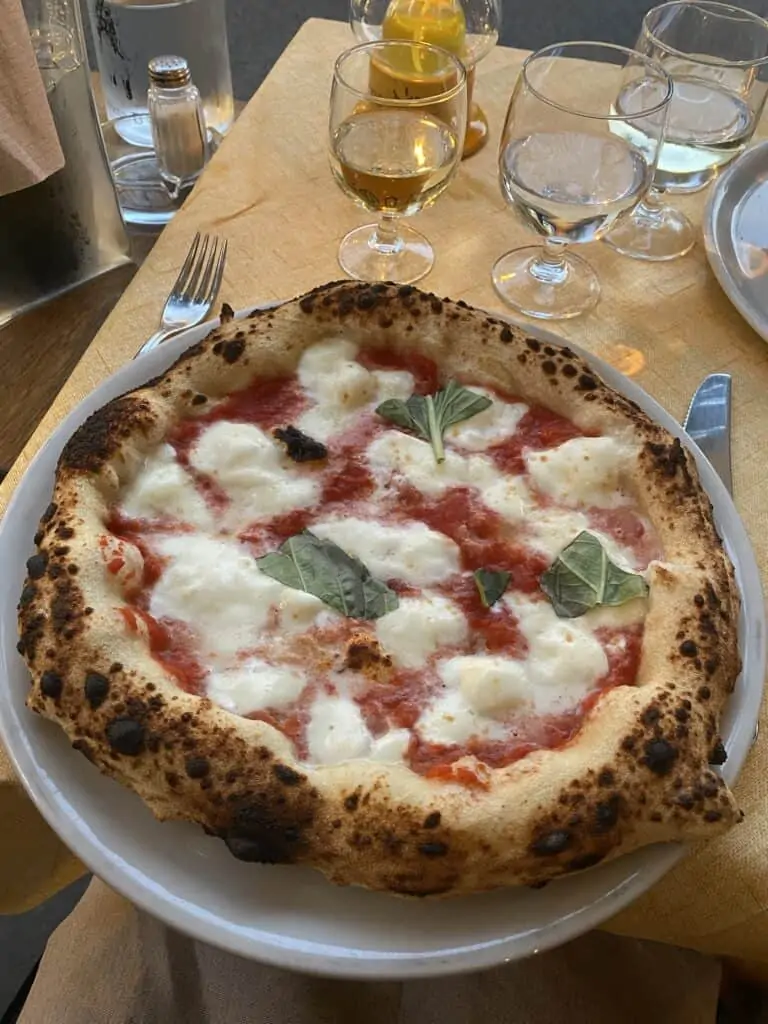 Da Vincenzo
Da Vincenzo is a classic restaurant that so many people recommend. I ate here with my dad a while back and again on this trip. So, I booked reservations online. I only wanted to eat outside which took a little convincing once I arrived for my reservation. They have a lot of walk-ins and while they tell you they are fully booked, they line you up across the restaurant with a glass of prosecco and always seem to fit people in for a table.
Lo Guarracino
Lo Guarracino was a great spot for lunch or dinner. They were almost completely empty when I arrived. Our boat driver told us to go here. I heard from so many readers they loved this spot too. It is typically booked up during the regular season. I had this view over lunch.
Le Sireneuse
Le Sireneuse is the hotel you hear about the most when it comes to Positano. It is a beautiful family-run 5-star hotel that is typically for honeymoons and anniversaries. It didn't fit into my budget, but you can have lunch, dinner, or a drink at the hotel or next door at Franco's bar. Pre-covid, I was able to come here for a coffee and people watch for as long as I wanted. Now the areas are reserved for hotel guests only.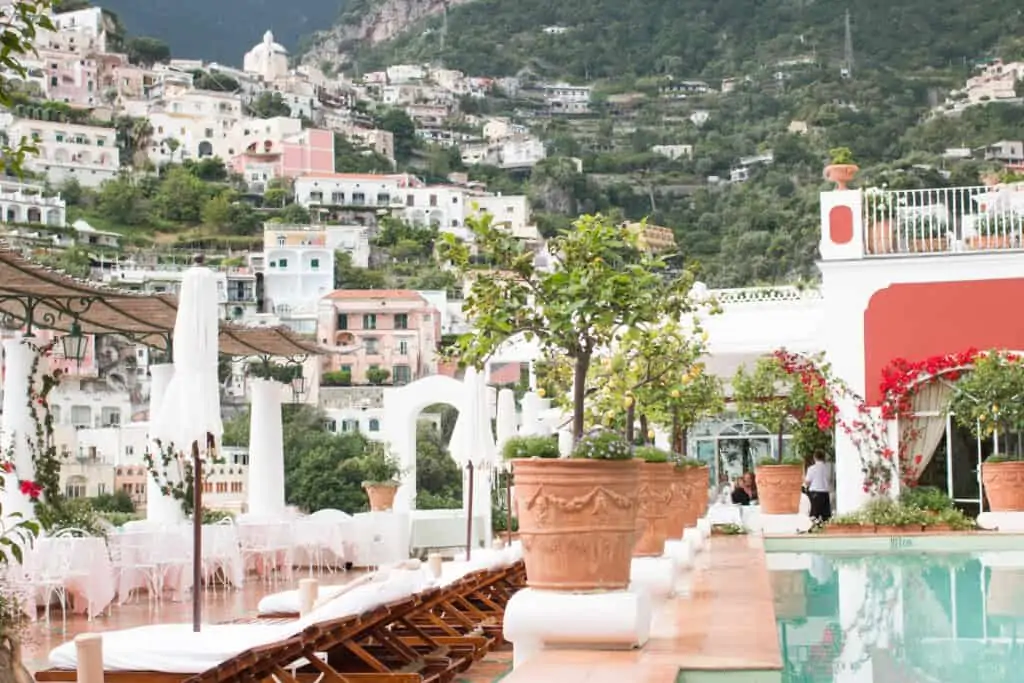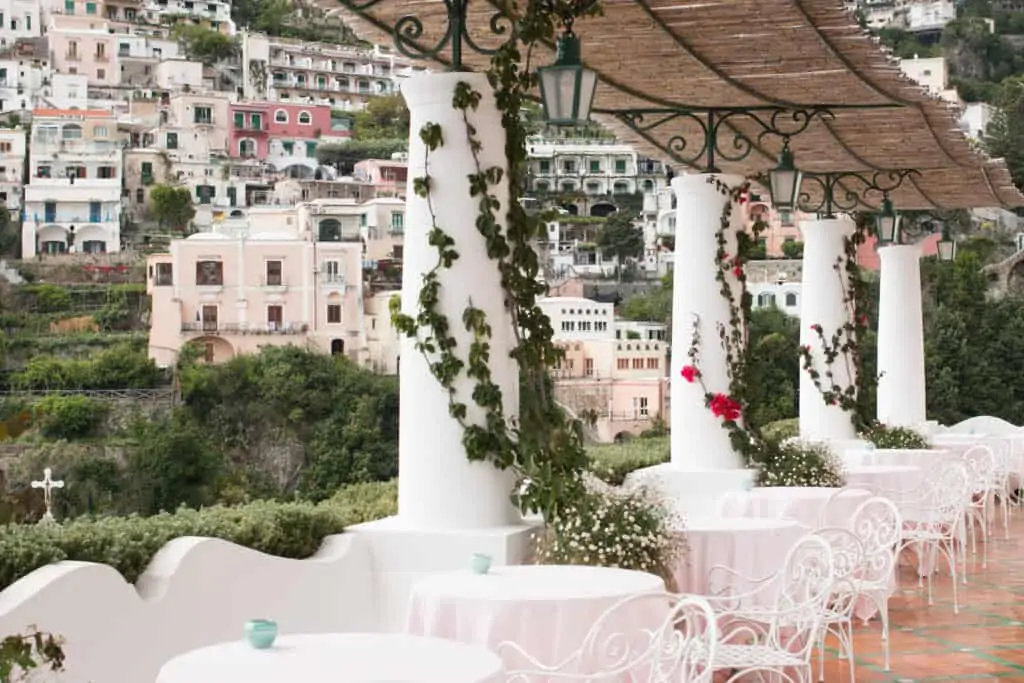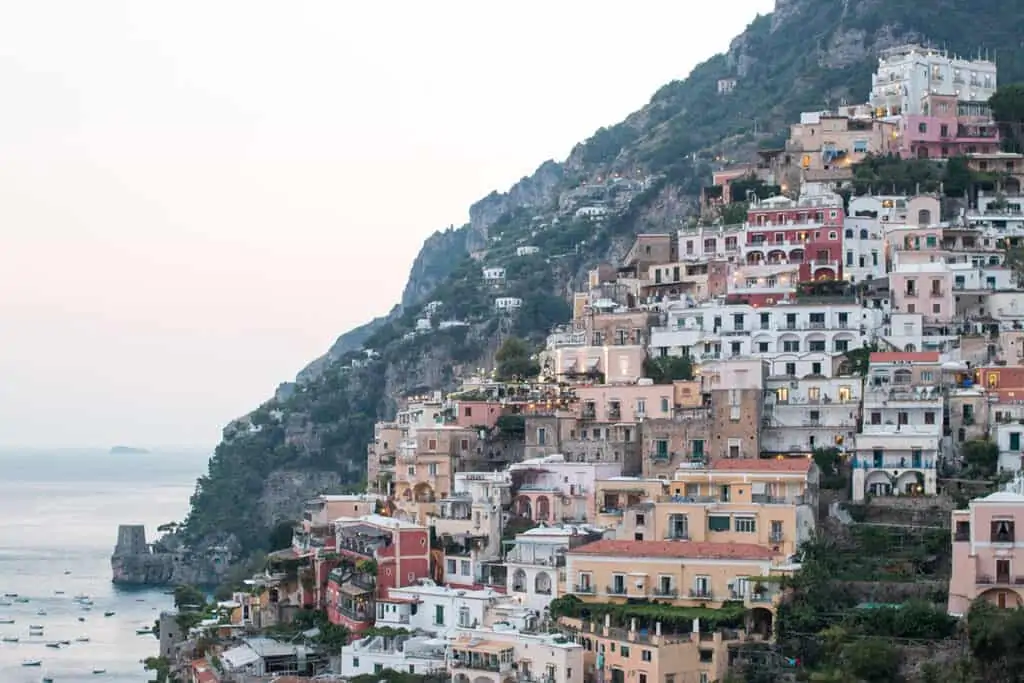 For coffee, I loved Collina. It was on my walk down to the beach and you can drink at the small bar or do takeaway. You have to try an iced cappuccino at least once. They have my favorite cookies in their pastry case so I made sure to grab some. They are open late and offer homemade gelato. The chocolate was out of this world good!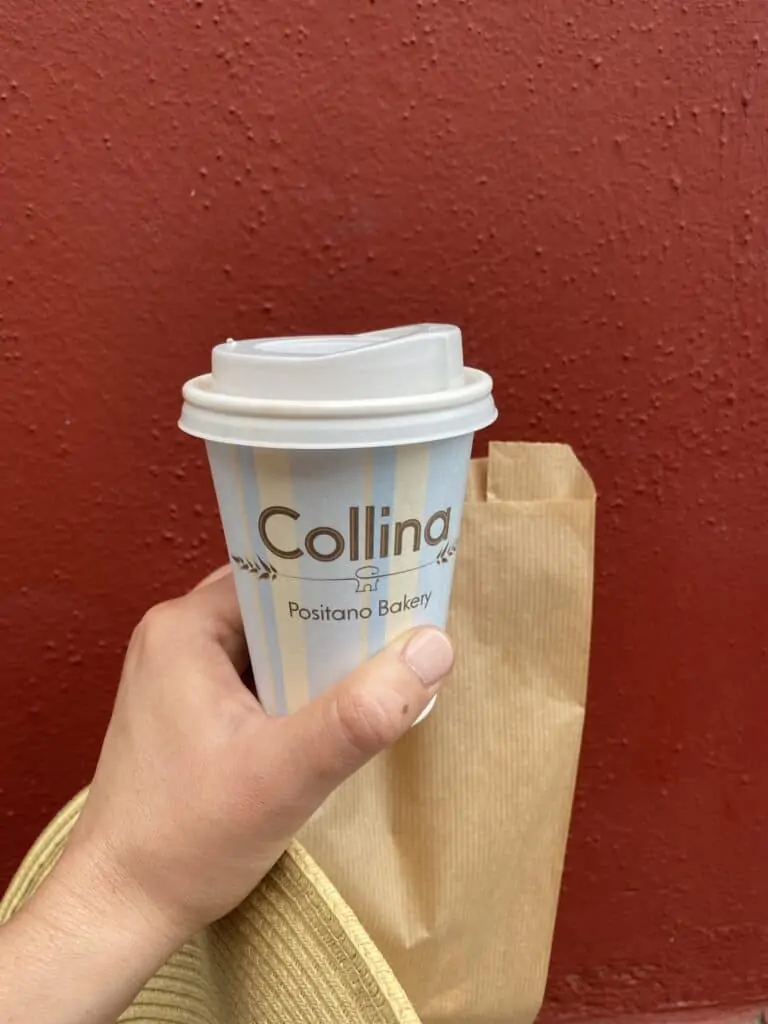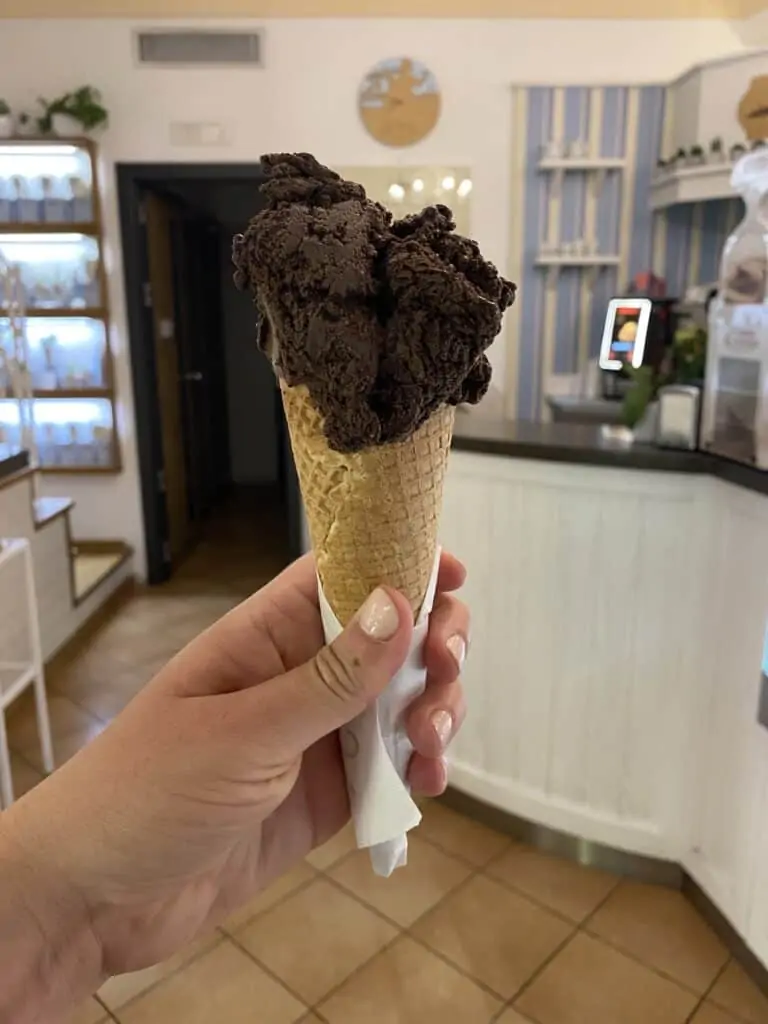 I have had a few friends over the years tell me the best day they had in Positano was on a boat. I always wanted to try it but hadn't until this trip. My friends from Michelangelo mentioned Blue Star Positano so I reached out to book a boat. I ended up doing a half-day boat and my only regret was not booking for a full day. This was one of the best days of 2021 besides getting Henri.
It was around 300 euros and I tipped the boat driver. The pick-up was at the main beach at 9 am and we returned promptly at 1 pm just in time for lunch. The water was so rocky, that there wasn't much of a chance to swim safely. There was a dark cloud that looked like rain when we started but it did end up clearing up later in the day.
There was prosecco on board and my driver Marco pulled out olives (my favorite), fresh cherries, and chips. I was able to sit there and enjoy the ride and listen to music. It was pure heaven. I took some photos along the way but I really just enjoyed being in the moment.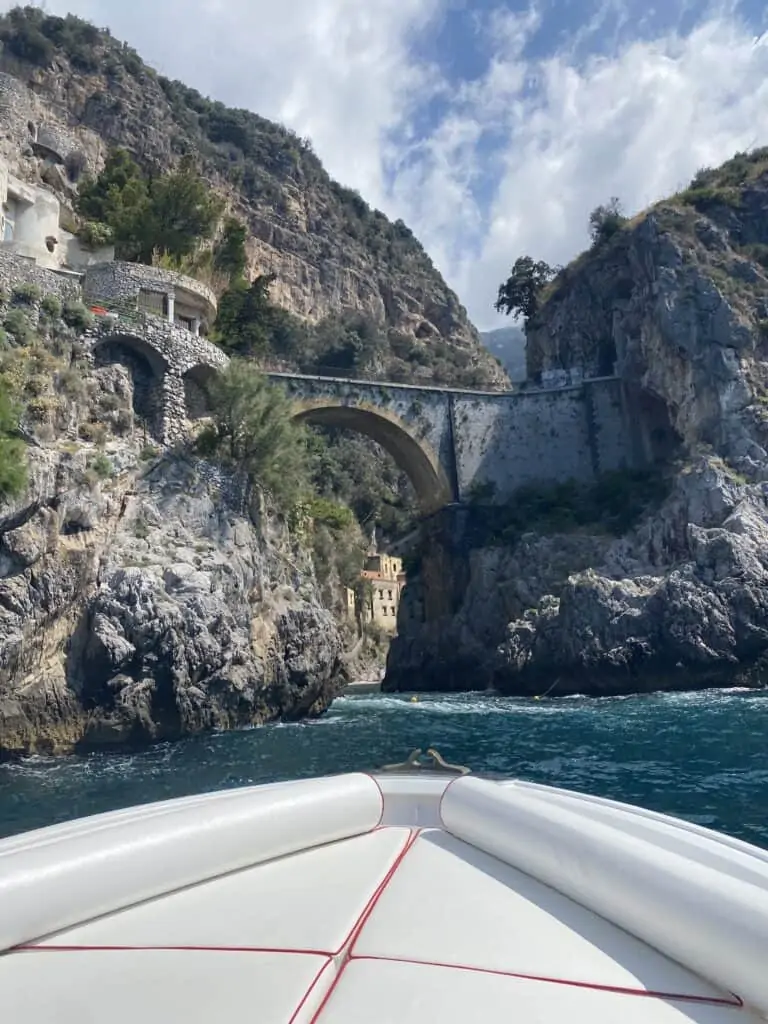 Marco was very helpful in telling me about the beach clubs and hotels we were passing on the ride. Once we got to a safe place, I was able to jump in for a quick swim. It felt so good and the water was blue and beautiful.
When the boat ride was finished, Marco gave the tip on where to go to lunch. I couldn't recommend Blue Star enough for a great day on the water.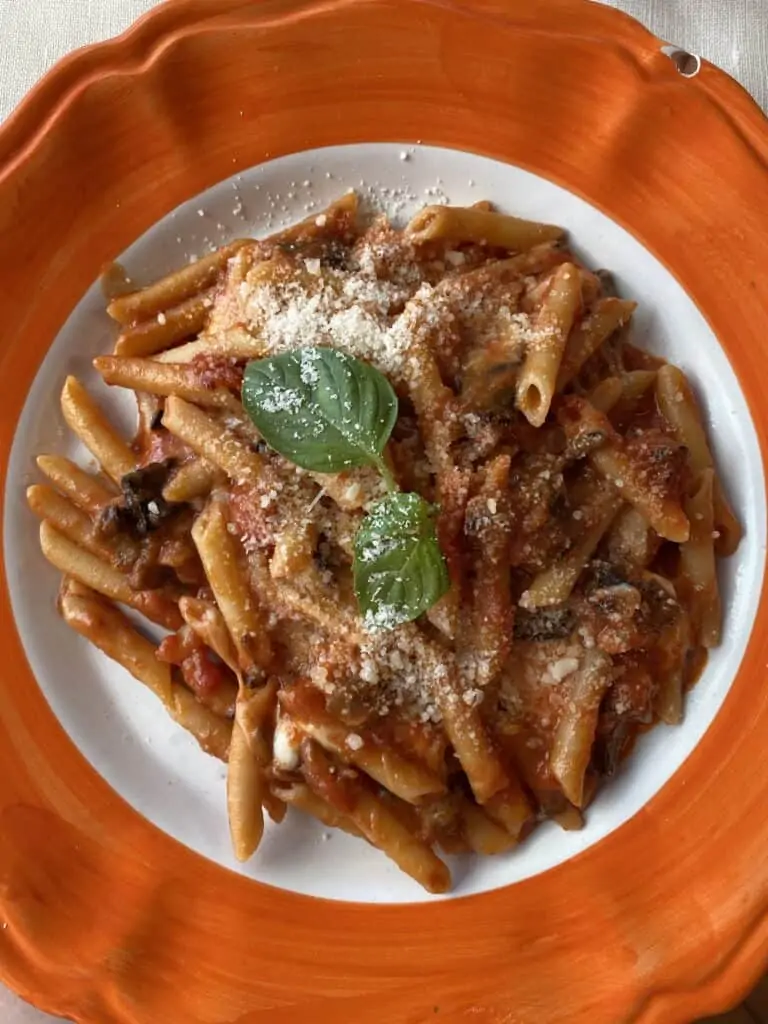 Chez Black
The Chez Black is a restaurant along the main pier in Positano and is great for lunch or dinner. The food is classic beach Italian. I had a great pasta with eggplant. I have never had a bad meal here and there is also great people watching if you get a table on the outside.
Getting around from Positano and Capri was easy and done by boat. I highly recommend buying your tickets in advance. It wasn't stressful this trip because the tourists were not filling the Amalfi Coast but in a normal environment, the boats would be packed. My ferry was fairly empty and had plenty of outdoor seating upstairs. The ferry to Naples was indoors and I wore a mask the whole time.
You can see the times listed on the outside of the kiosk and you can pay for your tickets with a card or cash. They speak English and it should be an easy and quick transaction. I would expect lines normally. Once you get on the boat, you leave your luggage in one group so make sure to lock your luggage and keep a luggage tag on yours to easily identify it.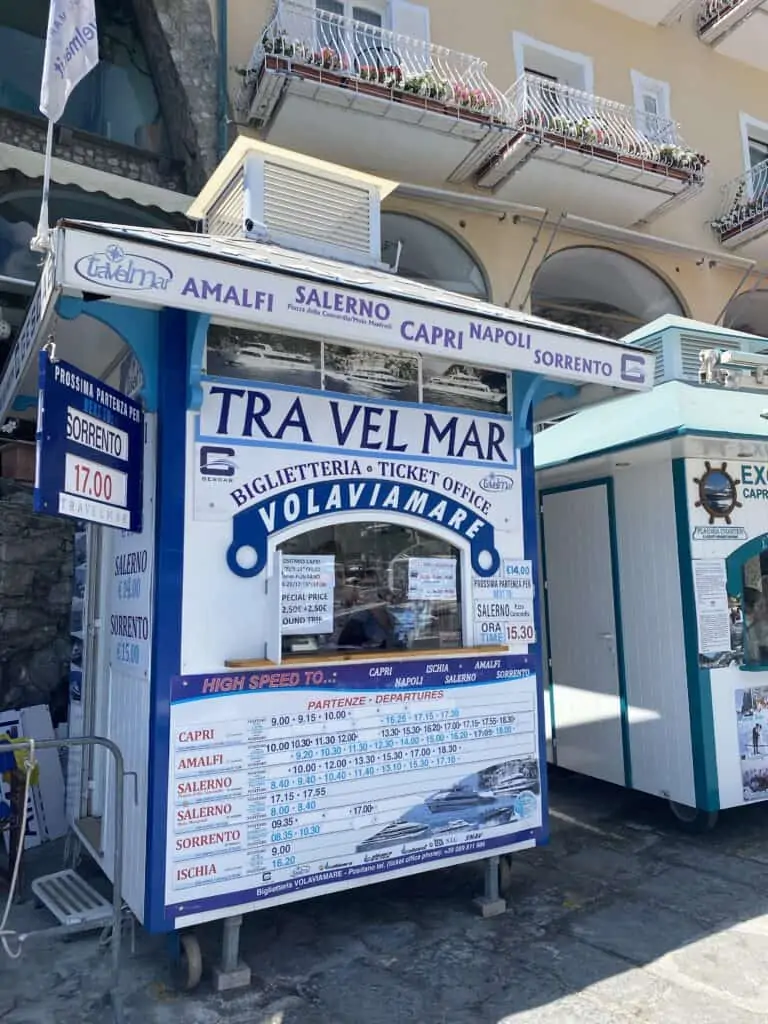 What to do in Capri
I will tell you that it took three times for me to fall in love with Capri. If you go for a day, you might be unimpressed and overwhelmed by the tourists. It is after the tourists leave that the island transforms. It is filled with fewer people and you can enjoy walking around with a gelato or grabbing a drink in the main square.
When arriving in Capri, I arranged with the hotel my boat time and they were able to meet me with a porter to take my bags to the hotel. You have to take a cable car up a bit (about 10 minutes) the fee is around 2 euros and masks are required to ride. The island had a whole campaign centered around Covid free Capri. The island was vaccinated before welcoming tourists back and they really wanted a safe environment for visitors.
Amalfi Coast Travel Guide
Hotel Luna
My friends recommended Hotel Luna and many people backed up the recommendation before I left. The hotel was much bigger than Hotel Poseidon and I was a bit hesitant. I was given a room on floor 1 which had a lovely and rather large balcony looking over the Faraglioni Rocks.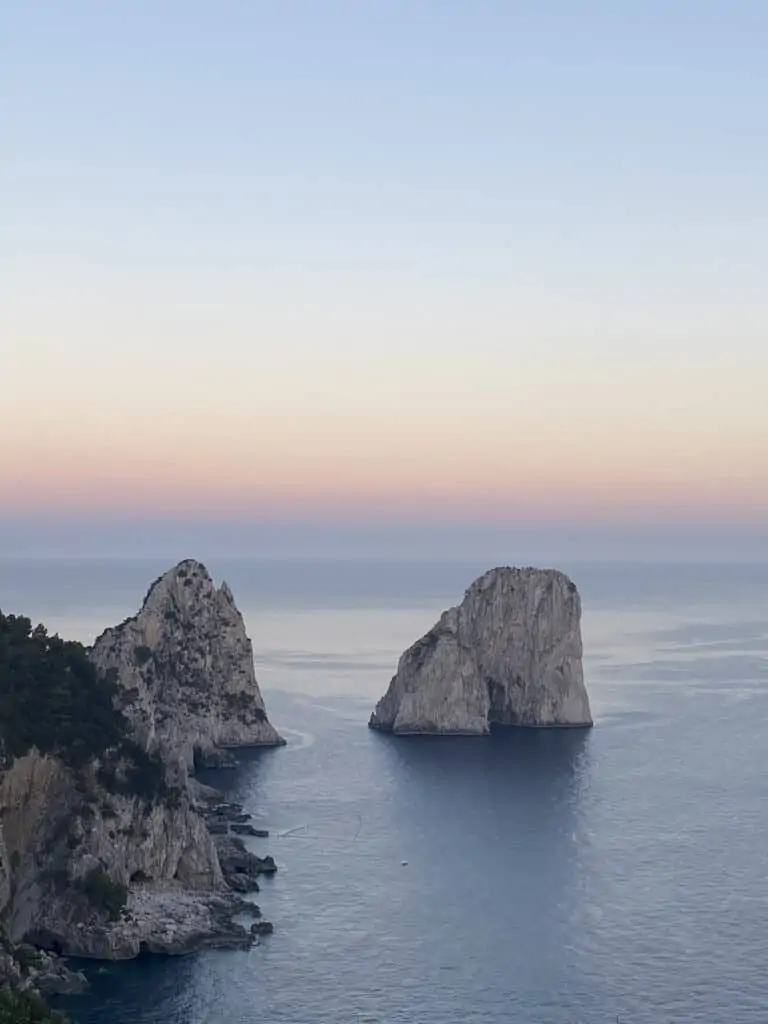 The hotel had a lovely breakfast buffet each morning that I enjoyed outside. You could also have the breakfast sent to your room. I would take a walk before breakfast to the main square for a coffee and to people watch. You could tell there was a pep in the step of the Italians as they moved around in the early morning to welcome visitors back to their island. I felt like it could be accompanied by the song "Be our Guest" from Beauty in the Beast.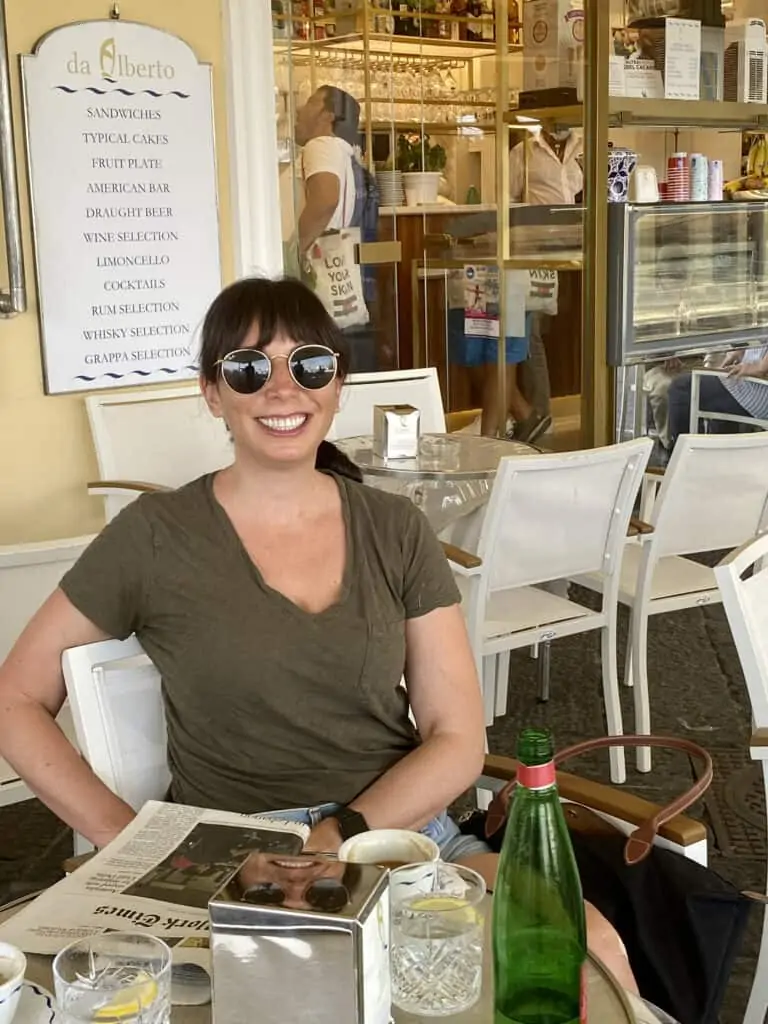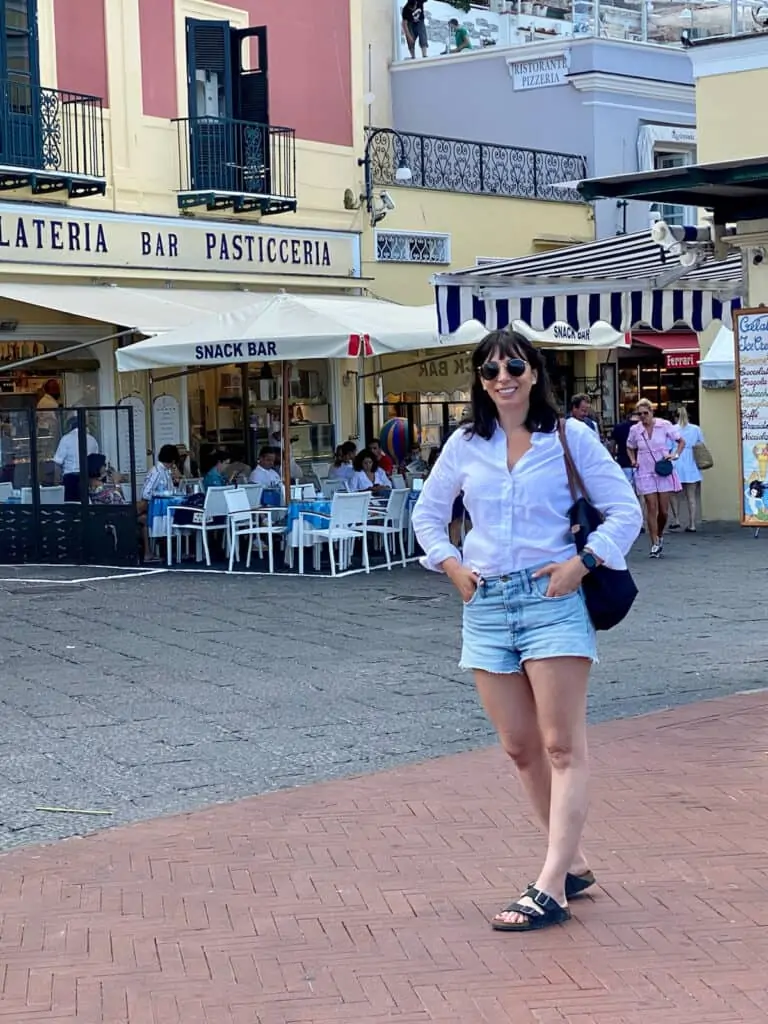 I learned the hard way that when you book your plane tickets, you should also book your seats at Fontelina beach club. Reservations book up fast and I was only able to get one day which was the blog anniversary. It felt appropriate to celebrate 5 years in a beautiful place I had been dreaming about for years.
To get to Fontellina, you can arrive by foot which is about 600 stairs down or you can take a boat from the main port. I believe the boat costs a little money which can be added to your tab. I opted for the walk up and down. If you are not in good shape or don't do well with heat, take the boat!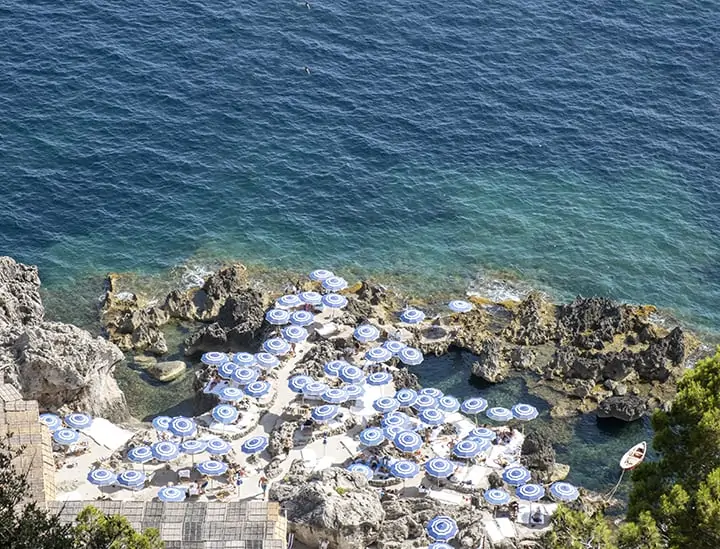 I was put up high on the rocks away from the water in the cheap seats. I am sure I paid the same amount as the rest of the guests but since I didn't know what I was doing when I booked or when I arrived, I couldn't argue. Also, I would highly recommend getting a seat on the rocks close to the water.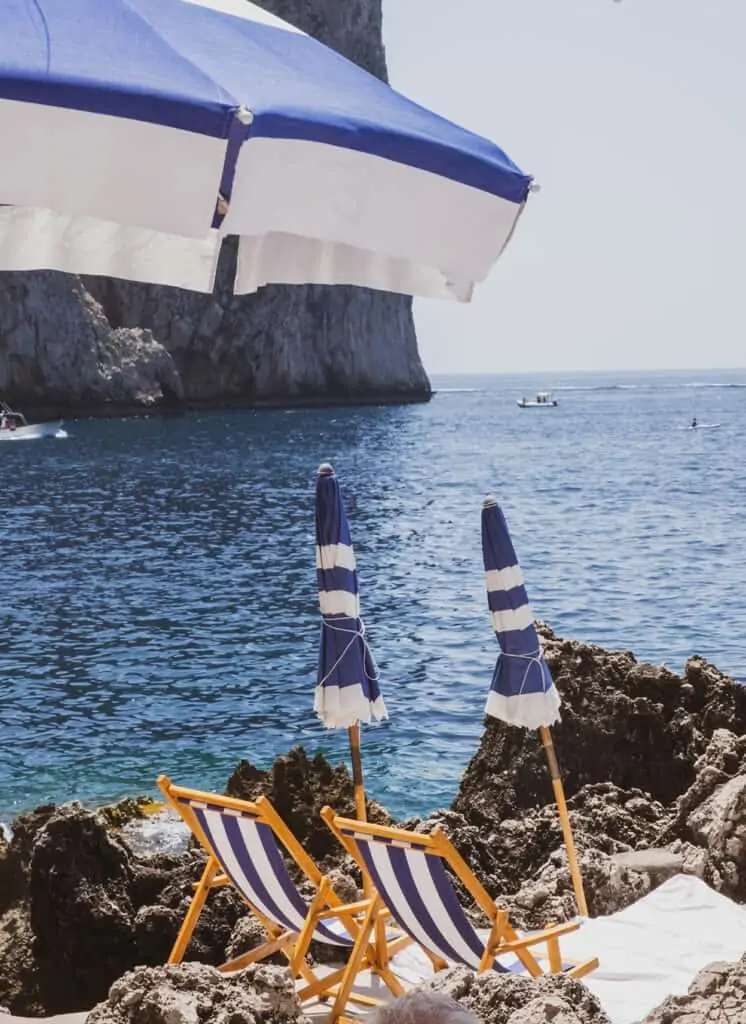 Lunch is scheduled at the restaurant upon booking. For some reason, they didn't have my booking time and they tried to make me go super early. We ended up squeezing in around 2 pm. I ordered a cocktail and olives from my seat and enjoyed the people-watching.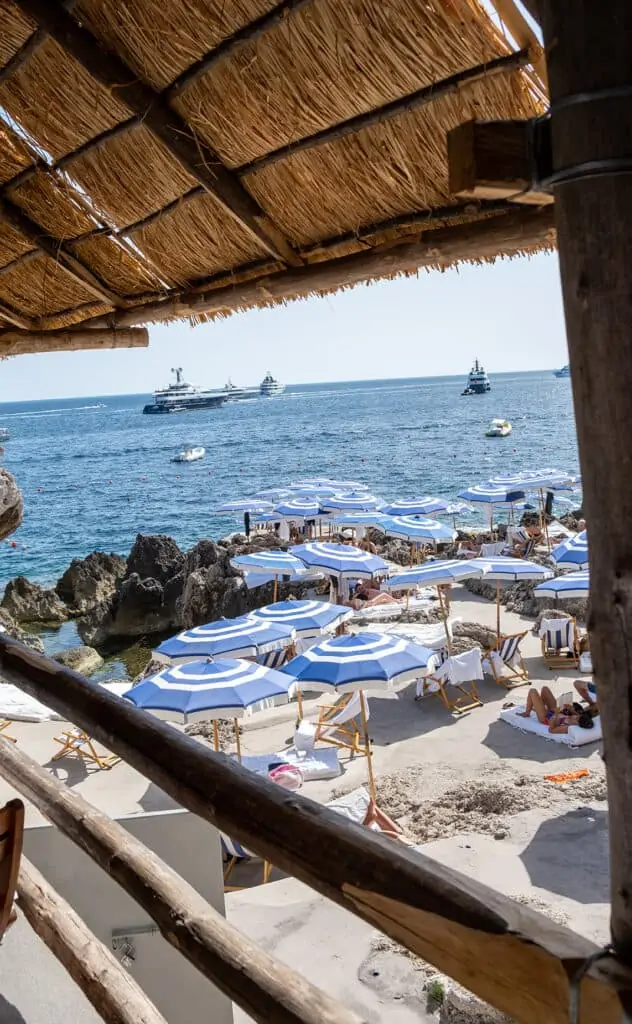 You can see rates for chairs, umbrellas, and more here.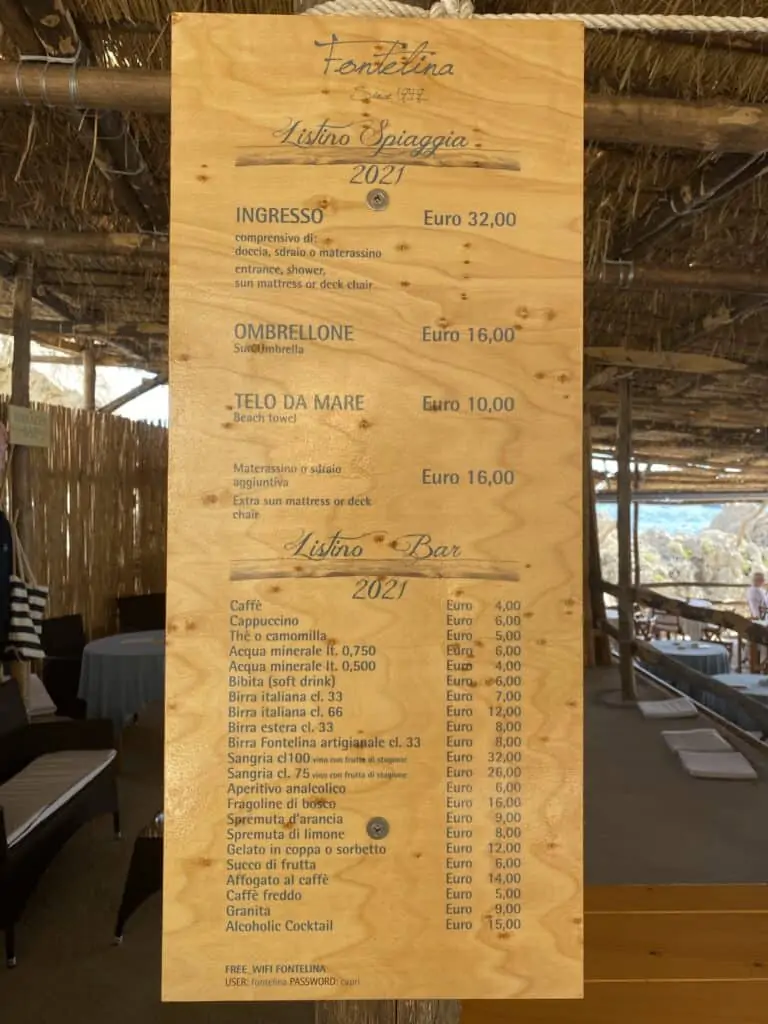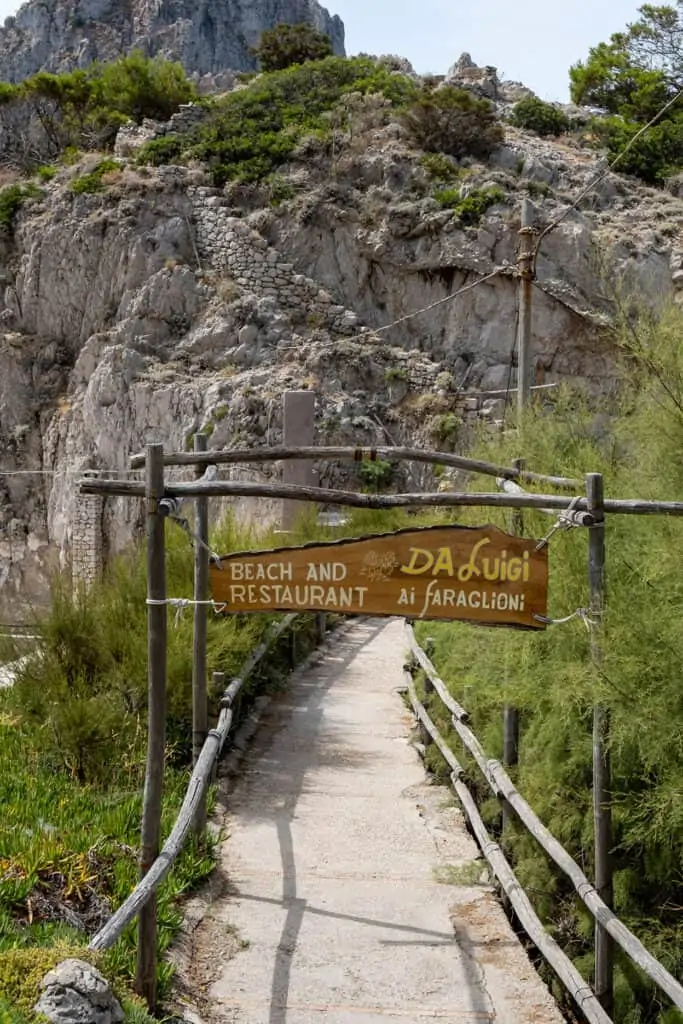 Luigi Beach Club in Capri
The Luigi Beach Club was right next to Fontelina on the other side. I reserved a chair online in advance. I had two days and canceled one before I checked out the beach club. Also, I fully regret it because it was one of my favorite days. The wifi didn't work, the drink menu was non-existent, and you just had to tell them what you wanted. It was so different from Fontelina as terms of service.
But for some reason being able to completely unplug right next to the water was exactly what I needed. I arrived early and was able to ask for a chair away from the crowd. Then, I laid in a beach chair and listened to the waves, napped, ordered a drink, and went back to napping. I was completely unplugged for almost 7 hours and it was so good for me!!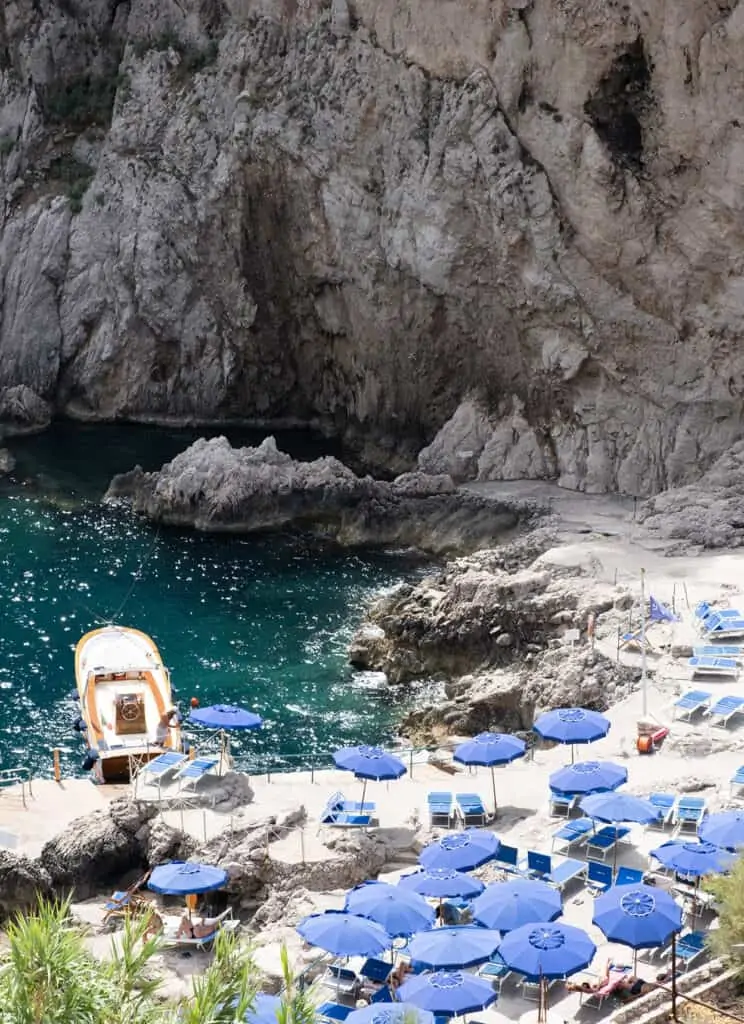 Lunch was here! The dreamiest most Italian beach set up I could imagine with the checkered table cloths. I arrived before the crowds and they were kind enough to let me take a photo. This is one of my favorite photos and is printed large in my home. It is also available for purchase in The Print Shop.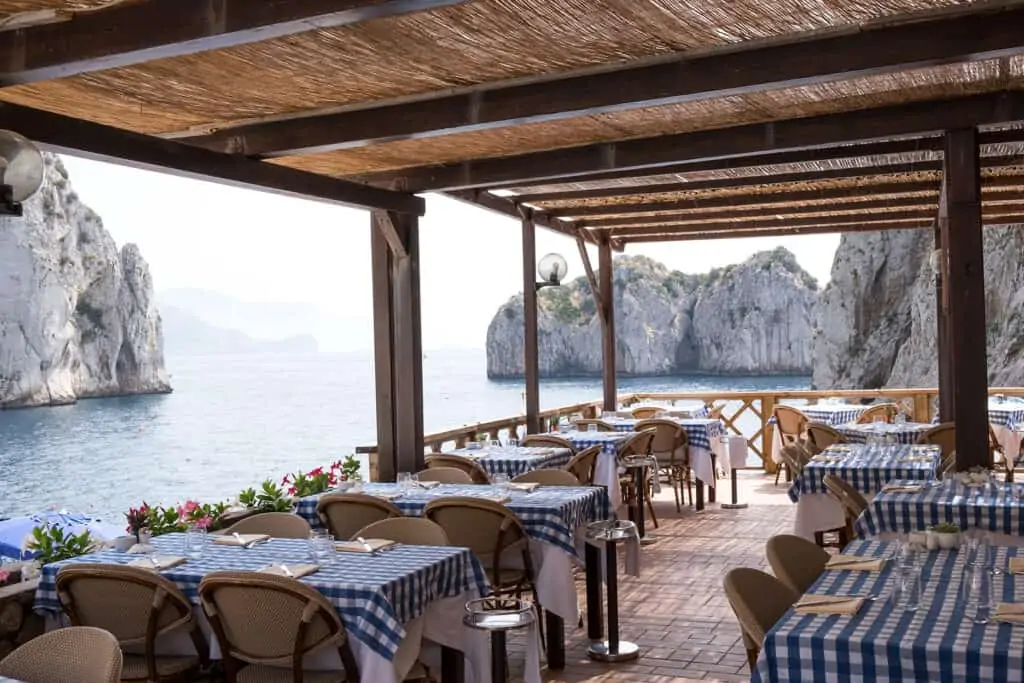 The best gelato was this spot that I have been coming to for years. It is right by the main square. You can't miss it! They open early for coffee and pastries and the outdoor area for gelato ends at 11 pm. The man who scoops at the front is very sweet and they all speak so many different languages. Each day he remembered me and asked what I wanted to try. The lemon gelato is out-of-this-world good. Have one for me when you go!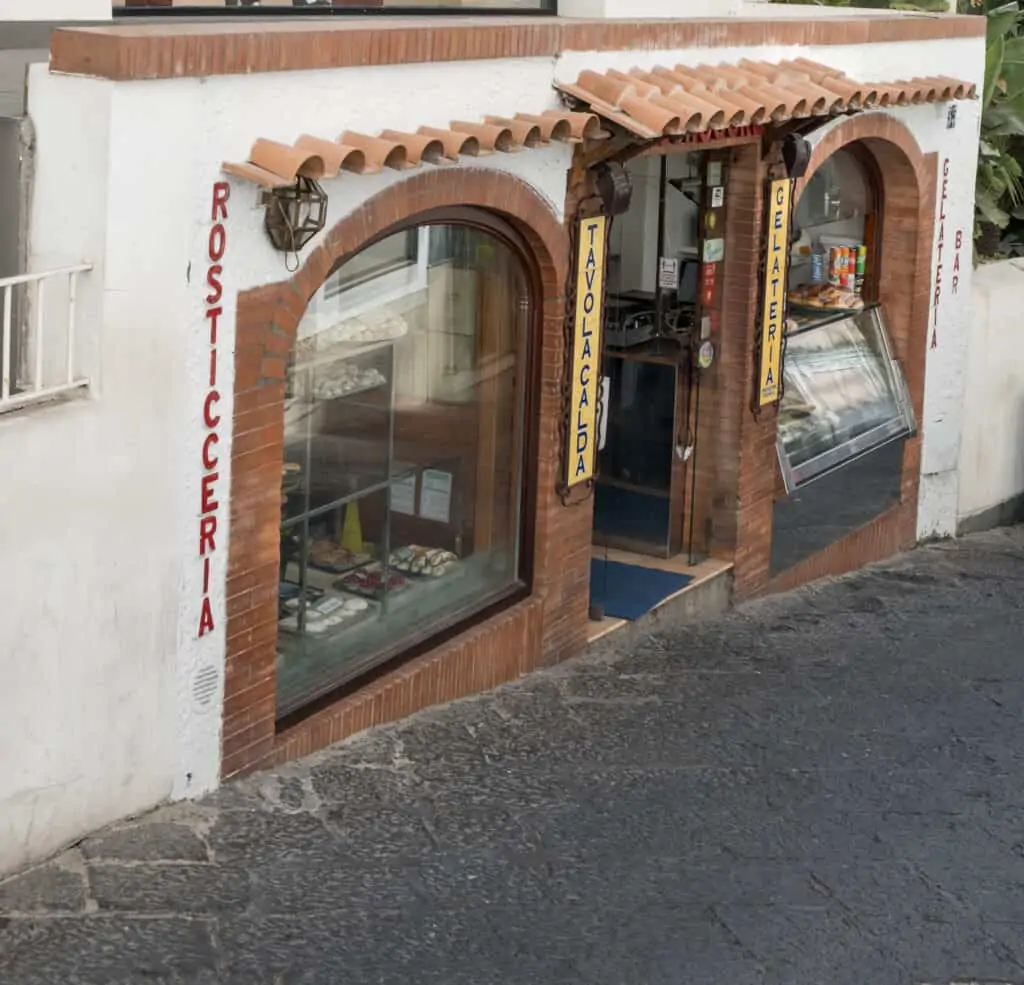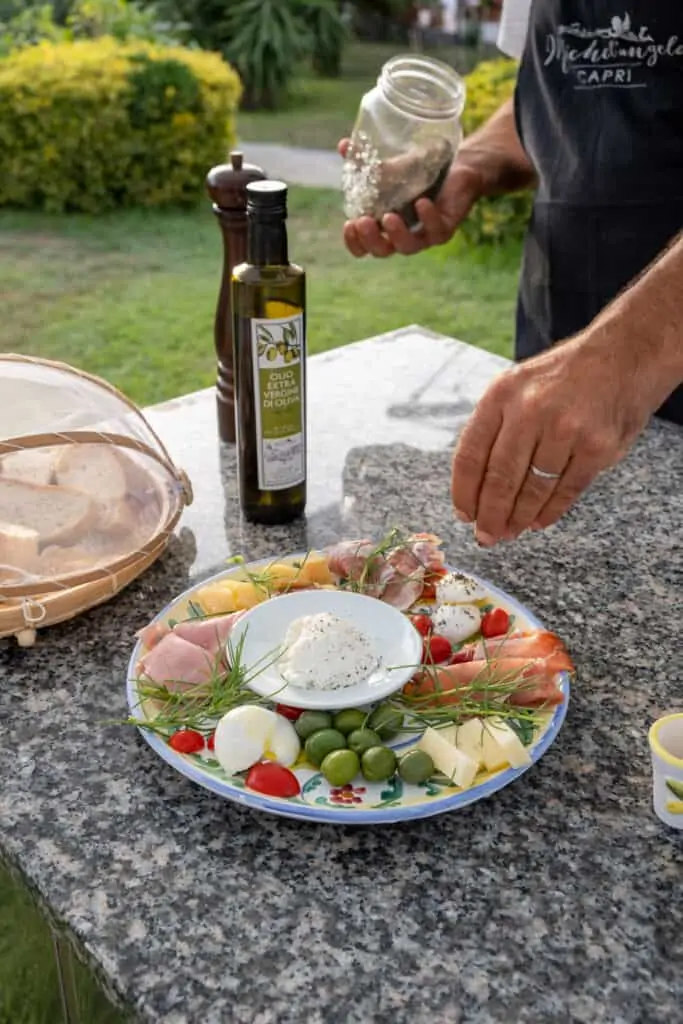 A few years ago, I met the wonderful people of Michelangelo Capri. They have now moved their restaurant to a garden in Anacapri where they offer private tastings and cooking classes. I cannot recommend this enough. It was one of my favorite days of the whole trip and something I share with everyone who asks about my trip. I would book as soon as you book your flight to make sure you can get your ideal date.
They grow all the vegetables and fruits in their garden and cook from scratch. It is an amazing experience. You can book here. This includes taxi transfer to and from the center of Capri.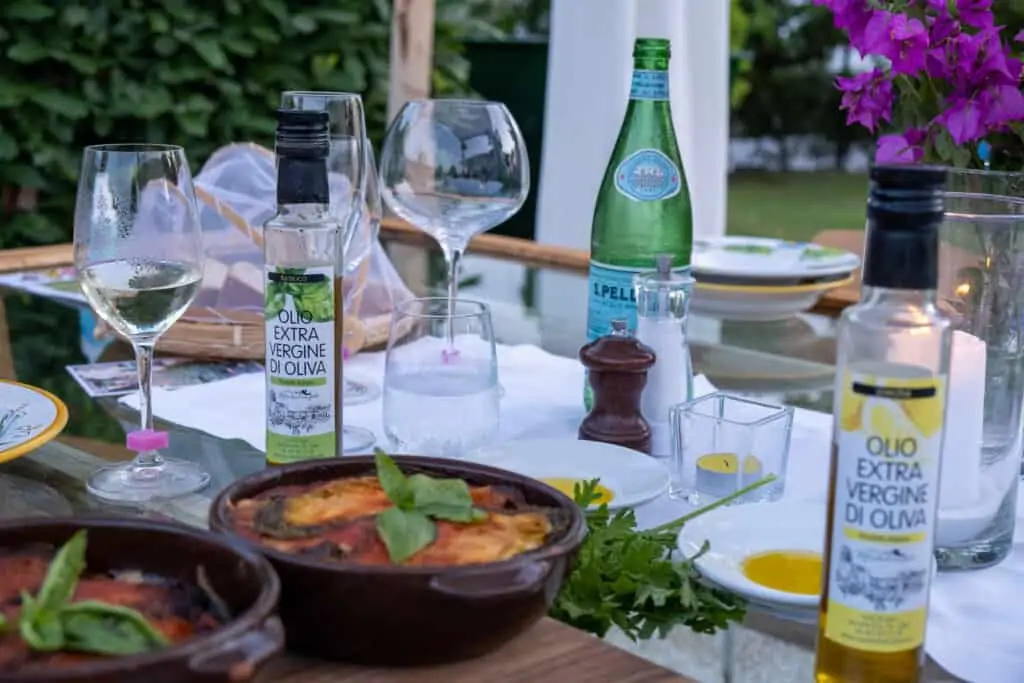 You may remember their name from the olive oils I buy and use all the time. You can order them and ship them directly to use along at home along with their sauces.
Amalfi Coast Guide
Bagni Beach Club
The beach club and one of the only places I didn't love on the whole trip were Bagni Beach Club. I went here with my dad and we had seats away from the crowd so it felt different. The beach umbrellas were fun and colorful and made for great pictures. I know so many people commented on this when I posted on Instagram.
The beach was packed and most kids and families so it were far from quiet and relaxing. I quickly shot a few images and then decided to close my tab and head back for a day at the pool at my hotel. It is great for families, I was just looking for a more quiet and relaxing experience to end my trip.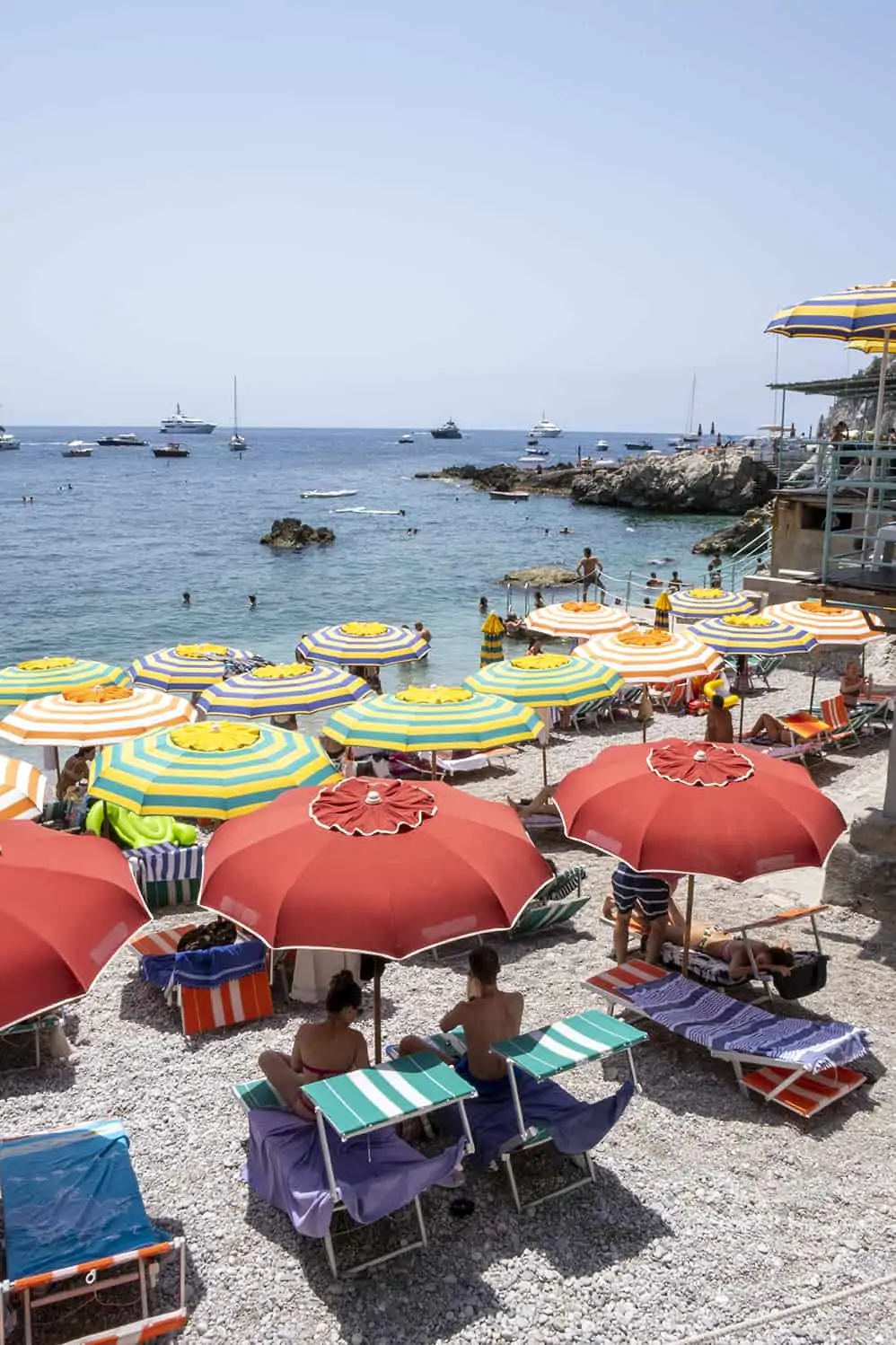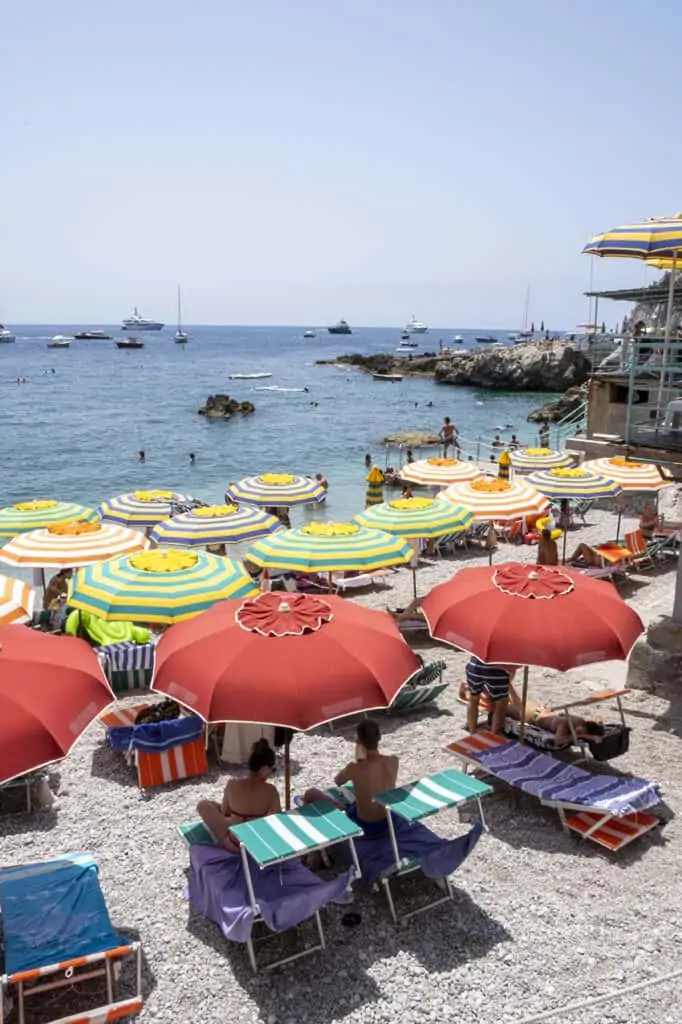 Just a reminder none of this trip was sponsored or gifted. I booked and paid for everything myself from sales from The Print Shop. It is important to me to support other small businesses. If you would like to contribute to The Italy Fund. You can purchase a print from Italy from The Print Shop. I appreciate your support and I hope this post was helpful for future travel planning.